Consumer Reviews and Complaints

I don't expect any company to be 100% perfect all the time but if I think it delivers service to me, I give it the next highest rating. I've only had good experiences with USPS. Life is unpredictable, can be turbulent at times, nothing is guaranteed - but one thing I can depend on in this life is the USPS delivering my mail almost every day of the week.

I have been collecting coins since my early teens, the post office sends notification to FedEx who in turn (has taken over 4 days) to process, from there it gets in united states postal service and another 10 days for me to receive my package. In addition to that there is about a $5.00 charge for "shipping and handling." A monkey can do better. Why does it take close to two weeks to get a package? The post office has also lost a mortgage payment, the company was going to charge me a late fee for the post office's screw up. If the post office could manage their finances better the cost to mail packages, letters would not have to be close to 50 cents. I can recall when it was 3 cents and letters and packages were handled with care and pride.

I call them back and open a case with the tracking number and the complaint (misdelivered dozens of pieces to other peoples mailbox) goes nowhere, because the performance remains the same. My request for compensation goes unheeded and I've heard that even if the parcel is insured they will not allow a claim when tracking shows that it is delivered.

Horrible customer service, packages arrived late and sometimes slightly damaged and never on estimated delivery date in 90% of orders shipped. Also, customer service is never available by phone and when you make the trip to the post office, there is usually only 1 out of 4-5 windows open and the agents have really poor communication skills.

I use USPS for EBAY packages. Whenever I order something It shows that it was scanned in and what time and after that, NOTHING! I called my post office, along with the Kearny NJ post office but magically, the item has disappeared into thin air AND I HEAR THIS HAPPENS A LOT. Now I'm wondering why there is no accountability of that post office and how they deny any responsibility since the package landed there, and now it's gone. ** are they doing with all these missing packages. This has happened too many times. I use any other delivery service I get my **. THEY LEAVE IT AT THE BACK DOOR IF THEY HAVE TO but what am I gonna do.
I can't control the persons choice when I buy something off eBay. So far I've lost a phone I ordered a game a screen protector some personal things a friend sent, and now a phone case which was scheduled for today and hasn't moved once. I sit outside waiting and watch the mail man clearly skip me when I'm expecting things.
How do I know I can trust these reviews about USPS?
880,156 reviews on ConsumerAffairs are verified.
We require contact information to ensure our reviewers are real.
We use intelligent software that helps us maintain the integrity of reviews.
Our moderators read all reviews to verify quality and helpfulness.
For more information about reviews on ConsumerAffairs.com please visit our FAQ.

I remember when postal jobs were top-drawer positions - you almost had to KNOW somebody to get in. Today, the USPS seems to hire apathetic employees, prevaricating (lying) customer service, and nurture an absence of diligence. About one (1) year ago, a package full of medications went missing. Found that the postal carrier "couldn't find the address" - after "knocking on some doors" allegedly. So the meds were returned to sender. I was lucky to have a diligent pharmacist, who knew we needed the meds, and it was during the pharmacist's call we learned of a "problem" with package delivery - only with USPS! We filled out, and submitted, an authentic, post office form regarding package-handling. I felt the need for same was excessive, but our medications come by mail, so preventing future problems seemed reasonable. Until an attempted/missing delivery on Tuesday, July 25, 2017.
On July 25, 2017, we were supposed to get a package from Amazon. We did not. Tracking showed USPS had delivered same, but a quick call to Amazon, and conference calls between USPS, Amazon, and us proved otherwise. A USPS "investigation" was implemented. Investigations, per USPS typically last 2-3 business days.
Day 1: USPS called our home saying the package "was delivered to a local business." Okay. And... Why hadn't said business returned package TO USPS? Strange, right? Day 2: USPS called (Saturday, like working a weekend makes ANY difference on the perception of their flawed processes) our home stating: "The carrier said the package was left by the steps." My first reaction: utter BS. Specific orders have been left - and REITERATED upon implementation of current, USPS investigation - that ALL packages delivered by USPS MUST be left ON THE PORCH. No packages are to be left "by steps," in "mailbox," or "at neighbors." Further, ALL NAMES, of EVERY PERSON RESIDING AT THIS ADDRESS, were detailed/submitted on the "USPS package-handling, instruction-form."
Day 2 (11:30 am): Regular carrier (versus part-time carrier) delivered package! Apologized for USPS dropping the ball. Delivering-carrier questioned; found package was NOT delivered to correct address. Further, remember the carrier had TWO stories about where/how delivery was made, somewhat solidifying her... errors. Package assessed for damage at 2:15 pm heat (we've been in triple-digits for about a week) got to one item, after 4 (four) days in Limbo..."on the steps... at the business..."
Package contents were perishable, and yes one item perished. Why? Absence of due diligence by USPS by not delivering correctly and in a timely manner, letting heat get to items. Will contact Amazon about resultant shoddy delivery, and replacement. Shame on Amazon continuing their collaboration with USPS. Shame on USPS trying to pass off delivery excellence, and covering (sloppily!) with inaccurate defense(s), when delivery did not occur as promised and/or stated for this package.

We've had several packages stolen. Told the mail person on the phone to tell them to stop doing that. The very next day something is thrown in front of the door. Had a package say it was delivered to a parcel locker. Never got it. Called the post office. The guy said it was put in the locker. It wasn't. Then said they would get in touch with the carrier and call back. Never called back. Still haven't gotten my package. We've had horrible carrier after, horrible carrier. I think to deliver mail you have to have a single digit I.Q.

Paid additional for certified delivery with proof of date, time & signature. Proof Came back missing all the information. It's the fifth time the USPS has underperformed for a service they charge extra for. To make matters worse Pete the Postmaster in Cedar Michigan really didn't care and made it clear that if he didn't find any new information he WOULD NOT call me.

I signed up for a p.o. box, and prepaid for 3 months - to end/renew on July 31. Even though I only needed the box for 3 months, it was more economical to use auto pay - I believe I saved $6-$9. On July 6, I rec'd a notice that my bill would be due on July 31 and to please make my payment (even though I had auto pay?) On July 25, I went into the branch, picked up my mail, walked up to complete a change of address, and close the p.o. box. Come to find out, they had already charged my card for the next 3 months. They actually charged on July 17!!! They charged me for another 3 months almost 2 weeks early. The only good thing I will say about this, the post office employee kept looking confused and seemed to be having a hard time finding my account. She finally admitted they had already charged me, and promptly refunded my money.

This simply illustrates the incompetence, ineptitude, and carelessness (as in they could "care-less"). They neither have any responsibility, nor any answer-ability... as demonstrated by this useless webpage to provide their disgruntled customers an outlet to vent their frustrations and anger against such a monolithic and uncompetitive organization... who will spend tens of millions in advertising their inferior services (to UPS and FedEX). The USPS survival as an autonomous organization is clearly dependent on taxpayer support and funding. My own outrage began with someone sending me an emergency of my blood pressure medication (that I ran out of). It was a simple matter for the USPS to get the small Priority Mail Box ($7.65) from Phoenix AZ to Long Beach CA.
The Priority box went out on Thursday afternoon from a Phoenix P.O. Considering the close proximity of Phoenix to L.A., it should have only taken 2 days- i.e. delivery on Saturday. There was obviously NO delivery on Saturday-- as could have reasonably been expected. Okay, we'll give the USPS guys an extra contingency delivery day considering their anticipated low level of competence. ALAS, no delivery on Monday either. I could have had the box delivered by bicycle within that time, but now that my blood pressure is through the roof because of the USPS's incapability to perform simple tasks-- like delivering the mail, I now tracked my package to ascertain where the USPS predictability screwed up:
1) The package was received by the post office on Thursday afternoon at 1:55PM. 2) July 20, 2017, 5:08 pm Arrived at USPS Facility PHOENIX, AZ 85028. 3) July 20, 2017, 8:58 pm Arrived at USPS Regional Facility PHOENIX AZ. 4) July 22, 2017, 2:18 am Arrived at USPS Regional Facility BETHPAGE NY. 5) July 22, 2017, 2:20 am Departed USPS Regional Facility BETHPAGE NY. 6) In Transit to Destination ON ITS WAY TO LONG BEACH, CA 908024718. The item is currently in transit to the destination as of July 24, 2017 at 9:20 am. It is on its way to LONG BEACH, CA 908024718. According to the USPS tracking, the package simply sat in Phoenix on Thursday, Friday, and Saturday, and finally on Sunday-- some dumbass USPS employee sent the package off-- not to Los Angeles distribution facility, but across the country to Bethpage Long Island, NY.
Perhaps these inept postal workers that sit there and collect fat government checks and pensions-- should let more qualified temporary seasonal employees like high school students, show the post office how to be more efficient. If they let the robots run things, the robots would certainly know the difference between the East coast, and the West coast. This **-up is totally inexcusable and an outrage... Would anyone want fly on an airplane built with this level of competence? Why should the USPS get a free-pass... and not be answerable for such colossal incompetence?

I mail letters to Albany from Plattsburgh, New York. It takes at least a week to deliver a letter that is about 2.5 hours away by automobile. I've sent letters to Orlando, (St Cloud) Florida, and it takes anywhere from 8-14 days. It's simply another government fiasco. I'm now in overdraft because the gd mail takes now over 8 days to travel 2.5 hours by car. I'm going to stop using them altogether. When I call the post office, if I don't have a tracking number... Tough. So the USPS has no responsibility whatsoever for a first class letter. Oh, that's JUST GREAT! Plattsburgh is a very depressed town, and they don't even sort the mail here. It travels to Albany to get sorted.

I would give Zero star if I could. USPS is HORRIBLE! HORRIBLE! HORRIBLE! I shipped a package a month ago to China with a tracking number on the receipt they provided, they said the package should be arriving within a week. After one month waiting, the package is still not arrived. I called the customer service and waited on the phone for over 2 hours. Tim, a supervisor on the west coast, told me that the tracking number USPS provided is NOT trackable even inside the US, they can't find where the package is. I asked him if the tracking number USPS provided to customers is not trackable, why USPS provides to customers? Why can't they tell customers at the very beginning? He said it's their USPS SYSTEMS FAULT. Sounds like he can't do anything about it. So here was a heavy lesson I bought with a heavy money: DO NOT USE USPS SERVICE UNLESS YOU DON'T CARE ABOUT ANY SHIPPING PACKAGES GETTING LOST!

I have made a priority international shipment and they said it will be delivered in 3-5 business days but it has not been delivered and I was charged 62$. The most worst and stupid service within complete US. Never prefer it.

I have filed 34 complaints over the last two years regarding my USPS mail pickup/delivery service and have yet to receive any resolution. I've spoken to local, regional, and national customer service representatives of the USPS to no avail. Starting in early 2015, I began scheduling package pick-ups through the USPS for priority mail packages – a service they offer and frequently advertise and promote. My mail carrier would only follow through with these scheduled pick-ups occasionally. At first, I told myself "he just forgot" or "everybody makes mistakes sometimes." After it happened for about the 5th time, I decided I needed to file a complaint through the USPS. A cycle of missed pickups, filed complaints, and lack of response has continued ever since.
The vast majority of the complaints I file are ignored. In fact, anytime I file a complaint about a package pickup request that was skipped, a few hours later I receive an email stating the package pickup was successfully completed. At first the blatant lying shocked me, but it has become an ongoing occurrence. I actually expect it now. On the rare occasion I have had the opportunity to speak to a local representative (perhaps two or three out of my 34 complaints), those conversations all followed the same pattern – the representative says they talked to my mail carrier, the mail carrier claims he never missed a pickup, and the representative tells me the problem has been resolved. They brushed me off completely.
In 2016, and a full year into my problems with the mail carrier, I installed a camera. I then had proof he never even set foot on my porch on days he skipped mail pickups and then filed false successful pickup reports. The availability of this proof has done nothing to change the situation. The camera is still there. He still skips pickups – and lies about it – and no one does anything. I'm really at a loss as of what to do next. How can this kind of terrible performance be overlooked and ignored for so long? I'm not asking for special treatment. I'm only asking for the USPS to provide a service they are supposed to provide, but quite frankly I have no idea how to make that happen.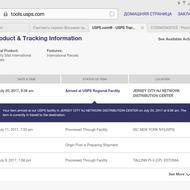 I mailed my international registered parcel from Europe to US. My parcel went through EU. It made above all continents and oceans in two days. My parcel arrived on the US border in New York. It has been held there for NINE days! I have only five books in this parcel, which has been going to Boston College Department of Philosophy. I assume that US postal workers read all these books during nine days of holding. I want to know is it any postal service improvement after holding and reading my philosophy textbooks?

Sent several mailings out certified mail, signature required, return receipt - paid for the services. Two were delivered but the signature return receipt was never returned. One was delivered as regular mail, and I wouldn't have even known, if I hadn't called the receiver to find out if they received it, because the on-line status is not updated and unknown. If we are going to pay for a services that are not provided. They should have to provide a refund!

I sent a letter containing tickets to a National League Baseball game on Sunday July 16. The letter was mailed from the post office on July 11 and had to go about 70 miles. Normal first class mail is typically delivered in one day, but I upped the postage to priority mail just to be sure. This cost me $6.65. The tickets arrived on July 17 - too late for the game and because I did not up the postage to tracking and insurance I am out the 6.65. Buyer beware. The Post Office is not to be relied upon!!! They have the worst customer service.

There was a package sent to me from eBay. I got a notification that the package would be delivered on the 15 of July 2017. When that didn't happen I tracked the package to find there was an attempted delivery and a note was left at around 6 pm. Well I'm home and no delivery or note on my door. I noticed the wrong zip code so I'm thinking they attempted to deliver to the wrong address. Upon contacting them on the 17th Monday at work when they opened the phone service said the hold time was an hour and 40 minutes. Couldn't do that so I called the seller. He attempted to help by opening a search.
I finally got someone on the phone that evening after a hour hold time just for them to tell me I had to wait for a response to the search which takes 3 days. I asked how did the zip code or whatever caused the package to be re-routed and she never answered. She said they'll look into that but someone has to pay for it to go to another address. Don't know if it's some type of scam but all the info is correct on the sender's website. USPS's customer service is laughable and their ability to handle a package is even worse. I wish I could give zero stars!

ONE star is still very generous! I dropped two packages, which came with prepaid shipping labels, at a USPS location at 2499 Judiway ST, Houston Texas. I asked for the acceptance receipts and USPS charged $1.35 for each box. If this makes sense, the bank can charge you for the receipt of your deposit. In fact, I lost a package of $900 at USPS just because I did not ask for the receipt (USPS, if you read this I can give you the tracking number and details so you can go investigate!).

I ordered a medical test kit because I had thyroid issues making me die from heat this summer. It was a very expensive test ($400). I had it scheduled for delivery at my work address. I learned the carrier did drop by twice while we were open and DID NOT EVEN STEP THROUGH THE OFFICE DOOR (our door makes a very loud popping sound when opened to where I can hear it!) and marked in his log "BUSINESS CLOSED WHEN ATTEMPTED". I called the local post office angry the next business day to complain: "YOUR CARRIERS ARE LIARS FALSIFYING DELIVERY INFO!" I got my medical kit the same day of my complaint because our employee was outside in our parking lot, and the carrier handed it to the employee... my account on Amazon.com did not record the delivery, either, and said the next attempt for the delivery would be 2 days later.

My product was shipped via USPS and I still have not received anything because for the first time ever the carrier left a slip in my mail box rather than leaving the product - I have called USPS multiple times daily and not once have spoken with a person and tried online to reschedule deliver which I am told is not an option as I went to the link multiple times and received an automated message I could not reschedule plus they don't answer the phone and I sat at my desk for an hour waiting for a call back that ended up being a recording and when I followed the prompts I got NOTHING. I want my shipment left and I can't TALK with anyone!! Communicating with the recipient is non-existent.

On 6/9/2017, I mailed a tan birthday card in the collection box on Vassar Drive and Freeland in Detroit, Michigan at 7 AM. The box indicated pickup would be at 1 pm. I had a return address in Detroit and the card was going to a P.O. box in Riverside, California. I made sure I had the correct postage and address. I'd made the mistake of putting some cash in the card. I figured whoever felt up the envelope would not feel anything like a gift card and would not be tempted to steal it. Boy was I wrong!!! This is the 7 mile, James Couzens area which is serviced by the 7 Oaks mail station.
It is now 6/29/17 and the card was never delivered to its destination. I called the U.S. Postal Inspector who referred me to the Office of Inspector General. Both call center personnel were very nice but told me if I just "mailed" something without a tracking #, I was out of luck. Apparently if there was a "trend" of complaints coming from a particular area, they could look into but... "Tough cookies lady."
Now you ask, "Why would I think employees at the 7 Oaks are stealing?" My sister mailed a birthday on 6/6/17. She put it in the mail slot at the 7 Oaks postal station. Guess what people, her card has yet to show up at its intended destination also!!! She had enclosed a check! I believe that the thief(ves) are targeting envelopes that look like they contain cards and money and/or gift cards. My sister also attempted to file a complaint with the offices I mentioned earlier.
The agent I spoke with at the Office of Inspector General indicated there were several opportunities for the mail to be stolen. This is a warning for anyone using the U. S. Postal Service. Do not assume your letters or cards will reach their destination with merely an address and stamp. You must, I repeat must pay extra to obtain a tracking. I believe that's the only part of the mailing process that may deter an internal thief. I learned the hard way.

I use USPS for mail delivery on my EBAY packages. I sent a package out with an item valued at 35.00. The tracking number shows the travel of the package right up to the destination post office in NY. It shows that it was scanned in and what time and after that NOTHING! I put tracers on it and called my post office, along with the NY post office but magically, the item has disappeared into thin air. Now I'm wondering why there is no accountability of that post office since the package landed there and now it's gone... where??? I could see if it was lost in transit but no, it was scanned in at the post office where it was to be delivered from. What recourse do we have when this happens. They should be accountable. I refunded the customer their money and now I'm out that money and the product. What can we do about something like this?

I purchased an item from an online store that only offered USPS. There was standard shipping and then expedited two day shipping for 32 dollars. Unless the trucks are out in neighborhoods overnight, the status updates are incorrect as my product was out for delivery from my local post office for 36 hours. I checked the status on day of delivery and it says they attempted to deliver but no one was there to accept. The notice was in the mailbox and my fiance is a stay at home mom, so I am led to believe that no attempt was made and in reality they intended for me to pick it up from the beginning. I feel cheated out of my shopping costs, because I expected to have my item today, but the notice says to come pick it up at 8:30 the next day. I suspect this problem is standard operating procedures for this company and if possible will never use their service again. Dishonest and lazy.

We are constantly getting other people's mail in our box. We are not receiving our mail. Our Lowe's bill has gone MIA for the past 2 months. All the girl will say is, "I'll try to do better". So sad!!

My package has been in a different state for 35 days. I have contacted USPS by phone and countless emails, also opened up claims. USPS will not help at all. It is really sad but there is nothing a person can do. I will be using UPS as much as possible because if they (UPS) lose a package they will resolve issue in 48 hours. USPS will never resolve issue.

I was expecting my package today. USPS tracking said it would be delivered by 8 pm. My husband I have been home the entire day yet 'tracking' said that there was 'delivery attempted'. How can that be? We were both here to receive the package. No knock; no doorbell. On top of that, USPS tracking website said there was a 'notice' left regarding delivery. No notice. What is with USPS? This is the second time that USPS said they couldn't deliver a package when there were persons available to receive. Now I have been on my cellphone ON HOLD for the last 53 mins. waiting for customer service rep at USPS to come on the line. USPS has wasted so much of my time and have inept delivery personnel. No one has come on the phone line and their closing hours are in one minute, so I will have to hang up without getting any customer service. 54 mins. of waiting on the line with no one there to answer customer inquiries is ridiculous.

I have been ordering from Wish.com and eBay, all my orders come in except my Jewelry, from China, all my orders come from China, I get everything but my rings. Customs says that they can do what they want with my packages, and the Post Office here in Arizona says they will keep watch but I have been waiting for my rings since April. I sincerely believe that they are stealing my Jewelry. I use to get all my things like clock work now I am not receiving much. I am not sure how to get an investigation for both. I think it will be found there is a lot of theft in both agencies.

I was wondering if someone can clarify why my local post office won't deliver my parcels to my door. They claim the following: "Thank you for your inquiry to the postal service. Unfortunately, we do not deliver packages to the door. Even though you are only a quarter mile from the mailboxes, we deliver to the cluster boxes only with the exception of Sunday Amazon delivery. I apologize for any inconvenience this may have caused you. Please feel free to contact me if you have any further questions."
When according to the rural carrier handbook it states the following: "331.21 Attract Customer to tsox. If a parcel is too large for the box, make a reasonable effort to attract the customer to the box to receive the parcel. Do this by sounding the horn or by hailing the customer. If unsuccessful, you must deliver parcels to any residence or business that is on the line of travel, or within one-half mile of the route and has a passable road leading to it. You are required to dismount to effect delivery if there is no response to your efforts to have the customer come to the vehicle, or if the customer requests that you do so."
I only live a quarter mile from the cluster box. For the most part most cluster boxes are in developments (communities). Nothing on their contract mention anything about not driving on development (community) roads. Other thing I have noticed is that they scan the parcels still at the post office stating that the mail box is full, they never bring out the parcels. Can someone help me on this. Thank you.

For quite a while now the postmaster of Salisbury, NC Post Office decide that packages that do not fit in the mailbox will not be delivered to the doors. I shop online often on sites like Amazon and I have a history of problems with non deliveries and even being treated rudely on the phone by Post Office employees including the postmaster who beside of being rude, behave very unprofessionally. I was supposed to receive a package today, a while back I signed to receive updates by email of my deliveries with tracking numbers so I have been getting emails for this package too.
At 10:15 am the email shows that the package was out for delivery, then later at 11:22 am it shows that it was Held at Post Office, Retrieved from full parcel locker. When I saw the last update I called several times to the post office and the line was either really busy or the phone was unhooked to avoid callers which I strongly believe. I called the USPS 800 number and they were not really helpful either. I contacted Amazon and while I was on the line they called again to the 800 number with the same answer and result. They were going to send a message to the local post office and I would have an answer within 3 business days. If this was the first time this happens, I would not be so upset but this is the daily bread.
Later in the afternoon I finally got somebody answering the phone at the post office, her name is Dana or so she said. When I started inquiring, she asked me where I live and then said that they do not deliver packages where I live and my usual mail person was not working today. When I am off like today and I am expecting a package, I meet the mail person at the mailboxes to get my deliveries but if she is not working, they do not even bother to load my packages in the truck, or like today if they did, they retrieve them. When I insisted asking her why the package was retrieved, she asked me for my phone number saying that she was going to research and would call me back, but that call never happened because Dana was just trying to get rid of me.
I was supposed to receive another package today, the first time I went to the mailbox, I found the "Sorry we missed you" notice for the package retrieved in the mailbox but nothing else. Later on I received an email that the second package was delivered and it was in the mailbox. When I went to the mailbox again, the second package was there. Apparently somebody from the Post Office took a special and earlier trip just to drop in my mailbox the notice for the package being held and then my other package was delivered by the mail person later on. Apparently for them it was easier to do this than just deliver my package to my door which is very close to the mailboxes.
During one of my previous incidents with the post office, the postmaster tried to justify her refusal to deliver to the door saying that some apartments complex in the area are not safe for her employees. When I clarified to her that my apartment complex is not one of those and she did not have a solid argument to justify the lack of service, then she started getting defensive, blaming my regular delivery person who like today was off the day of the problem. When I said that I have never had problems with other delivery services, she started saying that UPS and Fed Ex do a bad service too, trying to justify her bad work, which I found very unprofessional. If this story sound familiar, please come forward and share your experience.
Company Name:

USPS

Year Founded:

1775

City:

Washington

State/Province:

DC

Country:

United States

Website:

https://www.usps.com/