Consumer Complaints and Reviews

I received approved card for small balance just to try to establish credit. I got my bill, had annual fee, not told to me when I applied! I went from having small bal to having no funds to use because it was all fees. They charged me to use the card, they wanted to charge me to make a payment, then told me after I cancelled the card, I couldn't make another payment for 24 hr. They have no portal to pay online even though they say they do. It disgusts me because for a $16 purchase I owed $184 and they only have PO box if want to send anything that should have told me they scam people. Whoever reads this, DON'T GET A CARD from this place!!!

This bank is probably in a 3rd world country. Every time I need to talk to someone, it's India or Bangladesh. Forget it if you're 1 day late on your payment. They will call you twice an hour all day. Also, they have a thing where they will call you from your zip code and area code, like you know that person. Try cancelling this card, it's next to impossible. Also, they don't even have an email address. Everything must be sent in to them via US Mail. The interest rate is super high, and when you apply, you get charged like 75 dollars on a 300 dollar limit card. It also doesn't help that they look like Capital One with the logo and the name. This is by far the worst card I ever had, and I can't get rid of it.

I guess folks did not read before they applied for the card. I reviewed everything before I applied for the card so I knew what I was getting. No complaints here. Please read before you sign up for any Credit Card.

This has got to be illegal or something... A card called CREDIT ONE... just straight sent me a damned Visa card w/ my name and all on it! I DID NOT APPLY or ASK or APPROVE THIS! I owe a hundred or two on it and they want $25 a mo pmt? My valid Visa is over a $1,000. And min. pmt. $20... The payment due date on this was before my pay bill day. How could that happen? They SET ME up for a late charge before my first pmt! So, I sent late pmt... explaining this and questioning their reputation and practices but wrote... I will NOT pay late charge so readjust.
They sent another bill, w/ two $25. pmts due... a $25. late fee... and a payment due date not adjusted to any fair timeline or in response to their business practice being responsible for all this... not me! I ain't arguing and hanging on phone! I sent letter w/ pmt and they still thinking they GOING to do THIS? I owe a HUNDRED right now and that's only payments on a little over a hundred?

Credit Karma recommend Credit One card to pay your payment fine. But they Add $9.00 to each month payment to pay the monthly bill. They already charge 21% or more. They already add it up daily. They already make a load of money on you. But why pay $9.00 to pay a bill? They Ripped me Off. Each time. I am Looking For a Court Case. I want the $9.00 put on my payment. They Tanked my credit Report. Is Credit Karma a Scam with scammers?
How do I know I can trust these reviews about Credit One Credit Card?
634,392 reviews on ConsumerAffairs are verified.
We require contact information to ensure our reviewers are real.
We use intelligent software that helps us maintain the integrity of reviews.
Our moderators read all reviews to verify quality and helpfulness.
For more information about reviews on ConsumerAffairs.com please visit our FAQ.

I have a $14,000 Visa with Chase, among others, and received an offer for $500. I was curious to see who would even waste their time sending such nonsense. I even took the time to call to find out where they got my name and - everyone's right - you simply can't get through. If it's impossible to get through when you're asking "application" questions, I can only imagine what happens when a problem arises. I could see the executives of Credit One sitting in a conference room laughing and cracking up that people are actually taking these cards out.

Credit One is the worst Company ever. I made a payment with my bank and somehow my payment got cancelled by Credit One or My bank. When I seen the payment was reversed I made the payment again and this time it went through. I call Credit One and they tell me they closed my credit card and I will have to mail a letter into a p.o. Box and somebody will give me a call and here it is today no call a whole week later. They took the second payment from the same account and still closed it saying I need to still send in papers showing my account but again still took a payment again from the same Account. They are a company that tell lies and nobody never knows what they're doing. I liked my credit card but I will continue to talk and leave reviews until this matter is handle correctly.

My credit card balance was at zero and they passed through an annual fee and then charged me late fees! When I called I got hold of a very rude lady who basically said I had to pay it and I told her to close the card then and she said that's fine and closed the account. Poor customer service at its finest. Will never do business with them again.

I applied for a Credit One platinum visa credit card. I got approved. I got the card in the mail and try to activate the card. But they won't let me activate my card. They told me I need to mail in my id, driver license, birth certificate and utility bill. I got approved and the card. Now they trying to say I'm a fake. I mailed it and I don't know how long I have to wait. They don't even have a email address to be faster.

Do not apply with Credit One. They are nothing but full of lies. I made a mistake applying for this card. My credit line was 300. When I call to activate my card it charged me a 75$ making my credit line lower than it was. I downloaded their app onto my phone so I can keep track of my balance and make payments which I can't even log into. It keeps telling me my password is wrong which I know it was not so I couldn't make my first payments through there. I couldn't do it online either because it keeps telling me my password or user name is wrong too even when I reset my password a whole bunch of time and it says the same thing every time. So I tried calling the number on the back of the card but there's no real good payment options for you to pick from. I was able to call someone with really bad broken English to help me pay. She did such a horrible job.
After I was able to make my first payment I told her I want this card cancel. She ask me why I want it to be canceled. I told her why. She told me to stay on the line and she'll transfer me to a cancel specialist. I hold for ever and finally someone picked up. He ask me why I would like to cancel it too. I told her the same thing I told the last person. He then said he'll transfer me to a cancel specialist. I said "hold up I thought you were the cancel specialist? I was transferred from this other person to you." He said "oh sorry the other person probably made a mistake" so he also transfer me to another person which I had to be hold forever. Finally someone was able to help me cancel my card but it was not easy. If anyone want a good credit card I highly recommend Capital One. They are the best and I am happy to be with them. You can keep track of all your balance and statements and do all your payments through your phone or on their app.

Was trying to rebuild my credit. Thought this was Capital One because of the same logo. Been trying to pay my bill on line for days. Problem with site... try again later. It does not matter if you tell them you cannot get onto their site. They charge a late fee. Mine was $75 on my very first payment because I could not get in. I am cutting up my card and sending back to them and will pay this off. I too believe it to be a SCAM.

I called Credit One customer support (actually I had to call the lost/stolen card number since they don't even have a true customer support number) to let them know that my 2 credit cards that I have with them were being declined. I was traveling so I assumed that was the reason for the declines which to me doesn't make much sense since they are not bank cards. You should be able to use your credit cards while traveling without having to notify them. So I let the customer service rep know that both of my cards were being declined, yet I was still seeing the transaction being processed on the online site.
I told her that none of the transactions went through and that I wanted them removed from the account. She told me that she would see what she could do. She placed me on hold and when she returned she told me that she would put a request in... and that was it. She didn't say, "oh no problem, these charges will be removed." She told me they were declined because I was traveling. I asked her if she could set both of my cards up for a travel notice and she said she would put a request in for that. So I asked her if she could reactivate my cards so I could continue to use them. She told me she would put in a request for that as well.
She also told me that I wouldn't be able to use my cards now for up to 48 hours. She didn't guarantee me that the charges were going to be removed and she was extremely rude to me throughout the entire conversation. I told her that I would be canceling both of my cards when I returned from vacation and she could care less. She didn't even ask if there was anything she could do to change my mind or help solve the issue. She just wanted to get off the phone. I must have been interrupting her facebook time.
I also had the same exact issue with Bank Of America locking my account because I was traveling and didn't notify them which is expected since it is my bank card. They sent me a text message with any easy reply option. I was also able to easily login to my account and setup the travel notice and unlock my account with zero issues with minutes. I would recommend avoiding Credit One at all costs. I would have sent a customer complaint right to Credit One Bank but of course they don't give you that option. Hmmm, I wonder why.

Well my husband got this cc two years ago to help his credit. From the start they were calling him days before it was due and had pay and still get late fees. Now for the fun part. We paid his card off like 200.00 5 months ago and they reported it three months later to the credit bureaus as a 500.00 balance when his balance has been a steady 0 as in we don't touch it anymore. So they said they'd fix that and report correctly.
Now this month they reported it as 770.00! So now on Equifax it shows he is over his credit limit and knocked him down 30 points! His balance is 0. I finally got a number to the main headquarters and hubby got in touch with the fraud investigator who said fraud had been going on within the company. She said she reported it again yesterday as our balance at 0. We close in a couple of weeks. If it's not updated by then then I don't see us even qualifying for a home loan anymore and we'll lose our earnest money. I beg anyone to stay far away from CREDIT ONE.

DO NOT DO business w/ this fraudulent bank!!! It will be a miracle from heaven if you get an English speaking representative! All calls are handled in other countries outside the US! It will be difficult to communicate with representatives. And when you ask to speak to someone here in the states... they can't hear you or they hang up! Not to mention they slam you with so many fees in order to make more money from you!
I Have had this CC for 1 year and they always seem to charge late fees! I'm never late but, sounds super fishy when they so-call "take your payment" and then it disappears thus, "Making you look late"! Called about 23 times today for someone to resolve my issue and still all failed! They are scam artists only wanting to make money from you! I don't trust them! I pay early... and they add late fees! I pay on due date and I'm late too!!! They always try to find a way to screw you!!! I'm closing this account!!!

This is the worst credit card I've ever had. To file a dispute you have to do all the leg work and it still takes 30 to 60 days for anyone to do anything about it. I've contacted the office after submitting everything and it's 30 days later and have been told no one's contacted the merchant. In the meantime my credit score is lowering and I'm incurring interest charges but the company can't do anything about it. I would not recommend this card to anyone. They are the worst and customer service has no resolution to your problem. Please do not do business with them. If you want a car do not go to Credit One banks.

This card is a ripoff. They gave me a $500 limit and charged me $75 annual fee. I paid the fee the first year then they started charging me $8 per month for the fee. I wasn't aware I had a balance as I had not used the card. They then added a late fee and called me to collect payment. I tried to get them to remove the annual fee and they would not do it.
It took 20 minutes to get them to understand that if they wasn't going to remove the fees, I didn't want the card and to please cancel. Supposedly they waived the fee and canceled the card. I'm waiting for a letter stating that they did that. You can barely understand the people you're speaking with because the accent is so heavy. Very frustrating. I will never have anything to do with this company again and would advise others to steer clear.

I have never experienced a bigger run around in my life in trying to close my account. Talk about high pressure!!! After having to get rude, the agent (who didn't speak English very well) said it was finally closed. It took forever. And conveniently the first 2 times, we were conveniently disconnected so I had to call back and start all over. The interest rate, monthly service charge and customer service are all terrible! Stay away!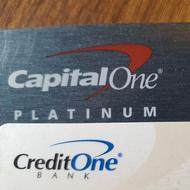 I opened this account to build my credit thinking it was Capital One. HUGE MISTAKE. Run away as far as you can. I called today to close my account because I did not want to pay the monthly fees, no problem connecting. But, I ended up in an argument with a lady who could barely speak audible English. When I politely informed her that she was not listening to me, she then gave me a speech about how she does not own the company, she is required to do her job which is inform me (argue and not listen to me) of what they could do for me.
So, to back up a bit, when I told her to close my account, she had offered to waive my monthly fee for 3 months and lower my interest rate to 15.9% for 6 months, while my account was in a "re-evaluation" process to see if I qualified for a no-fee account. To this, I told her that I would like to have a no-fee account for good, not a temporary one, as I had the account for over a year, made all of my payments on time and my balance was currently at $0. This is where the arguing started as she constantly talked over me and would hardly stop to let me get a word in. Finally, I was able to ask her if she could give me a specific time limit on the "re-evaluation" process, she said could not.
I told to her to close my account. She talked over me again in broken English about the original "deal" she wanted to make with me. Knowing that I may never get another chance to talk to a real person at this foreign company, I kept telling her politely that I decline her offer, please close my account. I must have that said that politely in between her ramblings 6 or 7 times before she finally said ok, as of today your account is closed. I asked her to send me a confirmation email about the closure of the account, to which she said it would take up to one week. I have a strong feeling I will never receive that confirmation email and they'll charge me a monthly fee. Stay as far away from this foreign impostor of Capital One as possible.

I've been trying to access my account online to pay my bill like I always do, but for the last month the website keeps saying unavailable. I call them and they tell me that my account has been closed because two payments, one in May and the other in October came back unsuccessful. Now, even though it came back unsuccessful, I made good on the payment before the month was out. The one in October was due on the fifth, but I paid on the 10th so they closed my account. They didn't notify me by email, phone or mail that they closed it. I would have never known if I didn't call them. I was calling them to make a payment today. They told me in order to have it reopened I have to send in a bank statement, which I'm not. I told them to send me paper statements and I will pay every month until it is paid off. The service stinks and there are so many hidden fees that I was not aware of. I will not recommend this company to a dog.

I received an approval for this card in the mail about a year ago, at a time when I was trying to build up my credit. I didn't really need a new credit card. I just wanted to open another line of credit to bring my score up a few points. I filled out the response and received my new card. Along with a bill for all of the hidden fees involved in activating the card. It was only then that I noticed that the card I had activated wasn't Capital One as I thought, it was Credit One Bank. I don't know how they haven't been sued yet for ripping off Capital One, but I'm certain that this is exactly how they trick people into doing business with them. I also don't know how this company is still doing business and is actually recommended by Credit Karma because I have felt from the moment I got my card that it is a scam.
So that was about a year ago, and because that left such a bad taste in my mouth I have used the card once and immediately paid it off so that I don't carry a balance. I occasionally log in to my account so that I can make sure my balance is at zero. At 8am Saturday morning, four days ago, I got three phone calls back to back from a collections department. It turns out I had an overdue balance of $24. Apparently they charge you an "annual" fee every MONTH, they just neglect to tell you. They also don't send you a statement in the mail, so in two months I racked up $24 worth of charges and a late fee on a card that I never use.
The barely English speaking woman on the phone rudely demanded that I pay over the phone and wouldn't give me a chance to look at my statement online. So I put her on speakerphone and attempted to look up my bill on my phone, but conveniently their website was down. So I paid the money and asked to close the account. At this point I paid more money out of pocket than I had ever used in credit, and there is no way I'm paying every month for a card I don't need. I spoke with a "supervisor" (also barely spoke English) who assured me that my account was closed. Tonight I was able to get on their website for the first time since the call and my card is still active. I have never had such a poor experience with any other credit card company.

Credit One bank is the worst company ever. I have always paid on time and actually I usually pay 4 to 6 days in advance. My payment is due on the 24th. This past month I was very sick but I signed on to make my payment on time just not early. Well, I get a notice saying my account was past due and that I now have a late fee. I really believe they began to think my payment was due earlier than it is because I have paid early every month. I called them right away and it took nearly two hours of them trying to strong arm me to pay for Oct and Nov and the late fee. I explained over and over again that I had made the Oct. payment and did not understand why it did not post.
They kept ignoring me and kept insisting that I had to pay well over $100 for Sept, Oct., and Nov. I said "no, I paid you for Sept and Oct but since I never received a confirmation for Oct. I will agree for now (until I can talk with my bank) that I owe you for Oct. only and so IF you remove the late fee as per our agreement, I then only owe you a minimum payment for Oct which certainly does not equal well over $100." She finally says, "yes I know this BUT IF you pay the amount we are asking then you will have more funds available to spend." I said, again, "I have been sick and have missed work and as I have told you I cannot afford to pay ahead for Nov. and so what would make you think I have over $100 to pay you?"
Finally, she relents and then tells me I have to be transferred to two other departments. It took nearly two hours of my life to correct the issue. Oh, and at one point she tried to make me believe that I had to pay my entire balance or "else"!! It was sort of like... "Well, you missed a payment and now you must pay the entire balance." That was the first part of our conversation of which I had to stand my ground. I had to tell her several times that they did not have the legal right to force me into a full payment nor could they force me into paying a month ahead. Terrible, terrible company!
This company is sneaky, their customer service reminds me of loan sharking. Their yearly fee is outrageous and you owe it to them regardless if you ever use the card. Not sure if this is common practice or not but it stinks regardless. This is not the first time I have had payment issues with this bank and it is not the first time they have tried to charge me more than I have owed. Overall, their company is terrible and I highly recommend not doing business with them. I plan to pay off the balance soon and to close my card with them.

I have a Credit One card. I paid it off and wanted to cancel it so I didn't have to pay the monthly fee. They made me run through hoops. I paid one payment with my savings account and the rest with my checking account the whole time I had the card. They said they would close my account but it would report negatively on my credit until I provided them with letters from my banks stating that both accounts were mine. I could NEVER get someone who spoke English and it was the most ridiculous thing I had ever heard of. Even the lady at the bank didn't believe me and called herself. After asking about 5 people for an American we finally got someone in Las Vegas and she stated it was the policy and it had to be done. Why we still don't know but it's absolutely ridiculous. I would not recommend this card to anyone. Horrible!!

Everyone has a different experience, but let me explain what happen with me. This company is by far the most rudest and cruelest business I have yet to do business with. Their customer service sucks! If you're very responsible and want to keep your credit score up and payments on good terms, do not open a credit card with Credit One bank. Please. They do not work with you in any type of situation. They ask for very very much personal information that you have the right not to provide. They asked for my bank information, every detail and closed my account and dropped my credit score and affected everything. I can't access online services because my bank information was wrong and never called me or sent a letter to let me know. Please be careful and do not rush to anything. I really like and enjoy services with Capital One. Very friendly and never had problems with Capital One. Thank you.

I was calling to make a payment in which I am charged 9.95 for in which I have no problem with. However the customer service rep. was rude from the beginning of the conversation to the end. I ask her at one point, "Why are you being so mean to me?.. I am just trying to pay my bill." She just got meaner. I could tell in her voice she knew there would be no consequences for her actions and I would just have to tolerate it. Did I mention they were charging me to deal with this rude woman. Well I may have had to deal with her this time but not again. My time with this company has ended. It's bad enough to have to pay to make a payment but to be treated poorly is uncalled for. They need to listen to their supposed recorded phone calls on this date November 1st at approx. 11am and hear how their rep. talks to their cardholders.

Perhaps Credit One is reading these reviews and trying to change the way they do things? I am having zero problems with the company. In fact... I just got my first credit increase ($150). I don't quite understand the payment issues people are having? When you log in to your account, it shows everything you need to know to make a payment. You can choose to pay the minimum or whatever you like. It gives you a confirmation number once you submit the payment and posts immediately that the payment is in processing... Then the next day I always receive an email stating my new balance. If I go to my account, I can see the payment, date, and amount... and the balance and what can be used for cash withdrawals and so on. I'm not understanding the issues... Perhaps if people used the website and logged in to pay instead of mailing checks or using the phone method they would be happier?
I AM concerned after reading the reviews that when it comes time to cancel my account that I will run into issues. But it is not expensive to send a registered letter that needs to be signed for... and I think I will go that route if I decide to cancel. And back it up with an email and phone call. ;) Really, I wonder if all the negative comments are because it is easy for people to get frustrated and come on review sites to complain... but people don't have much motivation to go to the review sites and give good reviews. I just wanted to say something because I am working on my credit and got this card on the advice of a financial advisor. Had I read all these prior, I doubt I'd have braved the card. But I am HAPPY I tried it and have had NO issues. Hopefully that will help someone. Peace.

This was the first card I applied to when re-establishing my credit. Don't waste your time, they will make it impossible for you to close the account when you build your credit and get better offers. I called in to cancel my card that I didn't use anyways, it was a nightmare. Finally after being on the phone for an extensive amount of time the woman convinced me to not cancel. She would increase my limit and waive the annual fee. Three weeks later I receive a bill with the annual fee and an additional $10 limit increase charge, that I never asked for in the first- she offered it to me to not cancel.
Now after spending another 20+ minutes on the phone making them cancel my card, I still have to pay the annual fee but they will credit me the increase limit fee - these people are impossible to deal with. Save your time and apply with Capital One or someone else. Customer service is 100 times better - please do not waste your time with this company - they will be the ones messing it back up after you have tried hard to make it good again!!!! This is bad business!!

This "company" is a joke! I've talked to a representative multiple times and always have a bad experience! I've never had worse service! I've been trying to set up an online account so I can pay a standard payment. The other option is pay nearly 10 dollars for "express payment." There's no reason for that! Either server is down, it won't let me add information, and other issues that prevented me from paying. I called them and instead of regular payment they only would take express payment with my debit card. I told the representative that I wanted a mailed out bill and I would pay then. Currently I am overdue, because I had lost my card and was waiting for my new one and he started threatening me about my overdue account and if I don't pay today they would come after me. This "company" feeds off lazy and or naive consumers. I will be paying this card off in full and closing the account, quickly!

If I could give this company zero. DO NOT GET A CREDIT CARD WITH THIS COMPANY!! I was sent one in the mail and activated it. I got more in late fees than using it. Their late fees are $35. They will not work with you. I have hidden fees every single time I make a payment. I am on the phone with them right now about some fees and one person transferred me to a department and I got hung up on. I keep getting hung up on. I have not used the card in over a year and yet still am over the limit. I cannot stand this company. Worse customer service in history. Save yourself the trouble and go with someone else, Capital One is a good one.

Wow what can I say... BAD BAD BAD!!! Bad service, Bad accounting, Bad People!! Long story short I paid off my balance followed it up with a confirmation letter and had a ZERO BALANCE. Then I get a bill for a CREDIT (I overpaid) then another bill for the interest and fees they deducted from MY CREDIT BALANCE! IS THAT EVEN LEGAL??? Every time you try to call them they put you on hold then hang up! DO NOT GET A CREDIT ONE VISA OR MASTER CARD!!!

I've had my card now for about 7 months and I have no complaints. My credit score has gone up and I've received a credit limit increase. It seems that people forget that the reason they have this card I said because they had bad credit to begin with. You can't expect to have horrible credit and get a Gold card from anyone.
When you have bad credit and a card is offered to you expect high fees. I couldn't get a card from anyone, not even the bank I do business with would give me a card but then I got this one. I started off just using it for gas and would pay off the balance in full when it was due. Then I added 2 accounts I have that I pay monthly for, that way even if I don't use it for gas it's being used monthly and paid that in full every month.
Here we are 7 months later and I have a better credit score, a lower APR and an increase all because I used it in a smart way. It's not their fault your credit is bad and they're giving you a way to make it better. I've received offers from 2 other companies and accepted them both so now I have 3 credit cards when 7 months ago I couldn't even get 1 if my life depended on it. Go ahead and try to get a card that will give you an unsecured credit limit with bad credit, it's not going to happen. If it's that bad then just cancel and cut up the card, me on the other hand I'm going to only leave my 2 recurring payments on it and keep building my credit with it. I'll use the other 2 for my other purchases.
Credit One Credit Card Company Profile
Company Name:

Credit One Credit Card

Website:

https://www.creditonebank.com/home.aspx?ReturnUrl=%2f