WEN by Chaz Dean
Foothill Ranch, CA
Consumer Complaints & Reviews

I first started using WEN largely because my hair was thinning and had thinned to the point where I was thinking of trying Rogaine. I had always used shampoo, including quite expensive ones at $40 or more from my hair salon, but after I found out that lauryl sulfates and other detergents, which are basically what most shampoos are, are capable of stripping out the color that was costing hundreds of dollars to maintain, as well as damaging my hair at the root, I stopped using them and switched to WEN. I have been using WEN exclusively for more than 5 years. I am 57, and would not go back to regular shampoos. My hair became fuller, my bald spot is gone, and my hair definitely does not look like it did, which was sad and old before its time.
My suggestion to those who have trouble with WEN is, be sure you are not using too much product, don't use the full amount they suggest, for example, it's way more than you need. Be sure you wash it out completely. Don't combine WEN with other, non-WEN products; you can very easily create an allergy where there was none. Another thing to keep in mind is that the products you were using are much, much more damaging due to the chemicals in them. However, if you have an adverse reaction, and the rest of your physical health is perfect/good because of your diet, no smoking, etc., you have probably used too much product inadvertently around the roots/scalp and have an allergic reaction.
Another thing a competent lawyer will deconstruct in a few minutes are all the variables in lifestyle that combine to create something like hair loss, particularly in older women. Noticeable thinning occurs in 50% or more of women past a certain age (even as early as puberty) and it's far more likely that what you're seeing is the result of normal aging hair loss, sadly, combined with toxic chemicals you're ingesting in one form or another.

I used Wen and noticed my hair was not as thick as before and then I heard about the lawsuits. I stopped using it and started noticing my hair was thicker again and was confirmed by hairdresser who has been doing my hair for years. Stop using this product!

I started using WEN on and off a few years ago. I had purchased this product, and then was given several bottles as gifts. Recently I have changed hairdressers, and I mentioned that my hair has been thinning, my natural curls are gone and my scalp has been itchy. She asked me what shampoo I was using, and I told her WEN. She told me to stop using it and return the products, and that many people have had issues with this shampoo.
WELL, I had called CHAZ DEAN 800 number and after speaking to several people, they will NOT issue a refund because I do not know where or when the gifts were purchased. I have several large bottles as it last forever. I find this totally unacceptable, especially at the corporate level. I will NEVER purchase another product from DEAN and I will inform everyone I know to do the same, as well as posting online reviews. I have just thrown out a few hundred dollars worth of WEN SHAMPOO. Thank you very much CHAZ.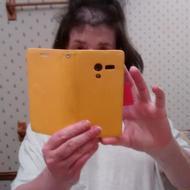 Let me say I have lost all my hair from cancer treatment and it all came back. My best friend sent me WEN Honey Peach, loved the smell started using it and within a week the crown of my head had no hair. I felt like I was back in chemo again. It didn't stop there! It continued to fall out all over and my hair used to be so thick you could barely get your fingers through it, now I have lost 75% of my hair and I am taking 10,000 mcg of Biotin, Viviscal, Hair La Vie, Rogaine. I have tried everything to get my hair to grow back in and nothing as of yet has worked. My self-esteem is just gone and I hate going out of my house for any reason. I can't even comb over for there is nothing to comb over with.
Why is this person still being allowed to sell this product even if there are only a dozen people that have had this reaction? Just don't try it, I fear I will never get my hair back & what's even worse is all the people that are using it and trying it that believe they are doing something good for their hair. I cry everyday, every single day and this man hasn't even said he is sorry to anyone that I know of. I have cried more over this than when I lost it all from the cancer. Shame on him. I have the bottle still almost full & the box but this was a gift so I don't have the receipt.

I used for a year and thought it just because the way hair felt... very nice good product but did notice more hair in brushes, shower, everywhere!! A friend told me about a lawsuit. It has been 6 mo and through each month that started at my back crown a section of hair GONE BUT NOT AT ROOT HALLELUJAH!! My own new growth finally!! After reading reviews sounds like a lot of others experience too. I did also notice my scalp sore to the touch like when brushing (never happened before).
My hair like a lot of the women's reviews read was my pride and joy fine but a lot of it and at 56 yrs young to have this experience is just sickening. Why the hell ARE THEY ABLE TO STILL SELL THE CRAP... AND TO REVIEWS FROM WOMENS ACCUSING MANY OF US OF MAKING A LIVING GOING AFTER companies... "Shame on you" and just hope it does not happen to you... just cause has not does NOT MEAN CAN'T OR WON'T.
How do I know I can trust these reviews about WEN by Chez Dean?
573,552 reviews on ConsumerAffairs are verified.
We require contact information to ensure our reviewers are real.
We use intelligent software that helps us maintain the integrity of reviews.
Our moderators read all reviews to verify quality and helpfulness.
For more information about reviews on ConsumerAffairs.com please visit our FAQ.

I just boxed all the Wen products to send back because my long blonde hair is so thin it won't hold a curl, even if I use a lot of hairspray. I have never had this problem before. My husband and my friends noticed the difference in my hair. I am a 62 years young and my hair has always been my best asset. Now I keep it up or wear a ponytail. I don't feel confident or pretty like I used to. I have brought extensions to hide my thin hair. I think Chaz should take his product off the market so other women have to go through this.

I've been on Wen for a year. Initially, I loved how it made my hair feel but for about six months my scalp itched. For awhile I thought I might have lice but did not. I put up with the itching because I wanted healthy hair. Unfortunately, I got the opposite. Gobs of hair coming out in the shower and more in my brush. My hair gets greasy quickly. I've stopped using it. I feel embarrassed about the hair loss. Perhaps the product is best for people who already have thick hair and can afford to lose some.

I have been using Chaz Dean's Wen for approximately 10 years. I have super fine baby hair... My hair is thicker and healthier than it has ever been in my life. I am 53 years old so the other people that are having problems could be that you had an allergic reaction to some of the essential oils or could be that you have been using it wrong. My guess is you had an allergic reaction (anybody with a brain in their head would have stopped using it when you had an allergic reaction to something. You immediately stop using it!!!) I cannot personally rave enough about this product how fabulous it is. I also have to wonder if some of the people that are trying to sue Chaz Dean that's how they make their living and believe me there's people out there that do that!!!

Hair loss, irritated scalp, THINNING of hair. While I was trying their product OUT, I notice in time as I was using the product I was having scalp irritation. I thought I had lice!! No, never did - it was the WEN hair products I used. I only used WEN products, the whole time I used WEN. I quit their product, my hair growing back. I know for sure it was WEN. After I quit using 6 months later I got new hair growth. No more scalp itching me. My hair feeling so much more healthy!!! There needs to be warning labels on this product.

Don't buy this product. Bought it from QVC in 2014 during the holidays. After 4 months of using it, I noticed more hair than normal in my comb. I stopped using it after the 4th bottle due to itchy scalp, scalp soreness, hair thinning, and more hair in my comb. So much for all natural. It's 2016 and I'm still trying to get my hair to grow back from the root in the middle due to this whack product. DON'T BUY IT... I have warned you!

I think I have been using these products for about 4 to 5 years. I thought I never had any issues until around Memorial Day weekend 2016. During our vacation weekend, it was really nice and sunny and I thought I burnt my scalp out on our boat. Then it became very itchy towards the front of my head. The burning and itchy feeling have not gone away yet it 6/7/16. I have been in Florida in the hot sun before and burnt my scalp and it goes away pretty fast, it just a different itchy burning feeling.
Today after washing my hair with WEN as I have in the past, the itchy burning feeling was still there. I also leave it in my hair and don't wash it out. I have very thick and curly hair and the product was great til now. I knew about the claims of losing hair and the lawsuit, so I decided like the others to research it. Some of these women have horror stories, and I read about the itchy creepy feeling people had on their heads, it was describing me.
As far as hair loss goes, I have lost hair around the top crown part of my head that I had noticed a while ago and thought it was just my age 54 and I do have lots of hair in my brush but thank god not clumps. Now that I developed this itchy burning feeling and read these reviews I will STOP USING THIS PRODUCT. I hope my hair doesn't thin anymore in that area or start in a different area. Going to have to find a different shampoo and conditioner... I really did like the product, but do think it is started to affect me more than I realized.

2 years ago I ordered my first bottle of WEN. I used the product as directed and the first time was luxurious. My hair was beautiful. The second time, my hair was a little heavier and didn't seem to rinse out as well. The third time my hair started to fall out as I would run my fingers through it. Not one or two strands of hair like usual, but 30 or 40 strands. My hair looked flat and I stopped using the product. My hair loss continued. I went to my doctor who did blood tests and a hormone check. All tests were normal but my hair continued to fall out by the handfuls until my ponytail was so thin I had to wrap it 5 times.
It took 6 months for my hair to stop falling out. I'm fortunate in that I have had no residual problems since. It seems like a large percentage of customers have this response. I wish WEN would do the research and find out why. I was so depressed. My hair is one of my identifying factors and I was devastated. I am so grateful to God that it grew back I have noticed from the reviews not everyone has been as fortunate.

I have been using Wen for six years now and I have never had any hair problems. I was amazed to read all the customers that were dissatisfied. My hair is so and silky. I color my hair every six weeks. I love Wen and will continue to use it.

Used Wen for almost a year and started to notice scalp itching and then soreness and then a lot of hair falling out more than normal. My hair was everywhere on the floor and throughout my apartment and on my counters. Normally I have very long, thick hair and it was so thinned out by the time I stopped using product and happened to google my symptoms and found same complaints about Wen. I then called and canceled Wen and reported to them.
I have been trying everything to get rid of this problem, but may have to go to dermatologist. I don't have health insurance so I was trying every kind of special shampoo to get rid of it including Nizoral shampoo which is $14.99 for 7 oz. So far its the only thing that somewhat soothes my sore scalp and has slowed down my hair from falling out as much but it's still there after almost a year of trying different over the counter medicines. I wish I never used Wen. I hate this sore, itchy scalp condition it caused and the hair loss, but thankful that Nizoral shampoo has helped and with prayer to slow down my hair loss. Would never buy product again. Have used so much money trying to get rid of dermatitis on scalp.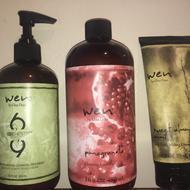 My mother, a dissatisfied former Wen user, sent me unopened containers of the Lemon Rosemary Vanilla Bean Ultra Nourishing Cleansing Treatment, Pomegranate Cleansing Conditioner, and Sweet Almond Mint Anti-Frizz Styling Creme - with the warning it made her hair fall out, and to "stop using it if you notice any hair loss". So I tried it, and I experienced a drastic hair loss immediately in the shower with both products upon the first use! I'm not talking about just a little clump of hair - I'm talking GOBS of hair - that actually clogged the shower drain. After showering, I noticed my hair was easier than usual to detangle, but that a significant amount of hair was coming out of my scalp without any resistance from the combing (I always use wide-tooth comb).
Still, I decided to use the styling creme. I admit, my hair didn't look too bad after styling - but my hair has continued to fall out in clumps while shampooing, conditioning, and styling. Also, my head and scalp itched for hours after using. Even after using other hair care products since, my hair still looks frizzier and thinner than normal. I know this is not all a "coincidence". I told my mother, "Thanks for the warning. I threw the products into the trash", which I did. I really wanted these products to work, but there seems to be something caustic in the formulas causing serious hair damage and loss, and scalp irritation.

I used Wen for a year and thought it was good for my hair. Seemed to feel softer and shinier but gradually noticed thinning on the top and sides. I asked my hairdresser if she thought it could be my shampoo but she didn't want to comment but told me about the Wen lawsuit. I stopped using the products but have yet to see any improvement on my thinning hair, very depressing. I used to have thicker hair and was never a problem on growing it long but now it is thin, and doesn't seem to grow very fast. Chalked it up to aging until I read the reviews on here. Definitely feel the pain and frustration.

I started using WEN in the winter of YR 2013, and noticed in the spring of YR 2014 a small bald spot - about the size of a dime. Didn't think too much of it. I also notice my hair seemed thinner (as I have fine, thin hair to begin with) but attributed that to the smoothness that I got from using the WEN products. By summer/fall of YR 2015, my bald spot starting getting a little bigger (about the same time I switched WEN fragrances to Pomegranate).
At the first of the year 2016, I made an appointment with my dermatologist to find out what was causing this. They first suspected alopecia areata and gave me two rounds of steroid injections to see if the hair would grow back - nothing. In March (2016), the dermatologist did a biopsy and it came back inconclusive, so they took two more biopsies. The last two biopsies ruled out alopecia areata and scarring alopecia. The dermatologist is stumped - until I told her I was using WEN (I stopped using WEN in February of this year (2016)). She is currently doing some more research. All I want is my hair to grow back and my bald spot be gone. Does anyone have any recommendations? I called WEN and of course their statement is WEN does not cause this. I'm an extremely healthy person, no allergies, exercise, eat healthy, no health problems, no hair loss heredity problems...HELP!

I'm in tears. It's been months that I have been trying to figure out what has been causing extreme hair loss. I used Wen hair products years ago and decided to try it again back in October 2015. Since I started using it my hair has been falling out in globs. One morning I woke up to a ball of hair in my bed; along with handfuls in my brush and in the shower, daily. After some research I have found many complaints about others who have had the same experience. I once had gorgeous, long, beautiful, thick hair - now it is stringy, and thin, with bald spots. I will raise my voice and complain to every medium possible. I'm so unhappy and dissatisfied.

I first saw the advertisement for trywen.com while waiting at the doctor's office. It was an infomercial to get a reduced price on Wen products. I had been wanting to check out Wen's conditioner (all-natural) for a while so I decided to take advantage. However, I quickly learned that when you agree to the reduced price, they also sign you up for a recurring shipment. Additionally, the price is not actually reduced at all; in fact it is only split up over 3 payments. As soon as I saw the second charge on my credit card, I immediately called (you need to call) to cancel my account. However, they still said there was a pending charge for $89.95. This was in addition to the amount of $44.95 that they had already charged to my account. I will be attempting to return the products for a refund but currently I do not feel hopeful about the results based on the previous comments.

Well first off I'm glad I looked up the reviews before I used WEN and I'm so sad for those who gave their trust in your products. I hope in some way there will be justice for the false information and advertising with guaranteed results... The only guaranteed results we want is to shut you down and help those who have been living this nightmare and give them their confidences back.

I'm sitting here, reading these testimonies with tears rolling down my cheeks (yes, I am a very emotional person at times). You ladies have written my entire experience from loving the softness on my blonde, already dry hair to it falling out in such HUGE hand and pick fills that I'd cuss and, well cry each time I used it! But... I was told my hair was coming out "because I'm at that age". I'm 46!!! The money - oh I don't know how many times I cancelled before threatening to report them to the BBB. Amazingly, they stopped. After one last payment of course.
THANK YOU for easing my mind on this. It's a big deal losing hair for no reason. How does one get in on this class action lawsuit? I ordered my first of many rounds of it years ago from TV and stopped. I just ordered more since it was supposedly a new type and I hoped it was. It's not. But I got it from QVC. Will that matter? Again, thank each and everyone of you that yelled B.S!!!

I purchased the cleansing conditioner and the trial set from Sephora and unfortunately after a few weeks of using it - I noticed my hair felt really dry and limp! I would comb it and it would shed so bad. I will not use this stuff again!

My mother ordered Wen hair product, which was given to me as a gift. I used the conditioner and noticed that every time I would comb my hair it would come out a handful at a time. Then I noticed thinning and then bald spot at top of my head and my hair has not grown back since. I will not use Wen hair care product ever again.

I ordered Wen and was on automatic shipping - I was receiving way more product than I could possibly use. I was even giving it away - still had way too much. Then I noticed they were taking money more than once a month out of my account. Every time I called they would say they would review but I never heard anything back. They kept shipping then when I called and was adamant about cancelling my account and want to ship product back they say I have a past due Amount from 7 months ago and yet they are still shipping product. This is just a scam to get into your accounts. Beware. Don't let them steal from you.

I thought I was going crazy but yes my hair is falling out. I stop using. Every time I look in the shower after I get done I get that I picked up from the shower. My hair is thinning out, and it is scary. I will need to find the order number in all my paperwork. I don't have the money to sue.

I ordered a trial sample of Wen shampoo online. The website lead me to believe that I had 4 weeks before I would automatically receive the next shipment. I called 2 weeks after I received the first shipment to cancel the subscription. I was told that the next shipment of product had already shipped and too late to be cancelled. I was charged $33.94. Now 3 months later, I am charged another $33.94. When I called customer service that said this was for the second installment payment. It was never clear that I would be paying that much for this product! $67.88 for 2 bottles of shampoo is ridiculous! The shampoo doesn't even work that well. Buyer beware!!!

My intention in writing was to complain about the packaging of the product. Not until I read all the complaints about other customers losing hair, etc., was I aware of this or aware of the fact that there is a lawsuit against the company. I have been using WEN Cleansing Conditioner for over four years. None of the other products, just the cleansing product. I am 75 years old and have short, thick, wavy coarse hair that is chemically colored about every 8-10 weeks. I don't wash my hair everyday, because it isn't necessary. Use an old lady shower cap for my daily shower. So I saw the WEN claim of not using the product everyday, that seemed perfect for me. I normally go 3-4 days between "shampooing my hair".
I also do not use the recommended amount listed on the bottle and promoted in the t.v. ads. It is just way too much product to use and I always figured it was just their way of getting you to use more and then buy more. With short hair and using the amount of product that works for me, a bottle will last me 5-6 months, which is the only reason I pay their outrageous price! Bottom line, my hair is still very thick and wavy and short and I have none of the other side effects that have been mentioned in the other reviews. My original annoyance with the product is that there is still tons of product left in the bottle (which you cannot see through!) and the pump no longer pumps it out because the "straw" part of the pump doesn't come anywhere near the bottom of the container.
But now I guess I have to re-think this whole thing, because it seems that more people are harmed by the product instead of being helped with it. I can get the remaining cleanser out of the bottle, but these other people have lost their hair and suffered pain and humiliation and have received no satisfaction from the company. It would appear that I am an exception, but that doesn't mean that I have to continue to support this company and its products.

At first the WEN product was good, soft and easy to manage. But after a month or so I noticed hair loss and also toward the back my hair got so frizzy and dry out. My hair doesn't even grow. I was never afraid of short hair cause I knew my hair grow fast, but ever since I started using this product my hair doesn't grow... Please be careful of this product.

I was using Wen Shampoo for about five months. It was okay. I never really felt like my hair was clean and fluffy but my hair is colored blonde so it made it easy to comb out and I didn't need extra conditioner after shampooing. So I hung in using it. I don't think it ever made my hair any better. Then all of sudden I noticed what is going on with my hair? I did not see it falling out or more hair in my brush. But my hair that use to be 12 inches long, is now breaking off on the top of my head to about 3 inches long. All my ends were breaking off and dried out to straw.
Then I got a really bad rash all the way down my back. I thought maybe I changed detergent. Luckily I was talking to someone about the Wen shampoo and she said that is the problem. It causes hair loss and breakage. I looked it up on the internet and it said this shampoo builds up on the scalp and hair ends never really washing off making the hair heavy and break. The scalp coated not letting it breath causing hair loss. My hair is now cut short which I hate. And my rash has not gone away for two months. In one article it states two of the ingredients used in Wen is outlawed in England and affects the immune system. I hope this does not lead to future skin problems. You never know.

I tried WEN products & as soon as I did, I called to cancel & I still had to pay FULL price. Had to pay for something I was not going to use or to be shipped out. It is not what they claim. BUYER BEWARE, DO YOUR HOMEWORK FIRST!