WEN by Chaz Dean
Foothill Ranch, CA
Consumer Complaints and Reviews

My daughter and I began using Wen products in 2013 and hadn't had a problem with the original product (apple cinnamon). I was gifted a Wen Lavender Cleansing Conditioner kit from my mother that included a 32oz bottle of conditioner with the addition of oil and hair mask for my birthday (12/26) 2014. I've been growing my hair for the past several years. It's long and curly, but the strands themselves are relatively thin. My daughter has long, think, ringlet curls. My daughter and I generally wash our hair about once a week. I used the product as directed adding 20-25 pumps to my palm and working it from the front of my scalp to the ends of my hair. My daughter generally only had to use 10-15 to cover all her hair. The lavender had a very medicated smell when opened that I wasn't very fond of, but I used it anyway.
The first few times I used it, it made my scalp tingle and get warm and when I'd rinse, it would become very cold, like your first breath after taking in a menthol cough drop, so I decreased the number of pumps to 15 when washing adding water to stretch it and using the majority on my ends. I also used the mask after each wash and used the oil every couple of days in between washing, as recommended. I noticed after 2-3 months that I seemed to be losing more hair than normal. My hair would come out in what seemed like the fist full, but being that my hair was so long, I figured the shedding may be normal. After brushing, there would be countless hairs left in the bristles so I began to brush my hair less. After a few months of use I couldn't get past the medicated tingling. It made my scalp feel soft and would leave a white, greasy film of residue that would sit on my scalp, that would never completely rinse off.
My daughter got a soft scalp as well along with, dry flaky patches, and a rash at the nape of her neck. No hair loss thankfully but it dried her hair out like it had been chemically fried. We both stopped using it. After discontinuing I noticed the sides of my hair were thinning. The hair loss continued for months but with my hair length you couldn't really notice. Most of the missing patches came back after 8 plus months but I have a quarter sized spot, a half inch into my hairline, that is hairless, smooth, and shiny. I am forced to style around it to keep it from being seen directly, and honestly, it's embarrassing. I am a woman who takes pride in my hair and appearance as most woman do, and as of right now, this one spot has not grown hair at all. I have no idea if it will ever grow back and it makes me very unhappy and depressed at times. Wen Lavender should completely be taken off the market.

I recently was told about the lawsuit about WEN products. I of course gave it thought and soon after received the letter stating of the lawsuit filed against WEN. I used WEN back in February 2014. After all my research and seeing great reviews I placed an order on Amazon and I was excited and couldn't wait to use it. While I was using Wen I did notice my hair was becoming very brittle than usual but never considered it be due to WEN since all the great reviews I had read at the time claimed that it was good for your hair so I contributed it to stress. I brushed it off. I had two orders of WEN sent to my home in 2014 which I of course used for a duration of 6 months. Not only did my hair get brittle it was thinning and soon after the WEN product was empty I started looked for solutions to revive my thin brittle hair.
I have taken vitamins for hair skin and nails. I have bought extensions and wigs to compensate for my hair becoming so brittle and thin. It has definitely affected me emotionally in my personal daily life. I am very insecure to leave my home in my natural hair. Family and friends have made statements as to how brittle and thin my hair is and it is damaging to my confidence. I never thought to connect the two and now that this has come to light I am relieved to know the reason why my hair is this way and can now let my doctor know so I can get full treatment.

Long story short... I have very thick long black hair down to my bottom. WEN severely dried my hair. I only used it 2 times. Then returned it and got my money back. WEN is the worst hair product I've ever used in my life. I was very shocked on how horrible it was. I found that Pantene co-wash cleansing conditioner is amazing! I hope I've helped someone.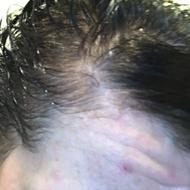 I started using Wen in 2014. I was thrilled with it because I thought it was all natural and free of animal cruelty. Wen was so different from regular shampoo and it made my hair feel silky and tangle-free. I was so impressed with it, I recommended it to my cosmetologist friends and my mother who is also a cosmetologist. We both have always used top of the line hair products and take care and pride in the health of our hair. I have been noticing an increase in hair fall out in the shower for several years but since some hair fall out is expected, and since I do not like to over react, I thought maybe it was a hormonal imbalance.
Over the course of the last year, my mother has lost almost all of her hair twice and I am drastically thinning. My mother is currently bald and wearing a wig, and I am struggling with the appearance of my limp, lifeless, and very thin hair. We have both been for testing and bloodwork. Our hair loss is not attributed to a pre-existing condition or hormonal imbalance. Shortly thereafter I received an email stating that there was a Class Action lawsuit against Wen by Chaz Dean due to other women, like me, who have had significant and possibly lasting damage due to the use of the product. This is when I discontinued the use of WEN products.

I purchased WEN cleanser and conditioner for my daughter and my son. My son at that time was 10 years old and after months of using the WEN products he complained that when he touches his hair lots of hair fall on his homework and when he washes his hair, he sees hair falling out. My daughter had the same complaint and I did not realize it's the WEN product. Since they had thick and curly hair I continued buying the shampoo and the conditioner. I called the WEN company many times and they said their products are very good for thick and curly hair.
One day my daughter's friend told her that she saw online that many customers are complaining about WEN product. I checked online and realized it's the WEN products that making my children hair loss. I immediately stopped the WEN products. My son still has receding hairline and my daughter has very thin and small amount of hair. I feel so bad that I purchased these products for my children and I feel responsible for their hair loss. Shame on this company that they are still selling their products. Why they don't stop selling these products? How many more people they want to get bald.
How do I know I can trust these reviews about WEN by Chez Dean?
851,205 reviews on ConsumerAffairs are verified.
We require contact information to ensure our reviewers are real.
We use intelligent software that helps us maintain the integrity of reviews.
Our moderators read all reviews to verify quality and helpfulness.
For more information about reviews on ConsumerAffairs.com please visit our FAQ.

I used WEN for close to two years. At first I had great success with the product but when this lawsuit ramped up in the fall of 2016 I contacted WEN with my concerns and they only pushed the subscription out to November 2016 and told me I was safe to use it and that this lawsuit was unfounded. So I said I was comfortable to use anymore. They said I could lay this huge cancellation fee for discounts and other saving for basically the entire time I ordered from them. So I went with what they said and continued to use it. I got the pushed out box of products in November. Starting in August I went through a month or more of hair falling out by the handfuls. And especially in the shower. I assumed it was from something else and couldn't be from the products. Since then I have had handfuls fall out every day. I only used the product about every 3-4 days because I could go that long in between washings.
Starting at the end of November my hair started falling out again - but in massive amounts. In the shower, if I brushed my hair the brush would be full twice, if the wind blew or if I touched my hair it had been falling out like pine needles on a dead Christmas tree. So in the last two-three weeks, my scalp had become raw and sore to the touch. Really bad. And the hair is still falling out in handfuls. I had very long very thick hair that I used no other products except WEN, let my hair air dry because I wash it in the evenings and dry overnight. My hair is so thin now I can barely make a ponytail. And my scalp hurts sooo bad it is painful. And I have never had a tender head/scalp before. If I run my fingers through my hair it is an all day multiples like 40-50 hairs each time are falling out. If I change my clothes I'm covered in dead hair.
My hair that was so shiny, soft and long is now like dry hay, looks damaged and looks dull. I called WEN yesterday to cancel the subscription because all the calls and voicemails I left for a supervisor or emails I sent through their website have all gone unanswered. When I called yesterday after being on hold for a very long time I told them I wanted to cancel again and when she asked why and I said my hair is falling out now she transferred me to a consumer affairs rep. I told that lady exactly what had been going on for 6 months and at one point I heard her mutter "my head hurts". She told me to stop using all of it immediately. And even though I have 8 unused bottles, 2 unused (pump) deep conditioning bottles and the short flat-ish deep conditioning lotion/paste unused - they refunded the box they sent me in November - that was all. Big whoop.
Now I can't find an attorney, I'm going bald and I'm ticked off. I should have gone with my gut but after speaking to them that the lawsuit was unfounded and I was safe to use it. And one of the things they said was I had used it for so long without major issues. I was fine. Well guess not. And b/c I have MS which is my nerves are being eaten in my brain and spine by my immune system the attorneys that have sued WEN said I'm not eligible. Even though I asked WEN about it when I originally ordered two years ago if I was safe and that I have MS and if this would be an issue and I was told more than once NO - well now I'm screwed.
I have had MS for 14+ years. And NEVER - I repeat NEVER NEVER NEVER EVER HAVE HAD HAIR LOSS - I can't be part of this lawsuit and I'm PO'ed. MS doesn't make your hair fall out. It does weird crap to your electrical systems in your body but not your hair. And I was the type of person that never used heat on my head ever. For close to 8 years. And I had such thick hair, a lot of clips, pins, headband or even hats don't fit me because my hair is so thick. Making a ponytail I would break the bands because I had to get it around all the hair. And now I can't even make a ponytail. I'm ticked. Beware. If you are using this and haven't had problems - it's coming. And it's coming big time. I had supported them for two years and got a very small refund on products that now I can not use and will have to throw out. It really makes me mad.
I should have gone with my gut and not listened to them. Then it won't happen to me thing - well it did and it will if you keep using. It's going to screw up your head and your hair. I just hope I can get it to grow back. When I used different shampoo last night the "renewing Argan oil of Morocco" I washed my hair twice and conditioner twice and the redness went away a little bit and it helped some of the tenderness. I'm still super sore to the touch on the crown of my head. I have pics of one brushing from uestfwy of the hair I lost. And I'm sure if I swiffered my floors it would look like a wig fell apart in my house. There is that much hair. I have seen them come out of my dog's butt because it is on EVERYTHING and EVERYWHERE in my house.
STOP USING THIS PRODUCT IMMEDIATELY! What I read yesterday said WEN has toxic chemicals in it like lead. And that it is like using lotion on your head and it building up in your hair follicles and can do permanent damage. And it sounds like it can take months/years for it to go sideways and bad like with me. I supported WEN and defended them on social media for at least a year saying I didn't know what people were talking about. My hair is great. Wow I wish I wouldn't have done that. But after so long I figured I was one of the "lucky" ones. Which I should know better.
STOP USING THIS - wash your hair with a good gentle product. I searched online on what WEN VICTIMS should use to help save your hair. So do that too and wash and condition your hair twice. Btw- my hair felt like straw when I did my first two washings and I used a lot of conditioner and it was a complete mess. I hope my story helps save someone from going through this because it is awful. Pic of me before WEN and the hair loss from one brushing - After shower dried clumps attached.

My hair loss became so severe I went to my MD and spent hundreds in testing looking for a reason for the dramatic losses. (Nothing was found.) I purchased my Wen from QVC and trusted that if the rumors of Wen causing hair loss QVC quality control would not allow it to continue. I was wrong. Once I stopped all products from Wen, my hair stopped falling out. Don't use it on your animals either.

I loved this product after I had taken cancer pills for 9 months and hardly lost any hair using WEN. Around the last 6 months noticed hair loss and thinning. I had very thick hair! My thyroid is OK. I bought good shampoo and conditioner from the beauty supply house (including Organics). I have noticed a few times my head would burn using other shampoos. When the class action started about this problem I thought I am not having a problem after using for a long time and these people must have a medical disorder (thyroid etc.). Well, I can see the difference now and have no explanation except it has to be the WEN product. I have made an appointment for a Dermatologist to have my scalp inspected and get treatment for the itchy, burning problem and hopefully by quitting the product regain my hair growth.

I started using WEN many years ago and suffered tremendously with hair loss and scalp irritation. Back then, WEN had infomercials on TV constantly with celebrities advertising and recommending their product. I was sold on the idea of only using one miracle product for my hair. I thought that if I continued to use the product, my hair too would look amazing like they advertised. I was so wrong and in complete denial at the time. My hair started falling out in clumps and my scalp was red, itchy and bumpy. After discontinuing WEN, I have only had slight improvement in my scalp but the damage was done to my hair. It is extremely thin, brittle and very little short fine hair has grown out in places where I had experienced bald patches.
It is truly depressing as a woman to experience this as I don't feel as feminine. I am constantly purchasing hair extensions, wigs and hair products to mask the effects of the damage done to my hair. I only recently found out about the Class Action Lawsuit and sad to see that so many other women have gone through the same horrible ordeal that I went through. I urge everyone out there who is using the product to stop immediately and seek a doctor for treatment before it's too late.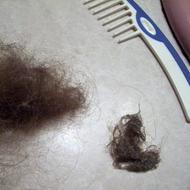 WEN by Chaz Dean has a class action lawsuit against them. They refuse to release their "Hair Product Safety Inspection Reports". No surprise there. I am also reading possible use of "Formaldehyde" and "Lead" in this product... Consumers have a right to know what that Safety Inspection Reports says. My hair was incredible thick and curly. I am still losing hair today from it and my scalp still hurts. My hair is now have thickness it use to be, plus brittle, no curl, thinned, and my hairline looks receded. At one point I had really thinned areas that came close to looking bald. I now only wash my hair maybe twice a month, have not had a hair cut in years. PLUS: WEN stole money from me by ILLEGALLY putting me on a renewal and took money from my account. All You Women Need To File A Tier 2 Complaint Form For The Class Action Law Suit. See my picture: That's what I lose in a day... Every time I brush my hair or shampoo my hair because of WEN.

I have heard both sides of this story. My aunt sent me a bottle of WEN and I decided to try it regardless of the bad press. I was hoping to be one of the few that it worked for. I was not. While my hair didn't fall out to the extreme that some of the reviews have stated, I noticed after 6 uses that my hair was falling out more than normal. I do not have any medical conditions nor did I use it wrong. I actually used it 2x per week as recommended and rinsed thoroughly. In fact the process annoyed me initially because it took so long but the pamphlet says to rinse and rinse again so I did. During the 5th rinse I noticed a huge amount of hair in my hands.
Wanting to be sure it was WEN and not something else, the next time I used it, I brushed my hair thoroughly before getting in the shower. I applied the recommended amount and smoothed it through as per the instructions. As I was smoothing it through, hair was coming out, something that had never happened before. So I rinsed and again a large amount of hair was rinsed out as well. I stopped using it immediately and have not looked back. I checked the website and there were no warnings that I could see and when I phoned their offices the very nice lady just recommended a different scented product. Um no. I understand that it may work for some people but clearly it isn't working for the vast majority. Might be time to change the formulation of this product??

I just received a notice about the Class Action Lawsuit in the mail against WEN for hair loss and other skin related problems in users and suddenly the lights went on for me. You see, two years ago I went through an episode of hair loss so tremendous that I consulted two doctors about what I should do. It never even dawned on me that my hair loss could be related to the WEN products I had started using a few months prior to hair loss starting. And not a single doctor or hair stylist suspected it either. I was so worried I had my thyroid tested. I started gobbling down biotin and other vitamins to help. Nothing worked. I worried I would soon go bald.
Instead I quit using the products on my own. After several months of using WEN products I finally decided I wasn't that crazy about them--my hair never felt clean and it made me have too much volume. (Thinning hair but too much volume... bad combination.) When I called to cancel my subscription I had to lie to finally get them to release me from those expensive bi-monthly shipments. (I told them my husband was angry with me for spending so much on beauty products.) Too bad I didn't do it sooner.
Since that time (one and half years ago) my hair loss has slowed to the normal level and I think my hair has started to fill in, though not to the level it was before using WEN products. Then a few months ago I decided I wanted to use up the WEN moisturizer I still had around. I always liked that product best. Once again I didn't put two and two together. Within days of starting to reuse that product I started losing my hair again. When I stopped, so did the hair loss. Egads, what kind of strong stuff do they have in their products. I will now throw all of it away and not subject another person to potential problems with it. You know that old adage, "If it sounds too good to be true, it probably is" applies to WEN. The infomercial makes the products sounds like miracle products for the hair. Instead they are a nightmare for the hair. Don't buy and don't use.

I began using WEN products in 2014. Initially, I was pleased but gradually noticed my very thick blonde hair began to substantially thin. Prior to using Wen, my stylist had to thin my hair. Presently I have limp and very thin hair. I run my fingers through my hair and often fistfuls of hair fall out. I'm very concerned and will consult a dermatologist.

I started using WEN in 2009 to manage my once super thick and curly hair, which now has become super thin, tangled and all over the place hair. I really loved the compliments getting on my hair. But one year after I stopped the use of the product I could not, for could not afford to price, I noticed that my hair was getting thin and tangled, but never did I imagine that it was due to the use of this product, until this week that I receive an email notifying me the hair loss claims due to the use of this product. My hair is all over the place. It is so bad that I cannot run my hand through it. Patches appeared all over my scalp and I ran to the dermatologist. She asked me to stop all the products currently using at that time and stick to the prescribed products only. I have seen more than 4 different dermatologist in USA and even outside of the states, but nothing seem to help; the damage has been done.
Even when I stopped the use of the product years ago, my hair still falling and the strands are weak. The damages seem to be done deep to the scalp. I researched its ingredients; some of them are linked to hair thinness such as methylene glycol, quarternium-15, diazolidinyl urea. I finally know the product that destroyed my hair. All of it is true. Please stop its use. It may not be too late for you. In my case, I stopped using WEN product way too late, for after years of stopping the use of it, my hair still falling out. I've to wear my hair up in a ponytail to keep it from getting over everything I get close to and because it is the only way it looks good. Very depressing. I hope someone comes up with a remedy for the doctors cannot.

I've been using WEN for yrs now. I really liked it and my hair seem to look good, last January I went to have my haircut and they had to thin my hair. It was so thick. I'm not sure what they changed in WEN but my hair is falling out in fistfuls now. Everywhere I look there is my hair. It's awful. I now brush it over the trash bin so I don't have to vacuum so much hair up. I stopped using the WEN a few months ago but it is still falling out. I have bald spots underneath my hair. My once thick soft hair has become thin soft hair and it's all over the place. It drives me nuts, I wear a net to cook because I don't want hair in the food and I've been putting it in a ponytail to keep it from getting all over everything. I know this sounds dramatized but all of it is true. I could fill a bag up with my hair in a few days. It's that bad. What do I do now Chaz? If anyone has any recommendations let me know. I'm looking into Keranique. I hope it's not too late.

I bought WEN from the TV informational. I was happy with the shampoo/conditioner as it seemed to make my thick/curly hair smoother and soft. I can't be sure when I first noticed it, but I noticed my hair had lost its body. I always had so much body/thickness that beauticians were always surprised. First lost body then the hair SLOWLY began to thin out. And I mean THIN. It lays on my head w/ no body. I had trouble setting it w/ electric rollers. It did not know how to curl. This was new to me as I was not used to my hair not working. After several years...(my dog died during this time, and I thought it might have affected my hair) but then I realized that this was a HUGE PROBLEM.
I asked my doctor to help me find an endocrinologist. I just bought ** for Women last week. I have yet to use it. Then I saw a tweet on Twitter that mentioned hair loss related to WEN. I was in shock. I had just used the product the day before I saw the tweet. WHAT ARE WE SUPPOSED TO DO NOW. Will my hair grow back. I am scared/upset and truly angry about this hair loss. I'd like to see all of the Hollywood Stars who were in the commercials??? Did they lose their hair. Where can I find answers.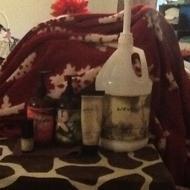 I am disgusted that people are jumping on the bandwagon saying that this product is harmful and causes hair loss! I purchase my WEN through QVC on Easy Pay. I started using WEN six years ago DUE TO HAIR LOSS! I have Thyroid problems which causes dry, brittle nails and hair. My hair was saved by WEN! I cannot afford WEN all the time, so I use a regular national brand to combat the effects on my budget, but when it seems that my hair is getting bad- dry, brittle and falling out, I go strictly to WEN for a period of 2-3 months and have beautiful hair because of it!
Maybe these people having problems with their hair falling out need to see a naturalist or holistic doctor who believes in new standards for Thyroid testing (as most regular doctors do not!) and get their thyroid checked by a professional who cares about the whole person and not the drug companies who push their synthetic garbage on uneducated patients who never get better! Sounds like people need to wake up and stop being herded like SHEEP!

I began using Wen and noticed that my hair was thinning. After a time I developed bald spots in areas that were itchy and blistering. I received a series of treatments from my dermatologist and hair regrowth was poor. Once Wen was stopped the hair regrew in one area but the other area remains elusive.

I first began using the WEN products after seeing a commercial on TV as well. I have naturally thick, black, and long hair. I used the almond mint conditional cleanser and I was devastated when I discovered that I had irreparable hair loss. The worst part was the whole time I thought WEN was helping me but it wasn't. It was making me worse when I stopped using it, and then after I started it would make things worse. I'm left with thinning hair that has added years to my face. I look older than before my use of the WEN products. I'm not able to wear certain hairstyles and my ponytail looks as if it has about 5 strands of hair. It's been two years and I haven't recovered any of my hair loss. I have contacted the FDA, and have complained to Sephora and the FB for WEN as well.

I purchased the WEN set from the infomercial and received for a couple months before purchasing online or in stores. A lady I worked with said she and her daughter started using it and loved it and said their hair was softer and easier to manage than ever. My (then 15-year old) daughter and I started using. She is now 19 and has been complaining for a couple of years that her hair is getting so thin and has actually asked for Bosley.
I bought her different brands of biotin and she has tried castor oil hair treatments as well as other different hair repair treatments, but it continues to thin. She is very healthy and had beautiful hair. She is still beautiful but I do notice how much thinner her hair is. I had noticed handfuls of hair in the shower after I used WEN but attributed it to my age and my stress level. Over the past year my hair has become about half as thick as it was and every time I look in the mirror I think my hairline at my forehead is just pitiful. I've always had long, healthy, wavy hair. My husband would run his hands through it and ask how I had such pretty hair. He hasn't don't that in a year.
If you try running your hand through it you pull out a wad of dry hair that tangles. If it was just me I wouldn't even consider attributing my thinning hair to WEN, but when my beautiful daughter is suffering the same, I have to consider WEN is the culprit. I don't buy cheap products, but even Caviar and Kenra haven't helped our hair situation.

I started using Wen products exclusively over 4 years ago. I loved it! I gave it as gifts. I recommended it. I even took it with me to my hair stylist and insisted she use it instead of any other product she had in her salon because my thick beautiful hair was falling out and fragile and I wanted only the best products to be used on my "thinning" hair!! Was I wrong? I now believe I was! I had no idea about the class action lawsuit until today when I received an e-mail about it. I am so sad because I have lost over 60% of my hair and I have been blaming it on age and thyroid even though my blood tests were negative and I'm in my early 50's.
Over the past 3 years I have tried so many things to stop my hair loss and the Dr.s are out of ideas. I have lots of product left and I just used it a few hours ago but I am never going to use Wen again after reading several pages of consumer reviews just like mine. I miss my hair so much. I hope it will grow back now that I have stopped using Wen.

We purchased the WEN product set after seeing the infomercial thinking it looked like a great product. We bought it in January 2016. I noticed in March my hair was thinning dramatically. Instead of relating it to the new product I had introduced I thought it was maybe a result of the testosterone therapy I had been on for the last 38 months with no side effects. So I / we of course didn't stop using the WEN product, instead I bought biotin supplements and organic hair re growth shampoo which slowed the problem but did not stop it. I also color my partner's hair for her and had been telling her it looked like her hair was thinning and that she should try the organic shampoo I was using...
At one point during all this from Jan - Nov I thought a couple of times that maybe it could be this new nourishing mousse I was using DAILY to style my hair. Nah that can't be it. Then on 11/25 I got the email that informed of the lawsuit and about what this stuff has been doing to people's hair. I immediately stopped using this product and I am continuing my biotin and silk protein conditioner which is helping with my regrowth. Same goes for my partner. Sigh...

I started using WEN maybe 4 years ago. At first I loved it. I noticed my hands full of hair while rinsing out, unfortunately I didn't attribute it to WEN. How could it possibly be this product. My husband started telling me how thin my hair was getting. I stopped using it, and cancelled future orders. Far too late! My hair is very thin now, and feels like straw. Thanks Chaz Dean for ruining my once beautiful hair! I am so embarrassed about my hair, I hate to leave the house. I don't know if my hair will ever be soft and full again. Very depressing. I would never use that product again!

I started using WEN about 5 years ago. At first it made my hair very soft and easy to manage. I was sure that I had found a gem. After about 6 months, my healthy, thick hair became very thin. My scalp began to form small blister like sore. I didn't relate it to the WEN until about three months later. I discontinued using WEN products. After about 14 1/2 months, my hair started to thicken and the blistery sore were complete gone.

I first began using the Wen products after seeing a commercial on TV over and over again of Holly Robison Peete saying how wonderful the product worked on her hair. She had hair like mine. She sometimes wore it curly, but she would also wear her hair straight. I've always had hair that people would compliment me on because it was soft and full. So I was devastated when I discovered that I had ill repairable hair loss. I didn't realize why my hair seemed so thin, but when seeing my hairstylist, she told me "Whatever you're using on your hair, STOP!" She rubbed portions of my scalp and said that I had a lot of thinning and a huge bald spot. I was extremely upset.
I had been working on wearing my hair natural, so I wasn't putting heat on my hair and I thought that the Wen products were totally safe for keeping my hair moisturized. I was wrong. I'm left with thinning hair that has added years to my face. I look older than before my use of the Wen products. I'm not able to wear certain hairstyles and my ponytail looks as if it has about 20 strands of hair. It's been two years and I haven't recovered any of my hair loss. I did seek medical attention, taking shots to my scalp to repair the hair loss. To date, there has been no change.

I purchased the Wen product line directly from the website. After using it for just a few weeks my hair changed drastically from full and thick to alarmingly thin. My stylist urged me to stop using it the first time she saw how thin my hair had suddenly gotten and noticing scans on my scalp (I hadn't even noticed that). She gave me samples of Nixon to try to repair the damage but it took over two years for the volume to return to normal after stopping use. Then last week I ran out of shampoo for my dog who needed a bath. I had a partially full bottle of Wen left so I used that. What a dummy! The next day as I was petting him I noticed large bumps covering his back and his stomach. I can't confirm that it was caused by the Wen product but it seems an unlikely coincidence. I have friends who absolutely love the Wen line of hair care, but it has been nothing but a nightmare for this household!

My husband and I started using Wen hair products about 5 years ago. We both have always had good, strong, thick hair. Till 2016. We both all of a sudden started getting thinning of our hair. This year has been a very bad time for us. We were on auto delivery with QVC for a long time, got the Wen kits and just thought it was the best. What a big mistake. It has really taken a big toll on my self esteem to say the least. My hair is no longer pretty and one side is way shorter than the other from also breakage. I don't go anywhere unless I have to.
I cry and feel sick inside all the time that I listened to all the so called great things about this product. These people like me are for real and it is horrible to go through. Just want my hair back so I can feel good about myself once again. Pay attention to these people. It is no joke and it can happen when you least expect it. When April came this year my hair was gone by June. Don't use this product. I have been with QVC for (years) and am still surprised that they sell this product. Again if anyone sees this please pay attention. It is soooo for real...

While using this product it does make your hair soft. However, my hair is been falling out in clumps. I have been using this product for about two or three years. My hair loss has now become so visible and apparent it can be seen in the mirror as I do my make up. This is extremely horrifying and embarrassing. Will my hair grow back? I have always been that woman in every situation where people grab my hair and say "Oh my gosh your hair is so beautiful, thick and curly."

I have been using Wen for over a year, but lately I notice my hair in my hands when I use it, and my scalp is icky. My hair is dry and looks like hay... I was only washing my hair about 2x a week so I guess it took longer for me to notice the issue. I'm looking to use a new product... but unfortunately I have to get my long hair cut because it looks so horrible. I haven't used any other product other than Wen so it must be the problem right? I'm so upset I wanted beautiful hair like the commercial promised...

I have used WEN regularly for probably 20 years and I love it. I feel horrible for what some have gone through but I have not had any problems and my hairdresser says my hair is very healthy and she sees no reason not to continue with it. I even gave her some to try and she loves it. I have always had really thin dry hair though and I only need to wash it once or twice per week. After "cleansing" twice and rinsing that out, I put a small amount of the hydrating hair mask in while I shower and then rinse it out. Then I combine small amounts of the Cleansing Creme, anti-frizz styling Creme and the hydrating mask and massage in and leave that in.
I have tried different stuff through the years but always go back to WEN. I have even started taking it with me when I get my hair done because I was always coming home and using it afterward because I hated how my hair felt with the salon product (which I used to love). I have tried the WEN six-thirteen product and love it too. I regularly get compliments on my hair - I have no complaints and love it.
WEN by Chaz Dean Company Profile
Company Name:

WEN by Chez Dean

Website:

http://www.wen.com/