Consumer Complaints and Reviews

Maybe we can do something about Microsoft if not well I tried. I've been banned too and can no longer access to my games or DLC that I have spent so much money on, years of game play and achievements and gamer scores just to have it all taken away over some ** and his friends trolling my account with reports of harassment and saying bad words too much for their till the baby eyes to read. Microsoft should only ban people for cheating not talking ** like everyone in the world does.

I had an issue with Microsoft Excel and I was looking on the internet how I can contact Microsoft support team. I went to the Microsoft website and on a certain moment I had to give my phone number so they can call and help me. After 30 minutes or so they called me (I made a short screen capture of my phone during the call) as usual it was a robot and they told me to wait on the line so a customer service agent can help me in a few minutes BUT it's almost 2 hours now and I'm still waiting, this is so ridiculous!!! Why they call me if they can't answer my call within 5 or 10 minutes??? Shame on you Microsoft. I really hate you!

Since I updated to Windows 10, my computer continues to crash with blue screens (BSOD). Spent time with Microsoft Customer Support via chat and the conclusions were twofold: 1) my problem would require sophisticated Microsoft internet tools to diagnose and solve; and 2) I would have to pay for this. Customer service rep noted the blue screens of death were an "emerging problem" with Windows 10. Depends on how one defines emerging. Blue Screens of Death Started the day I updated to Windows 10.
Bottom line. MICROSOFT cannot design software anymore that works. Their software is so patched up over the years by (apparently) incompetent programmers that it's hopeless. My advice: NEVER UPDATE. And get a MAC when buying your next computer. That's what I'm doing. Microsoft is ONLY in business because it has market dominance, which will go away when consumer quit buying inferior Microsoft programs. Truly, Microsoft cannot release anything but a beta program, that they require the consumers to ID the problems and then Microsoft wants the consumer to pay for Microsoft to fix a problem created by microsoft. Nice racket. Again: Never update microsoft, never buy a microsoft program and get to the MAC platform as fast as you can.

I had purchased online the Microsoft office software about 5 years ago. I purchased a new iMac and transferred all my information over from my old iMac. When I went to use it, it on my new computer, it asked for my activation code. After two phone calls to two different managers at Microsoft, I was basically told that without the order number, they cannot help me.
Well, this would have been really nice to know at the time I purchased their product as I would have kept it, knowing that my computer would eventually be upgraded. Not to mention the fact it could have crashed, broke upon moving, or even have been stolen over the past few years. Upon discussing the fact they neglected to tell me the importance of keeping the order number, and the fact that I now have hundreds of files I cannot use in word/excel, they simply said "I am sorry, there is nothing we can do!" Unbelievable. It's not the fact that I now have to spend another $150.00 to download the software again (which I am not by the way... and in fact, I will never buy another Microsoft product again), it's the principle behind this. I already purchased the product and now they want me to buy it again!
Maybe I'm looking at this wrong, but in my line of work, if I had a customer who was pissed about something I neglected to tell him years ago and now it's affecting him/her, I would try and help in some way. If anything, offer a discount on the new download of the product, or something!! Nope. Just some guy from India saying "so sorry, we cannot help without the order number" is all I get. Rant over... Never going to buy Microsoft again, and will tell everyone I know about this horrible customer experience...(all over $150.00 too). Nice!

I give up and I think everybody else that I have seen on the forums trying to get this thing to work has given up too. Let me give you a little bit of background here. I know 5 programming languages, 2 database systems, 2 assembler languages, and 3 operating systems. I am about done with Microsoft. The interface on File History is dead simple. The idea is dead simple. The problem is that the software continually does not include files or folders in its backup set. Remember the ONLY time that you go to this is when you are in trouble. 100% reliability is required. This thing appears to be on the low end of 90% reliable. Simply useless for a backup service.
Besides the issue of the software not working properly is Microsoft's entire attitude about this software and its other software. It is like the customer (us) is a bother. They can not be bothered to deal with legitimate issues with this software (file history) or things like Outlook. For example on Outlook if you get the home version you are limited to 1,500 contacts. You have to go digging for that information. When you find out and you have wasted hours and hours of your time, the answer is basically that you have wasted your money and time on a product that does not work. I have pretty much had it with Microsoft. The next OS is ANYTHING but Microsoft.
How do I know I can trust these reviews about Microsoft?
633,474 reviews on ConsumerAffairs are verified.
We require contact information to ensure our reviewers are real.
We use intelligent software that helps us maintain the integrity of reviews.
Our moderators read all reviews to verify quality and helpfulness.
For more information about reviews on ConsumerAffairs.com please visit our FAQ.

I purchased an Xbox One from amazon. Tried login in with my ** account... Got an error message saying that I need to use a computer since there seems to be an issue. So I proceeded to my computer... Tried login in to see where the issue is and I come to found out my account is locked because I'm using a different device although I'm using the RIGHT password. Communicated with a Microsoft agent and there's nothing they can do. I don't understand their security measures. I tried answering the security questions that I set-up from almost 15 years ago... and I've had no luck with them. I wouldn't be surprised if they did that just to have people start from scratch to buy the games all over again, which I think is unfair... Just wanted to be able to transfer my games from one console to another.

I had 3 separate experiences with the chat tool, all subpar. BUT, what I'm really here to write about is the absolutely egregiously WRONG way that the last agent I spoke with handled MY opportunity to leave a review (which would have been somewhat negative, but not terrible). The agent had control of my computer (we were sharing it - so both of us could navigate/type/do anything), which I had granted them in order to solve the problem I was having. My experience with them was: I had asked for a time estimate at the outset, and they said 5 minutes. It ended up taking over 15, and in the process it became clear that they hadn't taken the time to understand the problem I was having in the first place.
Eventually it got resolved... although it became clear they were just googling solutions as they went. I got the impression they don't have much expertise whatsoever. BUT then, when it came time for MY OPPORTUNITY to leave a review (who knows what they even do with them), the AGENT filled out the survey for me very quickly, giving THEMSELVES five stars and a "totally satisfied" "after one agent's help", and then quickly closed the chat, leaving me powerless. NONE OF THIS WAS TRUE. I was NOT satisfied, I would have given TWO stars, and I had talked to THREE agents to resolve my problem. Egregious abuse of consumer rights!!!

Every time my computer gets high jacked and updates itself, I lose my games. They can only be loaded if I restore the computer to its former state. But within a matter of days my computer is captured again and I lose all my games. I'm so frustrated. I haven't called tech yet. I don't have hours to sit on the phone for some games. This computer is five years old and probably time to replace. Next time, a Mac. I'm so ticked about this!

More than 2 weeks to get proper support about the use of the calendar app. The Microsoft shop couldn't solve the issue and send me to buy extra support: Azure, $150 for making sure my pc works as should be. Contacted the center. Couldn't solve the issue after an hour. Promised to call. Obviously didn't. I called again. After 2 more hours. Couldn't, lost connectivity, and next agents were not able to connect to previous agent, so, I need to explain 6 times the same problem.

In buying a new computer you have few options, either pay a fortune for inadequate software and hardware or Windows which has managed to corner the globe on loyal developers. Unfortunately some of the policies of the company have become outlandish. Any complaints are dealt with in a rude and ruthless way in the forums. My issue is much the same as most of the complaints you read, that Windows since XP Pro has degenerated in operability and become bloatware but the reason for reviewing it here is to warn people that you no longer own your investment. Microsoft does.
They insist that you are only allowed to use your computer without their interference 12 hours a day regardless of your requirements, the standard hours are 9.00AM to 5.00PM which are built into their "Active hours" in the settings. It does state that they won't restart if you are using the computer however this is not the case and this also does not allow for the updates that happen on average once a week to patch this and that whilst you are trying to use the computer and suddenly notice that the super computer you bought turns into a slug, you check and discover your bandwidth is being used for a download and update without permission or regard for what you might be trying to achieve.
I think that updates are essential but they should be to enhance system performance. Windows XP pro in its final days occupied 5 Gigs whilst Windows 10 V1607 latest revision occupies almost 18 Gigs (Of Bloat) and the operation of most of the software is convoluted in that if it fails to load properly it tries to repair itself, with varying degrees of success from blue screen, removal of paid for software because it decides it is no longer compatible and recently removed spider solitaire from my laptop, probably because I hadn't used it for a couple of months. (Not cool.)
So who owns the computer and the software you paid for? Microsoft of course. It would be nice if someone in charge had a look at this issue to provide better bloatware that can negotiate with the person who shelled out the cash to try and own a computer as to when they can: a. Start downloading an update and installing it. b. Allow us greater access than just 12 hours a day before they can restart the machine on you.
It could happen in the process that says found new updates, message in the Action centre, how would you like to handle this, download and install during non-active hours? (Yes/No) If No Download and install now (Yes). This way we can achieve the update without the intrusion. We would need to also decrease access to our personal computer by Microsoft to once a week, choice of day ours and hours to say maximum 4 for that day which should be more than adequate for most hardware to completely rewrite the software from scratch. To their credit Microsoft does listen occasionally to criticism if it makes sense and I hope this does not fall on deaf ears.

Had Windows 10 upgrade installed, now regret it severely. Now my computer is SUPER SLOW! No help from Microsoft either! Of course now the "updates" are constant, popups are continually interrupting my internet usage, slowing things way down. I'm having to wait and wait all the time. Computer just won't work, very frustrating. I've struggled with this POS HP computer and the lousy Windows crapola programs ever since I bought it. Originally, had to reload the service pack 3 times to get the computer to work at all, new out of the box. Spent 40 hours on tech support the very first week, with some foreigners from Pakistan, a terrorist country, who obviously don't care about American customers!
Now with this Windows 10 "upgrade" my computer is ruined. Every time I try to check email, or go on eBay, I have to wait minutes at a time between clicks as some background thing loads and loads. What a terrible rip-off! I hate Microsoft and Bill Gates, the two biggest cons of the 20th and 21st centuries. My next computer will be Apple for sure, it's worth the extra cost, believe me. GOODBYE to the Microsoft/Windows scams. It's all about the advertising! Screw the customer.
Updated 10/15/2016 - I called Microsoft technical support and had a great experience with a guy from India named Anuj **. He's a true people person, very friendly and pleasant. He worked for 5 hours on my computer, and it worked like new for about an hour after he was finished cleaning and tweaking. Unfortunately my computer is now slower than ever! Thanks, Anuj, my friend! You are so nice and good at heart, but I believe Microsoft software is inherently flawed and that my computer is ruined. Windows 10 sucks!

I have used Microsoft Word for at least 20 years. With it, I have been able to do countless things, often more complex than would have been expected. Now, FORGET IT! To adjust toolbars, I used to click "View, Toolbars". Now I must click "View, Ribbons". What ribbons?? And let's not ignore the "rainbow wheel from
Hell" already well cited by others (had that too, of course). Now I have had to spend $100+ in order to obtain what your phone agents describe, at every inquiry I made, as "more qualified people" to answer my question! REALLY? I now seek a Microsoft replacement. The results of your inexplicable, unwanted and user-alienating changes will soon, I hope, be noted. BYE, BYE, OLD FRIEND!

I gave my Lumia 540 to one of the service center of Microsoft at Tilak Nagar in Delhi. They repaired my device and charged 1600 from me although it was under warranty but they said it's a water damage but after that I started experiencing touch problem but because I was not in Delhi so I just ignored it. As soon as I arrived back to Delhi I told the problem to same service center from where I got my phone repaired. They said it's obvious when one time phone gets repaired such kind of issues arises. Now my phone's touch is completely gone and it is out of warranty. I felt that they have changed my touch part as the time. I went to the service center again and asked for the full phone. To open it has some stamp stating fj 2016. I am very much dissatisfied with the product and services.

I have just read a few other reviews complaining about the same issue: "updates" aggressively, unexpectedly interrupting the course of a user's work session followed by significant problems that affect users' work. Today I got such updates (apparently occasioned by an "annual event", the Geek Squad said). Not only did I have to wait and my word doc did not get saved. I have not yet been able to log into the account because the system refused my pin/password after this "improvement". The Microsoft team in India is polite ad nauseam but totally unable to help and many are unable to understand English properly - I spoke with an agent for 15 min., she put me through with another but didn't enter any info in her database, so that I had to retell the story from the beginning... I just hung up, will go back to the store... sell this computer and get another Mac - just not worthy anymore...

I purchased a new computer when I retired 5 years ago. I was excited because I would have the time to write my book, explore the Internet, attend classes online. When my computer arrived with all the Microsoft products included I knew that I would never use all of them but "it came with the software package". The first month was fine. However, it has been a nightmare and frustrating experience ever since. Every single "upgrade" they performed must be designed to make my computer run slower or inoperable. The freezing is frustrating. I lost count of the hours I could not use my computer due to "upgrades".
When Windows 10 was "thrown" in my lap I continually declined because I DID NOT NEED THE PRODUCT. I felt "hounded" with pop ups every 10 minutes. When my computer began to "die" I finally allowed the installation of W10 because I thought things would get better. It is the most complicated software any senior citizen could want. WHY CAN'T CONSUMERS HAVE A CHOICE OF WHAT MICROSOFT PRODUCTS THEY WANT? Only an unethical company would not give choices. ALSO don't ever try calling anyone in Microsoft for help. This is a scam. I called a "chat tech" when I reinstalled a different Microsoft product. After being on hold for 20 minutes she came back to say "we got disconnected - try back later". Later, I called another rep who told me "my problem was beyond his expertise". I sent an email to the referred assistance. Of course I never got a response.
This weekend I uninstalled everything on my computer that is Microsoft Office Products and Microsoft. My computer is running so smoothly I can't believe it! Am finding other companies who can provide the software I need (cheaper or no charge). THAT ARE HELPFUL AND THERE TO SERVE THE CUSTOMER. HUMANS ANSWER THE PHONES. This is the first weekend in years I have had fun using my computer. If you care about the senior citizens in your life advise them to get any products except Microsoft. The Scam Company.

Do not use your PayPal account with Microsoft. They got me for 313.00 because once a PayPal account is verified for a purchase they don't verify purchases after that. They don't have that technology I was told. How could they not? So this multi-billion dollar company are gouging folks who do not know this, I learned the hard way. PayPal unsubscribed Microsoft from my account and Xbox support was a great help.

Microsoft can't exist without the people who buy into it, or support it. While I have had good and bad products through microsoft, they have been consistent with the expected experience. The Bad IMO... Windows 10, That's it. I had Windows 8.1 which on a touch screen tablet like the Surface Pro 3 and Nokia Phone was pretty awesome. Windows 8 was a little lacking in functionality, but was still a solid operating system. Windows 7, which I will run three or four years after they stop supporting it, but is my preferred OS after XP.
Vista was a really big change, and honestly by Service pack 2, it was fixed, and solid, but Microsoft wrecked their chances on it due to releasing it before it was ready to be released. Windows XP was a rock-star, but it was garbage when it was first released, and didn't really get good until SP1, which fixed a lot of the bugs, Windows 2k was my favorite OS ever made by microsoft, it was lightweight, fast, and stable, it had good functionality without all the addition of colors that no one actually cares about. Windows 98SE (ME), 98, 95SE, 95, 95 Internet edition, 3.1, 3.0 were all OS's that really formed the "Start bar" as people have grown to expect.
All this said: Windows 10 is a boat anchor, it has way too much bloat, and way too many hooks back into the mothership. Microsoft Surface Pro 3 with windows 8.1 is an awesome machine, unfortunately when 10 came out on the Surface Pro 4, it wrecked the actual functionality, due to the way updates are provided, the windows 10 OS seems to brick the Surface Pro 4's due to updating issues in which Microsoft can't fix.
Xbox One/Xbox 360 and Classic Xbox. They all had/Have issues... Classic - The power bricks were overheating when the fan failed and burning people's homes to the ground. (Solution, don't leave it plugged in, on the carpet, when you're not home.) Xbox 360 - RROD was a big issue, honestly just keep shipping them back to Microsoft to be repaired. One - The Xbox One has a flaw in memory writing that over time will require you to hard boot (Unplug and replug in) the device in order to clear virtual memory. It's an OS issue not a hardware issue. Nokia hardware - it is honestly a rockstar, too bad Bing sucks. Otherwise this would be a major player against the Iphone and Android. I am a Microsoft user, administrator, and engineer, and have been with them since DOS in 1986.

Simple problem. Purchased single song, would not download. Sent to support, ended up having to call. On phone 1 1/2 hours for very foreign person named Puja to check all sorts of reasons why it would not download. Transferred me to billing for a refund. Another 1/2 hour on the phone, they hung up the phone. What is the recourse for this kind of arrogant abuse of monopolization? Where to buy a computer that is not tied to Windows? Hey, all you garage techies out there --- what kind of alternative so we can stamp out this kind of arrogance with a new one?

Windows 10 automatically loaded on my laptop. I was able to revert back to 7, but lost many features including my finger scanner, and this really pissed me off. I had to call my antivirus co. to remote in and restore it. Well I just pulled my battery out because 10 tried to load AGAIN. I tried calling Microsoft for support but some foreigners answered, don't trust the Techies or whatever they are called. Nice Job Mr. Gates.

Microsoft switched me to Windows 10 without my approval. This is the worst experience with any operating system ever. I cannot stand the new Windows 10 and it has wreaked havoc with my personal and business files.

Microsoft Surface Pro 4 - i7 - 16gb - 256gb SSD. The Device: Experiencing my worst ever nightmares with the tablet. Terrible and pathetic performance for this class of device (i7/16g/256g-SSD). Just like that freezes on its own, no response from the keyboard or mouse or touch screen. After few mins, some time 30 seconds... it will come back to live/action only to see it freezing back again. I never thought I would regret purchasing such an high-end, expensive device. Maybe I forgot to note that it is from Microsoft
The Support experience: It is even more terrible and pathetic First they experience the same problem by taking over my tablet remotely, but they upfront and boldly deny that the problem even exists (oh my god, can't take it). Second abruptly disconnects (the support call / support session), and every time you will have to explain the whole thing again to next SO/Support officer. Even after I give my serial no, they are unable to find out details from their support system. What was the problem, what was done so far, who attenuated to it (historically), which SO, date and time and what has been done by the SO. Support Officers (as it appeared on my applet/remote control of my tablet): KHITZ, Mel, Nino (Arnold).

I can see why so many people hate Microsoft and Windows and always want iMacs. The customer service people are a lot easier to work with, they're American (so you can understand them), and they work with you. I accidentally downloaded windows 10 x32 and I needed the 64 bit so I called Microsoft and it took me several calls to even get a real person to talk to. He was also in India so I couldn't hardly understand what he was saying. Then he told me I needed a second computer and a flash drive just to get the 64 bit on my laptop. Why can't I just delete the 32 bit off my laptop and download the 64 bit from the internet like I did the 32 bit? Cause ** Microsoft that's why. I'm going back to Apple.

Microsoft switched me to Windows 10 w/o my approval. I thought I'd give it a try and after a month was so frustrated and having so many problems so I called a computer service. After the tech worked on all the issues (one was just the shut down process) - I had to manually hold the power button down to get it to shut down. He tried everything to just make this happen, even removing Windows10 and reinstalling it. It would work for a day and then go right back to not shutting down. This was just one of the issues that I had. With so many things not working properly, I asked him to reinstall Windows 7.
With all of the issues, the wasted hours spent on something that I did NOT approve, not to mention all the money I dished out and w/o my computer for days, I ended up contacting the Attorney Generals Office and they contacted Microsoft and after 3-4 phone calls from MS, we negotiated a pretty fair settlement. They said I would get an email from "White Glove" (it might go into Spam or Trash so would need to check there). Might not come for a few months, but not to give up looking for it. They would ask me some questions and ultimately send me a Visa gift card to cover, what they call a "good faith" gesture. Smile!! Do you think I will ever get it? The AG office also suggested that I contact the Federal Trade Commission, which I have not done yet but will and I told Microsoft that I would.

Terrible experience with Microsoft Assure. Placed a negative review on Microsoft community and it was denied because the moderator said it violated Microsoft policy because it was about people or customer service as well as other things. So, I sent another review which I doubt they will allow. I will post it here. When all is said and done it honestly depicts my negative experience. Here goes:
Microsoft Assure Review 9/2/2016. Dear Moderator. My initial review was denied because supposedly it involved people, or customer service. It also supposedly had other items which were against Microsoft policy, I have purged those items. I was told that my review must focus on the product. Okay. Assure is a product unlike many products. If it were Microsoft Office, for example, I could write about how it performed, it's software. Microsoft Assure consists purely of people. Microsoft Assure IS PEOPLE, people are the product, people provide a service. Therefore, Microsoft Assure is a service and not a product, by definition. Wouldn't you agree a service is undeniably people?
Therefore, the only option I have is to write about the people or perhaps it's the system those people operate within that prevents them from providing the service satisfactorily. Assuming this is true, I continue to insist that the product/service/people did not resolve my issue. The product did not call me when it was supposed to. The product made an appointment which it did not keep. The product had me on hold for hours. I hope this is not a matter of semantics. My review is based upon the people who are supposed to provide it. If Microsoft policy disallows mentioning people in an unsatisfactory service, what am I left to do? How can I possibly review without referring to people?
If I am prevented from sharing my experience due to the people policy, how would you suggest I share it? If Microsoft disallows my review as written I believe Microsoft is disingenuous about supplying the public with the truth. When customers write positive reviews they are writing about the service they were provided with. This is a problem if Microsoft sells Assure as a service and their policy prevents writing about people. It makes it impossible to write my accurate and sincere review. If Microsoft refuses to post this review I will post it elsewhere. Well folks, there you have it. I would not recommend Microsoft Assure.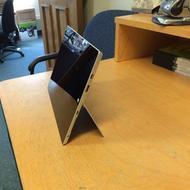 My Microsoft Support Experience. In May, the Microsoft Surface Tablet I purchased as a Christmas gift for my 11-year-old daughter broke. The tablet will not respond to anyone swiping their fingers across its surface. I bought the tablet last November from Best Buy, who I contacted about an exchange. They informed me that since the tablet was past their 30-day exchange policy they couldn't help. "It's a Microsoft issue now", they said. "There's a one-year warranty from the supplier and they are the supplier." Best Buy told me to call Microsoft Support and arrange for a fix or replacement of my defective device.
On May 12, 2016, my Microsoft Support Experience begins. I called the 1-800 support line and talked with a person named Hazel. English is not her first language, which causes a few issues, but in the end she tells me to install updates on the device, which should fix the problem. The download for the update was taking a long time, so I asked for Hazel's email address and told her I would contact her once the download was complete. I did so, but didn't hear anything for the rest of the day.
The next day, May 13, I received an email from Hazel apologizing for not getting back to me because of high-call volumes. She gave me instructions for troubleshooting and asked that I contact her if it didn't work. I followed her instructions, but the tablet still would not work, so I emailed her again. I wrote, "I would like to send the device back and have it either fixed, replaced, or have a store credit or refund." She returned my call, but I was unable to get back to her until Monday, May 16, when I emailed her with a request to please contact me.
She replied, "Hi Dave, Thank you for the reply. You can process the replacement online: https://devicesupport.microsoft.com/en-US or you can visit the nearest local Microsoft Store to have the replacement device right away." I replied and explained I live in Dawson City, Yukon, (thousands of kilometres away from a major centre) and that it is impossible for me to get to a Microsoft store.
She replied: "Hi Dave, Good day! Will you please send the receipt of your surface so that we can register your device to your account and to process the replacement because we need to escalate this case regarding for the error message on our system. Thank you for choosing Surface." This will be the first of many times I hear the words "we need to escalate your case." I reply within moments: "Hi Hazel, Here is the receipt for the Tablet that was purchased. I am back in my office and am able to take your call for the next 3 hours. Thanks, Dave."
Hazel cannot find any record of the receipt and asks me for the serial number and a picture of the device. We have some trouble sending and receiving attachments and we play email tag the rest of the day trying to identify my surface tablet. Here is one of the many emails we share throughout the day: "Hi Dave, We apologize for whatever inconvenience that caused to you and we're trying our best to check the serial number but it shows here that error occurred while registering the device. You can actually call the Best buy if they can replace your device." "Hi Hazel, Best Buy will only accept returns for thirty days. They told me that this is a Microsoft issue now because there is a one-year warranty from the supplier (Microsoft). So, can you please tell me where I can send this device to be returned/replaced or fixed. Thank you, Dave."
We exchange 18 emails throughout the day. The next one is Hazel's last: "Hi Dave, Thank you so much for sending the serial number and we're going to escalate this case to our higher team so that they can register the device to your account and I will give you an update for this and I will schedule you a callback again. Thank you for your patience and take care always! Sincerely, Hazel Surface Support Team."
Hazel calls back on Thursday, May 19. We register the device to my account and she sends me a UPS delivery label. She asks me to send her pictures of the device with instructions not to send the device until she receives the pictures. I confirm with her three times (because of our language barrier) to make sure I understand her request and I send her two pictures of the tablet. I email her the following day to see if she has received the photos and there is no reply.
The next time I hear from Microsoft is on May 24 but it's not Hazel. It's a new person named Krish. He emails me the following message: "Hi Dave, This is Krish from Microsoft Surface Support. We are here to ensure that your reason for calling in connection with touchscreen issue last May 13, 2016 is taken care of. We, at Microsoft are tied to a promise to only provide our customers the prime experience for Technical Service. If you are still in need of assistance, kindly provide us the most convenient time when we can give you a call. We can absolutely schedule a follow up within 24 hours and discuss your business and interest over the phone. Please know that Microsoft is constantly here for you and that our purpose is to provide you only what is best. Thank you for being a valued client! Best Regards, Krish **. Surface Support."
I replied to Krish: "Hello Krish, I have been dealing with Hazel from Microsoft Support since the phone call. It's been quite the process but Microsoft agreed to exchange my old tablet for a new one in the end. We last left off when Hazel asked me to take a picture of the tablet and send it to her before I mailed the old tablet. She said to wait for confirmation that she received the picture before I sent it and I have emailed her twice since to see if she received the picture and there has been no reply. I since received instructions from Microsoft via email to wait until I get the new tablet and inside the package will be instructions to ship the old one back. Hopefully everything will work out. Thanks, Dave."
Krish replied the next day: "Hi Dave, Thank you for writing back. If this is the case, just wait for an update from Hazel since she is already working on it. If you are still in need of assistance, kindly provide us the most convenient time when we can give you a call. We can absolutely schedule a follow up within 24 hours and discuss your business and interest over the phone. Please know that Microsoft is constantly here for you and that our purpose is to provide you only what is best. Thank you for being a valued client! Best Regards, Krish **."
I decide to wait for Hazel, but two days later, on May 27, I get a familiar email: "Hi Dave, This is Krish from Microsoft Surface Support. We are here to ensure that your reason for calling in connection with touchscreen issue last May 12, 2016 is taken care of. We, at Microsoft are tied to a promise to only provide our customers the prime experience for Technical Service. Your satisfaction is significant to us and our perception is to take your business seriously. Since we are not hearing any response, we will consider this case resolved and proceed in closing it."
"Furthermore, please do not hesitate to contact us back for assistance. You can either reach us through chat by visiting http://surface.com/support or over the phone by dialing (1-800) 642-7676. Please know that Microsoft is constantly here for you and that our purpose is to provide you only what is best. Thank you for being a valued client! Best Regards, Krish **." I wrote back immediately: "Hi Krish, you already have replied to me on Wednesday (See email below). I forwarded the email that I had replied to him from May 25. FYI, I still have not received any response from three emails to Hazel. Dave."
Four days later, on May 31, I get a response: "Hi Dave, I am sorry that you haven't received an update from Hazel yet. I recommend sending her an email and ask for the update. If Hazel will not respond after 72 hours, let me know so I can just escalate it on my end. We, at Microsoft are tied to a promise to only provide our customers the prime experience for Technical Service. Please know that Microsoft is constantly here for you and that our purpose is to provide you only what is best. Thank you for being a valued client! Best Regards, Krish **."
I send Hazel a fourth email and let Krish know that I did and later in the afternoon, I finally hear back from Hazel: "Hi Dave, I apologize for the late reply. Yes I received the picture of your surface with the serial number last April 20. Were you able to ship your defective device using the shipping label that was sent to your email? Thanks, Hazel."
My reply: "Hi Hazel, You asked me to send you a picture of the tablet itself (not just the serial number). You told me to wait to send the defective device until I had confirmation that the picture was sent to you. I also got an email later that day from Microsoft saying that the replacement device has already been sent. The replacement device will have a return shipping label and that if it does to use that prepaid shipping label. So no, I have not shipped the defective device. I haven't tried yet. Dave."
Both Hazel and Krish email me the following day. Krish's email instructs me to be patient and gives the usual ending of me being a "valued customer." Hazel's email again confirms that she received the pictures and to go ahead and send the device. I get to Canada Post on my lunch break only to find that Canada Post does not accept UPS labels. I also find that the closest UPS location is in Whitehorse, about 550 km away. I inform Hazel about my situation that afternoon and that I had plans to be in Whitehorse in two-and-a-half weeks. Hazel asked if a Microsoft store was closer, but I told her in an earlier phone conversation that the nearest Microsoft store is in Edmonton, about 2,000 kilometres away. I told her I would send the defective device when I got to Whitehorse and ask if the replacement is on its way.
Hazel informs me through email: "Hi Dave, We actually process the standard exchange or if you want I can give an option to process the Advance exchange wherein our service center will be sending first the replacement device within 3-5 business days and there is a hold amount for that approximately the same amount of the device you have and once you receive the device you'll need to send your defective device within 15 days so that the hold amount will be refunded to your credit card account. Thanks, Hazel."
By this time, I feel I don't want to send Microsoft any more money since I had already spent $600 and had nothing to show for it. I decline the offer and inform Hazel I would be sending the defective device on June 23. Hazel sends follow-up emails on June 20 and 22, but I had already left town. Here is the email from the 22nd: "Hi Dave, Good day! I would like to know if you already ship your defective device and if you already receive the replacement surface. Best Regards, Hazel."
I send the device from Whitehorse on the 23rd, and get back to Dawson City the following weekend. I confirm with Hazel on Monday, June 27, that the device was sent and no replacement device had yet arrived in Dawson. I receive a confirmation email on June 29 that Microsoft has received the broken tablet and that a new one was sent. Again. I get a sense of relief that my long ordeal with Microsoft is almost over. Little did I know at the time that the nightmare was far from over. It was about to start all over again.
My Microsoft Support Experience: Part 2. The confirmation email sent to me on June 29 said my replacement device would arrive between three and five business days. Any northerner will tell you that anytime you get a parcel from the south that it's going to take an extra day or two. But what's about to occur is beyond ridiculous.
On July 5, 2016, I received this email: "Hi Dave, Please let me know if you already receive your replacement device and if everything was working good. Thanks, Hazel." I replied: "Hello Hazel. No, I have not received a replacement device yet. I did receive an email that the defective device was received on June 29. Thanks, Dave." She replied back: "Hi Dave, Thanks for the reply and the device is on transit right now and you will receive it within this week or next week. Best regards, Hazel."
On July 17, 2016, I received this message: "Hello Dave, I hope this message finds you well. We're sending you a second email to follow up with your replacement. It shows on our record that the device is already delivered. We would like to verify that. An update would be greatly appreciated. Should you encounter any issues or have additional concerns, please visit http://www.microsoft.com/surface and contact one of our support representatives by chat or phone. You may also reach out to us through the details below."
"Support hotline: 1-800-642-7676. Hours of operation: Monday-Friday (8:00am - 12:00am EST). Saturday and Sunday (9:00am - 6:00pm EST). Thank you for choosing Surface. Sincerely, Hazel. Microsoft Surface Technical Support Representative." I sent this email on July 18, 2016: "Hi Hazel, I just got back from the post office and there is no device here yet. Hopefully it gets here soon. Thanks for checking in, Dave." Her reply: "Hi Dave, Thank you for the reply and as I have checked here on our system your replacement order is on transit and you will receive it this week. Best regards, Hazel." This particular message seemed odd given what she wrote to me on July 17.
On July 22, 2016, I wrote to Hazel: "Hi Hazel, I just got back from the post office and the device is still not there. Just thought you should know. Have a great weekend, Dave." I heard back on July 23, 2016: "Hi Dave, I'm going to schedule a callback later and I would like to know if when would be the most convenient time for me to call you because we need to escalate this case. Thanks. Hazel."
On July 26, 2016, Hazel got in touch and told me my case is being escalated and assured me someone will contact me between 24 and 72 hours but I don't hold my breath. On August 5, 2016, I send an email: "Hi Hazel, Any luck in locating the replacement device? I just got back from the post office and nothing has arrived here yet. Dave."
I email again on August 8, 2016: "Hi Hazel, Did you know it's been almost three months since the start of this process? Crazy! Any luck in sending/finding the replacement device? Still nothing here. Sure hope it comes soon. Dave." I received no response from Hazel, so I thought I would try Krish, on August 10, 2016: "Hello Krish, Did you know I still don't have a replacement computer yet? It has been almost three months since I started the process of receiving a replacement device from Microsoft. Since I last emailed you the following has happened:
• July 5 – I received an email from Hazel that a replacement device was on its way and it should arrive by the end of the following week.
• July 17 – I received an email from Hazel that Microsoft records show that the device has been delivered.
• July 18 – I go to the post office to pick up the device and it's not there so I email the news to Hazel.
• July 18 – Hazel responds and says that Microsoft records now indicate that I will receive the device by the end of the week.
• July 22 – I go to the post office to pick up the device and it's still not there. I email the news to Hazel.
• July 26 – Hazel calls and the matter is escalated.
• Aug 5 – I send Hazel an email to tell her that nothing has arrived — no reply.
• Aug 9 – I send Hazel another email — no reply.
"This process started on May 12. I have a folder with 76 emails with Microsoft, there has also been numerous phone calls and still nothing. I don't know what else to say. Thanks for your time, Dave." On August 12, 2016, I emailed Hazel and Krish the same message: "Hello? Is anyone out there going to help out this "valued customer" locate the missing tablet? Dave."
On August 18, 2016, I'm desperate to get ahold of anyone and email every Microsoft email contact I can: "Hi, Can someone please contact me regarding the tablet. I haven't heard from anyone since July 26. This is crazy! Why won't someone help me out or do something? Anybody? Dave **." On August 19, 2016, I realize I am being ignored by everyone and my frustration grows. Yet, the whole situation is so absolutely unbelievable that I find it amusing. I decide to call the 1-800 number. I get in contact with Ariane.
She assures me that the matter has been escalated and that someone will definitely call within 24 hours but may take up to 72 and emails me the following message: "Hi Dave, This is Ariane from Microsoft Surface Support. We would like to provide this reference number ** in regards of the call you have made today. We appreciate your time in doing business with us. We, at Microsoft are tied to a promise to only provide our customers with prime experience for Technical Service and your overall experience is extremely important to us. Furthermore, please do not hesitate to contact us back for assistance. You can either reach us through chat by visiting http://surface.com/support or over the phone by dialing (1-800) 642-7676. Please know that Microsoft is constantly here for you and that our purpose is to provide you only what is best. Thank you for being a valued client! Best Regards, Ariane, **."
Twenty-four hours go by. Forty-eight hours go by. Seventy-two hours go by. Ninety-six hours go by. Nothing. Nothing from anyone. This is beyond absurd and the very definition of poor service. On August 24, 2016, I call the 1-800 number again and get another agent on the phone (I did not get her name and I wish I had.). She looked up my reference number and asks that I hold the line while she reviews my file. She gets back on the phone and says she can't believe what has happened to me. She apologizes profusely and sounds genuine. She is different than all the others I encountered and seems to understand and listen to my concerns. "Finally! Finally!" I think to myself. She wants to transfer me to a "higher up" to have the matter escalated... again.
When this "higher up" answers the phone, I give him the same reference number but he can't find it on the file. As I start to ask him to repeat the reference number, the unthinkable happens. He interrupts me as I am talking, so I don't hear what he is saying. The next thing I know, he hung up on me! Thanks Microsoft. I decide to email Ariane this time: "Wow! On Friday, August 19, I was told that my case was elevated and that someone would get ahold of me in 24 hours or at least within 72 hours and no one called. No one called. I called back today and the first agent apologized and transferred me to a "higher up." When this person couldn't find my reference number (the first person did!), they hung up on me! Dave. Disgruntled "Valued" Customer."
I didn't expect a response. Why would I get one at this point? I call again and it's almost exactly the same except the Microsoft service agent isn't apologetic, nice, or understanding. I get transferred to a "higher up". The matter is escalated yet again. The "higher up" seems like he is reading a pre-scripted dialogue that he stumbles through... badly. He doesn't seem to care about anything I had to say and dodges every one of my questions. He assures me that someone will call me before Friday. Yeah right! And of course, Friday has come and gone and no call from Microsoft. What do I do now?

Microsoft Support. What a laugh!! On Friday I spent 6 hours on the phone while support agent worked (?) on my computer trying to fix OneNote. Tier 1 couldn't help and they passed me to Tier 2. Tier 2 couldn't help me directly but they started the OneNote sync process which (I know from previous syncs) would take hours. The agent told me that if this did not work I should contact Support again and have Tier 3 assist.
On Tuesday I called Microsoft again. After waiting on hold for 4 1/2 hours Microsoft hung up on me. All this time I didn't even talk to an agent. I called back and when I got to Dave, an agent I asked for Tier 3 support. He went in file (using the case number I was given) and said the file showed closed. He did transfer me to Tier 2, Melody but after introducing herself, she too hung up. Way to go Microsoft. After years of being dedicated to Microsoft and the PC, the only thing I have to say after this disappointment - MAC here I come.

I bought a new Dell computer in March 2016, Windows 10 was installed on it. I write for a living, my docs are very important to me. I'm on deadlines on two screenplays right now and today, Windows 10 announced that it would restart and update. I clicked "Not now". It did it anyway... And took a long time doing it. When it came back up, I tried to get back to my writing - ALL my files were GONE!! All of them. I called Microsoft in a panic. A woman, Rina, asked to be able to take over my computer long distance, I allowed it. She went on for over 3 hours... I kept asking her to please restart my computer BEFORE they high jacked it, she didn't. I finally asked for someone more competent - she hung up on me! I'm buying a frigging Mac!!! This is my livelihood!!!

I upgraded to Windows 10 several months ago. First, all my games disappeared --- including those I had paid for. So much for the "nothing will be lost" when you upgrade. Second, they have fixed it so if you wish to print a selection from a website, you are not permitted to do so with their Edge. You have to log into Chrome or Internet Explorer, then return to the website you are interested in. What a pain! Windows 7 was a dream compared to this program.

Every time Microsoft comes out with a new version of outlook it is more confusing and complex than the last version. THERE IS NO CUSTOMER SERVICE that is easy to access and no way to complain about Microsoft products. This is the problems with monopoly's they quit paying attention to the customer. Outlook is so complex with different ways to create folders, address books, tools, categories etc that I can no longer use it effectively. The address book is horrible with complexity and creating a folder to store emails in is always a gamble... maybe the emails disappear or maybe they don't. If I could go back to outlook I have 10 years ago I would be very happy.

I have been a user of Microsoft Windows since my first computer in 1993. While I have sometimes had minor problems learning the new upgrades, none have caused any significant headaches for me. Until Windows 10 that is. I bought a new computer in May 2016 and it came with Windows 10. I had no other option because they ALL come with Windows 10! In addition to all the issues that others have complained about, I am now having to pay more for my cell usage as I must use my cell phone as a portable wifi spot. Windows 10 is causing me to constantly pay overage fees which is DRIVING ME CRAZY. I am so upset and I am going to demand compensation for the overage, which I probably will never see. If anyone else has the same problem, we need to join together to get some relief!
Microsoft Company Profile
Company Name:

Microsoft

Website:

https://www.microsoft.com/en-us/