Straight Talk Wireless
Miami, FL
Consumer Complaints and Reviews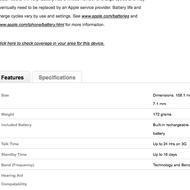 Before I tell my story, I must say this: I can only use GSM enabled phones in my area, so when I am shopping for a new phone, I know what to be looking for. Ok now onto the real story... I purchased an iPhone 6 Plus (Silver) 16GB from Straight Talk in February of 2017. As you will see in the photos I provided, the website clearly states that this phone model supports GSM. That is exactly what I was looking for. I received the phone on time, so no complaints there. It was what followed that started the problems. Once I activated the phone, the signal instantly read "Verizon". Now, I'm not a tech genius, but I do know that Verizon runs on CDMA enabled phones ONLY. So, immediately I knew that I was sent the wrong phone (This is false advertisement!)
I contacted the company and told them of my problem. They were completely uncaring of my situation and I was even hung up on and even placed on a permanent hold until I hung up myself. I even tried the online chat, and boy was that a mistake! EVERY representative would tell a different story and would not provide me a working reference number for my case. Finally I got someone to help and I managed to get the phone shipped off for a full refund. Now, the company has received the phone and are taking their sweet time with the refund. They are telling me that I will have to wait a full month before I see any activity on my account! They are toying around with me and there's nothing I can do! So as it stands right now, I am out over $400 thanks to this terrible company!
I do NOT recommend anyone using Straight Talk or TracFone services. Don't let them fool you. They are the SAME company and both provide the same terrible service! They will lie and scam you! They falsely advertise their products and I have reason to believe most, if not all of their phones are refurbished, even though they claim what you buy is new. I bought a "new" iPhone 5s from them and I've had problems with the phone from day one! THAT is suspicious right there! Never do business with Straight Talk!!!

Twice now I have gotten $45 cards to refill my phone. When I went to add them to my phone I got messages that told me the card was already in use. I had just bought each one of them and had just scratched off the silver bar on back. I called customer service and they continually told me there was nothing they could do because the card had been used. I'm trying to figure out how these cards have been used when I had just bought them.
The guy I talked to this morning told me he would see what he could do, in the meantime he forgot to put me on hold and I could hear him speaking in what sounded like Mexican. He was having quite the conversation laughing and chatting. I got his attention and he kept telling me he was working on it. The next thing I know, he hung up on me.
When I went to Wal-Mart to see what I could do, one of the comments that an employee said was "ya, it's quite the scam they have going!" There was another women there with the same complaint. This seems to be happening a lot. In order to keep your phone active, you have to buy another card. From $45 to $90 a month. That's quite the rate increase. I will be looking for another phone carrier in the near future!

I feel like I have to warn everyone I can about what a terrible experience I had with Straight Talk. They were rude, condescending, and comically wrong in all of their information and how they talk to their customers. I spent more than 3 hours on the phone with 4 different people managing to get all the way to corporate to have people talk in circles and try to squeeze every penny they could from me. All I needed was to port my number over from them (a number from a different service provider) and they wanted me to pay at least $45 dollars to reactivate a phone that doesn't even exist anymore. I never write reviews but I wanted to shout from the rooftops how they just tried to swindle a penniless student who was just trying to get my account opened. I hope people start to realize that there are less expensive and better quality places out there. I truly cannot believe how they treat their customers.

Totally have been disrespected as a customer. Was automatically signed up for auto refill by them when I activated my account in which I never approved from my account. They deducted twice, and when I called for the 2nd time CSR was disrespectful as if I caused the issue. End up not liking my phone I purchased from Straight Talk, so I called to get it transferred to a different phone. Called 4 times cause phone never was transferred over to new one, CSR never called back to confirm or anything. So I end up purchasing a new phone from MetroPCS with no problem.
So I tried selling my phone but they told me I have to have it activated for a year in order to get unlocked. CSR was totally nasty, refuse to hear me out, and told me, "Thank you for calling Straight Talk. Have a great day," and HUNG UP IN MY FACE! This company really needs to retrain their staff to be more customer friendly and at least try to resolve issues. I really was excited to sign up with them too! VERY DISAPPOINTED!

When purchasing another month's service plan on my Straight Talk phone I called an 800 number try and get Reserve Minutes that had previously been an option. This automated service did "offer" the option of Reserve and I chose it. I also wrote down the amount of minutes remaining. My remaining Reserve Minutes were lost the following day. Yesterday and today I have been on the phone (using precious service minutes) to have them return the reserve minutes. Yesterday I was told the minutes would be back by this morning. They were not. I called and spoke with Mae-Anne and she told me they could not add minutes once the date of my service plan from last month had ended. Last month I also chose Reserve Minutes when I added the next 30 day plan, but did not pursue Straight Talk's breach of contract.
How do I know I can trust these reviews about Straight Talk Wireless?
718,469 reviews on ConsumerAffairs are verified.
We require contact information to ensure our reviewers are real.
We use intelligent software that helps us maintain the integrity of reviews.
Our moderators read all reviews to verify quality and helpfulness.
For more information about reviews on ConsumerAffairs.com please visit our FAQ.

My data speed slows after few weeks of usage. I don't watch videos a lot but when I do over few day period it's so slow I can't watch without it cutting in and out. I'm not happy and thinking about switching to Metro. My son has Metro and his data speed lasts whole month.

They don't know what they are doing. Gave the make and model and IMEI number. This is the fourth time sending me a sim card that won't fit the phone yet took the money. Three weeks now no phone that is working. So frustrated. Like dealing with a two year old.

Purchased Bring Your Own Phone from Walmart on 2/19... Asking Walmart, "Will this work on my phone?" Before leaving Walmart, called Straight Talk, "Will my phone work on this plan?" Both said yes. Went home, called to activate. System errors after getting account set up and phone # & being transferred several times. Received Ticket #. Pls call back in 24 hours to give them time to correct error. 2/21 called back. Need Sim card. "We will build one and send it to you." After being on the phone for 2 hours & speaking to 3 different people with 3 different reasons why they can't turn my phone on, "Allow 5 days to receive new Sim card and call back."
3/1 called back to check status. No record of order or shipment even though I have my 3rd ticket #. After again being passed from person to person I am told I will receive a Sim card in a few days & again another ticket # and please call when it arrives. 3/6 Yay Sim cards is in the mail. Call, give ticket #. Go thru the whole process of setting up account reviewing phone # given. Was on hold at least an hour. Getting the same original error message that they have gotten all along. Old call back in 24 hours. You got it. Another ticket #.
3/7 after the 24 they called back. Am told they can't fix the problem. I asked to speak to supervisor. Was told, "I am one." Asked to be connected to the complaint department. "We don't have one." Asked what to do to get refund. Was told to go to Walmart. But was sure I probably couldn't get one. Then I was hung up on. Really... Really. After trying my best to keep a level head and give the benefit of the doubt... estranging to understand everyone because all had thick accents... only to be hung up on and basically laughed at. Really.

Service was ok with Straight Talk but any service was a horrible experience. Then when I wanted to cancel service it was a nightmare! Put on hold for 45 min. twice!!! Disconnected twice!!! I'm beginning to think they are trained to do that so I would hang up and they could charge me service that was on automatic withdrawal! And the "techs" at Walmart stores are useless.

Bought 2 Samsung Galaxy s6 on their website. We received phones. I took my phone out, activated it, no problems. My fiancé works out of town so I waited the night before he got home to activate. When I tried to activate his it gave me a error message. I had to call. No problem. I called, spoke to 5 people trying to understand what is happening, 2 hours into phone call. Loss prevention gets on phone, tells me this phone was reported stolen? I asked, "how was it put in the box with mine then?" They asked me to fax my receipt plus my phones serial number, would be 72 hours. I called today, this was on Thursday, at 8:40 I faxed paperwork. Nothing telling me to refax. Bull crap. I spent over 900.00 and you can't help me at all to see if you received it. Another 5 people literally stating I can't return both phones. They wouldn't provide no info. Not a address or even if I need more info to fax just to hang up on everything again. I'm so over it.

In a nutshell: I've been a loyal customer for seven years. I was always satisfied with Straight Talk until after all the lawsuits took effect. They changed their high-speed data from 3 gigabytes to 5 gigabytes but tell me I've used 5 gigs after only 7 days use! My phone says I've only used 3! This used to be a great company but their name is no longer accurate when it comes to their service.

First I want to say I have been a Straight Talk customer for over 5 years and have had no issues. I pay for an international plan. Now I'm on vacation in Puerto Rico, thinking it is "international" since it is still considered American territory. (Hence international and not continental). Talk about a stressful situation trying to get service in American territory, who does have Wal-Mart stores all over the island. A complete FAIL!!! I have a S5 phone. I could not call Straight Talk Wireless server provider without being charged.
So I hooked up to a WiFi to contact my provider. I was asked to look for something in my settings which was just not there, and was told to remove my sim card while my phone is on. Ok seriously, you can't remove the sim card without taking the battery out first. Customer service gave up on me. Remind you, I'm on my phone using WiFi so removing my battery would disconnect my conversation. They gave up on me and now I have an almost dead battery.
After charging my battery, I used a friend's phone (T-Mobile phone) to contact Straight Talk customer service again. This time I'm talking to them. After the same thing of looking for stuff that is not there and removing my sim card, I was transferred to a manager. This was an all day stressful run around, jump through hoops only to be told that my phone is too new for the towers in Puerto Rico. Seriously??? I'm sooooo peed off with you guys right now. I'm going to change who I get service from. When everyone I'm with has service but me? Yeah, I'm not going to pay for service I can't get. I'll pay someone who can. To top it off, your customer service has no clue in helping and they give up on you rather than check their facts and accommodate to the situation. This is my last month with Straight Talk Wireless.

I ordered a cell phone and they sent me a defective phone, so they had me send it back. Then as a replacement they sent me a completely different phone. So they said once again they would send me the package to send it back. After waiting the 3 weeks they said it would take for the envelope to come I called them. They said "we don't have anymore of the phone you ordered so you have to use that one", they said sometimes that's just how it is. I said "forget it I want my money back" and they said "we can't give you your money back because it's been more than 30 days"! Even though it was because I was waiting for the package. Totally dishonest and unprofessional.

From 02/09/17 to today 03/02/17 I have been trying to activate my new phone with Straight Talk's bring your own phone program. On the 9th phone was activated with AT&T SIM Card which did not provide service in my area. Straight Talk Rep. said T-mobile has the best service in my area so he activated my phone with T-Mobile. I had only one to two bars for service :( He said, "don't worry by 4pm all the kinks will be worked out". Well, when 4 o'clock hit I no longer had service on phone. Instead of activating new phone they activated my old phone that I had with Straight Talk... Once again I am on the phone with Straight Talk.
After an hour and half they figure out what they did... "oh we need to send a new T-Mobile sim. We activated wrong phone." Okay, a week later I get the new T-Mobile sim. Call to set up my phone and REP says this card is already activated to the OLD PHONE... NOTHING I can do except send a new AT&T SIM. Twice old phone was activated and their only solution is to send another SIM which is an AT&T SIM that we already tried and it had no service. And no I did not get my $$ back from the company. VERY Disappointed!

Okay, so I ordered a phone from Straight Talk on February 24th, I also paid for overnight shipping, I understand they dont ship on the weekends and blah blah, It is now March 1st, I still dont have my phone, Ive been on the phone with Straight Talk for the past 3 days, they dont help at all, I am to be moved out of the house that its being shipped to tonight, I called FedEx to change the address, but they said straight talk had to do it.
Not to mention, straight talk took 1800 dollars out of my bank account, I only bought a phone, and plan. I filled out paperwork with my bank today, they are making them give the money back, and they will be tried for fraud, by the bank. I am seriously getting tired of talking to these terrorist people, WHERE ARE THE AMERICANS. I cant talk to any CEOs, NOTHING. Does anyone know how to go about contacting a lawyer. STRAIGHT TALK IS A FRAUD. THEY ARE A ** COMPANY AND YOU SHOULD BE SHUT DOWN.

If you think of prepaid, you're wrong! $45 month is a contract. I am a TracFone man, mind you. I only chat and change my ring tones. I am not on Straight Talk, but my pal is. She is young and has barely money, so - Yup, got a Straight Talk SIM and used a crushed iPhone 4c on it. She is ok. My mom would kill me and say that's a hell of a lot of money. I use TracFone and that's it. Read my review in TracFone soon, be warned. I had prepaid in years and this is a rip-off! If there is Live Chat for Straight Talk, ok! I speak English and these other reps or 1-800 number people barely know what 2 and 2 is 4.

I ordered a Sims nano on Sunday with 1 business day shipping. I repeated my information over and over. The customer service representative had a heavy accent. Gave me an order number that was incomplete. Tuesday came and no product delivered. I called Straight Talk and gave my information to another representative that spoke English as a second or third language.
I asked for a clearer speaking representative that could understand me. And was denied rudely. After this person couldn't tell me where my product was even though they withdrew funds from my bank they didn't have a record of me. I'm on auto pay for years now with this company. I was transferred to another person that told me I need to be on a 3 way call with my bank with Straight Talk. No I don't. My bank will handle this. I told them several times I could show proof of their error with bank statements and it wasn't good enough. How does a company take from an account with no paper trail?

I bought a iPhone 5s from Straight Talk for my son, with a 5g data plan that does not work in our area, supposedly because I received an AT&T phone and should have gotten a iPhone from Verizon? Hmmm, I thought I was getting a phone from Straight Talk. Regardless, they wouldn't make it right so now I am tethered to a phone that can't access data or texts in my area and they will not make it right. My recommendation would be find someone else to get your phone from.

Been with Straight Talk for years, very pleased with the service and price of the service. Unpleased with customer service and tech support and their inability to fix simple problems in a timely manner! Representatives doesn't speak English well and hangs up on you when you don't understand what they're saying. Tried to perform a phone number transfer to new phone after purchasing a compatible Sim card, they messed that up on Thursday February 23rd, 2017. The next day I requested to put it back on original phone, they messed that up. They keep telling me 24 hrs like the script tells them to say, needless to say today is Tuesday February 28th and I've had no service since Thursday. It's been with the Escalation team since Thursday with no results! Asked to speak to the most senior person and ironically straight talk have managers that they don't work for anyone. Everyone has a boss.

OK to start off my old phone got hacked and became useless so I had no phone. Decided to get a Galaxy s7 on Straight Talk since I could the phone off over time. So I spend $200 ordering everything and having overnight delivery... Well when the phone finally SHIPS two weeks later and arrived at my house almost three weeks later (no phone 3 weeks, and all while trying to job hunt), I finally figure out how to try to activate it since there was nothing in the box besides the phone and a loose sim card. Activation takes almost 4 hours because they can't locate my IMS number in their system.
After activation phone will not work. No text or calls. Well I can call and connect but I get no dial tone and can't hear/be heard unless I call on Skype or Facebook... obviously a software issue. Ok fine call tech support... What a joke. I have been fighting this for two weeks. Finally get someone to send me a label so they can have their $900 brick back. Oh but wait... since I never used the phone I should get my money back right?? Nope and if there's damage they're charging me for it. This should not be legal!!!

I was previously a Sprint Customer. I got tired of the cost constantly increasing every month so I decided to try Straight Talk. My fiance is using it and has for several years. She has never had any problems even when we are out of town out of state. Your phone seems to work everywhere we traveled so I was convinced to tried Straight Talk and it seemed to work good for her so I hoped it would work the same for me in which it does. At this point I have had zero problems with my service. I'm very pleased to have switched to Straight Talk and cut my bill in more than half the great service.

I have serious 2nd thoughts regarding Straight Talk Wireless. I've noticed GB's disappearing faster than I can use them. I started with 2 GB for my mobile hotspot, and it was gone within a few hours. I barely had use of the Internet for 2 days. I bought another 4 GB Friday night and see on Sunday morning only 538 MB are left. My account is secure so there's no reason for this to be happening. There is, indeed, something fishy going on here. I had Verizon and rarely went over 12 GB a month. With Straight Talk, at this rate, I'll be using 28 GB+ a month, which is absurd. If you use this company and have noticed similar problems keep complaining and spread the word. I'm not the only one to notice that Straight Talk's GBs are not equal to those of other companies. According to Verizon, 4 GB should get a user 12,000 web pages, or 52,000 emails, or 12 hours of streaming video. A micro fraction of this is available to a Straight Talk customer.

I bought a $55.00 card on 2/6/17. It is now the 17th and they say that I have already used 8 GB OF data. While I was with Verizon I only used 5 GB within the month. Also if I pay for GB I should be free to use them however I please. Straight Talk has no Mobile hotspot, or can't even tether.

The worst I have seen in years. Called twice and got a non-english speaker... both times. She would not slow down. She wanted 2 imei numbers and serial numbers. I knew this would never work. Gave up. Went on website and tried to contact them. Sent 4 emails with relevant information. They never answered ANY of them 2 weeks. CUSTOMER SERVICE, THEY HAVE NONE AND APPARENTLY DO NOT CARE. 0 OUT OF 10 - I GIVE THEM A (1). They did answer the phone. A Joke.

They steal data that I purchased and then will not give it back. They do this usually towards the end of the month to get us to renew sooner than the renew date. My husband was on their app while also speaking to them, complaining that the previous day it showed he had used 3g when he had not even been using his phone that day. We had a day full of appointments as we are both disabled. I was with him and Knew he hadn't been on his phone and he turns his data off when he isn't using it. As he was on the phone with them he watched on his phone his data dropped another 2G leaving him at the snail pace with a week to go. They have done this numerous times and also you can never understand their customer service reps.

Bought a $20.00 flip phone to make have service at my home that is remote in the mountains. All you can buy is 1500 minutes, you don't get all of them it expires every 30 days for $30.00. I wanted to go with another service and found out I have to stay with this lying company for a year, only had the phone for 2 months. It says NO CONTRACT, it's a prepaid phone, went round and round with this company and no resolve. THEY ARE LIARS, THE REP HUNG UP ON ME, I STILL REMAIN. **, STAY AWAY FROM LIARS.

I had Straight Talk years ago and had forgotten just how bad customer service was. I decided this week to give then a 2nd chance, since I am with Walmart Family Mobile (T-mobile) and the coverage is bad. I purchased the AT&T sim from ST. Problem #1, Straight Talk only sends sims out signature required but only charges $.01 for them. I had to dance with FedEx for 3 days trying to arrange pickup. I forgot that with ST, you better give them a work address. Trying to use their online activation did not work. I was promptly charged $48 to my credit card. 24 hours later no activation. I spent hours over 2 days trying to get help including getting a refund (still waiting on that).
They refused to remove my credit card from the auto-billing even though they never activated the SIM. I went through the usual inability to speak to a human, transferred a million times, hung up on during a transfers. I had to keep demanding to talk to someone that could help. I finally got my credit card removed from automated billing. The sim still shows on my login as "Activation in Process" despite demanding that be stopped, a refund applied, and removing my credit card from my profile, which you can't do on your own. I had to change my password with my current provider in hopes that the sim card showing "Activation in Process" doesn't randomly kick in sometime in the future. The company works ok, as long as you never need customer service.

I have been with Straight Talk for about 4 to 5 years and my phone was having trouble with my internet and making calls. So I called and asked if they can replace the days I lost when my phone was not working. They said yes so the lady told me when I hang up turn my phone off and then back on. So I did, come to find out they lied. So I called back and told the manager what happened and she got very very rude with me. So I changed providers and very happy that I am not with Straight Talk anymore. They are none caring Liars!!! So if you looking to get with Straight Talk please rethink. They are a bad phone providers. Thanks.

I needed to get a new phone for my son and so I decided to go online and try and order. The order process was simple. I had more choices online than In Wal-Mart. So I get my phone today and guess what the case didn't even match the phone... Wow... It's too big, From a different phone altogether. I'm So upset. Now I have to send it back and hope I get a refund and Now I'm heading to Wal-Mart to purchase one. I'm not even sure I want to use Straight Talk again because the 45 min phone call I just made did not help. And I got transferred 2 times and It was ridiculous.... So Upset and Angry.

The customer service leaves much to be desired with long wait times. Also, the website has frequent issues when purchasing service plans and auto-enroll. But the price is good and the high speed data is acceptable until I need more internet availability.

ConsumerAffairs Research Team
The ConsumerAffairs Research Team believes everyone deserves to make smart decisions. We aim to provide readers with the most up-to-date information available about today's consumer products and services.
Straight Talk is a provider for TracFone, a subsidiary of América Móvil. The company has offered no-contract wireless phones since 2009. They currently have several unlimited plan options.
Plan options: Straight Talk offers several plans from which customers can choose. The company offers several monthly plans with varying amounts of data as well as a six-month and a one-year plan. Parents might wish to purchase the longer term plans for teens or college students.
Customer service: Customers with questions or problems can reach a customer service representative 24/7. Customers can receive help by phone or basic answers by texting HELP to 611611.
Other services: In addition to cell phone service, Straight Talk offers wireless plans for tablets and home phone service. Consumers can also sign up to use their phone as a mobile hotspot.
Included features: All Straight Talk plans come with call waiting, voice mail, caller ID, and call waiting. These features are free and available on most devices.
Blog: Consumers interested in learning more about prepaid and no-contract cell phones can visit the Straight Talk Blog. They can also follow the company on Facebook, Twitter and Instagram.
Best for Straight Talk is best for parents, business owners and budget-conscious consumers.
Straight Talk Wireless Company Profile
Company Name:

Straight Talk Wireless

Website:

https://www.straighttalk.com/wps/portal/home