Consumer Complaints and Reviews

About three years ago, I signed up a 3 years contract with Bell Canada internet + phone line. Now after 3 years we had lots of problems with the internet and I was stuck with the contract I had to put up with. So now I try to call Bell and wait almost 45 min to answer, I try to cancel the service, they were telling me internet you can cancel but phone you can not cancel because your contract just got renewed for another 3 years. I try to tell them I signed up for only first 3 years, you can not lock me up for another years automatically without call me, if I want to, or it should be on month to month basis after three years pass.
So now I try to talk with three agents but got no help, and asked for one the manager to call. They told it will take 2 to 3 business day, but now 3 weeks pass. No one called. I think this is not legal to lock consumers for another 3 years contract, once their first contract to finished. Here is my Bell account number **. I had lost trust with company, but now I should rethink about them before I call for new services and recommend them to others.

Not a concern but rather a complaint and a desperate call to have my situation resolved. I have been your client for 6 years and I have had it with the abuse and the lies from your representatives. Every statement is like a box of chocolates, surprises and extra charges over and over again for years. On my last statements I received extra charges in one of my lines for long distance. I spoke to a supervisor and he proceeded to provide me with a credit for approximately $83 or $86 dollars. On my new statement, I received extra charges again for a new long distance feature that I did not request and also charges for late payment.
I spoke to Rep ** and she told me that she was making notes in the system and that the supervisor was calling me back to sort out my issue. The call never came. I call back today, October 21 and spoke to someone else. I had to tell the whole story all over again since there were no details in the system and no manager, nor a supervisor to take my case; once again waiting for someone to call me back.
Your service is the worst, you lie to your customers and have no respect for them. Besides all the time that as a customer I have to spend speaking to different people and waiting for issues to be resolved and the mental sanity of being lied over and over again needs to stop. I have been your client for 6 years, I have 3 lines with you and I have also had dealings with Bell via the companies I have worked for in the past. Look at my payment history and maybe you do not care about losing a client like me but I am ready to know what my penalty is for me to cancel my contracts and take my business elsewhere. Please look into my file, resolve my situation and contact me with a final solution.

All my life I have been with Bell Canada for home phone, and for years for home phone and internet. First of all Bell's billing information was always extremely complicated and comprehension of all the information for the customers was highly unlikely. Secondly their rates were way too high, like all the companies who are there to squeeze the maximum out of their customers, this is called greed, a plague of modern age unfortunately. My new service provider for home phone and internet costs me about half of what Bell used to charge me, for equal or better services. So people, take my advice and stay away from Bell, they're only there to gouge you good, there are many services providers out there who are a way better choice.

My daughter and I signed up for Bell tv and unlimited internet in April 2016 on a one year promotion. To date we have never received the promotional rate we had agreed to. Calling Bell is ridiculous. It has taken over an hour to speak to someone after which the line gets disconnected and I have to go through the same process all over again. This has been going on for the last six months. My daughter and I both have registered complaints with the CRTC through the CCTS. After reading the large number of complaints against Bell I am wondering if there is a way to get a class action lawsuit going. The frustration and consumption of time wasted should be reimbursed. Would love to know how to start a class action lawsuit.

I had been a loyal customer for 4 years. I was on a two year contract when I had to pay out my bill to go overseas for a year. I paid all fees and was told I was out of my contract. I paid another unlocking fee to get a new Australian SIM card put in and was good to go. So I thought. Until returning from my trip to find they charged me a 400 dollar cancellation fee a month after I had bought out my contract! Since I wasn't aware of this fee for the past year it got sent to my credit score and is now affecting my chances of getting a new plan with another company.
I called to dispute these fees and the representatives April and Abdul were absolutely horrible and couldn't even comprehend the conversation. Once I finally convinced them to let me speak to a manager he told me because it was past the 90 day dispute period. I am completely disgusted by bell's customer service. I have always heard horrible things about over charges from bell, but I never experienced it myself until now. Trust me, do not go on Bell!!
How do I know I can trust these reviews about Bell Canada?
610,392 reviews on ConsumerAffairs are verified.
We require contact information to ensure our reviewers are real.
We use intelligent software that helps us maintain the integrity of reviews.
Our moderators read all reviews to verify quality and helpfulness.
For more information about reviews on ConsumerAffairs.com please visit our FAQ.

I just had Bell Fibe TV installed (should have gone to Rogers). I ordered fios and a 4K pvr. Luckily I was home at the day of installation as I caught the installer trying to install the older HomeHub 2000 instead of a 3000. Then when he went to leave I asked about the second tv and was told to call customer service. Well I went online and noticed he hadn't even installed the correct pvr, he decided to only setup a HD version and after talking to an online rep I've been told to fix it will cost me $75??? So going to be calling in and canceling my service. You'd think they would be willing to fix their mistakes for free.

Every negative comment on this forum is right on the money. Just trying to cancel a service I never received turned into a nightmare. Spent all day yesterday on the phone being shuffled around from four different countries trying to talk to the right person. Too many people from all over the world trying to do one simple job. Bell is in dire need of "Quality Control". What ever deal they offer you and no matter how good it sounds... trust me... IT'S NOT WORTH IT.

DO NOT... I repeat... DO NOT sign up with Bell. I would be here all day writing my complaint. But after reading all the other complaints here, I see that I am not alone. The absolute worst customer service out there. Training a bunch of monkeys could do a better job than these clowns. After 3 escalation complaints... I'm still not closer to a resolution. I'm STILL being charged for a modem which is not even connected, and was supposed to receive the return label which I still haven't received... I've been waiting now since July 2016.
The final straw is now... they took out the payment from my bank account 2 days before it was due. Well, I got the bank to return the funds, now I will take further legal action. The amount of stress that all this has caused (been having issues since May 22, 2016) is outrageous. You cannot call them because you get NOWHERE... AND I was put on hold for over an hour when I asked to speak with a supervisor. I finally had to hang up. Absolute horrible service!!!

I left Bell 10 years ago and switched to Rogers. When I bought a new cottage in Muskoka I needed satellite and thought I'd save a few bucks with a internet, tv bundle package... big mistake! My home internet speed was slow (less than 5mbps) and after 3 technicians came to my house and could not repair it to the 25 mbs as advertised. I tried to cancel after only 3 months of service. They gave me a small discount and kept me on hold for hours passing me from one department to another like a bag of cookies at a campfire. I would never use Bell again!

Sales representative of Bell converted our home bundle to Bell on a certain monthly rate confirming that it will never change. I called the company several times to make sure of this information and I it confirmed by several employees after 2 years the my invoice to 189 $ then 220 $ instead of 132 $. They've told me it is not true it was a 24 month promo. They did not credit me my money even instead they said there is no record of the phone conversation after 2 years plus fluctuating the price from 189 to 220 in no time regarding that my usage did not change at all. This is Bell Canada never to be trusted.

Took me over 45 minutes to call to cancel all plans and services, as well to decommission my number. I called back and the agent said I was signed up for $50 per month plan, when I expressly said I did not want it -- another 45+ minutes wasted! Beware of Bell; if you call in to cancel, they'll transfer you to somebody to waste your time and try to sell you more of their over priced products and services. If you still insist on cancelling and leaving, they'll just charge you and sign you up for some god damn subscription.

DO NOT USE BELL!!! GARBAGE SERVICE, GARBAGE EVERYTHING. I do not want to waste my time with my story. BELL has done us wrong 3 times this month alone. 2 service interruptions plus something personal today. STAY AWAY, save your money. Go to wind. At least the service is sub-par. The price is sub par too!! I am calling BELL in few hours to tell them where they can go!!! COLLECT 0.00 is good for your services. ZERO STARS IF POSSIBLE.

I had Bell TV, home phone, internet bundle service before, and having a worst experience from their service. VERY hard to cancel their service. YOU MUST CALL them and have to listen Royal Custom Care's explaining, and it takes more than 1-hour call. I spent total 3 more days to cancelled their service. The worst thing is the Bell Collections Department call my cell before PAYMENT DUE DATE. I ask I didn't receive any bill, and they said Billing department send 2 days ago, and Collection Department calls two days after they mailed the invoice. I said, "Don't call my cell before I received the invoice and payment due date", but one week later, they call my cell again 3 times per day for payment. I STILL HAVE MORE THAN 2 WEEKS' PAYMENT DUE DATE. I research Consumer Protection Ontario, and want to sue this Bell service, but I don't know what I need to do. I was angry during my office hour beside of my co-worker.

It was a big mistake for me to move to Bell. The agent told me I will get one package free for 2 month and will add within 48/72 hours. When it not activated I call Bell and they said they don't have any notes on the account regarding the conversation. So be careful when you call make sure you record the conservation and write the name of the agent and ask agent to send a email regarding the confirmation, otherwise you will be in my situation. I not recommended Bell to anyone. Very disappointed.

I'm terribly upset over the new Bell Mail service over the old Outlook that we used to have. Why on earth would they have changed this over to something worse? Definitely considering leaving Bell for my services. It gone way overboard.

Bell Canada forced its clients using Sympatico email to move away from Outlook to a terrible new interface at bell.net, which they claimed was an upgrade. Instead, it feels like I am back in the late nineties on dial-up, whenever I try to use my email, which is absolutely essential to my business. The inbox is painfully slow to load--and very often, it does not load at all. The search function is basically useless. If I want to search for an old email address or email, I literally have to log into my old Outlook account (which can no longer receive any new emails) to find anything. I frequently end up deleting emails from my inbox by accident, because of the way that the system works.
Today, I have not been able to load my inbox almost for the entire day. My messages do not load and I was told, after being on the phone for a half hour, that there is a problem with the email system across the board. But they offered absolutely no time frame for resolving any of these problems. Bell.net email is absolutely unacceptable. We need to return to Outlook or to a new interface. If Bell cannot resolve this rapidly, I will have no choice but to give up my Sympatico email--which I have had for 14 years--and pull the plug on my Bell services as well. This is a disgrace! I encourage all of you to submit complaints to the Better Business Bureau. I certainly will.

While my issues with Bell began several years ago, and include several hours of on the phone time, three phone calls and over billings of 300.00+, I'll refer to the most recent issues. In May of this year, my husband began to have problems with his phone. The screen was becoming unclear to read and seemed to be pushed out from the casing. You had to squeeze the side to be able to read it. But no problem - we had purchased the insurance that would, as we were told, "enable for an easy replacement of the phone if anything happened" and "because you have kids, it's an absolute lifesaver". So we paid the monthly fee, for just such a circumstance.
However, when we called we were told we would have to pay a $150.00 dollars for 'deductible' to have a replacement phone sent out. Huh? Keep in mind that he had a iPhone 5 32 gig. Now, we were almost at the end of the contract, and if we renewed, he would simply get another phone for free, so why would we pay the $150.00. We spoke this time to a lovely lady who was extremely helpful. At this point, I was pleased with her customer service (this was my 2nd call into Bell for this issue), that I decided to forgive and let bygones be bygones and renew my contract at the same time and upgrade to an iPhone 6.
So, we receive an email saying his phone is on its way. I called a few days later (3rd phone call now) and was assured it was also on its way. His phone arrived and I had still not received an email for mine. I explained that and was assured again that it would arrive within the next 5 business days (4th phone call). 11 business days later I still hadn't received it, so I called again. I was assured again that it would arrive at any time. I asked the gentleman to please look at the phone that was coming and confirm that it was the iPhone 6. He says, no, it's an iPhone 5 and that the order was never placed for an iPhone 6. So I said, "ok, my contract on this phone is about to run out, I want ensure since the order wasn't placed that this contract will not be renewed." He confirmed that it will go month to month. I said, "Ok."
Now, while this was going on, I was trying to get his old phone backed up to iTunes to get the new phone working. I was running into problems so I called a lady at the Apple/iTunes help desk and she was awesome. When I was explaining to her how I had to read the screen she knew right away that the issue was a battery problem, and ironically, Apple covers that 100%, no deductible. She sent me a box to send the phone back and within two weeks, a new phone arrived. Had Bell employees been better trained, we would NEVER have been DUPED into another contract!! Oh, but it gets worse!! On Friday, I received an email on my phone number (both my number and my husband's are listed under the same account), saying that the contract has been renewed for another two years.
I called the help desk again (5th phone call) and after a LENGTHY discussion, found out that indeed my number had been renewed under contract. I reminded them that my phone was old, and that my husband had the new phone. The lady offered to talk to the "other department" and call me back (this was now 45 minutes into the phone call) on Monday. So Monday, she did call (6th conversation now) and told me that there was nothing that could be done. I said, "so you're telling me that my husband gets a new phone and no contract, and I have my old phone and the two year contract". I was told that I should have called her when I received the original email but now it's too late to do anything about it. I asked to speak to a supervisor and she told me the supervisor would tell me the same thing. Her solution, simply invest in another two year contract for my husband and he can get a new phone as well.
I have never dealt with a company with such crappy service and such accountability to correcting their own errors! The left hand doesn't know what the right hand is doing and you get different information every time you speak to a new person! A customer service tip: don't tell me you "know how I must feel". YOU did not get up this morning, balance full time school, full time employment, a business, a household, volunteer in your community (all wonderful things) then have to deal with this. You DON'T know how I feel and to assume that you do is EXTREMELY condescending. Note! I don't blame the people at the call centres who do their best to be polite and helpful, I blame the company ideology and training!

A family member came to visit and I got her a 1 month plan. After cancelling the plan, I thought everything was fine, only to receive a $250 bill in the mail 2 months later. I had gone to the customer service and asked then to break down the bill for me. It was fair that my guest had gone over their minutes which accounted for $210. But what about the other $40? Bell had billed me for the next month as well despite me cancelling the plan. It is very disappointing that Bell would try to charge me for something you had never used. As far as I am concerned, it looks like Bell was trying to get more money out of me that what I was supposed to pay. Despite having heard negative reviews about Bell, I figured why not giving them a try. I should have listed to the reviews and never signed up with Bell. I will never make the mistake of signing up with Bell or recommending it ever again.

I agree with the person from Frankford, Ontario about the new Bell mail that was forced on us. The former Outlook was really good. The new product is terrible. I have a long list of complaints and, as he said, there is no clear way to contact Bell about this. The most annoying thing is the "check" box that he mentioned. You have to uncheck it manually. There is no reason for it to be automatically checked. If you hit the return key, it automatically double spaces. What if I want to line up names and addresses? I am now receiving junk and spam that I never received before. I can no longer just click on the inbox from an email I'm reading. I have to click on "back." I can no longer click on the sender's address to see the actual email address; it just gives the name. And on and on and on!

First off, may as well note that I was very reluctant to sign up with Bell after all of the horror stories I've heard and read about. I probably should have just went with my gut instinct, but then I wouldn't be here, would I? The price I got everything for was alright to begin with, but that's because I got it during a special promotional pricing initiative. As is typical I was offered this price for 3 months, and then the bill was free to skyrocket, and that it did. They were very misleading about what my full price was going to actually be after the first 3 months, so this was a bit of a surprise to me.
So the first of many issues I had was that they signed me up, without my consent, for a $5 a month anti-virus included with my internet. I quickly put a stop to that nonsense. They could see I hadn't even used it, so I was given 'credit' on my account. This was after me being a customer for a few months, so I have no idea how they just magically added this feature onto my account without so much as contacting me or letting me know.
Then a few months later after my promotional price is over, my bill magically goes up another $5. The only notice I received of this increase in price was a small (hidden) note in a drop down menu in my account page ON A BILL 2 MONTHS PRIOR to the bill they actually changed my price on. They don't have the courtesy to email me or let me know of this price increase, so I imagine they hoped I wouldn't notice. This was a permanent price increase on my services, it wasn't an added feature or anything. They decided to up my bill a few bucks, just because.
A couple months after that, the same thing happens! My bill permanently goes up another few bucks, all in the name of "Price adjustments support our continued investments in network, product and service enhancements." I find it very ironic that they are free to manipulate the price of my contract whenever they want, and yet I'm supposedly locked in to paying them for 2 YEARS. Them changing the prices of my bill should make the contract null and void, and I should be free to leave without any additional termination fees. But nope; they are happy to have their hooks in me and couldn't care less about changing the prices I originally agreed to. So after being a customer for not even a year, I was already pretty fed up. What kind of service company ups the price of their service and I haven't even been a customer for a year yet?
Fast forward to around the 1 year mark, and I decided to cancel my internet in favour of a more reliable provider. I followed their instructions for returning the internet modem to a tee. A month later I was charged a $99 non-return fee for my internet modem. Are you KIDDING ME. I looked up the Canada post tracking #, and there it was showing very clearly that the package containing my modem had been received by them. As a result of my bill being $99 more than it should have been, I immediately cancelled my monthly bill auto-payment from my bank account. I didn't want them taking that money out of my account.
After going through the usual Bell customer service charade, I had the bill adjusted and the $99 removed. But that's not all... So after I had the bill adjusted accordingly, I paid the bills balance manually with my credit card. But then 3 weeks later, guess what happens? They still take the full amount for the bill they screwed up on out of my bank account. So they forcefully still took that $99 out of my personal bank account even after my bill was adjusted to the correct amount by them. I'm not even kidding. I cancelled my auto payment on the 1st of the month, and they withdrew the money from my account on the 18th, almost 3 weeks later. WHAT?
Unfortunately I'm forced to call them again... They are unable to return the money back to my bank account, but a credit on my Bell account is no problem. The customer rep I was speaking with even had the balls to try and upsell me, trying to sell me internet (I'm literally calling about an issue THEY MESSED UP ON concerning my cancelled internet), and a cellphone plan. NO, I do not want to sign up for more services from Bell, why would I ever want to at this point? I was offered no compensation, no nothing. All I got out of it was a 'whoops'. I have email documentation of all of this, but yet they still couldn't just put the money back in my bank account. I got credit for it on my account, but I'm still left salty over it. Needless to say, I cannot wait until I can cancel my satellite service without being penalized $ for it. I will absolutely never do business with Bell ever again, and will recommend the same to everybody I know.

Just so you know, I have both my landline and my DSL internet with separate third party providers (neither landline or DSL internet is with Bell). About a month ago, I called my ISP because I had no internet signal for one whole weekend as well as one weekday. A bell technician was dispatched because my DSL internet is piggybacked on my phone line. The Bell tech came to my condo regarding me having no internet signal. He was a very junior tech who only had been on the job for 2-3 months. He tried to troubleshoot but could not find the reason for my internet outage. I advised him that my ISP was going to give me a free speed upgrade to 10 mbps in about 2 weeks' time (this would require a separate visit).
He then went into the hall closet where all of the wires are for my landline. He then left and I found out afterwards that he had disconnected my phone jack in my master bedroom. I called him back on his cell and he came back later the same day and he got that jack working again but then he somehow disconnected the wall jack in the living room and he couldn't get it working and he told me that he would have to come back the next day to fix it. I called him the next day in the am and he told me that he had been dispatched to another call. I then got very angry as this guy was wasting my time and he did not seem to want to correct his mistake.
I then called Bell repair service and spoke to a supervisor who promised to send out a technician in 5 days' time to correct the problem at no charge to me. Well, you might have guessed the outcome which was they (Bell) were not coming out so I ended up wasting 7.5 hours waiting for a no show technician from Bell. As well, no one from Bell called to say that they would not be coming. I then called Bell repair and I was told that a service ticket had been opened but since I was not a Bell customer the ticket was subsequently cancelled without anyone from Bell having the courtesy to call and notify me of this. I then called the office of the Bell Canada CEO in Toronto and they escalated the issue and Bell finally sent me a very competent Bell tech who had 8 years on the job so he fixed my broken jack in the living room.
Another Bell tech came about 2 weeks later to do the speed upgrade and that went smoothly. I then told Bell that I wanted them to compensate me for $200.00 for all of my time that got wasted waiting for no show technicians, etc. Bell finally agreed to send me a gift certificate for $50.00 so they couriered it to me BUT they never put the $50.00 on it so I had to call them back again to inform them of this issue so they finally uploaded the $50.00 on to my gift certificate. Based on this very negative experience, I will never ever go back to Bell and I will certainly not recommend Bell to any of my family or friends.

One morning, while our next door neighbor's Bell phone line was being buried (after being left hanging above ground for months), the contractor cut our buried electric dog fence wire (invisible fence). We notified Bell later that day. Bell couldn't handle our request because we were not a Bell customer, our neighbor is. The neighbor came over and we talked with Bell together, so Bell could use the neighbor's account in its system. Bell said someone would come Monday (this was a Friday).
Meantime, the same day our dog fence was cut, neighbor on the other side of our neighbor had a line cut too -- their phone line -- because of Bell. The next day (yes, Saturday) a Bell service person fixed the phone line of the neighbor on the other side and at the request of our next door neighbor, came to inspect the damage to the invisible dog fence. He located the damage and said he could easily fix it. He called his boss who said, "NO! This is not a Bell problem." "It is a Bell contractor problem," he was told. So, here we had a technician was willing to make this quick 10 minute fix the next day, but he was told he was not allowed to. It was not part of the "job" he was sent to do.
So, 6 weeks later, after at least 15 phone calls to Bell made by me and/or my neighbor; at least 30 hours (I'm not exaggerating) of combined time on hold (personal time of mine and my neighbor's), and 5 different repair request "ticket" numbers, finally the Bell contractor came out and fixed it in about 10 minutes. It took Bell 5 weeks to contact the contractor! After the contractor called, he was on it in a few days. He would have been here sooner, except for weather-related problems.
Bell scheduled people to come four different times, and each time no one came and no one called. The ticket numbers -- 4 different ones were issued -- were useless. No one knows why the ticket numbers were lost from the system and there was no record of them. Each time we had to tell the story again! What the heck? No record of our calls? Bell was so incompetent. How can Bell get away with this kind of customer service? This kind of treatment is unconscionable.

First, Bell specialists DO NOT KNOW HOW TO PROCESS THINGS. About the way of returning Bell products, each Bell specialists say different ways! Are they even specialists? One says, "Bell will come to your house to pick up at 00:00 a.m./p.m. on ____." You wait, BUT Bell doesn't come. NO CALL or apology. (Actually, later, they say no appointment was made and says Bell does not go to pick up things!) One says, "Bell will send you a RETURN KIT! You should put the return sticker on the box when you return." Wait for a LONG, LONG TIME, EVEN MONTHS, but the return kit doesn't come! WOW. Now, you could not return Bell products because of Bell's FAULT, but your bill will say that YOU OWE A BIG AMOUNT OF MONEY for Bell's products. Bell often breaks appointments. You need a patience if you want to become a Bell customer. Good Luck.

We live in rural area so internet is very expensive and we end up going over every month, so we pay close to $125.00 a month just for the internet. I normally get our notification through email that the bill is ready to be paid. This month I downloaded the bill to have a look and see what days we went over. I see that there are numerous days in a row that the time is 2320 hours and duration show 1440 min:sec. This goes from May 24 until June 14th; then it goes from June 17 until June 22, but this time it shows 10:07 but the duration is still 1440 for most of those days. I know that most days we are not on the internet at 2320 hours. We have shut our computers off and are in bed. Does anyone know why it shows this and why the same duration? Tried to get hold of Bell but there is no one on the chat now.

OMG!!! These people are so stupid. The customer service sucks big time. If you happen to call them for something, then stay prepared to spend over an hour on average. With me, it took them 2 months to put three cell lines that I own to put on one bill. And on top, every time I would call them they would disconnect the call after an hour. And then when you call them right again, they make you wait and someone else will come and good luck telling the whole thing again to that person because they won't forward you to the same person. People you are better of staying away from Bell. They are good for nothing and this is coming from a Bell employee who works in Corporate.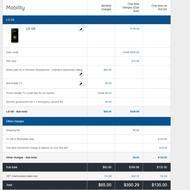 I was on the bell. ca website shopping for a new phone and plan. I picked the LG G5 on a 2-year plan, selected new customer, and then chose my plans. I chose the $65 calling plan and the 15 GB of data. In the cart the 15 GB of data was NOT a monthly charge. It was to be a one-time fee on the first bill (I have a screenshot), which would make the plan cost $65 per month including the 15 GB of data.
I contacted chat right away because that would be an amazing deal. Chat had no idea what they were talking about and insisted I was wrong, as stated I had the screenshot and explained it to them in detail. I even walked them through the process on the website so they could see the results themselves. They still couldn't understand the what I was saying and wouldn't honor the price shown in the cart. Mistake on the website or not, you should always honor your offers and don't have chat reps that have no clue. A new customer who just purchased this online without talking to chat would have expected the $65 per month phone bill and received a $190 per month bill.

I have been subscribed to Bell for few month for TV, Internet Home phone. I end up paying 243/month maximum. NEVER GO to Bell. I have added my bill. You will see they bill me twice for same days with confusing billing. I called bell and spend 2 hours + to fix but they talk to me like I am a stupid, do not understand any billing. Their system makes a bill and they always stay with that bill. They never adjust their system making bill.
Never Never Never become customer to bell. They never sell Unlimited internet. THEY CHARGE you hidden charges called: Proration charges at the end, when you realize that you have been overcharged. It's better to subscribe to a small company with fixed bill for unlimited even if it is 60$ per month. Do not go to Bell. I am telling you, you will suffer and learned a lesson like I did. :(

I switched my TV, internet and home phone from Bell to Rogers last month. So I made a call to Bell, the agent inform me to contact Rogers first before she can cancel my service. I called Rogers agent who advised me which is not required and I contact Bell again. This time the agent told me cancellation is completed. So I got my bill a month later which charged me for one whole month and I talked to another Bell agent again who told me this will be the last bill.
Again early this month, I got another e-bill from Bell. I was confused and contact Bell with the answer my cable and internet was not cancelled!!! And Bell have no record of my cancellation calls!!! The agent told me there was some activities after my cancellation which is untrue since I disconnect all Bell devices once I switched to Rogers??? I wonder why I got the message of service cancellation before, and the answer is opposite once I raised my billing issues??? Look like Bell is reluctant to comply with CRTC new policy and try some dirty trick to charge one month penalty for previous customer!!!

I just wanted to call in to see how much it would cost me to upgrade to a new phone and she was tearing my plan apart to tell me where I could save money based on my average usage. She saved me a couple hundred bucks and has edited my plan to prevent me paying extra charges again. She was super polite and fun to talk to. Hope she's my agent again if I need to call in!

Worst service ever! If I could give them no stars I would. Got my cell phone 4 days ago. Paid a 100.00 deposit. Have the receipt to prove. Customer service (I wouldn't call them that) has been calling me with nasty calls for 4 days saying I haven't paid it yet. They are also demanding payment. My bill isn't due for another 3 weeks. I haven't even used the phone yet. Now today my bill has another 100 added on. WTF! I have been also charged for data which I have turned off. Also extra charges added to bill.They won't tell me what these charges are as they make no sense. I would rather use smoke signals than ever use Bell Mobility again!
Compare Home Phone Service
Bell Canada Company Profile
Company Name:

Bell Canada

Website:

http://www.bell.ca/