Consumer Complaints and Reviews

After 4 years with ATT, I finally had to leave. I have spent countless hours on the phone being transferred from one department to the next. Constantly having charges to bill for things that I didn't have and didn't ask for. They even sent us 2 LG tablets. After we questioned why they were given to us we were told it was a promo for being a loyal customer. We only ever opened one tablet. We finally decided to leave ATT and they have all these fees for us leaving even though we were never in a contract. They won't take the unopen tablet back and they are asking for $300 for them. Horrible customer service, rude and disrespectful phone representatives. Not a chance we AM were going to stay with ATT after the way they treated us.

I don't know where to begin. I had Verizon before AT&T and never had a problem but once I moved, I had to switch to a new carrier and boy did I choose poorly. Before I go any further, I will say that AT&T has decent coverage and I won't knock them for that. My problem with them is their customer service. Can you say pathetic. First problem came up about 2 months after I switched when they wouldn't refund my money for the switch program which in my eyes is a big load of false advertisement. I had to pay to cancel my service with Verizon and after 6 months of being a "loyal" AT&T customer I have yet to receive my refund for my early termination fees.
Every time I call them it's either I didn't submit my final bill correctly or it's not itemized or whatever quick excuse they can throw out to get you off the phone. And then there's the monthly bill that for whatever strange reason has never been even close to the same amount, nor is it close to what I was supposed to be paying to begin with and all they can tell me when I call is how great of a deal I'm getting with my DIRECTV so they don't know why there is a problem. I could go on and on about how pitiful their service is but at the end of the day, they win and keep getting their money. I sure wouldn't shed a tear if they went out of business though.

When AT&T places you on a program--or contract (that language doesn't matter, as they've "got you" no matter what they claim), and the equipment fails, they should take care of it. Simple. As a customer for 16 years, a bad recharging port at 13 months in a 30 month "Next" contract would have cost me over $600 to replace the phone--no negligence. Just a bad charging port in a phone that has become synonymous with battery failure: Samsung. But, that's just tough for you Mr. and Mrs. Customer. Pony up. Yes, pay the $270 a month for your four lines. AND, pony up, more. Well, AT&T, I'm not paying. I'm leaving. You can take your rules and procedures, your bottom line, and your share holders into account over customers until you don't have any customers anymore. Goodbye.

I was with AT&T for 12 years but got married and honored my husband's request to change to Verizon because he and his company were on that network. I had a phone that I had when I was with AT&T that I need to give to my brother to use while he is taking care of my Dad who had a stroke. I have followed AT&T instructions and went online 5 times to put request for them to unlock my phone from their network so that I could help my brother. I have spoken with the company supervisors and the company Manager and they have yet to unlock me from their network. I changed to another company 18 months ago and think this is totally ridiculous.
Do not get on AT&T unless you want to throw your $4-500.00 phone in the garbage if you leave their network. I was told it would be unlocked but as of yet it has not. P.S. If you try to do it online they will tell you that you entered something wrong even if a supervisor is on the phone with you while you do it to make sure all is correct. You never talk to the same person when calling customer service therefore this could all be a mistake of which I hope is fixed by the end of the day today. I will correct this if so. I should not have to beg for to be able to use my phone. I bought the phone and trusted you enough to allow you to connect your network for 12 years. Let My Phone Go.

This is a scam to the nth degree. AT&T told me this is such a great deal on the phone. Today Jan 8, 2017 saw bill and each of our 5 phones have an added $25 bucks. We called and no satisfaction. Buyer beware. We went back to our free 15 Gig. Karma is a ** AT&T. Greed is out of control.
How do I know I can trust these reviews about AT&T?
668,849 reviews on ConsumerAffairs are verified.
We require contact information to ensure our reviewers are real.
We use intelligent software that helps us maintain the integrity of reviews.
Our moderators read all reviews to verify quality and helpfulness.
For more information about reviews on ConsumerAffairs.com please visit our FAQ.

I signed up to extend my ATT wireless plan to allow me to call and receive calls to and from Canada and Mexico. Also have a cellphone while I am in Mexico. It turns out I was misled and the plan only allows to call to Canada and Mexico. When I returned to Mexico thinking I had the right plan they charged me $260. Wow what a rip off and they would not compromise. I am now in the process of suing them.

I originally had AT&T DirecTV and AT&T Internet. Then I moved to a new location which did not allow me to have DirecTV for the satellite. So, I called an AT&T representative to switch me back to U-Verse in October. When they did so, they never cancelled my DirecTV nor did they send me the box for the device return. They have been charging me for AT&T DirecTV for service and the unreturned box. Every time I call to clarify, they guarantee me that a box will be sent to me and that my service will be cancelled. It took me 3 calls of over an hour each to get my service canceled for DirecTV. Yet, I still get charges for DirecTV.
Just recently I called again. This time after an hour and a half of discussion, they hung up on me on a transfer call. I still have DirecTV charges and they have still yet to send me a return box. I am sitting with $200.00 of charges that are on the carelessness of AT&T and I'm just trying to follow their process. In fact, the DirecTV customer rep on one call told me all I needed to do with the box is to take it to the post office. Apparently for DirecTV, they need to send you a box. The people at the post office know the process better than customer representatives. After this experience, I will be taking my loyalty elsewhere.

As a Realtor, I use my phone for business, and lately at random times I cannot use it AT ALL... emergency calls only, messages don't send or receive. Countless hours on the phone with AT&TERRIBLE and nothing has changed. From rude comments from stupidvisors like: "You need to change carriers because we can't make you happy." I just want the service I pay for. You shouldn't use your phone for business because we can't guarantee service... The area I live is rural Lake Livingston TX on the lake and when I became a client in 2004, there were 2 towers. Now there is one and it is POOR service and with upgrades (cost me $20 a month more on my phone bill, a micro cell, a new router because a tech destroyed mine while logged into my computer to install the micro cell) I have done everything.
They won't give me a discount, won't give me a new phone (they lie and call their replacements new when they are re-furbished phones), to hours of time lost talking to liar after liar who "thank you for being a loyal customer" and then lie about what they can't do to having cancer in my ear removed from my phone overheating... I AM AT A LOSS TO DEAL WITH THEM. THEY NEED TO BE ACCOUNTABLE for stealing my money every month.

I have been a customer for over 15 years. I was with them when they bought out Cellular One. Each month I find erroneous charges on my bill, the same service has a different charge each month and each month it takes at least an hour on the phone to straighten it out. If you want to talk to their retention department you will hold up to another hour.
I took my daughter to buy a new phone at an AT&T store. I was asked if I wanted family insurance. I declined however, it was billed and added to my account anyway. I called last month and thought I straightened it out until I got this month's bill and was told no one ever canceled it. I informed the rep I have a recorded conversation from last month "if you would like me to email it to you." She did not even care or offer an email to send it.
They bill what they want when they want and you have to take an hour or two out of your life each month to correct their mistake with no compensation. I was told that with the plan I purchased each additional line would be 9.99. I was being billed 40.00 dollars for each line. After complaining it was lowered to 25.00 per month - a far cry from the 9.99 that I was told and cannot get. I consider this theft by deception and AT&T should be charged by the FCC or some government agency. Someone needs to regulate these phone carriers. Do NOT USE AT&T CELL SERVICE, you will NOT get what they tell you EVER. I'm looking to switch to SPRINT or VERIZON now.

Terrible service, I very rarely have phone reception indoors in any home I've been in, even with the latest iPhone. I've tried different iPhones, Androids, all of it in different friend's houses in different cities, terrible reception in every house. When driving on highways, again, no reception. Customer service is a joke, truly abyssal customer support. Tech support is even worse, their answer to anything is "have you turned off then on your phone?" No, I never thought of that... seriously?! Constant rate increases once your plan expires. Terrible offerings of new phone prices once your contract expires, classic bait and switch. Cheap phones when you first sign up, but that's the last cheap phone you'll ever get.
AT&T phone numbers are reassigned too quick. I've gotten at least a dozen wrong number calls a week since switching to AT&T, and I've had my number changed several times to try to fix this -- no luck. Never had so many wrong number and spam calls in my life, and I've had cell phones for 20+ years since the 1980s. Overall, junk service, junk reception, pricey phones, terrible tech support. Miss a payment by a day? They'll charge you $40 to reactivate your phone. Lose a phone you're leasing? Be prepared for whatever penalties. Want paper bills by mail? More fees there. Want to change your number because the number they gave you gets too much spam and wrong numbers? Another fee. Want visual voicemail that actually works? Fee. Want to upgrade your phone early? Fee, fee, fee. Read your contract very close and every word of it, they'll nickel and dime you as much as humanely possible.
I've used almost every major and regional phone provider since the 1980s, and AT&T is by far the worst and by far the most expensive. Huge waste of time and money, with dreadful customer service and a ridiculously old, hard to navigate website. Online customer/tech support is laughable and is of zero use, forcing you to call them for minor questions -- most of which they have no solution for or aren't willing to help with at all.

Someone purchased a phone in another state, but used my email address on the order and I received so far two emails concerning this purchase, my email address, but not my purchase. I just called Rachel ** with AT&T employee # ** and after being on the phone with her for 45 minutes, she was unable to help me. She said that the AT&T seller that put in my email to their account could not be contacted and my email associated with the someone else's order could not be corrected by her or the seller and would not let me talk to her supervisor and told me they would not be able to help me either. She also said I may be getting more emails concerning this order and just to disregard them.
This is beyond comprehension to me that a problem by a branch of the same company can not be corrected. But she did say she was sorry, but there was nothing she could do, a lot of help that does for me. This is not the first time I have had problems with AT&T in the 10 years I have been your excellent paying customer and I know it will not be the last.

When I called to cancel my account because Sprint was offering a better deal, the AT&T representative promised to lower my bill and offered to almost beat Sprint's deal. When I went online to confirm the deal he offered I found out it was over $40 more, before taxes. I have spent over 4 hours on the phone with representatives, supervisors and now 2 calls supposedly from the "president's office". All of which made no apology for the deceptive business practices that are apparently pattern and practice at AT&T.

Absolute worst service in my 42 years on this planet. Phones are terrible so terrible. Spent 20 phone calls getting a constant runaround until finally this kind customer service made what I needed happen today. Just something to be done about it. The customer service is beyond rude. Will hang up on you. Put you on hold to never come back and pass you to the next person without ANY solution. I thought Verizon was rude. Well AT&T gets 5 stars for incompetent staff and the supervisors are always busy. Don't waste your money.

I cannot wait until my contract is up. This is the worst service I've ever had in my entire life! And that's saying a lot because I've had some sucky providers. Within 5 minutes of a phone call the call hangs up or I can't hear them or they can't hear me. I can't say it's the phone because I've switched phones twice. This is supposed to be one of the top 5 best wireless companies... No way that's possible! Big mistake going with them and as soon as this contract ends I will never be back. They ought to be ashamed to charge the prices they do and have such horrible horrid service. Had to call my daughter's doctor 5 times because of the call disconnecting yet my phone shows all bars full. Ridiculous!

I only went through AT&T for my wireless Internet because they "partnered" with directv. I have had nothing but problem. Internet is slower than dial up. They cannot get me a higher speed because of the area that I live but my bill keeps going up! $45 - are you kidding me!!! The worst customer service!!! Everything about them is a scam!!! Poor!!! 1 star is being nice and I have never wrote a review in my life!! Only took the time so someone else would not be scammed by them!!!

Purchased Samsung 7 edge end of October 2016. Phone got so hot in Otterbox. Back of phone spiderweb cracked within first couple of weeks. Samsung refused warrant coverage due to the cracking. Returned through Asurion. Sent new 7 edge. This one was no better. Got too hot to hold. Never put in otterbox. After first week developed slight crack. Refused to go through insurance again because would only send us same phone again. Had at&t exchange for s7. But stuck with 225 dollar deductible cost of 3 glass guards and otterbox. If you are going to stick us with these cost when your products are defective something should be done. When you are on a fixed income this causes financial hardship.

I HATE this company. They have wasted so much of my time. I will absolutely never use this company ever again. My sim card magically stops working one day, so I spend 45 minutes in a chat with someone who all they tell me to do is restart the phone. Doesn't work so he tells me to go to the store and get a new sim card. I do this, and the store has one person working there, who isn't willing to help anyone, and sends me home with a sim card and I have to contact customer support to activate it. Takes 45 minutes, they activate it and the phone is still not working. 45 minutes!!! So the guy puts me on hold and all the sudden I am being spoken to by a completely new person who has no idea why I am calling. Needless to say I cancelled my plan that day. No phone is worth dealing with their incompetence. They have no respect for their customers or their time.

I called to change my wireless plan to AT&T and was told by 2 different agents during 2 different phone calls that it would be $30 per month for Unlimited Talk, Text and Data. Before activation, I was told that my plan would now be $50. AT&T did nothing except promise to send feedback up the line to correct the issue. I wonder if this is a scam for seniors since it was obvious to both agents that I fall into that age group. I wonder how many people just go ahead and pay the difference. I plan to report them to the BBB.

First, I waited for 20 minutes for someone to get on the line. I am currently with Charter but was dissatisfied. I wanted to switch companies. When someone did get on the line they were laughing and joking with each other. Then about a minute of this passed before they realized a customer was on the phone. I first got Anne Marie who was like "can I help you?" I explained to her that I had been waiting on the line and heard all the laughter and joking.
She then said again "can I help you?" I was like "Yes, I was trying to get service but after waiting 20 minutes and then hearing all the JOKING I'm not sure. Can I speak to you supervisor?" I then after another 5 minutes, so 25 minutes in got a lady named Sandy, ID # **, was like "sorry for all of that!" I was like "I waited 20 minutes to talk to someone and then I got laughter."
Sandy said "Well... Google maps pulls up funny addresses and we laugh at the images Google maps produces." I also was like "what about the 20 minute wait?" "Well, we are at high call percentage so... sorry. Can I do something for you?" No Way! I'm not understanding why this is not run like a high volume company that it is. I used to have AT&T before Charter and I know why again why I switched. I don't like paying Charter's prices but I'll stay for their customer service. Much nicer and 100% more professional. I definitively don't want my personal information in the hands of these employees.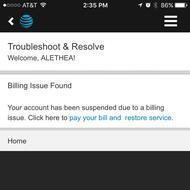 To start 1/2/17 AT&T suspended my service for no reason. Demanding I pay for all their overcharges I have been calling about for 3 months. Each customer service agent less helpful than the other. No one could tell me where the charges were. I paid my bills and found out they had me on different billings because they put me on a U-verse plan for unlimited data but did not combine bills. Once they did I was getting charged more than quoted. My bill went from $300 to $1000 yet no one could help that or still didn't see my bill discrepancy.
Every time I called in it was the runaround with the worse possible phone connection. Finally since they are forcing me to call because of service interruptions even after I paid $600 in overages, the greedy grubs kept me on the phone for 2 hours and 4 minutes another $200. After 6 service reps I still don't have all my services. The credits haven't been applied and from beginning to end it's been a runaround of lie after lie. If there is a lawyer or fair consumer advocate out there please help. This is completely ludicrous and since I'm stuck in a contract I can not go to another company at this time.

I bought an LG cell phone from an AT&T authorized dealer in July of 2015. A few days ago, my screen locked up and the battery wouldn't charge past 2%, and it kept overheating. Of course, as one might expect, it was past warranty, so LG wouldn't replace it, and AT&T would not make good on it despite the fact that they knew the phone was flawed. The sales agent told me that many of this particular model had come back with the same complaint. So here I am still owing $300 on a cell phone that doesn't work and the best AT&T would offer me was a $25 credit. I have only been with AT&T since I moved to VA in July of 2015. Before that, I was a Verizon customer for over 20 years and, in all that time, never had a single issue with the company. So you have to know it's bye-bye AT&T and your lousy customer service.

Called this am to get internet service. They had to do a credit check before they could give me an accurate quote. Would have internet 24-48 hrs. Said without contract would be additional $10 a month. Also won't be till the 9th. Got an email. Said need more info to process. After the loooong wait and several calls later they said $100 to install. Try cancelling and finally got it cancelled. The lady said it was set up for the 11th. 24-48hr 9th-11th. Lucky me I didn't give my bank info for them to start drawing from my account. I started this process at 9:08 this am till after 12:30. I looked up the reviews while waiting on hold and realized this is a bad egg. First time I've ever dealt with AT&T and will be my last.

Several years ago, I attempted to set up their internet service at my residence. They were never able to get the service to function, so the service was canceled in less than 10 days of it being installed. 1 year later, I start getting a collection calls from them for that service. After several phone calls, it is determined that I owe any money, and the issue is supposedly resolved.
Fast forward to today, when I attempt to set up cellular service with them in attempt to package my DIRECTV and internet to save money, and they are trying to collect that money again. I have spent 5 hours on the phone, majority of that time on hold, just to find out that they will not provide service for me until I again resolve the previous issue. The irony is that they are unable to pull up any information in regards to the old account. This company's customer service is awful, they put you on hold for a ridiculous amount of time, only to disconnect you, and you have to start the process all over again with a different CSR. DO NOT DO BUSINESS WITH AT&T.

Pretty frustrating and I feel cheated. We got the contract from AT&T store in 2014 and store associate sold us bogus phone. IMIE number was being used by another customer and payment was not made on it. 2016 when payment is already made in Nov 2016, I can't unlock phone. Calling customer service for 3 weeks to unlock phone, they just create CASE and escalate to Case Management Dept and resolution is "You have not completed all the payments for your device according to your AT&T Next service agreement." They have created 4 cases and today I got the same above reply. We are traveling overseas and will have to borrow phone from relative because Customer Service said they can't do anything except creating another (5th) case. AT&T is not taking any responsibility for their Fault and saying that I have to wait and they can't help more than that which I have already done for 3 weeks now.

AT&T located in Hiram GA is one of many AT&T locations that fail miserably in providing quality customer service! I went to the Hiram office to resolve several residential issues and was "greeted" by a representative that did not smile, introduce himself, have an ID badge and had an attitude of "great, I have to deal with a customer". I could tell this was not going to go well and only reinforce my desire to sever ties from AT&T. My frustration from being overcharged for services not rendered, too complicated billing statements, unexplained charges, poor marketing behaviors and generally out of touch with their customers has caused me to pursue other service providers. AT&T is too BIG, too bureaucratic, too out of touch with their customers and maintains an customer service attitude that insults the very customers that helped build their company.

We have been with AT&T for over 10 years. All my bills are auto paid by credit cards. Bill statement is e-statement. Recently we moved to other cellphone company. I could not logged into my previous AT&T account to check my final bill because my account was closed. So I called requesting the paper statement. They sent me bill statement to charge me for sending me my final bill. I called them and I had so hard time to get it credited back to me. Also they precharge me the service and I requested to credit the period which I stopped the service. I talked to the customer service, they told me they could not do it. I asked to talk to manager, she said manager would call me back, which never happened.
Then I called back again, transferred me to SO CALLED RIGHT DEPARTMENT, talked to different people including the manager. They were so rude and they said, "You were not our customers anymore, why we should credit the money back to you." Their talks were so awful and they really do not care whether they keep the customers or not as they got paid by hours, not by customers' satisfactions. Those customers will put AT&T to the end of business soon. I will never go back to AT&T anymore due to the fact they charge your money after you stop service already. If you happen to be their customers, please do not have e-statement and check your every single bill statement carefully.

I was with AT&T since 1993 and have never had any real issues. I believe in being loyal to a company. However, they don't feel the same way. I recently moved but wanted to keep my number and also added a second account to my billing. We were having terrible service and issues with AT&T. I called numerous time and they just wanted me to buy new equipment, gave me excuse after excuse. Finally, on my last attempt, I was told that maybe I should just go to another service. I took their advice and went to Verizon. Now I am in collections for a bill that I don't think I should be responsible for since I spent hundreds of dollars and never received service. I tried to settle the account, but they don't want that and now have sent me to collections. I am very disappointed with them and will advise any person who wants to go to AT&T not to! I believe in being loyal to people and customers, but apparently, they don't.

Staff is so eager to push customers out the door that they do an extremely poor, incompetent job of problem solving. I had to troubleshoot my own problem, as the
fast-talking, arrogant staff, who were standing around otherwise doing nothing, couldn't take time out from doing nothing to do their jobs. Monopolies suck.

I ordered a tech to program my remote for my new DirecTV on 11/29/16. He was unable to complete the service and left after two minutes. I called AT&T on 12/01/16 and was told a refund in the amount of $ 52.92 would be credited to my MasterCard within 5 days - that didn't happen. Called back 12/14/16 and told again it would be refunded within 7-10 days (Ref# **). That didn't happen. Called multiple times 12/27/16 and after at least 1 hour I was disconnected. Called again and they said call back with a resolution - That didn't happen. I spent a total of 3 hours 15 minutes with AT&T and DirecTV this morning. It now has to go the finance dept for approval with a answer in 48 hours. This is totally unacceptable. I had to repeat all the info to at least 10 Reps. I'm going to advise family and friends of my experiences with AT&T and DirecTV.

I have contacted AT&T over 10 times over the last couple months. AT&T has continued to bill me for international calls that I make through the third party. Instead of improving their internet connection, they overcharge each month and each month they have a reason why. For 2 line I always have to pay about $300. Unbelievable! When I suspended one line I had to pay $210 instead of $120. They will charge you extra $40 for the reactivation. However, over the phone they confirmed that I won't see any charges on my bill. But no. Months to months there are additional charges.
I have tried to speak with someone and after holding for 50 plus minutes someone picks up and says, "There is no credit on your account, and you was charged additional $40 for nonpayment." After chatting with 3 different people they were just leaving the chat without letting you know anything, no resolving the issue. I swear this is the worst company and worst customer service.
AT&T Wireless Company Profile
Company Name:

AT&T

Year Founded:

1983

Address:

208 S. Akard St.

City:

Dallas

State/Province:

TX

Postal Code:

75202

Country:

United States

Website:

http://www.att.com/