It seems that the older we get, the more we accumulate, unless of course youre living the life of a nihilist, in which case you probably go out of your way to possess as little as possible. But for the rest of us Boomers, the longer we live, the more possessions we seem to hoard, until all of that stuff evolves into clutter.
And as most of us know, clutter slows us down. It makes it harder and more time consuming to find things. It diminishes the value and the atmosphere of our house or apartment. If youre trying to sell your home for one reason or another, you usually cant even begin to show it until you clear away all that clutter.
Clutter can also play havoc with our health. Its actually stressful. As noted in The Health Benefits of Decluttering according to physician and author Roberta Lee, the stress hormone cortisol is secreted when someone is entrenched in clutter. Furthermore, Gail Blanke, author of Throw Out Fifty Things (Springboard Press/Hachette), points out that clearing up the physical clutter in your home or office is the start of getting rid of the mental mess.
Ive been researching clutter for more than two decades as an author and speaker in the field of time management. And through that work, Ive observed there are four main reasons we eventually deal with our clutter:

1. We want to or have to move and therefore are forced to do something about it.

2. Someone dies and you either have to go through their clutter, such as a family member with whom you live, or for whom you are responsible, such as an older parent.

3. Marriage, divorce, or remarriage.

4. You cant find something important and in going through the clutter in search of that piece of paper or thing, you decide its time to do something about your clutter, at least for as long as that feeling lasts.
But theres also a fifth motivating reason. Its the right thing for Boomers to do at this point in our lives, before we get hit with some life crisis that forces us to deal with the clutter in a more pressured and nerve-racking way.
Gary Ferrari is a 59-year-old Managing Partner of Turning Point Real Estate Services, LLC, a Greenwich, Connecticut-based company that helps those dealing with getting properties in order for sale. He has a pretty good take on all this. Gary says that psychologically, Boomers can have peace knowing that when they pass away, they loved their children enough that they didnt leave them with a mess. That includes preparing a will so everyone knows who gets what and they dont have to fight over it. Thats why its important to put your house in order."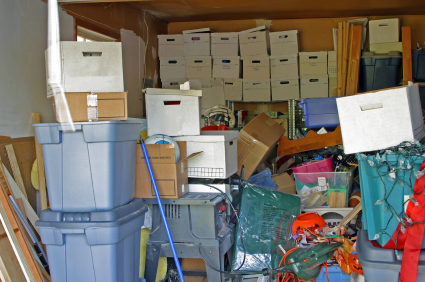 Look familiar?
Getting started
Start right now or pick a date that will be your start date whether that date is tomorrow, next week, or next month. But write that date in your calendar, like it is the most important upcoming business appointment that you have, and stick to it! Gail Blanke suggests starting with three sturdy opaque garbage bags: one for trash; a second for donations; and a third for what you plan to sell.
Deciding what to keep and what to part with
How do you decide what to get rid of and what to keep? I devised something called the NOT test for the three main reasons NOT to get rid of something:
N = nostalgia
O = original
T = treasure (monetary or emotional)
If something has a lot of sentimental value (nostalgia), if its an original work (art work, poem, piece of writing), or you consider it a treasure (with either monetary value or emotional benefit), hold on to it, at least for now. But try to find a place to put each thing that you decide to elevate from the category of clutter into something that you want and need in your home or office.
When you do decide to ditch something, follow the PLACE system developed by Arizona-based organizer Eileen Roth, author of Organizing for Dummies (Wiley):

P stands for purge. Is your place so cluttered you cant even get into the room? Is your garage so filled with stuff that theres no longer room for your car? Decide what youll keep and what youll purge. If you want to remember something but you do not need the physical item, Roth suggests tacking a picture of it. But if its something that has sentimental value, make room for it.

L is for like as defined as being similar in that you should put something next to something like it. According to Roth, this is the easiest way to get organized. You are organizing by category. For example, nonfiction books are sorted by what kind of books they are, biography or history. All the fiction books together. Roth also recommends sorting your closet by type of clothes pants together and shirts or blouses together as well as by season and color.

A is for access. Roth suggests that the two things to consider are closest use and frequency of use. In the kitchen, you will probably want to have your coffee cups on the first shelf in the cupboard, near the coffee pot on the counter near an outlet.

C is for container. Where will you store something? Roth recommends plastic see-through containers since you can still label it but you can also see whats in it.

E is for evaluate. Roth says to evaluate how things are organized after thirty days, six months, and a year. Whats working and whats not working?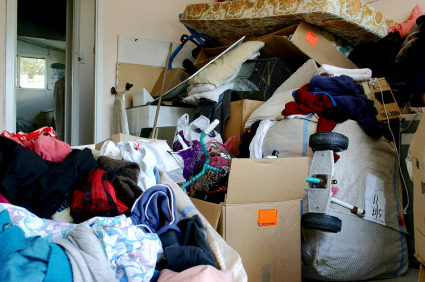 The rules of disengagement
A third perspective that Gail Blanke discusses in Throw Out Fifty Things is what she calls it The Rules of Disengagement, and there are four of them:

1. If it -- the thing whether a physical thing, a belief, or even a person -- weighs you down, get rid of it.
2. If it contributes nothing, get rid of it. Writes Blanke: If youre not moving forward, youre moving backward.
3. Keep it simple. If youre making the decision about whether to purge or keep, throw it out..
4. Dont be afraid.
What do you do with the clutter?
One thing stopping many of us from getting rid of the clutter is that we dont know what to do with it. You basically have five clear options:

1. Throw it away
2. Recycle it
3. Ronate it or pass it along (to a friend, family member, or needy person)
4. Sell it
5. Store it
Tossing it
As noted above, use opaque trash bags to put in the garbage category what you cannot recycle. If you have access to a paper shredder, this is a way to cut down on the volume of paper that you are throwing out and also to possibly be able to put the shredded paper in a recycle bin.
Throwing out furniture or electronic items can be more challenging and potentially more expensive. That is one of the big reasons that doing the de-cluttering in advance is such a useful and cost-effective thing for Boomers to do: you have more time to find companies that will take furniture donations, and even do a free pick-up. If you do it at the last minute, you might be forced to hire a junk removal service which is of course sometimes necessary and the only option, but it can run into the hundreds of dollars.
A cost-effective way to toss it, instead of hiring a junk removal company, is to have a tag give away sale. Thats where you give stuff away, rather than try to sell it. You save on the junk removal costs. Of course you have to have junk that someone else will see as a treasure. Then you could always hire someone to take away all the junk that is not scooped up through your free tag sale.
Recycle
Put things in the recycle bin provided by your community or apartment house or find out what recycling facilities are available nearby and bring your items there for recycling.
Donate
There is a guide to where to donate, recycle, or throw away your clutter in the Resource Guide in Blankes Throw Out Fifty Things. Some of the resources listed in this extensive section include:

• Goodwill Industries International
• Salvation Army,
• Books for Soldiers,
• Women Again domestic Violence (for cell phone donations),
• Brides Against Breast Cancer (for used wedding dresses),
• Dress for Success a program in 37 states that takes donations of clothing, shoes, and pocketbooks for women who are going on job interviews, and
• FoodShare.org, a program for donating both perishable and nonperishable food.
Sell
You can sell some stuff through a tag sale in your home or through such online services as EBay and Craigslist. Just be very careful and never allow strangers to visit you at home. There have been cases of people being robbed, and even murdered, after advertising valuables for sale on the Web.
Pass along
You may want to pass along to a family member or friend something that has become clutter to you but could be meaningful and important to them. You can do it now or, if you want to hold on to the item for now, make your wishes known in your will.
Store
Yes, you can buy storage space on a monthly or annual basis with a nearby storage facility if you need time to go through your stuff but you want to get it out of your current space. But be careful about this option. I remember talking with a woman who had moved all of her parents stuff into a storage facility after they had died. She always planned on going through it but ten years later, the stuff is still there and she is still paying to store it.
How to avoid getting into the same clutter situation again
At least when it comes to generating more physical clutter, there are ways to help minimize the chance of getting into the same situation again. Here are some suggestions:
1. Think before you buy. Do you really need whatever it is that youre purchasing? If you do, where will you put it? Can you give away or sell something that will free up the space where this new item will go?

2. Think before you print out. You want to back up work on your computer so you have a copy somewhere if there is a computer malfunction, but should you print out a hard copy of everything or make another electronic file either on a flash drive or an online electronic storage service? The more you print out, the more paper you have to file and the more likely you are to have more piles and more clutter.

3. Re-gift if possible (or return gifts for credit or something you do want or need.)

4. Have a regular time every week or at least every month when you sift through stuff and donate rather than letting it accumulate. Readjust your thinking about getting rid of clutter. Instead of finding it grueling, see it as liberating, uplifting, and fun.
Mental decluttering
The big payoff for all that physical decluttering is that its the first step toward mental and emotional renewal and recharging, and that can help all of us. Gail Blanke is a major advocate of Boomers cleaning out our lives, not just our closets.
She says, What we need as individuals, particularly as baby boomers, is energy and optimism. I dont know a time when we need a positive attitude more than we Boomers need it right now. The best way to find that energy and optimism is to start letting go of anything that will drag you down, anything that will make you feel heavy, make you feel bad about yourself. Its got to go! We cant move if we dont have the energy to do it. And the simplest and most effective way to get that back is to start tossing stuff out. This is the one thing we can do that is in our control.
You may be tempted to print out this article, but then youd have more papers to file, and eventually more clutter. Instead, consider sending it as an e-mail to a friend or colleague, or sharing it by re-tweeting it at Twitter.com or posting it to Facebook.
Resources
Associations
Books, articles, and online materials
Blanke, Gail. A free 26-page Throw Out Fifty Things workbook that can be downloaded from Blankes website, meant to accompany her 25-chapter book of the same name
Hall, Julie. The Boomer Burden: Dealing with Your Parents Lifetime Accumulation of Stuff. Nashville, TN: Thomas Nelson, 2008
Kramer, Peter D. One Mans Trash April 23, 2010 review of Stuff: Compulsive Hoarding and the Meaning of Things by Randy O. Frost and Gail Steketee, New York Times Book Review
Lee, Roberta. The Superstress Solution. New York: Random House, 2010
Walsh, Peter. Its All Too Much: An Easy Plan for Living a Richer Life With Less Stuff. New York: Free Press, 2007