Our younger years were defined by protests, free thinking, changing the world, and, for some, by free love. But by 2006, a U.S. Census Bureau analysis that looked at the 78 million Baby Boomers just as the first of us turned 60, found that 65.6% were in traditional marriages, 17% were divorced, 3% separated and 2.7% were widowed. Only 11.7% were single and never married.
What this means is that being, or trying to become, a couple may define the lions share of Boomer love today but there are certainly millions of single Boomers who are either still looking for love or relying on friends and family for their close connections.
Abigail Trafford, the My Time Washington Post columnist and author of As Time Goes By (Basic Books, 2009), is optimistic about Boomer love. She went around the country conducting interviews for her book and was inspired by the novel configurations she encountered which she sums it up in the expression: new road, no rules.
For long-standing marriages, she thinks Boomer love can be a renaissance. For the newly single, it can mean becoming part of a couple or having close relationships. Whether those relationships are episodic, or travel partnerships, or committing to each other and getting married, the essential piece, she says, means I want to share part of my life with this person.
High romantic ideals
It appears that Boomers, as a group, may have a higher ideal for their marriage or committed romantic relationships than did previous generations. Evidence shows that they are the first generation that is less likely to stay in unhappy, loveless, or unsatisfying marriages because it is their duty compared to previous generations (including their own parents).
It was her wish to spend her life with the right one that motivated Monica to leave her first husband, even though they had small children. Today, Monica is a 59-year-old nurse. She has been married to her second husband, Thomas, a retired insurance executive twenty years her senior, for 22 years. We dont waste a lot of time picking on each other or complaining, says Monica. We both had a lot of that with our first spouses. We have so many interests in common that we really truly enjoy being together. We love being outside and like to go camping. We both feel we got the best deal.
Dealing with same old, same old
One reason Monica and Thomas have a successful second marriage is because they avoid what I call the same old, same old syndrome. They keep their relationship fresh through their shared interests. Meanwhile, some Boomers may be experiencing a crisis in their relationship now that their children are grown and they are facing an empty nest, especially if their parenting role had dominated their relationship for the last two decades. What do they do now?
You can shake up your marriage or long-term romantic relationship (in a good way) by adding more spontaneity to your lives. Some Boomers are selling off many of their possessions and setting out on the road, living in an RV for awhile. Some are joining the Peace Corps. You could also plan a trip to a place youve always dreamed about. Reconnect with old friends or form new friendships together. Take a class together. Participate in sports activities as a couple for the first time (or rediscover the fun if you did that when you first dated).
For some couples, spending more time together is a long overdue blessing and welcome change. For others, the extra time together brings out the worst in their relationship. If that happens, one or both might decide that the emptiness or distance that they now feel from their partner can only be resolved by separating or divorcing. There are other options, such as seeking out a therapist in the hope of salvaging or even renewing their marriage.
Clinical psychologist Gail Devlin Moradi, who is 61 and married with two grown children and two grandchildren, has been in private practice in Santa Monica and Los Angeles for the last 25 years. She says shes seen positive outcomes among couples who go into therapy to work through these challenging periods.
If you work on yourself, hold yourself accountable, and understand that we cant plug up our holes, our needs, or our fears with other people, says Dr. Moradi, its a very open place out in the world for a woman or a man like that.
Dealing with money issues
Not only cant money buy you love as the Beatles song goes, it can also play havoc with your marriage or your relationship. Coping with money issues, especially if you and your partner approach money in dramatically different ways, and particularly with the economic downturn of the last two years, can be a challenge to Boomer love. As Fred Yager points out in the article Dont Let a Bad Economy Ruin your Marriage
Be aware of the warning signs that money is a problem you have to deal with. These signs include finding major expenses on your spouses credit card bill that you were unaware of; or turning down romantic intimacy because you are too upset over money. Have you ever avoided going out because you felt you could not afford it; or felt that you were spending beyond your means because one or both of you have a spending habit?
Syble Solomon, an expert in the psychology of money, has developed a deck of cards called Money Habitudes. The cards help individuals or couples to discover their own points of view and behavior patterns regarding money. The cards are divided into six money habitude types that describe the attitudes most people hold about money. Money will:

1. Help you feel safe and secure.
2. Encourage you to enjoy the moment.
3. Create a positive image of yourself.
4. Help you feel good by giving to others.
5. Create a carefree lifestyle.
6. Achieve your goals.
There is also a card that asks each individual to explore the origin of their money attitudes using such questions as, What are your first money memories? or What is your worst fear concerning money?
Solomon says, The one thing I hear over and over from couples is that money is the number one cause of conflict in a relationship, but its never really about money. Its about what money represents: power, control, success, freedom, and status. With the cards couples may see that they have some things in common. It gives them a place to start and get to a better place.
Boomer sex
For most of us, a satisfying sex life is key to a strong and enduring romantic relationship. If youve found that your sex life has become boring, there are ways to work on that within your marriage. There are books you can read with techniques and ideas that might be useful, like the time-honored manual, the Kama Sutra.
Learn how to become more open with each other, devote more time to foreplay, or verbally share your sexual fantasies. For some couples, just making sure they have enough time and energy for sexual intimacy is a big step. Changing the location for sex, as well as the routine, can help add excitement, including checking into a hotel now and then, wearing new sleep attire, or none at all. Read poetry or prose to each other. Listen to different music. Put on a sexy DVD.
ED (Erectile Dysfunction)
But as some Boomer couples age, even with the most heightened romantic feelings and sexual appetites, there are physical challenges that may occur that need to be addressed. It is estimated that 18 million American men over the age of 20 have erectile dysfunction or ED. That percentage grows as we get older with 15 to 25 percent experiencing this problem by the age of 65.
According to What to Do About Erectile Dysfunction, ED is caused by such conditions as hormone imbalance, alcohol and drug abuse, hardening of the arteries (arteriosclerosis), high blood pressure, drug side effects, diabetes, or prostate surgery as well as other conditions including depression, obesity and smoking. There are medications to help with ED including the well-advertised Viagra, Levitra, and Cialis. But each medication has to be prescribed by a physician who knows your medical history and can make sure you understand the potential side effects of these drugs.
Physical challenges impacting on a Boomer womans sexuality
For Boomer women who have gone through menopause, theres a decrease in estrogen production, which could result in less natural lubrication. This can make sexual intimacy less pleasant and possibly lead to a condition known as vaginal dryness. Fortunately, the condition is easily treatable; contact your physician for any medical advice about how to deal with this condition.
There may also be emotional or psychological reasons that a womans natural lubrication is not where it should be for sex to be pleasant and painless. For example, if a woman is not feeling good about her aging body, she could shut down sexually. Keeping ones weight within a reasonable range, as well as exercising for stamina and the positive mental benefits of working out, are sexuality boosters.
Boomer gays
Leave it to the Boomers to be the generation where, at least for some, homosexuality has become more acceptable. Consider how different life was for film star Rock Hudson, who kept his homosexuality secret until he was dying of AIDS, compared to such contemporary high-profile entertainers like Boomer Ellen DeGeneres, who openly declared her homosexuality as well as sharing with the public about her committed relationship to actress Portia de Rossi. Or Boomer Meredith Baxter, best known for her starring role on the TV series Family Ties, three times divorced and the mother of five children, who came out on national television in December 2009.
Being Single is more acceptable
If a Boomer prefers to be single and unattached, whether never married, or separated, divorced, or widowed, there is no longer the stigma that was so prevalent for older singles as recently as the 1980s. Lois von Fricke, 58, has never married. She had a son when she was 21. I was a hippie. I had a baby when I was young and decided to keep him, she said. Right now dating is not a priority for her because she is launching a new craft business. I would go out again but I dont want a romance right now, something thats distracting. Lois notes that she hasnt had sex in such a long time Ive forgotten who gets tied down first.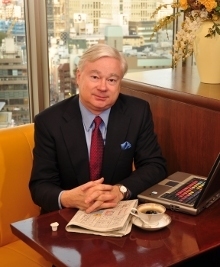 Barry Petersen
For some Boomers, being single isnt necessarily their choice. It may have been forced upon them because of age-related challenges. For example, Barry Petersen, Senior Correspondent for CBS News, was happily married to his second wife Jan for more than two decades when she was diagnosed with early-onset Alzheimers. Although she is only 60, Jans condition has so deteriorated she had to be institutionalized. Jan doesnt know who I am, says Petersen, but she knows that Im a person of importance to her.
Petersen has chronicled this painful and unpredictable experience in his new powerful memoir, Jans Story (Behler Publications, 2010), which is being published in June. It sounds like a clich but I wrote this so the next person on this terrible journey has this view of how it worked out and how I handled it, says Petersen. I hope how I handled it at least convinces them that they can survive the journey and the horror and they have permission to keep living.
Searching for love in all the right places
Dating was the farthest from my mind, adds Petersen, but as time went on, this really happened because other people said to me, You want to do this and the one who really made the difference was my mother-in-law who basically said to me, You should find someone else. Jan is gone from us. That gave me official permission to be lonely and the encouragement to see if there was someone else and thats how I started.
Barry Petersen found the new love of his life through www.match.com, one of the many online subscription dating services available to Boomers. Petersen had around ten matches before he met Mary Nell, 56, a widow since the age of 50 when her husband was killed in a bicycle accident. It was a long-distance relationship at first, since Petersen was still living in Asia. Their relationship developed; Petersen moved back to the U.S. and they have been living together ever since.
Besides Match.com -- which has been the subject of more than 500 complaints to ConsumerAffairs.com -- there are many other dating sites for Boomers including www.singlesearch.com, www.seniorfriendfinder.com, and www.seniorscircle.com.
But be careful. Online dating sites can be risky. As James Limbach points out in Seniors Looking for Love Online, although there are countless success stories of seniors finding positive love connections through online dating sites, there are also those who report that it turned out to be a disappointing experience.
Catherine Jewell is a career and resume coach ) who after two decades of singleness became happily married two years ago for the third time at the age of 59. She says she met the love of her life through the local branch of a national dating service, www.therightone.com, the subject of more than 150 complaints. Catherine has one son with her first husband; and while her first and second marriages did not work out, this third marriage is going great. He was my very first match, says Jewell whose husband, Jay, is six years her junior with four grown children. In the Boomer tradition of doing things differently, Catherine and Jay took 14 family members with them on a honeymoon cruise for their honeymoon.
Whether you meet a new potential romantic partner through a dating service, online dating, introductions through a colleague, or at a party or a bar, you need to be careful with strangers. As I point out in my book, 125 Ways to Meet the Love of Your Life, as well as the 15 tips I share in my article, Staying Safe while Looking for Love, you have to take protective steps. The number one suggestion is to never meet a new date in a deserted place or allow him or her to visit you in your apartment or home, especially if you live alone.
Protection from STDs, HIV, and AIDS
One thing single Boomers need to be aware of is that there has been an increase in the number of women over 50 who are testing positive for HIV. Since these women are past childbearing age, they are less likely to feel they need to ask a sexual partner to wear a condom. But no longer worrying about an unplanned pregnancy is not the only reason to practice safe sex; it needs to be a consideration for everyone who is dating a new partner as a way of protecting against STDs (sexually transmitted diseases) as well as HIV.
For Boomers, whether heterosexual and married for several decades, or newly married, single, or gay, there are more options today than ever for a fulfilling and satisfying love connection. Yes, there are issues related to aging or money that may have an impact. But theres no reason Boomer love cant be better or more rewarding than the so-called free love of our youth. Ours may be a love with its own challenges, but being aware of them will give us the freedom to embrace the changes were all going through to see our love life grow and thrive, now and in the decades ahead. Love on!
Resources
Sources: Books & Articles
CNN (March 15, 2010). ED predictor of heart disease death. AARP Bulletin Today.
Comfort, Alex. The Joy of Sex. New York: Pocket Books, 2003.
Consumeraffairs.com Impotence Carries Increased Risk of Heart Problems. December 20, 2005 (Summary of study in December 21, 2005 issue of JAMA).
Gottman, John. The Seven Principles for Making Marriage Work. New York: Orion, 2004.
Haas, Jane Glenn. Some Keys to Love for Boomers. McClatch Tribune Newspapers, February 10, 2009.
Hendrix, Harville. Getting the Love You Want. Revised. New York: St Martins, 2007.
Link, Al and Lapa Copeland. The Complete Idiots Guide to Supercharged Kama Sutra Illustrated. New York: Alpha Books, 2006.
Mayo Clinic staff. Sexual health and aging: Keep the passion alive. September 19, 2009.
Mayo Clinic staff. Sexually transmitted diseases (STDs) February 25, 2009.
Mayo Clinic staff. Vaginal dryness. July 1, 2008.
National Institute on Aging. HIV, AIDs, and Older People. National Institute of Health, U.S. Department of Health and Human Services, 12-page booklet, March 2009.
OConnell, Mark. The Marriage Benefit: The Surprising Rewards of Staying Together. New York: Springboard Press, 2008.
Schmitz, Drs. Charles and Elizabeth. The great baby boomer challengekeeping love alive while caring for aging parents. www.Examiner.com, March 5, 2010.
Spark, Richard F., M.D. Patient information: Sexual problems in men. July 18, 2008; reviewed September 30, 2009. Official reprint from UpToDate www.uptodate.com.
U.S. Census Bureau, 2006 American Community Survey (ACS).
Weil, Elizabeth. A More Perfect Union. New York Times Magazine, December 6, 2009, pages 36-43, 50, 52.