Paul Blanco's Fresh Start Credit Program
Sacramento, CA
Consumer Reviews and Complaints

I own my own LLC BUSINESS in Visalia. I enjoyed meeting Mr. Blanco earlier this week. "Jonovi" sales rep worked with me as best he could given the rather one-way posture of the dealership in the course of our negotiations. The price for the 2015 KIA was reasonable enough. However, the finance manager involved (probably "Rod") communicated thru his sales subordinate that a 19% interest rate was "doing me a favor", given my personal credit history. Frankly, I do not honestly think that such high interest is doing anybody a "FAVOR" with Paul Blanco's so-called "FRESH START PROGRAM!" Should we "Roaches-on-Paper" (smile) pay higher interest to purchase a fairly new vehicle? Mais-ouis! (but yes!) The question remains, however, WHEN IS ENOUGH, ENOUGH???
Let's get a perspective here: We live in an otherwise low interest economy where you can finance a new home on a 30-year loan for 3% or less on the balance. Your average new car loan with good credit is not much higher. What greedy, lender "S.O.B." in Paul Blanco's finance organization (sorry, Mr. Blanco) decided that usery at 19% (Installment Credit Card rates) is "good" for anyone who is "credit-challenged" to purchase a car?? Such exploitation should be called; "Paul Blanco's Fresh Start to Going Broke Yet Again Program!!!"
Of course, the dealership is quick to blame their "affiliate lenders" the bank! for their immovable lending policies at exorbitant rates. I call this move; "The Ole Side-Step Shuffle". The fact remains, such "Doing ya a favor" dealerships not only profit from the sale of the vehicle, but they are also in the business of profiting mightily on the interest rate with the banks as well.
So let's get REAL here friends. For MOI, I figure my unfortunate credit rating is worth paying no more than 12% on that new Kia from Blanco, or anywhere else. Jeez folks, I agreed to their price; their down-payment, the general terms of the loan, everything... Except being ** by 19% interest on a six-year loan! Don't get me wrong... I am a capitalist too! I really enjoyed meeting the staff at the Fresno store. They seem like truly nice people. But for me, myself, and I, guru Blanco and his grasshoppers are going to have to work harder to earn my business... what about you???

My experience at Paul Blanco's in Stockton was exceptional. From the moment I walked in the doors everyone was friendly and helpful. After reading some reviews online, I was skeptical and wasn't sure if they could really help me the way they claimed. But after going there for myself, I'm convinced. Barbara went above and beyond to help me. She went out of her way to give my son and I a ride home to Modesto, since I couldn't get the car the same day due to insurance. I wasn't looking for a brand new car, just something newer than the one I had, but I walked away with a brand new 2016 vehicle, and I couldn't be happier. I would absolutely recommend this company to anyone, because the customer service these people provide is far beyond any car company I've ever dealt with.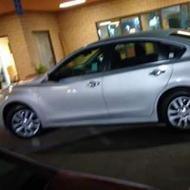 I went to them in April but they couldn't help me, so I was then given a car by a friend. Well, that car gave me nothing but problems and I was trying to find a dealership that would help me with the trade-in. After talking to a dealership all day they told me that they couldn't help me, but call Paul Blanco they have a new program. So that is what I did. I filled out the online app. Then I called then and they told me come right down.
When I got there I looked around for an older model car thinking that is what would be best for me. But the guys at the Stockton Dealership Edwin, Enrique, and Ernie put me in a 2015 Nissan Altima. Instead of the 2011 Jetta I was thinking was the only thing I could afford. They let me know that I could get a newer car, at the monthly payment that I agreed to, and they used the car that was given to me as a good trade-in rate. They even found a good insurance company for me as well. I'm so happy to finally have a nice, reliable car to get me to and from work. Thank you guys for putting me back behind the wheel of a car.

October 14th was the best day of my adult life! I had worked a ten hour shift and I still managed to make a seat in Barbara's chair! She was so helpful and such a blessing. I'm recommending everyone I know that's looking into buying a new car to take a seat in her chair. Barbara, I know I gave you so many hugs and shed happy tears of joy but I cannot thank you enough for helping me find Grace! Thank you for taking care of me and working around my needs and wants. Love the access to my trunk!! You truly are a blessing and I'm so honored to have met you!

Bought a car at Paul Blanco. Salesman great, great, real helpful. Issue was that my car was never registered by the DMV department Got dropped from my insurance because my car wasn't registered in California 4 months after I purchased the car. Been calling them to get the matter fixed. Been getting the runner routes for the past month. They supposedly gave me a direct number to the owner which is bogus because the secretary said there wasn't no direct number. All I get is, "Will call you back" but never has ever called back. All they said was to keep bugging them.
My car is parked in the driveway. I'm not able to drive it because there is no registration for the car and they don't seem to care about my situation so I suggest if you're going to buy a car you go elsewhere. I have had a very bad experience with Paul Blanco. It sounded very good on the radio so I suggest you really pay attention and make sure everything is done if you go there respectfully stressed out.
How do I know I can trust these reviews about Paul Blanco Good Car Company?
634,774 reviews on ConsumerAffairs are verified.
We require contact information to ensure our reviewers are real.
We use intelligent software that helps us maintain the integrity of reviews.
Our moderators read all reviews to verify quality and helpfulness.
For more information about reviews on ConsumerAffairs.com please visit our FAQ.

Barbara ** from Paul Blanco Stockton, CA sold me my car! She was absolutely amazing and fun! Very informative as well. I would recommend her to everyone! Her style matches her personality and that's a wonderful thing! Thanks so much again!

Ernie was fantastic. He helped me buy my first car. I told him what I wanted and what my price range was. He wouldn't let me look at a car that was out of my range. The first car he picked for me I fell in love with. My only issue with Paul Blanco was the insurance. I had to wait 2 hours to set up my insurance. But that WAS NOT Paul Blanco's fault, but the company they use. I recommend using your preferred insurance. You can't leave with your car unless you have full coverage on the car. But besides that I would recommend everyone to Paul Blanco. WONDERFUL place.

Ernie was a great help. He kept myself and the kids company through the whole purchasing process. Explained every detail and kept me posted as to what was going on at all times.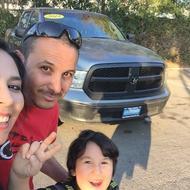 Our family went into Paul Blanco's in Stockton last Friday Sept. 9th in search of a truck. We were paired with the most awesome sales consultant ever!! We wanna give two thumbs up (three if we had 'em :) to Barbara **! She was absolutely fantastic and we couldn't be more happy with our time spent together and the outstanding service she provided. She made us feel very welcomed, offered us drinks and snacks and just really was a very pleasant person. She laughed with us, crossed her fingers that we get a truck with us and best of all she had a positive mindset and kept the good energy flowing throughout the whole process - that is worth so much in sales and it means everything to us and we know we rendezvoused with the perfect sales consultant for us. <3 We already have plans to come back and see Barbara soon for our 2nd family truck. She is awesome guys. We 1001% recommend you go see her! You'll love her. Promise! :D

Had an awesome experience in purchasing a gently used car on Sunday. I had the pleasure of meeting Paul Blanco and I was in and out in a little over a couple of hours.The sales rep was Ernie ** who was the consummate professional. I needed to provide additional information on Monday which was Ernie's day off. Barbara ** stepped in to seal the deal. I had an emergency situation and needed to return home. Barbara delivered my car to my home. Bravo!

The sales reps at Paul Blanco in Oakland California are liars. They change the terms of the agreement and then ask for more money increase the APR. I didn't find out about the changes until the last documents needed to be signed. At this point it was too late because my truck had went out. To all who are looking to finance a car do not go to Paul Blanco especially in Oakland California. It may be safer and smarter to go to a regular dealership to get a used car.

My grandmother and I went car shopping for her new car. We had an amazing salesperson that helped us. Her name is Barbara. She was very caring and honest. She really took her time to make sure my grandmother and I were satisfied and got the best deal! Because of Barbara's superior customer service I plan to purchase another vehicle through the dealership!

My experience with Paul Blanco's Good Car Company was great! My sales associate was Barbara. Barbara was attentive and kind and seemed very knowledgeable in the car buying process. Enrique was the loan specialist and he was also great! They were able to find me a car that fit my wants and budget and were very easy to work with. I highly recommend them when looking for a car.

My husband and I came to buy a car from Paul Blanco. We dealt with a saleswoman named Barbara. She was fantastic. She tried hard to make sure we wound up with a car. I was so grateful for what she did for us. She was god-sent to my family in their time of need. If I could I would promote her. She was kind, concerned, considerate, friendly. All of the above are very hard to find in a sales person. So I just want to thank her so much for what she's done for my family. I can never thank her enough. Thank you Barbara. Also I would definitely recommend her to anyone I know is looking to buy a car.

Our experience when purchasing a car was pretty good. Our salesperson Alvie was friendly and knowledgeable about her job. Because this was the second time we had purchased a car from Paul Blanco we were all set with the paperwork that we needed. Alvie was quick and accurate when inputting our information, she handled her part like a pro.
The only thing we were somewhat disappointed in was the lack of inventory for what we qualified for. We had previously purchased a 2013 Nissan Altima. Unfortunately we had to replace it after a total loss accident. I knew that was the car I wanted this time, the problem was that I only had a choice of two. One had a lot of scuff marks all over the body of the car and a lot of miles, and the second one had very few miles but smelled like cigarette and had cigarette burned on the tan upholstery. Those were our choices. In the end we did make a choice but it would've been nice to have more of a selection.

I went in not knowing what to expect... suspect credit. Team of Brandon, Barbara, Raul, Kim and Enrique really made me feel comfortable. Hash out a great deal for me and I was able to drive off in 2016 Malibu! Lots of credit for this team... Go see Enrique! Stockton dealership.

It was nice to be greeted by knowledgeable faculty that knew what truck would be good for me without the hassle. Alvie ** was helpful with all the paperwork and any questions.

My experience at Paul Blanco Good Car Co in Sacramento ca. was excellent. The salesman was very good at explaining the whole sales procedure, and he was great at helping me get thru the whole car purchasing process.

My experience was great. Joe ** was very professional and kind when helping me get into a new car. If you go to Paul Blanco go see him to help you with a car.

I am now a proud owner of a 2015 BMW thanks to Herbert ** At Paul Blancos in Norco. I highly recommend Herbert to be your new car salesmen!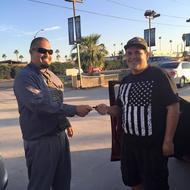 Buying a car at Paul Blanco's is the car buying experience that everyone hopes for. From the moment you enter the lot you are greeted by the humble and professional team over at Paul Blanco's. Walking in I had every fear that any person buying a car has, "Is my credit good enough? Can I afford to do this? Most importantly am I getting a good deal?" Charles ** is the man who makes all the fears of buying a car disappear. My experience in working with Charles while purchasing my 2014 Nissan Sentra was nothing short of perfection. I was confident in Charles when he told me he would do everything in his power to get me into a new car. Thank you Paul Blanco and a special thanks to Charles **!

Paul Blanco's helped me greatly in finding a Chevy Cruze with affordable monthly payments and great interest rates. Charles had great customer service & helped answer all of my questions. He even follows up with me to see if I have any questions or concerns. I am so happy that I was able to do business with Charles and the Paul Blanco team!

My visit was awesome. They got me right in to speak with a sales associate whose name was Herbert. He helped me find the perfect car for me and my son. He also made sure we were taken care of during the process of paperwork! I'm so happy with my new car and I have ALREADY recommended people to Herbert. Thank you Paul Blanco. =)

I recently purchased a car at Paul Blanco's. This was my first experience at this dealership and I was quite satisfied. Our salesman, Jose ** was helpful and professional throughout this transaction.

I was looking for a car in Oakland, and Nestor ** helped me decide. He was very friendly and knowledgeable. It was easy for me to decide due to his way of handling customers and his knowledge of the product. The process was fast, and he made me feel that I mattered. He was not pushing me into getting something I didn't want, or I couldn't afford. Thank you so much Nestor. Next time I need to buy a car, I'll make sure I come back to you. I am recommending you to my relatives and friends of course.

Had a wonderful experience with Jonathan ** @ Stockton Paul Blanco. Fast and quick car buying! Thank you for the new whip!

I had a great experience at Paul Blanco in Oakland! At first, I was concerned that I was going to be greeted by a pushy car salesman, but it was quite the opposite. When I first arrived, I had to sign in on a wait list! I thought that I was going to have to wait for at least 20-30mins. In less than 2 mins I was greeted by a salesman named Nestor. I told him what car I was interested in and how much I could pay. He said, "Let's see what we can do!" He explained to me what their company was about and told me that he would work with me on the numbers. We went back and forth on the numbers a couple times but through the whole process he was never pushy. I ended up purchasing the car I wanted. Thanks to Nestor & the Paul Blanco staff in Oakland for making the car buying purchase painless! I highly recommend them if you're in the market to purchase a vehicle.

So I went to Paul Blanco's because I needed a new car and didn't want the hassle of going through different banks to find one that would lend me money... Joe ** did great finding me a new used car that I could afford and also helped me out immensely throughout the whole process. I'm soo happy with my purchase that I've told many friends about Paul Blanco's good car company.

Salesman Joe ** helped me find & purchase a car which I did not think possible. I also want to commend the general manager & the finance Dept for their efforts.

Nestor was very nice, knowledgeable and so helpful! I thank Mr. Blanco for having wonderful, competent and very helpful people, like Nestor **, working to help people like me get a "Fresh Start". Everyone in there were so nice! The lady at the reception, Nestor of course, and the other car sales agents. I was so happy when I was the one that rang the bell! I have a car now!!! Nestor went above and beyond to help me get my car, he is indeed amazing! Again, thank you so much Mr. Blanco for having Nestor working there. He made this experience an unforgettable one. May God bless you all!!!
Paul Blanco's Fresh Start Credit Program Company Profile
Company Name:

Paul Blanco Good Car Company

Year Founded:

2008

Fax:

7146221182

Website:

http://www.paulblanco.com/