Consumer Reviews and Complaints

Top would not go down. Brought to Dealership. Paid for a diagnostic dealer. Said they had to order two parts. Special ordered parts did not fix issue. Dealer says they have no way to scan codes because Manufacturer Dodge removed convertible top code from scanner. Was asked to bring car back a third time. They need a specialist to look at top. After several days they found broken wires to the top. Said manufacturer ran wires too tight cause wires to break under when used overtime. Wrote to Dodge. They refused to help in any way. With diagnostics. Labor. Tow vehicle to take car into Dealer. It cost over $1500.00 for five broken wire. Since Dodge refuses to take ownership of poor workmanship. Our relationship of over 38 years is over. I will never purchase a product that was not made to be used. Very disappointed.

I own a 2000 Chrysler Sebring Convertible Jxi. It's the best car I've ever owned! Cheap to maintain, no car payments. All the money I saved on purchasing it for cheap (like 3000) I use for maintenance whenever it need any. One problem most people have with it is the fact that they have never owned a convertible. Period. It's not a Camry, not a Volkswagen, not a pickup truck that you don't have to do much to. Just usually drive those into the ground and do the maintenance when you have to. If you do that with these convertibles, you'll get to the point where one thing leads to another and it can become overwhelming.
I've had 3 of these gen1 Sebring conv's. A 99, two 2000's. I can't keep one because somebody always wants to buy them from me! For the past 6 years I pick em up for cheap, fix them with about 2 or 3 hundred bucks, then drive the BEST car I have ever driven! Now, when I say that, I mean just that, DRIVEN. There's nothing like the top down! Nothing like the 4 wheel independent suspension on these cars that makes them feel like you're driving an indy suspension car! To drive and actually FEEL something, that's where it's at! I know for a fact you are never going to feel what you feel in a conv sebring. No, there isn't this 8cyl hemi that does a hundred in 4 seconds. But yes, you can get on the freeway with NO problems. It's fast "enough" as they say. They're a cruiser type car. And they get 23 in city, 33 on highway! Parts are CHEAP! They LOOK GOOD! I can't say enough about them. And they don't have 14 computers to deal with!! HA!
You can drive for cheap and FEEL GOOD when you simply go get some ice cream with the top down or go to California from the east coast on a nice long road trip. I dare anyone to say they don't like to DRIVE one after they get out of a test drive. You can find these cars with extremely low miles, ex condition and rarely many owners for about 3 to 4k at the most in any city USA. Just look on your local craigslist. Don't go to a dealer and get one. Or do. But I've found the best way to get these are from the grown up mature owners selling theirs because they've had it for 10 or 15 years and are ready to pass them down (because they last forever!) JMHO, thanks.

I leased a 2015 Chrysler 200S on April 2015. The car has been defective since day one. Starting from the misleading fuel economy numbers that are far from reality, to denying any kind of issue and use software updates that are never released as a fix to any issue. I took my car to the dealer I leased it from in May for bad fuel economy and transmission issues and they denied everything. Said "come back after 1500 miles", which I did and they used the magic trick of updating software to fix the MPG and It didn't. For the transmission issue they just denied it.
I didn't give up. I took the car to a different dealership and they identified the problem as a defective transmission and replaced it one month after I got my NEW car! Replacing the transmission did fix the acceleration issue but yet it didn't fix the hard-shifting/jerking issues. I took my car again to the same dealership for the transmission issue and car pulling issues when they denied everything again. I went for the same issues again and took them for a test drive to prove that the car pulls left and steering loses control. They said "we aligned the back" but the car still pulls as of this moment. Last Thursday 1/14/2016 I took my car for the 6th service at the leasing dealership for the same transmission issue, tire pressure issue and the pulling issue.
I went for a test drive with a gentleman called John ** when he felt the hard shifting issue, admitted it and admitted that the 200 model has got transmission issues and people don't like the way transmission works. The tire pressure issue is when I got the warning of low tire pressure 5 times in 2 months and I keep filling it with air but still goes bad again. After the service finished today 1/19/2016 I went to the dealer to get my car. They stated that they changed the valve body. Once I got out of the dealer and started driving the transmission still have hard shifting just like before. Tire pressure issue wasn't fixed and same for pulling issue. I want my money back.

I am a single mom and purchased this car on Craigslist for 1700. Within 3 months oil is leaking, not sure where from, but I'm putting oil in all the time. Car is at 109,000 miles, front suspension seems to be failing, even causing me to hit a curb once, and makes a weird noise when turning, but has power steering oil full. In Park when I press gas pedal, car will not go over 4 rpm now and barely makes it up a hill. It is always bogging and going put, put, put...at a few times at stops, it just jolts and accelerates quickly.
So now I have to put it in Park and press gas pedal a little to keep car from dying. There is a burning smell from under dash sometimes and it is getting worse, engine light came on now. I have changed the map sensor, costing 70, that did nothing. Called Chrysler online recall number and told her all these problems, all she was saying is take it in to dealership to check it out, "of course at big bucks to me". Single mom with 7 children...and that the 2005 Sebring Sedan 4-door 2.4L has no recalls. I said I can't afford the charge and I hope nothing bad happens to me or my kids. All she said was, "I will document this down"...like me /us people that pay their salary are crap, and too bad for us.
I already know my oil, the burning smell, the put, put, put, bog, bog. Has fuel problems and oil and front suspension problems. And this company will not just call for a total recall until it's to the extreme...like people die or get badly hurt. We buy from a company that takes our money and puts us through severe mental and aggravating abuse and denial that their autos are in serious need of re-evaluating and better product reliability to make sure people don't die or get hurt. And have pride in service to people who put food on their table and pay for their nice houses before we, the people, feel so screwed mentally, financially and mistreated, stand together and gain 1 huge class action lawsuit that just might wake them up.
I read a lot of post and it seems as they take the money, listen for a minute, and pretty much wring us like a wet cloth - go home and have no conscience at all while we pay, pay, pay, suffer, suffer. And if anyone wants to contact me, I'll post where you can if this posting goes though. We have to fight for our right to be treated with dignity, like they did when they took our money. I'm so sick and I know this car is going to break down. I have disability, but also college student, with 7 kids, no child support. And I told her my problems, but like my kids, these people have ''selective hearing'' and ditch us but take their paycheck with no empathy to us at all.

A cargo divider in my trunk fell apart, both ends broken off! Switch broken in trunk. Top damaged, because there was not a WARNING for top to stop! Both rails bent. Had another Top swapped from 2011 Donor car. Trunk tilt up out of alignment. Top will not go down. Expenses - Michiana Chrysler charge $1,350.00 for replacement cargo divider and switch and said they CANNOT fix Chrysler Convertible Top! Referred me to Barry's Trim Shop. Barry's Trim Shop said he would touch a Chrysler Sebring Convertible with a 10 foot pole! Purchased Donor Top - $ 650.00 and $850 install. Top still not working!!
How do I know I can trust these reviews about Chrysler?
884,041 reviews on ConsumerAffairs are verified.
We require contact information to ensure our reviewers are real.
We use intelligent software that helps us maintain the integrity of reviews.
Our moderators read all reviews to verify quality and helpfulness.
For more information about reviews on ConsumerAffairs.com please visit our FAQ.

I saw a burgundy Chrysler Sebring Convertible 04 this person had for sale on Craigslist. I talked to the lady and was told that the car was still available. It was a ride but I told her I was on my way to purchase it. Once there it turned out to be a dealership which I was unaware of. Also, I was told the car wasn't available but they had other Sebring convertibles for sale. I test drove one and settled on buying it.
Since my purchase I've had nothing but issues. I was told I needed a new water pump, housing was cracked, needed a new thermostat also. Replaced all that and I'm still having the same issues. Had to put a fuse in the fan relay under the hood but now the fan still isn't working. Car keeps running hot when I'm in traffic but cools off when I'm driving.
I am a disabled person who has a very low income and I'm a single mom. This is stressing me out and I don't know what to do... HELP ME PLEASE!!! I don't know if they sold me the car illegally since I went there to buy another car. I'm just so disappointed and reading these other comments and how Chrysler doesn't care is very heartbreaking to me. Who is on our side? Who helps the jipped consumers? I really need a fix and can't afford a new car. Chrysler needs to step up and do right by people who have purchased their vehicles. Does the government not care?

Cluster in 2008 Chrysler Sebring - I have owned this car for 7 years and overall it has been a good car. What aggravates me is that I have had to replace the cluster twice. It failed within 2 years after purchase and then again last year. Is there a manufacturers defect in the cluster itself? The service people won't say. I won't buy a Chrysler again because of this.

I just want to be the oddball. I bought a 2000 Sebring convertible with 150000 miles on it and it had been stored for 3 years. Brought it home, changed all the belts and hoses, cleaned the radiator, and filled it. Did wind up, putting a used one in it after cleaning the old one. Put high mileage oil in it and did like the variable oil pressure so put in the oil pump. I have been driving it like crazy for over a year and even pull a trailer behind it some. Yes, people laugh at an older women pulling a trailer full of sheep behind a convertible. I get approximately 26 miles to a gallon. I have put over 25 thousand miles on it. I do change the oil every 3500 miles. I check the tire pressure at least once a week.
Once I got it looking and running great I decided to put a top on it. That was my biggest expense but it looks new. With all I did I have about 500 dollars over Kelly Blue Book into it but I have turned down 1000, more than I have in it. I love my Penny (that's because she is that weird, coppery red color) and I love being the cool grandmother driving the convertible. It is the car requested when I pick up the grandkids at school. Wish it had an oil pressure gauge in it and may add on in the near future. Wish all the cars I have owned run as well as this car and were half as much fun. Plus my 6'3" hubby can ride comfortably in it. But I don't let him drive it.

I had not heard how bad the 2.7 Chrysler engines were. All I knew was that I wanted a Sebring convertible, I loved the body style. My husband borrowed from his 401k to buy me one. I had seen one at a car lot and I had fallen in love with it. One day he pulled in and told me that we were just going to try it out. He surprised me and bought it for me as an early Anniversary (17 yrs) present. I was so happy!!
For the first 5 months it drove like a dream. Then one day it ran hot on me, so my husband replaced the water pump. (We thought it was a simple fix.) Needless to say it has been parked now for the last 7 months. We have replaced sensors, timing chain, etc. My husband is a pretty good mechanic and there isn't much that he can't fix. However this car has him stumped. He has replaced and repaired all the codes as well as everything that anyone has suggested and it is still sitting in my front yard broke down. It has turned into a money pit!! I feel so cheated!! I loved my car!!
Chrysler you are a billion dollar company, you should step up to the plate and either fix or replace the engines in these vehicles. People work very hard for their money. I can't speak for everyone but my trust in Chrysler is completely broken.

I bought my '08 Sebring used in 2012. It had 92,000 mainly all highway, previous owner had it as a company vehicle. My car now has 167,000+ miles and it still runs like a champ. My only complaint about my car is that it lacks power when you need to gain speed quickly but can't expect too much power from a 4 cylinder. I love my car and besides normal wear and tear, my car hasn't given me any problems. It's pretty good on gas and has been a very reliable car.

I loved my car when I bought it in 2012. Used, with considerable miles on it...however, the engine had been replaced and the mechanic I hired to help me shop for a car assured me this was the best of the bunch. My 2000 Chrysler Sebring Convertible was, for the first month, a blast to own. Then the problems started. In 2 years I have replaced the internal fuel filter twice, the starter, alt, battery, distributor 3 times, coil pack, seals in the transmission, main computer and here it sits again broken in my driveway.
I have been driving for 25 years and only had one vehicle leave me stranded before I owned this car. This car has left me, a single mom, stranded more times than I can remember. In only 2 1/2 years at last count this time would be 8 times. The one problem was so difficult to trace down the mechanic had it for 7 weeks. & weeks of down time, begging for rides every workday. The car finally cost me 1 job so far and close to a second. I feel bad about selling it when I get it repaired because I wouldn't wish this on anyone.

I was without a vehicle a long time, walking to work in the heat, the rain, on sides of roads, rode buses - a long time. I pay child support, bills, was hard to save for a down payment. Finally I was blessed - so I thought "Finally a car." I've had this car 5 months and nothing but repairs. Beautiful car, drives nice when it's not needing something. Wheel bearings 571.00 then lower left, right control arms 590.00. Brake part issues constantly, sometimes car almost shuts off like everything then fine. I'm cursed and I'm barely making it, now it seems it needs struts or something I can't afford now. Just afford car payment. Now I'm so depressed I wonder why me. I just went through hell, years of it to get a car. Always thought Chrysler made a good car? I'm in hell. I feel so horrible, failed. I just want to sleep and not wake up. My whole life now I will lose all I gained back due to a damn car.

I purchases a 2012 Chrysler new and found as of 2014 that there is an issue with the heater core, radiator and reservoir. The product coming out of the flush is matter that should not be there from a complete contained system. Chrysler has had a engine problem and recall due to stuff in the engine during manufacture. I believe this is the same issue and I believe Chrysler should pay for the cost of repairs, since this is an on going issue and not the consumer.

Bought this 2010 Sebring 3 months ago with 82,000 km. Well now here I am replacing brakes and rotors front, they are leaking black oil or grease from them. Malfunction light on - could it be from that? Also replaced electronic heater control - it was burnt under dash, they said it shorted out. Could that have anything to do with the water that is coming in from somewhere when it rains and end up with swimming pool on front passenger floor. Also Transmission leaks, hopefully my warranty will cover that. I am so disappointed. I'm 65, I can't afford these kind of bills and the person that sold me the car knew and didn't care. Also feed belt loose.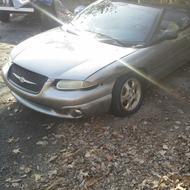 I had a 2005 Sebring convertible with the 2.7 liter motor (the sludge, or the milkshake motor). Well, just sitting at a red light it made a quaint little noise, stuttered a little bit and shut down. No warning, no loud noises, no driving even. Just sitting at the light and it just simply quit running. That's what a 2.7 liter Chrysler engine WILL do eventually. And the problem is that I saw all these 2001-2008 conv Sebrings for sale for really real cheap. Those people selling their cars are just waiting for someone like me that looked at the car and couldn't believe how good it looked. That's because it's not old enough yet to look rough. I couldn't believe that these cars I was looking at were going to blow up at a red light or just driving down a road. But they do. And I read all the lawsuits developing. All the class actions from like three diff countries. Canada especially is pissed. America is angry.
Anywhere there's a 2.7 liter motor, it's going to be for sale for dirt cheap and you're going to fall for it just like I did. Your brain doesn't want to believe that a car that looks that clean and new will blow up in a VERY short time. But they do. And you can't find ANY 2.7 motors to replace them with, they're all gone too. I mean, think about it. There's not 1 Dodge Intrepid on the road anymore. Know why, they all had that Chrysler 2.7 motor in them and they all blew up. They sold millions of Intrepids and you won't see one of them today on any road. Any 2.7 is well documented that it's a sludge motor. A milkshake engine. Look at YouTube at all the videos of these smoking 2.7L motors in all these cars that Chrysler won't honor the warranties on. It's a class action mess and Chrysler knows it.
They beg everybody at this point, that if you do happen to still have on that has not blown itself to bits yet, to please use full synthetic motor oil. They say it's the only chance you got. But face it. If you got a 2.7 you're in trouble. You can't sell it. If you do it's for pennies on the dollar. If you're upside down on a loan in a car with a 2., you're not that bright because if you got payments for one of these VERY well documented sludge mobiles, you're out of a car very soon as it's going to blow up like all the other millions of them did. Chrysler acts like they don't even know you when you bring one into their dealership. They won't even work on them because they don't want their name associated with being the last shop or dealership that touched one of these cars. Because..... Right!
They'll blow up in a few more miles. All you can really do if you own one is keep it. Or wait for someone as stupid as I was to come up and buy it from you for pennies on the dollar so you can at least get a thousand or two out of it before it blows up and you have to look for a 5000 dollar used sludge mobile motor. Sorry, go after Chrysler if you bought a 2.7. You should be allowed to as they, you now, the whole internet that's saturated with documentation of blown up 2.7's, the entire country of Canada and the person who's selling theirs alllll know what the 2.7 is nowadays. And if you don't know at this point, then you deserve to shell out the 1, 2, or 3 thousand dollars someone is asking for for theirs, and when it blows up on you, maybe that's when you'll run across the millions of people that have gotten screwed by Chrysler's 2.7L cars. Thanks, have a nice day.

The heat stopped working in our family car 2012 Chrysler 200, so we took it to Jacksonville Chrysler Dodge Jeep Ram Arlington in Jacksonville, FL on 12/29/14. There was a gel-like substance in the radiator that caused major repairs to the vehicle. It was at the dealership for a week, and was put back together at the last minute so we could relocate to Kentucky. It was "approved" for the road on 1/2/15, but during our trip we found the steering wheel was loose and did not lock, and a few other issues. So we took the vehicle to Brown Automotive in Charlottesville, VA. Brown Automotive the Dodge Chrysler Jeep dealership doesn't want to work on the car and told me to drive it to Jax for repairs (unsafe practice).
Both of these dealerships are supposed to be able to complete repairs that are under the factory warranty, but for some reason they have had my car for almost 2 weeks (at Brown Automotive) and no work has been done. I've contacted and spoke to reps at both dealerships and Chrysler Customer Service and have been getting excuses for why my car is not being taken care of. They are pointing the finger at each other like children but no one cares that I have been without my car for over half a month. I don't recommend buying a Chrysler or getting repairs done from these dealerships, especially Brown Automotive.

I am the second owner of a 2009 Chrysler Sebring Touring 2.4L. The dashboard lights are out, the speedometer, the millage, the cruise control, and the ABS does not work, they are not registering your speed or how many miles are on the car. The brake, ABS, and the engine lights stay on all the time. I had a test done and everything is working fine, the repairperson told me that I had an electrical issue. The codes that came up on my vehicle are U1110 and U1120, which stand for ABS issues. But I don't know how to get this issue resolved. I called the Chrysler Dealer and there are no recalls on any of the issues that I am having, and for me to get an electrical test done it will cost me more than $100, which I really don't mind paying if it's going to fix the problem. This vehicle has many, many sensors and no one knows which one is bad, I have already replaced 3 or 4 sensors.
My dad, brother and 2 others who are mechanics, who have checked out my vehicle, but they can't help me because it's an electrical issue. I really like the car, but if I can't get these issues solved, I am going to have to get rid of the car, I am worried about safety issues. I am afraid the car may not start or stop and cause me to get into an accident. I believe that the PCM and the ABS are not communicating to each other. Why can't I get any answers to what is wrong with my vehicle? Other Sebring owners have had the same issues and Chrysler took care of them and not with mine!?!?!? I am confused! Could someone help me on what to do about the issues that I am having, it would deeply be appreciated.

I had all the problems with this car, including the locked in park issue and I paid out of pocket for the dealership to repair this vehicle and was never reimbursed for any recalls. My dad purchased this vehicle new in 2008. In mid 2009, I discovered paint flaking off the rear bumper cover with a second coat of paint beneath. I brought it to the dealership and they insisted that I was in an accident. I went to the Chrysler website and discovered that the vehicle visited the body shop two times before being sold as brand new. I then discovered that the rear right axle was damaged and the camber was off by a few degrees, resulting in uneven wear to the passenger rear tire. I brought this to the dealership and manufacturer. Napleton and Chrysler refused to cover any of the costs related to the repairs and after my bickering, they agreed to discount the cost of mechanical repairs by 20%, but wouldn't repair the paint.
Since this was not the first time that Chrysler took no responsibility - referring to the passenger mirror being worked on several times by the dealership without ever repairing the issue - I decided to never return to Chrysler again. I hate this vehicle and find Chrysler to be liars and cheats. Prior to selling this vehicle to my father, they made cosmetic repairs and left latent defects. I WILL NEVER BUY A CHRYSLER PRODUCT AND TELL EVERYONE ABOUT THIS EXPERIENCE. One day, Chrysler will once again need a bailout from the federal government and I will do my best to encourage elected officials to allow Chrysler to die in peace. Chrysler is a lot like Ebola - they don't care who suffers and will hurt anyone that gets in their way!

We had been dealing with this issue for about a month, but today was just the lit to the bottle. We install a new alternator and a new battery because the alternator was not charging, but the problem continue so I took my car to couple places and they put it in the computer and they told me it was a problem with the wiring. I took it to the dealer because it's the place to bring your car. After 3 hours checking the car I was told the computer need to be replace because the computer was not providing the ground need it to the alternator to work. I asked them to double check and if they warranty to me that was the only problem and I wasn't going to be faced with a lot of other charges.
After two weeks they call me and told me they have the computer, so I took the car to the dealer. The technician started first thing in the morning until late in the afternoon installing the new computer. After seeing the computer wasn't working he place a wire from the alternator to the first ground he found making the alternator charge constantly. They give me the car with the alternator charging so I leave and had to come back immediately because the RPMs were going crazy, the speedometer was not working, the speed control wasn't working either and either the wipers. Was told to come back the next day because they need it to re-program the computer.
They called me and said the car was ready so I went to pick it up. I had to bring it back because neither the speed control or wipers worked. They checked and said they need it to order a new computer. So I got a call back when they got the new computer. I bring the car to a different person because the other technician was off and he didn't know the issues with the car. By closing time Friday I got a phone call saying it was not longer a computer problem but my car continue having problems with all the electrical parts, so I told him I would go Monday to talk to the manager and the person responsible for the repairs of the car because when I brought it in everything was working except for the new alternator not charging. The technician was the one who mess up my car. Is sad to take your car to the dealer for repair and leave with more problems than before. Almost a month dealing with this repair. It is not good.
Today I went to get the car and asked for the service adviser and he make me wait for over an hour because he wanted me to talk to the manager. After an over an hour the manager came and indicated there were some problems with the wiring system and he couldn't fix the cruise control or anything else without charging extra. The first time I bring the car back after the computer was replaced and I mentioned the problems they check the car and said it was a problem with a piece in the brake making the cruise control not to work, so they replace the piece.
After that they make another test and discover the car was still not working properly so they came to the decision a new computer needed to be ordered because probably the one just installed was defective. Two weeks later they got the computer replacement and currently they said it is a problem with the wiring. Like I said, they place a cable directly from the alternator to a ground area and they are saying that proves the problem are the wires. They could do that from the start to check it out, instead of make me replace the computer. I told them if we drive the car like that the alternator would be continually charging and that can make the battery explode, reason the charging goes by the computer so when the battery doesn't need more charging the alternator stops charging and if it does it would let him charge.
I bring the car in because at the other places they said it was a problem with the wiring system and that was the reason the alternator was not charging, but I trust the dealer diagnostic of changing the computer instead and today additionally of them saying I really need to change the wires get a comment from the manager of I should just buy a new car because my car is too old and is having too many issues. I got very upset because after expending all that money is my decision or not if I want to get a car payment every month.
I cannot afford a car payment and instead of bring in my car to a regular mechanic I took it directly to the dealer for "a better" service but I bring my car in for one thing and it currently has many other issues, all of them of primary need. The wipers are not working - "raining season here I go". I use the cruise control daily because I live in a country area "so I know it worked before I brought it to the dealer". My alternator is connected "directly" to a ground area so it can charge the battery, and charge the battery, and charge the battery until explodes.

I am the proud owner of a 2007 Chrysler Sebring Touring, 125000 miles and counting. Like every Chrysler I've owned, it has its odd quirks but it has been a godsend since I bought it brand new. Drove it all over the Southwest, from Phoenix to San Diego, Las Vegas, El Paso, and everywhere in between. This car loves the highway. I am not shy about working on my car and I have had to do a lot of work on minor things with this car. Where to start?
I ordered the car with the factory 18" wheels, so I ended up with Bridgestone Turanza tires. Decent asphalt tires for the highway, but the tread would track into concrete roads/ramps at high speed and make you feel like you were about to fly off the road. Discount Tire stores would keep 1-2 in stock (probably just for me). After a few highway flats, I had those swapped out at 60K miles for Tiger Paws once the tire warranty ran out. Haven't had a problem with ride or road noise since.
The dealer-installed alarm was WAY too sensitive. A slight breeze would trip it and annoy my neighbors. Read the alarm manual (which was no help) and finally adjusted the hood supports so the hood sat lower, no more problems. Changed the spark plugs at 100K miles. Needed a spark plug socket and 3 different sizes of ratchet extensions to get to the back 3 plugs but they were straightforward. NEVER had a problem with starting, idling, overheating, or rough running since new. Highway driving is fine. You will pull most mountain grades with ease but my 2.7L engine is not going to outrun any sports cars or top V6 engines in Camry, Accord, or Maxima. This engine was top-of-the-crop when new, but today's newer cars with more horsepower can make the Sebring seem "slow".
Driver's car door handle was scratched in an automatic car wash and white scratches on metallic blue paint look HORRIBLE, so I ordered chrome replacements from eBay. I liked the look and eventually added all chrome door handles, side mirrors, side trim, and roof trim and the car looks better than a Chrysler 200 from the side profile. Batteries die like clockwork every 2 years on this car in the AZ desert. If you can help it, DO NOT use this car to jump start another car - you will shorten the battery life. The battery is in the driver's side front wheel well, and with my 18" wheels I MUST jack the car up, remove the driver's front wheel, and remove the mud skirt to get to replace it. Chrysler has done this since the early 1990s on the Sebring/Stratus/Breeze, so I'm used to it.
The "stuck in park" fix was not too difficult. I was removing the center console for my aftermarket amplifier install anyway so the $8 plastic part from the dealer was worth it (I had to do the same thing to my wife's 2008 Pacifica after 75K miles). Speaking of the stereo, I originally had the Boston system with Sirius satellite radio and the CD player, then swapped it out for the touch screen DVD player with 20 Gigabyte hard drive when I saw one on eBay. Had to buy the CanBus adapter from PAC ($80) to add aftermarket amplifiers, but I was annoyed to find out that the channels swapped sides when playing from the hard drive plus the drive would dump its memory for no reason. Had to buy a different PAC adapter to add an aftermarket radio (another $80), but it was well worth it this time - no more radio issues.
It's a plus to have factory 6x9 speaker openings in the doors. My aftermarket Soundstream Tarantulas BARELY clear the window but the midbass in this car is the best I've ever heard. All of the Boston speakers were replaced with Soundstream Tarantulas and the Factory Boston amp is still under the dash, not being used. In hindsight, the Boston stereo upgrade was a waste because I did not like the unadjustable crossover points for the speakers. Aftermarket is the way to go. You can really make this car sound great if you use active crossovers.
Had an annoying clicking noise whenever I turned on the fan or A/C. Took the dash apart behind the glove compartment and found a plastic gear wore out on the blend door unit, $20 dealer part to replace. The passenger front door RUBS AGAINST THE RIGHT FRONT PANEL on really hot days when the panels expand in the Phoenix sun, really annoying when you have passengers. Deck lid shocks wore out. Bought new ones from the dealer and found out Chrysler had superseded the part with a new beefier shock. Changed worn front rotors once they could not be turned anymore (brakes are easy to do on this car, not worth it to pay a shop to do it). Changed the transmission fluid/filter every 60K miles since I drive in hot, dusty Arizona. Another simple job that I won't pay a shop to do. Transmission filter comes with rubber gasket, so no fooling with silicone when you reattach the pan.
Had an oil leak. Dealer wanted a fortune to "diagnose". A shop found and fixed the leak, BUT they sealed the oil drain plug on so tight it will not come back off! Paid $40 for a top-side oil fluid extractor. Won't let anyone else change the oil/filter anymore. Mopar oil filters are $6 at Walmart, no big deal. Check engine light came on solid after 75K miles, pulled the code at Autozone and it was "probably the gas cap". The light will stay on solid for MONTHS, then cut off for a week or two, then come back on solid. I have no idea why but the car has always driven flawlessly so I'm not inclined to fix it anytime soon (except when I need to pass emissions - disconnect the battery for a few minutes to remove the code, drive the car for 30 mins, then take the emissions test, good to go!).
Alternator died at 124K miles. On any other car this is a cinch to replace because it is on the top of the engine. On this car, you have to jack it up, remove the passenger side front wheel, remove the drive belt (time to replace it anyway), LOOSEN THE A/C COMPRESSOR and suspend it on a floor jack while you unbolt the alternator and remove it through the wheel well. I wasn't so lucky, I bent the A/C discharge line and had to replace that ($75 dealer par) to get the A/C working again. I will be going back under to do the ball joints and the shocks/struts, but at this point the engine is still whisper quiet and gets noticeably better with mid-grade or premium fuel, which I use for highway trips anyway.
At this point, working on this car is like a badge of honor because when everything works it is a pleasure to own. I like the look and the ride, but if you're not comfortable with taking apart your Chrysler then this is not the car for you. I will drive it until I can't anymore, warts and all. I am actually waiting for these to show up in parts yards so I can be sure to stockpile the items I know I will need without having to visit the dealer...again.

My problem is exactly the same as Robert of Southsbury, CT. I bought the Sebring used on January 3rd, 2014 with 99407 miles on it. Am a maintenance freak. Change oil constantly. Changed all the brakes and rotors for $400.00. I went to DC in April and May, 250 miles each way. In July, I did another oil change, for my long trip to Cleveland TN. I left Pittsburgh on July 3rd for TN and returned July 6th. The trip was 580 miles each way. I had topped up all my fluids on July 2nd.
But on July 22nd at 2pm in the hot afternoon of Pittsburgh, my car stalled at a very busy intersection as we wait for the green light. Towed it to mechanic, he told me engine was gone. He said water had gotten into the engine and mixed with the oil. It looked like nasty milk. I asked him how that could have happened when my dash did not show check engine light. Interestingly, my temp gauge didn't show overheating at all. The car was running excellent until it stalled at the light. The mechanic could not tell me how water got into the engine and mixed with oil. It's a real mystery.
I have been boasting about how I would drive the car for the next 100000 miles and now am left wondering why or how. I think Chrysler need to look at this problem. How could my car with about 5 oil changes in 6000 miles just die like that? Clearly, something is wrong somewhere. Car should not die with just 106,000 miles on it.

3 attempts was made, still leaks. l just got car Feb this year. Ok car, 22 thousand dollars is the sale price. l asked dealer can l get something else because l worked - need a dependable ride. He said "I told you a convertible was not for you. No." So l told him am going to bring car back. He said l still have to paid garnished my check.

I have a 2001 Sebring sedan and whenever it is 77 degrees or hotter outside my car won't start, won't turn over and pretty much won't do anything. Dash lights and headlights all come on so definitely not battery and I can't figure it out to save my life. If it's real cloudy and cool outside the car starts fine, just doesn't make sense. Whenever I get off work it's like I'm not off cause I can't go home till after dark cause that's when the stupid thing wants to run.

There are a LOT of people complaining about Sebrings here so I thought I'd try to balance it out. The first thing to note is that for any brand, car quality is hit-or-miss. I've seen firsthand Toyotas that have had problems similar to what are described here - and Toyota is supposed to be the panacea of quality. But more importantly, for those who swear off of X brand products because they had one lemon, those folks are just shortchanging themselves. I've owned 9 Chrysler products in my time. One is too new to rate as I just got it today. But as far as the others are concerned, for the most part, they have had average to below average number of problems.
I had one 1997 Neon that I bought new. I drove it REALLY hard (being young and stupid and all), and it went through 7 head gaskets, a couple of sets of shocks, a fuel pump, a rear main seal, a throw-out bearing, and a few other minor things, all before 60k miles. Thankfully I had purchased an extended warranty and didn't have to pay for any of those repairs.
But let's look at what I traded it in on, a new 2001 Sebring Sedan. There were a few minor annoyances (like the blower motor resistor went out a few times). I also had to replace *some* wear parts like brakes, ball joints, and tie rod ends, but those were all done with 90k+ miles on the odometer. This car had the 2.7 motor that was famous for sludging up and eating itself from the inside out. Well, I learned of this hand-grenade tendency when my car had about 50k miles on the odometer, so I started using Mobil 1 full synthetic oil, and changed it every 3k miles. I drove that car until it had about 163k miles on the odometer in 2012 and did not have any major issues... At that point, the power steering rack went out and that would have been a $1,000 repair, on a car worth about $500. So I sold it to a junkyard. I hope the '05 Sebring Convertible I picked up today has the same tendency to have few problems.

Both of the front seats have burn holes in them which was caused by faulty heating elements in them. I contacted Chrysler on this matter and they were not concerned at all and no recall as of yet. I asked them, "If I was a woman with long hair and had hair spray in and my hair started on fire, what would you do then?" No response. I have been a Chrysler owner for many years but because the no concern for this issue by Chrysler makes it where I will never purchase another Chrysler product.

I purchased a 2010 Sebring Limited with a 3.5 L V6 in January of 2014 with 31000 Miles. I loved the car until May when at 42000 miles, it turned into a LEMON. On May 6, 2014, I drove my normal 45 mile commute with no issues. I stopped at Walmart, when I returned to the car it refused to run. I called roadside assistance, with a Jump the car ran fine. I drove it for a while then got the battery and Alternator tested. Both passed with flying colors. I took it for a second opinion and got the same results. Later the same afternoon, the electronics when haywire and the car "locked up." I got it to the nearest dealership "Chevrolet Dealership."
They could find nothing wrong with but acknowledge that the car wouldn't start on it's own power. I made it home, where my step father looked at it. The car started fine for over an hour without issue. I just thought it was a fluke and when I went to leave again, all the car would do was grind when you turned the key. The vehicle had to be towed to Chrysler. They cannot get the car to start but have no idea what is causing it. Nobody will take it on trade because of its reputation for unreliability. I am seriously considering buying a new car and letting the bank repossess this LEMON. I rely on my car everyday as I work in healthcare. It's had strange electrical issues since the first week but nothing like this. This was my fourth Chrysler and my LAST.

2010 Sebring Hard Top Convertible 6,000 miles A LEMON!! - My wife and I would take her father's Sebring on vacations and have put most of the miles on this car. I have been a car nut for years and the first time I drove it, I knew there was a problem with the transmission. It didn't want to downshift and traveling at 60 mph I would step on the gas and NOTHING!!! Wouldn't get out of its own way. The car went back to the dealer and told her parents it was fine. Well how about the water pooling on the floor in the rear? They said they fixed it and I could have taken a swim in the backseat yesterday. All this and horrible gas mileage, front end shaking and only 6,000 miles? The car is a pig and an embarrassment to the manufacturer. I would like to buy American but not this garbage they are producing.

I have a 2002 Chrysler Sebring. The antifreeze start leaking when I turn them on. After a day or two I refill it. One Sunday I drive it. It cut off. Have it tow. The mechanic said that the water pump were bad. The water and oil mixed. Now I have to have a motor replace because pump inside of motor that not right because Chrysler put pump inside the motor.

I made the unfortunate mistake of buying a 2007 Sebring. I bought mine in March 2007... it had 12 miles. The second day I had the vehicle, the motor in the driver side power window started making cracking noises. Had to take it back to the dealer for repairs. 7 years later I wish I had just given the car back. A year after purchase there was a recall for an engine problem - okay fine. JUST 2 YEARS after the purchase the alternator went completely out - just after the warranty expired mind you. Later that year the engine shield went fell off. 3 years after purchase all the rear lights had to be replaced, brake, tail lights etc. Then I had the infamous "stuck in park" problem that year. Turns out that was another recall. Then the lower radiator hose busted out of the blue. Its a part that has to be specially ordered.
Numerous serpentine belt replacements. Then the engine started misfiring. Expensive tuneup to fix. The TPMS went out 2-3 years after purchase; all of the tire stems wore out... almost at the same time. They are 100 bucks to replace each, otherwise the tire pressure light stays on no matter how much air is in the tires. There is a fan in the ac system that makes loud popping noises for a solid minute when you turn air/heat on or off. The passenger and driver windows work when they want, sometimes they go down on their own. Just this week, I had to replace the power steering pump and hoses... List goes on and on. Worst vehicle I have ever owned. My Chevy Cavalier and Pontiac Sunfire were so much more dependable... Never buying a Chrysler again.

I bought a used 2000 Chrysler Sebring LXI in 2010 from a mechanic. It's been a great car and was in wonderful condition but the past year, the paint on the roof is deteriorating to the point that it looks like someone set something on top and scraped the whole roof. Rust is starting to form. As I can't afford at the moment to have it repainted, I don't know what to do. I read where another customer is having the same problem. The clearcoat seems to be coming off of it on the front and sides of the car and I'm afraid the same thing will happen to the rest of the car just like the roof. I understand it's an old car but the paint was in perfect shape when I bought it.
Chrysler Sebring Company Profile
Company Name:

Chrysler

Website:

http://www.chrysler.com/en/