Consumer Complaints and Reviews

My turbocharger first went out in my car and they replaced it under warranty. 20 months later, it went out again and now they will not replace it, even though I am still under warranty. I'm so disgusted with both the dealership and GM. I have escalated it numerous times. After the dealership first telling me it would be covered, they then told me nope, and it's $2068 to fix. I will never buy another GM vehicle again.

I bought a 2017 Chevy Cruze for Christmas 2016. The car is a 2017 and totally new. It's already been in the shop twice. In fact it is in the shop as I write this. My Representative said that it was driving on 3 cylinders as opposed to 4. I'm no mechanic, but that doesn't sound good. Should my new car be having these issues? I am starting to think I got a lemon. If I am already having these issues within the first 6 months, it can only get worse. It has been such an inconvenience. I do appreciate that they gave me a loaner while my car is being worked on but I pay 400.00 a month to be driving my new car around. At which point is it considered a lemon and can I trade it in? The only reason I bought this car was because I traded my truck in because Sands couldn't repair it after charging me 800.00. (that was a repeat visit as well). What are my options? Anybody have any pointers for me? Thank you.

So let me start by saying I have a 2012 Chevy Cruze with 175,800 miles on it and I've been through 6 valve covers, 2 intake manifolds, 3 coil packs and a ** tone of spark plugs and other dumb sensors! WTF AM I DOING WRONG! She be paid for doing it all myself by GM but they don't give two ** about us norms!

Man. I'm a single mom. I work 40 minutes from home. This car has been NOTHING but TROUBLE since the DAY I got it. BRAND NEW. I am the only owner. DIED again tonight with me and my daughter in it. Ran hot on a busy interstate (I-40. One of busiest in America). I had to refinance it because I couldn't afford the constant trips to this shop, that one, to the dealership, an extra warranty, etc. etc. etc. AND my payments.
My credit is NOW shot because again I was sinking ALL my money into this CRAP. I just told the online person at Chevy on chat I feel like harming myself. I want to know HOW this is legal? I don't even make a little bit of money either. I make really extra decent. For me to be in credit hot water because of this car is ridiculous. I want to file a lawsuit but I truly do not have the energy. 83k miles and I feel like it's been 183k. Part that REALLY ticks me off is I am a REPEAT Chevy owner. This is my FOURTH ONE. Cavalier was my first car, then a Monte Carlo, another Cav, and now this piece of **!

I had to replace the transmission in my 2012 Chevy Cruze which only had 55,000 miles. I contacted GMC to see if the would offer any assistance. The vehicle was approximately two months out of warranty. Needless to say GMC representatives agreed that the transmission should not need to be replaced at 55,000 miles and indicated they would help with replacement cost. After approximately four weeks and after GMC learned my repair was complete and paid out of pocket. They called to inform me that they could not help me with the cost. I have owned several GM vehicles over the years... This will be my last!!!
How do I know I can trust these reviews about Chevrolet?
791,967 reviews on ConsumerAffairs are verified.
We require contact information to ensure our reviewers are real.
We use intelligent software that helps us maintain the integrity of reviews.
Our moderators read all reviews to verify quality and helpfulness.
For more information about reviews on ConsumerAffairs.com please visit our FAQ.

I purchase a 2013 Chevy Cruze with about 34,000 miles on it in April of 2016. I've been having so many problems with the car. It started off with my car leaking a lot of coolant so I took it back to Felix Chevrolet and they claimed they changed the water pump and thermostat. A couple of days later I notice the car was still leaking so I took it back. They tried telling my the overflow tank for the radiator had a crack and was leaking. I took it to a shop and they said it's no leak so I took it back to Felix and they tried making me pay $200 I believe for them to check the car. I told them that it right because they were suppose to fix the car. They checked the car and said that was the only problem and it will be $260 to fix and the mechanic told me it's a very common problem with the Cruze. Once the water pump mess up next it will be the holes or something else.
Time pass by and I finally realized it's not a crack in the tank but the water in the overflow tank bubbles. I took it to the Holman dealership. The man looked at the car and said it's overheating and I told him the temperature gauge don't move. It stays in the same place and don't go too hot. He told me it's still overheating. Leave the car and they will check it. I had to pay them $120 to check the car. George told me it would cost $1400 to fix the turbo and that's the reason the car is overheating. When I picked up the car and drove it home and I turned on the heater the car made a weird noise and was shaken a little so I called George and told him he told me to bring it back. I took it back and he told me "Oh something may be stuck in the filter. It should blow out."
I took the car back home and next day went to get in the car and notice a lot of coolant came out the car. The car was leaking worse it seemed like it was pouring out. I called George again and told him the problem and he told me to bring the car in today but I haven't took it yet. I feel they sold me a bad car. I shouldn't have so many problems with this car already.

Bought used 2011 1.4 Turbo with 23,000 miles. Always used full synthetic oil. Engine blew at 85,000. Powertrain warranty does not cover, as car is over 5 years old. GM dealer doesn't seem to care. New engine installed will cost $5,000. Kelly Blue Book is $7,000-$9,000. Dealer says needs new engine. Still owe $1,800 on financing. Never owned a car that didn't make it 100,000 miles. A GM disappointment. Should I repair or junk it?

A case for lawsuit. The Chevy Cruze does not have a 360 degree view. When driving, I often turn my head to look back. In the Chevy Cruze I turn my head and I see nothing but the seatbelt and the gap between windows. This has been by far the only car I have own with blind spots. Actual blind spots from inside the car. I adjusted my mirrors and found out, the mirrors are not up to code. The mirrors are not adequate. I repeat, the mirrors are too small for the cockpit, if you look around from the driver seat you will find it very hard to view around. The mirrors are only for style. I took it in for a complaint, they added a additional stick-on mirror to the baby mirrors placed on car. I don't want to get started with the engine... please, really. I don't. Why do we keep bailing out GM, why??? Tell me please, why do we still need GM??? It's a new year. It's a new age. It's a new era. New admission. New, but dumb president. Why do we need this old plant?

I bought the car brand new in 2011. It was the first model year for the Cruze. Drove it off the lot with 5 miles. I have had nothing but problems. There have been multiple recalls. At 56,000 miles the Axle Seal went bad. Leaked out half my transmission fluid before the source was found. Then the sensor in the transmission that tells it when to shift went bad at the same time. At 68,000 miles the water pump went up. At 85,000 miles my brake pedal position sensor failed. At 110,000 miles my transmission cooler lines went up. If this is the quality of Chevy's vehicles, I will never purchase another Chevy in my life.

CHEVY CRUZE 2015 - I cannot believe how much the value of my car has gone down in roughly 18 months. I bought it 5/1/2015 and am way underwater with my loan vs value. I am trying to get rid of the car due to size and car value. I didn't realize how small the openings in the car itself were. I didn't realize that cruise control is a luxury not an automatic option. Especially on a CRUZE. I got screwed on the financing and feel like I will never get rid of this car. It is now clicking in the engine when running and have no idea what's wrong. I take it in for normal maintenance.
The dealership won't give you the value per KBB when trading it in and I can't sell it to a private individual because I won't get what I owe. For a while there I was having issues with the radio and not having sound. I had to disconnect the battery for around 30 minutes before reconnecting and getting it back. I literally had no sound whatsoever. Nothing from blinkers, blank screen on my radio, doors weren't pinging when open, nothing.

When I run the floor heater in my 2011 Cruze, there is a strong odor that gives me a headache and makes me sick to my stomach. Have had it checked several times by dealership and they report they could find nothing. It is so bad, that I do not use floor heater even in below zero weather and avoid driving my car whenever possible. Was bought new, serviced by dealership only.

I have only been driving the car since buying it brand new for 18 months, and the navigation module has went out. I am assuming this is why they only offered a 36,000 mile warranty!! I should've known. American made = half-assed work that produces a ** and unreliable product that no one will back up or guarantee!!

I have only bought Chevrolet. I WAS a devoted customer. When I bought my 2014 Chevrolet Cruze as my 4th vehicle and I vowed to have all maintenance done at dealership to ENSURE proper care. How wrong was I. Brakes starting giving me issues at 9k miles. They say it was the type of brakes and yet at 12k miles I had to pay for my rotators to be surfaced. Engine just run sluggish and the WORST I have had to endure regarding a car. PAID for extended warranty and ALL of the complaints I made about car losing power while driving, taking off from stop position, knocking sound under hood, clicking sound when turned off after a drive, and funny smell. BECAUSE THEY CAN'T SEE IN 5 MINS WHAT WE ENDURE OVER DAYS AND WEEKS. IT DON'T EXIST. We the customer is just hallucinating. Now that I am 1k miles past a extended warranty never used (what a waste of my money) every inspection is a charge, now everything matters.
Transmission because of sluggish in motor I had it serviced and now it drives worse than before. This is the worst decision I ever made regarding a car. I will be trading this car in and taking the hit on value for this lemon sold to me just for my sanity. I will never buy a Chevrolet again ever. This will be tested first car I will not pay off.

I bought my 2014 Cruze in May of 2015. In November of 2015, I started to experience radio issues. My radio would randomly turn off then back on after 30 seconds or so. It would do this multiple times a day. I took it to a dealership and they did a software update on it. All worked fine for a little while. Almost a year later (from the fix), it started acting up again! But this time, when the radio went out, multiple lights on my dash came on and the clicking sound for the blinkers wouldn't even work until the radio came back on. I called the dealership again asking for the customer satisfaction number for GM directly and they wouldn't provide me with it. Instead they talked me into just setting up an appointment but having me pay out of pocket for the repairs and a rental vehicle.
Now, I understand that when a vehicle is out of warranty, you have to pay out of pocket. But for something that should have already been fixed, I don't think I should have to. I ended up canceling that appointment because of me having to pay for it. Plus it's an intermittent thing so it might not even act up for them to duplicate it. Fast forward to December of 2016. It started doing this again. But not this time when the radio turns off, you can still hear what's playing but the screen is blank. You can't turn it off or on. You can't turn the volume down. Nothing. Even once I turned off my car and turned it back on, the same thing happened. I could even open my driver's side door and it would still be on. I hate this car with a passion! It has given me nothing but problems. I keep up with all of the maintenance on it and for me to have continuous issues with it just irritates me.

I bought a 2014 Chevrolet Cruze TD (Diesel) in March of 2016. I bought it used with 23,000 miles. Within 3 days of purchasing the vehicle, the check engine light came on and it went into "limp mode"; it was the diesel exhaust system. I ended up having to pay over $900 and being stranded 60 miles from home because it was a bad sensor in the Diesel Exhaust System. 1 week later, I finally got the car back. Fast forward 4 months. I am on a road trip and over 200 miles away from home when the check engine light comes on and the diesel exhaust system once again puts my car into "limp mode". When I say limp mode, I have a finite number of miles I will be able to travel until the speed is limited on the vehicle. Eventually, the governor on the vehicle will only allow you to travel at 4MPH. Yes. FOUR miles an hour.
I am now stranded, once again, in the middle of the night, on a road trip, 300 miles from my destination with nothing but 70 MPH interstate speeds. 9 AM rolls around and I'm able to get into a nearby Chevy dealership. $350 later, it turns out to be a clogged filter. There is apparently nothing to prevent this, and there is no user maintenance that could be done. I am literally having to suck it up and fork over hundreds of dollars anytime this happens again. It is now December of 2016. I am once again in "limp mode". I've received a letter from GM saying sensors have been going bad on the DES, and they will issue me a refund, however, it's still not fixing the issue of having a RELIABLE and DEPENDABLE vehicle. What's the point in purchasing a car that gets great gas mileage, if it's not going to let me drive if ONE little thing is wrong with an exhaust system??
This is the WORST vehicle I've ever owned. GM had better come out with a bypass, update, or new system for this car because after the issues I have had, and have now been reading about the entire Diesel Exhaust System on these models, I can see a mass recall or even lawsuit pending. Right now the only thing this car is good for is the entertainment value of watching it fly off a cliff and landing at the bottom of a very deep ravine and exploding in a Michael Bay-type fireball explosion... which... I suspect it would go into "limp mode" as it's flying down to it's impending doom.

I bought a 2014 Chevy Cruze. It was July of 2015. It is now November of 2016. The paint is wearing off the leading edge of the rear quarter panel, less than 1/2 inch behind the rear door, on both sides. I can see the manufacturer applied a protective strip in the location where the paint is coming off, which leads me to believe they are aware of the problem. The dealership will not warranty the paint because they claim it is from sand on the road. Even if that is true, who in their right mind would use a paint that would wear off within the first 21,000 miles of driving? Apparently GM does not care about the little guy anymore.
My other problem is the resale value, which is very low. When I bought the car, I put 1,000 down, which dropped the finance price to 17,100. I had a 3.6% interest rate, so the monthly payment was 320. I paid 350 a month to get the loan paid down quicker. When I went to trade it in, I was offered 2,000 less than the payoff for the car. I was appalled that a car could lose so much value so fast. I am now stuck with a car that has paint wearing off and a trade in value 2,000 dollars less than what I owe, and despite having the car listed for sale on the classifieds, I have literally had one person show interest in it in the seven months it has been listed. Overall message: buyer beware.

I purchased a Chevy Cruze 2014 practically new. A guy purchased it brand-new decided he didn't like the color and brought it back so it landed on the used car lot. I purchased the car and have had nothing but trouble. Between recalls and breaking down it's out of control. I have contacted General Motors and told them what was going on and they gave me a voucher to have it diagnosed at the dealership. Apparently it's several things wrong with the car one being the catalytic converter which is no longer under warranty after 80,000 miles my car is at 85000. It also has a timing problem. It has had several parts replaced.
I brought it in to the dealership to try and trade it in but my credit is not that good. Upon visiting the dealership two salesmen let me know that the 2014 Chevy Cruze has had several problems. And there has been several people trading it in to get rid of it. I'm at the point I have no money to fix this car and I at this time have a claim number with GM and no one is responding to me. The guy at the dealership is getting very irritated with me calling. I have one car and three jobs to get to. Customer service is horrible they don't offer a loaner. I'm stuck and have no clue what to do. If anyone has any information please let me know.

I purchased a certified used 2012 Cruze in April of 2016. It's now Nov and I have had nothing but problems. Starting with Check engine light on for wiring harness, sensors, oil leak, water pump, other items as well. The latest is no brakes. While I had the cruise control on and applied the brake the pedal would not go down. I had to put two feet and apply a lot of pressure to get the car to stop. I was never more scared in my entire life. Dealership said they couldn't find anything wrong. I spoke with owner asking for money back. Suddenly they said there was a brake booster. I don't believe they fixed my car. Please someone help me get my money back.

I bought chevy cruze 2012 in 2015 and I've had problems within a week after leaving the dealer. First the shifter and steering wasn't working. I recently took it in for transmission and the head, now it's overheating and it won't stay on. I'm not rich and can't afford to take it to the dealer nor do I want a car I can't drive.

Horrible build quality in your vehicles. I have a 2014 Cruze Diesel with 63k miles on it. So far the issue same include fuel door basically falling off, transmission cooler hose leaking, sun visor breaking, sunroof seal not staying in place, radio settings not working since day one, headlight #1 burning out at 39k miles, headlight #2 at 45k miles, dash rattles all the time and now I have a horrible oil burning smell. Plus, parts and maintenance is way overpriced, $100 for an oil change and almost $200 for a fuel filter. Easy to see why GM has gone from a 100k mile powertrain warranty down to a 60k mile powertrain warranty.

I bought a brand new 2013 Chevy Cruze late in that year and the car has just done a 60,000 km service on 08 August. A few days after the service, the car momentarily failed to start. I turned the ignition off and removed the key. A while later the car started and I drove home. It was late afternoon. Come September, the car would not start after shopping at the local mall. A friend suggested the battery because all the settings on the dash, except kilos, would revert to Zero. I had my doubts given the car was just two years old and expected to last an average of five years, based on the cars I drove before.
I however jump started the car and I drove home. Two more experiences, I went to the battery center for a test, and yes they confirmed my battery needed replacement. I regard this as a ground-breaking record for a car battery to die in two years - it can only happen at Chevrolet, given similar experiences I read about on this blog. Chevrolet has just lost another future client.

Cheverlot Cruz - my car is now 147000KM and the Gearbox is damaged fully. The Chevrolet service center replace the entire gearbox which they took 3-4 weeks. The next day while I was driving I noticed that the gear is stuck in the 5th gear. It's not shifting up or down. I again took the car to the service center, they did so many testing and couldn't find any issue. After two days, the same problem occurred and I can see in the dashboard the RPM is above 3. My car is now in the Chevrolet service center for the past five days, and there is no updates from their side. I am really tired of call the customer care and sending emails to the GM. No proper reply for the complaints I send by email.

I bought Chevy Cruze 2011 second hand at 11000 miles with 5 year loan on July 2013. At August 2014 after driving 1 years at 32000 miles the car got problem in highway with the transmission so we need to tow the car and bring to the dealer. That time they give us a good service and solve the problem, but a year on the same month the problem for the transmission coming back again so we bring to car dealer and they want us to paid $110 for check up not including the part which they told us is not cover anymore. What a piece of a garbage that I bought, give me headache year after year. So I want to tell the world not buy any Chevrolet product.

I should have demanded another car after having to bring it back three days after I got it because the antifreeze kept leaking. It's been in 2 recalls I believe and the thermostat has been replaced twice. I have only taken my vehicle to Chevy dealerships and they tell me it looks like someone else glued things where they weren't supposed to. I should know more about car but I don't. Just fixed the thermostat in Nov 2015 and it's Aug 8, 2016 and we need another one AND a timing belt. I do have 100K miles on it, I bought it brand new.
I'm just so disappointed, life is hard enough to maintain and we should be able to buy cars that last. Car service is getting as bad as medical care, what's next Donald Gump becoming president. Maybe all our cars should be made in China because I'm losing faith in American brands, I've had a 2000 Mustang, 2001 Ford Expedition, and now this Chevy Cruze. There have been so many problems with the Cruze I wish they'd just credit us the loans we have left to pay and allow us to trade these in. Or would that be the "right thing to do?" Nobody wants to be that guy anymore.

36,000 km, all highway, bought new from dealership, Krown rust proofed both winters and full maintenance done as per GM specifications. Improperly hung driver's door and driver's side quarter panel. Improperly aligned left rear quarter panel. Failed coolant pump. Failed A/C compressor and condenser. Failed right front axle seal. Failed driver's side window actuator motor. Infotainment center and all internal chimes, turn signal sounds etc. failed. Right front air dam deflector fell off. Cabin pressure release valve fell off of firewall. Screw cover fell off of driver's side door just above the door latch handle. Left side rear door weather stripping split and peeled back. Have asked GM Canada numerous times for simple explanations and not for something free; so far they have only tried to sell me a 2016 Cruze. My faith in GM is finished!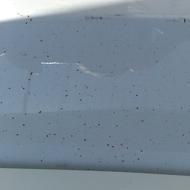 Within a month on buying my brand new 2015 Chevy Cruze car it was in the shop for tire sensor, 3 had to be replaced. I have had them all replaced 2 times now. Now 10 months later I am noticing rust everywhere - even the bumpers which are plastic. When I called they tried to tell me it's the air quality and it's "fall out". What? Who do they think we are? They must assume we are completely stupid!! So my other new car (2014) same color (white) must be immune to this "fall out" epidemic that has seemingly hit only Chevy cars. I am not a Chevy vs Ford guy but I thought Chevy did a great job on the design of this car. That is all they did right! Now less than one year into my brand new car I need a full scrape off and repaint... Oh yes this will not be covered and Chevy refuses to admit they used crap paint. Less than 8000 miles and my car is looks aged years. I am sad.

I bought a brand new Cruze Diesel...within one month I had to have the heated oxygen sensors replaced. After 4 months...same issue and a leak on the seal of the turbo. 4 times having the oxygen sensors replaced then the heated temp sensor. 1 1/2 years later the diesel fuel particulate filter had to be changed. Now exactly 2 years later, check engine light has gone on and off again for every emissions part that has already been replaced on this car. Oh the parameters for the vehicle had to be reset after the first year.
If you have bad credit and GM does the buy back program don't even bother, it will cost YOU the consumer they sold the bad car to. They don't buy back the car. YOU are responsible for getting yourself into a decent car...not GM. I was able to get an extended warranty through GM and I am grateful to GM for that because at this moment, 2 years later...it needs it. I will never do business with GM again. I am a single, female disabled veteran and GM obviously does not respect this.

I am writing this e-mail to you in order to complain about the horrible service advisor you have there by the name of Dan **. My wife took her 2012 Chevy Cruze in for service on 5/2/16 because the window fell inside the door panel and we also had a check engine light on. Dan initially told us that the turbo was bad and won't be covered under warranty due to it being an emissions related item. I told him that it is part of the power train and not an emissions related part. He later called us back and said that the turbo would be covered under warranty. We picked the car up on 5/5/16 and my wife got 2 miles away and the check engine light came back on. We brought the car back in on 5/6/16 and were told that it was probably a bad turbo and it was too late in the day to get it fixed, so we took it home. We brought it back in on 5/9/16 and picked it up on 5/13/16.
I called Dan on 5/12/16 to see if the car would be ready by 5 pm and he wasn't sure, but he did tell me that this time it's a bad solenoid and it was not covered under warranty (of course). I informed him that I would call back at 4:30 to see if it would be ready because we live in the mountains and would need to stop by on the way home. I called at 4:30 and left him a message that we would be driving home and for him to call us before 5 if the car was ready. We did not hear back from him until the next day. He called me the next day and asked me why we did not pick up the car. I informed him why and that we would pick up the car after work on the 13th because we get to work before the service department opens. When my wife picked up the car, she asked why it wasn't washed and Dan told her that I requested not to have it washed. She called me right then and there to see why I would say that and I informed her that Dan was lying.
I never said that. He never apologized to her but said that he would take care of it. He made her wait 20 minutes and was questioning her why we wanted a print out of all of the work done to the car since we bought it. She explained that we have law offices contacting us regarding the Lemon Law and Dan proceeded to chastise her for taking this route. We have had at least 5-6 recalls regarding this car. It has been the worst Chevy we have ever owned. I currently own a 2002 Chevy Tahoe and a 2006 Corvette Z06.
I have owned 5 different Corvettes and 6 other Chevy vehicles. Yes, I am loyal to Chevrolet. I am planning on trading in the Corvette for the new Z06, but after this experience at your dealership I will take my business elsewhere! We will also be contacting an attorney to pursue the car being bought back under the Lemon Law if you are not able to do this for us. PS. Dan never got the car washed for us. My wife was so upset, she left so as not to have Dan make her wait another 20 minutes to pretend to wash the car.

I bought a new 2011 Cruze Eco with 1.4 Turbo. From day I bought the car it had a strong odor like some type of fluids getting hot. The longer you drove the car it got worse to the point your eyes and throat would burn. First I was told it was because it was new, then it was a filter, then they said they couldn't smell it. Had it in and out of shop several times for coolant leaks. Lines changed a couple times and a tee changed, cracked inter cooler and other minor and recall related things. At 65,000 miles I still had to drive with windows down even in winter because of the smell. That's when the real trouble began. Lost all power and made loud noise like no muffler.
The turbo went bad and tube broke away from turbo. Oil was everywhere. At first dealer said it was because I used wrong oil. When I PROVED the oil was changed ahead of schedule and right oil used every time, they replaced turbo. When I picked it up I made it about two miles and lost all power. Dealer got it and said something was not installed right and it was now fixed. I drove 4-5 miles and no power. Dealer got and said they would have to order another turbo. When I got it back, I drove out of their bay where they had it and drove around to front of bay and told them it is now making a slight knocking noise. They looked at and said it would go away, that it was just because oil needed to get circulated to lube engine good. Yeah ok.
Drove for a couple days and it got real bad. Brought it back, they looked at it and said it was because when I brought in, it was a quart of oil low and engine blew. No kidding, tube blew off turbo and oil was everywhere. I wonder why it was low. Was told 5000 for new engine plus labor and warranty would not cover it because of the low oil. I threw my oil receipts at them and told them politely where they could put them. The car had sit in driveway ever since that time. After about a year and a half I was talked into contacting Chevy. They told me to bring to another dealer and have diagnosed.
After three dealers said need engine but wouldn't diagnose the problem and they wouldn't mess with it because it had already been worked on and needed to go back to original dealer. Then was told because now that I no longer have receipts it would not be covered even though I had already proved it and only 53 miles more than when the last turbo was replaced so parked in the driveway and sat in driveway for another year. Got talking with a guy and he said "bring it over to my shop" and he would find the problem.
Pulls oil pan off and all kinds of metal shavings. Number three cylinder had groves in bottom. He pulls head and embedded in head and valves were chunks of metal that he says were pieces of the turbo propeller, cylinder has a few gouges. new engine needed. Used engine for about 1100 with shipping plus labor. I will contact Chevy again and see if they or the dealer will do anything. If not, I will drag it home and have an expensive piece of yard art with flowers that I will post all over social media. I have owned many Chevy's including two Cobalts that I currently drive and both with over 220,000. If they do not take care of this I will never buy another Chevy.

I purchased a 2012 Chevy Cruze and have nothing but problems out of this car. It has been in the shop at least 20 or more times with recalls on the vehicle. The braking system messed up first. You would go to stop and the car would lunge forward or just take off. Almost had several wrecks because of that. I broke down on the side of the road because the car just shut down and died. The car was overheating and the thermostat was burnt up. Had to go in to have that replaced. The turbo went out and that was replaced. The coolant reservoir had to be replaced 2 times and still leaks now and the car is constantly overheating and I have to put coolant in the car daily. Then I lost power in the car. The car was making a horrible sound.
Went to the dealership closest to me at that time for them to tell me I couldn't drive it and I had to take it back to the dealership I bought it. So we trailered the car back to the dealership. Come to find out the turbo had gone out again and even though it was under warranty the dealership wouldn't honor it. They said I had never had my oil changed and serviced. I had my paperwork showing I had all my work, oil changes and services done at the same dealerships. After 3 months of fighting with them I trailered the car once again 2 hours away to pay for it out of my own pocket to replace the turbo and fix the engine.
Got the car back and within just a month or so car shut down again, overheating and needing coolant. My car was steadily leaking and overheating. A hose was fixed at that time. The coolant reservoir still leaks and has to be checked on a daily basis. And once again broke down on my way to work. Car wouldn't go, lost power. Turbo once again GONE. So I had to trailer it back to my home and it still sitting there. I do not recommend this car to anyone. I will never buy from that dealership or buy another Chevy Cruze again.
Chevy Cruze Company Profile
Company Name:

Chevrolet

Website:

http://www.chevrolet.com/