Consumer Complaints and Reviews

I wrote to Uber, "Your previous drunk driver crashes the car far away from my destination and you still charge me. He leaves me in the middle of nowhere. And again I have to pay more for another Uber which is more far away from my destination and you again charge me for that ride. I kindly ask you refund everything in the scenario where you would have killed someone."
I can't believe after all this they still charge me and would not refund. Uber does not care whether you live or die, you have to just pay their fare. They employ people who drives drunk crashing car in the middle of night and if you turned out alive after that they will leave by the side of road and still charge for that ride. And you wait another half hour to get to another Uber with no option and pay another fare hoping to reach alive and out of all this Uber says our partners tend to have high standards.

2 times I had the incorrect fare charged. On 2/14/2017 was quoted a price when I requested ride and was charged double. On 5/31 I went from 12th and Locust to Ivy Ridge Train station. I was quoted $7 when I Requested the ride and was charged $19. It was 11:46 and the driver was Derrick. He had a Volkswagen Routan. He was very Nice. Since this happened twice, I feel that Uber is ripping off many people. The drivers are very nice and friendly.

On June 5th, I had requested a ride from your business. And the experience that I had was incredible because your employee Michelle I didn't get her last name, but she waited with me until my supervisor got there. I really appreciated that. I would really recommend your business to my friends and family. Thank you again.

Uber mentions standard upfront charges for their pool rides but if the person you are pooling with cancels the ride, Uber will introduce dynamic charges and charge that extra amount to you. And i guess they even charge the person who cancels. So in a way Uber is making 2 way money. They charged me 3 times the normal charge for a ride where another pooler cancelled the ride. And now they are fooling me saying that since the distance travelled was more than what was entered originally they are charging me more. But actually distance increased because the driver had to pick up another pooler. Now this person didn't turn up. So entire money load comes on me.

Last night, I received a text from Uber stating that the email address on my Uber account was changed. Since then, I have not been able to log into my account. The hacker also changed the password. Everywhere I look, it all comes back to having the correct email address on the account. I have tried contacting Uber to resolve this problem - there is no phone number and the given email address does not accept incoming messages. The only way to contact them is to fill in a contact form on their website and hope they call.
Since it references my email address, which according to their website is not acknowledged as belonging to my account, I don't know if I will hear from them. I had the double authentication on my account, which is supposed to be highest form of security one can get from Uber. I cannot believe that Uber has such a lackadaisy attitude towards its riders, especially since my email address, cell phone number, travel history and credit card information is all stored on the account.
How do I know I can trust these reviews about Uber?
794,387 reviews on ConsumerAffairs are verified.
We require contact information to ensure our reviewers are real.
We use intelligent software that helps us maintain the integrity of reviews.
Our moderators read all reviews to verify quality and helpfulness.
For more information about reviews on ConsumerAffairs.com please visit our FAQ.

I am a driver for Uber and noticed I am getting shorted on my pay. I was sent 5 miles to get a rider for a 2 mile ride. Made $2.74. Uber charged the rider $5.96. Uber took $2.30 for themselves then gave me 75% which made my real pay 46%. Uber cheats their drivers. On the 500 plus rides I've given they have probably cheated me out of a few thousand dollars and customer service is a JOKE!! WORSE THAN Comcast.

I was delivering Uber Eats to a client and the client called me a **. Then the client called Uber and lied and said that I had a gun. Uber shut me off and said they were investigating. They didn't allow me to make income through Uber for over 4 days which seriously jeopardizes my living. I am taking legal action, have cut my income when I have done nothing wrong. There is nothing to substantiate their decision except what the client said which was a lie. I have very high evaluations from clients and they have not taken that into consideration. Drive with Lyft and not Uber.

Horrible... All I will say is I'm being charged a cleaning fee by Uber and the incident did not occur on my ride. This obviously happened on another ride or the driver is a complete liar. I will never use them again.

I arrived at the train station and since I missed the bus and now it take 40 mins before another one to come, try to request an Uber. My phone died and shuts down while it was searching for a driver. I assumed that deleted the transaction because the phone was completely dead and off. I decided to walk home. This walk is 30 mins from the train station with some area with no sidewalks. I make a stop at the store half way home. I get home plug up my phone, check the email and see a receipt from Uber. They charged me for the ride as if the driver reported that he picked me up and dropped me to my destination which didn't happened. I walked 30 mins to my front door. I filed a complaint and their response was after review of your account we believe you made this trip.
I expressed again that I didn't make the trip because I've use them all the time why one time I'm just going to file a complaint for $6.30. They said again they cannot refund my money and maybe a family used my account. I expressed that I don't have family here, I stopped in a store and have a receipt during the time the driver claims he dropped me off. It's the principle of the matter. How do you report that you drop someone off that never got into your vehicle that didn't even know you were coming. I would've preferred a ride home versus walking for 30 mins. So I got charged for a ride that never happened and had to walk home after a long day in the office. Uber really need better customer service skills. I will never use them again.

I have booker Uber go cab through Uber application, from my place to Bangalore railway station platform 8. Cab came at expected time around 6pm but later driver stopped the car and he asked us to get down from the car without cancelling the cab. We have to catch the train at 8:00pm. But because of this we missed our train. Uber doesn't have any valid contact number so that we can reach out to them. I have prove of that trip that driver didn't cancelled the cab until 9:30.

I ordered a car and was quickly picked up by driver Dramane. When I arrived at my destination I tipped Dramane $8.00 for a $21.81 fare and I left. I immediately noticed that my cell phone a Samsung Galaxy S7 was missing. I called as soon as I could get a valid number from UBER (NO CUSTOMER SERVICE TO SPEAK WITH) AND CALLED. The driver did not answer his phone and after continuous tries he Dramane finally picked up after about 15 minutes of me calling nonstop. I asked him to please look in the back of his car for my phone. He told me "I have a client and can't". Bullcrap. He should have done so immediately and from his responses to me I could tell that he was acting very shady. I have no doubt that he did find my phone and kept it. Which means HE STOLE MY CELL PHONE AND UBER DID NOTHING TO HELP ME. NO CUSTOMER SERVICE AT ALL.

My Uber account was locked because Uber claims that I have outstanding charges on my account. At this moment, I have 5 supposed outstanding balances on my account from Ubereats. I say that it is supposed because I was charged for all 5 transactions and the money has been taken out from my bank account and paid for. I have been emailing back and forth to Uber about this, but every time it is always someone different replying to me and it is as though they do not even read the previous replies. All they keep telling me is that the charges are legitimate. The first time they told me it is legitimate, then I relied and told them that I was charged and I have my bank statement to prove it, then the next person tells me that it looks as though the charges were disputed and refunded to me, then the next person tells me the charges are legitimate and does not read the previous emails.
After, a long time, I finally get someone that said the money was refunded in April and asked me to send my April bank statement, which I did, but then they tell me it looks like in the system it shows it was refunded in May and to send the May statement which I then did, and now the reply to me again is that it looks like the charges are legitimate. This is really ridiculous because no one seems to be able to understand that I was charged and never refunded any money. (Btw, I never even disputed any transactions so I don't know why they are telling me it was disputed). I am not the type of person who likes to have an outstanding balance. I always pay my bills on time and this is just not how Uber should be treating their customers. They have horrible customer service and up until now I still have not gotten this straightened out.

I do NOT recommend this company. On top of my $33.29 ride, they charged me $250 FOUR TIMES! That's over $1000 for a 10 mile trip! And to make matters worse, it was my birthday and it was ON THE WAY to the restaurant with my wife. There was no damage or anything that we did to be charged this. AND THEY DON'T HAVE A PHONE NUMBER so I have to email them and they have yet to respond and it's been HOURS since I sent the email. I do NOT recommend this company as they are a scam. Just do yourself a favor and use LYFT as I've never had an issue with them. I want my money back, UBER!!!

Uber driver, Zlata in New Orleans charge me for a cleaning fee on coffee stains that were existing in her car up on my entrance. No questions were asked, the driver just assumed I made this mess and charge me a $40 cleaning fee. Uber did nothing to assist me in finding the correct passenger and instead still kept the charge on me.

I have had so many negative encounters with Uber is not even funny. They took out money from my account several times for trips I didn't take. I used to use them to get to my job and there was always something with them. My last experience I had order an Uber to get to my job. They took the money out of my account. I saw in the map that the driver was taking the trip without me when I had 7mins outside waiting. I called the driver and she hang up the phone. I had to take the bus to work and I was late. Last but not least I got a warning in my job for being an hour late. There was another time they took $88 dollars out of my account for going to NY paying two tolls. When I only took an Uber to my job. I'm done with them. I deleted the app and never again. Lesson learned.

Uber first tried to charge me for 2 incorrect rides that I did not take. When I disputed with my credit card company- Wells Fargo - they ONLY removed the rides I did not take. Uber is stating I did not pay for the 2 rides I did take. I sent proof of screen shots from wells fargo site and even spoke to wells 2 times where they say I did pay and it was not retracted. You cannot call Uber and speak to someone. They just keep replying back that I did not pay. I cannot even book another ride.

When I used the Uber App to request a ride share from the ATL airport to an address, the economy rideshare quote was $28.76. After I booked the ride, I received notice that I was pooling with someone else, which was expected, but my fare increased to $36.00. Overcharged fare. When I contacted Uber customer support, the computer generated response stated that the fare was correct and refund would be given. When I replied with the attached supporting screenshots of the quoted fare and actual fare charged, I received the same generic information with no mention of the supporting evidence that was included submitted.

WARNING: Take a screenshot of the fare you are agreeing with Uber to charge you, you may need it when they change the fare later. Uber increased their agreed to fare with me after the trip was in progress. When asked about it they denied it. Disputing it they then said their driver may not have taken the most efficient route possible. Fact is he did take the most efficient route possible as if that would give them a reason for raising their already agree to fare anyway. I can not trust them and will not give them another chance so you need to know this happens.

Uber did not record a trip I made as a driver. I reached out to them with specifics of the trip I completed and they basically said if I didn't have exact records of the trip they couldn't prove I made the trip and didn't provide me with an explanation as to what could've happened or who I could reach out to to file a complaint. I signed up with Uber because I thought it would be convenient not to drive people around for free. Very disappointed. If you choose to drive with Uber be sure to screenshot or document your trips because if your money goes missing they will not help you!

First, my complaint is Uber REFUSES to call anyone so you can have a conversation about your dissatisfaction. Second my complaint is that they are running a bait and switch that is unethical. My TRIP: THE ISSUE is that their app told me I could USE UberX for a trip from the Indianapolis airport to my house in Cincinnati and the fee would be $115. I checked it 3 different time during the week to confirm the rate wasn't a error. When I got to the Indy airport from FL I checked it again and the app said my cost would be $115. WHEN the driver showed up tells me that I can't use UberX but had to select UberXL because of the distance of the trip.
If that was the case then their app should have alerted me FROM THE BEGINNING that I could only use UberXL for that distance. If it would have said that THEN I would have rented a car for $90 instead of having to pay $235. At that time I had no choice because I had to be back in Cincinnati at 3pm. Therefore, my only choice was to follow the driver's instruction to ACCEPT the ride with UberX for a short ride (which I did) and then resubmit the request under UberXL again which I did. Instead of the fare being $115 it ended up being $235.
AND... it seems no one at Uber can understand my frustration and NO ONE is willing to have a conversation with me, which is absolutely ludicrous! They know that if I would have thought the ride would cost $235 I (or any other logical person) would have rented a car and they would have lost the fare. Complete bait and switch!

My name is Scott and my husband was working for Uber. He had a ride with 3 people in it. When they got in they had a metal smoking pipe that they put out on the hood liner of my car. The pipe was left in the car and a burn hole in my car. He sent pictures to Uber and they said that they needed a quote. So the first quote we got was almost $2000 from Chrysler since that's my car. We only received the quote over the phone. It was too far away to drive so we called Chrysler near us. They referred us to a person that gave us a quote of about $300. He sent the quote to Uber and they got back to him today.
The insurance company called him and said that it was a $1000 deductible. So the amount had to be over 1000. We had sent them the $300 and they said they were not paying for it. He contacted Uber again and they messaged him back telling him that they tried to charge the rider but the rider has to agree to it. Of course they did not want to pay it. They said that the insurance company has the final decision. Now I'm left with a burn mark from an Uber rider and nothing is going to be done. Uber is the worst company to work for. They even just cut the pay on all their drivers. The pay is not worth the damage. Thanks Uber for ruining my car. Lyft is way better.

My Uber Account was hacked today. Uber does not have a customer service line that you can contact. I was unable to log into my account to remove my payment information due to the hacker changing the email and password onto my account. Uber's site says to send them an email and someone will contact me within 24 hours. That's not acceptable. I've had to cancel my credit cards right before Memorial Day Weekend which doesn't make for a pleasant holiday. Thanks, Uber, for your ZERO customer service. I just want everyone to know that there is NO one to call if this happens to you.

I am wondering if all the Uber drivers are given the ability to actually fire clients... making it so that they and their families can no longer use the Uber service and on top of that... rob that person of $50? There were 2 cancellations on this evening both by the same driver in the same hour. On this night my 18 year old son (who had struggled from kidney failure since birth and whose growth was somewhat stunted) was hanging out with friend at the "sci fi factory" near Keller TX was ready to walk the 1.5 miles home when I told him just to wait and I'd get him an Uber. The Uber driver pulled up... took one look at my son and screamed "you have to be 18 to ride!" Then he pulled away leaving my son standing there. Never asked for ID... never even gave me a call!
My son informed me of the situation... I immediately set a ride to take me from my home 1.5 miles down the road. Again that ride went to the same driver who then cancelled it as well. So I had to reschedule a ride to my son in order to ride with this 18 year old 1.5 miles down the street. The next day my Uber account was shut down with a $50 gift card attached and shortly after that my mom who was linked thru the family Uber program also reported her account to have been shut down.
I loved the Uber program up until this. I have written several complaints requesting just my $50 from the gift card be returned and my request has been ignored. No one has ever asked me what happened... This driver simply concluded my son was less than his 18 years and I was immediately convicted and punished for an error in his judgement. It is now my goal to spread the word about the customer service I was shown and hope it doesn't happen to anyone else.

I noticed that the reviews for Uber were low on this site so I felt compelled to share my positive experiences with readers. My husband has been using Uber for quite some time because he does a lot of traveling with his occupation. We used Uber together on our trip to San Juan Puerto Rico recently and every ride was 5 star and top notch. The drivers were friendly and professional. All of the vehicles we rode in smelled fresh and clean. We actually had a taxi driver harass one of our drivers and although we had our Uber driver pick us up at the business next door to our hotel, the taxi driver could tell it was Uber because my husband had his phone in his hand & we waved to the Uber driver. I can honestly say that due to the taxi driver scaring me by bullying our driver, I will NEVER take a taxi again as long as I live. Last I checked, we live in a capitalist society and competition is good for us. Taxis should not have a monopoly! I highly recommend Uber.

I started driving for Uber because of the referral bonus. Figured why not drive and I get 300 dollars and my friend who referred me get 300 dollars. Fast forward me completing the 40 drives they tell you to make in a month, in a week and they say that, "We didn't mean the money was a bonus on top of the money you made. We meant that you were guaranteed to make 300 dollars giving 40 rides." Of course I was. That's no incentive. Lyft pays out the 300 dollars the moment you complete the trip. I complained about this stating I do not want to work for a company with such bait and switch practices and instead of resolving the situation they deleted my driver app and my rider app and didn't even let me cash out the 100 dollars I made that day.

I open account with Uber company to be easy for to use a car service. In less of month I got in my check account more of $200.00 in charged for ride with Uber. I tried many time to contact with them, but, the only way by messages (taking long time) and coming with the questions and nothing to solution my complaints. I called my bank and closed my check account!!!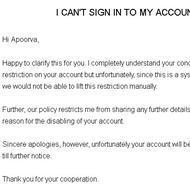 I just want to highlight the inconvenience that has been provided by your company app to my friend: Apoorva **, her account has been blocked since a week now and we both have been trying to get in touch with your company via email and all we get in reply is that your system raised a flag and blocked us. Lol. "FLAG just because we were updating email address." And you want us to also "Appreciate your understanding in this regard." - LOL. We have all our invoices blocked in that account. Hence it's a request if someone with some logical sense can have a look at her account and get it sorted for her. Systems can do errors, but who accepts their mistakes these days. All we want is our invoices and we will make sure never to bother Uber again for any ride. Ola is way more better with respect to quality app.
Last thing I remember when the account was working that we were updating email address to get invoice on email and yours mathematically correct systems blocked us down just because we were updating our email. Really Great Coding And Super AI. Finally a person from your company updated our email address but when I tried to log in I noticed that the flag was never removed.
If by any chance you find that we are real and her account is real and if she is real and if anyone from Uber can read and understand about what we are trying to say then please go ahead and email us all the invoices: **, or remove the wrong flag raised by your super system Generation 6 so that we can download it manually. Attached image shows that we are suspended and Uber can't even share the reason for the same - Because email team may have some procedures and rules which they have to follow blindly, to which I think that the rules have been made by a mentally blind person. "Uber rocks - client shocks."

I use my corporate card for business trips when I use Uber. My company told me I have a charge for $3.80 that I need to show proof for so I went to my Uber app and seen that I never took a trip on that date. I reached out to Uber and explained to them that I was charged but never took a ride. The first response was someone telling me to send my bank statement and they will be happy to reverse the charges. I asked my job to provide proof as I don't get statements because it's my corporate cards.
I sent a PDF with the proof and was told they are not able to make fare adjustments to trips that were completed 30 days or more ago. I explained to them that I was just informed by my job that I had this outstanding charge on my card and had I known about this charge sooner, I would have been reached out. Then I get a message saying they have not been able to locate the charge, to send the posted date, transaction description, amount and type of account. I had already sent the PDF with this information, but gave the information again. Then I received another message saying they are not able to make fare adjustments to trips that were completed 30 days or more ago.
I also asked, "How can I make a fraudulent claim," and I received the same message and they closed my ticket out. I responded for a manager to call me and I have not received a response and it's been more than 3 days. I'm frustrated with Uber that I have to reimburse my job $3.80 for a ride I did not take and Uber can't even locate that they charged me. $3.80 is not a lot of money but it is the principle that Uber should have done right and refunded the charge instead of sending generic messages. Now I will use Lyft for my business trips because I don't want this to happen again.

Uber, for JFK your pools should only be with other at airport passengers going to Manhattan. Not take an airport passenger in a local passenger only going 2 miles adding 45 minutes to the trip to get off the main route to the city.

I am an Uber driver. I want to comment. I try not to cancel. I have had plenty of riders when I show up at their destination are not ready. I usually call them after 5 minutes, most of the time they are on their way and I wait. I have had some whose phone goes to voice mail and I waited a few more minutes they come or they don't so I cancel. Uber drivers do not get paid if they wait after 5 min and the rider cancels which has happened to me, which pissed me off, especially when it is a long trip. Riders need to be outside on time or call the Uber driver. I have never canceled due to a destination, but better yet, who wants to maybe drive as I did a long distance and upon arriving have the rider cancel and don't get paid. No excuse.

ConsumerAffairs Research Team
The ConsumerAffairs Research Team believes everyone deserves to make smart decisions. We aim to provide readers with the most up-to-date information available about today's consumer products and services.
Founded in 2009, Uber launched its rideshare app service in 2010. Uber's easy-to-use app lets consumers connect with drivers in over 500 cities worldwide.
Uber car options: Uber's Economy, Premium and Accessibility options allow consumers to choose the vehicle that best fits their needs, whether they want small cars for quick routes or luxury cars driven by professionals.
Uber for Business: Businesses can enroll in Uber for Business, a ride management platform that allows small or large companies to monitor employees' travel expenses.
Uber deliveries: Uber also has delivery services. Businesses can use UberRush to deliver products to customers, and participating restaurants can use UberEats for their food delivery service.
UberPOOL: UberPOOL allows consumers to share their ride with others to save money. Requesting UberPOOL matches consumers with others traveling in the same direction and splits the fares between them.
Self-driving car research: In 2015 Uber announced their collaboration with Carnegie Melon to explore the potential for self-driving cars. As of 2016, Uber is performing its research and testing in Pittsburgh.
Best for Uber is best for consumers who need transportation over short distances in large cities.
Compare Transportation & Rideshare Apps
Company Name:

Uber

Website:

https://www.uber.com/