Consumer Complaints and Reviews

I requested an UberX, and was told he'd arrived, "Will ** (Willie)"... I made my way outside only to find him gone. I checked my App to see if he'd canceled, only to find that I was "on my way". How could that be, if I was still home. I emailed Uber about this situation, Harsh ** asked for details. I responded providing screenshots, and after 3 hours of waiting and hearing nothing, I was told they wouldn't be issuing a refund because based on the trip details, it "looks like the trip took place"... SMH, WTF. I even offered to provide a picture of myself, and asked them to contact the driver about whom he picked up, but to no avail. Thoroughly disgusted with Uber.

Uber charged my card for a ride that did not take place. I was notified by my bank of an Uber charge on a weekend during which I never left home. Attempting to contact Uber by phone, or submit a fraudulent statement via their website both proved impossible. The last Uber contact number would not recognize my phone number. Their website would not permit the required screen shot of the fraudulent bank transaction. Ultimately, I resorted to closing the card, reasoning if it happened once, it will certainly happen again. Shame on you Uber.

First off. Almost impossible to try and find a way to send in a technical question. Once I got someone they totally misunderstood my issue. Then assigned it a "RESOLVED" tag (when it WASN'T!!!), then discontinued contact. NEVER HAD MY ISSUE RESOLVED AND NOW THEY WONT RESPOND. This company is WAY TOO DIFFICULT to deal with. Giving up. Just gonna stick with Yellow Taxis from now on.

I was recently in Seattle for a fun trip. Used Uber several times without a problem. But then all of a sudden they charged me $250 out of nowhere to which they never did respond. But thank God my bank denied that fee. Then I asked for a ride, they cancelled on me, yet said I was not at the location I requested, then charged me $5 for a cancelled ride, NOT!!! And trying to contact customer service is a joke, to say the least. I have not used Lyft yet but will now be checking that out. Uber is a big rip off be careful out there!!!

Attempting to schedule a ride with Uber using their app failed 6, 8 or more times because the app could not verify the card security code on the back of the three credit cards I had entered into the app. I was returning home from shopping with frozen goods and was relying on Uber to get home. After several failed attempts, I noticed that Uber had shifted into surge pricing and then into a still higher surge pricing. I finally was able to schedule a ride. However I believe I drove up my own rate because I had requested so many rides until the app took hold. I have asked Uber to investigate my concern and have not heard back from them, and my original message has been deleted.
How do I know I can trust these reviews about Uber?
850,588 reviews on ConsumerAffairs are verified.
We require contact information to ensure our reviewers are real.
We use intelligent software that helps us maintain the integrity of reviews.
Our moderators read all reviews to verify quality and helpfulness.
For more information about reviews on ConsumerAffairs.com please visit our FAQ.

I'm a Uber driver and I took a couple of riders happens to be a husband and wife. When I picked up the riders, the women (wife) was badly intoxicated and sitting on a sidewalk. It was my first time so I didn't know what will happen next. I picked them up from LA and we're headed to Torrance at 1 am. By the time I nearly got to their destination, the wife threw up in my car. The husband helped catch the puke onto his shirt but since it's liquid, most of the throw up soaked into my back leather seat and couldn't do anything about it. I did completed the trip to their home and they got out of the car.
Since it was my first experience with a rider throwing up in the back seat, I didn't know what to do or how to claim for clean up fee. I used my wet towels to clean up the threw up and was able to wipe out the pukes on the back seat. The alcoholic smell wasn't gone and left my car with horrible puke and alcoholic stinks. I spend nearly more than 10 minutes cleaning and had to open the whole car windows because the smell was bad. My car was just fresh brand new less than an year old Lexus IS. I found in the app that I can request a cleanup fee via Uber. So, I took the pictures and sent the pictures with explanations of the situation of what happened to me because of a rider. I couldn't drive due to alcoholic smell so I had to return home.
The next day, Uber customer service contacted me via email. Here's what they said: "If you submit photos of the damage that clearly show a mess, including a wet seat etc., with an explanation of what happened, within 48 hours, we would be happy to look into a cleaning fee for you. The photo you submitted did not show any mess, and we cannot charge the rider if there is no evidence of a mess. I apologize for any inconvenience here. Thanks so much and Uber on!" After exchanging over 20 emails over 3 days, the Uber didn't pay a penny nor tried to help me on cleanup fee on my car. I was really disgusted and tired of Uber customer's attitude towards the drivers. I heard that Lyft pays $250 straight up detail fee if a rider throws up in the car. As you all probably have dealt with and have experienced with Uber and their drivers, they all say Lyft is much much better for drivers and riders both when it comes to satisfaction.

I have been an Uber passenger multiple times with no problems. When there is a problem there is no one to help. I ask for a phone number and they say they have no phone support. Just email. I was charged double what was stated and my Uber account had me going to a different destination than what I went to. I emailed multiple times with a reply saying "resolved". That is the price. I don't think so. No one really read my complaints. I kept emailing until my last email said "sorry your ride was more than 30 days out, closed". I have emailed several more times with no response. Uber is right... always, they won't listen to you and customer support stinks! My 16 dollar trip as stated on the app was $33.00. Final!

UBER does not care about drivers and their vehicles!!! For most issues, they have people responding in the Philippines (initially they say "We are offshore"), who are trained to use initially prepared ready texts. Those guys do not disclose any unique info like employee ID, ext., initials etc., imitate work on the issue, imitate care, imitate responsibility. Every time a different person responds under the veil of anonymity. You can't talk to a manager. Their system is designed to discourage drivers to resolve their issues, to confuse them and distance them. On top of all, UBER doesn't want to be sued. They want arbitration! UBER also doesn't like class action measures! How is this possible that in the USA the government allows an american corporation to play games with people and avoid responsibility?

ON 7/30/17 I was in Oregon alone on a trip at the University needing a ride to PDX to get home to CA. I chose Uber over Lyft because they had a driver available and the time of arrival worked for me, I was to arrive at 5:11 to the airport PDX which would have been plenty of time. But with him getting lost to me looking for gas. And me having to use the app to guide him to my pick up locations I ended up being 45minutes late which therefore made me miss my plane. I'm sorry. This is unacceptable from Uber, feeling helpless at the time and that was not what I was quoted. My time that you gave me was to ARRIVE at 5:11 to PDX that gave me 1:35 min to catch my flight I WAS 45 minutes late!
I MISSED MY FLIGHT BECAUSE HE STOPPED FOR GAS AND COFFEE. That is unacceptable. I don't know what was going on with my driver but he was definitely not thinking to make pit stops and to take the streets to the airport >50 miles away. He refused to take the freeway the first time I asked then after he finished his coffee he said ok but by that time things didn't look too good. Thank you. I feel Uber should not be able to assure times and routes if they can't control their drivers. There was no traffic at 3-3:30 in the morning, no reason but the drivers for me to miss my flight!

I had bought an Uber card so I will have a way to work for pretty high amount! I was allowed to use the card at first but then I cannot use it anymore. I try to go through customer service but it's no good. They run you around in circles and they took money out of my account after I bought the credits. They tell you to do this and do that and once you do it is still do not work! The Uber card is a scam! I really didn't want to put a star because it is 0 stars for me.

I feel compelled to let people know they are not the only one seeing hidden charges show up after a ride. I recently was in Boston and actually ran down the street to get in the car early so the driver did not have to stop up further in heavier traffic and was charged a wait time charge? How the heck does that work? No response from Uber yet as just wrote to them. The driver was very nice and a good ride to my destination but that fee is so pumped up just to make more money and I was right at the door of the address I put in that Uber agreed to pick me up at for $14 ride.
So over $15 now as the "wait charge" that there was no wait for was put on there. Also, a couple of weeks ago, here in Albany, NY, a $15 charge was what was quoted, but after getting the receipt the breakdown showed a toll and an Uber worker's comp charge. Hmmm, no toll road was taken so what the heck happened there? So I'm starting to think this is not a coincidence, however will print out my itemized receipts with route taken and hold until I decide if I am going to report this and to whom.
Uber was sooo great when started out. Honest, nice cars, great drivers, and you were billed one fee and knew what it was going to include up front. Again, neither of my situations happened that they billed me for and when you respond to them with the issue, they tell you that is the charge and it is what it is. Signing up for Lyft today. Hearing great things about them and perhaps they want my business more. I think Uber may have issues people. Watch your receipt breakdowns.

A ride with exact same origination and destination with the similar traffic condition and driver availability situation usually taking around $38 now is being charged around $62, and the driver does not get any of the extra charged amount. UBER is naming whatever price they want without supporting facts, and the customer service is extremely horrible, one of them even marked the issue resolved without any content in reply. Please be caution, don't take the ride if the up front showing price on your UBER app is a rip off.

I have honestly lost track of the number of times I have had a frustrating experience with this company. It's got to be at least 10 at this point, within the past year. Each time I attempt to resolve the problem by contacting them through their website, as there is no option to speak with a human being. The process of attempting to communicate with them is, every single time, another giant frustration. I had decided to just stop using their services, as there are many better choices out there (thank you Lyft), but was recently enticed by an email I got offering unlimited $5 rides for a month. I decided to buy the "pass" for $5, which would then "unlock" the $5 rides. I just arrived home to see that I have been charged $17 for a ride which showed up in the app as being $5. And so I found myself, yet again, writing another disgruntled email, to try to remedy the situation. Please save yourself the trouble and use a different taxi service.

I contacted Uber for a ride, August 2, 2017, at about 9:00 PM. The first was a no show. The driver notified me that he could not pick me up. But, I was charged a $5.00 fee! Could not contact Uber to protest this charge. I will never use Uber again.

I have only been able to successfully use the app once. Whenever I have tried to get a ride it says "check your connection". It never seems to have a problem with my connection when it comes to excessively texting me messages, urging me to become a driver or remembering my credit card information. I never requested info to become a driver, only a rider. When I went online to contact "customer service", my only option was to fill in a generic field box.
The customer service number is hands down, the flimsiest excuse for a lack of phone support I have ever heard. It is only a message that tells you to e-mail them and they will get back to you in 24 hours. When I need a ride now, an e-mail is not going to solve my problem. I have tried 3 e-mails in 72 hours and I have yet to receive a reply. Direct quote, "More often than not, phone messages are incoherent and can slow down our ability to provide customer support". How about actually answering the phone or use an automated call back service? Or have chat support on your website? Calling a cab may be pricier, but much less aggravating. It's only 2 o'clock and I already feel as though I need a stiff drink.

It's August 2nd here in Dallas Texas and it is raining very hard. I called for an Uber ride to go to an ortho appointment that I have at Parkland Hospital. I was involved in horrific accident in January and my leg was nearly severed and it was saved from being amputated. I've been in a wheelchair for months today was my first to leave the house without a wheelchair or a walker to go to an appointment. It was pouring rain and the driver pulled up.
I close my umbrella and I was trying to balance myself and get myself into his vehicle and he got mad because my umbrella was wet and got water on his vinyl seats and while he was busy throwing a fit he I was standing outside of the car but not allowed to get in until I can move on umbrella and he can dry off the seat. Show being very off put and he was very rude to talk. I told him I would get another driver. Uber did nothing about the matter and they charge me for the cancellation knowing that I'm on a fixed budget and needed that Rideshare money to go towards another driver that I would have to hire from Uber.
Two weeks before that I had another driver who refused to stop at 5 in the morning to take me to an appointment because she did not like our neighborhood. She was from a nicer neighborhood and she said she didn't feel safe picking anyone up in our neighborhood so I asked her why she bothered to take the trip in the first place and then again I paid for a cancellation.

I am an active user of Uber and so, when I saw the service was available in France during my recent vacation, I used Uber rather than a taxi. I left my iPhone in an Uber last Thursday in Bordeaux. I immediately tried to log in to my account and contact the driver but apparently, because I was in another country, they required I provide a verification code - which was sent to my phone, which was in the Uber driver's car. My friend, who is also an Uber user, contacted Uber through her app to file an inquiry on my behalf. We have no less than 10 emails from Uber customer service, a different person each time, asking me/her to file an inquiry online - which would always lead to the service sending a verification code to the phone.
I finally got France Uber to contact the driver on Saturday, two days after the phone was left in the car, and return the phone. The driver, who met me at the hotel, told me that he had contacted Uber about the fact he had my phone 5 minutes after I had left his car on Thursday. Because of their "privacy" policy, I could not contact him and he could not contact me. We had to coordinate it all through Uber and their Customer Service and whatever CRM system they are using to track passenger inquiries sucks. Unbelievable for a company of their size.

In Kadubeesanahalli at 11.00 AM on 31/07/2017, in front of 'Prestige Tech Park' the Uber driver hit my vehicle from right side. I stepped down to find out why he did that. I asked him "when there is lot of space why you hit my car?" He replied saying, "I want to go to the left edge of the road immediately so I hit your vehicle. If I hit your vehicle you will stop so I can go the left edge of the road to drop my passengers." This is how the Uber drivers are. Uber is encouraging and teaching their drivers to hit and kill people in order to drop their passengers on time. We are on one way road. He at least does not know that it is one way. He says "this is two way so I can go to any direction that I want." Very strange people on earth. This is how the social responsibility of the Uber is. Great organization.

Uber took me to another city 900km away in less than a minute and without me even leaving my home. Got charged more than $200 for a trip that I did not order or took! Never leave your card information in the app, and check the app regularly to ensure you are not a victim of a fraud.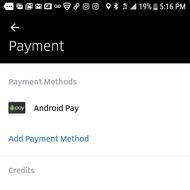 To my knowledge my Uber account was active when I purchased a $100 Uber gift card and added it to my Uber account. Uber decided to no longer accept prepaid default payment methods and notified nobody of the change. My gift card balance is stuck on the app, Uber has been working to fix the glitch for a month.
I was contacted by Uber to receive a cash out and then they decided that was not going to happen either. I purchased the card in anticipation of a new job that I lost because I needed that $100 to commute. I am now unemployed and on the verge of being homeless and Uber is still taking me in circle after promising and reneging on their promise for me to cash out. Shame on this company. I lost everything because of their bad policies, lies and horrible way of doing business.
SHAME ON UBER... THEY SHOULD BE SHUT DOWN!!!

Uber car service is selective on certain customers in offering flat fare packages deals. If you're a customer that normally spends 15 or more you will never be offered it. I however was accidentally offered it with another 25% off all rides package and when I tried to accept that one it would not let me. I contact customer service they told me to prove it was offered which was really horrible to even go through and I screen shot it and sent it to them. They apologize and said they was sold out and I would receive it on the next month. Not. Again my friend that barely catch Uber was offered it again and I'm with this 25% mess. Uber get lost. They also give one price then when the driver gets lost hike your price. You have to screen shot it before the ride start.

My uber driver stole my money out of my account. 47 dollars. His name was Michael. License plate **. Be careful he will charge you extra. My ride came up to 7 dollars and they will make up things to take out money out of your account. Uber is very unprofessional.

I'm driving for uber, of course as idea uber is a very unique company but bottom line it is taxi company. Only in taxi companies drivers may be non professionals but in uber company I can't see anything that american. Number one being unique company it's not enough to be the great company, and bet is very dirty cheating company, and they cheat not only customers, they cheat drivers, and that automatically mean they cheat government. I warn every customer, driver check your trips mileage and time and compare with charges and you will be surprised that is not matching reality, some small some big but it will be different. Even small different is cheating and if you may multiply that cheating to quantity of trips daily it will be millions, monthly will be billions. Is this is American way? I don't think so.
When driving over 30 miles, but they paying you for 12 and trying to prove that on their gps is that much, when they charges customer but do not paying you, when customer give you tip but it is not reaching your account, when they charge customer and paying you less than 50 percent when it's must be 75, when for 3 month can't fix problems with app in area, I can continue this line list, just check every trip and let's not allow cheating even for penny I think that is real American way.

I waited at the same spot at the airport. Car was 7 minutes away. I waited for 15 minutes until the car arrived. Yet Uber charged me waiting time!! The charge was very small but this is a question of principle and honesty. Is this due to improper reporting by driver and if so how can I correct this erroneous reporting. If it is Uber making a mistake how can I get this corrected? It is very difficult to contact Uber about customer issues. I have been an avid Uber rider but from now on I will look for other options.

I used the Uber ride and secured Uber pool for the price of $18 and change. When I receive the receipt for the ride it was for $22 and change. I contacted Uber about the error and they insisted the price on the receipt was correct. This was clearly a case of price switching that Uber does not want to take responsibility for. Not to mention that the driver got lost several times using Uber's map system and I had to use the google app on my phone to get the driver pointed in the correct direction. Uber customer service was absolutely no help in this incident at all.

I have had several issues with Uber especially their navigation when a 10 minute ride with any other service takes 25 minutes to an hour because of their application. I had my last straw yesterday as I requested an Uber that was three minutes away only to stand and wait for 25 minutes. Of course Uber only gives you two minutes to cancel so almost every time this is the case, the extra charge of almost a dollar is certainly a scam as they probably are adding this to many unknowing customers and making a lot of money on this. I don't always pay attention to the email receipts that come in.
They even indicated that there is a hold put on my account for the lower amount and then turn out charging me more. That prompted me to look on your side and I was shocked to see the lack of customer service. On another note it is almost impossible to have a conversation about a customer experience with Uber. I have tried several times in the past. They are not interested in knowing what the customers think. They also force you to rate their drivers poorly when it is their fault often times because their application and send them to the wrong location. I am done with Uber!

I purchased an Uber gift card in the amount of $25.00 for my son to use. He tried to redeem it, however Uber asked him for a credit card which he does not have... Hence, me buying the Uber gift card for him. In an attempt to satisfy Uber's request, I purchased another gift card for $25.00 thinking this could act as the secondary. Instead the Uber app requested my son provide credit card info again. So, I finally caved and provided a credit card to my son as a back-up payment to satisfy Uber's request. They made such a mess in my account that the bank automatically shut my card down.
First, Uber charges your account, then they reverse the charge, but this is done over 12 consecutive times causing alerts to my bank. Without knowing, my son at the time purchased another gift card while I had purchased the 2nd gift card listed above in the amount of $25.00 and of course, he cannot use that one either unless credit card information is inputted into the Uber app. This is dishonest business. How can this business sell gift cards if they are NOT going to properly redeem them?
There are lots of consumers that do not have credit card, so the gift card is a good alternative. However, this is much more trouble than it is worth. Uber should NOT be allowed to sell gift cards. Can you imagine buying a gift card to the movies or a retail outlet and then being told they need your credit card information in order to redeem them? How does Uber get away with this business practice? This really causes undue stress to people such as myself who find themselves in this situation, as well as can place people into unwanted situation of proving credit card information.

I have had several recent issues with Uber. I requested an Uber in New Orleans and the driver never showed up. I followed the route and according to the driver they picked my husband and I up and dropped us off at our destination. This did NOT happen. We never received our ride but were charged for the ride nonetheless. When I contacted Uber about being charged but not receiving the ride they stated that the driver checked in and said the ride was given. We were left stranded and never received the ride.
I tried to be forgiving and decided to try Uber again in Orlando. My family requested an Uber xl, which claims to seat up to 6 people. We had 5 people in our party, 3 of them were children under the age of 10. Our Uber driver showed up in a compact SUV with no 3rd row seat. He claimed they could "squish" in the back. I was so angry because I was charged for an Uber xl but received a 4 seater car. We had a specific timed reservation that we could not miss. So I took the trip against better judgement and paid an Uber xl fare when it was clearly not an Uber xl.
While in the car I had to ask the driver to please change the radio due to language. He was listening to hardcore rap music with extremely vulgar content with children in the car. It was totally offensive and inappropriate to me at 59 years old, but to have my grandchildren have to be subjected to it was incredibly offensive and impolite. I sent Uber a complaint on their app but was met with rudeness and incompetence. They stated that the car was an Uber xl according to their policy. I sent pictures of their policy along with a description of the car that picked us up, which clearly states that it is a 5 seat compact SUV (that includes the driver) and Uber still responded in a negative manner. I am so incredibly upset and annoyed. I will NEVER use Uber again and will post as many negative feedback responses on whatever I can. This is unacceptable customer service. A very unhappy OLD customer. They no longer will have me or my family as a customer!!!

I was going on vacation and called Uber, the driver showed up. I opened the door to acknowledge him and start to take out the suitcase. Before I took out the first suitcase the driver left and then charged me a fee. The second driver showed up and said he didn't know how to get to the airport so he too left and charged a fee. Finally I called Lyft and they showed up. However, they kept charging my card while I was in Scandinavia.

Driver passed me up then showed her on her way back then all of a sudden nothing. By cancelling it wanted to charge me 5.00$. Lost a ton of time and now I have to miss work. Because I didnt pick up my car before closing. Your driver just cost me a days work. Not happy!!! Lic plate#**.

ConsumerAffairs Research Team
The ConsumerAffairs Research Team believes everyone deserves to make smart decisions. We aim to provide readers with the most up-to-date information available about today's consumer products and services.
Founded in 2009, Uber launched its rideshare app service in 2010. Uber's easy-to-use app lets consumers connect with drivers in over 500 cities worldwide.
Uber car options: Uber's Economy, Premium and Accessibility options allow consumers to choose the vehicle that best fits their needs, whether they want small cars for quick routes or luxury cars driven by professionals.
Uber for Business: Businesses can enroll in Uber for Business, a ride management platform that allows small or large companies to monitor employees' travel expenses.
Uber deliveries: Uber also has delivery services. Businesses can use UberRush to deliver products to customers, and participating restaurants can use UberEats for their food delivery service.
UberPOOL: UberPOOL allows consumers to share their ride with others to save money. Requesting UberPOOL matches consumers with others traveling in the same direction and splits the fares between them.
Self-driving car research: In 2015 Uber announced their collaboration with Carnegie Melon to explore the potential for self-driving cars. As of 2016, Uber is performing its research and testing in Pittsburgh.
Best for Uber is best for consumers who need transportation over short distances in large cities.
Compare Transportation & Rideshare Apps
Company Name:

Uber

Website:

https://www.uber.com/