Consumer Complaints and Reviews

I started driving with Uber late October 2016. My first week I worked 80 hours, grossed $220., paid $25. Of that in fuel. Put a lot of wear and tear on my brand new Toyota Corolla. Those of you riders that complain about service, remember, you get what you pay for. For me, I realized what a terrible company Uber is for drivers. I wouldn't drive for them again ever.

Uber drivers are cheater. I must say that my sister left her phone while boarding to a cab. At first side cab driver is ready to give her phone after his shift over, but on the second day, he denies to do it. I need a resolution asap. Otherwise, I will go to police against the company. As a proof, I have everything in call recording.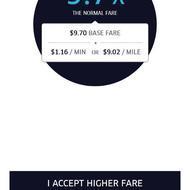 We used Uber to travel 8.2 miles from our hotel to downtown Nashville on New Years Eve. The fare was approximately $15 which was reasonable. When we were ready to leave on New Years Day the Uber app showed because of the high demand our fare increased to 9.7 times. It was raining and there we did not see other choices (taxi's, buses, Lyft) available so I agreed to this. Our bill to go back to our hotel was over $140.00. I received an invoice from our first fare of $15.00 but I never received an invoice from the $140.00 fare. I emailed Uber about the invoice and did not receive a response. Nothing that I read in the Uber app discussed this and I feel this is completely underhanded of Uber to pull this kind of a stunt.

I was driving for Uber. They said you will make it $1500.00 a week, this is true lie. Working up to 75 hours a week and my salary $500 a week. In two months my car was destroyed over 20.000 miles. That is ridiculous how uber trick people, after I spent more than $7.000 now my car is to hold. Uber is a big rip off company and I never recommend to nobody to work for uber. If you do that you will be really disappointed. Please don't waste your time.

Driving for Uber is depressing and not satisfying. I would say 20% to 30% of people are completely irrational and have unrealistic expectations. Driving rich, hollow, and entitled people in my car is not a joy. After making a small comment to a rider about living on a hill I was asked to turn up the radio immediately. I laughed at how rude the exchange was. I picked up a lady from a BMW dealership. She told me the dealership booked her a ride. She immediately told me she was not pleased with the car, that she likes nice cars even though the car is clean 2015 Honda Civic.
The hours put into tolerating passengers, wasting gas, and depreciating your car's value is challenging. Many customers cancel even though you can drive to the destination and receive no compensation for the ride. Handing out candies and providing phone plugs for people in a minimum wage job is a bit excessive almost akin to sexual favors at a fast food restaurant. Basically, once the customer is in your car you have to absorb whatever excrement they spew to support their delicate ego. I would not advise anyone to do this job. The pay is ridiculous. Driving people around for 3 dollars here and 4 dollars here is thievery.
How do I know I can trust these reviews about Uber?
667,311 reviews on ConsumerAffairs are verified.
We require contact information to ensure our reviewers are real.
We use intelligent software that helps us maintain the integrity of reviews.
Our moderators read all reviews to verify quality and helpfulness.
For more information about reviews on ConsumerAffairs.com please visit our FAQ.

Dec 23, 2016 I was leaving a domestic situation and I was having car trouble. My daughter called Uber for me. I unknowingly dropped my car keys in the driver car. He showed up the next day at my daughter's house while I was at work with my key. My daughter called me and said the driver was demanding $25 for my key because he turned off his meter to bring my keys. Before she could get license plate number he drove off. I complained on the Uber support website and no response. How can he get away with this. Have no way to get in my car now. What is he gaining by keeping my key. Why come to the house and not return my key.

First there is no customer service. Everything is done by email - whenever they answer those yes once after 30 or more of mine. So I get down Hayward coming from Richmond CA. I get my appointment. I had was 400 p/m when call the appointment center they put me down for 200 on so I had call them to correct them on that so I get because I couldn't ask questions until you get how much money do I need to start with. No one has answers so I didn't have enough money to top that it was 415 on still call my name "Do you know how much longer it will be?" Said, "I don't" so they my time and now when I could ask questions now let go. Today ask how much does it start at. I was told by customer around 120 a week but the appointment center said starts at 80 a week. Wrong again. When could ask a question always wrong answers. Now I talked to a sales person they start at 157 a week. Then told me she has great news. Found one for 137.
I was happier then she shows me the car but car is locked. Go get the key. They can't find the key. "Is someone going look for the?" Said, "No call special locksmith. I said, "How long will that take?" She "You can come back in a few days." I told, "This is my second time here." She's said, "That's OK most back at least 2 or 3 times." "Well could you get another car and match the price?" Told me if don't want this car for 157 a week she ready to blow me out the door so I ask for the mgr. Well all of a sudden they found the key. Wow that's great. Much of lies.
Then I get insurance for the car they said I would use. No they didn't put o lene holder info so "Can't you add that?" A few minutes, "Reg is now closed come back tomorrow." "OK so tomorrow I will take the car home?" "Yes." Next day I show then the other mgr said Metro Mile is going out of business. About her lie don't need to go on further. It has already too much to put just keep getting worse over a week have insurance on a car isn't drive I paid for. No has help me resolve. Then they said send me emails - no, never, etc. What a joke.

I drove for Uber earlier this year and was displeased with the customer service. I had to stop for a while. I was ready to start again a few weeks ago. I had trouble getting my account in order so I made the 160 mile round trip to the office. I got my documents updated and active and I could not get online. I asked for help through the app and I was told that I needed to consent to the background check. I told them that there is nowhere for me to do that. I got a message back that the engineers were working to fix the app. That was eight days ago.

After seeing many promises of making money for driving people from place to place and all you need is a license and a four-door car 2004 or newer I obtained my driver's license and purchased a brand new car. I even went as far as going to the screening and the auto inspection which I passed. I purchased a brand new Kia Forte, insurance began paying the court for two tickets that were outstanding to keep my license. Neither of the two tickets are moving violations. They are both for driving on a suspended license.
I now have a car payment of 445.08 insurance payment of 126.00. I'm paying 200.00 to the court a total of 771.08 and no job or any means to pay it. I was not informed till after I made the purchase that and the inspection that my application to drive with both Uber and Lyft that you must have had held a driver's license for a year before you can drive for them. I'm am now stuck with a 28000.00 dollar debt and insurance payment that I can't afford. I will be filing a superior court complaint against both Uber and Lyft in the coming days. They have both cost me excessive amounts of time and money reading their false promises of a job only to reveal the truth later.

I drive for uber since my last job ended and so far Uber has been the worst company to imagine. I always notice that most of my payments has not been complete, either they pay far much less than expected or give me less than what I actually pay for toll. Just Thursday 12/15 I picked a lady from Wellesley to Newbery Boston and it took me 24 miles and 42 mnts to get to the destination after driving 6 miles to pick up. This useless company gave me $8.04. Since then I tried contacting them but they keep giving computer-tailored message. Am planning a lawsuit against them and if you Uber driver and been cheated and feel same that this company is a fraud reach out to me.

We ordered an Uber Select ride home from the airport (this was not the first time we rode Uber Select). While waiting for the ride, which was 7 minutes away when we ordered it, the driver cancelled for some reason. We had to reorder the ride. And we got the same driver, who did come a few minutes later. The ride home was no problem, but we got a cancellation fee of $10 that showed up on our credit card transactions.
We got on the app and online to request a refund. The message we got was that we were not charged the cancellation fee; but it still showed up on our credit card account. We call our card company and was given a phone number at Uber to call first. We called and got a message that no human will answer us, and we should email to support@uber.com. We did that and got the an email back that said nobody will answer our email, and we should go to the website; in other words, back to where we were in the first place. That's the last time we ride Uber.

On Dec 4 2016 in the evening I ordered a Uber car. Address was on the corner of 16th street in front of the Union Square Cafe... Approx 7:30 pm... going to Penn Station. Two of us. We could not find the driver and I attempted to call him. He got frustrated and cursed me. He told me I was a "** stupid person". His name began with a G. I was mortified. How dare he talk like that. I did contact you and never received a response. I was charged $5.00 twice on my PayPal account. I want him punished and spoken to. I also expect a refund for services I did not receive. After this incident I signed up for LYFT. I will try them out.

It's nice that Uber can help people to bring where they want to go. But I am not happy much so when they don't give back cancellation fees and trip that never take still. They charge. Some drivers are good but some they are not. Start a trip without being pick up is sucks because they will charge you no matter what. Also some drivers they don't know how to used GPS and take you a long trip which fees getting higher and change without knowing it. Hope they can fix it and return Riders Money because that is stealing on Uber Part.

I started driving for Uber on November 17. I took them up on their offer to rent a car through Enterprise. I have seen the charges on my account where the vehicle is being paid for/deducted out. This past weekend, Uber temporarily deactivated my account because my vehicle registration and insurance "expired". I resubmitted my documents several times and only received a generic response about how they were invalid. I had no recourse based on these email responses until the following Monday when the local office opened back up, which prevented me from working the whole weekend. The Greenlight Hub's response was that it's my problem that I couldn't get it fixed over the weekend.
Today, I received a call from Enterprise saying they have had no payments made on my vehicle's account. So now I'm 86% convinced they have a Wells Fargo-setting-up-fake-accounts-for-commission-type scam going on, because I have a feeling that when I go talk to Enterprise in the morning, Uber is going to throw this all back on me, the driver, who has no control or real access to their flawed system that lacks any real support. I have reported them to the Better Business Bureau.

On December 10, 2016, my son used Uber for same ride he takes monthly to NYS Army National Guard located at 60-80 Lexington Avenue, New York City. I was shocked that I was charged $48.34. Normally the trip averaged between $18-30, always pooled, you can see based on trips this year: 12/10/16 - pickup on Albany Ave, Bklyn NY, drop off National Guard located 60-70 Lexington Avenue, NY. Time: pickup 4:27 am, $48.34. 11/4/16 - same pickup and drop off. Time pickup 4:29 am, $17.55. 9/10/16 - same pickup and drop off. Time pickup 4:41 am, $25.63. 7/11/16 - same pickup and drop off. Time pickup 4:42 am, $27.22. 6/8/16 - same pick up and drop off 88 Lexington Avenue. Time pickup 4:10 am, $31.13. Uber sent me a breakdown for last trip. Only thing different was the Upfront Fare Adjustment, which was now $20.90. Uber would not reimbursement me anything. So disappointed!

This past weekend I drove for Uber at 4:00 p.m., the app was doing some weird things like trying to restart and re-log. I rebooted my phone several times and I still had the same problem. Then I received a message stating that my password and debit card was invalid. So I reverified everything and even put in my debit card again. That was when the nightmare began! I received an email confirmation that the funds were transferred from my account to my bank account. Assuming it was there (bad on my part), I spent the money, only to come home and find out that Uber did not pay my bank!!! So I messaged them several times, and they have changed their story SIX different times!!! I am very fed up with Uber right now as a driver. I loved to drive, but the customer service and how they treat their drivers when there is a payment issue is unbelievable! I need to know where I can file a complaint against them about this.
First they say my debit card needed approval, then they said their servers for instant pay were down. Then the email I got from them said that I won't get the money until Friday. Then they stated that it was a fault of my debit card WHICH WAS FINE IN THE FIRST PLACE! They even told me I would have the money in my account on Monday, December 12, 2016. But they kept changing that date as well and pushed it back even until December 16, 2016. This is the worst customer service that I have ever experienced in my entire life!!! Can someone please point to me where I can file a complaint against them? Obviously they do not want to stick to one answer. It's like I am talking to a robot and not a live person. Sorry, FRUSTRATED!

It's a very simple matter. I've been using UberEATS to place orders for food. It has a program in place where if you refer someone you get 15 off. I had 3 invite codes so I placed an order for a pizza. The total came to 4.99 with my 15 off discount (which I have the receipt saved for it). Afterwards they went into my account and altered it without my knowledge and removed my promos after I placed the order and sent out a receipt for 19.99. I called them and they slightly hinted towards my account being altered by someone in email support but they didn't expand on that matter and acted as if they didn't see any of my invite codes.
I contacted email support which within itself is a problem because you never speak to the same rep between messages it's always alternating, so make a long story short they kicked me off the referral program without a discernible explanation and refuse to refund me for the previous honored deal that was placed before I was kicked off the program. This isn't the first time I've had problems with them but it's getting old and dealing with multiple support agents saying multiple things is tiresome. Had I done anything wrong I'd accept the ruling but I know I did nothing wrong. I was silenced and refused the chance to reply to random messages from random agents.

I ordered for an Uber pool today which is the 12/08/2016. Not only did Uber give a wrong pick up location to the driver but also charged my card twice for the correct rate and incorrect rate. After waiting 10 min in the cold for the driver, I had to direct him to the right pick up location. When he picked me up, he advised he had to first pick up to people at the Marriott which was ok with me because I had ordered for Uber pool anyway. We pick up the couple and I was dropped first.
Later when I got the chance to look at my Uber receipt, I noticed they had charged me price that they did not quote for me at the time I was ordering the Uber. On checking my bank account I was charged twice by Uber for the right price they had quoted for me and the wrong price which I think was for the couple I pooled with. They reversed the right fare I was quoted for charging me for the wrong fare plus booking fees and dc Uber taxes which have never been charged before.
I am so disappointed in Uber and the fact that they do not have a number to call is frustrating. Their service is helpful but I think they are becoming rip offs and unless I get my money back, I will never use Uber again or recommend it to anyone. This is the second time Uber is charging me a wrong fare that was not originally quoted and now I was charged twice and I can't seem to reach out to anyone for help. VERY ANNOYING.

Driver said I cancelled. He picked me up, took me to get my son from school. His truck was nasty as hell. He was overall creepy and I will not use Uber again. He took me to get money off my card to tip him. Worthless bastard.

I was waiting in front of the pickup address on the curb, freezing. Just when the cab arrived, it suddenly left, and then a minute later I got a message saying the driver had to cancel and I should order another one. I did, two minutes after the driver canceled, which the record shows. Then I got charged five dollars for canceling! This was clearly a mistake, and I wanted to correct it. But there is NO WAY to talk to any customer support on the phone. I sent a tweet and an email, and did not get a response within 24 hours. I'm still waiting.

I worked with UberEATS for about 2 months. I accepted 100% of requests and made deliveries as quickly and efficiently as possible. One evening, there was a $20/hour promotion. It was held from 5pm to 9pm. I logged on using their app at 4:57 pm and did not log off until 9:00 pm. I looked at the app later that evening and it said I was on for only 3 hours and 21 minutes. The next day, it said 3 hours and 30 minutes. Then, when I let the help department know that this was not correct, and clearly explained why, I was told by two separate people that I was only on for 2 hours and 48 minutes. A third person said I was on for 3 hours and 47 minutes.
I have written over 20 messages to support only to be told things like, "I'm glad you have the personality you do and Uber values your partnership. You must have accidentally logged off..." and things like that. I absolutely did not log off. One of the help service agents said I logged off between 7:45 and 8:15. Why would I do that? And I accepted a delivery at exactly 8:15. How would I accept it if I weren't logged in? It's insane. I can't believe the amount of time they spent telling me I'm incorrect in my calculations. It's pretty simple; the app has a glitch. They refuse to just compensate me what they owe me. I'm DONE with Uber.

I am new to Uber. Signed up... tried to book a reservation for a ride for attending a New Year's Eve Party. Found out from a rude driver that "that's not how Uber works." Now tell me what good is a service like this if your can't call and make a reservation as I described? Totally useless and bound to fail in the long term... At least I hope it does...

I leased a car thru Uber leasing program in Tampa Honda. I was not given a choice of car and wound up with a 2015 Corolla with stains and burn holes on the seats. The dealership never sent a tag for the car despite me contacting them daily regarding my tag about to expire. They wouldn't issue a new temp tag, told me they mailed it out on 3 different dates and NY temporary tag expired. I couldn't drive the car illegally so it sat there for over a month until they repossessed it. I called the leasing company and was told over $1200 to redeem the car in 4 days. I called on 4th day and was told now it was over $1400 to redeem the car that day.
They said I didn't need commercial insurance and that is a bold face lie. When I tried to deactivate my account so I could cancel my insurance on a repo car, Uber refused saying I still owed on the lease. My insurance was cancelled for driving commercially. I wound up with no car, no job, losing my home and my son and I are now homeless. I'd like to contact other drivers from their leasing program to start a class action suit against them.

Really worst experience with Uber cab service. Last week I booked a ride & driver started trip without picking me. Finally after some time when I called him, he told me that he can't come & it was medical emergency.

Hi All. Just want to share my experience, I visited from pickup location to destination which was just 17 KM far but driver started the trip already that I could not check as I had full trust because it didn't happened me before. Total distance which he covered 27 KM. Friends please make sure you check pickup location correctly. I lodge case with Uber but no reply. Such cheating is going on. I could not believe it. Let me know if you know any other way to contact UBER.

After landing at Oklahoma City airport 11/28/16 for business, I requested an uber pick up to take me to my hotel. The driver was very nice and the rate was reasonable at $20.31. I then requested an uber pick to take me from the same hotel on 12/4/16 to take me to the Oklahoma City for my return flight. When I received the charge it was $40.83.
I sent an email to uber's customer service department that stated all of the above with the dates of travel and location of hotel, asking why I was charged double. First they replied saying they could not help me without the exact location of travel. I replied saying that 1) the locations were stated in my initial email. 2) my email is attached to my uber account. Do they not have access to all of their drivers trips.
They again replied saying that because of my location an suv was sent therefore the double charge was correct. I did not request an suv. It was just me. I am in the hospitality/service business and I am completed appalled at the way they handled this issue. I am reimbursed for the charges when on business and I still will never use Uber again. I had an issue once with Lyft and it was immediately corrected in a polite and professional manner.

Uber classified me as a low rate because of it being a four door luxury leather, fully loaded 2015 LTZ Chevrolet truck and it's white with Buckskin leather, Bose stereo system, heated air conditioned seats with Wi-Fi. And every customer that I have picked up under uberX says they did not expect this kind of ride and Uber says this truck is a low standard truck. When I email UBER over this situation they did not reply.

Stealing miles and therefore money from drivers. If you complain via email they use the bots to answer the dumbest questions. If you call those folks they disconnect you after waiting for 2 or 3 minutes. Virtually impossible to resolve any issues.

Was traveling home late one night, saw an extremely drunk girl on bart. She was stumbling around and said she was going to drive home. I said I would pay for her Uber to make sure she got home safely so she didn't kill anyone, then got whacked with a $150 charge. Apparently she got sick. I understand the policy, but really? So the message is, don't be a good Samaritan. Let people drive home drunk and kill themselves and others.

I order car, which was reportedly 6 minutes away, but did not arrive until 20 minutes later. I tracked the car on an app on my phone and the car was driving in circles. I texted the driver and told him I was across the street from a local college and I noticed the car do a u-turn and start heading in the right direction. If Uber doesn't have local drivers they need to say so. Why send a driver from NYC into the outer suburbs when they don't know where they are going! Also teach them to follow the directions on their GPS!

ConsumerAffairs Research Team
The ConsumerAffairs Research Team believes everyone deserves to make smart decisions. We aim to provide readers with the most up-to-date information available about today's consumer products and services.
Founded in 2009, Uber launched its rideshare app service in 2010. Uber's easy-to-use app lets consumers connect with drivers in over 500 cities worldwide.
Uber car options: Uber's Economy, Premium and Accessibility options allow consumers to choose the vehicle that best fits their needs, whether they want small cars for quick routes or luxury cars driven by professionals.
Uber for Business: Businesses can enroll in Uber for Business, a ride management platform that allows small or large companies to monitor employees' travel expenses.
Uber deliveries: Uber also has delivery services. Businesses can use UberRush to deliver products to customers, and participating restaurants can use UberEats for their food delivery service.
UberPOOL: UberPOOL allows consumers to share their ride with others to save money. Requesting UberPOOL matches consumers with others traveling in the same direction and splits the fares between them.
Self-driving car research: In 2015 Uber announced their collaboration with Carnegie Melon to explore the potential for self-driving cars. As of 2016, Uber is performing its research and testing in Pittsburgh.
Best for Uber is best for consumers who need transportation over short distances in large cities.
Compare Transportation & Rideshare Apps
Company Name:

Uber

Website:

https://www.uber.com/