Consumer Complaints and Reviews

Regardless of what Uber says... they could care less about driver earnings, they are just interested in signing up new drivers. Last Saturday night, in Ocean City Maryland... a coastal town which runs about 7 miles long had 11 drivers. That is one for every 2000 feet of roadway. That is nothing but total BS. About every three days I get a message from Uber offering a $350 bonus if I refer a new driver and they make 50 trips. Hey Uber... how about concentrating on the drivers you have and making your driver app work?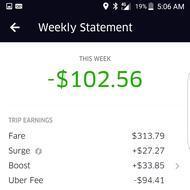 Uber doesn't care for its drivers. So UBER doesn't take any fuel charges for over 2 weeks, then sends a letter explaining how it was their fault and they will correct the problem over two pay periods only take all the fuel charges from me in one pay. And on top of that, riders damage my vehicle and UBER tells me pay $1,000 deductible to file a claim. They overcharge riders on the upfront pricing and takes over 25% of nearly all rides over 2 miles. And it's not fair that driving at night subjects me to being rated by drunk racists who in turn are the deciding factors to whether I am able to continue driving on the platform.

Used Uber probably about 10 times. 98% of the time they arrived almost 30 minutes late and ended up at the wrong destination. They didn't pay attention to the sign on the road showing the address nor did they have a reliable means of locating such a simple address. Absolutely ridiculous! In the last few times I used them they also added a booking fee of $2.50. Unimpressed! In speaking with the drivers, they're not from the area and don't know where they are going. Relying solely on a GPS. One driver didn't even know his bearings, N, S, E, W. That baffled me to no end. As a result of this crappy service, I've cancelled my account with them. Local cabs are only a few dollars more, arrive on time and know EXACTLY where they are going!!!

This damn service has been charging me for rides that I haven't used!!! I just notice that on my bank statement that Uber been charging me 3 to 4 rides a week. I notify my bank and they pull over 50 rides in the past 90 days that I haven' used. I'm a OTR truck driver and have 2 cars at home!!! My next step is to report Uber to the BBB and take them to court on this crap. For now on I'll take a cab and pay the extra money instead of getting ripped off by UBER!!! PEOPLE Stop using uber!!!

My vehicle inspection ran out. Uber gave me no notice. I went and got it inspected and sent in the inspection papers to Uber. They emailed me back and said "it was the wrong form. You have to get Uber forms to fill out." But I could not respond back to that email to find out how to get those. I tried for days to get in touch with Uber about the form they have that you need but you CANNOT get in touch with anyone in any way. They just reply from generalized questions on their website.
How do I know I can trust these reviews about Uber?
692,550 reviews on ConsumerAffairs are verified.
We require contact information to ensure our reviewers are real.
We use intelligent software that helps us maintain the integrity of reviews.
Our moderators read all reviews to verify quality and helpfulness.
For more information about reviews on ConsumerAffairs.com please visit our FAQ.

I signed up through a Google ad directly to Uber's website for Orange County drivers in CA which will receive $700 after signing up. No conditions or terms listed. I took pics and video of it because I read so many stories about them trying to cheat people. I inquired after I signed up when I would get my bonus, they then told me it was only $250 for OC drivers.
I then googled the ad, which was still running, $700 for OC drivers, I took pics and video again, and wrote them that this was false advertising. They then told me they would pay me my full bonus after 75 rides. After 75 rides, they've contacted me saying I will only get $250 and that the link was a SanFran link. I had already sent in evidence that it was an Orange County link. I am only 2 weeks in, I have written my opt out of Arbitration letter, I'm going in, if they don't pay, I'm opting out and joining the lawsuit against them. This is intentional scamming. They were running ads for 700 USD bonus for new drivers in OC only to tell them they only get 250...

We have never used Uber and did not know the procedure, so a friend of ours called to confirm our 10 minute trip from her home to the airport. The ride would cost us $60. We didn't know our friend charged it on her account. Of course when we got to the airport the driver removed our luggage and held out his hand. We gave him $60 unknowingly that they are paid in advanced over the phone with a secured credit card payment. He knew darn well it must of been a mistake. No way anyone tips $60 for a 10 minute ride. He did not say anything. The driver kept the money.

I've been driving for Uber for a while now and the Uber navigation application is a total disappointment. When you accept a rider request the address for the rider disappears from the application screen leaving you at the mercy of the Uber application which doesn't navigate very well. So you don't have time to enter it in your vehicle GPS application. Then the Uber application routes you to the wrong location and doesn't understand what direction your car is actually going I used both Google maps and Waze applications and had the same issue. The Uber application doesn't interface with either well and has you going in circles quite often. Uber will waste your time and money when you make some. Uber gets a big portion of it in fees. They should have done a better job of development. My car GPS runs circles around Uber's application and has no problems getting me to specific addresses. So what's wrong with Uber's application?

Uber does not tell you which promotion is being applied before you ride, and after you get cheated with the wrong promotion, they refuse to offer a refund. Customer service has gone downhill.

I'm a driver with an active account. This is the second or third time that I've opened the app and it forces me to go to Bonjour, their leasing partner website without allowing me to access my account. I did NOT ASK for one of their overpriced $800 per month leases. I JUST want to get to my account!

I booked the Uber at 636pm for railway station. The status showed that it will take 4 mins to reach the destination. The Uber driver SADIKNOOR whose car number was ** (almost right) called up and inquired where I wanted to go. I told him the destination railway station. After waiting for long and not able to see the driver, I called him up and asked how much more time it will take and where was he? He said it will take only 2 mins to reach. He was not telling the proper destination and on further inquiring, got to know that it was not 2 mins but 10-15 mins. I also got to know that the driver was moving to opposite direction. It was around 655 pm. We were very tense as there was train of 2 senior citizens and despite leaving home early, we were afraid if the oldies needed to rush and ignore the consequences of health and catch the train... Thanks Uber!

Uber has been horrid to work for. Week after week they keep issuing me a fee for the UberEATS bag that I have already paid for. Each week it gets taken out and they still have yet to fix it. Secondly they give you "incentives" but then make it impossible to reach those. I should have earned an additional $40 and instead they say that somehow I didn't meet the requirements. This company is a joke!

I confirmed a pick up for 8:55 am for an Uber. The trip for the driver to come and pick me up says he'll be at my place in 5 minutes. So 30 minutes passed and the driver never shows up so I have to cancel the pick up from Uber but before I cancel, Uber deducted to my account of $5.61 and when I cancel the pick up they credited me with $5 for the next ride. Why would I used Uber again if they screwed me up? I think it's not my fault if they did not fulfill the contract that they will be at my place in 5-9 minutes. That's why I have to cancel the trip otherwise I will stick to it.

Well when I sign up with Uber I was looking for some extra income on the side. In the beginning it started pretty slow, but I figured some things out to make decent money using Uber. Like some of the previous reviews the money you make doesn't really cover all of your expenses like gas, car maintenance, etc. For example your total trip fee is 407.80 - Uber fee 103.21 = my actual earnings 304.59 - gas $70 = 234.59 for about 27 online hours. Which comes out to be about 8.69/hr below minimum wage. I put up with it because I needed the money.
However just recently on 01/20/2017, I pick up three passengers and I had my husband drive for me because I wasn't feeling well. I was also in the vehicle because it is my account, one of the three reported to Uber that my husband was the driver and not me. Uber put my account on hold until a so call investigation is complete. I received an email from Uber about the situation. They said since some else drove beside me that I will be ban from Uber-Partner.
I email back and said that, "Why didn't I just get a warning on the first offense instead of a complete ban?" They said they have zero tolerance on account sharing based of their guidelines/policies and that was it as a Uber Driver. Their customer service sucks, they don't even try to call you for these matters. I told them if I had seen the guidelines beforehand I would have not let my husband drive. I don't believe they even encourage the drivers to read the entire policies before you work for them. Either you are a driver or a rider beware of Uber tactics.

I picked the customer from the exactly surge area and they went to 12 miles away. So, I was in the surge area which is x3.0. But Uber gave me no surge for this trip. I messaged to Uber, they said, I was not in the surge. But I was sure. Next day, I got another request from surge place. That time, I took the screenshot which shows the request comes from surge sides but no surge appears. I send these information to Uber. Uber still says no and this was not in the surge side and asking me customer's name. I don't save customers name or any information of customers. I said like I know which trip was it and I sent the trip information I have to them. They still says what was the customer's name, trip date or whatever. They don't give my money.
Also, that day, I took a request and I waited 6 mins then I called the customer then she said that "I cannot come because I lost my keys. Please can you cancel the trip". I said okay. This happens 2 times. Because of Uber changed the driver screen and no longer I cannot see trips which was canceled by driver. So, I don't have those information too. I told to Uber I have to have 2 cancellation fees. They still says, "Okay give us customer's name, trip date and time and fare." Hey, trip even didn't start because customer didn't come:) how can I give you fare information. Also, I don't record customer's name or whatever. If they wanted, they could find which trip was it and how many minutes I waited over there. This is totally weird. From the surge I had to have more $25 and from 2 cancellation fees $3.45+$3.45. My total lost is $31. I am not gonna drive for Uber. They are being weird. And everytime they messaged same templates and don't help totally.

I took an Uber in the terminal to my house. The bill was 27.00. Later on I checked my credit card and I was charged with 150.00 cleaning fee!! It was me and my wife in the back seat. The driver put the luggage in the trunk. I emailed Uber immediately, and they send me a picture of a back seat full of garbage, rocks, food, etc. I explained the situation, I called my bank. Finally they apologized to me and they promised me a complete refund. Please, from now on, take a picture of the car before and after. This drivers use any kind of strategy to charge you 10 times more money. Be advised. Thanks.

I signed up almost a month ago. I get the same e-mail daily. Processing your account. The site said 5 to 7 days. Not a month. I signed up before Christmas now I'm almost 3/4 through January. Why? Nobody can tell me. I have gotten a hold of customers services many times. Still waiting.

I am a single mother of a three month old baby trying to get back on my feet. Long story short I got a job working full-time. I am staying at Motel 6 and was taking Uber to drop off my baby and go to work every day. The first day it cost $4 to go 2 blocks to the babysitter and then $11 to get to work. I had to borrow money for the next two weeks for rides and then pay them back when I get paid. Well the next day it was $9 to get to the babysitter and then $20 to get to work. I had no idea that they price gouged according to demand and now I don't have enough money for rides... Thanks a lot UBER!

My daughter left her new boots (Blundestones) in an Uber cab in Toronto. When she got home she realized they were missing from all the luggage. She texted the driver but he did not reply. We were on our way out of the country on a family vacation for two weeks so she had no contact until our return. She went into the head office in Toronto and they contacted the driver. He did admit to finding the boots and also admitted to giving them to a family member who lives in B.C.
My daughter was told the driver will be suspended until the boots are returned but over a week has passed and still no sign of her $200.00 boots. How sad is this when the drivers are responsible for all lost and found for approx. 45 days yet this driver happily gave them away as if they belonged to him. Any help or suggestions would be appreciated as she is in university and money is tight.

On January 6 I rode my first ride with Uber. I got my first uber ride and it said it was 4 minutes away. We went down to meet him and I followed him on the map. He finally came to the place where we got it and he kept circling the place for five minutes so I called Bewkete and asked him if he needed directions and he told me, "No. I'll be there later." So I waited and saw that he left then started going in the opposite direction we were going and went out 5 miles away. So I called him again and he didn't answer. So he texted me back saying, "I'll talk to you later."
I was pissed since now we have waited for almost 30 minutes now and it said that he had already picked us up. Even the manager at the counter of the hotel said "What a jerk for just leaving you there." So I went to cancel the ride and it said that I would still have to pay for it. So I called another one and it came within 5 minutes and he took me to where I was going. I really don't like that you make me pay for this. You need to hire drivers with better people skills and better skills at finding locations. I guess I'll have to use Lyft since they have better customer service and drivers. It might only cost me 12.10 but to be charged and not even ride is wrong.

I am now writing this review as NOT ONE PERSON AT UBER is assisting me. I have now for 9 weeks not being paid for my ETA's, I am absolutely disappointed. When us as Uber partners don't accept each and every request, it affects our profile, but yet, Uber does not come to the party? Why are ETA's not being paid? Why has Uber not been making efforts to look after their Partners the way the Partners look after Uber?
I have easily submitted about 30-40 emails in the past 8 weeks and all I am getting back are automated computerised responses? I used to submit between 10-25 ETA's per week, but Uber hasn't been paying out the ETA's. If I don't accept each and every trip, I get penalised, but yet, Uber has no interest in their Partners?
I have posted on HelloPeter but clearly UBER has no concern about their reputation in the market, whether negative or positive and I can guarantee you, at the moment, there is not much positive being said about UBER. This is honestly frustrating, disappointing and demotivating. I was told two weeks ago that my issues are being looked into and are being investigated. Mohamed sent an email saying he has taken my problem up as his own? Really? I don't know what else to do for assistance, could anyone advise who I should contact to get this sorted and to get paid??? Hoping someone out there can help.

On Wednesday 11th January (@ 6:19PM) I booked Uber Cab and Uber app showed waiting time approx 10 mins, in between I then checked my mails for 2-3 mins, and when I opened Uber app again (after 4mins) it showed nothing (means it looked like no cab was booked, and in fact I didn't see booked cab details). I then opened Uber app and booked the cab again (@6:26 PM) and successfully trip completed.
Next day (12th Jan) I got a notification of (50Rs Cancellation Fees - too much frustrating...) and when I checked trips history I got to know that this is a cancellation fee - which I booked yesterday (11th at 6:19PM). But to be honest, I didn't want to cancel that trip(11th Jan @ 6:19PM), in fact Uber App did not show my booked trip details at the same time, that's why I booked Uber cab again at 6:26 PM, so how could I cancel that trip.
In conclusion, you are charging cancellation fees because of your fault only. If Uber app doesn't show booked cab details then how would I cancel that? You know I started using Uber services since last month only, and earlier I used to book OLA cabs, I didn't face this issue in OLA. And one more suggestion to you, Uber app performance is not as good as OLA app. If you trust your customer, then please don't charge that unwanted cancellation fees, because I am not the culprit for that. I sent mail to Uber for all the above concern, but they don't reply because they don't care.

I have been driving with Uber for over three months. I have great reviews from passengers who I have dropped off at many locations all around Orlando. I strongly recommend that no one drives with Uber. They are complete rip off. You will spend more money on gas and put so many miles on your car that you don't even make enough to fill your tank back up and on top of that if there's a rude passenger which Uber does not confirm who the passenger is. They will cause damage to your car and once he reported to Uber they will tell you that he sent it off to an insurance adjuster and I did no longer responsible. Any insurance adjuster will tell you that you have to pay $1000 or more to fix your own car. They don't want to take responsibility for anything and when you sign up for Uber it clearly states that they are responsible for damages caused by passengers.
I do not recommend for anyone to drive with Uber. They are ripping everyone off passengers and driver. I have to now file a lawsuit against Uber because I asked him for the information on the passenger who damage my car and they won't give it to me and then they send me a email saying they don't have that information on the passenger so don't risk your personal property for this company.

I had my rating at 4.8 with 2500 plus rides and no complaints from Uber for 5 months. I uploaded this video which is on this page created by somebody else. Within few days I received an email from Uber and they wanted to talk over the phone... To my surprise because they never have live person that you can talk. Told the guy that they need to provide me with a lawyer and that they must pay for high tech cameras so I can protect myself while driving for Uber. They said that they will not do anything and following day they shut down my access and couple months later they discontinued my partnership for violating company policy. To this day I don't know what I did and they refused to provide AAPD with all the records... Stating that none can be found.

Booked a ride with them and was not taken to correct location. Contacted for a refund. They gave a refund and 4 days later increased the amount of the fare and charged my account again. Now refusing to correct the situation. I will never use or recommend Uber again. I'd rather walk 10 miles!

I started driving with Uber late October 2016. My first week I worked 80 hours, grossed $220., paid $25. Of that in fuel. Put a lot of wear and tear on my brand new Toyota Corolla. Those of you riders that complain about service, remember, you get what you pay for. For me, I realized what a terrible company Uber is for drivers. I wouldn't drive for them again ever.

Uber drivers are cheater. I must say that my sister left her phone while boarding to a cab. At first side cab driver is ready to give her phone after his shift over, but on the second day, he denies to do it. I need a resolution asap. Otherwise, I will go to police against the company. As a proof, I have everything in call recording.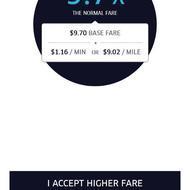 We used Uber to travel 8.2 miles from our hotel to downtown Nashville on New Years Eve. The fare was approximately $15 which was reasonable. When we were ready to leave on New Years Day the Uber app showed because of the high demand our fare increased to 9.7 times. It was raining and there we did not see other choices (taxi's, buses, Lyft) available so I agreed to this. Our bill to go back to our hotel was over $140.00. I received an invoice from our first fare of $15.00 but I never received an invoice from the $140.00 fare. I emailed Uber about the invoice and did not receive a response. Nothing that I read in the Uber app discussed this and I feel this is completely underhanded of Uber to pull this kind of a stunt.

I was driving for Uber. They said you will make it $1500.00 a week, this is true lie. Working up to 75 hours a week and my salary $500 a week. In two months my car was destroyed over 20.000 miles. That is ridiculous how uber trick people, after I spent more than $7.000 now my car is to hold. Uber is a big rip off company and I never recommend to nobody to work for uber. If you do that you will be really disappointed. Please don't waste your time.

Driving for Uber is depressing and not satisfying. I would say 20% to 30% of people are completely irrational and have unrealistic expectations. Driving rich, hollow, and entitled people in my car is not a joy. After making a small comment to a rider about living on a hill I was asked to turn up the radio immediately. I laughed at how rude the exchange was. I picked up a lady from a BMW dealership. She told me the dealership booked her a ride. She immediately told me she was not pleased with the car, that she likes nice cars even though the car is clean 2015 Honda Civic.
The hours put into tolerating passengers, wasting gas, and depreciating your car's value is challenging. Many customers cancel even though you can drive to the destination and receive no compensation for the ride. Handing out candies and providing phone plugs for people in a minimum wage job is a bit excessive almost akin to sexual favors at a fast food restaurant. Basically, once the customer is in your car you have to absorb whatever excrement they spew to support their delicate ego. I would not advise anyone to do this job. The pay is ridiculous. Driving people around for 3 dollars here and 4 dollars here is thievery.

ConsumerAffairs Research Team
The ConsumerAffairs Research Team believes everyone deserves to make smart decisions. We aim to provide readers with the most up-to-date information available about today's consumer products and services.
Founded in 2009, Uber launched its rideshare app service in 2010. Uber's easy-to-use app lets consumers connect with drivers in over 500 cities worldwide.
Uber car options: Uber's Economy, Premium and Accessibility options allow consumers to choose the vehicle that best fits their needs, whether they want small cars for quick routes or luxury cars driven by professionals.
Uber for Business: Businesses can enroll in Uber for Business, a ride management platform that allows small or large companies to monitor employees' travel expenses.
Uber deliveries: Uber also has delivery services. Businesses can use UberRush to deliver products to customers, and participating restaurants can use UberEats for their food delivery service.
UberPOOL: UberPOOL allows consumers to share their ride with others to save money. Requesting UberPOOL matches consumers with others traveling in the same direction and splits the fares between them.
Self-driving car research: In 2015 Uber announced their collaboration with Carnegie Melon to explore the potential for self-driving cars. As of 2016, Uber is performing its research and testing in Pittsburgh.
Best for Uber is best for consumers who need transportation over short distances in large cities.
Compare Transportation & Rideshare Apps
Company Name:

Uber

Website:

https://www.uber.com/