Consumer Complaints and Reviews

Uber driver and the people that work in the office is very unprofessional. They do not pick you up in front to your door, the drivers are always canceling and you're stuck with the driver's cancellation fee which is unfair. The only communication you have to complain is thru email which is stupid. It should be a phone number for you to dial and speak to someone.

Concept of Uber is great. Try finding customer service is the pits. Once you contact them via messaging you will find that if you have an ongoing conversation, replies their system is set up to tag next available service rep. Meaning every time you send in your reply, a new service rep has to review all the conversations to get the rest of the customer's problem. Extremely time consuming on both parts. My wife is presently texting them as I write. I'm not a patient man and have spent two three days going back and forth on a relatively simple question. "How do I add my payment method to my account". Simple right? What a BS management team they have. It usually lies on management too.

On the evening of March 25, 2017, I scheduled an early morning ride with Uber for March 26 to Dulles airport. A few minutes after our requested pickup, the driver called and said he was on his way. We noticed on the Uber app that his vehicle was at Dulles and was not moving towards our location. The driver subsequently called and cancelled the pickup. Since we did not have sufficient time to make alternate arrangements, we drove our own vehicle to the airport and paid $272 for two weeks of parking. We noticed that the Uber vehicle remained in the same position in the Dulles area while we were in route to the airport. Up to this experience, we have been pleased with the Uber service, however, we will not rely on Uber again when we need to be somewhere at a certain time.

I'm not sure anything is in place to go after this deceptive "company". I can't even call this a company. It's nothing, it's an app. The charging practices have to be illegal. They come up with their own rules and prey on anyone using this "app". I see them losing out on their "app" and lawsuits will start piling up. Everyone thought the concept was good, I'm seeing the loopholes and Uber needs to go.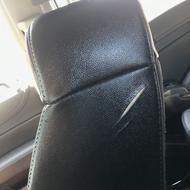 March 11, 2017 2:30 PM realize that the students I drive to Washington DC Stadium to see a concert for St Patrick Day... Did pee inside water bottle, and pee on the floor. Disgusting. Next damaged and scary one people, I was driving on April 02, 2017, cut with razors my leather seat and damaged also with cut the back seat. My Suburban car is new 2016, I work hard for to pay and Uber told me they will reimburse me if I send the estimation not later than 5 days. I did in 2 days, now a stupid guy in India or Philippines, who do not know what he is talking about say, something about and try to argue for something who was already agree. I can't wait to get customer service for drivers in USA!!! Drivers be aware please.
How do I know I can trust these reviews about Uber?
742,108 reviews on ConsumerAffairs are verified.
We require contact information to ensure our reviewers are real.
We use intelligent software that helps us maintain the integrity of reviews.
Our moderators read all reviews to verify quality and helpfulness.
For more information about reviews on ConsumerAffairs.com please visit our FAQ.

I did one trip last month with Uber. But still I didn't get paid for it. I contacted with them. They all are liar. The day I did the trip same day I e-mail to them. They said "you will see in your partner dashboard." But didn't show up. Then I e-mail again. They said 48 hours. After 48 hours I e-mail again. Now they are asking for information again. I said "how many times I've to give you information." Then they ask for trip no. I said "the day I did the job from that time it's totally vanished so how I'm gonna give you trip no. Only I can give you passenger name, approximate time, pick up address and destination" and I gave it to them. Then they said again 48 hours.
After 48 hours I e-mail again, "are you guys playing with me? Just tell me are you gonna pay or not, I had enough." Then they said it solved but after that trip which I already got it. Then I said "before this trip I did one. I'm talking about that one." Again they said 48 hours. Then I e-mail again and said, "today is 11th day still you guys didn't pay." Then they answer me "after 10 days we can't do anything." Before they didn't pay me some trips but I didn't care because those are short trip but this one I went to NJ with traffic and tolls. That's why I won't let it go so easily. I spend lot of times. Then I said "from now on I'm not gonna work anymore. You guys are cheating with driver harder money."

Just recently signed up. First time was good $10. Second time same route from work $25. I contacted they gave a refund. For the next Five rides to and from work no problem. On the sixth ride I got to location which was very short. Requested a ride. On walking out the door, I notice driver was still there, he told me cancel and Re-request and he'll get it, but while I tried to do that I got a message saying disabled account. And keep getting the run around with having sufficient credit balance in Uber gift credit and now I don't have a ride.
Used up all my money on purchasing Uber gift credit and no one from Uber is assisting, keep saying they reactivate the account but haven't and I still can't used my already existing credit balance in the sum of almost a $100. No resolve for four days. It's frustrating, taxi company cannot do this kinda of stuff. Neither should Uber be able to treat customers without regards, and should have a Phone Contact (1800) for issues like this. This is unacceptable and shouldn't be allowed. They are stealing and nothing is being done. The law should get involved and protect consumers from these unprofessional people. I need A resolve about my valued credit that I can't use. Wrong Wrong!

Visited Orlando Florida and used Uber twice to return from Universal Studio. The first day I was charged 15.88 and the second trip cost 9.34. When I questioned the first driver about the route we were taking he advised he missed his exit causing him to take the next exit which was completely out of the way. The second driver took the direct route with no problem. When I questioned Uber customer service they explained how algorithms work and found no fault with the fare. I received my receipt and noticed the total should have been 12.84. They did refund the $3 difference but refused to acknowledge the difference in price between the first and second driver even though it was entirely driver error. After researching this seem to be a somewhat common practice. Will use Lyft in the future.

I used Uber regularly as well as UberEATS. I loved the convenience! Once... Today I had a meeting across town. When it was over I requested an Uber pool for the cheap price and I had two hours before my next appointment. I'm thinking, "shouldn't take more than an hour". I was WRONG! The driver that picked my ride drove past me a minimum of 3x. I saw this on the little gps the app provides. The driver eventually started heading to the OTHER side of town! I tried calling twice to make sure he wasn't lost but he forwarded me to his VM both times and never reached out to me. Eventually, he heads away from my location and the ETA becomes even longer.
I tried to cancel to get another driver, but the app charged me $5 to do so. Scared I would just get another ** driver, I contacted Customer service and they say this is a legitimate charge because the driver accepted my ride and it doesn't matter where in town he was or the new ETA after driving past me, only that he took the time to accept the ride. They choose to take $5 over a loyal customer. Choose Lyft, a taxi, bus or hitchhike before trusting these money hungry scammers.

I recently had THREE Uber rides charged to my credit card, charges which my bank originally refused. When I complained to Uber via e-mail, I got a series of potted replies, with them eventually asserting that "they believed the charges were legitimate." Only after having the charges reversed with my bank and contacting Uber a fifteenth time did I get the explanation that my credit card details must have been acquired OUTSIDE Uber and then linked to an Uber account. This is NOT a very convincing explanation.
When the first charge was made to my credit card, my bank supposedly refused it and blocked further charges. For some reason, though, Uber continued to honour my card for additional rides and then blocked me from using their service because of unpaid previous rides. Also, no charges were made to my credit card other than by Uber. And finally, the charges were set up on my credit card as RECURRING charges. How is this even possible WITHOUT some kind of manipulation of the Uber payment system itself? For these reasons, I suspect there is a serious security breach within Uber that they are unwilling to admit.

I have had an ongoing complaint with Uber and it has finally hit the boiling point. I have been taking Uber quite faithfully twice a day for several months now and my pick up and drop off locations have never changed however Uber consistently changes the one address every time. I was OK with that since I was still getting where I needed to be until they started changing the quoted fees as well. When I called them out on it they would say that they had checked and that the information they had was correct. I have emailed them copies of the address plaque on the building where they are picking me up and they are still insisting that I am being picked up at a different address and that it is a longer ride and therefore a higher fare. The address they are insisting is wrong. Is the address for the commuter train station! The really irritating part is that the place that they are insisting I am being picked up at is the building where they house the trains!!
The line I keep getting when asking them to correct the price to what I was quoted is that "The quote is based on the information that the passenger has put into the app and if that information is incorrect then the revised fare will be charged." I would think when I have photographic proof that the information I am putting into the app is correct that they wouldn't have a problem correcting the fee that they are charging to the fee quoted, but they instead keep telling me that the information I put in was incorrect! I am fed up with Uber and am considering switching to Lyft since they are now in my area. I would rather pay a higher fee to someone who is quoting me the higher fee right off the bat and not using a "bait and switch" technique to change the fee than to pay it because of the "bait and switch".

I requested a Uber ride which I never received and was charged. I tried to get another ride in place of that ride and they're trying to charge me again. There is no one to talk to. You have to email to hear something back and no one has contacted me yet. I've heard all these good things about Uber. I will never use the services again.

Cell left in vehicle on April 1st, 2017 while visiting Colombia. Only way to contact UBER asking for help is by the web page. Driver did not answer or UBER did not contact the driver. I left several messages immediately and during the next following days. UBER only answered my messages more than 2 days later. Driver called over 2 days later indicating that the cellular was not there. UBER said "no more to do".

It has happened to me 2 times in a row that I had scheduled a ride and the drivers never showed up. I travel on regular basis and I schedule a ride a night before to the airport thinking I will be on time because of Uber. I missed my flight 2 times and never got refunded for my plane fare. I sent an email stating my complaint. The first time they never got back to me which was on March 19th 2017 6 in the morning. Same thing happened today. Also I had a flight to catch.
1- The first driver never showed up. Called me stating that he is late 15 mins away Instead of 1 min. I missed my flight to the airport. When I asked him that I scheduled a ride a night before he stated that IT'S NOT HIS job to be there on time and told me to called a nearest driver, same thing Happened again. I trust Uber again because I didn't have a choice and they didn't show up again. The driver's name was Syed.
2- The second driver that I had scheduled a ride with today was also very unprofessional and rude. Called me, he was supposed to be here 1 min ago and it's been half an hour and still not here. He stated that he missed an exit and won't be able to make it. What the hell is this? I don't trust Uber services now. Will never book again with them. Well they can care less because they have a lot of business because it's an app based business. Their service should be good but they seem like a fraud. If they charge me a 5 dollar fee how many other people they are charging and making thousands of money off of everyone and NOT REFUNDING. What do I do at this point. This is a FRAUD. Drivers are canceling by themselves and charging fees.
Lastly Uber is not reliable at all because they are making so much money. They don't care about their customers. I submitted a complaint last time. No one responded me. Don't have any number that you can call. They are just app based and have a horrible service! Driver name was NABIN driving TOYOTA VENZA plate **. Don't trust this driver. Charged me money and never gave it back. Very upset about this situation. Someone NEEDS TO TAKE ACTION ON THIS.

I live in SF and I will NOT use Uber (and Lyft) anymore because of rude driver behavior. I have found too many of the drivers, from those companies, don't follow basic courtesy of at least pulling off the road for a pickup or drop off. And I mean with a curb space a mere 2 feet away. In fact I saw a driver pick up a passenger in the middle of an intersection (granted it was a 3 way intersection). He block the traffic as is so often the case. Both companies need to list to their customer that the driver will stop at the closest parking or off road location. And drivers need to pull OFF the roadway.

I used Uber once in a while because 1. they are really expensive. Their app has got problem. 2. I can not contact the driver in any way and every time I try to contact them it directs me to Uber Help which I believe there is nobody there to help. 3. You can never call Uber and talk to somebody, it sounds like to be that the whole thing is software and machine controlled. 4. If you by any chance cancel your ride they will charge you... 5. They are screwing taxi drivers, which are after and better. 6. Where I live they only have UberX which is nonsense and it is more expensive than Uber. They are making tons of money with their stupid application and system therefore I am deleting the app.

They deducted total 202 Rs. for very short distance share/pool ride while showed only 54 Rs. while booking the cab. They first deducted 148 Rs. from my Paytm account after the ride completed on 22nd March around 8:30 pm. Then while I complained to customer care, next day they told they adjusted the fare to 54 and rest 148 will be refunded back in 3 days, and again deducted 54 Rs. from Paytm on 23rd March in the morning 7:53 am (I did not take any ride). So total 202 (148+54) Rs. deduction happened. Now after 6 days while I inquired asking about my money they told it was longer route and refund not processed. While I did not take any longer route after asking again and again. Also they only saying money is adjusted and no update about refund. Such a cheat.

I was in NYC last night Wed 3/29/2017 with a friend. I came in by helicopter and was departing later the same way. I never requested a ride. Nothing on my phone showing I did. But there was 2 missed calls and a voicemail. 1st at 7:37 pm, then 7:39 pm. I called him back and he said he would need to charge me a cancel fee for not showing up. This has to be a scam, as there is no evidence on my phone that I ever requested a ride. I did contact Uber and they said it was a legitimate charge??

Uber will lose the race to Ola eventually. The negative news they find themself surrounded in will soon bring it down. I did not give much to those negative news until I recently (28th March 2017) witnessed their lack of customer care. The Uber cab was requested to reach Ramaiah Hospital at 3.00 pm. He did, but he refused to pick up my aunt who was on wheelchair. She was released from hospital after full recovery but aged 91, we did not want her to walk. He zoomed away in style. What did that moron expect when a customer calls from a hospital. We called the reliable trustworthy Ola and reached home sound and safe. In the process Uber lost a potential base of at least 50 customers (all my relatives whom we shared this incident with and we decided to stay away from Uber).

Had difficulty figuring out the app on my Phone and as a result had to cancel the trip as soon as I entered it, the address I had entered for home and the place I was going came up wrong. I did not notice this until I booked the ride. Soon as I realized the error I canceled the trip. I actually had this error several time and canceled my ride. I made several other errors in trying to schedule a future pickup time and had to cancel the ride again.
When I finally figured the App out and tried to reschedule a ride, I got this message. "ERROR. Too many cancellations. Please retry requesting later." When I messaged UBER again they kept asking me to send a screenshot from my phone (I could not do this) showing the error message. I sent them the actual error message. After several emails, they finally said I was reinstated. That wasn't true. I kept getting the same message. I finally gave up since I could not schedule for a future pickup day and time.

A week ago I tried Uber (hotel near LAX). I was told a car would be there in 5 mins but then the driver called and cancelled. A second one did the same and I got a cancellation message. However, I was charged $5. I reported it but all I get was a "credit." This has happened before - in NYC. Complained but all I got was a credit which I have never been able to use. In any other business this would be called scam. In future I will use a cab - at least I don't get charged when they are not there.

I requested Uber 3/24/17. We were going uptown. I live 10.2 miles from downtown Nashville. My rate was quoted at between $15 and $17. We used Uber there and back. I checked my bank account the next day and to my surprise Uber had charged me $34.50 going to Nashville and $15 coming back. When I inquired about this I was basically given the runaround telling me that I put in a different address than where we went. Once I showed them the Google mileage and the receipt that I printed out from Uber showing that I put in the correct address, now they have changed it to "It was a demanding night, so the fares went up." That is really funny because the girl who drove us said it was a slow night. Uber overcharged then tried to lie about it. I will never use Uber again.

I have been using Uber for a couple of years now. I use UberPool at least once a week. I recently requested a ride home from babysitting and was pretty upset when I was charged more than what I agreed to and that they wouldn't honor the initial price. The price I was told was $5.83, but when I got home I saw that it was $11.12. The driver did miss the exit and add more time and distance, so I figured that once I explain this to customer service that they would refund me the difference as this was not my fault. I hope that the driver didn't do this intentionally. They did not, and are standing by what they charged me. I am pretty heated and I am going to start to use Lyft as much as possible even though it is a little more expensive. I am super disappointed with their customer service.

I woke up one day to find that someone had ordered a ride using my account in Philadelphia while I was asleep in New York. Naturally, I changed my password and sent an email to Uber's support team so that they could look into the issue. They did not look into the issue whatsoever, would not issue a refund, and failed to provide me with a number to call so that I could speak with a representative. Apparently, if someone steals your information from their poorly protected site/app and uses your money to pay for a ride, all Uber cares about is that someone paid for the ride. This will not be the only place I file a complaint.

I have ridden with Uber 3 times, each time with drivers who are new to America and don't speak English. When I want to make sure I get English speaking driver, I have no way to call UBER. It is just easier to pay local cab a few dollars more for known drivers. I have deleted Uber.

I have had a UBER driver who lingers in front of my apartment window... sometimes with headlights on and shining into my apartment. He lurks out there all hours of day and night. I have called the police and contacted UBER... nothing was done!! UBER response "We cannot address nonrider complaints." He drives a white Lexus in LA license **. Complain if you ever get this creepy driver!

Requested a pickup in Seattle at 4:25PM on March 23rd and the request was accepted with a 7 minute ETA. I placed the pin exactly where I was standing in a very visible spot on a sidewalk that was easy to access. Watched the driver drive all around me on the Uber app but never coming closer than 3 or 4 blocks. After 30 minutes of this a message popped apologizing for the inconvenience, but the DRIVER cancelled, which now made me late for my dinner reservation. Adding insult to injury, I also saw that they charged me a $5 cancellation fee. I immediately disputed this and after many exchanges where I explained what happened and also pointed out that the driver far exceeded 5 minutes past the 7 minute ETA which entitled ME to cancel per THEIR OWN POLICY, the most they would do is "promise" a $5 credit on a future ride.
Everyone needs to understand that when they use Uber, you pay upfront with no guarantee that they will show up, and if THEY don't, the driver will claim that you were not at your pickup point and you will still be charged a fee. It seems to me that this problem could easily be eliminated by requiring the rider to provide the driver with a random authorization code that was provided by the rider's Uber app in order for them to get paid. They could also avoid missing rider disputes by simply matching the driver's cancellation like caution to the rider's pickup location. If the locations are not in close proximity, in my case he was 4 blocks away, then they know that the DRIVER is the one that improperly cancelled and no fee should be charged. I do not recommend that anyone should use this service without understanding that you may not get picked up and you will still be charged.

Last Monday 03-13 I called Uber for a ride from Pomona Ca. to Ontario Ca. Airport. I got a contact and it showed approx. $18 dollars. All of a sudden the page went blank. I called Uber again requesting Uber again and the charge came up as $38.00 and gave a name of the driver and he was less than 10 minutes away. So I am in the parking lot of the business with my luggage, when he drove in. I waved to let him know I was the one. I am sure he saw me he was within 50-75 ft. away. Without hesitation he did a hard 180 degrees and sped out of the parking lot and was gone, without a word. I was a bit aggravated, So I dialed up Uber again. To the same pickup and same delivery points.
Now the fare had jumped to $64. And change. I wasn't sure what was happening, but I had to have a ride to the Airport, thinking it was a mistake and they would get it right back to the original fare. The 3rd. Driver called me and he said he had a passenger with him and would that be ok. I said yes. He was again less than 10 minutes away. I watched him on my phone as he wandered around. Got down to 1 minute and then he missed the turn and it went to 7 minutes. Well this happened several more times, I called him to tell him where to turn and he said his GPS was messed up. No doubt!! I watched him drive by the address I had given him 3 times.
I called him again. Told him to turn around and come back. This took almost an hour for him to get to me. He told me his GPS was not working correctly again. I asked did he know how to get to the Airport... "Yes". We didn't go a quarter of a mile and he turned off the road into a Dead in Street. So we had to turn around and start all over again. I pulled out my phone and we used my phone GPS to get us to the Airport. Now Uber has charged me a Surge Fee, whatever that is of 2.9x the original fare. I contacted them thru the only way possible FB and they finally agreed to take $15 off the overcharge. None of this was my fault, and I want the original fare, as to what I owe them. I have contacted my Credit card company and filed a complaint to contest the overcharge. I on this one trip out west used Uber 6 times. I just signed up for Lyft.

I have been an avid Uber rider for quite a while. But recently, they've been in the business of disabling rider accounts for NO APPARENT REASON. I'm stranded in the freezing rain trying to request an Uber, and my account is disabled and they won't tell me why. They keep telling me it's for SECURITY reasons. Well I pay all of my fares so there's no reason for my account to be disabled. Today was the last straw. I requested a ride to work, which of course needed to be in a timely manner. The driver was initially around 5 minutes away. But 5 turned in to 10 minutes, which turned into 15 minutes.
I had no choice but to cancel and I WAS CHARGED A CANCELLATION FEE?? I WAS CHARGED FOR THEIR DRIVER BEING INCOMPETENT. They REFUSED to refund my money even though they so clearly stole it from me. I deleted my account that same day. Please do not support the thieves that run Uber. Try any other rideshare but NOT Uber. They're already overpriced for mediocre drivers that never know where they're going. I have HAD IT with Uber. Please don't make the mistake in trusting them with your credit card number 'cause they like to charge your card all Willy nilly.

The first time I used Uber, the driver rushed me (I had him waiting for 2 minutes at 4:30 am), didn't help me with luggage and was very rude. The next time, the opposite. So, it is a toss up, depending on the individual. I DID have a very bad taste in my mouth from the first experience.

ConsumerAffairs Research Team
The ConsumerAffairs Research Team believes everyone deserves to make smart decisions. We aim to provide readers with the most up-to-date information available about today's consumer products and services.
Founded in 2009, Uber launched its rideshare app service in 2010. Uber's easy-to-use app lets consumers connect with drivers in over 500 cities worldwide.
Uber car options: Uber's Economy, Premium and Accessibility options allow consumers to choose the vehicle that best fits their needs, whether they want small cars for quick routes or luxury cars driven by professionals.
Uber for Business: Businesses can enroll in Uber for Business, a ride management platform that allows small or large companies to monitor employees' travel expenses.
Uber deliveries: Uber also has delivery services. Businesses can use UberRush to deliver products to customers, and participating restaurants can use UberEats for their food delivery service.
UberPOOL: UberPOOL allows consumers to share their ride with others to save money. Requesting UberPOOL matches consumers with others traveling in the same direction and splits the fares between them.
Self-driving car research: In 2015 Uber announced their collaboration with Carnegie Melon to explore the potential for self-driving cars. As of 2016, Uber is performing its research and testing in Pittsburgh.
Best for Uber is best for consumers who need transportation over short distances in large cities.
Compare Transportation & Rideshare Apps
Company Name:

Uber

Website:

https://www.uber.com/