MGM Grand Hotel
Las Vegas, NV
Consumer Complaints and Reviews

Mandalay Bay is the best!!! I had an issue with a false Priceline offering (free breakfast). Even though breakfast was not included in the room price the hotel honored Priceline offer and made my vacations awesome. I strongly recommend Mandalay Bay hotel.

I didn't have a choice to where I was staying on this business trip since my client was paying for my room. But when I received my room, I quickly upgraded to the Stay Well floor due to it being way more quiet and not so family oriented with kids running up and down the halls. Other than the hotel being the usual overpriced food and you have to walk miles to get anywhere it was decent, except for the shower either being too hot or too cold! The last night I was there, I had an incident with the room next door with excessive partying and vulgar language. Now, Stay Well rooms are suppose to be "Spa" like and quiet! Ya no! So of course I ended up calling security a few times but that didn't seem to do any help.
Around 6:00 am, I got awaken by a women screaming for her life while I hear a man threaten her life, then I could hear the man beating the women and sexually abusing her. So I called emergency security this time and pack faster than I ever thought I could! I am a women and was getting really disturbed by what I was hearing and just had to get out quick! As I left my room, I saw a security guard who couldn't have been more than 18? Maybe 21? Who was too afraid to knock on the door! I was appalled and yelling at him to do something!!! Thank god another security guard came up and I just left! Not knowing the situation I was afraid to be around!
So when I went to the front desk to check out, obviously shaken up, all they could offer me was a free buffet. Really??? Who wants to eat at this time? Food??? Who is going to pay for the therapy session that is going to take to get the blood-curdling sounds I just heard of a women being sexually assaulted! So they took $20 off my room?!? And that my friends is the MGM's solution to customer service! Speechless!

Play the largest amount and get nothing for hitting it for free - This has gone downhill. The reason they give us 225 per week is because you can't win anymore. People all complaining how bad it is. SAVE YOUR MONEY. DON'T COME HERE. YOU BEEN WARNED.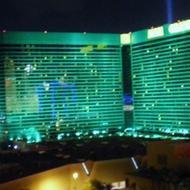 Just got back from staying at the MGM Grand and all we can say is WOW - what a well placed hotel and casino. The restaurants and shops were amazing and our room was to die for. We will be back soon and cant that the tour company that gave us this trip... Thank You Vacation Internationale and Casablanca Express.

I don't even think this Casino is worth a star at all! I was quietly watching others putting bets on the Roulette table as I was not interested in gambling my money away! I stayed quietly in a corner watching (about 5 or 6 spins) and the dealer (Asian middle age) rudely asked for my ID (I have seen kids, toddlers, babies in stroller). She repeated herself again and again louder and louder and as if my presence was a nuisance! I had all eyes on me at that table! I walked away feeling extremely humiliated! I didn't stand near any of the players! If you would like me to leave, could have just asked nicely because it's not alright to "just stand and watch".
How do I know I can trust these reviews about MGM Grand Hotel?
851,205 reviews on ConsumerAffairs are verified.
We require contact information to ensure our reviewers are real.
We use intelligent software that helps us maintain the integrity of reviews.
Our moderators read all reviews to verify quality and helpfulness.
For more information about reviews on ConsumerAffairs.com please visit our FAQ.

I will start by saying my husband and I were married at MGM back in 2000. We've stayed here 2-3 times since then without issue. Boy, has it gone downhill FAST. Waited in line forever to check in. Room was small/dirty, shower strongly smelled like mold. We decide to not to deal with it as it would take longer to complain than its worth. My husband spent a few mins in the room charging his phone and then we head downstairs, leaving our bags unpacked and iPhone charger in the wall. When we returned the charger was gone. We searched everywhere. It was clear someone had been in our room and removed it, which was super creepy. We called the front desk and they gave us a 35.00 refund.
Half of their pool complex was closed (this pool complex is the reason we stay here). Lazy river and other parts only open Fri-Mon because they don't want to pay to staff them. (Are you kidding me-how much money do you make!?!) Decided to make the best of it and hang out at the regular rectangle pool and soak up a little sun on a gorgeous 85 degree day. Only to be kicked out (along with 500ish other people) at 5 pm because the pool closes at 5 pm. ALSO, Monte Carlo's pool was closed so their guests had passes to this pool and they still closed down half of the complex and closed early. Bad outweighs the good. We will definitely never stay at the MGM again.

If I could give this hotel no stars I would. My experience here was horrible. I stayed at this hotel for about a week. My first day I waited on a line to check in for about 2 hours. On one of the last days of my visit I was attacked by another guest outside of my room. When I called the police and security to press charges on the girl who assaulted me they thought the right thing to do was to kick the both of us out of the hotel. I have never been so mistreated by a hotel I spent thousands of dollars in. When I asked the security why was I being kicked out and why they did not go over the cameras their answer to me was that they didn't care. It's not their problem.
As me and the other guest who I was sharing a room with gathered our stuff the security guards were saying very awful things to us such as "Get the ** out, go **." When I asked why they were speaking to us like that when we did not do anything their reply was because that's why they love their job because they get to say and do things like this. DO NOT STAY HERE. IT IS HORRIBLE! They also will not give us our security deposit or the 2 nights that we did not stay there back.

When I got to Las Vegas, long line to get a taxi; the taxi driver was very rude when it came to the cab fare. I already estimated through online that the taxi fare from airport to MGM Grand would be between $13-$15. The taxi asked for more than $18; I gave him $20. He opened the trunk and stood there... I asked him to take my one carry on luggage out for me because I tipped him. He said he'll pay me back $0.50! I had to carry my own luggage out of his trunk!
Long check-in line this past Sunday (4/24/2016) at MGM Grand; I asked them to change my room during check in because I had a bad feeling about the room #; which they denied. My room didn't have a bath plug so I couldn't take a bath (I bought my own bath salts looking forward to taking a bath. I called the front desk several times for them to fix and give my bath plug. It wasn't fixed until 6-7 hours later (mind you my stay is for less than 24 hours). Also, their only breakfast place "Avenue Caf" is a crappy restaurant; breakfast was horrible and I paid $25 bucks. Also, the room did not come with coffee maker or tea. Everything at the minibar is locked up; so you can't use their fridge to put your drinks in. Overall, Vegas is a terrible place! and MGM grand is a horrible hotel.

I was at the MGM Grand in Detroit on the weekend of the 28th of November. I was obviously getting careless while moving around the casino. I got up to change machines thinking that I had grabbed my ticket when I realized I had not. Turned around to find a woman walking quickly passed the machine I had been playing on. Started to freak out. Contacted security and another young man plus Chris from Security helped me to retrace my steps. They looked at a video of the machine I had been at to see me play and saw who took the ticket. It took about 2 1/2 hours total but I still can't believe I walked out of there with all my money. Almost 700.00 that was on that ticket.
I can't thank all those who were involved enough for their kindness, consideration, understanding and vigilance in what seemed to me to be a lesson I would never forget, let alone being able to go home with my money. I wanted to thank the Michigan state police, the detective who spoke with me and all the wonderful personnel from MGM who helped me through this. I was certainly blessed that day. Thanks so much guys. With all the ugliness in this world it did my heart good to see such a positive outcome... can't thank you all enough.

We've stayed at Circus Circus hotel over 10 times but the last 2 times has been disappointing. I went for my birthday and have to say I will probably give no more chances and stay again. Firstly, our room was freezing and the heat did not work, we called maintenance 2 times and both times said they fixed it but was still cold. Secondly, our water was turned off and didn't go back on for a few hours. Lastly, the cleanliness of the bathroom was very poor and had hair in the bathtub when we checked in.

I stayed at this hotel over the past weekend. VERY BAD DECISION!!! Before arriving, I was told that I had to pay $280.00 as a deposit for the hotel but I would get that back when I checked out. When arriving I was told that was just part of the fee and I would have to pay the remaining balance. Which was like 500 and something. So I paid that amount no problem.
When I got off the elevator, my impression of this hotel was a total disaster. The carpet was horrible and that was only the beginning. I opened the door which was filthy only to enter the room and it looked gross. The carpet was dirty, it was dark, the sink was dirty and I was totally upset. I called the front desk and they gave me another room, only this was on a different floor. This one was even worse. The room number was slanted and it stunk in the room. At this point, I was furious and wanted my money back but was told that I couldn't get a refund because I had already checked in. So I talked to 2 different managers all which told me there was nothing they could do about it because the west wing is what I reserved. I had no idea it looked like I was staying at a Motel 6. This is not what I was expecting from the MGM.
So finally I just went to the front desk with all of my stuff. One of the managers told me I could upgrade for an additional $30 per night for the grand towers. Reminding you that over the phone they told me it was nothing they could do. At this point, I'm really still just wanting my money back. I've stayed at Treasure Island before and it was 10x better than this. I'm very disappointed that I spent a total of $906 dollars on my entire stay. Oh and the manager laughed at me when I told them the room looked like **. His response was, "Yeah, it is the oldest and it was last updated in 2008." Well I was not impressed at all and I'm glad he thought it was funny. I was next to another family and they were pissed as well and they were told that there were no more rooms available but clearly that was a lie and the managers seem to like playing games with people and their money.
I will never stay here again. This was the worst experience I've ever had here. There was no refrigerator or microwave. If you wanted one there was an additional $25 per day as well. What a joke?! Sorry for such a long complaint but I think customers deserve to know what they are getting themselves into at MGM Grand before spending your money. Below is the response I received on my Yelp complaint. Clearly they still didn't care. For her to say "I hope your stay was enjoyable" was a complete joke.

Immediately upon arriving to check in, we were hit with a $300 check in fee we were not aware of. After debating with the manager **, he lowered the price to $200, and we would get it back when we check out, this of course is not before being rude and nasty. Also the room we had requested for over a month was not available and we got a room, I felt was overpriced for what you were given, not to mention on the side where they are making over rooms by just throwing paint on the walls and hanging up new pictures. This is my 3rd time in Vegas and we chose MGM because of previous stay, but the next time we will give another hotel a try. We put MGM up there with nice hotels, but over the years it seems it just now overhyped conditions and pricing.

I was in MGM playing poker at the Poker Room on Jan. 2, 2015 at 10:43 P.M. I asked ** (blonde hair, eyeglasses) for a table change and the lady sitting next to me also asked for the same thing. A few minutes later, ** came to our table and told the Lady that she could move to another table. I was surprise why ** did that so I told her that I asked for a table change first, the lady concurred. I asked ** nicely why she's moving the lady first. She replied angrily "you got what you want right!" She was rude and unfair.

After speaking to a self-employed, I went to gamble and a younger security female guard denied me access due to the fact she said so.. I asked to speak to supervisor several times. She replied I'm not nobody. I do not drink... So I was not intoxicated.. She was rude. That was the first time she has continued to harass me every time I walk by.

I came out to MGM grand casino parking garage to find my family van broke into. They stolen my tv radio and busted the passenger window. I felt so violated. They gave a piece of paper that said contact them five days. I'm just want them to pay for my damages.

First off, the room had feces on the carpet and on both sheets. We didn't notice this til morning. Secondly, the second room had signs of bed bugs. Finally, I had food poisoning from the MGM Grand Buffet causing me to lose four days of work, not to mention Doctor's visit and the illness itself. The MGM initially offered a free Suite, great. Then, they said no suite, since I complained about the buffet. This can be found at FB MGM Grand Sucks.

I was simply a victim of racial profiling and verbal sexual harassment obscene language while a guest at the mgm in Detroit. Staff totally embarrassed me and used intimidating gesture toward me when asked to be addressed in a normal manner. I was then made fun of again by other staff like as if I was a joke. OK Lawsuit.

I will never step foot in MGM Detroit Casino again! All night waitresses frown, roll eyes and rarely offer friendly beverage service. The men who walk around in suits turn their head and never make eye contact when they see you. The old slots are the worst I have seen. For example, I got bonus rounds that gave me 0 credits after several free spins and one I had 28 spins and won less than 2 dollars. This happened many times and to my Husband too! If you value your time, dignity and money don't go there ever!

I booked a room at Circus Circus Las Vegas for 3/28/14. What was supposed to be our family vacation turned into a nightmare. On the day of check-in we decided to go for a swim followed with a fun filled night at the Adventuredome. By 7pm me and my 4 children had wristbands for all day ride pass. By 11pm our fun night had came to an end. My 2 children named Sarah and Armando had gotten seriously hurt on one of Circus Circus newest roller coaster called El Loco. As the roller coaster began to go down at a fast speed, I heard my 2 children screaming and crying.
At the time I thought nothing of it, till the ride had came to a complete stop. My daughter Sarah was bleeding from her mouth & my son had a swollen busted lip. Security provided 2 ice packs, took down a report and pictures of their injuries. All we were given is a report number. Later that night my daughter Sarah woke up crying in severe pain from a loose tooth caused by her injury on the ride. I stayed up with her all night that night till morning. I still haven't heard anything from the casino, not even an apology for a weekend of fun ruined. I took pictures of both children and will be willing to show any attorney interested in the case.

I will never set foot in any MGM owned property any longer. MGM Grand slot attendants annoyingly hover over you, and to top it all off, the idiot security guards do the same thing. It's already bad enough they walk around thinking they are cops! Example, security hovers over you as you're playing, you get eyes walking around. I mean really, why the hell do I need to feel like I'm a prisoner in a place that I'm spending my hard earned money? Second example, as I ate in the MGM food court, I was sipping on my McDonald's coffee, relaxing a tad. I suppose because I didn't eat and run it was a problem, seeing as how a security idiot came up and asked me if I was staying? Umm, I said why. I didn't know that I had to stay in the MGM to sit and eat! Was there any particular reason I have to be treated and spoken to like a bum who was just sitting there loitering, when you can clearly see my coffee cup was still half full, not to mention the bag next to it with my empty food wrappers.
As I stated earlier, I surely will never set foot on any property owned by MGM ever again, and I absolutely will be having friends, acquaintances and business colleges do the same. How dare you treat someone with such disrespect when they are spending money in your establishment? It's already bad enough everything is ridiculously overpriced!

I arrived just after midnight at MGM and was told that the Queen Executive Suite I booked was unavailable. I searched for weeks for a room, including offers I had received from Wynn and Aria, being an invited guest prior. But I wanted a room with a good amount of space and thus decided on getting a suite.
To have to drive 5 hours to come to the hotel and be told no suites were available is unacceptable. That means the suites were either overbooked or they gave them to other guests even though they had already been booked prior. This shows poor management and definitely poor customer service! I came here to try to relax but the moment I step in this hotel I was met with disappointment. Furthermore, there was nothing anyone could do! That is just completely ridiculous!

I arrived at MGM Grand around 6pm Thursday, October 6, 2011. I dropped my vehicle off in valet to visit with some guests who were in town. About 5.5 hours later I returned to valet to retrieve my vehicle and began a nearly 20 minute wait when my valet ticket number was announced. I was told that the battery on vehicle was dead and I needed to sign consent for valet to jump it. I was a bit concerned being it was a battery that was less than 2 months old. I once again waited around 10 minutes thinking nothing of a dead battery and that it was fully possible they may have left something on and only wanted to correct it. I was again approached by valet who stated they could not get the vehicle started at all. Now I was very concerned. I was escorted downstairs and saw cables hooked up to the engine compartment of my vehicle with an attendant attempting to get it started. They asked if the battery was in the trunk and I replied yes, to which they then proceeded to hook up the jumper cables to the battery and this time hooked it up with a fireworks display and all the power in my vehicle completely shut off. They played with the battery cables and the power came on and the car was started, driven about 15 yards and then again completely shut off. The attendant again played with the cables and once again power was restored.
Whatever these valet attendants did to my vehicle, caused it to no longer long, the alarm no longer works, the key no longer controls the locks or alarm, the interior lights no longer work and I had to purchase a new battery that had been ruined during the jump process. A BMW tech explained that the battery was rendered useless. Looks like parking valet is going to cost me quite a bit to correct all this. On top of it all, the supervisor attempted to explain to me because he owns a BMW that it has to be an issue outside of what his employees did because he knows.
Thanks a lot MGM.

My wife and I attended the CSI experience at the MGM Grand on Friday December 17, 2010. There were 3 choices of crimes to pick from. We picked #3. What a phony terrible experience that was. The equipment was in disrepair. Most of the touch screens didn't work well, or not at all, no matter how hard you hit the screen. The test for bullet caliber was not right. We didn't really get to solve the crime, because they did it all for you, and that took away any possibility of fun.
The screen at the final part of the experience did not work, and the attendant kept telling us to wait, but nothing happened. She was rude and could not even pronounce words correctly. Why don't the casinos hire English speaking Americans to work at these places? They sure make enough money off of us to pay a decent American wage. The whole experience was a big waste of money. It is like being legally robbed of your money.
We spent money unnecessarily on a bad experience. The economic damages were $36 for each of us on ticket numbers 1085077 and 1085078, purchased at the Luxor ticket office for Bodies, Titanic and CSI. The Bodies and Titanic were fine but not the CSI experience.

I went to the MGM Casino in order to have a little fun gambling with a couple co-workers. We were having a wonderful time until two women approached the table and began harassing me by saying things such as, "I thought I was cute," "They slit the throats of *** like me," and a host of other unwarranted insults. I have never seen these women in my life before and therefore asked that they be removed from the table. At that point, they began threatening to assault me in the casino. I was told that they would grab me by my hair and drag me to the lot where they both would beat my ***.
I called the table supervisor over to me and asked him to call security. Before security arrived, I noticed that there were two African American gentlemen dressed in full length mink coats appear over my head out of the blue. The said some things to the two women and the women walked away while the men sat at the table and watched me with dead eyes. I felt so intimidated by this and requested security again.
By the time security arrived, they seemed very annoyed. The first security officer approached me and told me to calm down right now or leave the casino. I was crying uncontrollably and attempting to explain what had just transpired before he arrived. He was rude and looked down on me as if I had done something wrong. The situation got worse because I was threatened in MGM casino and the security didn't even care. They never asked was I okay. They never offered a Kleenex for my tears. They even let the ladies continue to play at another table and told me that the men could also stay because they didn't present a problem.
That totally confused me because they were gathering around me and talking rudely to me and treated me like an ingrate. I told them that I have always supported MGM because I felt they were on of the better ran gambling establishments in Detroit. However, after the way they treated me, I told them that I would never step foot in MGM again and will not let any of my family and friends go there either.
The supervisor of the other security guards told me, "So what? Go down the street," which he then looked at the other officer and they shared a quick giggle about what he told me. I told him that he needed more sensitivity training on how to treat people. I feel that he was terribly rude to me. He refused to let me look at his badge and instructed the other two guards not to give me their names as well.
They never apologized for the incident and I walked out of the casino hurt, disappointed and feeling like I was unworthy of being treated with any type of dignity or respect. I called the security office as soon as I got home and was told that their boss was a guy named Marcus. They said that Marcus would get back to me asap. I called Marcus the next day and he told me that no one informed him of my complaint. He said they get complaints all the time and usually nothing is done about it. I find that to be so disappointing and unfair.

We booked 3 rooms (1 suite, 2 regulars) over the spring break and stayed overnight at the MGM Grand. At night, we had a small party with the drinks from the mini bar in the room. Unfortunately, we found out later on that 3 cans of beer we got from the minibar were past the date which we understand it could be either the "best before date" or the "expiration date".
We asked to speak to the managers in the morning. It took 30-45 minutes until the first one came up to our rooms but she said it wasn't her department and couldn't do anything. She excused herself and sent 2 more managers. Same thing happened, they all denied their responsibility, nobody took actions. We had to come down to the front office and asked for the front manager. She also denied to take responsibility.
Moreover, she was rude and looked down on us.
The situation got worse as nobody could give us the right answer. It wasn't about the defective products that made us mad, it was the front manager who did. She never even asked how we were feeling or apologizing us for what happened. She just kept arguing with us and tried to convince us that it wasn't their fault. All we needed to hear was a nice greeting and an apology from her but none came out of her mouth. Later on, many people who were in charge had come to talk with us. But again, nobody apologized and took responsibility for what happened.
They even promised to send us the medical claim form in case we're not feeling well and needed to see a doctor, but so far, nobody has received anything from the hotel yet. We were really disappointed on how the hotel staff deal with guests when situations happen. Most of us are in hospitality industry for many years, some went to college majoring in hospitality management, or hotel operations. We have the worst hotel experience with MGM Grand and will never come back to MGM again.

My husband and I ate at Craftsteak at MGM for valentine's day. We paid half cash and half on our debit card ($133) for our meal. The charge was posted a couple days after, but then I noticed they charged my card again for an additional $300! My bills couldn't clear because of the $300 hold MGM had on my account and we were charged charges from my bank because my bank had to transfer funds from my savings. We called to complain and they said "it's protocol", even though that amount wasn't the full amount of the actual bill.
I'm upset that they think they can charge whatever they want. That was an unnecessary charge. Customer service wasn't helpful. She said MGM does that all the time. It's pretty funny that we ate at Craftsteak and we were never double charged for our meal. I called back to talk to a manager and I got the same lady and she still wanted to say "it's protocol" and would not let me talk to a manager. We will never go to a place were they double charge their customers.

I was mailed a coupon for 2 free buffets. The fine print on the coupon ONLY states that I just had to be a hotel guest and charge the buffets to my room. I presented the coupon to the cashier and she confirmed the coupon and charged it to my room stating that in my final bill, it will be deducted. When I checked out, it was not deducted. The people at MGM stated that I needed to book my room under certain circumstances, which are not listed on the coupon. They refuse to credit me the buffets. I believe this is a great class action lawsuit, under bait and switch, or false advertisement. Please contact me.
Approximately $40.00 per 2 people.

We vacationed at property with our two kids ages 13&16. We booked 2 rooms for our vacation on 28Jun08 for 4Aug08-7Aug08. I called 3 days prior to departure,& twice or thrice,to ensure we had non-smoking upper flr. rooms AJOINING. The personnel I spoke to were courteous & helpful. I was told that calling 3-4 days prior to departure would be helpful to ensure securing AJOINING NON-SMOKING UPPER FLR. ROOMS for our vacation.
The 1st call I was told it might be too early to make that request(she wasnt sure).The 2nd call on 1Aug08 @9:51am,I spoke to Monica,who was absolutely outstanding to deal with,an asset to MGM Grand. Monica, unlike the other women I had spoken to earlier,had totally taken care of the issue. My wife and I felt set and totally at ease with our decision to choose MGM Grand. At check-in, sometime after 9pm 4Aug08, we were told by Bora,who was very courteous,that our 2 AJOINING NON-SMOKING UPPER LEVEL ROOMS were not available. Instead she had 2 rooms across from each other on the 9th flr., & said 2 AJOINING NON-SMOKING ROOMS UPPER FLR. WERE NOT AVAILABLE & MAY NOT BE FOR OUR VACATION. Bora did note Monica's arrangement.
Only after persistance on my part, did she find 2 AJOINING ROOMS NON-SMOKING UPPER FLR. 27-317 & 27-319 but available the next day, Tues. 5Aug08, that we could move into between 1-6pm. Bora did say that the arrangement was locked in. That was a plus. So were thinking "Gee, great, we get to move from room to room on our vacation". We worried about how much time was being wasted & felt tethered, reminding ourselves not to forget to call, & not feeling free & at ease to move about Vegas & the MGM Grand property, without that in the back of our minds.
In the morning I go across to the room my wife & daughter are sleeping in & my wife tells me they could'nt sleep a wink the whole night because the air-conditioner was making noise all night. They didnt want to wake my son & I up & without the air-con on, it was to hot to sleep. She felt that it would do no good to call the FrontDesk for help after the 2 AJOINING NON-SMOKING ROOMS UPPER FLOOR THAT MONICA HAD ARRANGED FOR US TO HAVE FOR OUR VACATION WERE YANKED.
I called theFrontDesk. It was either Jeannette or Brianna about the problem with the loud noise the air-con was making. It sounded like construction was going on outside, it wasnt good. For all of the hassle on our vacation so far, I asked her if she could consider compensating us. She asked what I would like.I asked to be comped 4 for the buffet, to be used at a time & day of our choosing during our stay, which she agreed to & told me to call in advance just prior to using. But even that was botched, as someone dropped the ball & listed only two be comped at the buffet even after we had called it in in advance (Wen,6Aug08), & had to ask Mirna at LinePass to call the FrontDesk to iron things out. Mirna spoke to Heather there. Another hassle taken care of.
The 2 AJOINING ROOMS NON-SMOKING UPPER FLOOR 27-317 & 27-319 were ready for us the next day, glory be. I called the FrontDesk about 1:23pm from the LazyRiver.So now it's time to haul everyone out of the LazyRiver to move to our new rooms. The kids are upset, my wife & I are feeling dissapointed & a little jipped. We did like the 2 AJOINING NON-SMOKING UPPER FLOOR ROOMS 27-317 & 27-319 that Bora was able to nail down for us. All in all,my wife hit a little pay-dirt, but we would have had a lot nicer experience if it was not for all of the pitfalls & me spending my time as a TroubleShooter on our vacation at The MGM Grand "The City of Entertainment".
MGM Grand Hotel & Casino Company Profile
Company Name:

MGM Grand Hotel

Website:

https://www.mgmgrand.com/en.html