Consumer Complaints and Reviews

We had stayed at the Days Inn Bridgeport WV and I had a FULLY-HANDICAPPED woman with my family when we stayed there. Well I guess she had an accident while she was asleep and we didn't know about it because she had already got a shower from our daughter. We went to go back that evening. They told us to get off the property or they were gonna call the local police and charged our card 700 dollars for the mattress that they get cheap for buying in bulk but it's OK. I tried getting a hold of corporate but they won't return our phone calls or anything. Don't get me wrong. Yeah I can see them getting upset over it but not like they did to us that evening so we went to BEST WESTERN and explained everything. They said if it happens it happens, no big deal. Now that's good business.

When I went into the Days Inn on Queen street in Toronto at 10 am to cancel the reservation I had made for 3 nights I was told that it was too late and they would keep my $169.00 for that Friday night. I had asked specifically when cancellation was due and told that it was 4 pm of same day. The manager is a sleazy man named **. The lobby smelled of old cooked food and there were roach traps in full view of the front desk. The curtains, furniture and windows were yellowed and filthy. I can only imagine what a room would have looked like. I hope this little thief uses some of his unearned money to buy some Fabreeze and rat traps. I do wonder how an American hotel chain could have such low standards. They should be ashamed.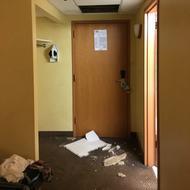 Me and my family stayed there on the night of 8/12. We were violently awoken at 3:30 am by the sound of water rushing down the walls. We were on the 2nd floor. We got up to see what the issue was and then witnessed the ceiling cave. There was water everywhere! It was very unsettling. We packed and rushed out of there. The guy at the front desk was overwhelmed and didn't know what to do. The water damaged my cell phone and computer and the hotel does not want to accept liability – they didn't even want to reimburse us for the stay! They refuse to provide me with their insurance carrier for me to file a claim but did admit that the flood was due to a running toilet on the 4th floor. I have video of the ceiling and the flood. I appreciate anyone to assist me with their carrier information so I can file my claim accordingly. I am not filing a claim through my insurance carrier.

These are one of the worst kept hotels I have ever stayed in. They are all owned by the foreigners now and it's a shame the way they do us. We travel a lot and it's gotten so bad in hotels I would just soon sleep in my vehicle. We stayed at this Days Inn this past weekend. The lady changed the price like three times. I was dizzy trying to figure out what she was talking about. It started out at 74.00 and by the time I was done it was 90... and I finally gave her 100 dollar bill and asked her about roaches and bed bugs and she said "no, no bugs". Well I had to ask her for my change, and then she asked for my bank card. I said "for what", she said in case we destroy the room!
Really have you seen their rooms? Well I told her that nothing better be charged to my card and she said "nooo". OK so we finally got to the room and the sink, toilet is stopped up, the air conditioning is a window unit setting on the floor. So mind you the floor is wet, my sister stepped in that mess... bugs in bathroom, couldn't watch TV it was so snowy... so I would like a refund. I sit in a chair all night... and we only stayed because my mom is 90 and was getting tired... or I would have moved her right out of there. They should be ashamed to give this kind of service. Will never stay at another Days Inn... almost all hotels are owned by foreigners now and we have to eat their **. Didn't give me a receipt... but the room was 130 and the date was the 24th of Sept 2016.

Im checked in on Sept. 9th – Sept. 11th and when I went to sleep the whole night I found myself scratching all night. So when I checked myself Sat night and I see little bites on me first I thought they were mosquitoes because we left the balcony door open for a little bit on Sat morning but when Sun morning came I knew they were not mosquito's bites. They were bed bug bites. We told management but they said a manager will call us. And here it is Sept 25th. No call. I have pics to prove my allegations and also a pic of bugs on our towel. My husband is an exterminator. We checked the mattress and it was infested!!! We appreciate some feed back!!!
How do I know I can trust these reviews about Days Inn?
608,728 reviews on ConsumerAffairs are verified.
We require contact information to ensure our reviewers are real.
We use intelligent software that helps us maintain the integrity of reviews.
Our moderators read all reviews to verify quality and helpfulness.
For more information about reviews on ConsumerAffairs.com please visit our FAQ.

We arrived at the Days Inn in Eau Claire WI at 22:00 on September 10 2016. Paid for the room by credit card. When we arrived back home and checked the card statement on Monday September 12 we found we were charged twice for the room. We tried to contact the hotel directly by phone and were told the manager would call us back. We are still waiting for that call. We tried to email their head office to which we received a confirmation email saying they did receive it and would get back to us in 3 business days. It has now been 11 days without a response.

This hotel from the time me and my boyfriend got there was disgusting. Smelled of urine and like a old mop or something had been used. We checked in and had room 328. So as we got into the room and put our things down I was afraid to even sleep there. While in the room there was a tile in the ceiling that looked as if it had water damage. Next to that on the wall it looked like there was some kind of perspiration coming from the vents. They could've wiped it up or something. The comforter for the bed had burn cigarette holes. The complimentary breakfast was a joke. In the bread container they had bread, muffins, bagels and frozen waffles. Yes frozen waffles. I was so shocked to see that. Never again will this be a place I come too. Never again!!!

Days inn columbus in. - Parking lot bad. Place is dirty. Doors on east side rusted and hard to open. Place has went downhill in 2 years!! Wires hanging in walkway.

Very dissatisfied with a maid here at Days Inn in Aiken SC. She would enter your room right after she knocked not giving you time to answer the door. After verbally telling her to "Please stop doing that" she would wait until I left to enter my room to turn my ac off, leave my curtain open for others to see inside my room and God only knows what else she was doing in my room. This is the first and pray the last bad experience I will encounter with Days Inn.

Customer service was great. The price for the use we had was wonderful. Lots of eating establishments within walking distance. Was great all together. It will be a very useful choice for families to ball teams to stay. Plenty of food choices that are great values and thick enough walls that next door neighbors won't be a bother.

There was no service at all. Did not even leave the room but to keep looking out to make sure our truck and RV was safe. Place is a DUMP. Unsatisfactory. You have people coming up to you asking for money and hanging around the parking lot, trash all over and the parking lot is not taken care of, needs repaved - This place needs to be closed down.

Horrible... from the moment we got there. A line of people complaining. And the female Manager ran away crying. They put us in a room by the pool and workout room. And the banquet room were right around the corner. And the noise from the banquet room people in the hallways. We ask twice to change our room. No rooms left.
So we told her we are leaving... after staying one night. And got billed for 2 night. And the bartender tried to double bill us also. Ordered 2 beers. Paid cash. When back for a second round ordered 3 beers ($5.00 a bottle). She charged $27.00. I said "it's $5 a bottle". "Yea" she says "you had 5 bottles beer". I said "I paid cash for the first 2 bottles". She goes into her pocket and takes out the $10 Dollar bill I gave her.

After a long drive from N.D. my parents needed to rest because my mom's feet and legs were swelling. We arrived at this Days Inn in Nashville 1/18/16 very late and I purchased two rooms for the night. My room (209) looked like it has not been vacuum in days and there was blood splatters on the bathroom door and wall. There was stains and burn holes in the bed spreads. Told the desk clerk and after several attempts to reach the manager Jay **, he finally called me Friday late evening on 8/19/16. Said he would call back next week and never did. I called on 8/30/16. He finally returned my call and called again with a solution of a $20 gift card. My room was $71.64 x2. I don't think so. I want a full refund. My parents room (114) had a wobble toilet.

Our room smelled of strong urine and the lamp shade was tore off and molding on and around the floor was laying on the bed, just a very smelly room.

Pool was green and not being correctly cleaned. We're afraid to swim in for fear of getting sick. Black mold was everywhere in room: on ceiling, on bedspread, on furniture. It was scary and disgusting. Advertised breakfast was lacking, no one was on site to keep things full. I am requesting a full refund from Hotwire for this disaster. My daughter paid for this week with her credit card and we shared the cost. Hotwire advertised this as paying and then finding out where you stay. I will never use this site again. Saving money does not mean I have to be put in danger. Hotwire and Days Inn are equally at fault. I am requesting a full refund.

From the first night my husband and I were there we were very uncomfortable due to many broken windows on the second floor. Upon entrance to our room the rug was completely dirty and greasy. The hotel gave us a very old box of facial tissue that was stale smelling and one bar of soap without shampoo. There was an old shower cap hanging from the back of the door. Our coffee pot stopped working on the second day. I asked a maid, who was outside of our rooms, for fresh towels and she ignored me. She began to yell then took her cart and pushed it quickly down the hall. The entire staff spoke no English except the front desk clerk. The vending machines were out of order which would have included water and soda. My husband and I will report them to the health department since there are residents there who are being the treated the same obviously (and we were only visiting family.)

This is the worst hotel I have ever stayed in. The floors were stained and the lamps were missing light bulbs. The Windows peeled and so did all the furniture. As soon as I walked in I wanted to leave and it smelled like poop. I was afraid to put my hair on the bed. I was also scared to go in the pool. There is no elevator so you have to carry your luggage up 2 flights of stairs. The only good part about my stay is that I was only staying 1 night. We will never be returning to any Days Inn hotel ever again. I recommend you do not stay there you will regret it immediately!!! This place is disgusting and I have no idea how they remain open.

My husband and I moved here after living in our car for 7 weeks. The experience has been horrible. I am told every day I will have to move out for one reason or another. I have guest and family over to see me. They have told me they could not go to the pool with me. I have my disabled son living with me and they try every day to make us move out. This is franchised by Indians, horrible people to deal with, charging me $1 for toilet tissue... The list goes on. I will never recommend this place, has left a bad taste in my mouth...

I made reservations through Expedia on Friday night, July 29th at Days Inn at Hampton VA. When I checked in they asked to verify my Debit Card. We checked out Saturday morning. On Monday, Aug 1, I was checking my bank balance. I was shocked to see I was overdrawn because Expedia took $98.75 and Days Inn took out $75.37. Monday morning I called Days Inn and they said they will take care of it. It should be back in my account 3 or 4 days.
On Monday Aug 8th I still had not received the credit. I called Days Inn again. They told me they had put it through on the 8th and I would have it in my account the next day. Today is the 9th. Still nothing. My bank has not received any credit. In the meantime I have had to put a claim into my bank to get the overdraft taken off. I really think that I should receive the night free for all the trouble I have been through. I am also contacting Expedia with the same complaint. We left early and did not get a receipt.

We had paid for a room at the Days Inn in Leigh Valley Allentown, PA on July 10, 2016. Our stay was to be on my grandson's 7th birthday after a day at Dorney Park. I had all the confirmation paperwork with me. But when we arrived, exhausted, at the hotel they had sold our room. The attendant at the counter had no interest in explaining himself or looking at our confirmation numbers. There was a big party going on that was spilling out into the lobby and the parking lot. I stayed at the desk for several minutes but was getting nowhere with this clerk. I even offered to pay cash for another room but he said they were fully booked.
Our party consisted of the 7-year old birthday boy, a young lady who was a high-risk pregnancy, and myself who suffers from severe white matter disease which causes strokes and also COPD and was due for a breathing treatment. I could see the car from the lobby and a few patrons from the bar were starting to bother my daughter (the pregnant one) so I was compelled to leave the desk. We Sat upset and in complete despair. I had planned this out so well. This was so unexpected.
We decided to try a hotel down the road. And again, they were fully booked, and they told us we were not going to be able to find a room in the area because of a sporting event that was going on in town. This is when I knew we were in real trouble. We searched a few more hotels, in hopes of finding one room but they were all full. We were so exhausted from Dorney park that driving home seemed out of the question. We got lost. Pulled over by a police officer because my daughter had directions in her hand while driving. I can't read due to the stroke disorder.
Finally a nice security officer at the last place we stopped drove ahead of us to the exit that would take us home. I worried all the way about my daughter and the baby she was carrying. My grandson was in tears because he overheard my daughter tell the officer we were lost. And I was becoming more and more in need of a breathing treatment and rest. When we got home, I called the man who sold us the Dorney / Hotel package and he was very nice and gave us all our money back. But the hotel would not return our calls.
Finally when they did, they were snippet about the situation and said, "You got your money back so you're all set, right?" Well no, that's not right. What about ruining my grandson's 7th birthday? What about putting my daughter at risk? What about the law you broke by not providing us with a room? Yes, the law states, if you prepay, the hotel is obligated to make sure that you get one. Even if they have to drive you to a more expensive hotel. It's the LAW. So, I asked for free 2 nights stay at their hotel. And, get this... the girl says to me, "We're not in the business of giving away hotel rooms". Well you certainly could have fooled me!! You didn't have any trouble giving away mine.
I would never risk staying at a Days INN again. I can understand making a mistake, but it's the entire attitude about the whole situation that bothers me. They just could care less. What if that was your family? I wouldn't risk it. There are much better hotels out there. That actually follow the rules and the laws and actually care about their customers.

The room was clean so that was a good thing but the tub didn't work. There was a 1 foot closet, no counter space to work on, and the housekeeper didn't come by by 2:00pm. When I called the front desk asking when the cleaner would be by, the clerk said, "she'll be by when she gets there." Rude!

So I book a reservation at 5 pm Monday, Aug 1 - Tuesday, Aug 2. My flight arrives Monday evening at 11 pm. At that time I begin to try and call the hotel to be picked up from the airport and I get an operator telling me that the number is not taking phone calls. I try another three times and still get the same message, so at this point I'm confused, irritated, and tired. I called the Days Inn customer service number and they attempt to call and there is no answer for them. So now I'm pissed because I'm tired and ready to go to bed so I demand to talk to a manager. Well they connect me to a line that rings for twenty minutes, ultimately there is nothing that they can do for me. SO I had to pay $25 for a taxi and book another room for $80 at a different hotel and now Days Inn are refusing to give me my money back. They will get no more of my business in any state or country and I will slam their name any chance I get!

Stay at Days Inn on Montgomery Hwy in Birmingham, Al. Big mistake!!!! Room 531 had hairs and if you wanted dinner it had noodles in the bed too!!! Then the shower had no water pressure. They moved us to room 214 the tub was stopped up, but the room was clean! Front desk clerk very friendly!!! First room 531 had hairs and noodle.

Stayed at Days Inn in Hollywood South, Florida for one night. Had two grandkids with us. Bloody sheets I wanted to throw up!! The bathroom light had aluminum foil around it instead of a light fixture. Large mold stain in bathroom next to make believe light. This was the most awful experience I've ever had at a motel/hotel.

DO NOT and I repeat DO NOT go to Days Inn at Southern Hills off 91st S Lewis here in Tulsa, OK. I have NEVER been treated so poorly in my life. It's hard enough being ** out here nowadays and being a married lesbian just adds to the hate. I go to check out like I've done a million times, the clerk states she needs to go check my room. Cool, I've never seen that before, but no biggie right? Negative! She comes back telling me there is a hand towel missing and my card will be charged. Now mind you, I pick up my room before I leave. I know the life of a housekeeper because I've been one before. I tell the clerk I know for a fact there was only 1 hand towel when I arrived. She tells me I'm welcome to go back and check. Of course I'm going to go back and check (FYM?). I bring ALL the towels down and count each one with her. Then she switch up and say there should have been two.
"Look here, you better call ya manager because you not about to play me." This entire time I never cuss her out (even though I wanted to). I realize we ALL have a job to do. However, the manager states he will waive the fee, but I'm banned from coming back to the hotel. I asked why? She couldn't give me a straight answer. I haven't done anything wrong. My family was quiet, we were not disruptive, we never smoked in the room (it was a non-smoking room), we abided by all of the property rules. The entire reason we were there was due to the power outage (yes power is restored now) due to recent storms. The person before me checking out was a ** male and DID NOT have his room checked when I checked in and the same as I checked out (which is why I thought that whole process was weird).
If you are ** and especially ** and apart of the LGBT family, relatives, friends, associates, eye hustlers, whoever DO NOT give this hotel your business!!! It's a shame that the owner is Indian (Middle Eastern), which is also a minority in America, and you still feel the need to treat my wife, my son, and I that way. We are all human in the end. You bleed red, I bleed red. Please share.

Days Inn Grand Strand, Myrtle Beach - The AC that was not working, the bed was not working and molds inside the room, and phone not working. When I complained to the person who claimed to be the manager he told me I had to contact Travelocity since that is who I made the reservation through, and he would refund the money. I immediately checked out and did not stay at the hotel. Travelocity claims they contacted the manager and he told them he had not received any complaints. Stay away from this Hotel.

We stayed at Days Inn hotel room 304 in Lawndale city LA county from 06/27-07/01/2016 and very second morning I stepped on a bedbug but first I thought it was a cut because there was blood on my left foot but I did not feel any pain. When I came down and told a front desk person (a woman) about the blood on my foot and told to clean better the room.
On the night at 1pm 06/30/2016 I saw something crawling on my pillow and when I tried to catch it run fast but I caught and look at it was a bedbug. I checked under the pillow and found one more and two more on the pillow where my daughter was sleeping. She woke up and started to look so frustrated to see them. I went downstairs to front office and it was closed then I ring at the window. The girl came out and I showed her. She gave me a key from room 302 to move in. We moved to 302. In the morning I spoke to a manager who called himself Michael and told him about bedbugs on what he said he would call an exterminator to check the room for bedbugs. I told him that my daughter did not sleep all night because she was so upset and frustrated about bedbugs so the manager said that he will waived fees for one night.

When my friend joanne and I stayed at Days Inn in Gatlinburg, TN on April 10-12, we had a problem. We could not get out of our room. I called front desk and after a time there was 5 people trying to get the door open. If there had been a fire we would have been dead!!! Finally after 2 1/2 hours later they were still working on the door. I got the idea of taking off the hinges, which I did. The owner, Ken, said he would give us a free breakfast and comp us two (2) nights for our trouble.
When we left the next day I was told the computers were down and that it would be taken care of. My mistake was leaving before it was done. I had faith that being Days Inn I had nothing to worry about. I was wrong!! To this day I have not seen any refund, which would amount to $182.33. I disputed it with Visa but They can't do anything about it so I am turning to you for help with this. It is just his word against mine. Please let me know what you can do about this and if I don't hear from you I will follow another course of action. Thank you.

Tried to cancel reservation due to family problem. Which the reservation is not coming up for 6 weeks (in August). The manager said they could not cancel and would cancel the reservation. DO NOT MAKE RESERVATIONS at the DAYS INN in Bend, Oregon.

I play in a band and we were booked to stay at the Days Inn Cleveland Airport South, 7233 Engle Rd. Middleburg Heights, Ohio on June 11, 2016. Granted we knew what to expect in a 2 star Hotel but was doing the event a favor. Which is why per our rider nothing less than a 3 star Hotel is acceptable. However I did not expect the Hotel to also have dishonest employees working there. I have left some of my personal items - clothing in the bathroom. I started calling the night I returned home and given an answer that my call would be returned because the rooms were put out of service till housekeeping went in. That never happened, I had to call every day with a different story every call.
My 5th day is when I finally spoke with the General Manager and she assured me that she would find out what was going on and would call back the next day. The call never came the next day so I had to call back and she never got on the phone, only the receptionist to say the general Manager is away from the desk and they did not find any clothing in the room. I finally called Customer Care and was informed by ** she very concerned with my issue and I would receive a return call by 6/23/16. Hello!!! It never happened! Needless to say as I am typing this I am back on the phone on hold of course waiting for Customer Care to pick up. I have been on hold now for over 30 minutes. I will never stay in a Days Inn again and will also let the thousands of people we play in front of also know this.

ConsumerAffairs Research Team
The ConsumerAffairs Research Team believes everyone deserves to make smart decisions. We aim to provide readers with the most up-to-date information available about today's consumer products and services.
Days Inn was founded in 1970 and is headquartered in Parsippany, N.J. It is a subsidiary of Wyndham Hotel Group and is classified as one of their economy brands. Days Inn operates almost 2000 hotels worldwide and includes three brands: Days Inn, Days Hotels and Days Inn & Suites.
Free breakfast: Days Inn offers an expansive complimentary breakfast to all guests. The Free Daybreak Breakfast includes fresh fruit, cereal, oatmeal, yogurt and other select items at different locations. Free coffee and tea is also available in all guest rooms.
Free Wi-Fi: Days Inn provides all guests with free Wi-Fi in their rooms as well as in common areas.
Special discounts: This chain of hotels offers discounts to members of certain groups, like AAA, CAA and AARP. They also have special offers that change seasonally. To see the most recent offers, travelers can visit the Days Inn website.
Wyndham Rewards: Days Inn participates in the Wyndham Rewards program, so points earned at Days Inn can be used at any of the Wyndham brands, including other economy hotels like Super 8 and Knights Inn as well as upscale resorts like Dolce and Wyndham Grand. Members earn a minimum of 1,000 points for every stay.
Sustainability: The Wyndham group continually works to lessen its properties impact on the environment. The Wyndham Green Tool box is a proprietary online system that lets the company monitor water and energy use as well as waste production and emissions company-wide.
Best for Days Inn caters to individuals looking for a great value. It's suitable for solo travelers, families and retirees.
Company Name:

Days Inn

Website:

http://www.daysinn.com/