Toyota Recalls and Class Action Lawsuits
The vehicles could experience an electrical short resulting in a fire
09/05/2018
|
ConsumerAffairs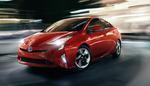 Toyota is recalling about 192,000 model year 2016-2018 Prius vehicles in the U.S.
The recalled vehicles have an engine wire harness which is connected to the hybrid vehicle Power Control Unit.
A portion of the harness could contact the cover at this connection and wear over time, causing an electrical short circuit, which can generate heat, posing the risk of a vehicle fire.
Toyota will notify owners and dealers will check the engine wire harness assembly. If a wire core i...
More
The airbag system may not deploy properly in a crash
08/30/2018
|
ConsumerAffairs


Toyota Motor North America is recalling about 19,400 model year 2012 Avalons.
Because of a service part manufacturing error, some vehicles may have had a front seat belt inner buckle replaced with one that does not correctly identify if the seat belt is buckled.
This could affect how the airbag system determines the appropriate airbag deployment method in a crash, and could increase the risk of injury to the occupant where the front seat belt inner buckle was replaced.
As ...
More
Sort By