Toyota Recalls and Class Action Lawsuits
A crack could develop on the sidewall reinforcement layer of the tires
02/27/2019
|
ConsumerAffairs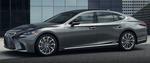 Toyota is recalling about 6,300 model year 2018 Lexus LS 500/500h vehicles with run-flat tires.
Because the tires were assembled to the wheels improperly, a crack could develop on the sidewall reinforcement layer of the tires.
Under certain driving conditions, portions of the tire tread layer could separate, causing a reduction of vehicle stability and increasing the risk of a crash.
Toyota will notify owners and dealers will replace all four tires with new ones at no char...
More
The vehicle may stall when driven under high load
02/22/2019
|
ConsumerAffairs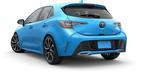 Toyota Motor Engineering & Manufacturing is recalling 3,424 model year 2019 Toyota Corolla hatchbacks equipped with Continuously Variable Transmissions (CVT).
The pump impeller blades within the torque converter may detach, especially when driven under high load, potentially causing a vehicle stall.
A vehicle stall, especially when driving a high rate of speed, can increase the risk of a crash.
Toyota has notified owners, and dealers will replace the CVT and torque convert...
More
Sort By