Consumer Complaints and Reviews

September of 2015 I purchased a new set of Goodyear Assurance tires for our 2012 Honda CRV at a Goodyear store. Right from the start I noticed that when stopped at an intersection, stop sign or light, and I go to accelerate many times the tires just spin, I can't get traction. I have to take my foot off the gas pedal and then slowly accelerate. A number of times this puts me in the middle of the intersection with traffic coming at me from the side... very dangerous. I consider myself a very good driver. I've been driving for almost 50 years. I'm not reckless nor am I in the habit of doing "burn outs". The tires do not visually look to be defective and have plenty of tread and I keep them properly inflated. Any others with this problem?

We put Goodyear tires on all our vehicles. Our latest was the purchase of four tires for our Jeep Cherokee. Goodyear tire products have always proven reliable. Also, they generally wear well and the warranty is satisfactory. We expect the tire line we just purchased should last at minimum 45,000 miles.

I had the Firestone tires that blew out and made the Explorers tip over and roll. So the dealer changed to Goodyear. These are great tires and they stand behind their product. I've had no problems with them and I got the rated miles per set.

I wanted Michelin tires to replace the original tires. However, those weren't readily available. So I did some research and decided on All Seasons 225/50ZR17. I had L/E knowledge of Goodyear's brand and found it to be a reputable tire. I'm at 18000 miles with these tires and thus far, I am satisfied with it. I find it to be a little harder as compared to the previous tires (Michelin) thus causing the ride to be a bit louder. The Goodyear tire doesn't allow for a smooth ride but it's not uncomfortable. Goodyear grips the surface extremely well allowing very little or no lost movement from steering to control the vehicle. My overall experience with Goodyear is positive. However, they lose air pressure frequently. This is a quality tire at a great price and the brand is one I trust.

I purchased 4 Goodyear Fortera TripleTred tires in Jan. 2010. By Aug. 2011, one of them had blown out on a trip out west. Because my car documentation says I should keep the same tires on all four wheels to not damage the differential, I purchased another Fortera TripleTred while on the trip. By Jan. 2014, after only 23,000 miles, two more had failed, one due to an unrepairable puncture and another from another blowout. I put so few miles on my car because I bike commute to work and as many places as possible.
When I researched Goodyear Fortera TripleTred tires, I found out they had been discontinued. I contacted Goodyear and asked if I could get some kind of refund because 3 of the 5 tires had lasted for so few miles and I needed to replace all four tires again. The Goodyear representative said all they could do was prorate the tires and replace them with a comparable Goodyear tire. Rather than try Goodyear again, I decided to replace all four with Michelin Defender tires. Best move I ever made. I haven't had a single problem with the Michelin Defender tires in 3 years. When I talked to the tire store manager, he joked: "You know why they call them Goodyear, right? Because they're only good for one year." Never again, Goodyear.
How do I know I can trust these reviews about Goodyear Tires?
741,284 reviews on ConsumerAffairs are verified.
We require contact information to ensure our reviewers are real.
We use intelligent software that helps us maintain the integrity of reviews.
Our moderators read all reviews to verify quality and helpfulness.
For more information about reviews on ConsumerAffairs.com please visit our FAQ.

I used to own Michelin tires, they were down to the wear bars and needed to be replaced. My car drove very smooth to the store to get new tires. The day I had the Goodyear tires installed my van drove like every road was a gravel road. I took them back. I was told my shocks were bad and that my rims were bent. How did that happen the instant I had the Goodyears installed! Two of the tires were found defective (not even round.) I thought tires were supposed to be round. I thought I was buying a good name. My tires needed to be replaced. These tires have 30,000 miles on it and still are not round. Even the replacement tires are not round. I will never buy Goodyear again.

Excellent tread wear, comfortable on the road and look good on my car! Came with my car and I trust the company I purchased it from. These work great. Always feels like they grip the road. In the rain, no hydro planing. I purchased a different set of tires for an older car and I did not like the performance. Driving in the rain was terrible as in snow. Did not seem like I was getting a comfortable grip and seemed like I really had to fight to keep it in control.

An American company is important to me so I got a Goodyear Wrangler SilentArmor M+S P265/75R16 on my Pathfinder 2005 off road and 4X4. It's an AT tire with very rugged and aggressive tread and I've already had 18,000 miles on it. I drive a lot on desert dirt roads, sometimes in DEEP blow sand and I've never got stuck in the sand as long as I keep moving so it's really is an AT tire. It also has good traction in all conditions except ice plus, it provides a good and quiet ride.

I've had 25000 miles on my tires and I rotate other tires on time and keep them properly inflated. The tires weren't that great on wet roads and wore out quickly. They are on a minivan so there is no crazy driving going on. My cousin also had Goodyear tires on his minivan and also said the tires wore out quickly.

I was told this was a good tire for the 2011 Avalon. I disagree. It has poor gas mileage and poor handling. I had Bridgestone and Michelin tires. Bridgestone tires are good but mileage was poor. Michelin tires have great tire mileage and performance. Yokohama performs good for the MR2 but tires have to be replaced every 10,000 miles.

I have Eagle LS, high-performance Goodyear tires which I got on sale at nearby tire shop. I've had 10,000 mi. on it and never had a flat tire. I also inflate them less frequently. It has a great feel, smooth ride, and it grips dry road extremely well, but not as well during a lot of rain like a big downpour or large thunderstorm.

Goodyear is one of best of breed. It's a quality brand and the price was right. The tires stood the test of time on the brickyard oval. I've had 5,000+/- miles on my tires and so far, I've had no problems. It stay round, and no flat spots from sitting or cold weather. Retain the proper tire pressure and so far wear is negligible but then again it has not gone far. Road noise is also negligible, and the tires handle well under most road conditions - good comfortable ride.

I have Goodyear tires on a mini van. I use it on rain-snow, but these are not snow tires, just plain good road tires. I got these because it has lots of miles in it based on my past experience. Just keep pressure at 36 lbs. I don't run them way down, I usually go 50 to 55000 and they stick to the road at higher speeds and also on rainy roads or snow.

I wanted tires made in the U.S., and these were the only ones I found, 4 years ago. I chose these tires for their size, tread pattern, and length of service. That is, according to the maker's warranty. After 24k miles, my tires still look great! Great traction, even on wet surfaces and they handle corners fine.

I've had 3 SUV's and used the same tire when purchasing a vehicle. Goodyear tires have aggressive features and traction. They are perfect for the snow and very good on sand. I've never tried them in rugged terrain but they're not too loud on highway driving.

Went to Walmart back in May 2016 and bought 4 New Goodyear Viva 3 235/60/16 tires. After only having the tires on my truck for less than 6,000 miles, the sidewall blew out on the passenger side. Went in, had it replace. Since having these tires, we have replaced 9 tires as of today. And today, Walmart gave me the runaround about the tread being worn and that I had to pay full price for one ($81) and $54 for the other. Yes 2 tires (new - less than a month old) same issue - sidewalls getting holes.
The Walmart associate had the nerve to ask if I was running over a lot of curbs. Guess what? Nope because my boyfriend is usually driving the truck - rural road, no curbs, no rough roads. Made me mad for his insinuating that I either could not make a proper turn in this little Ford Explorer Sport Trac or because I was a woman driver. I, frankly, told him I drive a full size Dodge Ram 1500 Mega Cab and don't get any flats but I have Michelin tires. Not these crap things. Don't buy. Spend the extra on another better quality brand!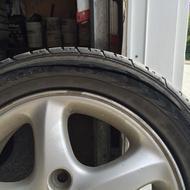 My wife was pumping up her Goodyear car tire at the gas station. The tire sidewall blew up (exploded) in her face. She was thrown several feet away and momentarily lost consciousness. She was rushed to the hospital and treated for her injuries. The end result of the incident, aside from pieces of rubber embedded in her face, she was left permanently deaf in one ear and has overall major hearing loss. Goodyear refused to accept any responsibility, making excuses for the tire. Goodyear would not admit to any type of flaw. My wife will have to live with this disability for the rest of her life and Goodyear doesn't care! They are a bad company - stay away from Goodyear!

My views and opinions, my experience. I purchased 2 new Goodyear Assurance at the end of September and not even mid November I experience a crazy blow out of the driver side rear. I drive a 2010 Dodge Charger. The blow out lifted the rear of the car in the air so much that I thought someone hit us from behind and went up under the car. The car swirled back and forth but I was able to gain control. I did not come in contact with any materials in the road. The manager at Mr. Tire in Columbia had the nerve to say he could believe it where a blow out if I didn't have damage to the rim? There are nowhere marks to the side wall to show low tire pressure and no uneven were to lead you to believe there was bubble. The tire is ripped end to end and the damaged rim is outward away from the tire because it occurred after the tire blew. In my opinion they should look further into bettering this product.


We purchased a 2013 Silverado new. We seldom drive it so therefore it only has 28000 miles on it. The tires that were on the truck when purchased were Goodyear Wrangler AT/S P265/70 R17. These tires have been nothing but a headache and a money pit. We drove to Ky, which is about a 2 hour drive and noticed the tire had a bump in the middle of the tread and the tread was splitting. We made it to a tire shop where we were told that these tires were junk and that it could not be plugged and would have to purchase a new tire.
Well thinking that they just wanted the money for a new tire we put our spare on and drive back home to the dealership where we purchased the truck, we were told the same thing about the tires. We purchased another tire and have since had the same problem with the others. This is ridiculous. These tires need to be recalled and people should get their money back or new tires. The company should be held responsible for their product.

Like others have stated, I went in for the "FREE" tire repair. Suddenly a FREE tire repair caused by a small nail in the tire turned into me needing a whole new tire at $140. I declined and took my car to a small local tire shop where I paid a (whopping) $12.00 for the repair. Somebody needs to call Chris Hansen on these people!!!

Purchased a brand new Kia Forte SX, came with Goodyear Eagle tires on it. At 55K both front tires developed bulges in the sidewall. Needed tires right away and the local Canadian tire had a really good deal on certain tires so I replaced the Eagles with Goodyear Allegra Fuel Max tires. At 18K kilometers the driver side tire blew out the entire sidewall leaving me on the side of the road, luckily that was the worst of it. Kept a close eye on the other tires from then on. They didn't make the Allegra anymore so replaced it with a Goodyear Assurance. Only 18K kilometers on it blew out and still cost me $25 for the replacement, plus balancing, plus tire disposal, plus taxes!
At 21K kilometers the other Allegra developed a large bulge in the side wall and one of the rear. Eagles also started to get a bulge in the sidewall!! 71K kilometers for that tire. Took car in and of course you have to replace a tire under warranty with the same tire so Goodyears on again but the price has changed on the assurance so not only was I charged $26.50 for the tire but an additional $9.99 charge for the pricing difference, even though they couldn't have replaced it with the same tire I purchased and again I had to pay balancing, tire disposal and tax. Car has 71K kilometers on it and have now had to purchase 5 new tires costing me more than $550, and I still have Goodyear tires on it which I have no trust in whatsoever. Yay. Don't buy Goodyear tires if you want tires that you can trust. The aforementioned car is my back and forth to work car, minor highway driving and around a small town so the damage is totally unacceptable.

Going 65 MPH on the expressway my right rear goodyear tire blew. Almost had an accident but managed to get to the side of the road and found that the tire tread has completely separated from the sidewall. Less than 20,000 miles on the tire as it came with my Jeep so will never I repeat never buy one of these crummy tires again. Will also let all my friends know what a crummy, defective product Goodyear makes!

I went to Goodyear shop in Indianapolis downtown for oil change with coupon. They also checked my tires for low pressure and identified that there is a nail - I got a call from them and informed me that I need to change the tire. I asked to repair it and they said they can't repair since it's at "Unrepairable spot in the tire".
Next day I took the car to local tire puncture shop, and they fixed it for $15. And they shown me it's middle of the tire, so Good year lied for business... is this is the way to gain the customer/money? BAD. Change the name from Goodyear to Bad year.
I went to Goodyear again (not the same shop). For my car ac issue. And they replaced the coolant flush and radiator -- so much miscommunication and they charged me $83 - later I am back to home and try to fix the AC by recharging AC refrigerant and as soon as I open the car I found the bottle of 'lubricant...' They forgot to put that in my coolant/radiator system... super? If I would have not open then. I would have run the car like that and burn the engine?
Well... next day I went the same shop and show the bottle... and the lady said. "No problem will put it today." And they checked my AC and said, "I need to replace the compressor because they found a hole on it." And it costs me $650. And now you guys can guess what's going on here. NEVER EVER I go to Good year in my life. My experience with Goodyear was soo bad and I don't know I should call it was my bad time or.

Years ago the service at this Goodyear West Dixie Highway Center, North Miami was very good. Now, the service has declined drastically under the current store manager, who is extremely rude. Also, they are well known in trying to get customers to spend more by telling customers about all the "so called" many other issues that are apparently wrong with the car instead of sticking to the main problem that you took the car in for. It's near my home but definitely will never be going back after the disrespectful treatment I received when complaining about a service problem they created after working on my car.

I took my car in to have the tires balanced and rotated also for an oil change. I was told my 2 rear tires needed replacing. I did not have a problem with regards to vibrations or driveability with my existing tires but was going on a road trip and have always done this routine prior to a long trip.The manager says there was a special for 4 tires and alignment package, I decided to purchase the package. After the tires were changed, aligned and balanced, the car developed a severe vibration and shaking in the front driver's seat and steering. I could not take it in due to my scheduled trip. When I returned I took the car in, all four tires were changed due to defects. I still have the problem in the rear, took to dealer to balance the tires. Said LR tire was def., took it to GY and was ver. as def. and was replaced.
I still have a problem coming from the rear, took it to another good year shop. Said my rims were bent, bought 4 new rims, still have a problem. I think I still have a defective tire but I do not think I will have it replaced by Goodyear. I am just tired of it, when asked why they could not identify the rear tire as defective and the dealership was able to identify it. I was told that the dealer had a road force balancer and they did not. My decision is I will not buy tires from Goodyear. When I tried to take it to GY shop that have a road force balancer they said they cannot accept my alignment program and that I have to take it back to the shop where it was purchased. Can anyone reading this understand why, I guessed the customers are the last thing on their minds.

I got a nail in my tire. I had to replace at least the set. So, I bought two Goodyear viva 3 tires at Walmart. The only reason I bought them was because I was in a pinch and needed tires right away. Big mistake. Soon as I got the car back it would shake going down the highway at speed. Now, here it is 4 months later and about 6k miles later. The tires have about 40 percent tread left and the passenger tire has a dent in the tire and the drive side looks like a belt is starting to break in the sidewall. These tires are complete junk and will blow out on you or wear out on a road trip.

I wrote this once on Goodyear site. Never got posted? WHY? I bought 4 tires from another place and needed a wheel alignment. Their guy was out but they checked my front end parts out. All was ok. I was sent to this Goodyear place 3949 E. 8 Mile Rd. and wow, they told me all 4 ball joints are bad and my rack steering needed replaced?? I am over 60 and worked on cars ALL my life so I know. I ask them to show me where they are worn. They could NOT! I said alignment it how it is and went, got sandwich, came back in 15 minutes and truck was all done? Too fast to do an alignment. I took truck next day to another place and all parts were checked out good again and it took them 1 hour 17 minutes to alignment it because it was so far out. Goodyear NEVER touched my truck but still charged me for it. GOODYEAR is NOT honest!! And they won't even post this so people can see it.

I only buy Goodyear for my 2009 Toyota Altis. My recent set of tires are the ones I bought 2 years ago. I only had to replace the old ones because some neighborhood kids let the air out of my tires and I drove a couple of miles without noticing that I'm running on a flat tire. I went to the Goodyear shop near my workplace, left the car there and got back at the end of my shift. The saleslady sends sms to ask about the service given and to remind me that it was time to rotate the tires. I've always used Goodyear and will probably use them the next time I need a new set of tires. Also the guys that worked on the car tightened up some screws in the bumper that needed tightening. Awesome guys.

Hi. Recently I bought my new Grand i10 Magna car on 24th Jan 2016 from Shivalik Hyundai Ahmedabad. Even in just 700 to 800 km my front side 2 tyres was damage & one was blast. We saved from major accident. I hereby request to you that please change my both tyres under goodwill warranty of your company. It is the question on prestige for your company that even in just 800 km tyres was blast. They provided me to logged a complaint to the Goodyear where it took almost a week for the Engineer to come and check and at the end I was provided with the reason this is not replaceable. This is highly painful. After spending lakhs of rupees in my car you have been provided with such an answer. Deeply regret the way Goodyear is dealing with his customers. Highly disappointing. Company is really rude and hesitating on replacing the defective tyre they supplied to us. Very shameful for such a big brand.

Lauren FixAuto & Finance Contributing Editor
Lauren Fix, also called The Car Coach, is an automotive and auto finance expert. Her understanding of vehicles has made her the "go to" person on TV, radio, print media and the Internet. She has authored multiple books and writes a column for several outlets, including Parade Magazine, NewsMax and Car Coach Reports. She is a regular guest on major news and morning shows, discussing the latest updates on cars and car financing that will help drivers make smart decisions when buying, maintaining and financing cars. More about Lauren→

The company was founded in 1898 to service the bicycle tire and emerging horseless carriage tire industries. Goodyear is now the number one tire maker in North America.
Tire warranty: Goodyear offers several tire warranties, including premature tread wear protection and a limited warranty if excessive noise or roughness is experienced.
Special offers: Sign up for special offers through the Goodyear website. These can include tire rebates and service coupons.
Full auto service: Many Goodyear tire locations offer full auto service, including oil changes and mufflers. This provides convenient one-stop service backed by a Goodyear warranty.
Register your tires: By registering a Goodyear tire purchase online, consumers will receive important updates about their tires. This can include product safety-related recalls.
30-Day Goodyear Pledge: Consumers have 30 days to try their new tires. If they are not satisfied, they can return the tires for another set of Goodyear tires. Some restrictions apply.
Best for Sports car and high-end vehicle drivers, extreme performance, touring, winter, run-flats, light truck and SUV drivers and passenger vehicle drivers.
Goodyear Tires Company Profile
Company Name:

Goodyear Tires

Address:

200 Innovation Way

City:

Akron

State/Province:

OH

Postal Code:

44316

Country:

United States

Website:

http://www.goodyear.com/