Consumer Complaints and Reviews

The service was great, however NOT RECOMMENDED TO A FRIEND UNLESS WARNED: To get that highly sought after service there are two barriers to overcome that I would warn people about before they arrive. This DISCOUNT TIRE Pueblo, Colorado location has no clear way to arrive to the point of service. It is uncertain if a customer parks the car in any one location. Second, when a customer walks into the lobby the customer must jockey for position to get the attention of a representative. Although we received rapid and thorough service there is no way to recognize the order in which people will be served. The staff did a fantastic job in recognizing who needed help and got them engaged fairly well, but I can see potential problems here and is the only reason I would not recommend Discount Tire to a friend or family member without warning them first.

The people really nice here, but they always make me wait for my tire rotations for at least 1 1/2 hours minimum. They lost my hubcab, and eventually replaced it, only to find another one missing on my next tire rotation. Whether I make an appointment or not I am stuck here for over an hour. I have tried coming in on a weekday, early morning, before close and the results are all the same. Makes buying tires here not worth my time. It's not like I can walk home and come back. Get more help Discount Tire.

Turned out that the company was not at fault and it was just me not realizing it was just standard curb rash -- they was really nice and understanding and even offered a discount on new rims.
Original Review
They damaged my lug nuts and told me Ford Fusion lug nuts are junk and that they should be replaced at a cost of 45$. Worse, they damaged 3 of my car rims when replacing my tires. Now trying to get corporate make things right.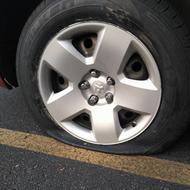 I went to the Cordova, TN location to get all four of my tires replaced and the service was friendly and the amount of time that it took to replace all the tires was reasonable. The only not reasonable part of the visit was afterwards when I went to work and about two hours later I come to my car to see that the tire in the back right was completely flat. I checked for punctures and I could not see any; the distance I drove was 15 miles on the interstate and I have done this plenty of times before with old tires and I have not had a problem. Unfortunately for me 7pm is after hours and so I cannot have it looked at till tomorrow. I hope something is done about this because if I had driven a longer distance the tire could have resulted in an accident.

I had purchased for my 2017 Dodge 3500 wheels for $808.00 and tires for 1600.00 from Discount Tire with installation. In addition I paid tire insurance for refund or replacement. On March 3, 2017 they were installed. On Jun 4 2017 while driving on the freeway at 80 mi/hr front right wheel came off the car causing damages to the vehicle. I filed a claim with Discount Tire and they denied my claim. Based on investigations perform by Discount Tire investigator vehicle have more than 1000 ml and my husband was a former part time employee was accused by sabotaging and tampering with a vehicle. I filed complaint with BBB, they did not replied. Please direct me in a right direction to help me solve this problem.
How do I know I can trust these reviews about Discount Tire?
851,761 reviews on ConsumerAffairs are verified.
We require contact information to ensure our reviewers are real.
We use intelligent software that helps us maintain the integrity of reviews.
Our moderators read all reviews to verify quality and helpfulness.
For more information about reviews on ConsumerAffairs.com please visit our FAQ.

Arrived 9:10 AM. Both front tires were leaking air. Salesman confirmed with air gauge. Said will be ready at 10:30. I asked at 11:25 because nobody has told me anything. They said it had been ready. Then I found out that only 1 Tire was fixed! A different salesman said I'd have to wait a lot longer to get the other one checked again. Went back to original guy who is pulling it back there to fix. Still waiting and it's been 3 1/2 hours. Customer service is not polite. They turn their backs to you so they don't have to help you. One lady asked if they were going to serve lunch here since they were taking so long. I will not come back to this Discount Tire location on Stella Link at West Loop South in Houston.

On July 2016 I Purchased 4 new tires (70,000 mile). In November I took it in to get tire rotation and wheel alignment at that time which they mentioned that the alignment was bad. Came January I took it in because I would notice the alignment to be off, so I took it to Discount Tire to get it checked out. At that time they mentioned the alignment to be off again so he asked me if I had bumped the curve or hit a pot hole so I told him no, so they did the alignment again and I left. So just as I was getting home I started to notice the alignment issue came back again. It's like they left a screw loose that the alignment is fine at that time but once I drove it around the alignment moved again.
So here I go again to the Discount Tire the next day and asked for the alignment again. They was surprised as so was I. But something has to be wrong. Now after this visit alignment seemed fine again. Now on February 24 I took it to the dealer for oil change which at the time they measured the tread and it says that the front tire tread is 5/32nds and the rear tire tread is 9/32nds... That almost half more of the tire worn out.
So in April I noticed a squeak noise coming from the front of my pick up so I thought it was something wrong with the suspension. So I took it in to the mechanics shop and they found a loose screw and they showed me. So I took pictures to show Discount Tire because this screw is used to align the front tires. So the guy at the shop tightened the screw and the squeak noise was gone. So I took my truck to Discount Tire again due to bad alignment again and told them about the front 2 tires being all worn down. Only the outside half of the tire because the inside half of the tires was still good.
I requested to get a replacement for the 2 tires that was all worn down due to bad workmanship and bad alignment and they said NO that is not possible and that I would have to wait till the tires was all worn down til it's 2/32nds and at that time I could take it in and have to still pay pro-rate for the miles used... Now.. why do I have to pay if its Discount Tire fault that they could not do the alignment correctly and left screw loose.
I spoke to headquarters District manager and he gave me the same story and said that the tires did not get worn out because due to bad alignment. He was trying to tell me that it was normal wear. WHAT! That was my reaction when he said that comment. Now I am car savvy person and I know for a fact that what he was telling me was all lies so they wouldn't exchange me the 2 worn out tires.
I am very dissatisfied and feel ripped off, I mean these tires are not even a year old and only 17,000 miles on them. Why would I have to pay for this if it's the fault of Discount Tire. It's not even the tire manufacturer fault and all they kept telling me was about the tire manufacturer warranty... But again it's not the tires. It's the Discount Tire that didn't perform their job right. Need to get legal help now because this is not right.

Discount Tire had young individuals working on tire rotations and I think they have to hurry instead of focusing on quality of work they need to complete. Need to be more attentive to how things need to be done because they cross threaded the lug nut on the stud and I could not loosen or tighten the lug nut and they sent me Meineke Auto to have the stud and lug nut replaced and all because of a simple tire rotation and best part is Meineke tech said this happens OFTEN because Discount Tire had a form called "Broken Stud Repair Referral Form" that just had to be filled out and take to Meineke Auto to have problem corrected.
This was on my daughter's car because she did not have time to have her tires on her car taken care of. I could not recommend Discount Tire of Columbia Heights Minnesota to anyone because of the young and inexperienced tire techs. One needs to start the lug nuts manually to make sure they will go on as designed before they USE their air wrench to tighten the lug nuts. Reading other reviews about Discount Tire are not real great either. Not sure how many "minutes " of training they receive but I know it is not enough to be quality minded. Store # MNM11.

I was out of town in Toledo, OH and there was a monsoon. I had a very low tire and pulled into the store on Monroe street to have it checked. Matthew ** and Josh ** let me in (after hours) and fixed my tire. I was able to make it back home without being stranded on the side of the road. Matt and Josh helped turn my horrible evening around and really came to my rescue in a tight spot.

I had a center cap of the wheel cover missing. Called them, they said to come in; I did. He was polite and came to the car and immediately said I needed new tires. He looked at the wheel cover and saw the center part missing and we went back in. He showed me the computer and said, "This model is only 92.00 and will fit." I said, "Why would I want to buy this one when the center cap isn't there so the nuts are still showing?" He replied, "All cars but the Mercedes have the center showing." I said, "My car is a Mercedes. It is foolish to pay you $92.00 to look like it still does." It didn't make sense. He also said the tires would be about $292, but didn't tell me the kind. I went to another store and got the help I needed; told my tires were still OK. Was it because I was a woman? Maybe 74 years old and driving a MZB?

I purchased a new set of tires for my Toyota Sequoia ($1200). They broke the front two Toyota caps to my rims and when I told them to fix them they said it was not their problem. I just spent $1200 in new tires and you fix what you broke! I will never use this company again!

The Senior Assistant Manager and guys at the Aldine Westfield store in Spring customer service is exceptional. My Mercedes had a nail in the tire and they repaired it and got me taken care of fast. It was almost 6:00 pm and I know that they are ready to go home at 6:00 pm, but they took the time and accepted customers until right at 6:00pm which is the time they close. Thank you Discount Tire.

My real name is Darren **. I'm writing this review to tell the public that the only way to get Discount Tire to honor a claim is to put them on blast everywhere, which I intend on doing. But I actually like the guys at this place. They get 5 stars for customer service. Joel is a great manager, but he can only do what he is allowed to do when it comes to claims. Just like a woman by the name of Sapphire in the Discount corporate claims department. Now, she has a job to investigate, just like Joel. But she seemed more like a bodyguard for Discount Tire. she admitted to no wrongdoing by Discount Tire.
So, here's my true complaint. I first bought tires and rims from Discount Tire for my 2014 Silverado, the rims were scratched, and I got a really good deal on them. But, about a month later, I'm going down the road, and my driver back tire is wobbling and ready to come off. I just happen to be close the Discount Tire place, so I tried to get there, but the wheel was getting worse by the second. I just happen to come up on Tire Discounters, their competitor literally right down the street. I ask them if they would help me. They put my truck up on a jack and tightened the lugs back down. Not only did they do that, they checked all my lugs. So, this is the first problem I had with Discount tire. I actually let it go.
Then literally 3 days later, the new rims and tires I bought from them for my 2002 Honda Odyssey, the rear driver side tire lost its bead and blew off the rim causing me to lose control in a split second and hit a telephone pole. Literally, BOOM, then POLE!!! That fast. This could have killed me, my wife and child if we was going any faster. Thank the Lord that everyone was buckle up, and we was going around 15 mph.
Reason I was going slow, I was getting ready to turn. I get out of my vehicle, because I thought for sure I hit something in the road. But there was nothing. I look at my back tire, and its complete off the rim. I checked my wife and kid for injuries, and my wife has a messed up shoulder, and I had bang up ribs. My daughter was fine, thank the lord. I call 911, police and ambulance get there fast. the police check everyone, then ask for my Id and Insurance of course. Then they do a complete investigation, and found that the tire did come off. They didn't cite me with any tickets or give me a sobriety test, because was flat out obvious the tire came off the rim. So my van got towed, we got a ride home.
The next day I called Joel at DT, and he said he would put in a claim. I told him, "I don't want to lawyer up, I just want Discount Tire to pay for the van which was only worth 3k, and the tow, and possible med bills, because me and my wife was hurting bad the next day." I was basically giving this greedy company a way out and they simple won't take responsibility. They are currently blaming it on Cooper Tire. Which if Cooper comes back and says "Yeah!!! It's a bad tire, then discount is off the hook."
But we all know, these companies are going to point fingers and nobody will take the blame. Just like Sapphire told me today 3/30/2017 at 5.01pm. She stated that Discount tire is in no way responsible, She stating this even before the results are coming back from Cooper Tire. Is she a mechanic? NO!!! did she physically inspect the tire herself? Hell no!!!
At this point, I decided to just sue Discount tire because I have two different incidents on record from this location. Someone screwed up, I truly believe it was a faulty tire, it was a mechanic error both times. So what could have been a super cheap way out for this company and nothing in the public eye to tarnish the reputation, is now going to be a full out lawsuit. Hey Discount Tire, when you send dumb-dumbs to try and scapegoat other companies for your mistakes, this is what will happen. Someone is going to pay dearly now because of SAPPHIRE!!! I truly believe it's DISCOUNT TIRE'S FAULT!!! I will be calling Cooper Tire and letting them know you're blaming them. Next is the Attorney General and the BBB. Then a YouTube video for everyone to see!!! FB, Twitter, etc.

I purchase 4 new tires at Discount Tires in Joliet on Plainfield Road. I return to inflate and rotate the tires, which is of no cost to me because I paid for that service. Prior to that I had some repairs to the right and left rocker panels of my car at A and V Auto Body in Rockdale [815 630 5193] and had to take it back to get it work on because some rust showed up and photos was taken of the rust spots before I took the car to get the tires fixed, the servicemen at tire discount damage my car and is now denying they did it. My coworkers saw the car the day before I took the car to Discount Tire. I JUST paid $1500 to repair my car and they damage the passenger side. Now they are telling me don't call their office to complain, they will tell the police that I am harassing them. Can anyone BELIEVE THIS??? THAT'S PAUL AT DISCOUNT TIRE IN JOLIET ON PLAINFIELD ROAD. I am asking them to fix my car.

Discount Tire In Tucson On Calle de Santa Cruz - I called the business Monday to get two tires. They had one. The salesperson said he'd order one and call back in 20 minutes to let know. No phone call so I called back and got another individual who did some research and determined that the second tire had been ordered from Phoenix. I asked that I be called when they knew. I made a 3:30 appointment as he said the latest they'd deliver was 3 PM. I got there. No tire. I was waited on by Hector. Very polite. He took my unhappy comments. I told him the whole story. My final comment was that he should talk with his boss. He took the heat for lack of performance for others and the company. I will get the tires when I get back home. I shop at Discount Tire in Reno on S Virginia st. They know how to run the business.

I dropped my van off at Discount Tire 33633 Gratiot, Clinton Township, MI on 2/17/17 for a slow leak tire repair and rotation. I received a call about 2 hrs. later from the store telling me I needed a new tire, they can't fix it and don't recommend driving on it, it's too dangerous. I told them to put it back together, order the tire and I will pick the van up and return when the tire comes in. I picked it up, took it home, took the tire off and could not find anything wrong with it. Also I looked at the invoice and it stated a tire repair and tire repair kit were on the invoice. I put on 400 miles since then with no loss of air or problem. Very strange, I do think they were trying to sell me a tire I didn't need. Salesman was **.

Wife went to get a flat fixed on one of your tires and came back with 3 new tires at full price. Discount totally refused to honor any warranty adjustment on the warranties that were purchased on the tires. First they falsely claimed tires were past warranty mileage and then when that was clearly false, they then said warranties were voided because she had not brought car into store for rotation after buying tires but that too was false since when she got the last tire 10,000 miles later they rotated the tires. They said the flat tire she went in for had a bubble in the sidewall which they said was an impact break that could have been caused by a normal road hazard and was not covered by the warranty. Your warranty clearly says otherwise. I am an attorney with 50 years experience and can read a warranty and I have been buying all my tires from your company for 35 years but never treated like this.

I've been a loyal customer with Discount Tires for years. I have an office right across the street from the Friendswood location. I couldn't get waited on so I went back across the street from my office and made a deal for tires on the phone. I can barely walk because I need both knees replaced and they have taken me across the street on numerous occasions.
When I told them that I would be over there in just a second to drop my vehicle off but that I would need someone to drive me across the street, the young man told me that they didn't have the manpower. It would have taken them all of 30 seconds to drive across the four lanes drop me off and take my car back across the street. I will NEVER purchase another tire there. Guess they are so busy that they don't need my business. I called back to ask them to have the store manager call me, and the young man said "Hold on I'll let you talk to him now." I was put on eternal hold and finally had to hang up because a client arrived at my office.

First off, let me tell you that I have been a satisfied customer of Discount Tire for over 30 years. But today takes the cake!!! And not n a good way!! After the purchase of 4 new tires for my Enclave, to the tune of $650.00. After 4000 miles the outside edges of the 2 rear tires at tread bare. I went to local mechanic shop, who I have used for years and who aligned my tires 2 weeks prior to the purchase. He told me after checking alignment again, that wheels were within computer specs., and it was a tire problem. So I took the car to said Discount store. They would not stand behind their tires but would give a small discount on two new ones. BS!!! Today I dealt with an Ethernet Ass't Manager. My mechanic told me that that store has gone downhill in a hurry since new management. So I went to a different Discount Tire where I got a full replacement.

When servicing my car, the "mechanic" failed to secure the wheel covers resulting on two falling off - only one was recovered. The store was unresponsive until after I made two contacts to the corporate offices. After this they were interested in replacing them until they discover the cost of a factory wheel cover - at which point the store claimed that the part was unavailable. Hyundai managed to sell me one, in stock. The set of tires for my truck will come from Sam's Club or Les Schwab. Screw Discount Tire.

I arrived at the Discount Tire located in Carmel, Indiana about 20 minutes before they opened. It was raining and I was prepared to wait. I did notice within a few minutes of my pulling into the parking lot one of the 7 to 8 employees inside the store walked over to lock the entrance door, I guess he was assuming I might try to come in early.
I proceeded to wait until a few minutes before the advertised opening time, while watching all of the employees for the last 15 minutes sitting around drinking their morning coffee lounging in the chairs designated for the customers. I decided to get out into the rain, pull my flat tire out of the trunk and roll it over to the entrance door. I arrived at the door around 4 to 5 minutes before the opening time. I remind you, all the employees were sitting around doing nothing while I'm rolling my tire to the front door in the rain.
I grabbed the entrance door handle and pulled on it... it was still locked from being locked 20 min. earlier. I pulled on it again more aggressively thinking someone would get up and unlock it for me so I could at least come in out of the rain. I stood there for a few seconds in awe, as not one of the employees, including the store manager would even look my way or even acknowledge me standing there. I was being completely ignored by their entire staff, while they did nothing. If you've never been to a Discount Tire franchise, the exterior of the building where the customers enter is surrounded with glass. There is no way I wasn't seen or heard trying to enter the store.
I proceeded to walk 50 yards back to my car and waited the 3 minutes before they opened. Within a minute or 2 after they unlocked the door, an employees came out and started looking at my tire, proving they knew I was there when I was standing at the entrance in the rain, but did nothing to even acknowledge me. Once I considered how disrespectful they were to me, I drove over right in front of the entrance and told the employee, he wasnt getting my business, and to take his hands off my tire. I put my tire back into my trunk.
I then called Ron ** the Regional Operations Vice President for Discount Tire located in Westfield, IN at (317) 867-0125. To discuss how poorly I was treated at his Carmel store. Surprisingly his response to me after asking me a few questions proves how little Discount Tire values their customers. He's stating to me that my being there too early explains why he assumed they didn't open the door. He said they always have a store meeting before they open (which I six witnessed from the parking lot while I was waiting) and had finished well before I tried to enter. He also seemed more concerned about what I may write in a consumer review, than how he should handle something like this with his employees if it were to happen again.
I suggested he at least tell his staff to treat the customer with enough dignity to go over to the door and say something or let them in out of the rain. I've never left a place of business feeling so disrespected and disappointed by how I was treated. Plus I was even more disappointed after speaking with an upper level management employee. Instead of hearing a heart-felt apology for how I was handled, I was made to feel like it was my fault for even considering being able to enter their establishment before the advertised time.
True customer service is something that is taught and driven home within an organization, Ron ** is obviously not a leader in this most vital aspect of his business. The Carmel store's total disregard for me as a valued customer proves this fact. My reason for this review is to let the consumer public know what to expect before they step foot into the Discount Tire Store. Me... Never Again!

I bought four new Arizonan silver edition tires from Discount Tires in Bellmead, Texas on Aug. 31, 2015, for my 2012 Hyundai Elantra at 33,044 miles. (Cost $574.16.) They have a warranty for 50,000 miles expiring three years from purchase date. My car inspection Jan. 31, 2017, did not pass the tires because they were too worn at 50,277 miles. That is a sharp contrast from the 50,000-mile warranty: a mere 17,233. Furthermore, they only lasted 17 months. I went for replacement and got the song and dance about how they could sell me a better tire (the kind the employee assured me was on his mom's car).
They said this isn't the worst they have seen this Arizonian tire wear. (So why does Discount sell it if it is of such inferior quality? Or why have a 50,000-mile warranty for something that cannot pass inspection after only 17,000 miles?) Then I got the explanation about how people drive differently, roads are different, and so forth. I concede that is true. However, at age 61 going on 62, I do not peel out, do wheelies or attempt off-road racing.
Discount Tires applied some credit/adjustment from the lower quality tires to the "Mom's brand," so I wound up paying $414. The employee was polite, but this really does make me feel better overall about Discount Tires. I have bought my tires from the company for many year because of the free rotations. I do hope the employee likes his mom.

I have Yokohama tires. They are not noisy, they last me long, and good mileage is put on them. I'm at 35000. Also, they have good handling and perfect in the rain and snow as well. I recommend this tires to other people, you won't be disappointed.

I ordered a tire from discounttire.com which had to be sent to an auto repair shop. The tire was put on my car and halfway home, I realized that it was the incorrect tire size. Discounttire.com sent the wrong sized tire to the auto repair shop. When I called discounttire.com's customer service, the customer care agent was very nonchalant about the situation. I won't be ordering from them again.

I went to the Discount Tire location to get 4 tires I bought from them online, balanced and mounted on October 18, 2016. Approximately 2 weeks after having that done while driving my car I felt it wobbling a bit. I was curious because I never felt that before so I did some research online trying to figure out what could be the cause of that and from what I gathered I was under the assumption maybe it is my wheel bearing. About 4 days later after I felt the wobbling another motorist driving behind me inform me that my rear wheel was wobbling. I responded by telling them I am aware and it may be my bearing. It never dawned on me to check my lugs.
Fast forward to January 2, 2017. I was leaving the store and the wobbling got worst. Also I heard a noise that appears to be a flat tire. I pulled over on the side of the road. This was about 20:00 hrs in the night and walked around the vehicle. I kicked the tires. They were all inflated. No signs of a flat. So I went back in and started driving. The car started shaking more and the noise got louder. I was almost home so I drove slowly. The following morning I came out to do an inspection on the car and notice every single lug on all tires were lose and on the driver side two lugs were missing and the tire was leaning out almost about to fall off after jacking it up.
I contact DISCOUNT TIRE and informed them and they sent an agent several days later to do an investigation and now they claim based on their findings that I have driving the car over 5,000 miles they will not fix the damages done to my vehicle. I explained to them this started 2 weeks after I left the location. My ignorance in the mechanic filed and confidence in them that I paid for a service and it was done right was what kept me from assuming they did not properly installed my tires, why I did not return to the location and have them check my wheel. Basically I am left with a damaged vehicle which is my only means of transportation to work. I believe they are responsible and should take responsibility for their actions or lack of and fix my vehicle.

My Discount Tires are long lasting and gives a smooth ride. I'm on 49000 with them. They are of good value and the company stands behind this product. On the other hand, BF Goodrich/Michelin does not stand behind their product. Tire are garbage and cause accidents all of the time. Do not buy BF Goodrich/Michelin tires... You will regret it.

After a tire blowout on January 02, 2017 in Peeples Valley AZ and no tire shops in the area Prescott AZ was the closest city to buy a new tire. Upon my arrival at the Discount Tire store there was a line waiting for service and 2 older gentlemen were working the counter. They quickly dispatched their duties and phone calls.
But once they looked at me being a person of color they completely ignored my presence. And left their duties and out they went to the service area never to return. Then a young man appeared to be Hispanic and took charge and quickly helped me. Racial discrimination based on color of skin is against the law your. The 2 employees that thought it was humorous should be terminated.

Such amazing Customer Service!!! I was driving from Houston to Dallas for a meeting when I struck a nail, I was able to locate a Discount Tire a few miles from where my appointment was. Although there were many ahead of me in line when I arrived, I had mentioned my dilemma and driving in for a meeting and was on a time crunch. I was offered a ride to my location and so graciously picked up afterwards. My tire had been fixed and couldn't be happier. Mike is the Manager at Discount Tire and would recommend this shop!!! Thank you Mike and crew.

Purchased four new tires on 10/18/2016. While driving on 12/2/2016 one of the tires fell off the car. Thank goodness no one was hurt or worse. Haven't heard one word from the claims department. The vehicle sits in our driveway because no one in their right mind trusts driving it anymore. The work was performed at Machesney Park, IL Discount Tire. Will never go back.

Last 2 times I went in to get tires they left at least one lug nut off and a couple were broken. My car had them all when I took them in. This is a real safety issue for me and very dangerous. I am disappointed in them as I have gotten my tires there over the years.
Discount Tire Company Profile
Company Name:

Discount Tire

Website:

http://www.discounttire.com/dtcs/home.do