Consumer Reviews and Complaints

Bought my daughter soccer cleats, $360.00 which we thought was ok since her previous cleats lasted her at least 4 years, so we knew these would last her a while. It is now 8 months later and they are falling apart. The store won't take them back and I contacted Nike who gave me their number for Consumer Affairs department. Will update once I contact them to see what they plan on doing about this. As of now, I am PISSED!

Bought a new pair of Air Monarch about 6 months ago. They are very comfortable new and still six months later. The problem is the soles are falling off. Today is the second time I had to re-glue the soles back on. For the price of these sport shoes should last more than six months. I'm guessing this pair was made first thing Monday morning or the last pair on Friday afternoon. First Nike product we ever bought and probably the last.

I purchased a pair of Nike golf shoes last Nov. and didn't use them until Jan. They were purchased at Dick's. In August they fell apart while I was playing golf. The instep separated from the sole of both shoes. This created a dangerous situation as I could have easily tipped and suffered an injury. Both Nike and Dick's refused to do anything about this. Nike said the shoes were manufactured 2 years before I purchased them and their warranty did not have to cover them. The shoes should have lasted a lot longer and should not have become dangerous.

I used to work for nike in the 90's. I have been wearing the Nike monarchs for a very long time. The past 7 years the shoe quality has been getting worse. I am having problems finding a pair that do not squeak or make sounds with popped air soles. I just purchased two new pairs, first pair 2 days starting making noise, returned it, got second pair, after 1 week, making noise. I don't ever remember this happening before 7 to 8 years ago. In the past 3 years I have probably sent back at least 10 pair to Nike. That is horrible.

Bought my son a pair of black Nike Jordan's. He had them a couple of months and they faded from black to gray. I wrote the company a letter and they obviously didn't read it and mailed me back a generic letter not touching on any of the topics I wrote about. It looks as if they saw I mentioned a child in the letter and they then wrote back to a child, not an adult. What a waste of time. We buy so many Nike products for casual wear as well as sports. This was seriously a disappointment!
How do I know I can trust these reviews about Nike?
881,173 reviews on ConsumerAffairs are verified.
We require contact information to ensure our reviewers are real.
We use intelligent software that helps us maintain the integrity of reviews.
Our moderators read all reviews to verify quality and helpfulness.
For more information about reviews on ConsumerAffairs.com please visit our FAQ.

For Christmas my daughter was given a Visa gift card to use from her grandfather to buy some custom ID Nike tennis shoes. She did so in January with that gift card. As 6 months went on, the name she had put on the back of the tennis shoe began to wear off; odd place for something to wear off as the back of a tennis shoe doesn't rub up against anything. Called Nike and they said to send the shoes back and they would review a refund possibility. Was notified by email that she indeed received a refund, however that refund was made to the gift card.
As this was 6 months ago (Christmas time), after the gift card was used it was thrown away. We therefore obviously did not have access to the card any longer. After calling Nike to inform them of this, we were told that since they had already processed the credit to the gift card, they couldn't do anything else about it. So now we are not only out of a pair of custom tennis shoes, BUT we are out of getting money owed to us as well; i.e. our entitled refund.

Disappointed with Kevin Durant Fire and Ice sneakers I bought for a 10 year old boy. After few months, sole separated and cracked from shoe. A real piece of junk. KD Astro should be ashamed about sponsored that bad product. Low mediocre quality materials. Don't buy Nike!!!

I ordered a pair of shoes for me and my husband for the first time on this website! I get an email that the shoe are no longer in stock and they don't sell those shoes any longer! After they had them posted for people to order! Asked me to pick another pair of shoes and they would match the price! I said "no thank you! I would like my refund back..." My husband checks the account and they took the money the same day I asked for my refund! I have been asking for my money back several times now... no response! I'm now going to get the law into it and build a case on them for FRAUD!!! DO NOT ORDER FROM THIS COMPANY!!!

I've been trying to get NIKE FLYEASE, the amazing trainer designed for disabled athletes and due to the zip you can get a splint in. I am sad that NIKE after all its advertisement in respect to this product have allowed themselves to have no stock... while ensuring they have plenty of stock for their able customers (I note they have not run out of them). NIKE attitude was "we have lots of stock of other trainers." Appalling NIKE you should be ashamed.

I collect rare Nike and I thought I was lucky enough to purchase some of these very exclusive shoes. They have never been worn, maintained in their original box in my air conditioned home. I went to show the Exclusive Mirror Foamposite off and they were significantly faded. Nike has BEEN USELESS in a reasonable response or to assist. Needless to say I am NO longer a Nike fan, ** Nike, and I will not purchase any more of their crap.

I purchased a pair of Nike shoes for my 12 year old in March 2017. I spent approximately $76 for a piece of junk! Two months later the soles starting coming apart from both shoes. I filed a complaint and mailed the shoes back to Nike and just got my response: "Sorry after a thorough inspection, we have denied your claim due to normal wear and tear." Pathetic to say the least! What person in their right mind would ever buy another Nike product? I'd be ashame to even admit to "this reason". Your Nike product is only good for 2 months guaranteed. Lol. I knew I should have purchased an American made product! Not anymore!


I have a pair of Air Max 95 that I have kept and worn about 2 times since I bought them. They are Air Max 95 premium. The shoes are immaculate with the exception of the midsole. I have worn them 2 times since I bought them and the soles are disintegrating with each step. I contacted Nike since it is an older shoe but I felt that the sole disintegrating was a manufacturers defect. I was told they would only warranty a shoe that was 2 years old or less.
Regardless of age a shoe should not disintegrate. The upper of the shoe speaks to the use which is like new. They would do absolutely nothing. I was told if I sent them in Nike would just send them back. How hard is it for them to take responsibility for their workmanship errors. Most other shoe companies would rather have a happy customer than one who feels cheated.

Nike Athletic Shoes - Cheap, cheap, cheap quality. Wow! This company has seriously gone downhill in the last 5 years. I remember when I could buy a pair of Nike's and they would last longer than all my other shoes. I'm not that hard on my shoes either. The last two pairs I purchased were made with black mesh, instead of man made material, or leather (which I don't think is available anymore) and within 3 months they both had holes. Nike doesn't care because they know that most people will simply go buy new ones.
Not me. I'm done with Nike, 100%. Tired of corps. like Nike cutting corners on quality. The material they use for sneakers now is PVC/Olefin, which is basically plastic. Maybe I'll make my sneakers out of old milk cartons now as they will probably last longer than Nike sneakers. I had a friend who worked for Nike in Korea. He said that they are always looking for material that is cheaper, lighter, and they couldn't care less about quality anymore. It's all about how many shoes they produce, and how quickly. Sorry, NIKE! You lost a customer here. I spent over 200.00 per year on sneakers with your company for the last 25 years. No MORE!

I purchased two pair of Nike Huaraches (one for work and one for recreation). These are the WORST shoes I've ever put on my feet. The shoes push my heel so far forward, my toes ache! My feet hurt while wearing these shoes and I have just given up. I'm going to a podiatrist to see if they have ruined/injured my toes. I will be returning the recreational pair, since I haven't worn them yet.

The Nike Air Shoe is an expensive shoe that will not hold up. I have a pair that look brand new and have been used very little and the sole separated from the shoe exposing the air pockets. Save your money and time in trying to file a claim with Nike as you won't get anywhere. Mine are going in the landfill and I will never think that Nike puts out a superior product. These shoes came from Vietnam. Goodbye Nike.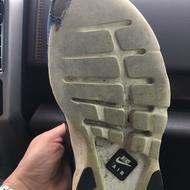 I bought my 12 year old son Nike Huarache in late December 2016. By March 2017 (3 MONTHS!) there was a hole in the sole of the right shoe and the beginning of a hole in the sole of the other. I filed a claim with Nike and truly believed they would stand behind their product and make it right. NOPE! They said this is "normal wear and tear" - really?? Their products are only made to last 3 months?? We have been loyal Nike customers for years... not anymore!

So I've been buying Nike my whole life. Basically for the name and style. There is different levels of comfort in the different styles obviously. Well I came across Kevin Durant while looking for a pair to play basketball in. Loved the way they looked, and when I tried them on I could not believe how comfortable they were. I had to have them, hell I bought another pair to play in and one to wear around.
After a little over a month of having these Kevin Durant, and only wearing them several times, they broke on me the other day. Obviously upset I try to figure a way to get another pair or see what Nike Claims could do for me. After the page told me I had to mail my sneakers in and wouldn't take pictures I emailed I tried to contact someone directly via phone. After a long wait I finally got someone (Amanda, or Amber). I tell them my situation, how I've been a long time customer, how sneakers (Air Max in particular) in the past have broke or popped with no excessive wear, how I was pretty upset about these Kevin Durant breaking on me. I go on to explain I don't have means to send these sneakers out and how I can email pictures with the damage and a picture of my license.
She continues to say the only way is to mail them in. So obviously upset I explain my dissatisfaction with her and Nike. Why should I have to use more of my time to mail them back their junk when they can simply look it up on their computer and see what I am saying is the truth. All in all Nike lost this customer of many many many years!!!

Nike running shoes - After trying on the shoes in the store, I was very confident and satisfied with the shoes I had selected. However, after wearing the shoes for about 2 months, they are now making a noise when I walk. There is a hollowed out area in the heel that is creating this. This was made by the manufacturer. This noise occurs on concrete, or tiled floors. It sounds like a suction cup release with every step I take. For the price I had to pay, the shoes should last more than 2 months.

I received my Jordan 11 low that I purchased for my toddler today. Upon inspection of the shoes I noticed that one shoe has more fabric on the back than the other and the "jumpman" one is higher than the other. I called customer service and got a poor apology and only to offer me to ship the shoes back and said it will take 4 WEEKS for them to create another shoe!! What the hell! Never again will I buy from NIKE.COM!!!

Nike Noir = trash or money down the drain. Nike is bringing out below par products with below par service. Consumers please save your money until this company learn to invest on shoes than the sports personnel or on their ads. The sole is paper thick and the sole is coming off main shoes in a month and half with use only in basketball court.

You should maybe start making your products to last. I bought some KD series 9 for my 10 year old son and within 3 months, the airbag deflated. They were bought Dec 2016 as a Christmas present. I was told that because of the wear, they would not do anything about it. He is a BOY!!! They play rough, so make your products to withstand a little more activity. Whether it's on the court or outside playing. The amount of money you charge for these shoes and it got my son 3 months of use. No way will I be buying any more products from Nike. To top it off, I paid $20 to ship them to Nike for the inspection. They also tried to offer a discount on future purchases, thanks but no thanks.

We paid $175 for my son's soccer shoes 8 months ago. It supposedly comes with a 2 yr warranty?? Shipped it to Nike, the sock connected to the shoe is falling apart!!! Do not buy Nike soccer shoes. They do not stand behind their product!!! Very disappointed, horrible customer service!!! They will not cover the shoe defect!!! Will never buy Nike!!!

My son received a pair of KD 9's for Christmas. The sole of the shoe wore out in less than three months causing the air pocket to deflate. Nike customer service said it was due to unusual wear. These are kids shoes and if Nike can't make a sole for a kids shoe I will not purchase from Nike anymore. They refused to replace, send a voucher, or do anything about the shoes. These were $125 shoes. Never again.

I purchased a pair of Nike Huarache baseball cleats for my son and spent over a hundred dollars through East Bay. He wore them a few months. The max air in the bottom of the shoe deflated and leaked water making it not wearable. Because they are a mesh shoe, the manufacturers number was printed on a tag that often gets torn of. Nike refused to do anything. Customer service used to be amazing. When you spend that much money on shoes, you expect them to stand by it. Switching to other brands. Very disappointed!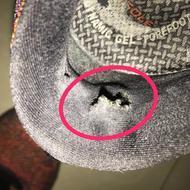 I have bought Nike Flyknit Airmax 620469 in the month of May 2016 from Finish Line Chicago. I have hardly used them for about two months for morning walks. I am shocked to see Nike shoes are coming of this inferior quality. The shoes are worn only because of inferior quality of cloth used inside and manufacturing defect. I have shared the picture of the shoes which clearly shows the shoes are maintained well but only due to poor manufacturing it got worn so badly. When contacted Nike, They gave a standard reply that "It's above six months of purchase so we cannot do anything." If I start using the shoes it will be completely worn from inside due to bad quality material used inside. I am hardcore fan of NIKE for years and this was never expected from such a reputed brand. I think this will be the last pair of Nike I have bought. I understand each nike shoes have a unique ID and can be tracked when and where it was purchased.

I purchased a pair of Air Thea running shoes before going on vacation just over a year ago. These shoes have been used occasionally since that time. Recently the back of the inside of the shoe has come apart and a piece of plastic is sticking out and cuts your foot when you wear them. After contacting customer service and paying postage twice to have the shoes inspected, Nike had initially advised me that this is normal due to excessive wear, but after challenging that, I have been told that it was caused by "inside friction".
Nike's response has been to offer a discount on another pair of shoes, and they do not care that the quality and workmanship does not support the price of these shoes. This has not been my first pair of Nike shoes, but given the many other companies that offer casual running shoes, Nike should not assume that customers will make the same mistake twice.

I bought my Nike air Max from the local sports store. I had them 1 month and the sole wore. Paid $200.00. Above the sole there are air pockets. Well, after a month they were leaking. But I didn't learn my lesson. I order a pair of 178.00 ACG's (black). The entire sole separated from the boots. I didn't complain, because I read others end results. I'll just NEVER purchase a pair of Nikes again! Buyer beware. They are garbage, and don't last!!!

I once ordered some Nike air max's 95 with next day delivery and it took them over a week to deliver. I kept on contacting Nike and apparently they got lost in transit after over a week. These were for a occasion and I'm still furious to this day. smh kmt bmt
Company Name:

Nike

Website:

http://www.nike.com/