What are tier 1 solar panels?
Find out what they are and where to get them



Written by

Edited by
Find Solar Energy Companies near you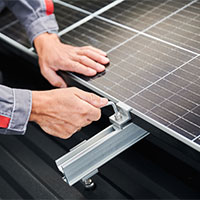 In the realm of home solar equipment, Tier 1 solar panels are as good as it gets. Understanding what Tier 1 solar panels are, however, can be difficult — especially if you're new to going solar.
We'll explain the criteria behind Tier 1 solar panels for you and break down everything you need to know to determine whether or not they're right for your renewable energy installation.
---
Key insights
"Tier 1" is a BloombergNEF term that actually classifies manufacturers rather than products.
Solar installers that use solar panels from Tier 1 manufacturers may carry products from several different brands.
Tier 1 solar panels are generally recommended for residential solar energy systems.
Did you find this article helpful?
|
You're signed up
We'll start sending you the news you need delivered straight to you. We value your privacy. Unsubscribe easily.