Are solar shingles worth it: a guide
What to know when considering a home solar shingle installation



Written by

Edited by
Find Solar Energy Companies near you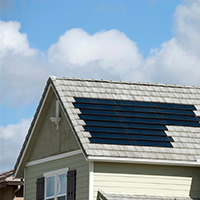 One part roof shingle and one part solar panel, solar shingles combine the appearance of traditional roofing materials with the ability to generate renewable electricity.
Although solar shingle technology is still very much emerging, both residential and commercial solar shingle products are now more accessible than ever. However, it can be difficult to know whether solar shingles, which are often associated with both high costs and high demand, are worth it when you're looking for ways to go green or reduce your energy costs.
We'll break down everything you need to know about installing solar shingles on your home or business to help you decide whether they're the right choice for you.
---
Key insights
Solar shingles are an emerging technology offered by several manufacturers.
A solar shingle installation can be expensive, and it may be tough to find local installers.
As of publishing, solar panels are often a better investment unless you need a new roof or really care about the aesthetics of your array.
Solar roof shingles explained
A solar roof shingle, also known as solar roofing or a solar roof tile, is an electricity-generating building material designed to look nearly identical to traditional roof shingles. Solar shingles are classified as "building-integrated photovoltaics" (BIPV) because they're integrated directly into your roof, producing electricity while practically hidden in plain sight.
So, while traditional photovoltaic (PV) solar panels are usually mounted on top of your roof, solar shingles actually replace the top layer of your roof. Solar shingles can cover a roof's entire surface or be spliced in with traditional roof shingles.
For an expert's take on solar shingles, we called on Tor "Solar Fred" Valenza, a solar PR consultant with UnThink Solar and host of the "Probably True Solar Stories" podcast, to answer a few questions. He explained that "solar shingles are solar cells designed to look like a conventional roof, which can be ideal for people and HOAs that don't like the look of solar panels."
Advantages and disadvantages of solar shingles
Below are some of the most critical advantages and disadvantages of solar shingles.
Solar shingle advantages
Two-in-one roofing and solar solution
Look very similar to traditional roofing materials
More design flexibility on crowded roofs
Solar shingle disadvantages
More expensive than traditional roofs or solar panels
Not yet widely available for reliable purchase and installation
Efficiency and durability concerns
Essentially, solar shingles look great, but as well all know, looks aren't everything. With that in mind, many of the disadvantages to solar shingles today are external and may change over time. If the technology continues to progress in terms of efficiency, availability and cost, solar shingles may become increasingly practical and popular in the future.
Commenting on the uncertainty of current solar shingle technology, Solar Fred told us that "all of these products are new, so few installers know how to install them and there have been some issues with reliability. So at this stage, every buyer is an early adopter."
» MORE: Solar shingles vs. solar panels
How much do solar shingles cost?
According to EcoWatch, the average cost of solar shingles falls somewhere between $15 and $35 per square foot or roughly $25,000 to $60,000 for a full-home installation. However, final prices for solar shingle installations vary based on the brand of shingle, the size of the building and how much of the roof the solar shingles cover.
As of publishing, high costs prevent many homeowners from adopting solar shingles. "I have been looking into solar energy services for a couple of years," said Aaron, a ConsumerAffairs reviewer from South Carolina. "I was interested in solar shingles because I wanted to put them all over my house but they're expensive."
Are solar shingles worth the cost?
Solar shingles aren't cheap, and they may not be financially worth it if they cost more to buy and install than they save you on your electricity bills. Exactly where that line is will be different for every installation, though.
Whether or not installing solar shingles will have a positive return on investment for you depends on:
How much your solar shingles cost
How much you currently spend on electricity
How much energy your solar shingles generate
Basically, the cost of solar shingles can absolutely be worth it — you just need to be careful about how much you spend and make sure you have an estimate of your potential electricity production before you sign on the dotted line.
» SEE IF SOLAR PANELS ARE RIGHT FOR YOU: Should you get solar panels?
The good news is that the cost-benefit analysis around solar shingles becomes significantly easier if you already need a new roof. As Solar Fred mentioned during our conversation, solar shingles "replace your entire roof, so you're getting solar and roofing in one integrated system."
If you're spending thousands of dollars on a new roof anyway, the cost of installing a solar roof instead becomes much more affordable. (The American Society of Home Inspectors notes that asphalt shingle roofs usually cost between $8,500 to $20,500, depending on the size of the home.) This is why solar shingles are great for both new construction and older buildings that need new roofs. (Incidentally, it's often worth going solar soon after you replace your roof anyway.)
» FIND OUT WHY: Should you replace your roof before going solar?
Are solar shingles worth it vs. solar panels?
So far, we've addressed whether solar shingles are worth the cost versus not going solar at all, but the logic is a little different when you compare them with your other green energy options.
Generally speaking, purchasing solar panels is often easier and more cost-effective than installing a set of solar shingles, especially if your roof is currently in good condition.
If you don't need a new roof anyway, solar shingles are much less cost-effective.
According to the National Renewable Energy Laboratory (NREL), the average residential solar panel installation costs $19,000, which is below the starting price for most solar shingle projects. Because they're significantly cheaper, solar panels are more likely to pay for themselves in reduced electricity bills, and they usually have a much shorter break-even period than solar shingles as a result.
On the other hand, solar shingles may be the better choice if you already need a new roof or if aesthetics are an important aspect of your decision-making. For example, if you live in a historic area or a neighborhood with strict building codes, solar shingles may be your only option for going solar.
Whether solar shingles or solar panels are better really needs to be evaluated on a case-by-case basis, and your decision may largely depend on what's currently available in your area. To compare your options, begin by reaching out to the solar energy companies in your area for quotes and consultations.
FAQ
How are solar shingles installed?

Unlike solar panels, which are installed on top of roofing materials, solar shingles are installed as the roofing materials themselves. Solar shingles are attached to your roof directly and may cover your entire roof space or integrate with other non-solar shingles.
How many solar shingles do you need?

The number of solar shingles you need will depend on your roof size as well as your property's electricity demand. In general, most homeowners will want to cover any roof space that receives direct daily sunlight with solar shingles, which may mean buying several hundred units.

An easy way to determine how many solar shingles you can fit on your roof is to determine the square footage of your installation space and divide it by the square footage of the solar shingle product you're considering. When in doubt, talk to an expert to help design your solar shingle system, though.
Where can you get solar shingles?

As of publishing, getting solar shingles can be somewhat difficult due to the limited availability of both manufacturers and installers. (With that said, many of the companies developing and selling solar shingles have growing networks of regional partners for installation.)

Some of today's largest companies producing solar shingles include GAF Energy, Tesla and Suntegra.
Did you find this article helpful?
|
You're signed up
We'll start sending you the news you need delivered straight to you. We value your privacy. Unsubscribe easily.