Consumer Complaints and Reviews

Products are overpriced, waaaay too much. I bought an electrode machine in another store. Was so happy with it, I decided to get my mom one. This store was just near work so decided to drop by. The $25.99 machine was priced for $45.99 with a $10-less coupon but still too much. Replacement pads that are only $15.00 were being sold for $25.00. Anyway, I decided not to get it. I decided to buy a bottle of **, I was heading to the pharmacy counter which had a very long line. The line was really long, like there were 20 people in front of me.
When I reached the counter, the guy told me to go to another cashier. I told him I was waiting in line for over 30 mins and I am buying just **. Then he said "the pharmacy prioritize drop-off and pick-up only." I asked, "can I not purchase it here?" and rudely repeated "drop-off and pick-up only." Then I asked him, "just tell me yes or no, can I not purchase this here, since I was in line for 30 min?" Then the pharmacist, I'm guessing, stepped up and rudely said, "we give priority to patients, as you see we are busy as it is. There's a long line of patients behind you who just want their medication." I looked at her and said, "but I'm buying my medication too." So she just said, "oh my God!" Then rudely grabbed the ** and asked for me to pay for it. After I did, I told her, "so I can pay for it here." She didn't say anything but sarcastically said "have a nice day" and instantly yelled "next!"
So I just bought ** 100 tablets for $13 and change and took the train home. 3 blocks down my apartment is another pharmacy where I bought the first machine, took one and accidentally saw the same ** bottle being sold for only $8 and change. I was quite upset so I decided to buy this and just return the ** I bought for the next day. It was a $5 dollar difference. It's not much for a lot of people, but for me that's like my fare to and from work for one day. So anyway, I return the next day, since I didn't want to go back to the pharmacy, I went to the cashier to get a refund. The cashier then asked, "did you purchase this downstairs?" And I said yes, then she said to go back downstairs and get the refund. So I did.
When I got to the pharmacy, the same pharmacist was there. There was another line although not as long. When I got to the counter, I asked the old lady cashier for a refund. She then told me, "I can't return them." I told her, "I didn't open the box and I have the receipt and it was only yesterday." Then she said, "you can do this in the other cashier." I was already losing my patience so I said, "they told me to do it here." She looked at the pharmacist and said, 'step aside please, I will page the manager." So she did, and started ringing up other customers.
No manager came after 10, 15, 20 minutes. I went over to her and asked, and she paged again. 10, 15 minutes a guy came and asked "why?" She explained what I said and he just darted inside the pharmacy to open another register and gave me a refund. I started complaining and he explained to me that the reason the pharmacy chooses to prioritize patients is because they are understaffed and there is long line and about the prices, he said they just follow what corporate dictates. Looking around, I realized that people who work in this store hate working there. Most of them sound like immigrants who didn't have other options and couldn't speak English well. I'm guessing they are not being paid right either. This is a terrible, terrible store and although I know it wouldn't really matter, I am never ever stepping in this store in Journal Square ever again.

This store is always in shambles whenever I go there. It is not maintained well. The customer service is some of the worst I have experienced. I even get no help and attitude when there are no baskets for me to shop and I ask for a basket. The shopping baskets are being used to store merchandise by the way. If you ask for help finding an item, forget it, you are in for a rough time. And so many prices are mislabeled, that I always have to argue about price at the counter, and the clerks are too lazy to go check the price tags when I tell them it was labeled at a different price than what they are ringing me up. If they do, they are rude, take forever, and make me wait forever. They never end up honoring the labeled price, even though it's their mistake. So many items are priced incorrectly. The customer service at this store is just appalling, I only go here as a last resort at night, or on my way home from the subway, if I really need to.
Several dairy products were room temperature, not cold at all, and were spoiled because of this, including yogurt, butter, cream cheese, and cheeses. Some of the dairy items were visibly spoiled due to inappropriate temperature, including yogurt containers that were expanding with gas. I spoke with the manager, but I was told that they did not agree with my concerns and nothing would be done about it. They did throw out the bad yogurt but they refused to acknowledge a problem and refused to lower the temperature in the dairy case, which is room temperature. The clerk raised her voice at me and rolled her eyes. What about items that don't expand with gas? You won't know they are spoiled until you get home. Spoiled dairy items are dangerous, people can get food poisoning. The food quality overall is terrible. And the attitude of the manager is just unbelievable.

Duane Reade Store on the corner of Union Turnpike & Queens Blvd. I was looking for a long distance phone card, picked up GO PHONE, approached the cashier, and asked her if this is long distance phone card, she said yes. I asked her for instructions. She said, "Read it it all there". Well, when I tried the numbers on the back of the card, I was connected with Porno, asking me, do I want man or woman. Took the card back to the store to see the manager. Sales clerk phone him, BUT HE REFUSED TO COME OUT AND SPEAK TO ME. Please advise. What do I do with the $10 card? I would like to return it. The store is refusing to give me credit. I paid cash!!

I went to Duane Reade for the first time ever in nyc. First was at 1150 avenue of the Americas and the second was at the 4 E 42st. The first one was so rude. He was young but very slow to begin with. He talked and took his times "serving" the customers as he enjoyed biting his lips and peeling of its skin with his fingers despite the long queue. I simply asked the cashier if he was gonna put my things to the plastic bags and he answered me rudely, "are YOU gonna put those in the bags?" and said that 3x with a rude expression and tone. That was nothing though compared to my second visit.
I was just looking around the snacks area when I encountered a tall man standing in front of me holding a huge plastic shopping bag. He looked at me for a while as I walked by and continued what he was doing. He took a box of hair dryer from the shelf and put it into his plastic bag... and I thought he was one of the sales. He wasn't. I looked at him from the corner of my eyes and followed him as he walked casually out of the store with that unpaid product in his bag. The store's alarm rang as he walked out casually, and the customers who were queuing saw and was staring at him while the cashiers pretended as if nothing happened and just didn't even look to see what happened. The alarm went off and everything was back as if nothing happened.
Then, I went to my mom who was looking for medicines. Unfortunately we encountered this rude couple who kept on talking about doing "IT" and ** with his girlfriend and they just kept on being loud, disturbing all other visitors there. What was unbelievable trashy was how he couldn't control his loud mouth that he had to talked and spit while talking, but not on the direction of his girlfriend, but to my MOM who was beside him. Man turning 45 degree to just SPIT on someone must have been tiring. I was SHOCKED. We did nothing but felt pity and sad for him, maybe they just lack affection and love. Then I met him at the cashier again. I was feeling unwell and having sore throat. I coughed badly near him and he got all annoyed, "Get away from me if you're gonna cough like that! Eww!" whining like a child indeed. I just walked away happily, clearly he doesn't have manner. Simply coughing is nothing compared to what he did to my mom.
As I was paying, I talked about this to the cashier but all she did was ignore me and did not help me with anything. Maybe because they were all the same that they defend each other. I even talked about the stealing incident and she pretended as if she didn't hear a thing. Everyone was very rude. I asked for help but got ignored. I said "thank you" to a sales but she just ignored me and got busy with her phone. I will NEVER visit this store again. It is just a collection of people of the same kind - rude and ignorant. Even I, a young child, know manners. Yet those adults sadly have no clue of the word MANNER at all.
I hope this experience of mine will be read and considered by the Duane Reade higher ups and consider what to do with this. Additionally, PLEASE hire people who TRULY wanna work instead of slack offs who spent their time listening to music with earphones or playing with their gadgets during work hours. Much displeased.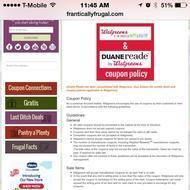 I tried to use a manufacturer coupon at the Duane Reade store located at 1888 Westchester Ave, Bronx NY. As I went to make my purchase the cashier advised printed coupons are not accepted due to fraudulent reasons. I asked for a manager and he advised it was company policy. I went online for the company policy For coupons. As per the policy "all coupons are welcomed especially printed coupons!!" They were rude and not welcoming! I will be going to CVS for now on.
How do I know I can trust these reviews about Duane Reade?
667,311 reviews on ConsumerAffairs are verified.
We require contact information to ensure our reviewers are real.
We use intelligent software that helps us maintain the integrity of reviews.
Our moderators read all reviews to verify quality and helpfulness.
For more information about reviews on ConsumerAffairs.com please visit our FAQ.

I don't want to write review. I want to complain about 2 of your employees at the store on #14499 133141 DYCKMAN STREET. On the month of May I went to this store with Prescription for the Vaccine of Shingles however the script said Varicella not Shingles. Well this 2 employees refuse to take my script and told to go back to the Dr. I knew this was wrong. They were too busy talking. They told that I have to go to hospital.

I'm on insulin and I use needles my MD put as directed on the needles and twice a day on the insulin. So I ran out of needles. When I first refill they told me I was too early but I had no more. I call and spoke with a pharmacist and they said they fixed it, come in but they only had 80 out of 100 ready. Pick up 20 balance in 2 days. When I went back they said I had to wait 4 more day to pick up the balance because the insurance company will not pay. This was a balance I was picking up. At the end the insurance who I call said no and they refilled for the full amount and they did not understand what the pharmacy was doing.
They tried even to make me wait for the needles even though the pharmacist said it was ready. This is no way to treat old people and scam insurance companies. My mother should not have this problem. I know the MD should be more careful when they write but should me and mother have to paid. You need to stop all these little college with no experience help them. That's part of it too.

I was followed around Duane Reade on Columbus between W 89 and W 90 St. NY NY 10024 on April 2, 2015 approximately around 8:40 - 9:00 AM while I was shopping for my daughter for Easter. I was accused of shop lifting and I was put in a chokehold for no reason by a male employee. No man should have to put his hands on a woman. I know cameras are in the store. I want to prove I did nothing wrong. He also said I go in the store and do it all the time which is a lie. I had injuries to my neck which I had to go to the emergency room.

I was stopped when exiting a Duane Reade and what was supposed to be shoplifting. (I wear a cane and put it into my pocket). I went to pay and they said $20. I saw a sign for $10. I went back up, decided I will not buy this, and left it on the nearest counter. When I left the store, no alarm went off but I was pulled back into the store. I offered to show him everything in my pockets, but he found nothing. He then patted me down. In my many things in my pocket, things he found a package of Halls and asked me where I bought them. I said in the store. He asked for a receipt and I didn't have it.
He put me in a room, closed the door, almost fully, recorded the conversation without me knowing, and started questioning me about the $1.99 Halls. He took them and would not return them. I decided to leave and 6 policemen rushed in and put me in a corner. It was horrifying. They made me (threatening to handcuff me) sign some trespassing thing. I finally did and asked for my Halls back - it was probably scanned (I paid cash). So I could prove I paid for it. Police said it didn't belong to me - it belonged to the store. I left.
I have lived in this neighborhood for more than 30 years and a board of director of the local synagogue. My kids and wife and friends shop there often. Should I have to wait outside when they go in? Should I have to explain why? If I do go in, and the police were called would that not ruin my reputation and status in the community?

I am a breast cancer patient currently undergoing chemotherapy. One side effect is mouth sores. My doctor prescribed a mouthwash to help me be able to eat and talk without discomfort. I went to my usual Duane Reade. The mouthwash is a mix of various medications. Without even looking the pharmacist said, "No! I don't have it." Didn't offer to order it. He was just too lazy to mix it and as it was the day after a major snowstorm it was empty. I went back two days later (to get something else) checked pharmacy and someone different was there. Guess what? They had it! I know they had it the other day because the cashier asked him do we have it and he didn't even look. I take all my meds to be filled there. He had nothing to do and he just wanted to continue doing nothing. It took the girl all of 5 seconds to mix it up.

I went to Duane Reade today to request one blood pressure pill because I left mine home in New Jersey. The pharmacist refused to give me because I was not a customer of the pharmacy. My pressure is now through the roof and I am now having to go to a clinic so I can get a pill to make it home without having a stroke. I was not asking for a pain med or a controlled substance. One pill and she was completely uncaring that my BP was high. This is complete lunacy! I just hope I don't have a stroke in the meantime! Done shopping at Duane R!

I think you should be aware of the poor customer service at the LOOK boutique, Duane Reade,1350 Broadway, NY. I personally feel that I was unfairly treated and even directly discriminated based on national origin. On October 20th 2014, I went on a class trip with 27 students from the Atelier Esthetique Institute to visit this LOOK boutique.
I found the ANSR BEAM LED light with a sign on the shelf that item is ON SALE for $74 instead of regular $148. When I went to pay, the cashier (with long dark curly hair without a name tag) in a rude manner refused to charge the sale price, regardless that she let my classmate to buy it for $74 about ten minutes earlier.
The manager, Mr. **, explained that the sale was ENDED, took the sign down, and refused to sell the ANSR at sale price.
My question is for you: "How is this possible to sell the item to one student for the advertised sale price $74 at 7:30 PM and ten minutes later, at 7:40 PM, the sale was ended and the price went to $148 for ME?" I believe that this situation is not only demonstrating the discriminatory preferences because I speak with a foreign accent and my classmate speaks without the accent, but is also the violation of the US Retail Pricing Laws and Regulations.
In conclusion, as a result of this unpleasant experience, Walgreens has lost our business. Over 20 students decided to buy NOTHING at this location and left. The teacher, Ms.B (Oxana **), was also very disappointed because that the skin analysis computerized system was down and sales associate is lack of common courtesy to apologize. I wish that the customer service would be better at the LOOK boutique because there are many great items to purchase.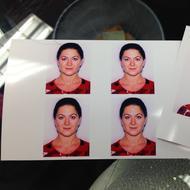 On Friday October 31 I came to Duane Reade at 535 5th avenue to make a picture for Russian visa. I waited at a photo station for 15 min, looking around for someone to help. Even after I addressed pharmacist to help me find a photo specialist - I still had to wait until Elizabeth, photo specialist of Duane Reade, came. I explained to her the format of the photo I need, gave her the details of the scale required, told her it's for Russian visa- I even had a list with notes for her. But she wouldn't listen - she made American format picture she's used to make, and gave it to me. I told her it's wrong, It's not the format. She scanned the picture to the computer, found a template for Russian visa, made the picture smaller to fit the format. As a result half of my body was cut off!!! I told her it looks wrong, but she said nothing can be done- this is a format and sold me picture this way. The visa center did not accept this picture, so next week I had to go back to this Duane Reade to change it.
When I found Elizabeth, I kindly asked her to redo the picture. She start arguing with me I want something impossible and it lasted for about half hour. She called some help to prove me wrong, allegedly even spoke to manager. I am not sure the other lady who spoke to me was a manager, and she told me same thing. They finally agreed to redo the picture for me. All Elizabeth had to do - is move a little further to make sure my body below the neck is visible. Nevertheless she printed it in American format first though one computer, then scanned it to another computer. My question is - why not transferring picture to the right computer through cable on the first place? Moreover she made me do all the job scaling the picture to the Russian visa format, which was extremely easy to find in the computer. I did it successfully and she printed the picture for me. Then she claimed I have to pay for the wrong American format picture she had to print to scan in order for me to reformat it!!!!!!
I was shocked! By that time being talked down to by the ladies, wasted time on the whole humiliating process of explaining to alleged professionals, who are supposed to know better than me how the service is supposed to be done. Because it was 2 pictures printed - she said one is an exchange, another one I have to pay! I end up paying for the picture again $13.05. As a result - I was double charged, humiliated and put down to tears. Elizabeth and another lady were so mean to me that I don't want to deal again directly with them. It was a highly traumatic experience for me.

I went to the Duane Reade pharmacy on Broadway, between Prince and Houston Streets in New York, having recently accidentally ingested a food that I was violently allergic to. It had been many years since I had such a reaction, and I didn't have my medication with me. I told the people behind the pharmacy counter that I was urgently in need of an **, due to an anaphylactic reaction. I gave them my doctor's contact info for the prescription and gave them my credit card. I wanted to take a ** to tide me over while they contacted my doctor, but they refused to give me water to help me swallow the pill, even though I explained that my throat was swollen. By then my throat was closing. I let them know I was in trouble and that, left without treatment, I could go into shock and die.
The pharmacist behind the counter still insisted that I fill out my phone number. The number they had in their system was an old number. The first few digits came up. There are three numbers in my family that begin with those numbers. My hands were shaking at that point, as I tried desperately to guess which number was coming up in their system. The pharmacist, Lillian, was standing there, coldly watching me suffer as she held the epi-pen which she refused to give me. I even tried to snatch it from her hand, but she pulled it away from me, in spite of my obvious distress.
Finally, she decided it would be ok to skip the phone number and gave me the medication. I administered the medication to myself. Once I felt better, I asked for the store manager. I explained the situation and asked him to speak to Lillian and ask her to apologize to me, so that I would know that she had learned not to treat customers so cruelly in the future. He refused to have her apologize. I don't believe that either one of them have any idea that they did anything wrong.

I been trying to get hired at the Duane on 137th and Broadway store #14489 and they haven't hired me because ** the shift leader has a relationship going on with one of the employees, ** that is now having his child. All this started inside the store. I try to contact the store manager. I spoke to a manager name ** and l told her what was going on and told her about one afternoon I passed by the store and heard the employee ** say she having ** child and that they had sexual intercourse in the store bathroom while on break. This was so nasty yet horrible because I been shopping at that location since 2012 and never heard such thing till now. My I also witness with my own eyes when they both kissed while ** was coming out a black door in the back of the store and ** in. I guess that's the break room. Last is not fair. They don't hired me because ** wants to have his worker ** and as professional and managers this should be happening. I even told the manager ** if they needed me to go down to the store and point at them and confront them I will do it. That's no problem for me. I hope this problem is resolve cause is a ugly situation yet is making the store lost clients like me. Thank you.

Not all Duane Reade do this but both the Duane Reade 1 on Columbus circle 58th street (worst) and the 1 on 57th street 8th ave being second worst, they do a lot of unnecessary following people around. I'm ok very ok of the numerous cameras there to watch out for potential shoplifting but they over do it by following people and making customers feel scared to shop there. They are putting people in the spotlight when they do that. I will not shop at these stores anymore, it felt like racial profiling. It should stop, someone should do something.

I'll never shop in Duane Reade again. The cashier was rude and didn't know how to count, she gave me the wrong change back 2x. She gave me less the first time and too much the second time. She was loud and disrespectful. Her name was Alley, Alice something like that, plus I went to get my photo that I put in 2 days before it was supposed to be done, and they were not. I had to wait 30 mins and the stock people don't know where anything is and spend most of their time hanging around the store, talking sports and music. The manager seems to be clueless, he was a bold dark skin man who seems to be new because he didn't know prices, locations of products, pretty much anything about the store. THIS LOCATION IS NOT WORTH GOING TO. I WOULDN'T GO THERE AGAIN IF THEY PAY ME. I suggest you go to a Rite Aid or CVS, much better customer service.

2108 3rd Ave. New York, NY. Manager name starts with "**". I went to buy there blender which displays price as $26.99; at the counter it showed $29.99. There he showed his attitude when I said "It shows $26.99 there". He said "You want to take it for $29.99 or not?" I said "I want to if it's the right price but you guys should change the price display". He sent one of the girl working there and she helped me saying him that it's $26.99 and still he was trying to sell it for $29.99. It's not about $3 but the way he spoke with me as I'm lying. There are the pharmacy customers lined up at regular counter since there is some system issue at the pharmacy. I'm wondering "how come other DR employees sell prescribed drugs without pharmacist?" (I work for major healthcare firm - I'm familiar with HIPAA) and the MoneyGram wasn't working. Neither employees nor customers satisfy at this location. Worst management. I hope things will be better one day.

When I paid for purchase, the cashier gave me the receipt but kept the $3 coupon that the cash register printed for me. When I asked her about it, she said, "It is a great deal, you get 200 points. No, there is no $3 off, just the points," while holding the coupon in her hand. I asked again, she looked to the manager, he came over, I repeated my question, he looked at the cashier and said, "She has it in her hand". THEY BOTH GAVE ME BIG SMILES, no apology. So I got the coupon, but also an experience with dishonest employees.

There is a foreign assistant manager named **, but the people there call him ** or **. He said that he wanted to perform a verification on my two $100 bills. He pulled out a crayola crayon, marked them, and said that "they were fake so he had to keep them". They stole my money at Store # 14224. He did not even bother to use a marker to make it look like he tried. I hate it when people with G.E.D's try to insult my intelligence.

I have a complaint about the store #14356 located on 325 N. End Ave., New York, NY. I went to develop about 950 pictures. I paid $201 for it with taxes. The photo lab person gave me 528 pictures. I thought that was all. I went home and I saw that half of my pictures are missing, but I paid for all! I went back today (11/17/2012) around 10am. The manager was there to "help" me, but rather, he was on the phone with his buddy. So I have to wait for him! He was very rude and kept checking his phone for text or something when I told him what my problem was. He is a younger Hispanic or something guy. Then he called the photo lab person and told her that "Here is the person who's missing the pictures, and she (I) knows that she is missing them." What does that mean? Why didn't they call me if they know that they have made a mistake?
Then after a long waiting because he spent so much time on the phone, he said he can't print my missing pictures because it's not in the system. The system only show that they didn't print them! He offered to print them or refund. He want to pay me only $63 (?). But I paid $201 and I'm missing nearly half of my pictures! I said print them because I'd deleted them from my memory card! He said they don't have my pictures in file! I lost pictures of my BFF's wedding, pictures of a trip to Atlantis and pictures of a European trip! It's gone! I can't get them back! I've deleted them because I thought it's a trusted company and they won't screw me! They did! I'm devastated! You should be ashamed of your staff and your "printing business"!

I went to the store today, 10/17/2012, at 12 pm. I parked my car at the 42-28 Main Street, Flushing, NY store parking lot. I walked across the street for less than 2 minutes to pick up my lunch and came right back to purchase ** and candies. As soon as I walked right back, I saw my car already on the tow car. I was told to pay $125 to get my car back. I think it was not a fair treatment. I called the police. I still have to pay $62 to get my car back or else I will have to get the car back from Brooklyn for $125! It would be reasonable if I left for longer than 5 minutes! It does not make sense if I want to get Tylenol, park my car at Duane Reade, and then find parking again across the street to pick up lunch.
I think we do need to do things that do not make sense from now on! I honestly tell everyone who read this that I do want to make that Tylenol purchase! If the tow company person waited 5 minutes, I would have proven that I am making that purchase! As a loyal customer, I will never go back and make any purchase again. I will change my pharmacy for prescription drugs. This pharmacy is taking advantage of customers!

I walked into Duane Reade on Herkimer Street, Brooklyn, NY on July 27th, 2012. I went in to purchase a greeting card for my 3rd year anniversary. As I entered the store, the manager and security were in the front end of the store. I found my perfect card and walked to the register. When I approached the counter, the registers were all empty with no employees. There was one employee selecting gum for purchase. He asked the security officer if there was any gum on sale; he said no. Then he called someone to maintain the front while he went on a break. Two other customers were now waiting for the register to be occupied by an employee for check out.
The employee went ahead of me, so I politely asked if employees always purchase before customers. He quickly apologized and stepped to the side. This is where it gets crazy. The security in a very loud authoritative tone said that the reason for the employee doing it was because I was not in the correct section where the line starts. I quickly turned around and told him his opinion was not necessary as it didn't add value to the circumstances. He yelled and I said to him that the customer is always right and that his actions were obnoxious. The other customers were shocked!
He then proceeded to inform the cashier to give me back my money and for me to get the hell out of the store. I was shocked, embarrassed by his actions and couldn't believe the manager that was on the side stood in silence. I laughed, continued my purchase and he said he was going to pray for me because my kind of people need prayer. I am an educated Latino who has a college degree with a solid career. So my kind of people didn't sit right with me and suggested for him to go get an education. Maybe then, he will learn the fundamentals of customer service and the value of his 8 dollar an hour security job. It was unexpected and unacceptable!

The pen needles supplied by Duane Reade, Sure Comfort brand are defective. When you take the cap off after using, the needle separates and stays in pen causing a dangerous situation where you have to take the needle part out by hand. Apparently, the Sure Comfort brand made in Korea is an inferior product and should not be dispensed by Duane Reade.

The pharmacy worker ** is so rude. I have been told by several of my neighbors and community members of his arrogance and poor services. Customers are not feeling well and deserve some respect and good service. The store is Duane Reade located at 322 8th Avenue, N.Y. N.Y. 10001.

On Thursday January 19 2012, I parked my car in Duane Reade parking lot, went across to street at long Island Railroad to get metro card. When I came out to in Duane Reade pharmacy to pick up my med, to my surprise, I saw my car is being towed. I asked for the store manager; "why is my car being towed?" He said; "you were not shopping in the store and if you want your car back you need to pay up or follow it to Brooklyn!" I was force to pay $136.00 on the spot to get my car back.
This is very upsetting I could not sleep all night. My entire family, all my friends and I shop and this Duane Reade and still my car was being towed because I did not go and shop in the store first! This is really ridiculous. I will not be doing any business here anymore, neither will anybody that I know cause I don't want anybody else to be abused like I was, emotional distress is too much. I would like to be reimburse my $136.00 that I was forced to pay the tow truck to get my car back. I will be taking my hard work money to another pharmacy and tell everyone I know about this injustice behavior.

In the circular from 12/03/11 to 12/09/11, there clearly shows a Sony blu-ray DVD player for the advertised price of $39.99 Model BDP-S370. I went at approximately 12pm to the store in 58 E. Fordham Rd., Bronx, NY 10458 on 12/04/11 and the manager refused to honor the item and was very rude also. I wanted to purchase two of these DVD players. It is not an advertising error or at least there is no corrective notice about it. I felt cheated, lied to and verbally mistreated. It is not fair to me or other consumers to go through this kind of abuse or mistreatment. Thank you for helping me and whoever else has this problem.

I have made $205.00 worth of purchase at the 32nd street Broadway location and was told by the cashier that I would not be getting my points because the system is off line. When I asked how I could go about getting my points owed, he said he did not know but next time I may want to another drug store that has a working point's machine.

This Duane Reade store is located at 42-28 Main Street, flushing NV. 11/1/2011, I parked my car, went across street for restroom for about 3 minutes. When I got back, they tried to tow away my car and said they would not return unless I pay them 100 dollars at the spot. The reason is I didn't go in the store. Yes, for 3 minutes restroom. This store won't provide restroom for customers, in case you are asking why not go to store's restroom.

The terrible ordeal happened on Saturday, October 1, 2011. The incompetent workers at the Duane Reade on Flatbush Avenue filled my prescription under my daughter's information. When I got there, they were giving me the run around because they couldn't find my prescription. He also lied to me and told me that my insurance doesn't cover that eye drop.
I went back to my doctor and she checked her list of medicines that were covered by my insurance, and it was there! He also gave me a hard time when I tried to fill my other prescription! He wanted me to pay out of my pocket because it is over the counter. I had to explain to him that there is a difference and it is not over the counter. After that, he took it and told me that he was going to fill the prescription.
I stood there for almost an hour. I was so frustrated that I had to take back my prescription and go somewhere else! I strongly believe that this so-called pharmacist is a spiteful and disgusting person; the workers there are lax and lazy; and the relevant authorities should get involved in this matter!
Duane Reade Company Profile
Company Name:

Duane Reade

Website:

http://www.walgreens.com/topic/duane-reade/duane-reade.jsp