Consumer Complaints and Reviews

September 2016, I ordered a hoodie with a Broncos logo on the front. The hoodie I received, had a Seahawks logo on it instead of what I ordered. I returned it and they issued a $10 which I then applied to my next hoodie purchase which was another Broncos themed sweatshirt that had 'Broncos' written on the front and a Broncos head on the sleeve.
When I received the hoodie, it had the 'Broncos' name on the front as it should but the sleeve had a Seahawks logo on it. I then wrote NFLshop.com to complain again and they issued a $15 credit. At that time, I did not want to use the credit they had awarded me and I saved it until now (July 2017). When I went to go use this credit, it no longer appeared on my account. I wrote to inquire about it and was told that credits expire after 6 months which was never disclosed to me nor is listed on their website. The customer service person said there was nothing she could do for me at this point. This site is a joke.

I ordered a 2XL women jersey and received a jersey that could fit my 12 year old daughter. Even the measurements listed on the shirt for my size wasn't close to the shirt they mailed me. Unfortunately I read the horrible reviews after I received the jersey. Wish I could have given them zero stars.

I have ordered a T-shirt on two different occasions. The shipping and handling costs are far inflated. Most retailers charge 10% OR LESS. NFL SHOP charges a whopping 44%. I probably have ordered the last time from them. P.S. Their quality weight of T's is also extremely thin!

The site was having a Nike sale for Father's Day 2017. I took advantage of the sale and purchased some fan gear for my husband. It stated clearly delivery date will be Friday June 16 by 8pm. I tracked the order via FedEx and my date now says Monday by 4:30P. I called CD and spoke with Mike and he stated it may come today or Saturday. That is not true because the label has instructions stating weekday residential only. I am not pleased and will never order through them again.

If you order be sure you are going to keep it because it's May 30th and I have yet to receive a refund for an item I sent back on May 8th. Please tell everyone you know not to order from these people. The return process is terrible.
How do I know I can trust these reviews about NFL Shop?
820,717 reviews on ConsumerAffairs are verified.
We require contact information to ensure our reviewers are real.
We use intelligent software that helps us maintain the integrity of reviews.
Our moderators read all reviews to verify quality and helpfulness.
For more information about reviews on ConsumerAffairs.com please visit our FAQ.

I would like to give them no stars. A few months back my son sent me a present through nflshop.com. The hat didn't fit. I'll try to make this as short as I can. I wanted to exchange it for the correct size. They don't do exchanges. I was told I could send it back and they would issue me a credit voucher to repurchase the hat. Seems like a lot of extra work to me! But I did. I sent it Priority on my dime to help expedite the situation. WRONG! What was supposed to be done in a couple weeks took months and months. I had records of the delivery that they did not. They lost it, all records on their end. I had to prove the delivery and tell them who signed for it and when. I had to basically had to do this same process 3 more times. They couldn't find any of the notes from my previous calls. After weeks more of my calling I was told they couldn't do that voucher. But they could credit my son's account. Even that took weeks more.
After constant hounding on my part they finally credited my son's account. Bare this in mind, this is the extremely shortened version of the chaos. The amount of time, frustration, aggravation, etc. was overwhelming for a company that rep's the NFL. And I am assuming deals with millions of orders every year! Absolutely unacceptable! I will NEVER EVER do business with NFL shop again! And since then I have met others with the same or similar issues. Very disrespectful of all the fans.

I ordered a pair of 49ers license plate frames and the order went through. A minute later my order automatically refunded, never told me, and I found out two days later. I ordered another pair, and the same thing happened. I went to fanatics.com and ordered some, same thing happened. I called customer service twice, and the workers gave me false info and would speak very quietly into their mic, I was not able to understand them. When I told them repeatedly I couldn't hear, they got very sassy and accused me of not being able to hear right. I then followed their advice, the order refunded again, and then the items SOLD OUT and the coupon code I was using EXPIRED. I then went on Amazon and ordered a different one, which worked out fine. NFL Shop is badly managed, slow, and unprofessional.

I ordered two kids' hats after the Superbowl. One was for the Superbowl champs (the Patriots) and the other was for the NFC West conference champs (the Seattle Seahawks). The reason I purchased from the NFL Shop was because it said the conference champ hat shipped within one business day. Weeks later we were still waiting for it. The website also said the two hats could ship separately, and it offered free shipping, which was fine with me as I let each kid know when they might receive their hats.
I called the NFL Shop, who said it was waiting on the Superbowl hat so they'd both ship together. It sounded like they held the first order to save on shipping. I feel misled both about the ship date and the 'free' shipping. I had to follow up twice. What a hassle. I'll never order from the NFL Shop again. The 3rd hat I ordered from a competing large sports shop came on time as promised with no problem.

I bought the Tom Brady shirt at the NFL Shop and I never got it. I complained once and they sent me an automatic response. The second time they told me that for the time elapsed they could not send me another one or give me back the money. A real ** about the service. I stole 124 dollars.

Order placed on 1/7 for 2 Brady VI game jerseys. Guaranteed delivery before super bowl finally arrived 2/28. Both were XXXL and barely fit two of us average size folks. They were supposed to be worn over winter clothing. Requested exchange immediately and was informed I would have to pay postage each way from China and back. No refunds are offered. Not looking good for any resolution.

I purchased 2 shirts and for 2 weeks no message or info. So I tried to reorder them thru the site on Dec 12. On the 13th I got the delivery info for the first shirts. I immediately e-mailed the company to cancel less than 24 hrs as to their website. They continued to forcefully send the 2nd set of shirts against my will. After continued arguments I received them on Dec 27th and refused return to sender. And now Feb 27th they will not give my money back due to their error per their own website states they are holding my money captive and will not respond to my continued e-mails.

I ordered a $90.00 hoodie online and I didn't notice at the time that they added in a $23.85 State Tax which I later found out was a duty charge for shipping it to Canada. I order items from the U.S. all the time. Even items 10 times more valuable don't get charged that much. I sent NFLSHOP.COM 3 emails asking for an explanation, and all 3 times I get a generic response from a Fan Advocate, Fan Services and Support. It doesn't even seem that they read my complaint because the reply is so far off the mark. I always ask that a Manager reply but always get a Fan Advocate. Item Subtotal $89.99, Shipping & Handling $12.95, State Tax $23.85, Total Paid $126.79.
They say "The destination country may charge duties and import taxes on your shipment as, customs policies vary widely from country to country. These charges are the recipients responsibility, and can be paid with cash or check at the time of delivery. We have no control over these charges." In my case, the charge was at the time of purchase right on the NFLSHOP order confirmation. It wasn't assessed during delivery by Canada Customs. I paid nothing at delivery. All I want is for them to justify why it is so high (over 25% the cost of the hoodie). There is no way their customs fee was so high for this item from the US to Canada. Cash grab, I guess.

Got the free 3-day shipping deal which was a week ago and still no merchandise. Their integrity is only surpassed by their Commissioner. Tried to use their site for help which was generally worthless.

After ordering a jersey on Nov. 24 for a Christmas gift, I canceled the order on Jan. 5 after numerous e-mails and still no package. On Jan. 25, the package finally arrived (a full 2 MONTHS after the order). I asked for a return address and they now tell me I must pay for shipping back to China! That will probably cost more than the jersey. I am so mad, I could spit! NEVER, NEVER AGAIN. They don't even earn a 1 star!!!

Ordered shirt for Superbowl on 1/28/16, the message stated that it would not be shipped any later than February 1st. Received a message that the ordered had been shipped on 1/31 to wait by the door. When the tracking information was received it had delivery date as 2/6. When contacting the customer service their excuse was that the item had a special ship date of February 1, 2017. Not the same thing that was stated on the website. If shipping promptness was a concerned it should have been better explained. When I contacted customer service the best they could offer was a message that read "For the inconvenience, we have added $10 promo credit to your account with us for use on future purchases". They made a poor choice in the shipping company to deliver Superbowl merchandise. Superbowl the most important day in the NFL. You thought they would have made a better choice.

When it became official that our team the Atlanta Falcons were going to the Super Bowl we ordered our gear and I paid for two day shipping to ensure it arrived prior to the Super Bowl. As I checked tracking two days turned into four. When I called I was told that my shipment went standard and would NOT arrive on time. Their fulfillment and logistics need serious improvement. Their IT department needs to fix the website so when you pay for two day shipping and get standard. Don't use NFL Shop! Take your business elsewhere.

I ordered my Super Bowl Apparel way ahead of time. I paid a 3 day shipping. It's been 9 days and nothing. I contacted NFL Shop and they supposedly upgraded my shipping to overnight shipping. Today I called stating that I had received an email that my estimated time of delivery is 2 days after the Super Bowl game. Everything they said to me was a lie. I will never recommend or buy with NFL Shop ever again. Very unsatisfied customer.

I ordered a team jersey for my grandson and was given a supposed delivery date within 3 days of my order. I continued to follow up on this and the delivery date gets farther and farther out. I contacted the company and they just keep making excuses. Meanwhile, the game has come and gone. I would give zero *'s if I could.

Received a football jersey for Christmas which was too small. Not sure who does their size charts, but no way it was the size on the label. Returned it on 12/27 with their return label clearly marked "return gift", which means they will issue a store credit. Called 1/17 to check on credit not received and was told they are processing the refund to the purchaser. Set me up an account with a $30 credit for the inconvenience! $30 is not going to replace a $100 jersey.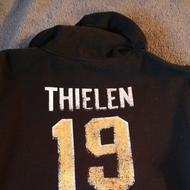 I ordered my fiance a customized Adam Thielen sweatshirt for a pretty expensive price for Christmas. He didn't open it until Christmas and found out the numbers and name were not centered on the back and after only ONE wash the numbers and lettering on the back are crumbling off and it looks horrible! I asked for a new product or a refund and they denied me because we only have 30 days from the time it was received to make a claim. Even though the gift wasn't opened until Christmas and the letters didn't fall off until it was washed. Then they had the nerve to say they hope to do business with me again. NOT happening.

I ordered 2 sweatshirts on January 2, 2107 that were to be delivered in 5 to 7 business days. They sent me an email they shipped on the 4th, which should have delivered by January 12th. I called on Friday the 13th and was first told she didn't know when they would deliver. I told her they said 5 to 7 business days and she said that was when they delivered to the post office and they would deliver to me on the 18th. I asked for the manager and was offered 30% off. He said that never happens. I will never order from them again, there are too many other online companies that are proactive.

I ordered a Raiders jersey for my husband from this website. When it arrived it was extremely small in size. I then put in a refund, mailed the jersey back and was wondering where my refund was at. I call nflshop.com and they tell me it takes 10 business days to show up on their end and now 14 more days for me to get my refund back. I don't understand companies take your money ASAP for items but when it's time to get your money back you have to wait ages. Makes no sense. First and last time ordering from that website. It's a shame because my family loves football.

I ordered a Cowboys Jersey online on Monday 1-9-17. The promotion stated that it would be delivered by Friday 1/13/17 Free Shipping. I called the NFL shop and told them that the tracking stated my item to be delivered 1/19/17. The CS Rep said there was nothing they could do. Spoke with a Supervisor and she stated all they could do was offer me a free return label to send it back after it arrives. I am flying out on Sat the 14th to the game in Dallas and I have no Jersey! I am more than disappointed!!! NEVER ever order from these people. They are uncaring and very unprofessional. The promotions are bogus!!! And they do not honor them.

I ordered 4 jerseys on November 27, 2016, the weekend of Black Friday. The website said 5 to 7 business days for shipping arrival. Well 10 days went by nothing received yet. I emailed the CS email and they responded with the tracking website and according to the website nothing was shipping yet. I reached out again and it looked like it might be on its way, hoping they would make it for Christmas as these jerseys were christmas gifts. Christmas eve, nothing arrived. Week after Christmas I received the package and gave the jersey out to my people and well the names were spelled wrong. The numbers are wrong.
I emailed them about the error and they ask me to take pics and send them via email. NFLshop.com response, "The order was correct and I received the correct items and they sent me a copy of the order form." The order form they sent me even showed the items were wrong. I live in Houston, Texas, wanted a Texans jersey. They sent me a Patriots. They misspelled the names on the jersey as well. They responded everything is correct.
The last reply I received tonight. They ask me to pay the shipping to return and they would send me 1 jersey back that they finally acknowledge wrong misspelled name. Also on the order form nothing about Patriots was even stated on the order form. I have been back and forth with them since I received today I am fed up and wanted to report them, still no resolution. Pic attached is the order form they me after notifying them of the error. Patriots is not mentioned anywhere on the order form. I will load the other pic of the jersey after I get my phone to charge.

I ordered items on Nov 30 to get for Xmas gifts. I made sure my order was over $50 to get their free shipping. I selected items that said would ship in 3 business days. It's Jan 7 and items haven't even shipped yet. In my confirmation email, beside each items it still plainly says ships within 3 business days. This is false advertising. I will never, ever buy from them again. When I call customer service their computer systems seems to not understand anything very well and instead of passing you to a person, hangs up on you. Worse shopping experience.

I ordered 2 Dak Prescott Elite NFL Jerseys on 12/9/16. I was charged $15 for shipping plus $6 for insurance. I received 1 jersey on 12/24/16. The other jersey I was told shipped separate which it shipped out on 12/14/16. Found out jerseys were coming from China. Tracking site hasn't updated since 12/17/16. After numerous emails they respond and say it takes 1-2 wks. It has been 21 days. I had my post office track package. It's still in China in a bin with 52 lbs of items ordered from NFL shop. No response from NFL shop, no ph# to contact, can only reach by email. I've asked that it be reshipped but no response. They have not even tried to locate my package. I had to do myself. Never will I order from them again.

I wanted to buy a hoodie as a birthday present. I paid for expedited shipping but never received a notice as to when it would arrive. When I called back immediately, about 2 minutes after placing order, I was told it would not ship out for a week as it was a "custom" item. I asked to cancel the order and was told that was not possible? The item was already being "made"! This is just BS and no one cared about my concerns.

I placed my order on 12/16/16, put in the code to have it delivered by 12/23/16. Took a screenshot of the guaranteed delivery and called on 12/26/16 when my item was not delivered by 12/23/16. I received a $20 store credit and was supposed to receive a $65 refund since the guarantee was not met. Called today and found out "sorry you did not check the right box for the guaranteed shipping, even though you put in the code, we will not refund the $65." I am done with nflshop.com and will go to local stores for sports items. They can keep the $20 credit, because they just lost a very loyal customer.

I placed an order with this company 12/27/16 with my order totaling $92.97. I received 2 emails in regards to same. The next day I noticed a withdrawal from a company with the name of HONGYE CO., LTD BEIJING CN in the amount of $101.97 which is more than the receipt. I went to the website to call customer service after reading horrible reviews on the company, was on hold for 20 minutes before I was hung up on. Called back and used the prompt "to place an order" of which was quickly answered, I was informed by the representative that the order I had placed was with a fraudulent company. I explained that said fraudulent company was listing this company's phone number as a contact number. They said they were aware of it. I find it very unfortunate that a scam like this affecting so many clients continues to exist especially during the holiday season when money is tight and gifts are not received.

I purchased two Antonio Brown Jerseys on Sept 17, 2016. The website stated that the items would be shipped out "No later than Oct 13, 2016". I waited until Oct 14 to email NFLShop.com when I did not receive a shipping confirmation for my items. Their response was only to link me to their order tracking web page, which told me that my order had not been processed. I waited a couple of days and emailed NFLShop once again. They offered me a $10 promo credit in which I had to purchase more products to get. This being my first time ordering from their company, why would I have faith in them when my first order still hadn't been shipped 3 weeks after I ordered? After another couple of days, I emailed for an update in which they responded with a couple of other offers for shipping, but they stated "We do not have an estimated timeframe for when your order will ship from our warehouse..."
My next email was Nov 2, 2016, a month and a half after my purchase. They responded stating that the new shipping date would be "on or before December 9". At this point, it is more than halfway through the football season. December 9 comes and goes and still no shipment. I emailed NFLShop on Dec 11, asking where my order was. They responded on Dec 13, 2016 stating that the new shipment date would be by "December 13". Now since that reply came late on the day of Dec 13, I had no faith that it was going to be accurate. I emailed again the next day and I received a response on Dec 16, 2016 that my "item was cut and we have issued you a refund".
THREE MONTHS of corporate runaround for me to find out that they are canceling my order?! This is completely unprofessional, the company should have "cut" the item when it wasn't able to be shipped after the second promised date so I can make other arrangements to purchase the items. THREE MONTHS I had to wait for a resolution. Needless to say, I will never order from NFLShop.com or any of its known affiliates. I am recommending everyone I know to stay away from this company as it is most likely that they will encounter the same experience from a company that has no urgency or respect for timeframes.
Company Name:

NFL Shop

Country:

United States

Website:

http://www.nflshop.com/