Consumer Complaints and Reviews

I ordered a $90.00 hoodie online and I didn't notice at the time that they added in a $23.85 State Tax which I later found out was a duty charge for shipping it to Canada. I order items from the U.S. all the time. Even items 10 times more valuable don't get charged that much. I sent NFLSHOP.COM 3 emails asking for an explanation, and all 3 times I get a generic response from a Fan Advocate, Fan Services and Support. It doesn't even seem that they read my complaint because the reply is so far off the mark. I always ask that a Manager reply but always get a Fan Advocate. Item Subtotal $89.99, Shipping & Handling $12.95, State Tax $23.85, Total Paid $126.79.
They say "The destination country may charge duties and import taxes on your shipment as, customs policies vary widely from country to country. These charges are the recipients responsibility, and can be paid with cash or check at the time of delivery. We have no control over these charges." In my case, the charge was at the time of purchase right on the NFLSHOP order confirmation. It wasn't assessed during delivery by Canada Customs. I paid nothing at delivery. All I want is for them to justify why it is so high (over 25% the cost of the hoodie). There is no way their customs fee was so high for this item from the US to Canada. Cash grab, I guess.

Got the free 3-day shipping deal which was a week ago and still no merchandise. Their integrity is only surpassed by their Commissioner. Tried to use their site for help which was generally worthless.

After ordering a jersey on Nov. 24 for a Christmas gift, I canceled the order on Jan. 5 after numerous e-mails and still no package. On Jan. 25, the package finally arrived (a full 2 MONTHS after the order). I asked for a return address and they now tell me I must pay for shipping back to China! That will probably cost more than the jersey. I am so mad, I could spit! NEVER, NEVER AGAIN. They don't even earn a 1 star!!!

Ordered shirt for Superbowl on 1/28/16, the message stated that it would not be shipped any later than February 1st. Received a message that the ordered had been shipped on 1/31 to wait by the door. When the tracking information was received it had delivery date as 2/6. When contacting the customer service their excuse was that the item had a special ship date of February 1, 2017. Not the same thing that was stated on the website. If shipping promptness was a concerned it should have been better explained. When I contacted customer service the best they could offer was a message that read "For the inconvenience, we have added $10 promo credit to your account with us for use on future purchases". They made a poor choice in the shipping company to deliver Superbowl merchandise. Superbowl the most important day in the NFL. You thought they would have made a better choice.

When it became official that our team the Atlanta Falcons were going to the Super Bowl we ordered our gear and I paid for two day shipping to ensure it arrived prior to the Super Bowl. As I checked tracking two days turned into four. When I called I was told that my shipment went standard and would NOT arrive on time. Their fulfillment and logistics need serious improvement. Their IT department needs to fix the website so when you pay for two day shipping and get standard. Don't use NFL Shop! Take your business elsewhere.
How do I know I can trust these reviews about NFL Shop?
698,549 reviews on ConsumerAffairs are verified.
We require contact information to ensure our reviewers are real.
We use intelligent software that helps us maintain the integrity of reviews.
Our moderators read all reviews to verify quality and helpfulness.
For more information about reviews on ConsumerAffairs.com please visit our FAQ.

I ordered my Super Bowl Apparel way ahead of time. I paid a 3 day shipping. It's been 9 days and nothing. I contacted NFL Shop and they supposedly upgraded my shipping to overnight shipping. Today I called stating that I had received an email that my estimated time of delivery is 2 days after the Super Bowl game. Everything they said to me was a lie. I will never recommend or buy with NFL Shop ever again. Very unsatisfied customer.

I ordered a team jersey for my grandson and was given a supposed delivery date within 3 days of my order. I continued to follow up on this and the delivery date gets farther and farther out. I contacted the company and they just keep making excuses. Meanwhile, the game has come and gone. I would give zero *'s if I could.

Received a football jersey for Christmas which was too small. Not sure who does their size charts, but no way it was the size on the label. Returned it on 12/27 with their return label clearly marked "return gift", which means they will issue a store credit. Called 1/17 to check on credit not received and was told they are processing the refund to the purchaser. Set me up an account with a $30 credit for the inconvenience! $30 is not going to replace a $100 jersey.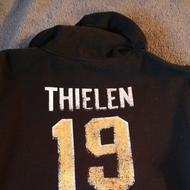 I ordered my fiance a customized Adam Thielen sweatshirt for a pretty expensive price for Christmas. He didn't open it until Christmas and found out the numbers and name were not centered on the back and after only ONE wash the numbers and lettering on the back are crumbling off and it looks horrible! I asked for a new product or a refund and they denied me because we only have 30 days from the time it was received to make a claim. Even though the gift wasn't opened until Christmas and the letters didn't fall off until it was washed. Then they had the nerve to say they hope to do business with me again. NOT happening.

I ordered 2 sweatshirts on January 2, 2107 that were to be delivered in 5 to 7 business days. They sent me an email they shipped on the 4th, which should have delivered by January 12th. I called on Friday the 13th and was first told she didn't know when they would deliver. I told her they said 5 to 7 business days and she said that was when they delivered to the post office and they would deliver to me on the 18th. I asked for the manager and was offered 30% off. He said that never happens. I will never order from them again, there are too many other online companies that are proactive.

I ordered a Raiders jersey for my husband from this website. When it arrived it was extremely small in size. I then put in a refund, mailed the jersey back and was wondering where my refund was at. I call nflshop.com and they tell me it takes 10 business days to show up on their end and now 14 more days for me to get my refund back. I don't understand companies take your money ASAP for items but when it's time to get your money back you have to wait ages. Makes no sense. First and last time ordering from that website. It's a shame because my family loves football.

I ordered a Cowboys Jersey online on Monday 1-9-17. The promotion stated that it would be delivered by Friday 1/13/17 Free Shipping. I called the NFL shop and told them that the tracking stated my item to be delivered 1/19/17. The CS Rep said there was nothing they could do. Spoke with a Supervisor and she stated all they could do was offer me a free return label to send it back after it arrives. I am flying out on Sat the 14th to the game in Dallas and I have no Jersey! I am more than disappointed!!! NEVER ever order from these people. They are uncaring and very unprofessional. The promotions are bogus!!! And they do not honor them.

I ordered 4 jerseys on November 27, 2016, the weekend of Black Friday. The website said 5 to 7 business days for shipping arrival. Well 10 days went by nothing received yet. I emailed the CS email and they responded with the tracking website and according to the website nothing was shipping yet. I reached out again and it looked like it might be on its way, hoping they would make it for Christmas as these jerseys were christmas gifts. Christmas eve, nothing arrived. Week after Christmas I received the package and gave the jersey out to my people and well the names were spelled wrong. The numbers are wrong.
I emailed them about the error and they ask me to take pics and send them via email. NFLshop.com response, "The order was correct and I received the correct items and they sent me a copy of the order form." The order form they sent me even showed the items were wrong. I live in Houston, Texas, wanted a Texans jersey. They sent me a Patriots. They misspelled the names on the jersey as well. They responded everything is correct.
The last reply I received tonight. They ask me to pay the shipping to return and they would send me 1 jersey back that they finally acknowledge wrong misspelled name. Also on the order form nothing about Patriots was even stated on the order form. I have been back and forth with them since I received today I am fed up and wanted to report them, still no resolution. Pic attached is the order form they me after notifying them of the error. Patriots is not mentioned anywhere on the order form. I will load the other pic of the jersey after I get my phone to charge.

I ordered items on Nov 30 to get for Xmas gifts. I made sure my order was over $50 to get their free shipping. I selected items that said would ship in 3 business days. It's Jan 7 and items haven't even shipped yet. In my confirmation email, beside each items it still plainly says ships within 3 business days. This is false advertising. I will never, ever buy from them again. When I call customer service their computer systems seems to not understand anything very well and instead of passing you to a person, hangs up on you. Worse shopping experience.

I ordered 2 Dak Prescott Elite NFL Jerseys on 12/9/16. I was charged $15 for shipping plus $6 for insurance. I received 1 jersey on 12/24/16. The other jersey I was told shipped separate which it shipped out on 12/14/16. Found out jerseys were coming from China. Tracking site hasn't updated since 12/17/16. After numerous emails they respond and say it takes 1-2 wks. It has been 21 days. I had my post office track package. It's still in China in a bin with 52 lbs of items ordered from NFL shop. No response from NFL shop, no ph# to contact, can only reach by email. I've asked that it be reshipped but no response. They have not even tried to locate my package. I had to do myself. Never will I order from them again.

I wanted to buy a hoodie as a birthday present. I paid for expedited shipping but never received a notice as to when it would arrive. When I called back immediately, about 2 minutes after placing order, I was told it would not ship out for a week as it was a "custom" item. I asked to cancel the order and was told that was not possible? The item was already being "made"! This is just BS and no one cared about my concerns.

I placed my order on 12/16/16, put in the code to have it delivered by 12/23/16. Took a screenshot of the guaranteed delivery and called on 12/26/16 when my item was not delivered by 12/23/16. I received a $20 store credit and was supposed to receive a $65 refund since the guarantee was not met. Called today and found out "sorry you did not check the right box for the guaranteed shipping, even though you put in the code, we will not refund the $65." I am done with nflshop.com and will go to local stores for sports items. They can keep the $20 credit, because they just lost a very loyal customer.

I placed an order with this company 12/27/16 with my order totaling $92.97. I received 2 emails in regards to same. The next day I noticed a withdrawal from a company with the name of HONGYE CO., LTD BEIJING CN in the amount of $101.97 which is more than the receipt. I went to the website to call customer service after reading horrible reviews on the company, was on hold for 20 minutes before I was hung up on. Called back and used the prompt "to place an order" of which was quickly answered, I was informed by the representative that the order I had placed was with a fraudulent company. I explained that said fraudulent company was listing this company's phone number as a contact number. They said they were aware of it. I find it very unfortunate that a scam like this affecting so many clients continues to exist especially during the holiday season when money is tight and gifts are not received.

I purchased two Antonio Brown Jerseys on Sept 17, 2016. The website stated that the items would be shipped out "No later than Oct 13, 2016". I waited until Oct 14 to email NFLShop.com when I did not receive a shipping confirmation for my items. Their response was only to link me to their order tracking web page, which told me that my order had not been processed. I waited a couple of days and emailed NFLShop once again. They offered me a $10 promo credit in which I had to purchase more products to get. This being my first time ordering from their company, why would I have faith in them when my first order still hadn't been shipped 3 weeks after I ordered? After another couple of days, I emailed for an update in which they responded with a couple of other offers for shipping, but they stated "We do not have an estimated timeframe for when your order will ship from our warehouse..."
My next email was Nov 2, 2016, a month and a half after my purchase. They responded stating that the new shipping date would be "on or before December 9". At this point, it is more than halfway through the football season. December 9 comes and goes and still no shipment. I emailed NFLShop on Dec 11, asking where my order was. They responded on Dec 13, 2016 stating that the new shipment date would be by "December 13". Now since that reply came late on the day of Dec 13, I had no faith that it was going to be accurate. I emailed again the next day and I received a response on Dec 16, 2016 that my "item was cut and we have issued you a refund".
THREE MONTHS of corporate runaround for me to find out that they are canceling my order?! This is completely unprofessional, the company should have "cut" the item when it wasn't able to be shipped after the second promised date so I can make other arrangements to purchase the items. THREE MONTHS I had to wait for a resolution. Needless to say, I will never order from NFLShop.com or any of its known affiliates. I am recommending everyone I know to stay away from this company as it is most likely that they will encounter the same experience from a company that has no urgency or respect for timeframes.

I ordered three items on 12/17 with guaranteed delivery by the 23rd. If my items were not received by the 23rd they would be free. I received an email on 12/19 stating that my order had shipped. The next email I received said I would not receive my order until after Christmas even though the website continued to guarantee a 23rd delivery. I spoke to CS and asked if they could resend the items with overnight (which was guaranteed before Christmas if ordered before 12/22 12pm. I was told to wait until the 23rd and that I may still get it. I explained that by waiting until the 23rd there would be no chance of receiving it before Christmas if it didn't arrive. CS agent could care less.
I received the items after Christmas. After sending an email to complain I am being told my refund will be $65. I just spoke with another person in CS asking why I am not getting a full refund as indicated on their website and was told that $65 is the most they ever refund. When I asked where on their website I can find this information I was told only employees can see this. I feel that they knew my items wouldn't be delivered on time and lied just to get business. I will never order from this company again!

We ordered a week before Christmas, paid for three day shipping. It is Dec 28 and still nothing. We called three times and they said it will arrive before Christmas. After Christmas we called and their computers said they messed up and put it in as 3-7 business days. So everyone we talked to before Christmas lied to us. I will never order thru the NFLShop. Also no apologies from their rep. They just said, "We will refund your shipping." Not good business practices.

I ordered a jersey and winter hat, for my nephew's Christmas gift, on December 15th with a "guarantee" of delivery before Christmas. Well, I received an email stating that the items shipped on December 16th. On December 20th I checked the tracking information and it showed that the merchandise had arrived in East Brunswick, NJ on this date. I checked again on December 22nd and it was still there with a message advising of a delay due to external factors. I emailed Lasership and called numerous times. A message instructed me to leave my name, number, and the tracking number and they will get back to me. A message was left.
On December 23rd the same Message appeared and again I left a message and then I emailed NFLSHOP.COM. I received an auto response stating that they received the email and they will get in touch with me... blah, blah, blah. On December 24th still no package and still no response from Lasership or NFLSHOP. Today is December 26th at 5:00 p.m. And still no package or response from either company.
I will NEVER order anything from NFLSHOP.COM again. They knew that the merchandise would not arrive by Christmas but they took the order and made the hollow promise of delivery anyway. I researched Lasership and found that they have a long history of negative reviews and complaints about their service. NFLSHOP does business with this company knowing about their poor service record and they still are more than happy to take a customer's money knowing that the "guaranteed " delivery date is a fantasy. Don't do business with this company.

I ordered 2 customized hoodies on Dec 11 one Eagles and one Green Bay each with the last name ** on them. I also paid for for the 3-day shipping. When I received my first hoodie the last name was spelled wrong. So I contacted customer service and they said someone would be in touch with me within 2 days. I still have yet to hear from them. After I received the 2 hoodie it was spelled wrong as well. Only this time it had an extra letter in it. Again I contacted customer service and nothing was done. I have ordered many things online and I have NEVER dealt with such incompetent people. Something has to be done. I mean really this is a multi-million dollar company and they can't do anything? I ended up having the shirts fixed at a local tee shirt shop. Thanks for nothing NFLshop! I will never order from them again!

Ordered a Jersey December 9th for my son of his favorite player for Christmas. Immediate confirmation via email and of course confirmation I've paid received. So far so good? Well it's Christmas and I've yet to receive the Jersey, nor have I received any confirmation of the delivery status. Had my son call from the US as I'm currently in South Korea, with his being put on hold and told customer waiting time was around 1.5 hours (guess I'm not alone in my complaint). Today I checked the website tracking tool and it says "Refunded"! Strange but I never received an email telling me that there was an issue that the Jersey was not going to be delivered. Guess "Refunded" means something different to NFLSHOP.com as well as I've yet to see the "refund".
How can they promise delivery before Christmas (I paid for express shipping) yet not ship nor notify me they were not going to ship? Terrible customer service! I know the military over here in South Korea and Expat community may not make up much of their business, but I assure you I'll spread the word about this joke of a company on every public forum I can. BBB must get involved with this company as it is obvious they have no clue how to operate an honest business (and if the NFL is associated with them they should be ashamed). Wish I'd read the reviews here earlier as I see it's a common theme on here. Stay far away from these CHARLATANS!

I purchased a jersey, women's large. I received a youth large. When I went to through the website to follow their directions for a return or preferably a swap for the right size and this is the reply I got: "Thank you for your effort and kindness. Sincerely sorry to hear that. Just check it, we did send the correct size to you. Actually, it is not convenience to send the jersey back. It needs much long time and high shipping fee, also the China Customs is inconvenience to you. For your case, how about you keep the item to sell to others or send as gift? And you place a order of bigger sizes from us? Kindly find the code--"coupon9" and you can enjoy $9 off for your shopping. If there is anything we can do for you, just feel free to contact us. Best regards, Karma" (Yes this is how they signed off with... Karma)

I have had a terrible experience with this business. I ordered my son six item for Christmas from the site around three weeks ago. Funds were taken from my bank account. Last week I still hadn't received my merchandise (which, when I checked out online had a guaranteed deliver day date prior to Christmas Day). I called and was on the line with customer service for over a half hour. They couldn't find my order for the first 15 minutes of the conversation. The customer service rep had to go to her supervisor to find my order. They promised to rush it out that day and promised I would have my items today, on Christmas Eve. When I asked for a confirmation number for this transaction they couldn't provide me with one.
Needless to say, my items (about $200 worth of NFL things) did not arrive today. I called again and waited for a half hour to speak with someone. Finally, I talked to a young man for about another half hour (an hour total spent on the phone) about how the woman I spoke with last week never put my new order through. I asked for her name, he said there were five names associated with my call last week. He too, said he reshipped my order today and that I'd have everything Monday.
So - long story short - my son will not find these items under the tree tomorrow. I am so upset and disappointed in this company and their lack of service and commitment. Sounds to me like this place needs to be checked out - smells like a scam to me and I so wished I had read more about what other people have had to go through. DO NOT ORDER FROM HERE!!!

Merry Christmas!!! Right??? No. Ruined my son's Christmas gift that I ordered - a throwback jersey that cost 169.00. I received a confirmation with an order number that it was being processed however, nope... never heard anything else. On December 23 I looked up shipping status and it showed status refunded??? What??? Who cancelled the order and where is my money? It was never credited back to my account. Luckily for me a good friend of mine Melissa ** whose husband plays for the Falcons is looking into this matter. It seems that the NFL shop cannot be trusted... which puts a bad taste for fans for these teams. You messed with the wrong consumer. You will probably not be the main consumer for items for long!!!

On November 12 I attempted to order 2 jerseys from the NFL shop. There was absolutely no indication or mention the items ordered were NOT in stock. Waited patiently for 2 weeks, no emails, no communication whatsoever. When I called I was told my order was not in stock because of the hurricane in Miami and they have no idea when the order will be shipped. I requested a full refund. They advised me that the credit back to my credit card would take up to 20 days. I decided to wait longer for my order given my choices given.
Approximately a week later I received a email that my order had been shipped, which included a tracking number. Unfortunately the tracking number did not work? I called the NFL shop and after one hour on the phone they directed me to a unknown shipping company, NOT reputable like FedEx, Purolator, etc.? The shipping company had dozens of sub contractors that provide delivery. Called back to the NFL shop, which company of the dozens listed is shipping my order?
The NFL shop provided me the name of the shipping company NOT listed on the dozens of companies listed. Once again called the NFL shop and questioned the company name they provided and the fact it was not listed? They advised me it is not trackable and I was out of luck. I asked for a manager to call me and they promised they? Sadly no call from the NFL shop just a standard email of apology. More than one month since the original order, I finally received my jerseys as ordered. The product delivered was sub-standard, but given all the problems I decided to accept the merchandise as is - not worth the hassles of getting a refund from this disgusting company.

I ordered a Ezekiel Elliott Jersey for 135.30 on 12/8/2016 just in time for Christmas. I called Customer service on the 12th to ask when it would be shipped. I was told it was scheduled for that day. I was lied to, called again the following day and was told it would be later on that day, which came and went. Called on Wednesday and was given the same spiel plus 10 bucks in nfl credit for my wait. I then called on the 16th to get an order status starting to get really nervous, and was told that they had no ETA as to when they would ship. I would get it when I would get it. I tried to cancel and they said no since I waited too long and it's being processed. Sent an email to CS stating that if they did not cancel the order that day I would file a charge-back with my credit card company to which they complied and gave me 25 more in NFL credit. It took 1 week to get my 135 back.
I went looking all over town and everything was sold out so I ordered from Fanatics.com which has the exact same layout as the nflshop.com but my order was shipped the 22nd of December. I still had 35 bucks nfl credit from nflshop.com so I decided to give them a second chance which I regret and prompted me to write this. Ordered a bucs and Miami blanket with a Dallas beanie for a total of 103.97 which came out to 74.66 with the credit discount. I also used their next day shipping coupon to receive the order on the 23rd. Today is the 22nd and they canceled part of my order because it's not in stock and it still hasn't shipped. They refunded me 25 bucks which will take a week to receive and I am still unsure if I will receive anything on time.
I had no choice but to place another order for a similar item replacement and pay again hoping that I won't be out 60 bucks. It's my fault for putting my trust in a 1 star company. I was told their inventory never matches which is already horrendous. How does a company that represents the NFL not know what they have? I can go to McDonald and ask how many patties they have in the freezer and I can guarantee that their inventory will match what is in their system. I am very, very, disappointed. This was my first Christmas with them and will surely be my last. How bout instead of revamping your Customer support, you invest in some inventory control software?

I bought a women's' personalized cowboys jersey. Paid $175 + tax + shipping. That was $175 + tax + shipping, in case you missed it. What I got was a screenprint fabric is of less quality than a tee shirt. AND, they recommended that I "size up." My wife is a petite person. I would normally have bought a medium, but ordered an XL, just to be safe. (Christmas present, you know.) What I got was what I would describe as a kid's large size. Did I mention I paid $175.00+ for this thing, I would expect to see in a closeout store. E-mailed 'em. Got a reply - form letter, with a typed first name.
"Sorry, can't return because it's personalized." Ok, I can understand that, if the item was what was expected. I did not want a $175 + tee shirt - not even a quality tee shirt. I expected a Dallas Jersey. It was presented as a Dallas Jersey. "All I got was this lousy tee shirt." Going to try to get $20 bucks for it on E-Bay, being honest about the description. Then I will have reduced my loss... Maybe.
Company Name:

NFL Shop

Country:

United States

Website:

http://www.nflshop.com/