Consumer Complaints and Reviews

Placed an order of two items, one hoodie and one colour rush jersey on the 9th of Oct. The hoodie was shipped out one day after the order, the jersey had to wait. More than two weeks went by, and not a word about my jersey. I then contacted them about this, I was told they didn't know the status of the jersey, and they didn't even have an estimate shipment day. I ask them to cancel the order, as I was fed up with their awful service. They refused to do so because "the order was too far down the track to make any changes."
Finally, they gave in and canceled it. BUT, they only sent me an email saying they'll only refund me partially, instead of a full refund for the jersey, for something I never received, without any sort of explanation. As for the hoodie, it's been two weeks since the shipment date, and nothing on the tracking system for my order has changed. I don't even know where it is, let along when I can expect it. And now they have stopped replying to my messages and I'm robbed of 240-something dollars.

My boyfriend placed an order on Oct 9th 2016 for some breast cancer items for our annual breast cancer walk we do in honor of his mother who passed away and it is now October 25th and still no shipping date. I have called in numerous times and every time I am told "We are not sure when your item will ship." "There is an issue with the warehouse's, blah blah." Well my opinion is they should have better communication with the warehouse and their customers to at least make them aware of the delays! They have not been helpful whatsoever and most reps have been extremely rude. Needless to say I will NEVER shop here again. I will buy from fanatics.com like I usually do because their items are never delayed. The best part is I received an email that my order was cancelled when I DID NOT approve a cancellation and I had to call back again and complain!

Ordered and received NFL Proline Jersey. Paid over $100 for it. Wore it one season (10 games) and the numbers are all peeling off. I called and was told I could have a 10% refund ($10). I have another NFL Jersey that is not Proline from another shop that is several years old and it's like brand new. Do not buy from this shop, and do not buy NFL Proline. They don't stand behind their product, and customer service is not a word in their vocabulary.

I order a throwback Redskins jersey on Tuesday September 27, 2016. I have called several times and every time I get a different excuse. 1) Because of the storm orders are delayed by 1 week. 2) "Your order has reached a certain state within our shipping process and we are unable to cancel it at this time. We have waived the $5.50 fee for use of the Merchandise Return Label that is going to be received in your package, should you choose to return your item(s) to us. A refund for this merchandise will be processed as soon as the item(s) are received at our Return Center. We are working on a new process to better our Fan experience when placing orders and apologize that your package has not shipped from our facility. We do not have an estimated time frame for when your order will ship from our warehouse and we appreciate your patience as we work through this process."
I will never ever order from this company again. I don't understand how the NFL can even endorse such poor customer service and allow their employees to lie to customers. I can't even get my money back until I get the order. Who knows when that will be. Next week will be a month and still no answer in site.

Ordered my hubby a Dallas jacket for his birthday. Birthday done, came and went. Still no jacket. Placed the order on October 7.. Called tonight to check on status and they still have not shipped it out yet. Something about their warehouse system crap. And had the nerve to say "we will give you a ten dollars credit for future purchases." I wish I would order something else from here.. First and last time!
How do I know I can trust these reviews about NFLShop.com?
611,656 reviews on ConsumerAffairs are verified.
We require contact information to ensure our reviewers are real.
We use intelligent software that helps us maintain the integrity of reviews.
Our moderators read all reviews to verify quality and helpfulness.
For more information about reviews on ConsumerAffairs.com please visit our FAQ.

I ordered a jersey on a Saturday morning and paid $24.95 for expedited shipping. I was expecting to see my purchase by Tuesday at the latest. Nothing arrived so I called the shop and was told my order was set to ship next Monday when it has been 6 business days. It does say that on my order confirmation but I do not recall seeing that on the submit page at least not where it makes most sense for the buyer to see it. There should be an agree to 6 business days field to check before clicking submit and paying for overnight shipping. That would be fair. I spoke to a rep and a supervisor and was basically told it is overnight once the order is processed. It is very misleading how they offer their methods of shipping. I personally will not stand for it so I cancelled. I don't need to pay $175 for a jersey and deal with that BS. They have forever lost my business.
I know I am only one voice but it seems to be based on the reviews of them that this is a common issue. Consumer Affairs really needs to step in and make them honor what true overnight shipping really means so others will not be victim of their misleading shipping methods. What a hassle! Not to mention it takes 10 seconds to swipe my card to take my $ when I placed the order and they are talking 10 days to put it back. What a joke. I won't do business with anyone that operates like that. I do not like being mislead. They don't even deserve 1 star but I have to click something to post my review. Total joke!

I ordered a BBQ Redskin set for my brother's 60th birthday. The order was placed on 9.16.16 and I was told it would be shipped in 6 business days. When I didn't receive it by 10.1.16 I contacted the NFL shop via live chat and was told they would upgrade the shipment to overnight delivery. It's now 10.11.16 and I still have not received the items I ordered. I needed it by 10.15.16 and though a month was plenty of time. I would caution consumers about ordering from the NFL Shop - they do not do as they say they will.

I placed an order 9/26. It was supposed to be 3 day delivery. Called last week to be told there was an error & they couldn't cancel the order or tell me when it would ship. Here it is 2 weeks later & I still don't have the order or my return.

I order a Dallas Cowboys Onesie for my new granddaughter. When I called, on Monday, to check on it they told me they were having problems and it would ship the next day. When I didn't receive notice of shipping by Friday, I called again. The message on the phone said the call center was closed due to the storm. I then sent an email, which they responded to on Saturday, asking when my order would ship. They responded that they could not tell me. When I responded that I wanted my order canceled because it would not arrive by the date I needed, they informed me that my order was too far along in the process for it to be canceled. They can't tell me when it will ship, but they can't cancel it either! This is a very poorly run business.

Pro Line NFL Jersey - received 2 jerseys. The first one the numbers peeled up on the first wash and numbers are really in bad shape after the third wash. Scared to even wear the second one. Don't buy this garbage.

Placed two orders on the same day and chose 2-3 day shipping. Called to cancel one of my orders immediately after placing. Was told they were having an issue and would need to open a ticket for cancellation. I was assured the order would be cancelled and I did not need to wait on the phone. I called two days later and it appears the order was never cancelled. I was then informed that it would take about 10 days before I got the money back. Was I sure I just didn't want to keep the order. I am currently on the phone again trying to cancel all of my orders. 11 days after my initial orders were placed. I have been charged twice and received 2 items from my order and the items were from the order that should have been cancelled. You would think for such a large corporation they would have a better user experience and way of handling orders. I will be ordering from Nike directly.

Someone ordered more than $300 worth of merchandise from this online store using my credit card. Some of the merchandise actually got shipped to me, which is what alerted me to the fraud prior to the bill arriving. When I called to get help, they told me that they would not refund the money charged unless I shipped back the merchandise! I took care of it with the bank, but NFL Shop was not only hard to reach (more than 25 minutes on hold) but when I asked to be provided more information, they were rude and dismissive.

I ordered a Jersey for my son on a Tuesday. $170 plus $25 for overnight service. According to FedEx it will arrive the following Tuesday!! If you're going to charge $25 for overnight, it should be sent overnight. Something needs to be done with this obvious scam. They are charging for overnight shipping and then obviously sending packages via normal snail mail.

I ordered 2 t-shirts that were ordered in conjunction with the size chart. Needless to say the size chart was wrong and my shirts arrived and had to be returned. I shipped the 2 shirts back 09/10 and called NFL customer service to ask about the refund status on 09/22. The items were still in transit! NFL shop has an return label which had UPS on it but then changed the shipping method to some rinky dink carrier called smart label logistics. Customer service told me once it arrives it will take another 2 week to process a refund and 2 days additional to initiate the refund. So in total his is a month and 1/2 long process just for a return. It seems to look like NFL shop purposely ship items back snail mail to delay the return process. Long story short, don't order from them period as their practices are shady. I will personally never order from them again. Their items are overpriced as well so good riddance to NFL shop.

I found out a week earlier that my friend and I had tickets to go see the Falcons home opener game. I ordered a t-shirt and hat on Monday (Labor Day) which I know wouldn't process until at least the next day...I was fine with that, I opted to go for a 2 business day delivery up-charge of $18. I got a confirmation e-mail that the order had been placed and that I'd receive a shipping notification once it shipped. Wed. comes around, still no shipping notification meaning it would not arrive on Friday (what I had paid for) so I contacted customer service via online chat and inquired about the status of my order.
I told them I wanted to either cancel the order unless they could promise it would be delivered by Saturday at the latest (the game was on Sunday). The lady said she refunded my original $18 shipping charge and changed it to overnight delivery by 12 PM on Friday. Well I never got a shipping notification on Thursday so I had a feeling I wouldn't get it on Friday...sure enough Friday comes along and I don't have my order. I had to go to Dick's and purchase a shirt there and by that time it was really picked over. Literally no communication about the delay in my order or anything.
I finally received a package the following Tuesday after the Sunday game. I also received a message on Monday, saying that it was delayed (obviously) and that I could respond and cancel at any time...so I responded immediately (my email comes straight to my phone) and asked them to cancel my order and of course they said they couldn't (then why would you say I can cancel at any time?!).
Even after all that terrible customer service I thought I'd keep the shirt and hat anyway whenever it finally shipped. Unfortunately my terrible experience didn't stop there. The shirt was stretched out and not true to size. The "custom printed" Falcons logo and players' name and jersey number smelled like they were printed with toxic paint, the red colors were completely faded...it just looked like it was poorly hand-made or something. I knew immediately I wanted to return it. I never even received the hat.
I finally decided to contact customer service again and ask why I never received my hat (thought it might have been shipped separately) but was still charged for both items on my credit card statement. They apparently had an issue with obtaining the hat and "cancelled" that part of my order SIX days before I reached out asking about it, without even letting me know - I had to reach out to them to find that out. I asked her how long it would take for the money to be refunded and she said 2-10 days. I'm so fed up, I'm about to just dispute the whole thing with my credit card company. I did not receive ANYTHING that was promised to me. I will send back the shirt, but I will NEVER do business with NFL Shop again. Terrible quality, terrible customer service.

I placed my order with the expedited (two business day) 24.99 shipping method. However, I noticed that according to my FedEx tracking, the delivery was scheduled for a week after I had ordered. I called customer service and the rep said there was an error on their part, however, there was nothing they could do to change/expedite the shipping. First and last time shopping through NFLShop.com.

I received the wrong color of jersey. I had ordered a mainly black jersey and received it with a stain on the white name on the back. We will see what they say when I contact them, but I should have read this page first before buying. OOPS.

I purchased a shirt for a Christmas present, so I made sure I bought it early in October. It didn't fit, so I put it in the original box, with the return label, and sent it back after Christmas. NEVER heard a word and never got credit on my card. I contacted them and was told their return policy is 60 days. If you return it after 60 days, they DONATE your item to a charity of their choice! I have never heard of this policy. It's on their website, hidden in small print, in the return section. That should be on their Home page, especially at Christmas time! I don't believe they donated it, I believe their employees are wearing everyone's items that were returned after Christmas! This can't be legal! I will never shop on their website again!

In late October 2015 I ordered an official NFL jersey for my grandson for Christmas. Using the sizing standards I thought I picked the correct size. But they were wrong and the jersey was too small. I needed to buy a men's size small. Contacted NFL, they said I could not exchange but when I returned the jersey they would refund my money immediately. I went ahead and purchased a new adult size jersey nearly $50 more! And put the too small jersey in the mail. It's been three months now and I still do not have my refund. NFL says they can't find the package and that I didn't return it. However, I sent them the tracking information and it clearly shows it was received in February. Why the horrendous delay is anyone's guess. This website resorts to highway robbery. I have not even received an acknowledgment to my proof that it was returned. I will never do business with them again, and am looking for any help in getting my $80 back!

Buyers be aware!!! I had purchased a gift for my husband at Christmas using a gift card. The item didn't fit so he returned it and asked on the return form to be contacted via email or by phone number. The NFL shop disregarded the request on the return form and did not contact my husband. Instead they issued a credit on a gift card that was no longer in our possession and offered no assistance on correcting the issue. Please be aware that I have been told that the NFL Shop doesn't do any exchanges on any of their items.

I ordered 4 Super Bowl shirts on January 24 after the Championship Game. Guaranteed delivery before the Super Bowl. Did not receive until the Tuesday after the Super Bowl Game. I returned the shirts and requested a $7.30 credit for return shipping as it was not my fault the shirts were delivered after the Super Bowl. They REFUSED to credit the shipping. NEVER AGAIN will I purchase anything from this company. Does NOT deserve even 1 star but 1 is required to process complaint.

I ordered a Von Miller jersey the morning of the Superbowl from nflsalesjersey.com. Today I still have not received my jersey. I've tried to email the site with no response. My order shows no phone numbers to call. Has anyone had issues recently with this site? The jersey is paid for (and I had to use a second credit card too because of some chip problem). The status when I submitted my payment said "waiting for delivery" but that was on 2/7/16 and it's almost 20 days since and still no delivery. I'm afraid I may have been ripped off.

Buyer beware. I bought my son a Bronco's championship T shirt for his birthday since he is an avid fan. I was so upset when I received it today. Not only was it super thin material but it was printed crooked on the front. Shoddy, shoddy quality and to top it off they want $5.50 to return it. I'll never purchase from the NFL store again. I've bought better quality NFL products on Ebay!

Purchased this jersey on 12/25/15. After the second wash (I did follow directions on washing), the numbers and letters were peeling very badly. I wore it for Super Bowl, peeling letters and all, which made a total of three times I wore the jersey. I contacted NFLShop.com to try and get a replacement since the product was of such poor quality. They flat out refused, stating damaged or defective products can only be replaced/returned within 30 days. I had this a total of approx. 45 days, two washings, and three wears. Out a total of $118 + (which includes shipping and tax). Worst experience I have ever had with a retailer. Do not waste your money on this product!!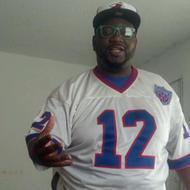 I ordered a personalized jersey on December 31st 2015 online. I chose overnight shipping. My brother died on December 27th and I wanted the personalized Buffalo Bills jersey to bury him in. After I placed the order and paid for overnight shipping. I called NFL Shop to ensure the jersey would be there before his wake on January 1st. I got a gentleman and I did not get his name. He told me that there is no such thing as overnight shipping and I should of known that. They need time to make the jersey and fill the order. Even after I told him what it was for he started being argumentative. At the lowest point in my life he was trying to argue and be nasty. Finally I asked to speak with his supervisor. I got a lady that did she would see what she could do and call me back.
After a couple hours I called back and got a lady by the name of Shannick. She did everything in her power. We was on the phone for maybe an hour. She was back and forth with her supervisor. She found a jersey but it wouldn't have the number I wanted and I was okay with it because my brother loved the Bills... After maybe 30 more minutes she put me on hold and came back on the line and told me the jersey I ordered would in fact be here by 10:00 am the next day. It was 4:30 pm then. The personalized jersey I ordered was delivered by 10:00 am the next day with the number I wanted... Shannick went above and beyond and I wish there was a way I could repay her. NFL Shop went from a zero to five stars to me.

Pro Line Men's Carolina Panthers Luke Kuechly Team Color Jersey. I ordered a Pro Line team jersey, which I wore twice. I then washed it for the first time, as per directions. When it came out of the wash, the numbers started peeling. I tried to return it, but was told I was past the 30 day limit for returns. I am now out $99.99 + shipping and tax. These jerseys are very badly made.

On January 24 I ordered a Peyton Manning jersey and a shot glass, with express shipping. On February 1st my shot glass came but my jersey still said "new on the site". Two weeks came and went and it was February 3rd when I finally called them. I asked where my order was and he said they are working hard to fulfill all the orders and that the warehouse was behind on the orders. Superbowl Sunday I finally come to terms that it's not going to be here. February 8th I check my email and see an email from nflshop.com that says "Regarding your order..." I immediately clicked on it and read the email, "we feel it is important to notify you immediately of an issue with the merchandise you selected. We were just notified that the manufacturer chose not to produce the item Men's Nike Peyton Manning Orange Denver Broncos Super Bowl 50 Bound Game Jersey."
How does a manufacturer just decide on any given day not to process an order when I was told that it should come in 5-7 business days at the latest but took two weeks to come. I called them again and they said the item was sold out and they won't be making anymore. And even on the site still it just has the same jersey I have sitting there waiting to be ordered, with no "sold out" sign or anything. They could have clearly put that in the email instead of me having to call and go through the automatic voice lady. They have given a refund and ten dollars store credit, but it's the simple fact. Thoroughly disappointed with this website.

I ordered two jerseys. One arrived in around 3 weeks. It wasn't the jersey I ordered. I continue to email them but I don't get a response. It's over 6 weeks now since I placed my order, and I haven't received my second jersey. The site says "authentic," however, these are not authentic, or even licensed jerseys. The one I got doesn't even have the team, or NFL logo on it. It was supposed to be a size 46. I doubt it's even a size 40. The only thing they got right is the name and number on the jersey. Wrong size, wrong color, wrong style (mine was supposed to be a throwback jersey). And of course, I paid for two jerseys, and only received one. Stay away!

FORTUNATELY FOR THE NFL SHOP - ConsumerAffairs reviewers HAVE to at least give One Star in order to submit a review. This company should be MINUS 5 * * * * * 's. So, I Order items 12 days ago, immediately following the NFC Championship Game. Was told in confirmation email the items would ship no later than the 2nd (7 days later). Well, 9 days later, still no tracking info. After calling and being on hold for over an hour and a half and never speaking to a human I went to their facebook page to inquire. Oh my! Talk about a cloister! Their facebook page is nothing but people complaining about being scammed - but, I digress. So, I ask/post about my parcel and am told to provide an order number and am later told it still hasn't shipped yet but I'd be "upgraded" to overnight shipping. What good is that when 3 more days pass and it's the Friday before Superbowl? So much for wearing anything fun to work!
Oh, I skipped ahead, 10 days after the order (and inquiring on facebook) I get an email from NHL that my package still HAS NOT shipped... Why is the NHL trying to cover for the NFL? How'd they get my info? Is this for real or a phishing scam? No company can be this lousy can they?? Yes. Yes they can be and this one is exactly that. Do yourself a favor and NEVER waste one second of your life trying to deal with these buffoons... All you'll get are "I'm Sorry", blah blah blah. They post on their facebook page that, if you order such & such items they are "Guaranteed" to be shipped by so and so. Don't hold your breath. You'll die waiting.
I'm leaving town now, which is what I believe the Management at NFL Shop must have done 2 weeks ago. If the items ship, and should land on my porch, I won't be there for 10 days - I'm sure I'll be wasting another 10 days after that trying to get some resolution to the fact I don't want their product anymore. STAY AWAY FROM THESE SCAMMERS.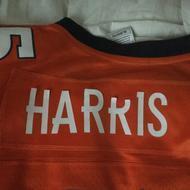 Do not buy here! I ordered a jersey for my grandson for Christmas on their NFL Shop.Com page. I paid Seventy dollars plus shipping. My grandson wore this jersey one time and placed it back in his closet. It was Not put through the laundry. He took it out to wear for school and all the lettering on the jersey are lifting and peeling off. I contacted customer service and was told they would send me a return label to my email after I described to the lady what had occurred. I get an email from the company stating that it has been past 30 days... and they will not refund or replace the jersey. Sorry NFL.COM that the letters did not lift and peel within your 30 days. DO NOT BUY FROM THIS COMPANY. THEIR JERSEYS COST BIG DOLLARS. BUT ARE POOR IN QUALITY. AND YOU'RE JUST SOL. But they will look forward to doing future business with you. Never!!!
NFLShop.com Company Profile
Company Name:

NFLShop.com

Country:

United States

Website:

http://www.nflshop.com/