Consumer Complaints and Reviews

eBay will almost automatically take the buyer's side no matter the situation. I recommend OfferMeUp for an alternative. I sold some items that were impossible to get damaged, but buyer made false accusations. I included the original packaging instead of throwing them into an envelope. The buyer stated a couple of the figures had scratches when I know they did not. The items were purchased a week prior from the store, but ended up being duplicates. Needless to say eBay went with the buyer. Ad clearly stated no returns and used. Will never do business with eBay again.

SO... my issue started when a buyer bought an item, ruined it and sent it back as damaged not as described, even though my listing clearly states that the buyer pays the shipping. The buyer goes ahead, opens up a case, ebay rules in this buyer's favor! I get that a buyer is important and that "consumers are always right" or so they say but seriously, who is watching out for the sellers on Ebay?
They go ahead and refund the buyer, from my bank account, remove the money from my Paypal account and keep both refunds! I have called ebay and paypal, had a conference and they keep saying the same thing, we only refunded ourselves once, so how come my paypal money is missing! Beware of ebay, this is the second time they are doing this they refund the buyer and keep money for themselves too.
I am very disappointed as I have been asking for a refund for a month and they the send an email stating that they stand by their decision that they will favor the buyer, that is okay, but for a double refund? Why? Both amounts show that they cleared to Ebay INC. Beware, look at your refunds and check both paypal and your account if it is linked to paypal! I am highly disappointed by the way this issue has been handled.

In the past, years ago, I was both a seller and a buyer on eBay with no issues. Recently I heard they treat their sellers like crap and rip them off every chance they can. Sadly I learned recently this is true. Not only did they allow a no returned item to be returned, they charged me for shipping to the person, back from the person, and then charged me sellers fees. So in total, they stole over $30.00 from me. eBay is an amazing site if you want to buy something but if you want to sell something and are not a store, avoid them and use the new apps or even craigslist.

Have an item for sale on eBay but now not able to log in as they do not recognize my password or accept it when I try to update it. What can I do? They just don't care and I am left wondering what I can do? Don't know if there have been any messages or offers for what I have offered but certainly will not use eBay again. A complete waste of time.

(First of all please excuse my grammar/English.) This is the first time I wrote a review, and when I had an issue with the company I just simply bite my tongue and move along, but not this time. I was a eBay seller for 8 years, had 600+ positive reviews and selling almost the same item on eBay. Recently eBay removed my multiple listing and accusing me I'm selling fake item. I talk to eBay rep. I explained that I never had any issue before and even customers are happy with my products. They still insist that I'm selling prohibited product.
I ask how could they sure that I'm selling a fake brand if the item itself came from the original manufacturer and I have a complete receipt (online and store receipt). Their explanation doesn't make sense at all and they can't help me. I said "can I relist now my item with an original receipt attached?" They told me NO...not at all. Then they suggest next time when I list my other item I make sure I also include the receipt. I agree but I told them I'm going to cover the amount...then they said no again, the CSR told me to not to edit or hide it all. I never heard that policy before nor I couldn't believe that I'm talking to normal person. This sad incident force me to not to sell at eBay anymore and will find an alternate to sell my products.
How do I know I can trust these reviews about eBay?
637,576 reviews on ConsumerAffairs are verified.
We require contact information to ensure our reviewers are real.
We use intelligent software that helps us maintain the integrity of reviews.
Our moderators read all reviews to verify quality and helpfulness.
For more information about reviews on ConsumerAffairs.com please visit our FAQ.

Sold an item the buyer wasn't satisfied with. Made claims of scratches and wanted to return it. I asked him to do so. Meanwhile he wrote negative abusive feedback, and lodged a complaint. eBay decided he was right, left the feedback and refunded the buyer without returning the item. I am left with abusive feedback, no item, no cash. I reported the buyer, but I am ignored! Who are they to give away my personal property?

Sold an item for $1250 then customer decided they wanted to return it after using it. At first they claimed it was damaged. We requested pictures. They declined. eBay intervened and decided in favour of customer and deducted the fees from my PayPal account. Customer then refused to return the item, refused calls and am left owing eBay that money. They are now threatening to shut down account and have stopped all selling activities and chasing me for the money although I warned them beforehand that there was something wrong with the customer.

eBay sent me an email as follows: "eBay unauthorized use of your account -- action required. We have reason to believe that your eBay account has been used fraudulently without your permission. We've reset your eBay password. Any unauthorized activity, such as buying or selling, has been canceled and any associated fees have been credited to your account. Any listings that we removed are included toward the end of this email. We assure you that your financial information is securely stored on a server and cannot be seen by anyone.
Although we've taken steps to secure your eBay account, your personal email account or third-party listing tools may have also been accessed without your permission. Please change these passwords as soon as possible. Once you've secured your personal email account and third-party listing tools, please change your eBay password: ..."
Upon contacting eBay by telephone to determine what had occurred in regard to my account, the agent repeated the statement to me that they had reason to believe the account had been used fraudulently and I needed to change my password. When I pressed them for details of what they had discovered regarding my account, and after being transferred to a second office and agent, the 2nd eBay agent admitted to me specifically that there had been no fraudulent activity on my account, but that their security program sends that message out to various accounts so that they can get the patrons to change their eBay password.
In short she admitted to me that eBay had lied to me (and I used that word and made that accusation to her) about the fraudulent activity on my account and had changed my password without prior contact to me and without my authorization so that they could force me to change my password - all in an effort to support their company's security desires. She also informed me that they would like all of their patrons to change their password every three to six months.
When I demanded that they reinstate my account password and allow me access to my account without having to change my password, she said they would not do that and that if I did not change my password I would no longer have access to my account. So, eBay lied to me about the fraudulent activity and locked me out of my account until they could force me to change my password. The result was that my snipe software was locked out of my account this date and I lost a very favorable purchase on eBay for an item that my attempted bid would have purchased, and that cost me at least $60.00 - $100.00 in price benefit should I now buy the item elsewhere. I have had an account continually with eBay since September, 2002, and I have a 523 red star status with a 100% positive review. This is the first time they have seen fit to treat me this way and it may well be the last time I deal with them. I hate being lied to.

My ordeal with eBay began on December 19 of 2014. On that date my eBay selling assistant vacated the residence that we shared. Unbeknownst to me, this person had been pilfering personal belongings from my children and I, some irreplaceable, for an unspecified period of time and had actually been selling personal items of apparel belonging to me while still residing in the house. In January of 2015 I discovered more of our property listed for sale on a selling page belonging to this individual. On January 3, 2015 I attempted to purchase one of the items stolen from me from this individual, only to have the sale cancelled. I immediately contacted eBay and was instructed to contact local law enforcement and file a report, which I did immediately. A police report was generated and submitted by the detective managing our case in February of 2015.
This report contained a detailed listing of stolen items that had been sold or were currently listed for sale on this selling page. I was informed by eBay representatives that it would take 7 to 10 days for the report to be processed and acknowledged. Weeks passed with no acknowledgment as I watched our personal belongings being sold to unsuspecting buyers all over the world with no response or action taken by eBay despite acknowledgment of receipt of the valid police report. I continued to contact eBay daily, distraught as I watched our personal belongings being sold on accounts belonging to this individual and that of his brother, one by one. It was not until the second week of March that I finally made contact with an representative named Lisa who acknowledged the active report, apologizing profusely for the lack of responsibility and action taken by eBay and worked with her supervisor to immediately suspend the account.
The "hitch" was that my account, which supplied 50% of my monthly income was affected as well due to the fact that this suspended seller and I had at one time shared a physical address and IP address. I again began contacting eBay daily in an attempt to rectify this problem. Despite the fact that my sales had literally plummeted to a trickle in the weeks following the suspension I received constant denial of any correlation between the two events until the last week of March 2015 when I spoke with an eBay rep who acknowledged the obvious correlation and also informed me that this individual had managed to maintain an active link between our accounts via personal information which was being used without my consent. I was confused as all of my information was new.
Bank account information, credit cards, email addresses etc. all had been changed due to the fact that this individual had also committed fraud on my bank accounts and they were closed per federal law. I also spoke with eBay Trust and Security that night. I was informed that this individual was using my IP address and computer ID number from a remote location! I have no working knowledge of internet identity theft, or how any of this is possible from a distance that minimally was 50 miles from my home but was assured that is possible and was in fact happening. I was advised by the T&S eBay rep to contact my internet service provider and request that my IP address be "broken". I did this immediately as well. For a few months it seemed as though my account and personal information were finally no longer being tampered or interfered with.
My sales returned to normal and life was moving along smoothly. The individual had been formally charged and arraigned on two counts of felony larceny in June of 2015, one of those charges directly involving the theft and subsequent sales of our personal belongings on eBay. In July of 2015 I noticed a sudden decline in sales once more, literally overnight. As it turns out eBay had reinstated the suspended selling account! I was in disbelief and contacted eBay many times regarding the reinstatement of an account directly involved and related to felony larceny charges and the fact that once again, I was obviously linked and being negatively impacted by activities of this unscrupulous individual.
It was at that time that an eBay representative informed me that I would need to clear my name again. Although I have documentation from the District Attorney's office that would provide a clear picture of perpetrator and victim I have never been allowed to provide eBay with this information. My once successful selling account declined steadily until it was no longer profitable for me to remain on eBay as an active seller. On October 29, 2016 with roughly $13 in total sales in the previous two weeks I removed any remaining listings from my selling account on eBay.
I am not angry, but can only shake my head in disbelief. In addition to the loss of my home, bank accounts, and personal items, many of which were part of a collection amassed over 30 yrs, I have also lost the business that I took great pride in and had worked diligently to build after coming home from work, and on weekends. Interestingly enough the individual who actually committed the crimes was inactive on eBay for a total of 6 days following the initial suspension and has continued to sell successfully using a number selling accounts with false names and addresses, and merchandise flowing between them freely.

eBay gives no Seller Protection whatsoever. Sold a Pentax D FA90 lens on eBay for $2250.00. The buyer requested a return which I agreed to because he said it wouldn't focus. When I received the lens it was almost separated in 2 parts, pretty much junk. It appears it had been dropped and the lens hood was not returned with the lens.
The rest of the matter was summed up by eBay and I copied and pasted the following: "I am contacting you about the Pentax HD D-FA 645 90mm f/2.8 AW ED Lens (eBay item# **) that you sold. I've reviewed your communication to us and I understand that you are saying the buyer has not returned the item in the same condition as you had sent it out in, but you have the item back and accepted the return. Situations like this are not common on eBay, but when they do come up it can result in loss. This is not something where eBay is going to be able to take care of your business loss in this situation." This was included in the Appeal Denied letter. So Seller beware!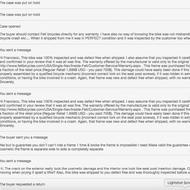 eBay PRACTICES ARE TOTALLY DISHONEST! Sellers are SYSTEMATICALLY penalized by eBay in case of conflict. This is the second time it happens (case ID #** and case ID#**). In both cases, eBay decided to settle for the buyer and left me, the seller, with no product back, and a direct withdrawal in my Paypal account. eBay systematically takes the party of the buyers. SO THIS IS MY BEST ADVISE TO THE BUYERS: buy whatever you want; when you receive the product, open a case, refuse to give information back to the seller, take your time (very important – 5 days minimum to avoid coming to an agreement with the seller) and you will win your case. You won't even have to send the product back to the seller. You won't have to prove anything AND you will be refunded.
EVEN THE FOLLOWING APPEAL WAS REJECTED (Aug. 22: You sent us an appeal. Comments: As the customer was refunded, I request that the item that was send to the customer is sent back to me as soon as possible. I needs to be sent back to me in the original condition it was received and I need pictures of the frame as it is right now before it will be shipped back to me. I agree to pay the buyer for the shipping cost.) I am disgusted with eBay commercial practices. TOTALLY DISHONEST!

I sold a working $700 MacBook pro on eBay. I have photos and insurance in the laptop confirming it was shipped working. 10 days after receiving the laptop the buyer stated a return saying the laptop doesn't work. Thinking this was off I asked the buyer why he waited so long and a day later I received the response he was on vacation and just now got to it. I asked for photos of the laptop to see if it was damaged and noticed the laptop was cleaner than when I sent it. I asked the buyer if he attempted to clean it and the buyer refused to answer.
I contacted eBay and told them I believed the person was abusing the return policy and wanted to escalate the return. I was told that sellers can't escalate return request and if I felt it was a fraud all I can do is report the buyer. I won't receive any money back at best they can try to force him to return the laptop that he broke.
So not only did I lose the money I was returned a broken laptop. I asked to talk to a supervisor and was told that's all they can do. This is the second time I've dealt with a return, the first time it was damaged in shipping and USPS insurance covered it. eBay really doesn't care about its sellers and offers no protection against fraud. I've seen several videos and reports where buyers break and strip items then return and eBay does nothing to help the sellers. I pulled all my items because it's not safe to sell anything.

I listed and sold an item. Buyer said it didn't work and refused to send a picture of the error code. He finally sent an old used broken one and even with pictures showing the new one I sent serial number and the old broken one that he returned eBay refunded his 168.00 plus shipping and collected my seller fees and shipping fees out of my bank instead of refunding them as a canceled item. So closed all eBay and PayPal accounts for my family and in-laws.

On Sept 18th, I offered for sale my father's 900 card baseball card collection. I repeatedly stated I knew nothing about the cards and couldn't guarantee anything about the sale, which included a number of 1950's rookie cards. I had a buyer repeatedly email me asking me to sell to him and end the auction early, which I refused. He began to bully me stating that I "don't have to let other bidders keep bidding, you can break the rules, I do it all the time." He bid the auction up to $638 and won the auction. With misgivings about this buyer, I boxed the cards up and mailed them. Within minutes (as shown by the shipping tracking) of this buyer receiving the cards he'd won, he filed with Ebay for a refund claiming 3 of the 900 cards he bought were fakes.
I responded showing the 9 emails we'd exchanged prior to the sale – including his bragging about breaking Ebay rules repeatedly, and referred repeatedly to the auction itself stating I could make no guarantees about the card collection. Ebay ruled, as they ALWAYS do in favor of the buyer, ignoring all of our prior exchanges. When I got the package back from the buyer, it was in my original box, but I noticed when the mailman handed it to me that it was lighter than it should be, at which point I began videoing my opening the box, and sure enough, the box was empty. The buyer had ripped me off. I called Ebay immediately and spoke to someone in the appeals department, who effectively said "Oh well. Learn a lesson and move on. We can't and won't help you. We have no way to know what he sent you." I pointed out that I'd filmed myself opening the box and was told "That's meaningless to us."
In the meantime, Paypal took the money out of my bank account BEFORE the initial appeal had been even heard, causing me to have over $120 in overdraft fees, and forcing me to close my bank account to keep them from taking more money from my account. I called them as well to let them know what happened, and their response was - "Ebay told us to refund it, so we did." offering me no protection there either. In addition, they put a hold on my account until I paid them the $120 they said they couldn't collect (because they caused me the loss in overdraft fees) AND hindered my sale of further items that were currently in ending auctions. I canceled all active auctions – because I wasn't going to send out more items when I couldn't collect the money for them with the Paypal hold on my account, and Ebay and Paypal are charging me for that as well.
Worse, I'd had a separate credit line with Paypal that they've charged to its limit trying to collect from me there too, NOW with INTEREST! So I'm now not only out my father's collection, but the $638 it sold for, $120 in overdraft fee's and the $120 Paypal is saying I still owe THEM too, on top of interest payments garnered when Paypal switched the money they were trying to collect from me to the credit line I had. Ebay and Paypal are causing me the worst nightmare I've ever had. They should be ASHAMED and we that are getting ripped off by them all have ZERO recourse! If anyone can help, please contact me!

On 10/03/16, I purchased several new Nintendo 3DS handheld video game consoles for resale. I subsequently listed on eBay and successfully sold most. I sold one on 10/08/16 to an eBay customer in Hawaii which shipped out on 10/11/16, we'll refer to this item as 7010. Item 7010 was delivered to the purchaser on 10/14/16 however, tracking through USPS did not update and the buyer opened a request for refund due to "item not received" on 10/15/16.
As 10/15/16 was a Saturday, I was able to open a complaint through USPS's 800 number but unable to speak to the local postman until 10/17/16 at which point, the local postman advised that he had delivered 7010 on 10/14/16 and went to the purchasers home to confront him. Purchaser was forced to admit that he had received 7010 and closed the request. He then, however, immediately opened a second request for refund advising the serial numbers on the box and console did not match and this was not what he ordered. He sent me photographs of two consoles side by side, these are the same console. The buyer states that he received 7017 from me rather than 7010.
I contacted Nintendo, manufacturer of both 7010 and 7017. Nintendo provided in writing, evidence that 7017 was not even purchased until 10/13/16, while 7010 was already in transit, making it impossible for the buyer to have received 7017 from me. I submitted this evidence to eBay and implored them to look at the entire exchange, taking into consideration the already shady behavior of reporting an item as "not received" when the buyer actually did have the item, and the fact that I had irrefutable evidence from the manufacturer of 7010 and 7017, showing that what the buyer is claiming is impossible before ruling to refund the buyer's money however, eBay has advised me that they cannot prove that the buyer is lying therefore, the claim is valid and they will be taking money from me.
Highly disappointed that being an honest seller gets me scammed and eBay helped someone do it because I will not receive the item that I paid for, the item on my receipt, the one of a higher quality than 7017. I will receive 7017, which is inferior, I will not be able to resell it, and I will lose all of the money that I paid for the purchase of 7010 with, along with the money that I paid for shipping, not to mention the time and effort that I had to put into research this and contacting the manufacturer. Where is the protection for the people who actually pay for eBay to be a company?

Seller beware!!!! If you are hoping to make any kind of profit or at least break even, this is not the place. Do not sell high ticket items on eBay! By this I mean anything worth over $100. That's right. I said one hundred dollars. Ebay's selling charges are not cheap. You need to take this into account before you consider selling anything on this website. First, you need to find their selling charges page and then look at their tiered selling structure. Find what you think your item is worth. Finally, see if you can sell it somewhere else for less, especially after eBay has taken their cut.
Example: 1 OZ gold bar. Price per ounce on open market? $1250. Sell it on eBay for $1300. You think you made a $50 profit? Wrong! Ebay takes 10% off the top. That's $130 gone forever into eBay's pockets. Your net sale? $1170. You could have sold it to an online gold company for $20-$30 under spot. You lose! Can't imagine what or how that really hurts the seller when it comes to cars, boats, and jewelry. Good luck. I hope this helps.

I had a bug on my eBay listing that effectively let people buy my product for much cheaper than I set the price for. (Each variation had a different price, prices would randomly get shifted down the list of variations.) I had to edit my listing probably 10 times and cancel a bunch of orders and send out a bunch of apologies to buyers. Called eBay because I was worried the cancellations would affect my discounted prices for being a good seller, and they didn't believe me, saying I must have edited the listing wrong, but that the cancellations won't count against my seller rating. I was extremely relieved. Bug stopped happening after I deleted my listing and did it all again.
1 month later my seller rating plummets because of all the cancellations. I call them, and they say there's nothing they can do and I should have contacted them earlier, and they didn't believe me when I told them about the bug, or that the guy I talked to prior said the cancellations wouldn't affect my rating. Well they wouldn't let me list my products anymore because my seller rating was too low to list that many items. ** eBay.

We are Top Rated eBay sellers with approximately 1500 positive feedback ratings (100%) since we really turned our eBay account into a store just over a year ago. This is a family run side business that has done about 2500 transactions in the past year reselling clothing, games, electronics, collectibles, sporting goods etc. Store address is: **.
Concerning this item: **, a vintage Tommy Hilfiger Nautical Jacket, the buyer purchased on September 13, 2016, only to ask for a return a few weeks later. We do have a 30 day return policy, and as the buyer chose the reason: changed mind we were happy to grant him the return, minus our original shipping costs and a 15% restocking fee stated in the listing, and provided the item was shipped back to us. He shipped the item back at his cost, and it was unboxed on October 6th. The jacket was completely saturated with the smell of cigarette smoke and since we had never in any of our returns received an item back not in the condition as it was sent (fortunately), I didn't know what to do.
I called eBay within 5 minutes on unboxing, only to be told by a representative that my course of action was to contact the buyer and ask for him to send me a shipping label to return to him this now damaged jacket (implying the return would not be granted). I immediately messaged the buyer politely but firmly and received no response until I decided to ask eBay to step in on October 12th. I had unknowingly assumed that eBay would eventually close the return and refund the buyer anyway if I didn't take action, having now received the item, so this escalation was my attempt to have eBay step in and get some kind of response or acknowledgement out of the buyer that the item would not be refunded.
Less than 6 hours later, at 2:07AM EST on the morning of October 13th, 2016 (after eBay's stated business hours of 5AM-10PM PST), an email came in saying that eBay had found in favor of the buyer and not only had refunded him what he would have been given had the jacket been returned in the condition it was sent (which would have been approximately $80 reflecting a subtracting of my shipping cost and a 15% restocking fee) but that the full purchase amount of $107 and change had already been debited from my PayPal account and given back to the buyer.
I was shocked and horrified. When business hours opened I called eBay and twice spoke to their appeals department, once to a foreign office and once to a representative that was clearly American and located stateside. Ben, the stateside representative, and then Juleen (spelling?), his supervisor I eventually asked to be escalated to, proceeded to tell me that once a claim is escalated that (direct from Juleen's mouth) 9 times out of 10 eBay will find in favor of the buyer. Juleen said he understood my frustration but eBay has no way of knowing whether or not the buyer damaged the item since the buyer had failed (declined) to respond to my October 6th message.
To make matters worse, because I escalated the claim and lost, a defect strike was now charged to my previously unblemished account. I am out $107, left with a jacket that has now been significantly damaged (I should note that it has a delicate lining that will be ruined should we wash it with the necessary vinegar that may or may not remove the cigarette smell) and a strike on my eBay account.
I pleaded with Ben and Juleen to consider our long history of granting returns and successfully resolving issues with customers, of the thousands of dollars in fees we had produced for eBay this year alone, and the unblemished feedback record. While they would concede the point when I asked them to reason with me as fellow human beings, they claimed their hands were tied and that my only recourse was to try and get the buyer to respond in a message that he had in fact smoked in the jacket thereby making an appeal to eBay a possibility.
Sellers beware. You are on your own. Though eBay has an official item condition policy for returns, today has proven there is no way to enforce it on their end. Bad buyer behavior is not only rewarded, not only incentivized, but even aggressive and vindictive in that you will end up with a strike should you appeal. I will continue to sell on eBay. Truth is, we still make money. Yes there is a cost of doing business. I never expected, however, that it would hurt like it did today.

eBay closed my selling account because of the new policies. My seller performance dropped in 2 weeks from high rated to below standard. I received in 1 month more cases than in 4 months before. It looks like a lot of buyers opens cases instead of contacting me. What is going on? I did not change anything. My feed back is great. I also know that this happened with more sellers on eBay recently and there are more to come. I have spoken with 5 account specialists after they closed my account and finally it was clear why eBay restricted me. I cannot sell anymore on eBay.
Honestly, after one week without eBay I feel good. It's over. All the rubbish I received from eBay, all the confusion from eBay, and not to forget PayPal limits. Never do business again on eBay or with PayPal. But it is not over yet. All my open requests are closed by eBay, every customer who opened a request received a full refund. Even the customers who received their product received a full refund!! What happens is that eBay opens cases so every request becomes a case. When I look at the cases I see, "You opened a case"! Well I did not! I have already received 10 messages from eBay saying: eBay Customer Support made a decision. Decision: This case has been decided in the buyer's favor.
Finally a account specialist told me that I was not protected anymore, so every customer who opens a request, gets a full refund. Every sale I made was before they shut my selling account down so I was protected! But it is eBay and eBay has its own rules. I`m thinking of hiring a lawyer and I know that I am not the only one. On the other hand, my loss is about 200-300$ and I'm pretty sure that a lawyer will cost me much more. So if every seller on eBay thinks the same, it will always be the same. Sellers on eBay are not more than payers and if a seller stops, they have plenty other sellers to take over.
EBay, with all the drop shippers is very expensive for customers. eBay wants to decrease the number of drop shippers by killing them. I cannot imagine that it is allowed what eBay is doing. I cannot imagine that the cooperation between eBay and PayPal is legal. Sellers don't have a choice and, told by a few account specialists, "PayPal knows exact what your eBay account is". eBay knows exact what your PayPal account is. Is this legal???

I am definitely seeing a trend building up once eBay change their return and performance policy. I read over 20 reviews, and in all these reviews I find a common theme that has happened to me as well. After investing all of money to build my own website on eBay platform, it is time to move on, as I have been losing too much money on fraudulent returns. I am in agreement with all the other negative reviews about eBay's new policies which are hurting sellers. I have bought and sold on eBay for more than 17 years. I have always been a highly-rated seller until recently. The only problems I have encountered over the years is with the few consumers who refuse to take any responsibility on their part of the transaction. With eBay policies now, it's even worse letting consumers run rampant over sellers.
I have had more bad episodes in the first 6 months of this year, than I have had in all the other years I have dealt with eBay. It is both frustrating, and sad. I am now being blocked from posting any new listings, getting this message when I try: "Your limits can't be increased at this time because your seller performance is below standard." The reason I am all of a sudden below standard is the new policies.
The only way that any of the new policies would make sense is if eBay were strictly a "retail" site, which it is not. Forcing small time sellers to absorb costs of returns, wasted time, bad feedback from scammers, promising one-day handling, etc., etc. It's ridiculous. eBay wants all these "new" shoppers, but they must realize if they do not have people selling, there can be no buyers. I am hoping that some of the other selling sites are taking note, and doing whatever they can to get new business from all the people fleeing eBay. I have already started doing research on other sites to sell on.

On January 30th, 2016 I had a house fire and had to move into a hotel. Nothing that I sell on ebay was affected by the fire or the smoke. I sell high-end women's fashion, shoes and accessories. On March 12th I was in terrible pain because I was having to watch my 18 year old Himalayan cat die for 2 weeks in the hotel room. It was on a Saturday and just the day before I had to take him to the 3rd vet with whom validated what I already knew in my heart. I had already taken him to 2 other vets and they said that everything was fine. Well it wasn't fine. He was not eating and he was growing weaker by the moment. The last vet told me to come back on the 14th and he would do blood work. The blood work would have been done that day but I couldn't afford it. All night Friday and all day Saturday I was so grief stricken and I truly believed that I was going to find Spirit dead in the hotel room.
Well that Saturday night I received a message on ebay from a buyer named crustyrusty2016. She wanted a dress that was listed for $225.00 and I listed that I would not be taking any offers. Well her email said that if I let her have the dress for $175 that she would pay immediately. I did not want to accept the offer but I had no other choice because I needed the money for Spirits blood tests. And after having an ebay manager tell PayPal that I had met all the requirements and that I should be receiving my money immediately the day before I did not think there would be a problem. Well after Crustyrusty purchased the dress I called PayPal to make sure that I had access to the funds and they said no.
PayPal had spoken with ebay the day before and I thought everything was cleared up. So I could not use the money crustyrusty2016 had paid PayPal and I was really going crazy because #1 I was slowly watching my best friend in this world die and #2 I had to deal with this same thing the day before and the money had gotten released. Well I was desperate. There was a matching tech purse that went with the dress but I had it listed separately. Well as soon as Crustyrusty2016 found that out she wanted it. And I told her that if she would call PayPal and tell them that it is okay to release my funds I would just include the purse in the sale and she agreed to do it tomorrow which was Sunday.
Well I never heard from her on Sunday and I realized that she was not a woman of her word so I had to totally break down and ask my brother with whom I had lost complete contact with for the money for the blood test. He agreed. On Monday I was heading out of the room with Spirit and I received a message from Crustyrusty2016 that she spoke with PayPal that morning and they said that I would be getting the money by that evening. Well right away I knew she was lying. I had another woman call on another purchase and PayPal told her that there was absolutely nothing that she could do. Also the agreement with Crustyrusty 2016 was that she get ahold of PayPal on Sunday but she was just too busy. So because of the fact that she put it off and that she was lying I decided that she would not receive the tech purse.
At 12:54 am on March 14th, 2016 my beloved Spirit was put to sleep and from the stress of it all I thought I was losing my mind. I had thought about just cancelling the order with Crustyrusty but I sent her the dress anyway. Three days later I received a call from her and she was very crazy and mad because she had not received the tech purse with the dress and I told her that first off she did not purchase it and secondly that she lied and did not follow through with what we agreed on.
Later I received an email from ebay that she was returning the dress on the basis that it was missing parts. Well ebay allowed her to have the refund but they switched it to the fact that the dress wasnt as described. I was livid. I knew exactly what she was doing. She was trying to manipulate me into giving her the tech purse so that I would not have that strike against me. Well I did not budge. I was going through one of the hardest times in my life and both ebay and Crustyrusty were making my life worse. And the thing that really got me is that crustyrusty2016 knew that my cat died but instead of showing any compassion she did the opposite and chose to make my life very hard.
Finally one of the ebay people that answers the phone and works with people told me to give her back the $175 and then she would have to ship the dress to me. Well get this... I received a package from her and it was totally empty. My father was with me when I got the empty package. I was beyond livid and I called up ebay to tell them and the lady told me to call the police so I did. Also ebay started telling me that you never give the money back before you get the item. Duh!! But I specifically told to do so and then all of a sudden eBay denies everything. I called the police and he told me that it sounded like ebay was up to something and I showed him the empty package and gave him crustyrusty2016's name and number and that was the last I heard from him.
But I was beyond angry and embarrassed about this whole thing so I sent crustyrusty2016 a message on ebay and told her exactly what I thought of her. Well she turned it over to ebay and ebay charged me for violating one of their policies and then they suspended me forever. And this witch crustyrusty2016 with whom has the $300 dress and got her $175 back is still on ebay buying and selling like nothing has ever happened. In fact Ebay closed my account and wouldnt even let me cancel the store apps I had and I'm still paying for them. And they are not straight with me at all about what is going on. But obviously they see this crustyrusty2016 as the victim and that is not right or fair. By the way when all this was going on her username was crustyrusty something but recently I learned that she still is indeed on ebay and that crustyrusty2016 is her new username.
The ONLY thing I did that was wrong was send her an angry message on ebay and thats it. But I have a feeling that something else is going on and I think I have the right to know. That woman ripped me off, got her money back because ebay told me to give her money back and she's sitting like a princess while both she and ebay have committed character assassination and honestly with all the trauma I went through I finally had it and tried to commit suicide. The stress was just too much and the powerlessness I felt was so overwhelming. I don't want anybody else going through this so please go elsewhere. Ebay is not worth it. Honestly they almost killed me and I take that very seriously!!

BEWARE! BEWARE! BEWARE! eBay is TERRIBLE for sellers. You have NO protection; they can stiff you for $1000s of dollars. I sold a $1000 exhaust and paid $75 to ship it. The buyer did not read the listing, his motorcycle is a different year, he found a way to get eBay to force a return and force me to pay for another $75 for return shipping. eBay policies side with the buyer to screw the seller. eBay did not reach out to me for any information and made the "permanent" decision in the buyer's favor. I even called eBay proactively before contacting the buyer and they said it would go in my favor.
In addition, I received the exhaust back damaged by the buyer and eBay states "there is no coverage for that". They insist I have to provide a full refund. So a buyer can buy something without doing due diligence by not reading the ad and looking at the pictures, return the item damaged, and eBay will still force a refund to the buyer. They can take your money for shipping for the item and force you to pay for shipping it back. If you don't, they will take your money as a refund to the buyer and the buyer gets to keep the item.

Ebay is all about the money. They send invoices to sellers that are out of the normal billing cycles. They give you an excuse "well it goes by the day you listed". I have never heard of advanced bill. The customer service rep wanted to argue that that's just the way Ebay bills. I will never sell another item on that site. Amazon here I come. Will shut down my Paypal account too!

If you are looking for a place to sell items and get ripped off at the same time, eBay is your best option. I have been selling on eBay for close to ten years, off and on. I have a perfect feedback score (close to 1500) and 5 stars for items as described. BUT, as we all know, if a buyer decides to scam you, as a seller, there is no recourse through eBay. They will inevitably TAKE SAID BUYER'S SIDE EVERY TIME!!! I suppose I should actually be grateful that most buyers, thus far have been honest. Otherwise I would have really been up that creek long ago.
I won't go into a great amount of detail but a buyer has decided that the pants I sold her are not the brand stated, which they are. She even went so far as to apparently roll these pants in a dog bed or large pile of fur to make sure that eBay sees that I sent her garbage! BTW I have no furry pets, my turtle and tortoise don't really shed much fur! So after wasting my breath with eBay, needless to say the buyer has ruined my ratings, which in turn raises my fees as a seller. I have deleted all listings and am in the process of quitting eBay, COMPLETELY, as a seller AND a buyer. PLEASE HEED MY ADVICE and stay away from selling on eBay, especially DO NOT sell high value items as buyers can, and will claim item not as described or fraud to KEEP the item AND get money back! eBay is a bag of **! That is not ducks, docks or decks!

When selling an item on eBay, once the item is sold - the buyer has 48 hours to pay for the item. I have been selling on eBay for several years now and I'm frustrated with buyers who do not pay for items purchased. What's even more frustrating is eBay's policy. After 48 hours, I open up an unpaid item case but then the buyer has 4 days to pay for the item. It takes 6 days to close the case without having to pay penalties. After the 6th day, I can relist the item. eBay needs to shorten the time. 24 hours and open an unpaid item case and another 24 to pay -- 2 days total before sellers can close the case to relist it without penalties.

Total joke. Sold a computer, checked the feedback of the buyer (take a look at the Feedback: **), he leaves negative every time. So called the third world eBay helpline, understood through the terrible broken third language English that I could cancel the transaction & avoid dealing with this trouble maker. So gave a full refund, with a polite note explaining that I was uncomfortable with his feedback, blocked him as a bidder & offered the item to the previous bidder. 5 minutes later NEGATIVE, SCAVING, FURIOUS FEEDBACK, called eBay, to get it reviewed and removed as promised - oh no, but if that was his experience he has every right to leave this Feedback and we are not going to remove it. eBay you are the worthless scum of the earth - but you own the market you set of **.

I am absolutely dissatisfied with selling on eBay. First of all, you can sell only almost for nothing the lowest imaginable cost and when you get eBay fees and PayPal fees deducted you get nothing at all! Open your eyes! eBay support team is no use at all. They don't even try to investigate the matter and continue sending to you the same template answers word by word giving even wrong information about the date of the listing that caused problem and have no idea what was wrong with it that it was removed and my account banned forever. The only answer you get in each email is that this is permanent decision. So I did investigation myself. I listed my item as usual with photos and full description and got the confirmation email with a gallery photo in it. The next morning I found 2 emails saying that I don't have photos in my listing and 2-d saying that I am indefinitely restricted in selling in this category. Can you imagine my shock?
Now it is so funny really to make them see that I have as a proof the email confirming my listing that it had all the photos and the gallery photo to make them acknowledge that there was a technical mistake that had no connection to me. I feel like talking to the wall! I got NO SUPPORT! NO EXPLANATION! NO HELP! Amazingly unhelpful and blind customer service! And how funny they don't give you their full names. Only Simon **, Janey ** so you cannot even identify them.

FedEx lost a package I sent through eBay shipping and eBay and FedEx refuses to pay for a lost package. Since eBay and PayPal are separate companies how can eBay freeze my PayPal account??? eBay admits it is more concerned about keeping buyers rather than sellers and terminated me for not selling enough and I have a letter from eBay to prove it. Without sellers there is nothing to buy!!! eBay is a big rip off of sellers' money, due to the loss of the sale/money and the parts you lose. Someone should file a class action law suit against them. I would be happy to join them since there are so many, just here on this site alone.

If you have ever thought of selling on eBay you better be ready to get taken by customers and eBay themselves. Let say you sell an item on eBay that is a $ 1,000.00 eBay takes about 12% of the total amount of the sale including any freight charges which in my business is a little more than I will profit on the transaction will ALL the risk of the buyer not cancelling their credit card charges which happens more than you think and PayPal loves it because they get to hold on to your money as long as the case is open. I have been selling on eBay for about 12 years and am getting very sick of them not caring one bit about the sellers.
In the online business if you are selling higher dollar amounts worth of product you need to be ready to lose a lot of cases and $. In some case they let the buyer keep the product and the money, so if you do not have deep pockets and a high threshold for being powerless to outcome of these losses you should only sell on your own website and avoid the ridiculous fees you have to pay eBay. Happy selling!!!

After having several outrageous bids from 8,100.to 8,700.00, we received a notice that they were withdrawing our sale because of intellectual infringement rights. Our written sale was no different from anyone else's.
eBay Sellers Complaints Company Profile
Company Name:

eBay

Website:

http://www.ebay.com/