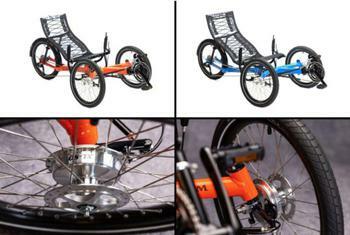 WizWheelz of Grand Rapids, Mich., is recalling about 340 GreenSpeed Magnum and Magnum XL recumbent trikes with quick release front axles and replacement Quick Release Axles.
The front axles were improperly assembled during manufacturing and can come loose during use. This could cause a rider to lose control, posing crash and injury hazards.
No incidents or injuries have been reported.
This recall involves GreenSpeed Magnum and Magnum XL model recumbent trikes with Sturmey-Archer drum brake quick release front axles.
Magnum or Magnum XL are printed on the trikes. Sturmey-Archer is printed on the hub/wheel where the axle is attached. The recalled trikes are orange, blue, or charcoal in color with a black seat and three wheels.
Serial numbers P21276160 through P21460262, which are included in this recall, are printed on the left dropout, which is a slot in the rear of the bike where the rear wheel attaches.
Consumers may check their serial numbers here to see if they are affected by the recall.
The trikes, manufactured in Taiwan, were sold at bicycle stores nationwide from September 2021, through March 2022, for between $3,200 and $3,500. The replacement axles were sold between May 2021, through March 2022, for about $25.
What to do
Consumers should immediately stop using the recalled trikes and return them to the place of purchase for a free repair. The axles will be sent to GreenSpeed/WizWheelz for repair or replacement.
The firm is contacting all known purchasers about the recall.
Consumers may contact WizWheelz online, by phone at (800) 945-9910 from 8 a.m. to 5 p.m. (ET) Monday through Friday, or by email at support@wizwheelz.com for more recall information.