---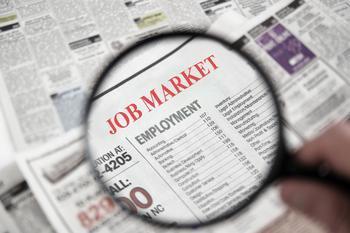 The nation's jobless rate rose 0.2% in June to 4.9%, as another 347,000 people found themselves out of work, according to figures released by the Department of Labor (DOL).
At the same time, the economy created another 287,000 jobs last month, mostly in leisure and hospitality, health care and social assistance, and financial activities.
Who's working and who's not
Among the major worker groups, the unemployment rates for adult women (4.5%) and Whites (4.4%) rose in June. The rates for adult men (4.5%), teenagers (16.0%), Blacks (8.6%), Asians (3.5%), and Hispanics (5.8%) showed little or no change.
Both the labor force participation rate, at 62.7%, and the employment-population ratio, at 59.6%, showed little change during the month.
The number of people out of work less than five weeks increased by 211,000 in June, following a decrease during the previous month. The number of long-term unemployed (those jobless for 27 weeks or more) changed little in June at 2 million and accounted for 25.8% of the unemployed.
Job gains and losses
The biggest contributor to the increase in employment was leisure and hospitality (+59,000 jobs), followed by health care and social assistance (+58,000) and financial activities (+16,000).
Employment in mining continued to trend down in June (-6,000), with other major industries, including construction, manufacturing, wholesale trade, transportation and warehousing, and government showing little or no change in June.
Average hourly earnings for all employees on private nonfarm payrolls edged up two cents in June to $25.61, following a six-cent increase in May. Over the year, average hourly earnings have risen by 2.6%.
The full report is available on the DOL website.
---