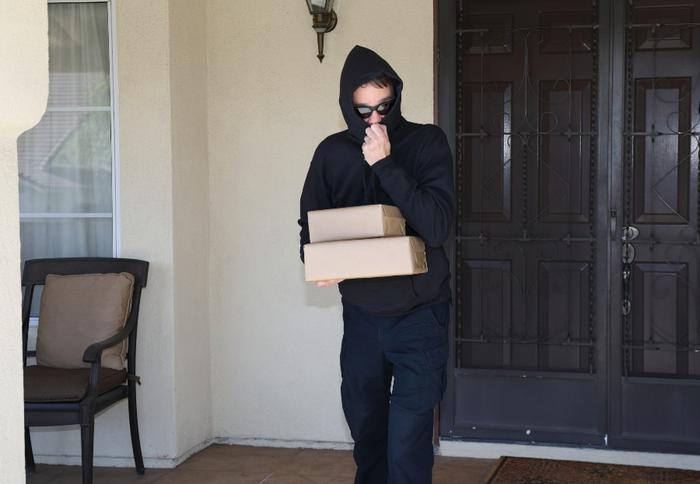 With the dramatic increase in online shopping during the coronavirus (COVID-19) pandemic, research shows a corresponding increase in package theft.
A survey from C+R Research shows the percentage of consumers making at least one online order in 2020 rose from 49 percent to 59 percent. The percentage of those consumers reporting at least one package stolen rose from 36 percent to 43 percent.
Once "porch pirates" found a victim, the research shows they often returned. Nearly two-thirds of consumers suffering package theft had it happen more than once.
The survey asked consumers how they tried to prevent package theft and the top answer was "staying home for the delivery." With many people working from home during the pandemic, that was easier to do than it might have been in normal times.
Others said they opted for in-store pickup. Others relied on security measures, such as doorbell cameras. 
Doorbell cameras
"Doorbell cameras are one of the most common ways to deter package thieves," the report's authors write. "These small cameras allow homeowners to screen and monitor who comes to their front door in real-time. According to respondents, 50 percent have some type of doorbell camera, motion lights or other type of surveillance camera to prevent package theft."
At ConsumerAffairs, the Ring doorbell system gets mixed reviews from our readers. Some consumers complained about customer service but Jackie, of Elkhart, Ind., found it satisfactory overall.
"It sends an alarm to my phone and records whenever anyone is on my porch or in my yard," Jackie wrote. "And it saves all recordings and I can also share any suspicious information with my neighbors."
Alternate delivery location
Another way to combat porch piracy is to use a secure location to receive the package if no one is going to be home. Amazon offers the use of Amazon Lockers that can receive all Amazon orders. You can find a locker location near you here. 
Providing specific delivery instructions may also help prevent package theft. In the checkout process, many merchants allow customers to add specific delivery instructions. For example, if there is a place on the porch that is out of sight from the street, you can request that the package be left there.
Finally, you can request that a signature be required for any delivered package. That will ensure that someone receives the package and it is not left exposed.