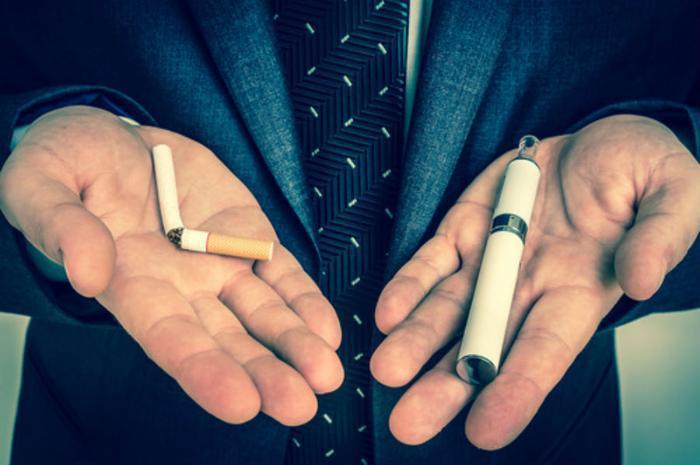 Americans are smoking fewer cigarettes and health researchers at the University of California San Diego School of Medicine and Moores Cancer Center think e-cigarettes might have something to do with it.
Introduced about a decade ago, e-cigarettes provide some of the same effects as smoking a cigarette. They are in the shape of a cigarette and deliver a water vapor containing nicotine instead of smoke.
Anti-smoking advocates have never liked the devices and have worried that they will hook a generation of non-smokers on nicotine.
But the California researchers analyzed smoking surveys conducted in the U.S. between 2001 and 2015 and found that the number of smokers who quit rose for the first time in 15 years. They conclude that e-cigarettes are helping smokers kick the habit.
A higher quit rate
"Our analysis of the population survey data indicated that smokers who also used e-cigarettes were more likely to attempt to quit smoking, and more likely to succeed," said Shu-Hong Zhu, a UC San Diego professor. "Use of e-cigarettes was associated both with a higher quit rate for individuals as well as at the population level; driving an increase in the overall number of people quitting."
The researchers say they were impressed that the rate of smokers who quit stayed fairly stable at 4.5% for years. Then in 2014 to 2015, it rose to 5.6%.
That's significant, they say. The 1.1% increase represents about 350,000 smokers who quit in a single year.
The survey provided additional evidence that e-cigarettes may have played a role in the reduced smoking rate. It asked smokers whether they used the devices. Sixty-five percent of smokers who used e-cigarettes within the previous 12 months had tried to stop smoking. Only 40% of smokers who did not use e-cigarettes attempted to quit.
E-cigarette users more likely to quit smoking
When measuring success, the researchers found 8.2% of smokers who also used e-cigarettes were able to stop smoking, while 4.8% of those who didn't use e-cigarettes were able to quit.
"The cessation rate among those who did not use e-cigarettes remained the same compared to previous years," said Zhu. "These data suggest that e-cigarettes play the role of a cessation tool."
But the researchers are not ready to give e-cigarettes an unqualified endorsement as a smoking cessation tool. They say it is possible that smokers who used e-cigarettes were more serious and motivated to quit smoking, and were therefore more likely to succeed than smokers who did not use the device.
The study also did not investigate whether using e-cigarettes makes a non-smoker more likely to start using tobacco. However, they point to research conducted by the Centers for Disease Control and Prevention (CDC) which shows e-cigarette use among young people is rising but smoking rates are not.