---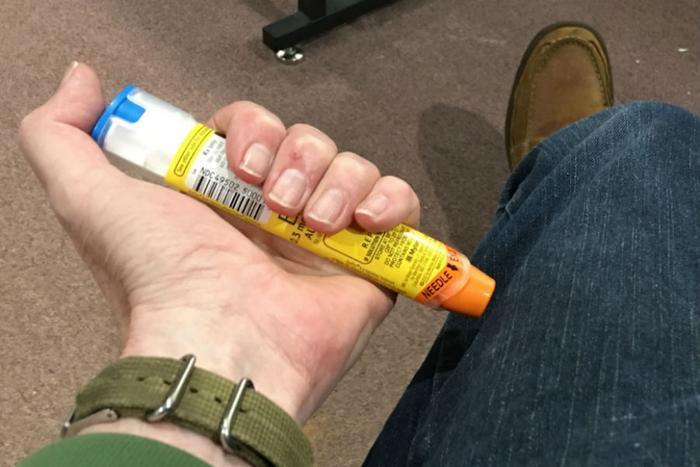 Federal and state lawmakers are calling on the manufacturer of EpiPens to roll back price increases that have raised the cost of the life-saving emergency allergy treatment beyond the reach of many families, but some patient advocacy groups are strangely silent. 
U.S. Senator Richard Blumenthal (D-Conn.) said in a letter to the CEO of Mylan Pharmaceutical, Heather Bresch, that he was "shocked and dismayed" to learn that the price of EpiPens has risen by several hundred percent since 2009 "even though [the product] has not been improved upon in any obvious or significant way."
Blumenthal pointedly noted that he was a supporter of legislation signed by President Obama in 2013, which encourages states to adopt laws requiring schools to have epinephrine auto-injectors on hand to deal with emergencies.
The EpiPen contains about $1 worth of epinephrine, but it costs $600 or more for a package of two in the United States, nearly a 1,000% increase over the $57 the EpiPen went for in 2007. 
Sen. Amy Klobuchar (D-Minn.), the Ranking Member of the Antitrust Subcommittee of the Senate Judiciary Committee, called on the Senate Judiciary Committee to hold a hearing to investigate the increase.
"This outrageous increase in the price of EpiPens is occurring at the same time that Mylan Pharmaceutical is exploiting a monopoly market advantage that has fallen into its lap," said Klobuchar. "Patients all over the U.S. rely on these products, including my own daughter. Not only should the Judiciary Committee hold a hearing, the Federal Trade Commission should investigate these price increases immediately."
Klobuchar said the FTC should also "report to Congress on why these outrageous price increases have become common and propose solutions that will better protect consumers within 90 days."
Sen. Mark Warner (D-Va.) also expressed concern and asked Mylan to explain the price hikes. 
Price-gouging
Rep. Grace Meng (D-N.Y.) submitted a letter to the House Committee on Oversight and Government Reform requesting a hearing on the EpiPen price increases.
"Thousands of Americans rely on EpiPens in a given year, and perhaps no time is more important in the purchasing of these devices than the beginning of a new school year," said Meng. "The free market can be a wonderful engine for good in our society, and it has certainly led to the production of countless medical innovations. We must be vigilant, however, to not cross the line of price-gouging, especially when a product has been around for a generation and is incredibly cheap to produce."
State legislators are also demanding action. In New Jersey, Sen. Joseph Vitale, D-Woodbridge, the chairman of the Senate Health Committee, said he would allocate part of a hearing scheduled for next month on discussions over the cost increase.
Mylan has not responded directly to critics, instead issuing a prepared statement that does not address the pricing issue: "Mylan has worked tirelessly over the past years advocating for increased anaphylaxis awareness, preparedness and access to treatment for those living with potentially life-threatening allergies."
Patient groups silent
Oddly, while news outlets and politicians have responded to the concerns of patients, patient advocacy groups have not had much to say.
A New York public relations firm sent a cheery news release last week on behalf of the Allergy & Asthma Network entitled "Why patients don't have to worry about the EpiPen price increase."
It took a day to pry loose the promised information, which turned out to be identical to what the group had posted on its Facebook page:
Allergy & Asthma Network is concerned about the rising costs of epinephrine auto injectors. We are committed to working in the following three ways:

1. Directly with Mylan. We have asked them to assist families with large out of pocket expenses and high deductible health plans with a new program. 

2. Directly with government and commercial insurance plans to get epinephrine on preventive drug lists. This would ensure epinephrine is no longer subject to deductibles or copays and reduce the cost burden for families.

3. Directly with families to navigate the complex healthcare system. Choose a health plan fully understanding what is and is not covered. Beware of high deductible plans as they can result in significant out of pocket expenses throughout the year. Take advantage of savings programs like my Epi savings card to reduce your financial burden. 
How about the American Lung Association? We found nothing on their site about the issue, and an email asking if the group was taking a position was not immediately answered.
The Lung Association and other groups were similarly silent a few years ago when asthma patients complained bitterly about the drastic increase in the cost of their inhalers after CFC-powered inhalers were replaced by new models that did not harm the ozone layer. Patients were basically told the new inhalers were more environmentally friendly and they would just have to learn to live, or die, with them.   
"Stranglehold on pricing"
One group willing to speak out was Consumer Watchdog, which called the price increases "yet another example of the stranglehold on pricing that drug companies have."
"This is medication that is mandatory for a lot of people, it's life-saving, it's not something you can do without and for that reason, Mylan has been able to jack up the price at will," said Carmen Balber, the group's executive director.
Balber's group is backing Proposition 61 in California, which would prevent state agencies from paying more for a drug than the price paid by the U.S. Department of Veterans Affairs. Balber called it a "step toward bulk pricing that would move toward cheaper drugs for everyone."
The Los Angeles Times recently reported that drug companies had so far spent more than $65 million to defeat the measure. 
"Hiking the price of a life-saving medical device like the EpiPen by 500 percent is the worst form of corporate greed," said David Plunkett, staff attorney for the Food Safety Program at the Center for Science In the Public Interest. "Unlabeled allergens in food were the number one reason behind recalls issued by FDA and FSIS in 2015.  Every three minutes a food allergy reaction sends someone to the ER, and all Mylan could see in these facts is an opportunity for profits."
First responders affected
In his letter, Blumenthal demanded that Mylan lower the price of the EpiPen to "an affordable, accessible level," saying the skyrocketing price has not only affected families but has also exhausted the budgets of schools and first responders.
"My office has heard from first responders on this issue, with one emergency medical services (EMS) supplier offering 'lists of EMS representatives who can show you that EpiPen prices are destroying their EMS budgets,'" he said. "In fact, first responders in other states have turned to directly injecting epinephrine using syringes, a method that is far less safe but increasingly necessary. Along with ambulances, schools in Connecticut are also required to stock epinephrine auto-injectors. The costs that Mylan's price increases have waged not only on individual families, but on each taxpayer in Connecticut, is unacceptable."
Blumenthal noted that he had supported Congressional legislation requiring epinephrine in schools and was currently supporting a bill that would require epinephrine inectors on commercial aircraft.
"However, I am concerned that your company has failed to recognize that affordability in health care is key to ensuring accessibility," he said. "When families, schools, and first responders struggle to purchase your product, any effort to mandate its availability becomes an expensive burden that they are forced to bear."
No substitute for first aid
When a severe allergic reaction strikes, there is no substitute for having an epinephrine auto-injector on hand, as Sarah Denny, a physician at Nationwide Children's Hospital in Columbus, Ohio, learned a few years ago.
Dr. Denny's son, Liam, 18 months old at the time, had an anaphylactic reaction to soy milk in 2008. Previous testing confirmed he was allergic to dairy, egg, peanuts, and tree nuts, but Liam drank soy milk for months before his anaphylactic reaction.
After drinking a cup of soy milk as he had done regularly for months, Liam immediately started coughing, vomiting, developed hives all over his body and slipped into unconsciousness after a few minutes. Dr. Denny's husband, also a physician, administered Liam's epinephrine auto injector then immediately called 911, according to an account provided by the hospital. 
"Thankfully, in the 10-minute ride in the ambulance to Nationwide Children's Hospital, the epinephrine started to work and by the time we got to the Emergency Department he was sitting up on my lap, waving to the nurses," recalled Dr. Denny. "Had we not had an epinephrine auto injector at home, I don't know that we would have been so lucky."
---