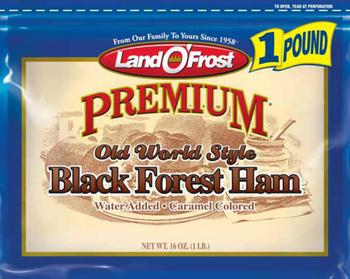 Land O'Frost of Madisonville, Ky., is recalling approximately 4,944 pounds of ham.
The front of the package is accurately labeled as Black Forest Ham; however the back of the package is incorrectly labeled as Honey Smoked Turkey Breast.
There have been no confirmed reports of adverse reactions due to consumption of the product.
The following item, produced on April 27, 2018, is being recalled:
1-lb. plastic gas-flushed resealable packages containing a single ham labeled "Land O'Frost PREMIUM Old World Style Black Forest Ham" with Lot 8117D and a sell-by date of August 10, 2018 on the label.
The recalled product, bearing establishment number "Est.500K" inside the USDA mark of inspection, was shipped to a retail locations in Arizona, California, Oregon, Texas and Washington.
What to do
Consumers with questions about the recall may contact Dar Gautreaux at (800) 762-9865.