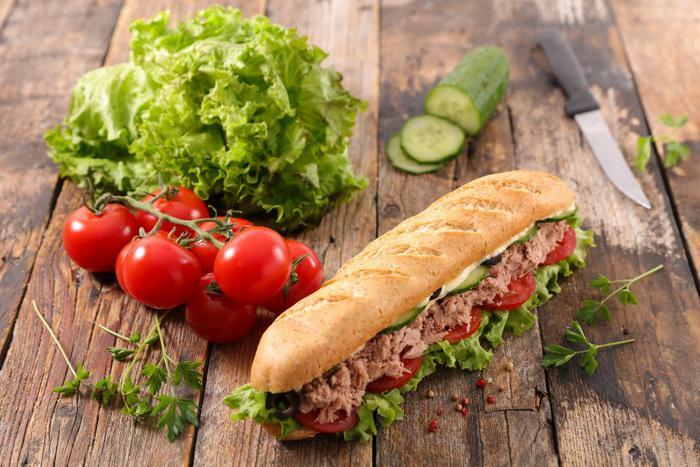 No identifiable tuna DNA was found in any of the samples of Subway's tuna sandwiches, according to a New York Times analysis. 
The publication said it bought "60 inches' worth of Subway tuna sandwiches" from three different Subway locations in Los Angeles, froze the tuna, and sent it to a commercial lab. A test was conducted to see if the tuna came from any of five different tuna species. 
A month later, the lab informed the Times that it hadn't found traces of any of the species in Subway's tuna. 
"No amplifiable tuna DNA was present in the sample and so we obtained no amplification products from the DNA," the lab said in a note. "Therefore, we cannot identify the species."
A spokesperson for the lab told the Times that there are two possible reasons for the results.
"There's two conclusions," the spokesperson said. "One, it's so heavily processed that whatever we could pull out, we couldn't make an identification. Or we got some and there's just nothing there that's tuna."
Subway dismisses claims
Earlier this year, the sandwich chain was hit with a class-action lawsuit alleging that its tuna sandwich is not actually made of tuna. The plaintiffs alleged in a complaint filed in January that Subway claims to sell sustainably caught skipjack and yellowfin tuna but was instead selling "anything less than healthy stocks."
Subway has been "selling and continuing to sell some mixture that is deceptively and dishonestly being passed off as in line with their representations to purchasers but are not actually compliant," the suit states.
Subway dismissed claims about its tuna and has called the lawsuit meritless.
"These claims are meritless," a Subway representative said in a statement to Insider in January. "Tuna is one of our most popular sandwiches. Our restaurants receive 100% wild-caught tuna, mix it with mayonnaise, and serve on a freshly made sandwich to our guests."
"Subway will vigorously defend itself against these and any other baseless efforts to mischaracterize and tarnish the high-quality products that Subway and its franchisees provide to their customers," the official added.
Earlier this year, Subway centered its website advertising around its "100% real wild-caught tuna" and offered a 15% discount on foot-long tuna subs under the promo code "ITSREAL".