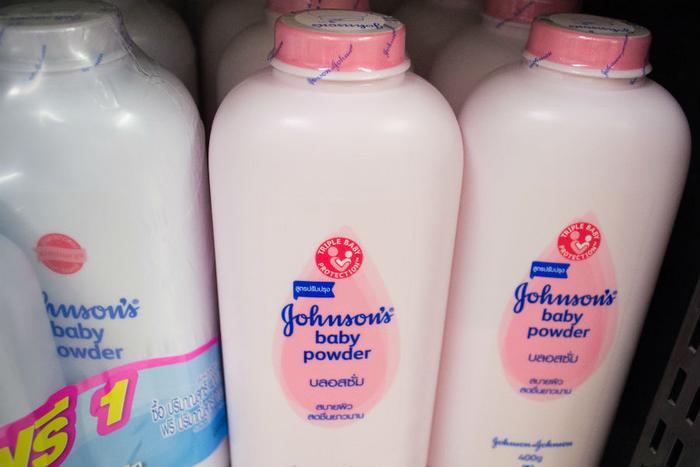 A state court jury in St. Louis has ordered Johnson & Johnson to pay $4.7 billion in damages to 22 women and their families who say the company's talcum powder caused their ovarian cancer.
The plaintiffs argued that the product contained asbestos, a carcinogen. Most of the damages were punitive, making up one of the largest product liability verdicts in history.
Expressing disappointment in the outcome, the company said it plans to file an appeal. In a statement, Johnson & Johnson said the process was unfair because it allowed the plaintiffs to present cases of 22 women in a single trial.
"The result of the verdict, which awarded the exact same amounts to all plaintiffs irrespective of their individual facts, and differences in applicable law, reflects that the evidence in the case was simply overwhelmed by the prejudice of this type of proceeding," the company said. "Johnson & Johnson remains confident that its products do not contain asbestos and do not cause ovarian cancer and intends to pursue all available appellate remedies."
Other cases
In April, a New Jersey state court ordered Johnson & Johnson and Imerys SA to pay at least $37 million in damages to a man who said he developed cancer from life-long use of the company's talcum powder.
The company has faced as many as 9,000 cases alleging its powders are linked to cancer, but it maintains that its main baby powder product has always been free of asbestos and perfectly safe.
Johnson & Johnson hosts a website, FactsAboutTalc.com, where it defends its production methods.
"The testing methodology used to detect asbestos in cosmetic grade talcum powder was developed by the Personal Care Products, formerly known as the Cosmetic, Toiletry and Fragrance Association (CTFA), Inc., in 1976 and is still used and accepted by the U.S. Food and Drug Administration," the company says. "The methodology we use for testing Johnson's Baby Powder exceeds the CFTA industry standard."
What the American Cancer Society says
The American Cancer Society (ACS) says some talc, in its natural form, contains asbestos, which is known to cause cancer in the lungs when inhaled. But it says all talcum products used in homes in the U.S. have been asbestos-free since the 1970s.
ACS says most concerns about a potential link between talcum powder and cancer have focused on whether people who have long-term exposure to natural talc fibers at work, such as talc miners, are at higher risk of lung cancer from breathing them in.
Also, there have been concerns that women using talcum powder regularly in the genital area might have an increased risk of ovarian cancer.