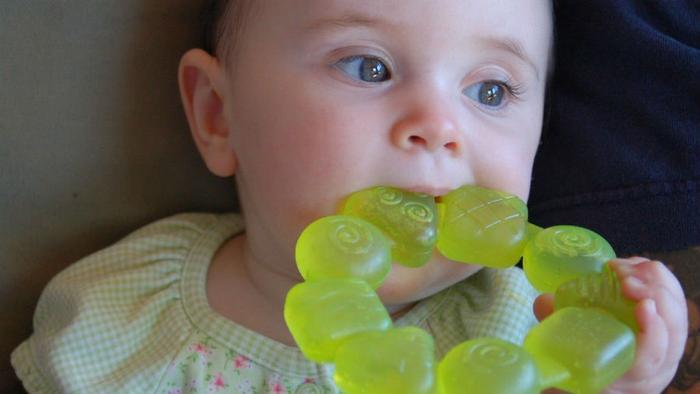 The Food and Drug Administration (FDA) is warning parents about the dangers posed by teething jewelry to infants and young children.
The agency is not singling out a particular brand or type of jewelry but rather warns the products, in general, are not safe.
The FDA says it has received reports of death and serious injuries to infants and children who have been exposed to teething jewelry, such as amber teething necklaces. The threat includes the possibility of strangulation or choking.
Teething jewelry is commonly used to provide relief to children from teething pain, but the FDA says any object children place in their mouths can be potentially dangerous. The jewelry comes in many forms and can be made of different types of material.
FDA Commissioner Scott Gottlieb said the warning stems from the agency's observations of the products' use and the danger they pose.
Rubber teething rings are okay
"Consumers should consider following the American Academy of Pediatrics' recommendations of alternative ways for treating teething pain, such as rubbing inflamed gums with a clean finger or using a teething ring made of firm rubber," Gottlieb said. "Given the breadth of the market for these teething necklaces and jewelry, we're sharing this important safety information directly to consumers in order to help prevent injuries in infants and kids."
Children using teething jewelry can choke if the jewelry breaks and small pieces, such as beads, become lodged in the infant's throat. Children have also been strangled when a teething necklace is wrapped too tightly around the neck or gets caught on an object.
The FDA is also concerned about the possibility the jewelry can cause injury to the mouth or lead to infection if it pierces the gums.
Avoid amber necklaces
Besides those concerns the FDA says amber teething necklaces contain succinic acid, which allegedly may be released into an infant's blood stream in unknown quantities.
"Manufacturers of these products often claim succinic acid acts as an anti-inflammatory and relieves teething and joint pain. The FDA has not evaluated these claims for safety or effectiveness and recommends parents not use these products." the agency said in a release.
Besides objects, the FDA continues to recommend against using commercial creams, gels and sprays to relieve teething pain. It said it will continue to monitor the adverse event reports for incidents harming children and may step up its warnings if warranted.