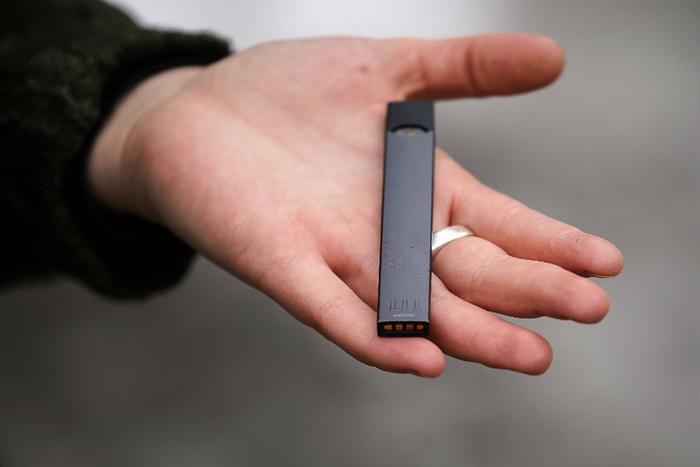 FDA Commissioner Scott Gottlieb, who last month announced that he would be resigning from his position to spend more time with his family, said in an interview with Vox during his final week that e-cigarette manufacturer Juul is largely to blame for the "dramatic spike of youth [vaping]."
"I hope they recognize the problem that's been created has been created largely by their product," Gottlieb told Vox.
During his nearly two years as FDA head, Gottlieb has made combating the rise in underage use of e-cigarettes one of the agency's highest priorities. He's previously called out Juul for its role in creating the public health crisis, which he's previously described as an "epidemic."
Appeals to minors
The FDA has cited research that shows an estimated 37 percent of high school seniors have tried e-cigarettes. A quarter of youth users told researchers they didn't realize the products contain nicotine.
The agency has said products manufactured by Juul have been shown to be especially attractive to minors because they come in fruity flavors such as mango, mint, and fruit and creme. In January, Gottlieb warned that e-cigarettes could be taken off the market unless marketers made efforts to stop sales to minors.
Gottlieb said in his interview with Vox this week that there's "no question" that Juul -- which markets a device that looks like a USB drive -- "drove a lot of the youth use."
"I'm not willing to concede the point that the Juul product was responsible — at least in part — for the sharp uptick in youth use," he said.
Controversial marketing strategies
For its part, Juul has maintained that it's dedicated to helping adult smokers quit by serving as an "off-ramp" for users of traditional cigarettes. However, Juul's early marketing campaign often appeared to speak directly to young people.
"If you go back and look at their marketing campaigns from 2015 and 16, it's hard not to look at that marketing and conclude that it's not going to be appealing to a youth, to a teenager," Gottlieb said. "It certainly in my view had some impact on creating the problem we have now."
Next steps
After Gottlieb steps down from his post, Ned Sharpless -- the current director of the National Cancer Institute -- will replace him as interim FDA commissioner.
Gottlieb says the surge in adolescent vaping has now reached the level of an "addiction crisis" which will "take time to reverse." He said concerns about youth vaping should take priority over concerns about smokers if teen vaping rates continue to rise.
Gottlieb's past moves to curb youth use of e-cigarettes have included restricting the sale of flavored e-cigarette products to young people and asking companies to take voluntary steps to withdraw them.