---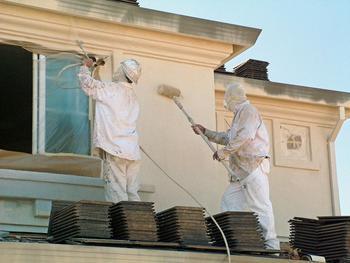 With winter on its way out, consumers may be beginning to tackle some spring cleaning projects. But spring isn't just a season for dusting, deep cleaning, and decluttering one's home -- it's also an ideal time to get a jump on any exterior painting projects you might have.
Although it may not be warm enough to apply paint just yet, early spring is when homeowners can begin some of the prep work that's key to a well-painted exterior, according to Debbie Zimmer, spokesperson for the Paint Quality Institute.
Consumers can kick off phase one of their exterior enhancement mission by grabbing a notepad and jotting down what needs to be done to correct problems.
"Carefully inspect the outside of your home and write down what needs to be done," Zimmer says. "Your notes will serve as helpful 'marching orders' for the coming painting season."
What to look for
Here are a few things to look for while giving your home a once-over, according to Zimmer:
Peeling or flaking. Inspect the siding or trim for a peeling or flaking paint. Additionally, look for any spots where mold or mildew has taken hold.
Gaps. Look at the areas where different materials meet and note if the caulk is missing or deteriorated. "Gaps in the exterior not only detract from the appearance of a home, but they also can create drafts, let costly air conditioning and heat escape, and lead to water damage," says Zimmer.
Compromised coating. Take note of any shortcomings with painted metal, such as compromised coating, rust on iron railings, or efflorescence (powdery white residue) on aluminum siding, soffit or trim.
Other deficiencies. Note anything else that is amiss with your paint. Nearly any deficiency can detract from the appearance of your home and lessen its protection, says Zimmer.  
Spring projects
Spotting and correcting problems with your home's exterior can help prevent bigger issues in the future. And because many projects don't require much cooperation from the weather, you may be able to get started right now.
Homeowners can do some projects in almost any weather, says Zimmer. For example, mildew can be removed on any dry day without regard to the temperature. To get rid of unsightly mildew, scrub the surface with a bleach solution, allow to sit for approximately 10 minutes, then wash away the growth.
For other projects, such as caulking and painting, homeowners will need to wait until the temperature hits 50 degrees F (but be sure to take into account the overnight lows).
To caulk, simply clean adjoining surfaces thoroughly, apply a bead of caulk, and smooth it with a moist finger to produce a tight, protective seal.

For exterior painting touch-ups, scrape away any loose or peeling paint, prime bare wood with quality acrylic latex primer, let it dry thoroughly, then apply one or two coats of 100% acrylic latex paint.
---