Consumer Complaints and Reviews

My problem began as with so many others by using a Valspar V500 paint. Within a week or so the horrific smell began, we blamed pets, kids etc but eventually discovered it was the feature wall in our kitchen! We tried to contact B&Q but they didn't return calls so we posted on their Facebook page and sure enough we got a reply promptly. They forwarded our complaint in to Valspar and we received a standard email saying it was a rare issue, 1 in 100,000 consumers affected apparently!!
Well we must be unlucky eh! They said we needed to purchase Zinsser BIN sealant and seal the wall to trap the horrendous fume. They also said they would refund the cost of this and offered a voucher for more Valspar paint!! We declined that offer, never again will I be using their horrendous products around by precious family. They said they understood (Really !?) and would cover the the cost of new paint. In the meantime the awful fume affected my health, I experienced breathlessness which continued to get worse over the weeks and resulted in a chest infection and hospital tests.
Valspar don't respond to this in an email, they ignore any mention of the effects their known faulty paint has on anyone. They simply reply to say they will pay by BACS the sealant cost and then new paint - not the paint which caused all the issues. Shocking! I have now taken this up again with B&Q as they sold me this product which is not fit for use so I feel they too should be held accountable for this. I have told them both that I will take this matter as far as I can, to the papers to social media and tell as many people as possible to avoid this product. AVOID at all costs.

We started using this matt paint for our bedroom which is a well ventilated room, both me and my partner experienced a nasty headache and dizziness. We returned the paint to B&Q who advised that there was a bad batch which contains too much of a chemical and the headache will eventually pass. I would strongly advised people to avoid using Valspar. B&Q will provide a full refund even if it's a bit used.

Absolute garbage. Concrete paint, 2 coats and it washed off with NO ONE stepping on it for over a week. It rained 4 days after we put it on... It went on like dollar store paint... We thought... "Oh well that's how it is..." Well it lived up to its name. So we went to LOWE'S to take advantage of their paint guarantee which turned out to be BS as we were told to call Valspar. Our call was returned and as usual we were told we must have applied it wrong... Seems after 40 years and 5 homes we do not know how to apply paint... It was only a $20 can of paint.
We requested a refund and they told us we had to send in an email, pictures, receipts, UPC codes... They made it such a hassle that it was not worth our time and the person that handled our call might as well have worked at Walmart. If you're reading this buy your paint at Walmart... They have CIL which is an old established paint company and they make great paint. And if you need to return it, Walmart would treat you better. Avoid Valspar. PURE GARBAGE.

Just adding to the hundreds of other reviews on this paint! We painted our daughter's bedroom with the paint (V500) in the 2nd week in May 2017. The paint was difficult and sticky to apply and needed two coats. After a few weeks we found that there was a strong ammonia smell when the room was hot. We could not trace the smell initially but when my daughter started to complain of a sore head we moved her out of the room. We then tried to look closely at where the smell was coming from and found it was coming from the paint on the walls. The first thing I did was to search the internet to see if anyone else had an issue and found many had the same issue.
Last night I went back to B&Q to explain what had happened. The sales assistant had not heard of this problem but spoke to her manager. She said it was a 'well known problem' and gave me a dedicated helpline number to call. This morning I called the number, which was just the B&Q helpline number, and spoke to someone who took all my details and passed it to Valspar. I will update on what happens with Valspar but the question is why is B&Q still selling this stuff if is a well known problem?

I bought this paint this weekend and painted my entire living room and hallway. I also used my usual brand choice, Crown, to paint my kitchen and utility room (a small unventilated space). The areas with Crown paint are fresh and unaffected. The smell in my living room and hallway however, is become worse by the day. Apparently as my windows are open and the weather warmer this is aggravating the problem. It smells of cat wee/dead animal and I don't own a cat!!! We have had terrible headaches and I can't bear to sit in the lounge! Nowhere at point of sale were we advised of any potential issues (though many forums are saying one should seal the walls before or after to kill bacteria??). And then repaint!!! Besides for wasted effort, £71 spent after a lengthy decision for the "perfect shade" and make the best informed choice... My house is no longer refreshed as I had intended. Absolutely shocking product!! Do not buy!
How do I know I can trust these reviews about Valspar?
826,885 reviews on ConsumerAffairs are verified.
We require contact information to ensure our reviewers are real.
We use intelligent software that helps us maintain the integrity of reviews.
Our moderators read all reviews to verify quality and helpfulness.
For more information about reviews on ConsumerAffairs.com please visit our FAQ.

I've spent the past few months trying to find the source of the strong smell like cats urine coming from my son's room. Having researched Valspar I've found this is a very common problem. I won't be purchasing this product again.

A few month ago we decided to repaint the whole house (except for the lounge). We bought the scrubbable Valspar paint. The 1st annoying thing was that the staff at B&Q did not think of telling us that we would need to recoat at least 2 to 3 times on each wall! A different member of staff did tell us that info after we had already bought at least 4 large tins of the stuff. The painter we hired mentioned the problem of the coverage being sticky and streaky and that it was not good paint to actually do a smooth coverage with. Eventually job finished, and lots of money paid out on expensive paint, at least 3 coats on each wall.
About a week or so after completion was when I noticed unpleasant cat wee odor! I was going round smelling carpets, curtains, doors and when I smelt the walls, which was when I could smell the unpleasant odor. I am at my "wit's end" which is why I thought I would google this problem, and hey presto, I am not going round the twist as there are similar reviews. I am now going to take my complaint to local store from where we purchased our many tins of Valspar paint and see what they say. To be honest, I would like to repaint over all the walls with another brand but we cannot afford it as we spent a huge amount on the paint and then we had to pay for a painter to apply it to the walls. Would not be buying this brand of paint again and would tell anyone else not to either!

I painted my 11 month old daughter's bedroom with Valspar paint on top of lining paper two months ago. I began to notice a smell of sulphur about three weeks later when we had that really hot week a little while back... This smell, a smell that reminded me of the putrid smell of being in a sulphur bath abroad. It was my partner's mum that confirmed the smell that I had been experiencing. We smelt all the linen, every cuddly toy, every item of clothing, the brand new carpet, the new curtains searching for the source of this stench. And then my partner's mum smelt the walls (each painted a different pastel colour) and bingo, finally I had found the source of this nasty stench.
I had been very excited to get my daughter into her own bedroom, but I have since had to move her back into our room, as not only do I not want my daughter having to sleep and play in a room with that horrid smell. But most importantly, I am uncertain as to whether this stench could be emitting gases that could be detrimental to my daughter's health. Valspar have since promised to refund me the money for an alkaline sealant (Zinsser BIN) of which they advise will eliminate the smell. This refund is to be made upon proof of receipt of which I am waiting for a back payment to be received. There has been no apology for such inconvenience caused by Valspar but they have told me that should I have used a primer paint on lining paper before applying their wall paint.
However, I cannot thank B&Q enough for their help with the matter, as they have allowed me to return the 4 paint tins in exchange for a credit voucher for the full price of the paint purchased without receipt. I was a little concerned though that both companies played completely dumb, claiming they were unaware of the bad reviews escalating against Valspar. I have had a purifier running in the room with the door closed and have not allowed my daughter to use the room. The smell went away with the purifier running constantly day and night, but returned after I turned off the purifier one warm day to test if the odor had disappeared.
I now have to apply this sealant and wait to see if the smell disappears, if not I will have to strip back the lining paper of which I have been told will it be easy as it is so freshly laid. I will post another review and inform anyone interested as to whether the sealant advised by Valspar actually removes the smell. I have read that this is not just experienced by customers of Valspar but people who have used other paint suppliers, but I shall certainly never used Valspar products ever again.

Hi all. Read all the comments about the Valspar paint. Have been doing A LOT of reading around this as we have had the same issue. Renovating our house. New stud walls with new plaster are fine when painted. Freshly plastered walls or painting over old walls however is a different matter. Gas/egg/sulphur smell developed a week or so later. Worse with windows open and warmer connections. This is due to something called wall odour phenomenon where bacteria on the existing wall react with the paint and release the smell. No long term health consequences apparently.
Seems to be a new issue since paint companies now have to use low volatile compound paints. High volatile compound paints used in the past killed the bacteria hence not really an issue in the past. We treated the (completely refurbished) room with a alkali resistant (oil based/high volatile compound) primer and then painted 2 coats on top which has sorted the issue. I'll be contacting B and Q as spent a fortune trying to rectify this issue. Hope this helps.

As per the previous reviews here we have had a terrible experience with Valspar paint purchased from B&Q. We painted our 3 year old's bedroom in a beautiful blue colour and the paint went on well. However, a couple of weeks later a strange smell began to develop. Like other consumers our initial thought was that the cat had peed on the carpet (which he has never done before in his life). So carpet cleaned. Smell remained... so we took each piece of furniture out of the room. Still the smell continued! In an empty room I smelt the walls - horrendous stink emanating from the walls. I called B&Q 3 weeks ago now and am still waiting for a response. Having called again today I was told they have a 'backlog' - I'm presuming caused by Valspar.
Removed our child from the room in case as have no confidence of a speedy resolution from B&Q. Our entire upstairs now smells particularly on warm days unless we completely seal the room off. I'm loathe to repaint in case the smell leaches through a coat of another paint. Worried I may be looking at a sand down and reseal - which I fully expect B&Q to pay for, if they ever get back to me... Don't buy this paint, it's not worth the risk of having this inconvenience and terrible customer service.

I have recently purchased 2 x 5 liters of white matt emulsion that can be scrubbed from B and Q to redecorate my bedroom. After a few days and when the weather outside warmed up I noticed a oily, weak urine smell. I complained to B and Q and the response that I got was 'never before heard of this issue'. I have emails saying that I contaminated the paint. No reimbursement to date at all. Note-I am a professional builder and am in the process of closing my TradePoint account with them. I am now using other paint products. Totally disappointed by B and Q's approach to this issue. Their loss.

Just to confirm what so many others have said. Used this premium emulsion about 6 months ago, part newly plastered wall, part existing wall overpainted. Have spent the past 5 months trying to figure out how the neighbours' cat could possibly keep sneaking in and peeing everywhere. Smells like cat pee. Suddenly wondered if it could be the paint, Googled it and hey presto, reports everywhere about this problem. Now have to figure out how to get it sorted, will be off to B&Q tomorrow to complain, no expectation of redress. DO NOT BUY IT.

I have been house sitting for a friend and was trying to figure out where the cat had peed in one of the bedrooms, knowing he hadn't been in there, but I couldn't dispute the ammonia smell that was there on the hot sunny days. I had never smelt something so strong. I brought a black light to try and find it, literally smelt every cm of the carpet, furniture etc. Last resort was the walls. Then the external wall that gets hot with the sun, Britain generally doesn't have that many sunny days in a row, but we had had a week of extremely hot days, hence the smell.
I found various parts of the wall with the ammonia smell so started googling 'stinky cat urine paint', not expecting to find anything. However it seems that there has been problems with this for years and apparently it only affects 1 in 100,000 people. There have been problems with Crown, Dulux, and most recent Valspar. This bedroom had been freshly painted less than a month ago with Valspar paint custom pink colour.
I have found so many people having problems with Valspar paint, so I have just texted my friend while she is on holiday to explain all this. There is no way that their 4 year old can sleep in her bedroom when the smell is at its strongest. I have had to have all the windows upstairs open 24 hours a day just to try and ventilate the room and make the smell bearable.
I thought I was going mad as it took me so long to figure out what the problem, I had to empty all the furniture out of the room so I could eliminate what possibles it was. I know the cat hadn't been in there and where I located the smell he couldn't get to as furniture was blocking it. Just don't buy this paint, as you might experience the same problem and it is the most revolting smell in the world and unbearable on a hot day.

Similar to other reviews - I painted my bedroom with Valspar paint a few weeks ago and since the weather has warmed up my room now stinks of cat pee. Blamed my poor cat and evicted him, but smell has remained and definitely coming from the walls. I don't have my receipt so can't get a refund so am faced with repainting at my own expense. Very dissatisfied and disappointed. Outrageous that Valspar is allowing this to continue.

I bought some Valspar emulsion paint in April 2017 and started decorating my hall/stairwell on May bank holiday. The hallway had been painted previously - emulsion onto plaster direct. However I prefer to paint on lining paper - which I had completed a few weeks previously. Both the lining paper and paint were purchased at B&Q. Everything was fine for about a week, then I noticed a smell appearing. Exactly the same as previous comments on here, the smell was a combination of gas/cat urine, and the smell is getting stronger daily.
Maybe connected to the warmer weather as some suggested - as the smell is worse where the light floods into the hall/or windows are open. I've been to B&Q to complain - and they were as baffled as I was and although very nice, only suggested to use Neutradol air freshness (other sufferers had suggested this on other complaint forums, which the B&Q staff were reading along with myself!!) This was despite them admitting when they opened the paint tin themselves that it was extremely strong smell...
Now I appreciate this may be a one off bad batch of paint as I've certainly never heard of it before? I've owned 3 houses/rented plenty more in my time and consider myself quite competent of decorating. I'm interested to know what Valspar (and other companies) are doing about this? Some guidance would be appreciated! Would sealant solve my problem? Do I have to strip back the lining paper and start again? My hallway/stairs is unbearable making my nose burn. I can only sympathize for those who has suffered when painting bedrooms, as I certainly couldn't sleep in it! How do we even know it's not harmful bacteria???

Bought Valspar paint and redecorated child's bedroom before Easter. 2 weeks later getting dreadful smells in the room. At first we thought the dog had urinated on the carpet, but no, then thought there might be a dead animal under the floor boards. Checked and no. Then went online to find many, many reports of Valspar paint smelly like 'cats urine'. Contacted B&Q, store manager said nothing to do with him and to contact customer services - 03330 143098 - finally got through to a person who said that the store had to deal with it. After waiting on the phone he said I had to call back on the same number but press a different option. Also spoke to Valspar as part of the process and they said that their supplier agreement with B&Q that all complaints had to go through B&Q and not Valspar.
Contacts B&Q customer services and small waffle - 'your call is very important to us but due to the high number of calls we blah, blah, blah'. B&Q has been passing me from pillar to post saying that there is nothing they can do as I have to follow their process but no one answering the phone and unwillingness to take responsibility. Child has been decamped to spare bedroom due to the smell in the room. What did the manager of B&Q offer me... reimburse me the cost of the paint. No consideration for the inconvenience, the smells, health of people due to Valspar paint smells (not sure if there any adverse health issues here) and dreadful B&Q customer service. Final insult was that I had to find my paint receipt from nearly 4 weeks ago. Honestly how many people keep low value transaction receipts for more than a few weeks?

Bought a 2.5 l tin of Valspar 2 in 1 primer and paint from B&Q, they've changed from Dulux (which has always done what it says on the tin!! Actually covers in one coat.) The Valspar is awful it doesn't cover, comes out strippy looking showing the base colour so therefore needs 2 coats. Needless to say it's £28 worth of rubbish, it will be going back to the store. So I've got to make a journey of 30 miles to return it. Don't buy!!


I recently completed the painting of my bedroom 10 days ago using Valspar mixed in store at B&Q "sheer shadow" wall and ceiling. Lovely colour, which I chose after some deliberation. I was drawn to Valspar for the vast colour options available so on completion of my painting I was pleased with the visual result. However, since finishing the paint job 10 days ago, I have noticed (as have visitors, and the emergency gas engineer who visited and conducted a thorough through house check and ruled out gas!) an awful smell which is confined to the one room in the house where I have used the Valspar paint. This has persisted despite me leaving open windows day and night for several days.
It is so awful I am considering that I may need to completely re-do the room now, there is no way anyone could sleep in that room as it is, the smell being so unpleasant. I note there are a few similar experiences described on here. I'm just wondering if people have found that the issue resolves in time or should I expect this problem to persist in which case I will need to consider completely redoing the painting (with another brand of course!)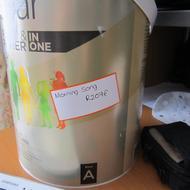 I've been corresponding with Valspar over an issue with smelly walls. An odour that was being omitted smelt like cat wee. My poor cat nearly got rehomed. It took weeks to realise it wasn't her to blame. Valspar were not sympathetic to all the distress I've been going through and still are. When I found out through my own research about this so called 'Wall Odour Phenomenon' I contacted Valspar, it was only because I'd publically published the email I sent to them on their Facebook UK page that they responded.
They asked how I'd prepared my walls beforehand (I have 4 years training in CITY & Guilds Painting and Decorating). They were happy I'd followed the right procedure. They asked what the wall substrate was. They couldn't blame this as I've been emulsioning my walls for over 25 years. They proceeded to blame the Dulux paint that was present underneath. There was no need to prime the walls as the Valspar paint used was paint and primer in one. I'm so angry that if this 'phenomena' has been known to the paint manufacturing business for years then why isn't there a warning on the paint cans? Or at least in their brochures? Something should be put in place on how to prepare walls to stop this from happening and what measures should be taken to safeguard the walls from this so called bacteria in the future.
There is very little if no information out there about this issue, unless you are experiencing it for yourself you would never know the so called 'Phenomenon' existed. Both the supplier B&Q and Valspar were really unhelpful. They just regurgitated the word for word report from the PRA (Paint Research Association). My gut instinct is that this isn't a wall bacteria but something that is either present within the paint or the shelf life of the paint has been dramatically reduced due to the removal of solvents to cut emissions. I'm still waiting on a response from B&Q over the matter and Valspar have sent me a voucher to cover the cost of a new tin of paint. I will however have to use a Sealer to seal in the smell but this is very expensive and it's going to cost over £200 to put right so sorry Valspar. One tin of paint doesn't cut it!

Just a heads up from the house that smells like a cat's piss den thanks to B&Q and Valspar paint! Apparently £50 voucher to sort this odour (not a problem Customer Service are aware of) is the best offer I'll receive.

Painted my daughter's bedroom in Valspar pink emulsion paint. Since painting a very unpleasant smell has built in the room, something between dead mouse and cat urine. Eventually I traced it to the paint. I have never experienced anything like it in over 30 years of using emulsion paint. Valspar are shrugging their shoulders and offering generic advice and no compensation or terribly useful advice. Basically they say, "It's not our fault but we can't explain exactly why it's not our fault." Now I may have to strip back to plaster or at the very least paint with a barrier coat and try again. I will never use this brand again

We went to our local Ace store and were convinced to use Valspar paint WITH a primer to paint a dresser we purchased. We were also told to sand it down. We sanded it, primed it and then applied one coat of Valspar Paint & Primer - it was ridiculous. The original primer showed right thru - it was as though we were applying a glaze - no coverage at all. We let it dry overnight and then applied a second coat (even though it was a ONE COAT paint & primer all in one). The second coat covered just a tiny bit more - the original primer still showed through. What a rip-off. DO NOT BUY THIS PAINT. Ace either owns the brand or gets a substantial commission for selling this - you will be wasting time & money with this garbage.

Have been painting my home for decades. July 2016 I purchased the top of the line Valspar paint, went home and painted my bath. The paint did not readily dry and after several days was still tacky. I went back to my local hardware store, they called Valspar rep who told them that I was experiencing blocking, where the paint dries on the surface before underneath and I should put a fan in the bath. I did and after a few days it was still a little tacky. After several months it did seem better. Now in March 2017 the paint on the door is soft and the wall has peeled up (puckered) where it was hit. I went back to my hardware store today to seek help (maybe they could get in touch with Valspar) and was passed off to other employees until I finally left. THIS IS THE WORST PAINT I HAVE EVER USED. Expense and time wise I have really lost.

I painted a previously oil gloss door which was carefully rubbed down with a water based gloss from Valspar resulting in a bubble up reaction. This paint is promoted at BQ with no warning of any possible reaction to previously painted services.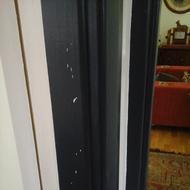 I was advised by the staff of Valspar at B & Q to buy Premier paint which does not require undercoat. Within a day of completion the paint peeled off. I was given a replacement paint which stayed in place. Neither Valspar nor B&Q admitted that the original paint was faulty and I finished up out of pocket by 500 after having paid a decorator to redo the job. The quality of the paint is clearly hit and miss and I strongly advise against using the Valspar product.

I have been a home decorator all my life and enjoy painting. I love using the mixing service to get a colour that is a bit different, which until my last purchase has always been Dulux Endurance. Great paint. This month I purchase Valspar from B&Q. I found it sticky to roll on but persevered even though it took me 3 coats to get it even. BUT when I'd finished I noticed the most awful smell in the room. It smells really bad like cat wee and I don't have a cat. It is definitely coming from the paint. It's awful. When I read other reviews people have mentioned the odour. I just hope it fades. Horrible. Good job I noticed before I did my hall staircase and landing. Need to go on the search for Dulux. Now Valspar is definitely a NONO.

I have been painting and decorating for myself and a semi business for 30 years and have never been disappointed with a paint before, Crown, Dulux, Johnstone's etc all been great. Unfortunately B and Q in the UK have decided to go with Valspar for their colour (yes that's how it's spelt (and this word) in England, the founder of the language called English) mixing paint. Picked a yellow for our bathroom and took three coats to go over magnolia. Finally finished and left to dry for 2 days.
After using the bathroom and steam condensing on the walls the feel of the paint is slimy and sticky on the walls. After 4 weeks of use the colour has now started to run down the walls and coagulate on top of the freshly painted skirting boards - now looks like urine on top of the skirting boards. It is tacky to the touch and fatty looking. What an absolute mess. I will have to strip this mess off and start all over again, which means removing our free standing bath again (space restraints) and having to use a friend's shower yet again. Do not waste your money on this dreadful and expensive product. The only plus is I didn't use this product for a customer and never will!!! I will be contacting Valspar and see if they will refund my money and pay for my time (not at all hopeful).

Bought a silver/grey Valspar paint. It was mixed, looked good in the false light of "B and Q", got it home, started to paint my walls after tea (heading into false light territory) it looked pale lilac. Not to be discouraged in the false light I continued to brush it on, or should I say stretch it on. It was the worst paint I have ever used. I been painting and decorating for 30 years and I've used the cheapest value range paint and never been as disappointed as I am with this tub of rubbish. You have to spread it. Don't go over what you already painted as it comes right back off, and it skins quicker than rice pudding in the oven at 38 for 5 liters.
I was definitely ripped. Pls everyone stick to shop's own brand. It's nicer, cheaper, easier to apply and goes further. Normally I do a 2.5 liter tin of colors everywhere in my front room. I've used 5 liters of Valspar and it's still patchy. What a waste of my time and money. I would of got better results with sterilized milk, corn flour and food coloring. Buyer please be warned. It's crap.

I have been a homeowner for 28 years and call me crazy, but I actually enjoy painting my walls. Over the years I have used many different brands of paints and have used Valspar in the past with good results. I am a picky painter as I like for my walls to be smooth and detest roller marks! After two recent experiences with Valspar, I will never use this brand again!
The first round, I used the most expensive Valspar which is touted to be the "primo" one coat, easy peasy paint! It is the absolute worst! The paint is thick, sticky and doesn't level well on the wall. I even changed rollers after a few passes thinking I had too much of a nap on the roller, even though it said for smooth walls and satin paint. I was painting a small bathroom, so I went ahead and finished the job as we have deadlines to meet with plumbers and granite installers and you know how it is, when you're already home with your paint color that you've taken forever to choose, your favorite angled brush and a good roller... you're ready to paint!
Several times I almost gave up. It's just a sticky mess and after just a few minutes of painting it started to leave little gritty particles on the wall. It was like the paint was drying between the bristles of my trim brush and in the roller tray and then leaving the particles on the wall. It just does not leave a desirable smooth finish. Now I regret that I didn't stop because I feel that my walls would have to be sanded to get them back as smooth as they were prior to painting! And, on top of that, my brush was ruined after using it for only a couple of hours and never letting it dry out. When I tried to wash it out, it was like trying to remove oil paint, but it's latex! And, I literally had to scrape it out of the tray. I went back to Lowe's where I purchased the paint and I must say our local store has great paint people! I took my ruined brush in and explained to them what had happened.
They were very apologetic, even gave me a new brush and a complimentary gallon of the mid grade Valspar paint which I was told would be much better and that they had received some complaints on the higher grade paint about its thickness. So, I went home very optimistic about painting the adjoining hallway with my free brush and paint. Unfortunately after about three passes with the roller, I realized I was in for it again! The same problems as mentioned above only the paint wasn't as sticky and seemed to level out better with multiple roller passes. However, I was painting in evening lighting and this morning when I looked down the hallway, I was sad to see that the paint did not "lay down" well and is actually even rough to the touch in some places. So, my solution is this... I will be heading down to my Benjamin Moore in a few minutes to purchase a couple of gallons of their paint which I have never been disappointed with!
It's too late to do anything with the bathroom as the new vanity, wall cabinet and tile are installed. With it being a small room it won't be that noticeable. But, I will be sanding the hallway and repainting it with a quality paint as Valspar apparently no longer has a paint that is even slightly acceptable! Don't buy this paint, you will be very disappointed! I had to rate it 1 star as there wasn't an option to leave a zero, but I would absolutely give it a zero!
Company Name:

Valspar

Website:

http://www.valsparpaint.com/en/index.html