Consumer Complaints and Reviews

Bought Valspar paint and redecorated child's bedroom before Easter. 2 weeks later getting dreadful smells in the room. At first we thought the dog had urinated on the carpet, but no, then thought there might be a dead animal under the floor boards. Checked and no. Then went online to find many, many reports of Valspar paint smelly like 'cats urine'. Contacted B&Q, store manager said nothing to do with him and to contact customer services - 03330 143098 - finally got through to a person who said that the store had to deal with it. After waiting on the phone he said I had to call back on the same number but press a different option. Also spoke to Valspar as part of the process and they said that their supplier agreement with B&Q that all complaints had to go through B&Q and not Valspar.
Contacts B&Q customer services and small waffle - 'your call is very important to us but due to the high number of calls we blah, blah, blah'. B&Q has been passing me from pillar to post saying that there is nothing they can do as I have to follow their process but no one answering the phone and unwillingness to take responsibility. Child has been decamped to spare bedroom due to the smell in the room. What did the manager of B&Q offer me... reimburse me the cost of the paint. No consideration for the inconvenience, the smells, health of people due to Valspar paint smells (not sure if there any adverse health issues here) and dreadful B&Q customer service. Final insult was that I had to find my paint receipt from nearly 4 weeks ago. Honestly how many people keep low value transaction receipts for more than a few weeks?

Bought a 2.5 l tin of Valspar 2 in 1 primer and paint from B&Q, they've changed from Dulux (which has always done what it says on the tin!! Actually covers in one coat.) The Valspar is awful it doesn't cover, comes out strippy looking showing the base colour so therefore needs 2 coats. Needless to say it's £28 worth of rubbish, it will be going back to the store. So I've got to make a journey of 30 miles to return it. Don't buy!!


I recently completed the painting of my bedroom 10 days ago using Valspar mixed in store at B&Q "sheer shadow" wall and ceiling. Lovely colour, which I chose after some deliberation. I was drawn to Valspar for the vast colour options available so on completion of my painting I was pleased with the visual result. However, since finishing the paint job 10 days ago, I have noticed (as have visitors, and the emergency gas engineer who visited and conducted a thorough through house check and ruled out gas!) an awful smell which is confined to the one room in the house where I have used the Valspar paint. This has persisted despite me leaving open windows day and night for several days.
It is so awful I am considering that I may need to completely re-do the room now, there is no way anyone could sleep in that room as it is, the smell being so unpleasant. I note there are a few similar experiences described on here. I'm just wondering if people have found that the issue resolves in time or should I expect this problem to persist in which case I will need to consider completely redoing the painting (with another brand of course!)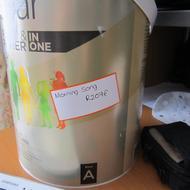 I've been corresponding with Valspar over an issue with smelly walls. An odour that was being omitted smelt like cat wee. My poor cat nearly got rehomed. It took weeks to realise it wasn't her to blame. Valspar were not sympathetic to all the distress I've been going through and still are. When I found out through my own research about this so called 'Wall Odour Phenomenon' I contacted Valspar, it was only because I'd publically published the email I sent to them on their Facebook UK page that they responded.
They asked how I'd prepared my walls beforehand (I have 4 years training in CITY & Guilds Painting and Decorating). They were happy I'd followed the right procedure. They asked what the wall substrate was. They couldn't blame this as I've been emulsioning my walls for over 25 years. They proceeded to blame the Dulux paint that was present underneath. There was no need to prime the walls as the Valspar paint used was paint and primer in one. I'm so angry that if this 'phenomena' has been known to the paint manufacturing business for years then why isn't there a warning on the paint cans? Or at least in their brochures? Something should be put in place on how to prepare walls to stop this from happening and what measures should be taken to safeguard the walls from this so called bacteria in the future.
There is very little if no information out there about this issue, unless you are experiencing it for yourself you would never know the so called 'Phenomenon' existed. Both the supplier B&Q and Valspar were really unhelpful. They just regurgitated the word for word report from the PRA (Paint Research Association). My gut instinct is that this isn't a wall bacteria but something that is either present within the paint or the shelf life of the paint has been dramatically reduced due to the removal of solvents to cut emissions. I'm still waiting on a response from B&Q over the matter and Valspar have sent me a voucher to cover the cost of a new tin of paint. I will however have to use a Sealer to seal in the smell but this is very expensive and it's going to cost over £200 to put right so sorry Valspar. One tin of paint doesn't cut it!
How do I know I can trust these reviews about Valspar?
765,036 reviews on ConsumerAffairs are verified.
We require contact information to ensure our reviewers are real.
We use intelligent software that helps us maintain the integrity of reviews.
Our moderators read all reviews to verify quality and helpfulness.
For more information about reviews on ConsumerAffairs.com please visit our FAQ.

Just a heads up from the house that smells like a cat's piss den thanks to B&Q and Valspar paint! Apparently £50 voucher to sort this odour (not a problem Customer Service are aware of) is the best offer I'll receive.

Painted my daughter's bedroom in Valspar pink emulsion paint. Since painting a very unpleasant smell has built in the room, something between dead mouse and cat urine. Eventually I traced it to the paint. I have never experienced anything like it in over 30 years of using emulsion paint. Valspar are shrugging their shoulders and offering generic advice and no compensation or terribly useful advice. Basically they say, "It's not our fault but we can't explain exactly why it's not our fault." Now I may have to strip back to plaster or at the very least paint with a barrier coat and try again. I will never use this brand again

We went to our local Ace store and were convinced to use Valspar paint WITH a primer to paint a dresser we purchased. We were also told to sand it down. We sanded it, primed it and then applied one coat of Valspar Paint & Primer - it was ridiculous. The original primer showed right thru - it was as though we were applying a glaze - no coverage at all. We let it dry overnight and then applied a second coat (even though it was a ONE COAT paint & primer all in one). The second coat covered just a tiny bit more - the original primer still showed through. What a rip-off. DO NOT BUY THIS PAINT. Ace either owns the brand or gets a substantial commission for selling this - you will be wasting time & money with this garbage.

Have been painting my home for decades. July 2016 I purchased the top of the line Valspar paint, went home and painted my bath. The paint did not readily dry and after several days was still tacky. I went back to my local hardware store, they called Valspar rep who told them that I was experiencing blocking, where the paint dries on the surface before underneath and I should put a fan in the bath. I did and after a few days it was still a little tacky. After several months it did seem better. Now in March 2017 the paint on the door is soft and the wall has peeled up (puckered) where it was hit. I went back to my hardware store today to seek help (maybe they could get in touch with Valspar) and was passed off to other employees until I finally left. THIS IS THE WORST PAINT I HAVE EVER USED. Expense and time wise I have really lost.

I painted a previously oil gloss door which was carefully rubbed down with a water based gloss from Valspar resulting in a bubble up reaction. This paint is promoted at BQ with no warning of any possible reaction to previously painted services.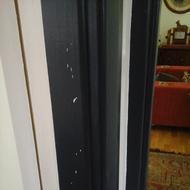 I was advised by the staff of Valspar at B & Q to buy Premier paint which does not require undercoat. Within a day of completion the paint peeled off. I was given a replacement paint which stayed in place. Neither Valspar nor B&Q admitted that the original paint was faulty and I finished up out of pocket by 500 after having paid a decorator to redo the job. The quality of the paint is clearly hit and miss and I strongly advise against using the Valspar product.

I have been a home decorator all my life and enjoy painting. I love using the mixing service to get a colour that is a bit different, which until my last purchase has always been Dulux Endurance. Great paint. This month I purchase Valspar from B&Q. I found it sticky to roll on but persevered even though it took me 3 coats to get it even. BUT when I'd finished I noticed the most awful smell in the room. It smells really bad like cat wee and I don't have a cat. It is definitely coming from the paint. It's awful. When I read other reviews people have mentioned the odour. I just hope it fades. Horrible. Good job I noticed before I did my hall staircase and landing. Need to go on the search for Dulux. Now Valspar is definitely a NONO.

I have been painting and decorating for myself and a semi business for 30 years and have never been disappointed with a paint before, Crown, Dulux, Johnstone's etc all been great. Unfortunately B and Q in the UK have decided to go with Valspar for their colour (yes that's how it's spelt (and this word) in England, the founder of the language called English) mixing paint. Picked a yellow for our bathroom and took three coats to go over magnolia. Finally finished and left to dry for 2 days.
After using the bathroom and steam condensing on the walls the feel of the paint is slimy and sticky on the walls. After 4 weeks of use the colour has now started to run down the walls and coagulate on top of the freshly painted skirting boards - now looks like urine on top of the skirting boards. It is tacky to the touch and fatty looking. What an absolute mess. I will have to strip this mess off and start all over again, which means removing our free standing bath again (space restraints) and having to use a friend's shower yet again. Do not waste your money on this dreadful and expensive product. The only plus is I didn't use this product for a customer and never will!!! I will be contacting Valspar and see if they will refund my money and pay for my time (not at all hopeful).

Bought a silver/grey Valspar paint. It was mixed, looked good in the false light of "B and Q", got it home, started to paint my walls after tea (heading into false light territory) it looked pale lilac. Not to be discouraged in the false light I continued to brush it on, or should I say stretch it on. It was the worst paint I have ever used. I been painting and decorating for 30 years and I've used the cheapest value range paint and never been as disappointed as I am with this tub of rubbish. You have to spread it. Don't go over what you already painted as it comes right back off, and it skins quicker than rice pudding in the oven at 38 for 5 liters.
I was definitely ripped. Pls everyone stick to shop's own brand. It's nicer, cheaper, easier to apply and goes further. Normally I do a 2.5 liter tin of colors everywhere in my front room. I've used 5 liters of Valspar and it's still patchy. What a waste of my time and money. I would of got better results with sterilized milk, corn flour and food coloring. Buyer please be warned. It's crap.

I have been a homeowner for 28 years and call me crazy, but I actually enjoy painting my walls. Over the years I have used many different brands of paints and have used Valspar in the past with good results. I am a picky painter as I like for my walls to be smooth and detest roller marks! After two recent experiences with Valspar, I will never use this brand again!
The first round, I used the most expensive Valspar which is touted to be the "primo" one coat, easy peasy paint! It is the absolute worst! The paint is thick, sticky and doesn't level well on the wall. I even changed rollers after a few passes thinking I had too much of a nap on the roller, even though it said for smooth walls and satin paint. I was painting a small bathroom, so I went ahead and finished the job as we have deadlines to meet with plumbers and granite installers and you know how it is, when you're already home with your paint color that you've taken forever to choose, your favorite angled brush and a good roller... you're ready to paint!
Several times I almost gave up. It's just a sticky mess and after just a few minutes of painting it started to leave little gritty particles on the wall. It was like the paint was drying between the bristles of my trim brush and in the roller tray and then leaving the particles on the wall. It just does not leave a desirable smooth finish. Now I regret that I didn't stop because I feel that my walls would have to be sanded to get them back as smooth as they were prior to painting! And, on top of that, my brush was ruined after using it for only a couple of hours and never letting it dry out. When I tried to wash it out, it was like trying to remove oil paint, but it's latex! And, I literally had to scrape it out of the tray. I went back to Lowe's where I purchased the paint and I must say our local store has great paint people! I took my ruined brush in and explained to them what had happened.
They were very apologetic, even gave me a new brush and a complimentary gallon of the mid grade Valspar paint which I was told would be much better and that they had received some complaints on the higher grade paint about its thickness. So, I went home very optimistic about painting the adjoining hallway with my free brush and paint. Unfortunately after about three passes with the roller, I realized I was in for it again! The same problems as mentioned above only the paint wasn't as sticky and seemed to level out better with multiple roller passes. However, I was painting in evening lighting and this morning when I looked down the hallway, I was sad to see that the paint did not "lay down" well and is actually even rough to the touch in some places. So, my solution is this... I will be heading down to my Benjamin Moore in a few minutes to purchase a couple of gallons of their paint which I have never been disappointed with!
It's too late to do anything with the bathroom as the new vanity, wall cabinet and tile are installed. With it being a small room it won't be that noticeable. But, I will be sanding the hallway and repainting it with a quality paint as Valspar apparently no longer has a paint that is even slightly acceptable! Don't buy this paint, you will be very disappointed! I had to rate it 1 star as there wasn't an option to leave a zero, but I would absolutely give it a zero!

Went to buy Dulux paint but was recommended Valspar. What a wasted three days of painting. As the third coat is drying it is puckering up and powdering off. We have to do the whole lot again. Wasted time and money for nothing. DO NOT BUY THIS RUBBISH. Bought from B & Q. My husband is in the building trade and he could not work out what was happening. In all the years of painting we have never had this happen before. Did some research and found out that this product is known for this fault. Stick to Dulux or Crown.

I am a painting contractor with over 25 years under my brush. This is the sorriest bucket of paint I have ever used. Watery, lack of coverage, picture framing, and the most awful smell. Low VOC? I don't think so... It will take your breath. The ammonia is so overpowering. Terrible paint. I don't know how they get away selling this garbage.

Do not be fooled that this is a premium product, we have bought the paint on four occasions and had mixed results on each. On two occasions the paint has been patchy and left a series of discoloured patches across the walls and only after 4 or 5 coats has it finally covered. We have reverted to Dulux and other brands and have never had the problem again. Valspar and B and Q (UK) have been very unhelpful. Best avoided if you need consistency when time and money is at stake. Shop elsewhere.

My first time using Valspar reserve with HydroChroma technology (purchased at Lowe's). I've been painting (part time) for over thirty years and this is easily the most difficult paint I have ever dealt with. It's incredible how bad it is, never seen anything like it. When applying the paint with a 3/8" nap roller, if you overlap the area just painted 20 seconds before the paint lifts right off the surface. You can't get the roller wet enough. The finish is sooo blotchy where the roller has lifted the "skin" off the paint from the previous pass. 3/8" nap and looks like I shot the surface with a texture gun (and screwed it up). Disappointment is a gross understatement.

I am an experienced painter and bought Valspar cabinet paint for a bathroom vanity. A quart cost me $25 and the can said "no brush marks." What a crock! I followed the instructions on the can knowing I had to prep the cabinet by sanding the old finish and used a tack cloth to remove all the debris and used a new high end brush to apply the paint. The instructions stated to apply the paint in thin coats so I assumed that the paint would have a nice flow. It was thick and sticky and really difficult to work with. After 2 coats I abandoned my quality brush and bought a 59 cent foam brush. Two more coats later I finally was able to get a finish that was marginally acceptable but it wasn't what I expected. I am so glad I didn't try this paint on a kitchen because I would have gone postal. Save your money and sanity. There are many less expensive paints on the market that outperform this product.

To start I would not give the Valspar Signature one star but had to select something. I have painted for many years and seldom have I crossed garbage paint like this. The last time I had a similar problem was with Walmart paint back in the early 2000's. Short story: Went to the local Lowe's to buy paint after hearing Valspar signature was the best paint around and covered in one coat, was told it was pricey but worth it. After speaking to the paint pro I bought 30 gallons of paint in different colors. RED, YELLOWS, BLUES, GREENS AND GREY. The walls were primed prior to painting with the top of the line signature. HUGE surprise when the paint was not covering!!!! The yellow took 7 coats, the greens 3, red... I lost count, the blues ranged from 3 to 5 and the grey was the best with only 2 coats.
To add contrast in one room we wanted to add a lite purple and decided to grab Walmart color place paint. Another huge surprise it covered in one coat. Went to wash the walls after just 30 days thanks to little kids and the Valspar paint is coming off the walls!!!! Garbage paint, should have stuck with Behr paint which holds up great. Do yourself a favor and buy Behr paint or color place.

Bought 2 gallons for ceiling, and 3 for walls, even after 3 coats there were blotchy patches. Some areas were blistering and peeling, had to sand down and repaint these areas. Personnel at store recommended this paint, would love to pour this paint over his head, it probably wouldn't stick though.

I was happy with the coverage. I'd painted a 13 x 19 living room, 1 gallon was enough to cover the ceiling. The only thing I didn't like, the paint is thin and splatters a lot!! I won't buy this paint anymore just because of that. I will buy Dutch Boy, it's much thicker and doesn't splatter nearly as much as the Valspar.

Valspar Signature interior has been nothing but a nightmare. 4 coats and I still see my base color... White. The color I purchased was light raffia. Don't waste your money on this garbage. I unfortunately can't afford 35 dollars a gallon to paint a 10×2 patch over and over.

I purchased the Valspar ceiling paint for the ceilings in all the rooms of a 3 bedroom house about 1500 sq. ft. and also a semi gloss latex to paint over the walls which were neutral colored. The walls and ceilings were all washed down with the appropriate chemical as per directions on the box. I then painted and I have to say this is the worst paint I have ever used. The coverage of this paint is very poor, I tried to contact the residential customer service department there was no answer I left a message and after 2 weeks there's still no callback. I will never use Valspar nor would I allow any of my tenants to use it nor recommended it to friends, family, etc... Save yourself a lot of time and money and skip the Valspar products!

Purchased a gallon of Valspar sandstone paint. Salesperson said it goes on like any other paint and advised me that 1 gallon would be more than enough for an 11 by 10 room. After coat 1, it looked like the worse paint job I ever saw. Splotches and didn't cover. I have painted several rooms in my life and never had a problem. 3 gallon at $49 each later and a lot of hard work it took for a less than satisfactory job. I emailed the company to see what they could do for me and no response. Stick to Home Depot BEHR paints! You will be much happier.

We are a professional painting business that just finished using Valspar Pristine Satin and Reserve Eggshell to paint a very large area. 4 coats later, it still looks very bad. We used these paints at the customer's request. Utterly Beige is the color we are applying over a pale yellow and it looks awful. You can see everywhere we cut in, brush strokes are obvious and the sheen is splotchy. Worse yet - the longer the paint dries, the worse it gets! Now, after a week, you can see every drywall seam, ding, dent and previous repair. Even nail hole patches are obvious. Valspar has offered to refund us the purchase of all new Reserve, but I'm nervous... They also want us to sand the walls with 220 grit before painting a 5th coat. I'm thinking I should just cut my losses and switch to what I know works at this point.

Cannot put 2nd coat of spray lacquer without it wrinkling!!! Tried to put primer over it to change product line it crackled. I do not recommend Valspar paint!!! SHERWIN WILLIAMS paint owns Valspar. It is now tank wash!!!

We bought Valspar signature semi-gloss. This says it has primer in it, it's one coat. After three coats rolled on, it still has some blue showing through. After 36 hours when we tried to take the edge tape off, the paint peeled like a bad plastic wrap. It even peeled the old paint and paper off the drywall. The valspar rep refunded us and bought us different paint (signature high-hiding paint and primer.) He also told us the walls had been wiped down with 409, that's why we had a problem. We bought this house from my brother and his wife and they never bought 409 or wiped down the walls! We are still working on getting this bad paint off and we may need to have drywall torn out and reinstalled. I'm not sure how to proceed with this new valspar, but if it gives us problems we may have to go after valspar in court.

I took all the numbers and information off the gallon of paint I had purchased at Lowe's only for the guy to say he had to have the label. I drove thirty miles for this guy to tell me this. Your representative was there and he done nothing. I then had to drive another thirty miles to take the entire can to them. At first he didn't even want to shake the paint that was in the can. I said, "You should shake that so the color matches." So finally he did but he never stirred it before taking the test so the paint did not match the color I was trying to cover therefore I had to repaint every room. Had it been color matched correctly I would not have had to buy 8 gallons of your paint. I will never shop at Lowe's or buy any Valspar paint again. I will go to Sherman Williams. I know nothing will be done about this but wanted to let you know my experience.
Company Name:

Valspar

Website:

http://www.valsparpaint.com/en/index.html