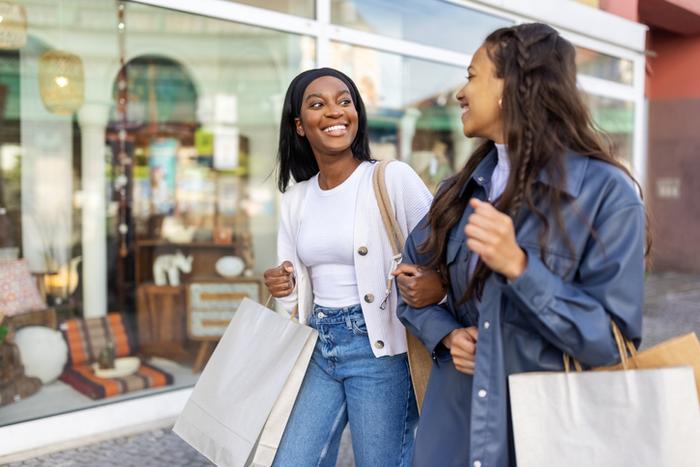 A new online survey conducted by DailyPay and Dollar Tree set out to gauge consumers' attitudes towards retail spending in 2023. 
Despite the rising costs of basic necessities – like eggs and groceries – the majority of Americans surveyed said shopping is on their mind this year. Two-thirds reported that their retail purchases are likely to either stay the same or increase during 2023. 
"It's encouraging to see that Americans' spending plans are trending upward with only a third planning to spend less this year despite these times of financial uncertainty," said Kate Cheesman, vice president of customer success at DailyPay. 
What are the shopping trends for 2023?
Experts at DailyPay and Dollar Tree surveyed over 2,000 adults over the age of 18 across the United States to learn more about how they plan to spend money over the course of the year. 
Perhaps the most important finding was that two-thirds of respondents said that they plan to  keep their retail spending the same – or even exceed it – throughout this year. Though costs have been on the rise, and inflation was impacting shoppers all throughout the holiday season, consumers appear to be more optimistic about their spending habits coming into the new year.  
The focus of those purchases: bargains. Nearly 45% of those surveyed said they're more interested in getting items at a lower price this year than last year. So, even though purchases might increase, consumers are eager to find items for lower prices. 
The survey also found that many shoppers want to increase visits to brick-and-mortar stores rather than shop online. Nearly 75% said that their in-store purchases will likely stay the same or increase throughout 2023. 
Overall, the survey respondents preferred buying certain items in-store versus online. Topping that list was furniture, followed by home goods, apparel, sporting goods, and electronics. 
As the year progresses, it will be interesting to see how these findings hold up in relation to how consumers approach retail spending.