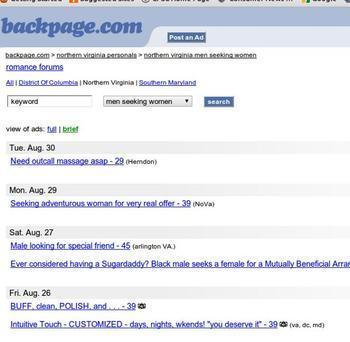 For years, law enforcement officials and child welfare groups have decried the role of Backpage.com, a website that they say hosts ads for escort services. The site has turned aside most protests and challenges, claiming its actions are protected by the First Amendment.
But California Attorney General and U.S. Senate candidate Kamala Harris argues that the site's activities are illegal and announced late Thursday that Backpage CEO Carl Ferrer had been arrested on felony charges of pimping a minor, pimping, and conspiracy to commit pimping.  
Michael Lacey and James Larkin, controlling shareholders of Backpage, have also been criminally charged with conspiracy to commit pimping, a felony.
Harris said that Backpage was essentially operating as an online brothel and generating millions of dollars off the illegal sex trade.  
"Raking in millions of dollars from the trafficking and exploitation of vulnerable victims is outrageous, despicable and illegal," she said. "Backpage and its executives purposefully and unlawfully designed Backpage to be the world's top online brothel."
While Backpage hosts ads for sales of a range of items and services, the arrest warrant alleges that the vast majority of Backpage's revenue is generated through prostitution-related ads in its "adult services" section.  Backpage collects fees from users who post "escort" ads, offering sex for money using coded language and nearly nude photos.
The California Department of Justice's investigation found that many of the ads for prostitution services involved victims of sex trafficking, including children under the age of 18, Harris said.
Expanding operations
Far from cutting back its operations in response to protests, Harris said that since 2010, Backpage has been expanding operations, creating sites in hundreds of cities throughout the world, including over 30 cities in California. 
Backpage's internal revenue reports show that from January 2013 to March 2015, 99% of Backpage's worldwide income was directly attributable to the "adult" section. During this 29-month period, Backpage's self-reporting demonstrates that gross monthly income from California rose to $2.5 million per month, with over $51 million in revenue derived from California in that period.
Harris charged that Ferrer and associates created additional prostitution-related sites to promote Backpage and essentially served as an escort directory service.
The California Department of Justice conducted a three-year investigation, including undercover operations posting "escort" ads and arranging meetings with people who had advertised in the "escort" section, confirming that commercial sex was the only purpose for both buyers and sellers, Harris said.
The investigation was sparked by reports from media, law enforcement agencies, and the National Center for Missing and Exploited Children (NCMEC). In the last five years, NCMEC has reported an over 800% increase in reports of suspected child sex trafficking, much of it the result of online activities. Since 2012, the NCMEC has reported 2,900 instances to California law enforcement where suspected child sex trafficking occurred via Backpage.