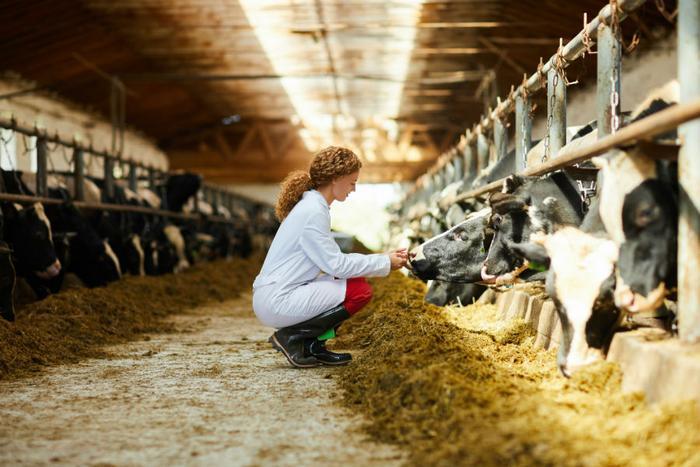 After decades of warnings from researchers that routinely feeding antibiotics to farm animals will have grave consequences for humans, the meat industry is showing some signs that it is ready to tackle the problem.
And one of those signs is coming from McDonald's, of all places.
The burger chain had previously received an "F" rating from food safety groups for antibiotic policies that sounded nice on paper but were ultimately ineffectual, the groups said.
That changed last week when McDonald's released a statement promising to reduce antibiotics in its beef supply by 2020. The chain says it will only source from farms that use antibiotics on cows when medically necessary, rather than on a routine basis.
The announcement was followed with more seemingly good news from the Food and Drug Administration (FDA) this past Tuesday. The agency is crediting a voluntary "stewardship" initiative for new figures suggesting that the meat industry is using less antibiotics than it used to.
But public health advocates say that the FDA's numbers, while an improvement, show much more work needs to be done.
"You've got this company that seems to be doing really important work to reduce use voluntarily," Dr. David Wallinga, a physician and researcher with the Natural Resources Defense Council (NRDC), tells ConsumerAffairs. "Then you have the FDA taking unknown baby steps."
McDonald's promises to lower antibiotic use
The iconic Golden Arch to many consumers is synonymous with the American diet. If McDonald's truly forces its beef suppliers to cut back on antibiotics, then health advocates are cautiously optimistic that it would force much-needed changes in the entire American beef industry.
That scenario all depends on McDonald's actually delivering on its promises.
The chain has previously promised to reduce antibiotics in its entire meat supply, but it was criticized for failing to include a timeline. The company's new plan now details a two-year timeline for beef. But not all the specifics are laid out yet.
Wallinga says that advocates have been haranguing McDonald's to take a lead on the antibiotics issue for nearly two decades. He says that the NRDC is now pushing McDonald's to enlist an auditor to ensure that its beef suppliers will follow through.
"We have said publicly, and to McDonald's, that we think they need to have a good third-party verifier," for the new policy to work, Wallinga says.
Making progress, but still a long way to go
Public health groups have long accused regulators in the United States of being tepid and slow to act on antibiotic overuse in Americans farms.
The FDA this year promised to do something about it and implement a "stewardship" program that it said would limit antibiotic usage to only medically necessary cases.
On Tuesday, the FDA released new statistics which claim to show the government program has been successful.
The meat industry and the FDA "have made great strides over the past year to support antimicrobial stewardship in animals," FDA Commissioner Scott Gottlieb said in a statement.
According to the FDA's figures, sales of antibiotics to livestock last year dropped 21 percent compared to 2015 and 28 percent compared to 2009. The FDA says those numbers show that that their efforts are paying off.
"The sales trends reflected...are very encouraging, and I'm pleased to see that the sales and distribution of these antimicrobial drugs has declined significantly the past two years," Gottlieb added.
The NRDC agrees that those numbers are encouraging. But the reductions only tell part of the story. They say the numbers are still too high.
Antibiotics are still more likely to go to pigs or cows in the United States than they are to American humans, according to the figures. An estimated 70 percent of medically important antibiotics continue to go to the livestock industry.
"We are seeing real progress, but the American meat industry continues to have a drug problem and the clock is ticking to solve it," Avinash Kar, senior staff attorney at the NRDC, said in a statement in response to the FDA's  reporting.
According to the government figures, 5.1 million pounds of antibiotics were sold for use on cows and 4.5 million pounds were sold for pigs. For chicken, that figure was just 590,000 pounds. Public health advocates credit consumer interest in antibiotic-free poultry for spurring that reduction in chicken.
They say that beef and pork industries, on the other hand, have been slower to catch on.
"Beef is definitely harder; I think they deserve some kudos for tackling it," Wallinga adds of McDonald's.
Antibiotic use tied to rise in superbugs
The FDA in 2017 required all meat producers to obtain something like a prescription before dosing their herds with antibiotics.
The prescription, officially called a Veterinary Feed Directive, was supposed to curb what researchers have found to be a dangerous trend on corporate mega-farms.
In corporate factory farms, where animals are often kept in tight corridors, antibiotics are routinely used to keep livestock from getting sick. Pumping animals with antibiotics also fattens them up more quickly.
Watchdogs warned that none of those practices were remotely healthy, and researchers are now sounding the alarm on a pending antibiotic apocalypse. They estimate that 10 million people will die every year from antibiotic-resistant infections by 2050 if no concrete action is taken. They say that antibiotic overuse in the meat industry, as well as over-prescription to humans, is already causing the rise in so-called superbugs, or antibiotic-resistant infections.
While the new Veterinary Feed Directives were intended to limit antibiotic prescriptions only to cases in which animals were genuinely sick, advocacy groups criticized the process as ripe with loopholes.
In May, the NRDC's Wallinga published a paper suggesting that the FDA program was failing to stop antibiotic overuse. According to his research, medically important antibiotics continue to be sold in roughly the same amount to pigs as they are to humans. His analyses found that 27 percent of antibiotics sold in the United States went to pigs.
"The irresponsible use of antibiotics on pig farms has created ripe conditions for drug-resistant bacteria -- as well as the genes that foster resistance -- to multiply and spread from farms to people," the report warned.
But the news isn't all gloomy. The poultry industry has been forced to make changes in response to numerous fast food chains switching to antibiotic-free chicken in recent years.
McDonald's and numerous other chains have already committed to reducing antibiotics in its poultry supply, forcing more than half of the chicken industry to change its ways, according to the U.S. Public Interest Research Group (US PIRG).
Now, they are hoping that McDonald's will force a similar change in the beef market.
"McDonald's new commitment is a promising step forward that will help preserve antibiotics for the future, and that's something we should all be happy about," writes the US PIRG.