The passenger front airbag may malfunction
01/12/2018
|
ConsumerAffairs


Mercedes-Benz USA (MBUSA) is recalling 10 model year 2017 AMG GTs & AMG GT-C Roadsters, and 2018 AMG GT-S & GT Roadsters equipped with AMG Performance Seats.
The passenger occupant classification system (OCS) might not function properly, possibly causing the passenger front airbag to be incorrectly deactivated or incorrectly activated in the event of a crash.
A passenger airbag that is incorrectly activated or deactivated in the event of a crash increases the risk of inju...
More
The vehicles' headlights may be misadjusted
01/11/2018
|
ConsumerAffairs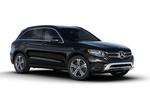 Mercedes-Benz USA (MBUSA) is recalling 8,134 model year 2016-2017 GLC300s, GLC300 4MATICs and GLC43 4MATICs.
The vehicles may have misadjusted headlights, possibly resulting in the low beam headlights insufficiently illuminating the roadway.
As such, they fail to comply with the requirements of Federal Motor Vehicle Safety Standard (FMVSS) number 108, "Lamps, Reflective Devices, and Associated Equipment."
An insufficiently illuminated roadway may increase the risk of a cra...
More
Sort By