MetLife Disability Insurance
Consumer Complaints and Reviews

Suddenly after a few years my caseworker disappeared and I got a new one who doesn't return my calls. Has anyone else rejected a low lump sum buyout offer from MetLife and then got a 2nd (and hopefully better) offer??

After paying premiums for 23 years I recently filed a claim for Short term disability after having major surgery. I was mailed 2 checks and then they "Suspended" my claims. Numerous attempts to contact them were made and no response. I will be out of work until July 24th as per my surgeon. Having no income is not an option. There has been no reason as to why my claim is suspended. This is no way to run a business; especially after paying them monthly for past 23 years. I don't know what my next step is as they will not return my calls. I am danger of losing my home and that is not acceptable. I need some guidance as to what my next step would be. Thank you.

My husband had surgery in April, and then started radiation treatments. We completed all paperwork, doctors have completed paperwork twice - faxed it all in - three times as of last night. I called last night to get status update - woman told me it was cancelled May 15. Then, she told me we did not have disability insurance. After a couple more rounds with her, she had the wrong customer pulled up. When I asked to speak to a manager (I was still being very polite), she came back to the phone and asked, "He wants to know what you want" (word-for-word). Then, "He says you haven't submitted any medical information." Three separate times, I've faxed 38 pages to this company, once, I called and verified receipt the next morning - and was told they had received it. I notified their customer service, but as with many of the other complaints I've read - no answers, no calls back, no notifications. AMAZING!!! Time to get a lawyer!

I have std thru MetLife. As of April 28, 2017, my experience with them has been horrible. The customer service reps that initially have NO Idea What they are doing. Over the past couple days I have called MetLife and have been put on hold for no less than 10 minutes each time. Finally transferred. To my case manager, kept getting voice mail. Left more than 10 phone calls to her... Finally spoke to her today. She was unable to answer 1 very specific. Unfortunately this is the disability provider has chosen for our benefits. I would NOT recommend them to my worst enemy... Not satisfied at all...

I am pretty happy with MetLife. I had 2 herniated disc in my back, had surgery and 6 months later herniated one of them again. MetLife has been pretty good on both STD leaves. I will say though on the first one we had issues three times with them telling me they hadn't received documents and the doctor office showed me proof where they had already sent them. As in all service today, most is extremely lacking and it's up to the individual to stay on top of any company to make sure everything gets done. It's a pain in the butt but unfortunately that is reality. I would have given them a 5 if not for this as who wants to sit on the phone and make multiple calls trying to take care of things when in pain.
How do I know I can trust these reviews about MetLife?
851,761 reviews on ConsumerAffairs are verified.
We require contact information to ensure our reviewers are real.
We use intelligent software that helps us maintain the integrity of reviews.
Our moderators read all reviews to verify quality and helpfulness.
For more information about reviews on ConsumerAffairs.com please visit our FAQ.

MetLife discontinued selling Disability Insurance as well as terminating its field force. Thus it likely that they will refuse LTD claims payments to conserve their capital. They stopped selling the product for a reason and Terminated their sales force. So it is unfortunate that when people need their benefits paid, this company will not reputably stand behind their product, nor treat customers with respect. In 2016 MetLife was also served with a fine of 25 million dollars for their agents misrepresenting and misleading retirement products - Variable Annuities. This information points to flawed business, and questionable continuation of MetLife. Prior articles note the "Too big to Fall" in court.

I am on short term disability since the 6 of march 2017 because of severe spinal stenosis. I went to my Dr. on the 8th of March who recommended abstaining from work until after the lumbar transforaminal, scheduled on the 21st of March, had taken effect. The subsequent medical evaluation is scheduled for the 3rd of April. I informed MetLife of all the relevant information on the 16th and opened a disability case. I received a letter on the 18th (postmarked) with a date of the 16th on the letter, saying I had three days from the date on the letter to submit medical documentation or my case would be closed. Obviously, that left me less than one day, as the mail comes in the afternoon. I was miraculously able to meet those demands. That is I contacted the doctor's office and had them submit paperwork Metlife had sent to them.
Afterward, I received numerous automated calls from MetLife on the 17th that could not be answered because their voice menus were inoperable, and repeated call to them went to voicemail, or were answered by an automated system that indicated they would call me back. I couldn't get in contact with MetLife but I made sure the doctor had received the paperwork and was going to submit it ASAP. I subsequently received a second letter on the 23rd postmarked on the 20th but this time the letter was dated the 17th of March 2017. According to this letter, I had three days (which had already expired by the time I received the letter) to get further medical documentation. I immediately called MetLife on the 23rd of March 2017, and spoke to representative Sandra, who assured me they could wait until the 3rd of April when my follow up with my Dr would occur.
I felt great until 6pm that evening, when a man named George from MetLife called and told me despite what I had already heard from Sandra a few hours earlier, my case would be closed. As you can guess, Verizon wireless says that the "call cannot be completed as dialed". In other words, that line is designed for them to reach you but not for you to reach them. Also, note that they called at 6pm on a Friday when business hours are over. MetLife's website is also having "technical problem" so that you can't register any complaints. So the conclusion I have reached is that MetLife has systematically made it very difficult for claims to be processed. I believe this is unethical and perhaps illegal, and I promise to get to the bottom and hold them accountable even if I have to call the District Attorney.

Just looking at all the negative responses to this company and wonder why nothing changes. This is the company my work institution has used and I had to pay into all those years of working (20?+), and now close to retirement I got injured and needed early retirement. I found out I would be able to get SSDI but it has taken forever to get responses from MetLife.
We finally even called the cooperate offices in NYC and then my case worker did call me the next day! But otherwise she is super slow and the message phone is a week old! Reminds me of that movie with Matt Damon where the insurance company denied all claims at first. So how do they get away with it. My Claims have been paid now but listening to all these stories makes me wonder how many more people have to go through these frustrations. I worked in a hospital where I loved taking care of people. I wish our country would have that work ethic for each other but I'm a dreamer.

Metlife STD is horrible. Takes a long time to process your claim... I didn't get a check for 6 weeks. Suspended my account because they said I didn't see my doctor every month... Shouldn't have to jump through hoops to get my benefits. Customer service is the worst.

Avoid buying MetLife. Worst customer service ever!! I had a auto accident. Absolute nightmare trying to get my short term disability. People are very rude to my doctor's office. I'm very embarrassed & frustrated. No manager will call you back and help you understand what they need and changes daily when you talk to a different person.

Metlife declined my income protection claim due to not receiving regular medical treatment for my injury. The policy doesn't not state what "regular" treatment is. They have chosen to totally ignore specialist reports that state there is no treatment available including one they themselves commissioned. In a telephone conference they declared regular as being monthly, regardless of whether treatment is available or not. :-( They did however offer to settle for 30k without any claim of responsibility. The total claim is worth 102k. The amount offered was in line with what I had been told by other claimants to expect eg 30% of claim value. Would appear this is standard MetLife policy.

I have never experienced worse customer relations than I have with MetLife. I went for surgery on Nov 16th waited the 7 day waiting period. Today is Jan. 19th & I have not received a check since Dec. 19th. I have called 5 times first on Dec 30 was told my paperwork was received & I should hear something within a day or two. NO return phone call! Called again. Was put through to my claim handler of course no answer. Left a message. NO RETURN PHONE CALL! Called again. Was put through to my claim handler's supervisor & of course no one picked up the phone. Left a message & no return phone call! I have not been paid since December 19th. Today is January 19th. Very unhappy with MetLife!!! Do not know the supervisor's name that never returned my call but my claim handler that never returned my call is Yvette!!! DISSATISFIED BEYOND BELIEF. Lake Luzerne, NY. Forced to check 1 star but didn't want to check any!!!

I was taken out of work for being ill, my physician completed all appropriate paperwork and sent it to the case worker. I placed five calls to the caseworker who still has NEVER returns a call. They have been reviewing the paperwork for two weeks despite being told it would take 5 business days. There is zero compassion for the fact that the inability to financially plan is destroying my health, my credit, my ability to plan and care for my family.
Updated on 05/28/2017: Have been on STD for a period of time due to a chronic debilitating illness that prevents my return to work. At the beginning, MetLife had small issues but was fairly good. Now, it's a nightmare. Recently my claim was held over 6 weeks while they "reviewed" it, saying they were waiting for medical reports. After calling several times, they admitted they hadn't even requested the reports from the doctors in question. I was treated horribly by a case manager and requested a new one in a formal memo, then coincidentally got put thru an additional "independent review" holding up my claim again now for weeks.
They sent me letters demanding responses by a certain date, but the letter was mailed several days after it was typed (I saved the postage metered envelope for proof) and I never even received the demand until two days after the deadline. They set you up to fail, hold up claim payments, and speak to you like garbage. Don't purchase disability for yourself or your employees.

I have patiently waited for MetLife to process my disability claim. I have been out since September due to anxiety, stress, and depression. I am doing everything to get better so I can get back to work. Been with my company for 11 years, but MetLife doesn't care about anything or anyone. Their adjuster never returns my calls (did 1 time) after all the calls I have made to them.
On November 2, 2016, the adjuster with MetLife did call and said she was waiting for records and she would call if anything was needed or any issues arose. On November 16, 2016, I get a letter from that same adjuster stating she couldn't get medical records from my doctor so my claim has been denied. I immediately called the adjuster, but like every time I call her, I get her voicemail. I left a message stating to her that if she would have called me, I would have been happy to assist her with getting what records she needed. I then called my doctor's office and was told they never received any request from MetLife for my records. So my doctor's office called MetLife and finally was able to get MetLife's medical records requests. My doctor's office then sent my records to MetLife on December 2, 2016 once my medical records were available.
I spoke with my doctor office on December 7, 2016 and advised that my employer called stating MetLife is stating they still don't have the medical records they requested. My doctor office states they faxed all records to MetLife on December 2, 2016. I asked my doctor's office to fax them again. My doctor's office records person stated she was faxing the request then with a letter asking that MetLife call myself and my doctor's office to let us know the records were received. Neither of us ever got a call from MetLife.
On December 9, 2016, I called MetLife and asked for a supervisor. I was told they are not able to give the supervisor's phone number to anyone. That is just absurd, I have never heard of anything like this. I asked if they received the records my doctor's office sent. The MetLife representative stated yes, they do have the records and they were received on December 7, 2016. I then requested to speak with a supervisor. I was told the supervisor and the adjuster were in a meeting and there was no one else I could speak with.
This has done nothing but bring my stress levels up and now depression is worse. I have a family and it's almost Christmas. I have yet to get any gifts for my wife or my children. My bills are coming in and I have no idea of how I am going to pay them. I am flat broke now. I haven't been paid since November 2, 2016 and that's the last day of my short term disability ran out. I have dealt with another company (The Standard) before and they were so fast as processing my claim. I don't understand why MetLife makes everything so difficult. It's just a game to them and they want to look good at denying claims.
Also, for those comments I saw on here from the former MetLife employees, please keep your thoughts to yourself. MefLife is a disgraceful and terrible company. They have done nothing but exacerbate my condition. On top of all of this, the medicines my doctor has put me on are making me sick. I am just asking for help. I didn't ask for my doctor to put me out of work and I am not asking for handouts. Just pay what is owed. I am willing to file a class action suit if my claim is not approved by next week. What will it hurt, I've been told if claim isn't approved by next week I am terminated from my job.

After finally getting approved for LTD, after an extended review period, MetLife has failed to either send a random monthly direct deposit payment or, on three occasions, failed to process my 3% COLA. Each time I eventually got my correct payments, albeit late, without interest and after numerous phone calls in which I repeated the same damned information. Last year, a case manager informed me that I didn't return their medical and financial check-in forms. But I never received the forms! How convenient that these forms were lost in the mail in the spring. Not even Christmas season!
Both last year and this year, I received letters stating that my November LTD deposit was to be over $500 LESS than October's, despite the fact that my COLA is scheduled for November 1 and therefore my November deposit was to be $80 MORE. I was promised next-business-day callback after this year's yet unresolved snafu but spoke to two reps the following day (after no callback) who explained that I had to speak to my case manager. They again promised next-day callback and their track record regarding callbacks is hardly reliable.

I was on maternity leave and upon having my daughter I suffered with severe postpartum depression that I was put on meds and it was upped three times. MetLife sent my doctor a booklet to fill out and he did. He also spoke with several people at MetLife. They kept denying my claim and my doctor was so mad. I ended up having my lights cut off and my water. Thankfully a friend up paying my bills. I had to go on public assistance and I'm seeing a counselor due to the postpartum and the stress.

I agree with a lot of the comments posted. MetLife is awful when it comes to Short Term Disability. I am a single parent and have been fighting MetLife since June 2016. It took filing a complaint and writing an appeal letter to get approved after almost two and a half months later. I was approved and then cut off again, only because it was determined by MetLife I am partially disabled and if my job can accommodate me, then I can go back to work. Still waiting on ADAA and I have been without income since September 2016. Recently the comment given by one of MetLife's supervisors was "If you can take care of your child, then you are not disabled and can do your job." Oh REALLY? So now you are an experienced Medical Practitioner, Orthopedic Doctor, Therapist, Neurologist, Etc. and know what I can and cannot do.
MetLife is a joke. I have had back issues all my life and now have other problems with my hips and knees. So adjusting my position while doing continuous sitting in a call center environment is going to benefit me. I do not think so, that is what I was doing before and the reason I have been out on Short Term Disability, because none of that worked and I ended up having more issues. I am in constant pain. Not able to sit or stand long periods at a time and have trouble walking. Another thing how am I suppose to drive and do my job while taking pain medication? None of it makes sense and getting a lawyer would be beneficial. Even with all the stress and aggravation this company has put me through I still managed to quit smoking. Something needs to be done about this company. So many people suffering the consequences, because they have illnesses or injured and cannot get the benefits they paid into.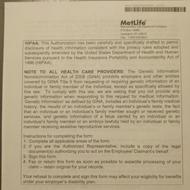 They're literally the most unscrupulous, disgusting, lying, rotten, awful excuses for human beings in the world. They will lie to you repeatedly. They will never approve any sort of claim. They will give you misinformation at every corner possible. They are simply lying to you to make sure you don't receive a penny from them and so that they can force you back to work despite any illness. How these "people" can sleep at night and even kiss their loved ones is beyond me. They have an option to have a job requiring morals and not the lack thereof. They're monsters, they're not humans. Disgusting.

MetLife disability has to be the worse company that works with Verizon. They have no sympathy for you at all then on top of all the information and forms that make you fill out they still think youre lying or it's not enough information. I was out barely three weeks and the case worker Erica ** was the worst person to handle my case and her manager was no better. Constantly asking for more information. Doctor had already filled out paperwork why I was out of work. Claim took over a month and still didn't get approved even after appeal. Nothing was done. No pay for a month. It's like they the rep think they're your doctor or signing your check. They should be disbarred from handling anyone's information. They rude and unprofessional and don't care about anyone well being.

With SO many people, including myself, experiencing the same thing, is there a lawyer who would file a class action lawsuit? Has any filed a complaint with New York Insurance Commission? I want to get paid, and I am SICK of being the little guy dealing with financial chaos because of MetLIFE!

I have never had such trouble filing a claim for short term disability! I am a single mother. One income household. I had surgery and provided all the documentation from my doctor to be off work for 6 weeks and they only approved 2 weeks. This is a horrible thing to put someone through when they are trying to recuperate! Yes I can file and extension with additional paperwork, which I have and who knows how long that will take to process. Why does my doctor need to tell you 2 or 3 times that I need 6 weeks to heal! I would never recommend this company and will be dropping my policy as soon as I return to work!
I have paid my premiums and should be able to use my benefits when I need them!!! Worst experience ever! I have had std claims with other companies and never had an issue. I filled out my 1st set of paperwork, was approved right away and received a check for the full amount right away. I am still waiting on my 2nd weeks check that should have been cut a week ago! This company should be ashamed of what you put people through when they are already in pain trying to heal. No one needs the added stress of worrying about paying their bills when they have insurance for these types of situations! I will definitely let my employer know and hope that they will switch providers!!!

2016 has been a year where every medical condition has come down on me hard. I was diagnosed with severe depression and was asked to take leave by my therapist and PCP Metlife took forever to get the documents and my therapist had to take her own time to fight with them. After 3 Weeks I return to work but was placed on an intermittent fmla claim to help manage the side effects of the depression medications and also the symptoms of depression. This took another 5 letters and countless phone calls to get correct meanwhile worsening my condition. Once I reported I was back to work and off of std they felt it was funny to close my intermittent fmla claim which I fought for 2 weeks to reopen.
A little over a month later I have a bad reaction to a medication increase that took me out of work for a week and a half. This claim was denied stating my Dr never provided paperwork but Metlife never sent it. I finally had to go through Amanda ** a supervisor because they kept saying my case worker Marlene could never reach me. Turns out Marlene had the wrong phone number all along but I only had ONE number but Metlife couldn't tell me where the other number came from. Luckily after a month after the week and a half off Amanda was able to fix the claim. I finally got paid for that time.
September 9th I began to get overwhelming pains in both arms, burning, numbness, soreness. It kept me awake at night for a while but the condition kicked it into high gear where I couldn't tolerate the pain. I took fmla leave as I didn't know what was happening and thought it was a side effect from my many medications and it would pass. My PCP scheduled an emergency nerve study thinking it was either carpal tunnel or nerve pain. The study revealed carpal tunnel worst in my non-dominant hand than in my dominant hand. I called Metlife and filed std. They got my PCP paperwork fine but said it wasn't enough so I forwarded the nerve study and an appointment with an orthopedic surgeon.
Marlene calls me to tell me she has to deny my claim because I took fmla for depression and std for carpal tunnel that I can't have TWO symptoms at once. Are you kidding? I argue with her and become very upset. I've been out of work since September 9th and still haven't gotten any pay, my rent is past due and so are my lights. I had to pay 200 dollars out of my pocket for a nerve study and these people are telling me I can't be sick with two things?
So I am having surgery on both hands October 12th. Metlife still has yet to pay me. Supervisors play phone tag and call you when they want. I contacted a local attorney to see if this would be a workers compensation case since I haven't had issues until working for Verizon. Yes, it is. He also advised me regardless what fmla is for I should be entitled to it by law.
So I am giving Metlife one last chance, waiting on a disability unit supervisor to call me back. If they tell me my claim is denied I am seeking legal action. Reading all the reviews they have no idea the strain they put on already sick people. No compassion. I had to get my therapist to calm me down after the conversation with marlene. She had to make me realize my worth even though Metlife didn't see my worth. So I am a Verizon employee, out of work due to a carpal tunnel injury to both hands on 10 different medications for depression, diabetes, pcos, high blood pressure, and most of all pain and Metlife has my entire medical work up and they STILL deny my claims.
It's sad that Verizon would employ such a disgusting company to handle their employees. Honestly the whole ordeal has me not even sleeping at night anymore and my depression is bad enough to be admitted to a hospital. The government should crack down on Metlife. Why? Because I have 100% considered just applying for full time disability rather than ever have to go through something like this again. Yes, I am willing to give up the job I love and support my family with to never have to deal with a company like Metlife again. This is the pain and sadness they encourage in people.

I have been employed with Verizon for over 9 years. I suffer with depression and in December 2015 I lost my oldest child. I am a single mother and I filed an FMLA claim which was approved through 2017 for up to 2x per week and 2 days per incident. I called my employer and requested FMLA leave recently and then after the 8 day time of being out, I filed for STD to cover the remaining time off. I was hospitalized with my depression and expected to see the first few days on my paycheck as FMLA using what personal time I had left and the remaining time through current as STD leave. I received my paycheck and there was no FMLA coding done and called Verizon to find out about it but was told to check with MetLife.
I sent all the hospital paperwork into MetLife and they called me stating that they will be denying my claim as the 8 days have passed and I explained to them that my employer was to code the first few days as FMLA already approved then STD to cover the remaining time through current. My time card submitted by Verizon was incorrectly coded and MetLife wants to deny my STD claim. I am just recovering from an emotional breakdown and this has me ready to go back to the hospital. I am so upset that I don't know what to do. I have 2.83 in my bank account and I am at the mercy of MetLife and Verizon to protect my children's welfare and to be approved and paid.
I don't know where to turn. In a past STD claim with MetLife, a claim was denied and I sent in my return to work paperwork in from my doctor and was told by MetLife that an employee at Verizon's HR CHANGED the date. I sent an appeal and won it because right is right and wrong is wrong. I suffer from Bipolar and PTSD and have been in therapy for years. I pay disability as a employee and feel that it is always a horrific nightmare dealing with trying to be approved for any type of benefit with Verizon. I just don't know what to do, I am extremely emotionally upset at this point and at the brink of being homeless.

As a physician, it is no surprise that to utter the term insurance company leaves a bitter taste in my mouth; but my experience with the individual MetLife Disability Department has left me nauseated and just sick to my stomach. I bought life and disability insurance from MetLife in March of 2014, because it seemed to be cost effective. Unfortunately, in February 2016, I had to go out on medical leave.
By April 2016, it was apparent that I would not be able to go back to work as soon as anticipated, and on April 27, 2016, I applied for individual disability. Within three weeks, MetLife had received all required documentation including my medical records, and by June 9. 2016, I was informed that there were multiple unanswered questions, and that I would have a 2-week window - I responded on June 21, 2016. Since then, I have kept in touch with my IDI Claims representative, and was told that due to the complicated nature of my case, there was a seven member team assessing my claim, as whether to rescind the policy and return my premiums, or grant me the conditions of my policy.
Would you believe that as of today, September 4, 2016, no decision has been made and I have been told that this team cannot meet before September 12-13 2016 (via telephone conference), due to other engagements i.e. vacation. Yes, you heard me right! Imagine being ill and on medical leave for more than 6 months, applying for disability over 4 month ago, responding to all questions over 2 months ago, being depleted of ALL financial resources with expenses including a mortgage, and two children (one of whom is already in college), and you are being told that your temporary means of financial support is not a priority.
Furthermore, I am returning to work (at reduced hours), and will receive my first pay check from my employer before a decision is being made by MetLife! For many who are temporarily or permanently disabled, we seek to have some degree of medical and financial normalcy, but MetLife shatters this with its lack of consideration and respect, in this intentionally delayed process. To my IDI claims representative - T.S, Claims Manager - A.W, Director of IDI Claims Dept - J.D., the Assistant Vice President - J.M, as well as your executive board, I only have one hope: that for every person that has suffered at your hands, that each of you have a sleepless terror-filled night; and judging from your negative claims review, you would become Full-Time Insomniacs!

I went out for Short Term disability for Late Lyme Disease in January of this year for only 10 days. It was directly after my dialysis for 30 days of **. I should have and could have been out much longer but because of the workplace pressure of Verizon, I was made to feel guilty for taking time off. That's only the first bad part. When I get in contact with MetLife I spoke to two different departments, FMLA which these people were nice as can be (understandably because you are not paid with FMLA time off). As soon as I talked to short term disability it began the saga of an awful experience and a fear of ever going out on short term again.
These people denied my claim almost immediately because the STD claim wasn't filed at the same time as FMLA. Wtf don't your two departments talk to each other? Also the case worker was rude and dismissive to many of the things I had to say. It didn't take a genius to see, hear, and feel their agenda of finding ways to deny your claim. First time I dealt with a company that I felt true evil. Sick people to do that to people that pay into this coverage and truly need help as I was suffering from depression, anxiety as well as other debilitating joint pain and nerve pain.

I purchased LTD 15 years ago and recently have had to use it. I am diabetic and suffer from diabetic neuropathy and arthritis. This disease has taken my mobility and most of my usable vision. I am type 1 diabetic. I have never seen a company try to wiggle out of honoring the contract that they sold me 15 years ago. It seems to be a game of lawyers and not a protection contract against a health issue.
They have a round table of sorts that determine if you are disabled for the first 2 years from performing your current job and then after that it switches to any job! What a load of **! That is not what I purchased 15 years ago. They change the rules in the middle of the game! I could hire a lawyer and give away 50% of the money I should receive. I can really see how that is fair! Not! I guess I could go back to school and become a lawyer and screw everyone legally! It is sad that the country that my parents and grandparents built has gone to **! To the point, eat ** MetLife and I hope and pray you go bankrupt and your staff gets some horrific disease that prevents you from working and collecting! **!

I recently went out on FMLA and Short Term Disability leave for 6 weeks. I was assured that these would run concurrently and all I needed to do was have my doctor ensure that all requested information was transmitted. Metlife took less than 10 days to deny payment of my short term disability after receiving only one week's worth of office notes from my doctor. Not only did they not request behavioral assessments from my doctor, they also grossly misclassified my child's suicide attempts and 3 separate inpatient hospitalizations as "behavioral issues." The only thing that has even remotely kept me afloat is a tuition reimbursement I received with my last paycheck. After researching them further, I found countless stories from other consumers. How shameful that an organization is fueled purely by greed and not their responsibility to help those in need; those who have paid for this coverage!
My company pays for short term disability 100%, but Metlife just has to ensure their bonus structures are not impacted. God forbid their executives and managers receive less of a bonus for paying on a 6-week claim for a single mother of two. Insurance companies are a major issue in this country. Organizations such as these have a God complex. If this coverage is paid for and a doctor states that an individual is unable to work while seeking treatment, they should validate and approve these claims immediately. They already receive their payment so who are they to be so greedy. Here's a thought Metlife execs; take less expensive vacations and downsize your lifestyles to align with the average, middle class American, or maybe make an honest living instead of hoarding payments due to hardworking consumers.
I would understand if I had ever taken a leave of absence in my 16+ years in the workforce or even abused any such benefits previously, but that is not the case in my situation. I am currently in the appeals process, which could take 45 days. Guess what? I'll be back at work before I ever even see any of this money. So now my concern is how I will buy groceries or pay my basic utilities. It's already not as though I live beyond my means, but I do require income to keep the lights, food on the table and gas in my vehicle so I can drive to and from work.
Thanks for nothing but added duress during an already extremely stressful and difficult time Metlife. Your practices and "clinical assessments" are disgusting and even sickening. My guess is that your preference would be for someone to completely lose their proverbial marbles and suffer a mental breakdown before they are deemed worthy of any short-term disability payments from your organization. Here's to reaping what has been sewn Metlife!

I was on IBM short-term disability from Dec 2015 - May 2016 until my benefits under the IBM Short Term Disability plan were exhausted. I applied for Long Term Disability benefits with MetLife at the recommended time and it took them 5 weeks past when my STD ran out to deny my LTD claim. My doctor is a board certified orthopedic surgeon, a certified examiner of disability and impairment ratings, certified independent medical examiner, American Academy of Disability Evaluating Physicians (AADEP), board of directors AADEP, president of AADEP 2010-2011, chairman of the AADEP board 2011-2012.
Both my doctor and IBM management agree that I am unable to return to my regular job at IBM due to my illness and injury and that my condition has not improved since the time I first went on Short-Term Disability and has indeed worsened. MetLife has determined I am not disabled and according to the plan this means I am able to return to my regular job at IBM. I am on unpaid leave of absence and therefore my family has no income and I am having to pay for IBM medical and life insurance benefits and all other living expenses from my savings.
I believe MetLife is trying to wait me out until my circumstances become desperate and my life is ruined. How is it I was disabled from Dec 2015 - May 2016 when without any improvement in my medical situation I suddenly became ready to resume my regular job at IBM in July? I requested a different case manager at MetLife when I first applied for LTD and they refused. I believe this case manager has had it out for me since I first submitted my claim with MetLife. I hope someone at IBM would help me and find out why MetLife is treating me this manner.
I don't even know how I will pay my son's college tuition for the fall and he may have to drop out of college. I had the same MetLife Medical reviewer, a Puja something that was mentioned elsewhere on this site and a case manager Tammy ** who I shouldn't comment further on since I would violate the site policy. In my opinion MetLife is a dishonest and corrupt insurance corporation that profits from cheating the sick and injured. If you are with MetLife you think you have disability insurance until you try to use it.

I've been on Long-Term Disability since 2009 through Aetna, who just last year, changed their disability administrator to Cigna; and this year, to Metlife. Each year since regaining LTD in 2010, I've been subjected to a 'review' once a year to be sure I'm really disabled. I have Lyme, co infections, demyelinating disorder - to name a few; and now Lupus on top of it, as the Lyme went undiagnosed and untreated for years, leaving lots of time for medical complications.
This year's came just six months after Cigna conducted their last 'review' and this year Metlife has come up with some crackerjack - box doctor by the name of Puja ** who has never seen me and I have never heard of in my life to refute medical evidence of disability from my four current treating doctors. This after subjecting me to pages-long 'updates' from said 4 doctors, which I had to get to each doctor while battling pneumonia so bad it sent me to the hospital.
Now, I find out that Metlife faxed my doctors a document to respond to, but only gave them a week to do it, with proof of their opinions - and they didn't bother to tell me this until one day before the deadline, so there was no way for me to chivy my doctors into sending said documentation; or even explain what it was and how they were expected to respond! As a result, half my doctors couldn't respond before the deadline, so now Metlife can "decide" I'm not disabled and go with the crackerjack box doctor's assessment...
Real nice tactics, Metlife - very classy and they claimed to be 'helping' me... Yeah, right. Metlife can go suck a bag of **! They're just as bad as Aetna, who pulled the same dirty tricks in 2009. It took 2.5 years of legal wrangling to get the LTD back and it almost went to court but I guess that's what happens when money is your only bottom line. Don't bother getting any kind of insurance through these jokers - all they care about is money.

I had a planned surgery and began my paperwork 3 weeks before I was to be out of the office. I provided the consent to release information to my doctor and was told I would get a call 2 to 10 days after surgery. I did not receive a call and neither did the doctor. I received a letter in the mail that my claim was denied. I had no other communication from MetLife, however, they said they called me for an interview. I completed the interview on the phone and then received a phone call from my employer saying I had been denied because they said they didn't receive medical information from the doctor. MetLife did not ever contact me with a letter or call.
I called the doctor and they pulled the phone logs and showed no phone calls from MetLife. With a series of phone calls, I fixed this error and got the information to MetLife. However, it was past the payment processing deadline and I did not receive my paycheck from work. (The payments are apparently sent to Molex, and then they pay me.) I started my part and complied at every turn. Every communication I received was always after the fact, and I spent many hours fixing it. At a time when I have added expenses from medical bills, I do not need to miss a paycheck. There is obviously some breakdown in how they process the claims and it is unacceptable to deny a claim after the fact without communicating issues.

Matthew BrodskyInsurance Contributing Editor
Matthew Brodsky is an established expert on insurance, having written hundreds of articles and other pieces of content on the subject, interviewed countless practitioners, and attended dozens of conferences and events. He served as an editor at industry magazine Risk & Insurance for six years. More about Matthew→

MetLife is a well-known insurance company that has become famous for its commercials using characters from the "Peanuts" comic strip. It offers a variety of insurances, including disability insurance.
Offers real life stories on its website: Users can watch videos featuring people who became disabled so that they can learn more about disability insurance.
FAQ and tips online: MetLife offers a FAQ section and tips for dealing with disability insurance on its website.
Offers individual supplements: Consumers can purchase the exact insurance they need rather than depending on an employer-offered insurance plan.
Offers both short- and long-term insurance: People who are disabled for a long period of time don't have to worry about their benefits running out.
Online calculator helps people figure out their insurance needs: MetLife's online calculator predicts how much insurance people will need if they become disabled for various periods of time.
Best for People with chronic conditions, people who have been injured and people recovering from surgery.
Compare Disability Insurance
MetLife Disability Insurance Company Profile
Company Name:

MetLife

Year Founded:

1863

Address:

1095 Avenue of the Americas

City:

New York

State/Province:

NY

Postal Code:

10036

Country:

United States

Website:

http://www.metlife.com/