Assurant
Assurant Solutions helps protect the things that are important to you, like your vehicles, appliances, expensive electronics and your financial security. We have been in the protection business for a very long time, but throughout the decades our mission remains the same. To bring value to the clients we serve and peace of mind to consumers when they need it most.
Consumer Complaints and Reviews

Assurant, after MANY, MANY calls to get my claim resolved, continues to tell me that my claim is being rejected because they don't have my IMEI number. Hello, it is on the back of my iPhone 7 Plus box that YOU say you have a picture of and that I sent to you 3 different pictures and angles, and I have told you numerous times is right on the picture that you say you have. I have sent them HIGH DEF pics of EVERYTHING they need. Now they say they can't read the number because it's blurry. Per their request, I sent it to my own email AND my finances email and even SHE can see it plain as day. OMG these people are killing me. I am going to be extremely upset if I keep getting the run around and don't get my refund. I paid my insurance. I want my check. Crazy, even this Louis guy who was so nice said he was putting it thru because he said he had what they needed two days ago. T-Mobile or Assurant, please resolve this.

I purchased two phones from Gazelle and Assurant policies for them through Gazelle's website back in October (6th and 13th). I had to return them (wrong phone/defective) and got my money back from Gazelle - no problem. Assurant, however, assured me that they would send me checks and they would arrive at about 14 business days. It is now almost DECEMBER and I still haven't received my refunds! I keep calling and they said they are reaching out to accounting and that they will try to call me back. I've heard them say this multiple times with NO call backs. DO NOT BUY FROM THESE SCAM ARTISTS! They do NOT intend to EVER refund you for anything!
In fact, I am on the phone with them again right now being told that they cannot determine if a check had been issued and they are trying to contact the appropriate dept. to see if a check was ever issued. They keep telling me I must have thrown the check away or my address is incorrect (even though I have verified the correct address countless time)! Now they want to reach out to "data entry" and "get them involved" before they can issue a check. These people take your money and then tell you it must be a mistake on your part. DO NOT EVER BUY ANYTHING FROM THESE PEOPLE EVER!

After the birth of my daughter I was disabled for a while. I attempted to activate my insurance that I had been paying for and they kept turning me down. My physician had even filled out all the required paperwork and yet I was still turned down. I wish I would have never purchased this scam. Because that is all it is, is a scam. Do not waste any money on this company, they will never do what they say they would when you first sign up!

Had 2 Work Station MacBook Pros stolen from Apt as I was getting ready to ship. Ran up to the post office to grab the materials, nice summer day, windows all open and door unlocked. Small town in IL. Came back, not even 15 mins later. The boxes, the computers all gone from my bed where I had placed them. Neighbor thought they saw someone go in, but thought it was me. Cops weren't able to help, happened in broad daylight. Passed over the information about the computers, 15 inch retina display maxed specs for rendering stations, still technically new in box. They were back ups, if my primary failed. Never been turned on for more than 2 hours. Gave receipts and costs ranges and old repair costs receipts from Apple with Serial numbers and everything. Apple locked the systems so the person who stole them, got nice paperweights.
Assurant tried to claim that since they were older, they depreciated over 90%. They offered me ~$470 for BOTH as the stolen payoff. I explained to her that Apple computer systems are not PC's, they don't depreciated/ While I spent $3,500 A PIECE brand new, even refurbished during that time, I could get the same systems for 2,800. The Rep tried to bully me into saying yes and agreeing to the payment. I even said that I needed to talk to my wife about what she was offering and to technically see what I had in savings to see if I could replace them out of pocket, since the insurance I have been paying for (6 years with no claims) was refusing to pay. The REP would NOT let me hang up the phone and literally kept saying that they will deny it if I was to hang up and not agree to the terms. I refused.
Called my lawyer, then contacted the Insurance Bureau for the state. After giving them all the serial numbers and information with Apple invoices of the same products as "refurbished" and getting a professional contact input about "computer depreciation" I got the money to replace the systems. Don't fall for Bully tactics. If they say you have to do something, you laugh and say, no. Be sure to file any complaints to the State Insurance Controller Body. Assurant or (insurance company of Florida) has well over 13,000 complaints in the State of IL alone.

Today 11/21/16 I called Assurant to make a claim because the screen on my phone started freezing. After filing the claim I was told I was not approved. Why? 2 claims per 12 months I was told. Okay. I had a claim 11/1/15 and 6/4/16 but it's been 12 months since the first claim so I do qualify. Yes but No. Here's the loophole that led to the dead end and a now non-functional phone even though I paid Assurant faithfully for over 5 years. While speaking to the rep I was asked when the damaged occurred? I replied my phone sustained a small crack around 9/19/16 but has been fully operable until today. So to railroad me the rep put 9/19/16 as the claim date instead of 11/21/16 (actually claim date) which put me over the limit for claims.
Honestly had I known they would scam me I would have never mention September because it was irrelevant to what I was experiencing in November, but not for Assurant. It was a loophole to not take care of a loyal customer. I spoke to several reps and supervisors over a 2 1/2 - 3 hour period. Every call and transfer led to a dead end. I'm sorely displeased, disappointed and feel cheated by an insurance company I once trusted to secure my personal property. Very frustrating and hurtful situation.
How do I know I can trust these reviews about Assurant Solutions?
638,664 reviews on ConsumerAffairs are verified.
We require contact information to ensure our reviewers are real.
We use intelligent software that helps us maintain the integrity of reviews.
Our moderators read all reviews to verify quality and helpfulness.
For more information about reviews on ConsumerAffairs.com please visit our FAQ.

So when I got my Visa credit card I figured some unemployment insurance would be a good idea due to working in the oil industry. Well I forgot about the insurance (60$ a month) and after a few years (5-6) I got laid off from the oil industry. Then visa said I have insurance to help cover any payments that were outstanding. Well I got disapproved. Total waste of money. DO NOT go with this company at all. I wasted around 5,000$ + over the years on this, which is almost 3x more than my credit card debt.

I recently filed a claim to have my cell phone replaced. The company charges $175 a month to replace you your phone and to send back a refurbished phone. You also have to pay $12 a month to T-Mobile for this sorry insurance. After filing my claim, I am told it will be 3-5 days before I can receive my replacement phone. The money was taken out of my account immediately. I don't understand why the process is so long to receive a replacement phone.
After I receive my phone I am cancelling the insurance and will take my chances with going to the Apple store to get my phone fixed or replace. I think it is ridiculous that a company that supplies insurance for all the major cell phone companies would make a customer wait 3-5 days or longer to receive a replacement phone. T-Mobile advertises that with the insurance you will receive a replacement phone within 24 hours. This is so NOT true. Assurant deserves zero stars, but since I have to give at least 1 star that is what they will get.

Assurant insurance, is a shameless organization. Some of my appliances are insured by Assurant. My washing machine needed a repair (As of 10/1/16). The repair turned out to be "expensive" ($400). Assurant is using any and every excuse of not covering the repair, Including asking for proof of purchase for a machine that is 8 years old, calming - some parts of the machine should be under factory warranty. I called the manufacture (LG), given the machine serial number I was told that the factory warranty is good for 7 years only. After dozen of phone call, I gave up on Assurant. Assurance is a scam organization.

We sell GE appliances. Many of our customers are receiving letters from Assurant -- under what appears to be an official G.E. letterhead -- telling them that their appliance is out of warranty. This generally happens within 60 - 90 days of a customer registering an appliance with GE. When the customer registers the appliance, the installation date is on the registration card. Without exception, Assurant shows the date of manufacture of the appliance as the date the warranty began on the appliance. This is misleading to the end user because their actual warranty begins upon installation of the appliance. This has at times caused chaos in our business, and much grief among some of our mostly elderly customers. In one event, I composed and the customer mailed a certified letter requesting that Assurant cease and desist from contacting her any further. She has since received two more letters from Assurant.

Just had a horrible interaction with LG and the extended warranty provider, "Assurant Solutions". We purchased a $303 service plan when our washer needed repair. The plan states that if they deem the repair "not cost effective" they will refund our money, less $100 for the initial diagnosis. When we weren't hearing from anyone after the diagnosis, I had to call around like a crazy person trying to get answers and found out (not easily) the extended warranty provider had denied our claim.
I simply wanted to know why no one had called to let me know our claim had been denied and when we would be refunded our $203. I was met with hostility, vague answers, and a major lack of concern for the money and time I had wasted. We will NEVER buy LG products again and will tell everyone we know our story. We will also have our ears perked for any companies involved with Assurant Solutions and also tell everyone we know to steer clear of them. Horrible, horrible, horrible.

Federal Warranty Service Corporation, Assurant Solutions is A TOTAL RIP OFF. After paying monthly payments for more than four years on a service contract for a Samsung TV I was only refunded less than $200 once discovered the part to repair this TV was no longer available. I will no longer depend on or purchase a service contract with these companies again or better yet just never purchase a service contract.

All in we pay $30 a month to get this insurance for our 3 family phones. A couple of years ago I broke a phone and was able to file the claim through T-Mobile but recently my son broke his phone and now found out we have to file directly with Assurant. We have filed the claim 5 times over the last 5 weeks and they still have not approved it. Every time I talk with them they say it'll be a approved in 24 hours but hey, guess what, it isn't... again. I just spoke with them and got the same answer. What a racket!!! Five weeks and still no replacement phone on a valid insurance policy we've been paying in to for 3 years. At one point a representative told me it's not covered because it's a Samsung phone, yet we've never owned anything but iPhones. Ridiculous but try convincing a representative who is insisting you have a Samsung. I'm canceling this as soon as we can get the new phone - if we ever do.

I was denied insurance on my phones because I did an upgrade or a JUMP with Tmobile. Basically they told me am screwed, nothing they can do but pay for the entire phone. So after speaking with 2 manager in the period of 30 days. After my insurance that Tmobile provided they denied it twice and needed to pay Tmobile $250 to take the phone or pay the phone in full. I have tough of closing the entire account, but every time I try the person on the line speak too much and is an unconformable conversation.

We had a phone stolen by a store employee while it was charging. Security video revealed the employee who had taken the phone. The phone was taken while we were vacationing out of state and it took 3 weeks to work with the store manager, have the manager retrieve the phone and mail to us. I contacted Assurant after I had possession of the phone and they told me that I could keep my phone that was stolen, return the replacement phone, and they would credit back the $175.00 deductible. I tried to connect my phone to the network but it would not connect, then contacted Tmobile and they informed me that Assurant had blocked the network signal for the phone.
I called Assurant back and was told the complete reverse - could not use the recovered phone, no deductible refund and I must return the phone I recovered, due to their 14-day return policy. On top of all of this, the replacement phone originally sent failed on the day I called Assurant, so the used phone functioned for less than 30 days. I requested a conversation with an Assurant supervisor in their worthless call center, the first one listened to my issue and then promptly
hung up on me, the second supervisor I talked to listened but just recited the policy.
This company has no conscious and should not be in business. The employees do not use common sense and do not understand they are PAID by customers. I have canceled my insurance and will NEVER use them again and by the way Assurant is a subsidiary of Bankers Life of Florida. I attempted to contact Bankers Life and was told a management person would call me back. Guess what, no callback. I have filed a complaint with the Department of Insurance, if for no other reason to increase the company's complaint count.

Has been denied repair for outside rust on the washer. Washer is working fine just the leak. Also has been fixed twice before. I did asked for second opinion. Has denied by Mr. **. PS: Insurance company's always looking for an excuse not to pay. This is one of them.

This company has gotten so bad in the last few years. In May my son dropped his phone and cracked the screen. I called Assurant to file a claim. I waited several days for them to send me the shipping label to send the phone to them. In the meantime I went to the Apple store to see if it could be repaired faster and cheaper than Assurant. Unfortunately I somehow lost the phone somewhere between Apple and home. I called Assurant to advise them that the phone currently with a damage claim had been lost. We proceeded with a loss claim that apparently never went into their computer system. They maintain that the phone claim was for damage even though they have the form that I filled out stating the phone had been lost.
Now 4 months later I am being billed $450 for a lost phone that I did not ship to them. Even though they had a copy of the paperwork stating it had been lost literally in their hands. They read it back to me. They then informed me that it is MY responsibility to file the claim correctly. I have no access to their computers so how would I know if it had been filed correctly? I did my part by calling them to initiate the claim. Calling back to advise them of the change in status, filling out their paperwork and paying the deductible. I am thoroughly disgusted with this company and their sad excuse for employees.

It has been 10 days now since a tree fell on my house. They still cannot tell me anything except that it sometimes takes them 30 days to do a claim. Meanwhile there is still a tree on my house and car and despite the fact that I pay for top notch coverage I am getting absolutely nothing. Garbage company. Go somewhere else.

Lost a phone and I went to Assurant online to file a claim on a Tuesday and on Friday I checked up on the claim. Apparently it was denied and I was not emailed, called, or texted. I put the wrong model which I agree with and understand why it was denied. But the fact that I had to look up the claim to find this out is what really grinds my gears. If I hadn't checked up on it today I would have to waste another day or two waiting for the phone. Now it's in a 24 hour review process so I will be getting my phone on TUESDAY. I would give this company a 4 or 5 since I've filed a few claims and the phones come very quickly. If you're going to file a claim make sure you speak to a representative. Do not do it online.

My T-Mobile iPhone 6s phone was damaged on 9/17 and I submitted the claim online the next day. It has now been two full weeks and I have not received a replacement phone. I have called the customer service line multiple times to follow up. They claim that someone in a different state made a lost/stolen claim on my phone on the same day and now they have to do a fraud investigation that could take up to 10 business days. Every time I call I'm told 24-48 hours my phone will be in the mail and when I call back again it's another 10 days. I am very unhappy with this service. I pay every month for insurance and have to wait a ridiculous amount of time and still no clear answer on when I can expect a new phone.

I replaced my assurant health ins with obamacare marketplace ins in jan 2016 and assurant did not cancel my plan and continued drafting my account. After we notified them later of the mistakes they gave back 1 month's premium and the premium they drafted after that but not back to my effective date of my replacing company. They owe me over $1500 and the department of insurance can do nothing about it, they suggested I get a lawyer. Beware assurant health customers.

They have one repair person covering the SF Bay Area so when he was sick I had to wait 2 1/2 weeks for the motor to be replaced last time. Now it broke again and I will wait 5 days for the person to come out. I am 70 years old and live up 2 flights of stairs, it is hard to go to the laundromat with my laundry but it doesn't matter, I have no choice.

I called Assurant who is the insurance provider for T-mobile??? on Tuesday, Sept 20th to have my iPhone 6 Plus replaced because my screen was extremely cracked and went black (could not use at all) because when I processed the claim online it mentioned that my claim could not complete without having to speak with me over the phone... Okay so that was the first thing that pissed me off because I didn't have another phone with me at the time to make an outbound call so not only did I have to wait a few hours to place the call but then they said they NEEDED the IMEI number which I had already advised the rep I can't provide that info beside my screen went completely out on me.
So she tells me to call T-Mobile and they can provide me with that info which I'm thinking is absurd since they work together right??? I then call back & provide that information and she tells me that she had everything she needed, that I'll have an answer whether claim was approved or not. Two days went by and nothing so I decided to call AGAIN and I get another robotic rep on the phone who does the exact same thing the previous rep did but actually got it done, which I was so confused as to why it took that long when it only takes 24 hours.
Smh, so strike three my phone arrives and it's in a raggedy box and it's the WRONG COLOR. I'm furious. I had already waited 3 extra days and it's not the exact phone I had, I immediately call and all I get is "well that's a cosmetic issue, we just send out a working phone." So you're telling me that not only do I have to pay a $175 deductible but I don't get to an exact replacement of the phone I had already paid $800 for plus the $12/month for the insurance that I've had for two years???
Needless to say I immediately disconnected my equipment protection with T-Mobile and I'm definitely switching to Verizon who offers better plans and coverage. Highly dissatisfied with Assurant and only gave it a star because I had to rate it. Did not go through all this extra BS with AT&T but then again I was covered by Asurion who delivered my phone in less than 24 hours but had some respect for their customers to send the exact phone and color with new accessories and an iPhone box unlike Assurant. Will never do business with them again, don't be fooled by their "great reviews" on their page, they're probably paid actors.

In last five years I claimed 3 times. Each time I paid $175. I think I am only one in this form who is giving Two star. Rest of all people given 1 star. Two star because they have at least a system to exchange broken phone with new phone. Problem with Assurant company is that they treat everyone same way. If you will lost your phone or broke your phone then each time they will charge $175. Every month we pay $7-$13 for insurance. If phone is broken then they must have to charge less than lost phone. They take back the broken screen phone. Therefore if someone claim for lost phone then he feel somewhat better than if someone claim for broken screen phone. Because in less than $175 we can change the screen from repair shop. Overall it is not worthy insurance.

My Son broke his brand new Galaxy Note 5 (fighting with his sister). We made him work to pay the 200.00 it cost to replace it, this took a few months and he went without using the phone. We finally went to make the claim to have the phone replaced and we were informed that because the phone has not been used in 90 days it is not covered! I didn't realize the insurance stopped with non-use because I continued to pay for the plan. I am going to drop all of the Jump Insurance on our phones and pick up SquareTrade. If we lose it, it will not be covered under squaretrade but at least I know what I am paying for!

If I could rate them 0 I would! I have T-Mobile and my iPhone 6s Rose Gold was stolen so I filed a claim and I had to pay the 175 deductible for my ROSE GOLD IPHONE. 3 DAYS LATER I receive a GOLD iPhone. The shipment paper said Pink iPhone not GOLD. I'm extremely upset and I call Assurant and they tell me that they are not liable. So you're telling me I'm paying insurance for a ROSE GOLD IPHONE for no ** reason because they're going to send me whatever the ** THEY WANT?!! HORRIBLE.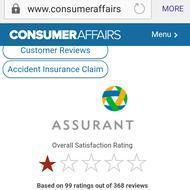 To my friends and family. These 2 companies are the worse you can deal with. No matter how much you pay for phone insurance they find a way to screw you over. First of all T-Mobile has the worst reception ever and when I lost my phone Assurant Insurance tried giving me bull excuses why it won't cover. Be careful. They will just screw you over. I paid a good amount for insurance and these is what they come out with. They just keep giving me the runaround. To call T-Mobile then call us back.

My iPhone was tossed in to the toilet by my toddler yesterday. After initial shock I was happy we have insurance through T-Mobile so I ran over there as soon as possible. I knew this was going to be a headache once the T-Mobile guy doesn't actually handle the claim himself. He just had my dial the same old 1-800 number and had to wait and wait. Once I got someone on the phone to file a claim the gentleman which I could tell probably did not even graduate HS, took my CC number and promised I would receive my phone in 2 business days. Well 2 business days falls on a Saturday. I asked him about 5 times if we was sure it would be delivered on a Saturday then "yes ma'am" he repeated.
I checked numerous times today on the status and nothing was changing. I finally sent a note to customer service and they informed me they were missing two important pieces of info. OK? So why didn't the guy on the phone yesterday ask me for this or someone call me this morning to get that info to send my phone out? I finally called to see what was going on and was told it showed that I still owed payment and the phone will definitely not be mailed out today. I then got a manager on the phone who just apologized and reiterated that they don't delivered on Saturdays. These people are poorly trained, slow, deceiving. I can't believe T-Mobile uses this company to make their customers satisfied. I told Assurant to cancel my claim. I drove over to Apple and bought a refurbished phone for $100 more than my deductible. It was worth the $100 so I didn't have to deal with these lowlifes at Assurant Solutions.

Called Assurant to file a claim on my Note 5 phone that broke. Did everything I needed to do to have the claim accepted and shipped to receive by next day which would be Friday. Well the rep filled in a date because my son wasn't sure when the phone was broken and then emailed a form for me to sign since I'm the account holder. Well the rep had put the wrong phone on the form and we didn't catch it 'til after it was faxed. My son immediately and now we're on our second rep. She said, "I'm sorry we can't change anything. We need to start a whole new claim." Take note this fiasco started at 840am. We asked to speak to a supervisor and we were given yet another rep, 3rd one. They said they couldn't change anything and the call supposedly was dropped.
My son called again, now on rep number 4. He said he could transfer the claim form to the new correct claim and saw no problem with the phone claim processing and my son getting his phone Friday. OK so we think we're in the clear now since we had been on the phone since 840am 'til 150pm. Needless to say the claim didn't get processed and come Friday morning I'm on a conference call with T-Mobile and Assurant. It had to go to a supervisor who I told that he will rectify the situation before we ended the call. He finally got the claim processed and the phone shipped today, Friday but won't be delivered 'til Monday due to their neglect. This is unacceptable customer service...

I filed a claim on Thursday, made the payment, got confirmation and said I'd have my phone next day. Saturday comes around and still not phone. I called them and they said the payment didn't go through. I told them to run it again on the same card and went through with no problem like the first time. I asked why no one called me and they just apologized and said I'd have my phone on Wednesday. I told them the importance of having it by Tuesday since Monday was a holiday. I asked the representative, Stephanie at extension ** to have Supervisor call me on my husband's phone that day and said she would.
I wanted them to tell me what they're going to do so I have my phone on Tuesday since it's my business phone and need it ASAP. No call, and my claim looks like it was processed but the phone still won't be here until Wednesday. I've been with T-Mobile for 20 years and this company gives them a bad reputation. My next complaint is with T-Mobile and I will make sure all my friends and family I had switch to T-Mobile knows about this pathetic insurance company. If there was a negative rating then this company would definitely get it!

I've recently lost my iPhone that I got when I joined T-Mobile. When you start leasing a new phone T-Mobile automatically signs you up for their partnering insurer, Assurant Solutions which I've been charged $10.00 monthly for. After I lost my phone I've been given Assurant's phone number at T-Mobile store and instructed to file a claim through them which I did. I got a refurbished device from them that turned out to be unusable. The touch screen isn't responsive to touch, power on button doesn't work, the phone keeps taking pictures and has time flashing at all times. T-Mobile initiated a warranty exchange for the unusable device that the insurance they provide their customers with sent me. The experience was a nightmare and I'm dreading getting another refurbished device.

Joseph BurnsHealth Insurance Contributing Editor
An independent journalist, Joseph Burns is the health insurance topic leader for the Association of Health Care Journalists and contributes to AHCJ's Covering Health blog. He has also written about health policy and the business of health care for a wide variety of publications, including Healthcare Finance News, Hospitals & Health Networks, Managed Care magazine, Ophthalmology Management, TaxACT.com, and The Dark Report. More about Joseph→

Assurant has been offering a variety of insurance plans, including health insurance, for the last 100 years. It was named one of Forbes' 50 Most Trustworthy Companies for 2014.
Many short-term plans: Students and people who need insurance temporarily while waiting for employer insurance to kick in can take advantage of short-term plans.
Offers critical illness insurance to help pay bills: Consumers who are temporarily disabled by illness can get cash benefits from Assurant.
Easy to add dental coverage: Consumers can easily get full coverage for their oral health needs.
Low-cost plans: Although Assurant offers low-cost plans, the coverage on these isn't as good, and consumers who use them end up paying high deductibles.
Coverage: Assurant does not currently offer vision coverage.
Best for Students, senior citizens, employees
Company Name:

Assurant Solutions

Company Type:

Public

Ticker Symbol:

AIZ

Formerly Named:

Assurant Group

Address:

260 Interstate North Circle SE

City:

Atlanta

State/Province:

GA

Postal Code:

30030

Country:

United States

Website:

http://www.assurantsolutions.com/