Assurant
Assurant Solutions helps protect the things that are important to you, like your vehicles, appliances, expensive electronics and your financial security. We have been in the protection business for a very long time, but throughout the decades our mission remains the same. To bring value to the clients we serve and peace of mind to consumers when they need it most.
Consumer Complaints and Reviews

We had a phone stolen by a store employee while it was charging. Security video revealed the employee who had taken the phone. The phone was taken while we were vacationing out of state and it took 3 weeks to work with the store manager, have the manager retrieve the phone and mail to us. I contacted Assurant after I had possession of the phone and they told me that I could keep my phone that was stolen, return the replacement phone, and they would credit back the $175.00 deductible. I tried to connect my phone to the network but it would not connect, then contacted Tmobile and they informed me that Assurant had blocked the network signal for the phone.
I called Assurant back and was told the complete reverse - could not use the recovered phone, no deductible refund and I must return the phone I recovered, due to their 14-day return policy. On top of all of this, the replacement phone originally sent failed on the day I called Assurant, so the used phone functioned for less than 30 days. I requested a conversation with an Assurant supervisor in their worthless call center, the first one listened to my issue and then promptly
hung up on me, the second supervisor I talked to listened but just recited the policy.
This company has no conscious and should not be in business. The employees do not use common sense and do not understand they are PAID by customers. I have canceled my insurance and will NEVER use them again and by the way Assurant is a subsidiary of Bankers Life of Florida. I attempted to contact Bankers Life and was told a management person would call me back. Guess what, no callback. I have filed a complaint with the Department of Insurance, if for no other reason to increase the company's complaint count.

Has been denied repair for outside rust on the washer. Washer is working fine just the leak. Also has been fixed twice before. I did asked for second opinion. Has denied by Mr. **. PS: Insurance company's always looking for an excuse not to pay. This is one of them.

This company has gotten so bad in the last few years. In May my son dropped his phone and cracked the screen. I called Assurant to file a claim. I waited several days for them to send me the shipping label to send the phone to them. In the meantime I went to the Apple store to see if it could be repaired faster and cheaper than Assurant. Unfortunately I somehow lost the phone somewhere between Apple and home. I called Assurant to advise them that the phone currently with a damage claim had been lost. We proceeded with a loss claim that apparently never went into their computer system. They maintain that the phone claim was for damage even though they have the form that I filled out stating the phone had been lost.
Now 4 months later I am being billed $450 for a lost phone that I did not ship to them. Even though they had a copy of the paperwork stating it had been lost literally in their hands. They read it back to me. They then informed me that it is MY responsibility to file the claim correctly. I have no access to their computers so how would I know if it had been filed correctly? I did my part by calling them to initiate the claim. Calling back to advise them of the change in status, filling out their paperwork and paying the deductible. I am thoroughly disgusted with this company and their sad excuse for employees.

Lost a phone and I went to Assurant online to file a claim on a Tuesday and on Friday I checked up on the claim. Apparently it was denied and I was not emailed, called, or texted. I put the wrong model which I agree with and understand why it was denied. But the fact that I had to look up the claim to find this out is what really grinds my gears. If I hadn't checked up on it today I would have to waste another day or two waiting for the phone. Now it's in a 24 hour review process so I will be getting my phone on TUESDAY. I would give this company a 4 or 5 since I've filed a few claims and the phones come very quickly. If you're going to file a claim make sure you speak to a representative. Do not do it online.

My T-Mobile iPhone 6s phone was damaged on 9/17 and I submitted the claim online the next day. It has now been two full weeks and I have not received a replacement phone. I have called the customer service line multiple times to follow up. They claim that someone in a different state made a lost/stolen claim on my phone on the same day and now they have to do a fraud investigation that could take up to 10 business days. Every time I call I'm told 24-48 hours my phone will be in the mail and when I call back again it's another 10 days. I am very unhappy with this service. I pay every month for insurance and have to wait a ridiculous amount of time and still no clear answer on when I can expect a new phone.
How do I know I can trust these reviews about Assurant Solutions?
611,656 reviews on ConsumerAffairs are verified.
We require contact information to ensure our reviewers are real.
We use intelligent software that helps us maintain the integrity of reviews.
Our moderators read all reviews to verify quality and helpfulness.
For more information about reviews on ConsumerAffairs.com please visit our FAQ.

I replaced my assurant health ins with obamacare marketplace ins in jan 2016 and assurant did not cancel my plan and continued drafting my account. After we notified them later of the mistakes they gave back 1 month's premium and the premium they drafted after that but not back to my effective date of my replacing company. They owe me over $1500 and the department of insurance can do nothing about it, they suggested I get a lawyer. Beware assurant health customers.

They have one repair person covering the SF Bay Area so when he was sick I had to wait 2 1/2 weeks for the motor to be replaced last time. Now it broke again and I will wait 5 days for the person to come out. I am 70 years old and live up 2 flights of stairs, it is hard to go to the laundromat with my laundry but it doesn't matter, I have no choice.

I called Assurant who is the insurance provider for T-mobile??? on Tuesday, Sept 20th to have my iPhone 6 Plus replaced because my screen was extremely cracked and went black (could not use at all) because when I processed the claim online it mentioned that my claim could not complete without having to speak with me over the phone... Okay so that was the first thing that pissed me off because I didn't have another phone with me at the time to make an outbound call so not only did I have to wait a few hours to place the call but then they said they NEEDED the IMEI number which I had already advised the rep I can't provide that info beside my screen went completely out on me.
So she tells me to call T-Mobile and they can provide me with that info which I'm thinking is absurd since they work together right??? I then call back & provide that information and she tells me that she had everything she needed, that I'll have an answer whether claim was approved or not. Two days went by and nothing so I decided to call AGAIN and I get another robotic rep on the phone who does the exact same thing the previous rep did but actually got it done, which I was so confused as to why it took that long when it only takes 24 hours.
Smh, so strike three my phone arrives and it's in a raggedy box and it's the WRONG COLOR. I'm furious. I had already waited 3 extra days and it's not the exact phone I had, I immediately call and all I get is "well that's a cosmetic issue, we just send out a working phone." So you're telling me that not only do I have to pay a $175 deductible but I don't get to an exact replacement of the phone I had already paid $800 for plus the $12/month for the insurance that I've had for two years???
Needless to say I immediately disconnected my equipment protection with T-Mobile and I'm definitely switching to Verizon who offers better plans and coverage. Highly dissatisfied with Assurant and only gave it a star because I had to rate it. Did not go through all this extra BS with AT&T but then again I was covered by Asurion who delivered my phone in less than 24 hours but had some respect for their customers to send the exact phone and color with new accessories and an iPhone box unlike Assurant. Will never do business with them again, don't be fooled by their "great reviews" on their page, they're probably paid actors.

In last five years I claimed 3 times. Each time I paid $175. I think I am only one in this form who is giving Two star. Rest of all people given 1 star. Two star because they have at least a system to exchange broken phone with new phone. Problem with Assurant company is that they treat everyone same way. If you will lost your phone or broke your phone then each time they will charge $175. Every month we pay $7-$13 for insurance. If phone is broken then they must have to charge less than lost phone. They take back the broken screen phone. Therefore if someone claim for lost phone then he feel somewhat better than if someone claim for broken screen phone. Because in less than $175 we can change the screen from repair shop. Overall it is not worthy insurance.

My Son broke his brand new Galaxy Note 5 (fighting with his sister). We made him work to pay the 200.00 it cost to replace it, this took a few months and he went without using the phone. We finally went to make the claim to have the phone replaced and we were informed that because the phone has not been used in 90 days it is not covered! I didn't realize the insurance stopped with non-use because I continued to pay for the plan. I am going to drop all of the Jump Insurance on our phones and pick up SquareTrade. If we lose it, it will not be covered under squaretrade but at least I know what I am paying for!

If I could rate them 0 I would! I have T-Mobile and my iPhone 6s Rose Gold was stolen so I filed a claim and I had to pay the 175 deductible for my ROSE GOLD IPHONE. 3 DAYS LATER I receive a GOLD iPhone. The shipment paper said Pink iPhone not GOLD. I'm extremely upset and I call Assurant and they tell me that they are not liable. So you're telling me I'm paying insurance for a ROSE GOLD IPHONE for no ** reason because they're going to send me whatever the ** THEY WANT?!! HORRIBLE.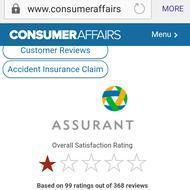 To my friends and family. These 2 companies are the worse you can deal with. No matter how much you pay for phone insurance they find a way to screw you over. First of all T-Mobile has the worst reception ever and when I lost my phone Assurant Insurance tried giving me bull excuses why it won't cover. Be careful. They will just screw you over. I paid a good amount for insurance and these is what they come out with. They just keep giving me the runaround. To call T-Mobile then call us back.

My iPhone was tossed in to the toilet by my toddler yesterday. After initial shock I was happy we have insurance through T-Mobile so I ran over there as soon as possible. I knew this was going to be a headache once the T-Mobile guy doesn't actually handle the claim himself. He just had my dial the same old 1-800 number and had to wait and wait. Once I got someone on the phone to file a claim the gentleman which I could tell probably did not even graduate HS, took my CC number and promised I would receive my phone in 2 business days. Well 2 business days falls on a Saturday. I asked him about 5 times if we was sure it would be delivered on a Saturday then "yes ma'am" he repeated.
I checked numerous times today on the status and nothing was changing. I finally sent a note to customer service and they informed me they were missing two important pieces of info. OK? So why didn't the guy on the phone yesterday ask me for this or someone call me this morning to get that info to send my phone out? I finally called to see what was going on and was told it showed that I still owed payment and the phone will definitely not be mailed out today. I then got a manager on the phone who just apologized and reiterated that they don't delivered on Saturdays. These people are poorly trained, slow, deceiving. I can't believe T-Mobile uses this company to make their customers satisfied. I told Assurant to cancel my claim. I drove over to Apple and bought a refurbished phone for $100 more than my deductible. It was worth the $100 so I didn't have to deal with these lowlifes at Assurant Solutions.

Called Assurant to file a claim on my Note 5 phone that broke. Did everything I needed to do to have the claim accepted and shipped to receive by next day which would be Friday. Well the rep filled in a date because my son wasn't sure when the phone was broken and then emailed a form for me to sign since I'm the account holder. Well the rep had put the wrong phone on the form and we didn't catch it 'til after it was faxed. My son immediately and now we're on our second rep. She said, "I'm sorry we can't change anything. We need to start a whole new claim." Take note this fiasco started at 840am. We asked to speak to a supervisor and we were given yet another rep, 3rd one. They said they couldn't change anything and the call supposedly was dropped.
My son called again, now on rep number 4. He said he could transfer the claim form to the new correct claim and saw no problem with the phone claim processing and my son getting his phone Friday. OK so we think we're in the clear now since we had been on the phone since 840am 'til 150pm. Needless to say the claim didn't get processed and come Friday morning I'm on a conference call with T-Mobile and Assurant. It had to go to a supervisor who I told that he will rectify the situation before we ended the call. He finally got the claim processed and the phone shipped today, Friday but won't be delivered 'til Monday due to their neglect. This is unacceptable customer service...

I filed a claim on Thursday, made the payment, got confirmation and said I'd have my phone next day. Saturday comes around and still not phone. I called them and they said the payment didn't go through. I told them to run it again on the same card and went through with no problem like the first time. I asked why no one called me and they just apologized and said I'd have my phone on Wednesday. I told them the importance of having it by Tuesday since Monday was a holiday. I asked the representative, Stephanie at extension ** to have Supervisor call me on my husband's phone that day and said she would.
I wanted them to tell me what they're going to do so I have my phone on Tuesday since it's my business phone and need it ASAP. No call, and my claim looks like it was processed but the phone still won't be here until Wednesday. I've been with T-Mobile for 20 years and this company gives them a bad reputation. My next complaint is with T-Mobile and I will make sure all my friends and family I had switch to T-Mobile knows about this pathetic insurance company. If there was a negative rating then this company would definitely get it!

I've recently lost my iPhone that I got when I joined T-Mobile. When you start leasing a new phone T-Mobile automatically signs you up for their partnering insurer, Assurant Solutions which I've been charged $10.00 monthly for. After I lost my phone I've been given Assurant's phone number at T-Mobile store and instructed to file a claim through them which I did. I got a refurbished device from them that turned out to be unusable. The touch screen isn't responsive to touch, power on button doesn't work, the phone keeps taking pictures and has time flashing at all times. T-Mobile initiated a warranty exchange for the unusable device that the insurance they provide their customers with sent me. The experience was a nightmare and I'm dreading getting another refurbished device.

Filed a claim for a replacement phone. They send me claim form. Filed form out but didn't both last names when I checked box so they denied the form and issued another one. Now form with take additional 24 Hrs to approve??? Now without phone additions 48 hrs. Now its the wkn so that extend the time. Non-customer friendly.

I can now believe all of the bad reviews on this company. No quality! They took a couple days to replace my phone and that's why I give them 2 stars. I am definitely canceling though because a replacement 6S iPhone was sent to me busted. There was a bend and gap between the glass and main frame. One of the buttons was chipped. It was the wrong color. And they never responded to my email about it (going on 7 hours). It's just like the health insurance in this country! Is this ObamaPhone Care?

I got an extended warranty on a GE product. The product needs service and Assurant has been a disaster. They have allegedly set up three appointments for repair and nobody has ever showed up. None of the companies they claim will come to repair are willing to work with them. Their customer service department does nothing. I would not buy an extended warranty from them again.

Assurant is a horrible company that I can't stress enough to not do business with. I've been/was a client for over 5 years with the company owning a renters insurance policy until recently. An error in my annual billing occurred and the company was unable to process my annual renewal, so what did they do, supposedly send a letter. No human touch, like a call letting you know you're going to lapse in coverage but a computer that sends out a letter. My wife and I's apartment was recently burglarized and I went to file a claim. What I found out instead was because the policy had lapsed I was SOL. Yes my fault as well big time, but just something, a heads up saying that you need to clarify your payment would have been nice, not a robot computer letter. These people are crooks and I'm surprised GEICO does business with such horrible people.

I usually don't write complaints about anything, but I am really upset with my entire experience using T-Mobile and Assurant. I switched over from AT&T thinking I would save a couple of dollars a month. When I received my phone, I did all the updates for it and noticed that the temperature got real hot. I didn't think anything of it. The next day, I actually started using it and noticed that it flickers off and on after flashing a green screen. After pushing the on and off button a couple of times, it would temporarily fix it and allow you to use it but it was still annoying. After about a week, I sent in a claim through Assurant and they told me that it sounded like a mechanical failure and to go the store and troubleshoot from there. Since the phone was still semi working, I took my time actually going to the store which in hindsight set me up for failure.
After about a month, I noticed that the flickering continued to get worse and worse. So then I went to the T-Mobile store and asked about getting it switched. They inspected the phone then said that there was no sign of damage and went through with sending me another and that I would receive a text when it was ready for pick-up. On the day that it came, I went up to the store only to be turned around as their system was down and they couldn't do any transfers that night. The next day I went back after work and spoke with the manager this time who stated that I had LCD damage and that he couldn't give me the phone that was sent out and that I needed to go BACK and file another claim under insurance.
At this point, I'm a bit upset but I do as instructed. I fill out another claim and explained the same situation as above with less details. I didn't even care about the $175 dollar fee they charge. (Plus a $5 restock fee?) The next day I look to check on the status of my claim and it says 'Your claim is no longer being processed'. What does that mean? Has it been approved or denied? What is the next step? There was no email or phone call explaining anything. At this point, I'm just going to get my phone fixed locally and switch from T-Mobile and their insurance ASAP. Lesson of the day: You get what you paid for. My phone was the Galaxy S7 Edge. :(

For the first time, I needed to use my mobile phone insurance to get a replacement phone. I'm with T-Mobile, and they contract with Assurant for their phone replacement program. First, the "deductible" for my "insured" phone was $175. Gee, don't do me any favors. When your deductible is more than 25% the cost of a replacement, that right there screams RIP OFF!!!
Next, I had to fill out forms, provide various proof documents of who I am, T-Mobile billing, etc. They have no problem taking my money every month, but to give something back, well, that's completely different. This was on a Friday, so obviously it goes through the weekend with no progress and finally on Monday we get everything sorted out. The phone arrives, and not surprisingly, it's a refurbished model that is completely jacked-up. It's functional, but the back plate was glued on incorrectly and is completely askew to the body of the phone. I expect this phone will crap out in short order given the poor quality of the refurb. Bottom line... It's NOT WORTH IT! Cancel your insurance with T-Mobile, and do not do business with Assurant.

I purchased an extended warranty for a three year term. I elected to be billed monthly for a period of six months. On the day I signed up, I was billed for the first of six payments. The next payment was due the following month. When I called to schedule a repair, I was informed that my contract had been terminated for non-payment. When I inquired as to when the termination occurred, I was informed that it was terminated two weeks after I made my first payment. Pressing further, I inquired as to how they communicated the termination with me and I could not get a straight answer. One claimed it was an email. Another claimed regular mail. And yet another claimed that it was both. No one could explain why I hadn't been refunded since my coverage was only in effect for two weeks. Nor could anyone explain why an attempt was made to charge my account outside of the regular payment schedule.
So either one of two things happened here: Assurant unlawfully attempted to procure payment without my consent and subsequently terminated my contract or Assurant cancelled my contract without explanation, without notice, and without any intention of refunding my initial payment. I am inclined to believe it was the later as no one could do more than regurgitate the same boilerplate nonsense. No one was willing to help. I spent three hours being transferred from customer service to consumer relations and back and forth a few more times.
Finally, I was offered a new contract for 1/3 of the initial term at a cost of three times the initial price. What a bargain! So this is endgame folks! Lure GE customers to purchase extended warranties at competitive rates, cancel said warranty without explanation, and offer unconscionable rates for new contracts. All the while they hang on to your money. This is a scam. Nothing more, nothing less. They hope that you get so frustrated that you give up and they keep your money. I didn't think it possible that a company could have a complaint history worse than Comcast but alas, Assurant does. I reported them and hopefully more people will. They know they are scamming people which is why their reps are unable to go off script and engage in any sort of critical thinking or actual customer SERVICE.

The replacement device sent was defective and did not connect to WIFI. I took it to T-Mobile store and they agreed and called Assurant to get the replacement device replaced. Assurant sent me a non working lemon. To make things worse, it is taking over one week to get the defective replacement replaced and am being charged an additional $5 for replacing a defective replacement. Why would I ever recommend such an expensive PHO when it is unresponsive and inefficient? It is Friday, August 12th and I filed my claim two weeks ago and still do not have a working device. Despite having paid the very expensive t-Mobile JUMP insurance I had to pay $175 and received a non working defective replacement. Why such horrible service! Why did Assurant send a defective replacement?

My iPhone 6 received water damage. I have insurance through USCellular and went through their insurance carrier, Assurant Solutions. I pay insurance every month, but I had to pay a $175 insurance claim to have a replacement phone sent. The replacement phone was refurbished. It came in a box that had been opened without any of the "extra" items that come with a new phone. I activated the phone on Friday. Less than one week later, when pushing the home button, the entire screen shattered. The phone had not been dropped or damaged in any way. I took it back to USCellular and a representative examined it and agreed that he could not see any physical damage. He also said he had never seen a screen shatter that badly.
I contacted Assurant Solutions and told them they had sent a defective phone and I wanted it replaced. They refused to do this unless I filed another insurance claim and paid them another $175. I asked to speak to the manager and once again, this was the information I received. The manager said, "Well, it wasn't broken when you opened the box so we are not responsible" for sending a defective phone that breaks within 6 days. I asked to speak to somebody who had the power to authorize just sending a replacement phone for this defective phone and was told I would be placed on a callback list and would receive a call in 24 to 48 hours. Crickets. I have canceled the insurance because it will be cheaper just to buy a new phone in the future than to spend hundreds of dollars through Assurant and never receive a workable phone!

I cracked my iPhone 6 Plus screen. The phone was still functional, but cosmetically damaged. I've been paying for T-mobile phone insurance for two years so I figured I will just pay the $175 and get a phone without a cracked screen. I submitted a claim, the claim was approved, and I then paid the $175 deductible to receive my new phone. The phone arrived a few days later, not overnight like they said. They sent me a refurbished phone without being properly stored in a phone box. I thought that was weird, but I was still happy to have a phone without a cracked screen. After I turned the phone on, the screen kept flickering and I could not key in anything. They sent me a broken phone!
I called them and explained the issue to the Assurant representative, who then told me to call T-mobile because it's a warranty issue. In actuality, this should be an insurance issue because they did not give me a functioning phone. However, I called T-mobile and they told me that I would now have to pay $5 and wait a week because my phone was on back order. So now, I've paid for T-mobile's phone insurance for two years, spent an additional $175 for the deductible, and I do not have a phone. Save your Money, do not give this company one cent!

Assurant Insurance is a rip-off! Suggest you use another agency. When it comes to paying out claims, the company uses excuses and alternative language to seek out not paying. I had water damage in the downstairs drywall that came from a toilet leak. The repair person for the toilet wrote that the toilet was incorrectly pitched and invoiced me $2500 if I wanted to correct the pitch. This was total BS, but it is how Chicago repairman make money. I paid for the repair of the blockage and sent him on his way. When I submitted this claim, Assurant said the leak came from the toilet not being installed correctly and reneged on paying. What a load of...

I requested to terminate a policy 3 weeks in advance and then to update the insured property address. The cancellation forbade me to make any alterations to the policy, so I reached out to Assurant specialists, who said that they can't and won't update the address. I mailed them back only to see an automatic response that the ticket has been closed. No answer. I called my new insurance agency, which confirmed that this is not a legal practice. They had no problems updating my already purchased insurance policy dates right away. Oh, and the insurance is almost half the Assurant's price. I'm not coming back to Assurant. This company just turned out to be a really bad joke.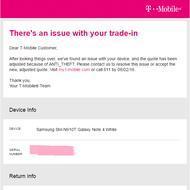 I am currently a T-mobile customer. My Samsung Galaxy Note 4 decided to have a fit and completely konk out on me. There was clearly an issue with the firmware, as it wouldn't even boot properly. I decided to order a new phone (Note 5) since it only cost me $69 to do so instead of paying nearly $200 for a refurbished insurance replacement (highway robbery, seeing as how I pay for insurance monthly and never had a claim.) Moving along... Assurant issues me a prepaid shipping label, tracking number, etc. Before I return the phone I did a factory reset as well as disabled my Google account. I made sure it was wiped clean and that my account was no longer connected, as they tell you that anti-theft MUST be disabled before the phone can be considered for reimbursement.
So... TELL ME WHY... I received a text AND an email this morning stating that anti-theft was not disabled, therefore I would receive a credit of $0.00... EXCUSE ME? I know for a fact I disabled my account and wiped my phone. Fast forward to just a few min ago: I call T-mobile to inquire about this. The CSR goes around and around in circles for at least 5 minutes about what needed to be done in order to receive credit – no water damage, etc. I keep explaining to her I already am aware of that, and that my specific problem relates to anti-theft.
She continues to ask me if I have already shipped my product in, which method I used, and if I had received a response regarding the status of my device... I explain to her – AGAIN, that Assurant already received the phone and that T-MOBILE themselves sent an email/text about my anti-theft not being disabled. After placing me on hold for another 10 minutes, she finally tells me that no one has notated anything in the system regarding the status, and to call back in 3 business days. SO I take things a little further and I call Assurant Solutions. These people have the nerve to tell me they have no idea what I am talking about, and that I must contact T-Mobile. I said that is IMPOSSIBLE as they are the ones who I returned the phone to.
ARE YOU SERIOUS? Assurant Solutions is full of baloney. They are trying to claim I did not follow instructions in order to keep my phone without issuing credit, then they say they have no idea what I am talking about when I speak with them directly. This is nothing short of a SCAM, and despite my great relationship with T-Mobile, their decision to continue to use Assurant Solutions makes me question both their integrity and business practice.

I would like to first say what crooks. 1st time I've ever had to make a claim. I pay $12 a month (on multiple devices) pluses a deductible of $175 to not be insured for what I purchased. I received my replacement phone and it was the wrong color. I called and the first gentleman I spoke with told me "if you damage a tire in an accident you will not get the same brand of tire, it will be a replacement to get you down the road." Then when I say "if I get into an accident they wouldn't replace my door with a blue one if my car is white." Makes no sense.
I asked to speak with a supervisor that was EXTREMELY RUDE! She told me that I work for the cell phone company I should know their policy. Well no I work for a cell phone company not Assurant. Now I can't even do a warranty exchange to get the right color due to the fact they have already changed it on my account with my carrier. I will not sell or recommend your company to anyone ever again. There are too many companies out there that will love the business. I hope your company folds and your rude customer service representatives become jobless!

Joseph BurnsHealth Insurance Contributing Editor
An independent journalist, Joseph Burns is the health insurance topic leader for the Association of Health Care Journalists and contributes to AHCJ's Covering Health blog. He has also written about health policy and the business of health care for a wide variety of publications, including Healthcare Finance News, Hospitals & Health Networks, Managed Care magazine, Ophthalmology Management, TaxACT.com, and The Dark Report. More about Joseph→

Assurant has been offering a variety of insurance plans, including health insurance, for the last 100 years. It was named one of Forbes' 50 Most Trustworthy Companies for 2014.
Many short-term plans: Students and people who need insurance temporarily while waiting for employer insurance to kick in can take advantage of short-term plans.
Offers critical illness insurance to help pay bills: Consumers who are temporarily disabled by illness can get cash benefits from Assurant.
Easy to add dental coverage: Consumers can easily get full coverage for their oral health needs.
Low-cost plans: Although Assurant offers low-cost plans, the coverage on these isn't as good, and consumers who use them end up paying high deductibles.
Coverage: Assurant does not currently offer vision coverage.
Best for Students, senior citizens, employees
Company Name:

Assurant Solutions

Company Type:

Public

Ticker Symbol:

AIZ

Formerly Named:

Assurant Group

Address:

260 Interstate North Circle SE

City:

Atlanta

State/Province:

GA

Postal Code:

30030

Country:

United States

Website:

http://www.assurantsolutions.com/