Consumer Complaints and Reviews

I will recommend the homes at Lakes at Lucerne Park on Winter Haven FL. The houses are comfortable and they will have plenty of space for your family. In addition, the contractor working on ground along with his crew will make sure that your house meets needs. We recently purchase a home here and we love it. If you're looking to purchase a new home stop by Ryan Homes at Winter Haven, FL. You will love it.

We are in the process of purchasing a condo built by Ryan Homes. They have failed to comply with regulations, thus delaying our settlement. They supplied a 2016 budget, but failed to give a 2016 reserve study. Their reserve is 7.9% which is less than the 10% required. When the reserve falls short of the 10%, a reserve study must be in place. There is no 2016 reserve. However, they gave us a 2017 reserve study. Here is the kicker...there is no 2017 budget. I don't understand how they sell THOUSANDS of homes, yet fail to have a simple document. Oh, yeah, they entice you with thousands of dollars of incentives IF you go with their lender, NVR mortgage. They keep all mortgages in-house, therefore do not have to follow regulations and close fast.

Ryan Homes lied to me that I could add a 2 foot extension to my garage. I was in the impression that the 2 foot extension will be added to my side of the garage. I just did a walk through and discover that the claim it was added to the front. Which I did not see. The home is under construction at this time. I ask to add a third car garage and I was going to pay for the expense but they refused to do that. I am not happy with their services and my home construction is stay in progress. They inform me that I couldn't get a free basement when that commercial is currently going on. In fact all of my neighbors have a free basement but yet I am paying more than what their home cost. I am paying 30k above the price range for most home within the neighborhood without a basement.

I have lived in a new-construction Ryan Homes house for 2.5 years. My complaint has to do with how they handle shoddy work that is discovered after their "warranties" expire. This has happened three times to me. I recently tried to change a light bulb above the shower. This was the first time the bulb needed to be replaced. When I tried to change it, the entire fixture came out with the wire and bulb left dangling over the shower. It was never sealed to the ceiling. Ryan refuses to fix it because it is only "warrantied" for 1 year. The problem is not really an issue of a warranty, however. Rather the problem is that is was not initially installed correctly. Because I did not see their shoddy work until I changed the bulb, they told me I am responsible for their shoddy work and I have to pay for an electrician.
My roof leaked and ruined the paint in my bathroom. Again, they said my less than 2 year old roof was out of warranty. After many many phone calls I at least got the company who did the roof to come look at it. The repairman said the original work was done improperly. I am left with the expense of repainting my bathroom. This is not what you expect in a house that is less than 2 years old. My chandelier failed after 13 months, but again, I was left with the bill.
These "warranties" allow them to get away with shoddy work because the homeowner does not catch them in time, or the thing breaks slightly after the warranty. In the latter case, the things that are breaking would be expected to last A LOT longer than their warranties. For example, if I got just a new roof put on my house, I would NEVER expect it to fail in less than 2 years. But Ryan hides behind the sheer number of things that are in a house and then leaves people to pay the bills even when Ryan did not put it in correctly. I called today to say the light was never connected to the ceiling but the man was dismissive and rude and just say, "You have been in your house for x years!"

They called me about an inquiry online which they automatically fill out. I inquired about the address to their models, drove 45 minutes to get there just to see they closed early. I called them back she said they should be there. They were not. Called her back she would not answer. Thanks Ryan Homes.
How do I know I can trust these reviews about Ryan Homes?
634,392 reviews on ConsumerAffairs are verified.
We require contact information to ensure our reviewers are real.
We use intelligent software that helps us maintain the integrity of reviews.
Our moderators read all reviews to verify quality and helpfulness.
For more information about reviews on ConsumerAffairs.com please visit our FAQ.

I live in a Ryan Jefferson home in South Jersey. Our development is only 11 years old. We are retiring and moving and have our house under contract. The septic test was done today and it FAILED!! The person conducting the test explained that the cheap system they installed simply does not work and most homes with this particular setup generally have to get them replaced or start having problems after 5 years. We didn't purchase a new house to have to replace a major part like this in such a short time. This will cost us $13,000 to fix if we want to continue with the sale. I am beyond angry now because I have no tears left.

I wanted to leave some feedback for Ryan Homes. As of this morning, we were in the market for a new home to build. Our friends purchased a home at the Jordan Pointe property in New Hill, NC, and we loved their layout and decided to look for ourselves. The agent that showed us around initially seemed uninterested and may have assumed we weren't serious. I felt stereotyped being only 26 and in the market to purchase a home $400K+. I was very serious, but didn't feel like I was taken seriously until we started running numbers and I let the agent know that I already had a pre-qualification.
During the course of about 3 hours, I felt the agent constantly reminded us that "Ryan Homes is the 4th largest home builder in the US" and in lack of better words, that Ryan Homes did not need my business. I understand that may be true, but that is not the approach I would have taken. I am a seasoned sales account manager for the #1 IT company in the WORLD and I would never make a client feel like we don't need their business. I am very successful in my career and have never found that making a client feel like I didn't need or want their business earned me any business at all.
The agent was very knowledgeable and towards the end I felt like they were doing a great job answering my questions and showing me around, but I could not get over the feeling I left with. We went to see another property this morning and had a completely different experience. We ended up purchasing a much larger home and signing our contract to build on the spot.
I felt it important to leave this feedback because the agent at Jordan Pointe mentioned they receive bonuses on customer satisfaction surveys. If that is the case, I would have a hard time giving that person a high score thinking that they'd probably made others feel the same way they initially made me feel. Purchasing a home is one of the most significant investments that a person will most likely make throughout their life and they should never be made to feel like it isn't good enough. A customer should always be made to feel like they are the most important person during that conversation and that their business is always wanted.
I would assume Ryan Homes did not become the 4th largest home builder in the US by making people feel like they were insignificant. Take this for what it is, but I understand you have a great reputation as a company and I would hope you can maintain that through each employee that works for Ryan Homes. Thank you!

Run as fast as you can... do not lock in New bull... Contract money. We bought this scam of a new home in December 2015. There were several things I noticed when walking the final walk that I really thought were odd. First, if you purchase the Florence, you will have a beautiful vent smack in the middle of the walk leading up the stairs. The drywall was very poor quality the tile work was crap, the flooring had air bubbles, the granite was chipped and dull. The so called foreman what a joke, the realtor onsite was a liar, this outfit is so bad. We have had to file so many service tickets here. Found water in the laundry room, the culprit was Ryan Homes cutting corners not wrapping the vent which in turn lead out into the living room. Now we have a joke in both areas waiting for their cheap workers to repair.
The so called yard omg. The sod on every lot in Grove Park is dead because they do not treat the ground under so it only looks good for about 3 months. They talk about their so called energy efficiency **... nothing about this company is honest. We have had so many repairs I can't even start to type them. It would take an entire day. Did I forget to mention the Mexican fiesta every morning. Very disrespectful workers and foreman. They work until dark and arrive before sunup. It's so worth going to another builder. They are more money for a reason.
Upgrades, let's talk about this. One they say this word 95 times during selections, everything is an upgrade. Please do it yourself, they overcharge on everything. We were told during the initial contract signing that pools were allowed here, well that was once again another lie. They tried to tell us we couldn't have a pool but their sales lady told us and our realtor that it was a yes, she was so wrong, the ghost of an HOA showed their ugly face saying no but when I made them aware that this was a promise upon purchasing their ** rule of an enclosure came up even the city doesn't require this but they did. This home was an investment purchase for us because we will sell in 4 years, I guess this will allow enough time for us to get things repaired for the new owner. Shame on this company for being allowed to do this to so many families. Never never again it will be the first thing on my house hunting list. Beware.

Don't be fooled by the exterior. It's how it is put together matters the most. My problems: Our siding color and style was required to be changed per Architectural Review Board. The only color choices Ryan offered did not match. The warranties they offer you have to argue and fight to get things resolved and they still are not resolved. Our $8,000+ composite deck they installed is buckling only after 2 years because they didn't leave any space between the decking planks. The railing is falling apart. Totally unsafe deck. But, we're stuck since the 1 year warranty expired.
We replaced the ugly siding out of our own pockets and the contractors were surprised by the poor workmanship done by Ryan Homes. Nails protruding from the metal roof and flashing not installed properly. Grading problems and having to deal with pools of water in my lawn. They just gave me 10 bags of topsoil to remedy the problems--thanks for nothing. We can't cool our house to 70' since mold starts for form on the vents. Ryan Homes said we can't go lower than 75'. Try that with a menopausal wife.
Ryan Homes installed our Batten Board poorly. We found out from siding contractors that Batten board is supposed to be one continuous piece, not pieces. The seams started to show worse, so it looked like crap. The drywall repair after 1 year is terrible. Most of the nail pops and tape cracks are back--appears the home is still settling after 2 years. That was a waste of time. The cabinet coating is chipping. Numerous errors in the initial order and poor customer service. The expensive sod was laid on subsoil, so it does not grow well. My lawn is lumpy. The houses don't seem to be insulated well. You can hear the neighbors.
The foreman must have no construction experience because of all the problems we have had with the construction itself. Basic construction principles were not even employed. I did not want to purchase a Ryan Homes but did so. I am sorry and paying for that poor decision. My and my neighbors' experiences have not been positive and we will not be purchasing another Ryan Homes. We will not recommend a Ryan Homes. I just hope we don't run into any extensive damages while here. Unless, you have lots of extra money to spend after purchasing a new home and want to not enjoy a new home, go elsewhere.

Went to new Ryan Homes community and signed a contract for a lot and house that were supposed to start in June 2016. After putting thousands of dollars down, here it is August 2, 2016 and there is still nothing happening! That's right, not even one piece of grass moved off of my lot or the whole freaking neighborhood??? I sent the contract to my lawyer, unless I want to lose all the $ I put down, then I am stuck with these liars. They said my house would be done in September. Yeah right! I will be shocked to see if I even get a house in 2017. After reading the reviews about them, I bet my house will be built crappy anyways! So frustrated and wish I could just get my money back! Can't stand to be lied to and misled!

I bought a Ryan Homes house 9 years ago, and in a recent home inspection, some "damages and repairs" were noted from the roof truss. While it was not clear whether there are truly serious damages, the repairs were certain - since I have never hired anyone to do any repairs on the trusses, it must have been the builder who did it before we closed the house and moved in, but without providing any documentation or even letting me know. My agent contacted Ryan Homes to confirm that and never receive any responses.
Since truss is clearly covered by the 10-year warranty, I called Ryan Homes' customer care, and the lady told me that home inspection report is not adequate for them to initiate the warranty process, and I would have to hire a licensed structural engineer to do another inspection, but they will cover that cost. So I did, and paid $450 for that inspection. The engineer said there is currently no damages that need additional repair. While that is good news to Ryan Homes since they don't have to do any more work, they now told me that they will not cover the engineer's cost because "they don't have to do any more work". I argued that I hired the engineer because they told me to do so, as the home inspection report does not mean anything to them as I was told, while the customer care agent, obviously a different one from who I spoke earlier, said he didn't know anything about what I was told before from his colleague.
Not that $450 is a big deal, but I was astonished that Ryan Homes could be so comfortable to tell their customer different things, and use such a lame excuse that they don't know what their colleagues said. I know probably every builder will try to get out of their warranty responsibilities, but I am not so sure that everyone will go this low. So my recommendations are: if you *HAVE TO* buy a Ryan Homes house, make sure you check everything *VERY THOROUGHLY* before you close and accept the house. If you call their customer care, make sure you write down who you spoke with, at what date and time, and probably record your phone calls (they said they record "some" but not all, obviously at their "discretion"); and make sure you obtain all the evidences and keep them in a safe place before you act on their suggestions!

Please be cautioned when building your home! I know you may see more negative than positive reviews and tell yourself of course people are just upset. No this is the real deal, many are how things are with the Ryan Homes. We first moved in our home and immediately noticed large marks/scrapes on our floor. We mentioned upon our walk through. They insisted it will be taken care of that week. Here I am almost a year and my floor is still not correct. As the weeks went by and no one to take responsibility for our floor, our floor continued to crack and split. Yes the actually hardwood floor boards. We brought it up after months of no one taking responsibility, have a national floor inspector out they replaced floor.
A week after that the cracks started again. This time Ryan Homes stated they will look into. We got blamed by them stating we have dog marks on the boards. We dont have a dog! Now 13 days off work for this floor. They stated they would reimburse for our time off and replace the floor. Can you guess what's coming now? Nothing! They stated verbals do not matter and neither do emails. If you look at the bottom of their email they have a disclosure in there. Overall, we have a cracked floor, floor boards that are too tight, and buckling in some spots. Along with 13 total days off.
Mind you when they let the hardwood acclimate in our home they put it over vents, and in sun light. Which the floor inspector deemed the reason for it splitting. He also stated the boards were too tight. Please buy the cheap floor and get your own floor company to put it in not use theirs. Lastly, my cupboards have been replaced three times due to them cracking. Now they won't replace them and say we have to deal with it. Ask yourself if you want to deal with this stuff before you build with them. Its not worth it... Trust me!

Where to start - Well, for one, we were late closing - I know it happens, so can't do much there. Moved in and the bedroom was 15 degrees colder than the rest of the house. They missed a 25' foot seam in the master bedroom and air was pouring it (but remember, it passed the Energy Star tests - which are obvious trash). EVERY corner is not 90 degrees, all angled, window frames off by 1/2" or more so blinds won't close. Another missed seam in the main bathroom caused the tub to be 32 degrees in the winter. Ceilings that slope up to 1/2" in the middle was noticed when tiling. Walls that taper with 1/2" difference between top and bottom.
7 months here and we DO NOT have grading or hydroseed (It's JULY!), basement rafters had drafts and daylight in them - more than 1/4 of them, garage walls do not meet the the stone in the garage - causing air and daylight, and who knows what else to come in. Caulk used ALL OVER the house to cover up poor work, and even more. You have been warned, want to roll the dice like we did - I wish you the best of luck. I'm sure many people have good homes by Ryan, do you want to risk being the one of the many that doesn't?

Initially when I moved bought my condo in 2011 I noticed that my bedroom and Bathroom were not getting enough heat or air. Had Superior Heating and cooling who were and still are contracted by Ryan Homes come to try to fix problem. Knowing darn well that the cheap and system was not large enough to put out enough Heat or Air for my size condo. Their suggestion was to shut off a couple vents to solve the problem. REALLY! Now My air Unit is leaking Freon and I called another reputable local co. to repair. The coils in the unit were already (5 1/2yr old) rusted and leaking fluid and they also looked at the wall unit while I watched and saw 2 Copper pipes that were kinked with a pliers to make a 90* turn instead of using an elbow to make the turn. Therefore the air is not circulating through properly.
I called Superior who again is contracted by Ryan Homes and they will not correct their install complete botch up. Not under 2 yr warranty. This is an install issue done obviously by a tech who did not know what he was doing. I was trying to get them to take a look at mistake and they cannot come to look for 3 weeks. It will only take 10 min. Very disappointed in Ryan Home's choice of contractor.

Bought a new home from Ryan Homes (NVR) in November of 2015 and to say the least ever since then it's been one nightmare after another. First it was with the hardwood floor that was included as a perk and we were told that the hardwood would go into the morning room only to get to the options store to find out - nope doesn't include the morning room. Now how stupid is that? So right there I was done but somebody from Ryan Homes was there in the showroom and he is very high up there in position for the Illinois branch. He asked what was wrong so we told him sales person said morning room was included so he took care of it which was awesome but right after closing my 3 car driveway cracked all the way across from one side to the other.
So I called the site superintendent. He came and looked at it and said "address it at 30 day" so I did with not a word at my 10 month. I brought it up and again nothing but they did come and cut holes in my floors to fix my floor squeaks and pulled my carpet up and wow carpet guy says wrong thresholds for hardwood to carpet that was at my 10 month now. I've had guys show up empty handed to fix my thresholds - now am I crazy but how do you fix them without the parts and as for my driveway I'm still waiting to hear something.

If you are looking to purchase a new home and you want to fall in love with it then don't build with Ryan Homes!! Our home has been under construction before and after we closed 6 months ago, our floors are popping, cabinets replaced 6 times and still not correct, walls bowed and uneven, granite replaced twice, code violations, siding bubbled, carpet replaced, flooring replaced, etc... and was told to take my leave time for all the construction and I used up so much leave I have none left to spend with my wife and kids before my deployment! All Ryan Homes said was I needed to be accommodating if I wanted them to complete construction. They still have so much more to do!! They are horrible!! I wouldn't take a Ryan Homes even if they gave it to me for free. I want to get it repaired so I can possibly sell it! DON'T BUY OR EVEN LOOK AT A RYAN HOME!

Worst problem being vinyl siding that warps and pulls away from the outside structure of the house. Called Ryan! They tell me it is reflection of sun from my neighbor's bedroom window!! Please see pics and see if you can believe that. I don't!! The home is for sale and I will probably have to fix it myself in order to sell. Ryan claims no responsibility, though I firmly believe it was improperly (too tightly) nailed, not allowing the siding to expand and contract as it is meant to do. Plumbing problems from cheap materials and shoddy installation that I've now spent about $1100 repairing. Floors that don't merely squeak but groan and screech in protest when trod upon. I could go on and on but to no avail and yes Ryan is practically non-responsive. It's as if completing a few repairs here and there would bankrupt them! Oh Well! Just let they buyer beware!!!

I previously wrote a review some time ago about my frustration regarding the issues I was having during the construction of my home. I'm happy to say Ryan Home took care of the issues as promised and I am now living in my home contently.
Original Review
Please if you are in the market and buying a home please stay away from Ryan Homes, my husband and I having a house built by Ryan homes. We have nothing but problems. January 2016 we were told that they move our home in phase two. But everything that was promise in phase one, would not change. That was a lie. We miss our pre-construction drywall walkthrough due to the project manager. He contacted my husband on a Tuesday via email which we never saw the email until after the pre-construction walkthrough. We ask him why didn't he contact us by phone. He said he did, another lie. As a result of such we now have a bulge stud that have caused the siding to budge very visible. I think we shouldn't have to live with this. We are meeting with a supervisor today. If they refused to fixed the problem we will not closed. If we have to take legal action we will.

Right after I moved in my new home, I heard there are noise in the wall. I brought up my concern there is mice in the wall in 30 day inspection, but Ryan Homes refused to open the wall to check, saying it is water pipes. After 5 month infestation, the problem became so severe - I could hear mice squeaking in the wall. They refused to come back to fix the problem, so I hired a pest control company. Pest control could do nothing because they couldn't access inside the wall. After strong request and Ryan Homes confirm with pest control. They came out unwillingly and open a hole on my wall. In the process of opening the hole, mice got killed. Imagine how many mice are there in the wall.
For the following months, I bought numerous trap, glue, poison in order to eradicate mice. Recent month there is a small area which mice is active. Ryan Homes refused to came back to open a hole so I could put the poison in to kill the mice. Ryan Homes won't even spend 30 min to open a hole so I could get some sleep at night. Due to negligence of Ryan Homes, I suffered so much. Live in health hazard house, not to mention the damages caused by the rodents. And Ryan Homes refused to spend 30 mins to open one hole!

Have you ever noticed that Ryan Homes never lets prospective buyers tour the neighborhoods where they have already built their homes? They always build this beautiful, perfectly constructed Model Home in the area where they are selling. This is because their quality, attention to detail and proper building techniques and practices are always in question from homeowners that purchase a home that has problems. Have you ever noticed that there is never a customer satisfaction survey after the purchase of the home to the neighborhood areas they develop? Again, it's because any issues they resolve is always through lost litigation in courts.
I purchased a Ryan Home in 2014 that was previously built in 2012 and sold to the 1st homeowner. Over the past two years of ownership, I have encountered vinyl floors that were coming unglued from the floor, a dishwasher with cold water being run to it rather than hot water, gutters that couldn't properly shed water away from the foundation because the downspouts were too short and two of the corners leaking water straight down causing puddling and indentations near the foundation.
Three areas of where raw wood sheathing or roofing were left exposed because the vinyl siders and roofers were in a hurry to complete the job, a 2600 sq. ft. house in one day! Absolutely no caulking around any of the vulnerable to elements areas such as door, windows, siding areas causing leaks in roof and sidings. Not to mention over 500 screw pops in the drywall in the ceiling and walls which I have repaired as I have painted every single area of ceiling and wall myself.
I did try to call Ryan Homes about these problems and was told right from the onset from this extremely snotty customer service rep that the one year warranty was up and Ryan owes me nothing! So I learned that I just have to do it all myself or hire contractors for areas I can't tackle on my own. It's interesting how Ryan Homes says they have all these warranties on different areas of each home they build. But what I have found these are all the basic warranties that the manufacturers of the products have such as lifetime warranty for Moen faucets and their parts. If it wasn't for all of these good products that Ryan uses there would be no warranty at all!
What is readily apparent is that there is absolutely no warranty on craftsmanship or workmanship on their homes. You can use the best products, but if you don't know what you're doing or worse, don't care - no manufacturer warranty will save you on the biggest investment most people have - their home! My advice to every Ryan Homes owner is discourage others from buying such homes or find a locally, trusted contractor to help you out with the inevitable problems you will encounter.

We had our house built in 2011 and immediately started having problem with our siding. I found out that whoever Ryan Homes hired to put our siding on used staples instead of nails, and was told that housing codes in my city allowed them to do this even though we have about 20 acres of open land in front of the development and wind rips thru here. They originally would send someone out to fix the siding that fell. The problem was that was the only part that they would fix. They did this for the first year.
Every spring we lose big portions of our siding and have to come out of pocket to have it fixed. I think I have done this 6 or 7 times since 2012. When we would call Ryan Homes they would tell us they do not cover siding, even though it was a huge problem, and a documented problem before our 1 year warranty was up. Now they just don't return our call! I am not the only one who has this problem here. Several people in this development lose siding every time it is a little windy and it's absolutely ridiculous that they refuse to fix their screw up. I would never recommend to anyone building to go with Ryan Homes, they do not stand by their work, nor do they fix THEIR mistakes. I gave them 1 star on customer service because I can't give them a zero.

We build a home in Vermillion with Ryan Homes in October 2011. We had very few problems and they were all minor. They went above and beyond (at that time) to deliver a great home. We just closed on another Ryan Homes house right up the street from our old house (in the same neighborhood) and this house is an absolute disaster.
We were delayed in closing by two months - 3 weeks was due to rain, the other 5 weeks for errors. We had to babysit our job site. First, they forgot to put 2 archways in. I have no idea how one would miss that since they are on the blueprints. Trim and door frames that were covered in black mold was installed into the home. We walked through frequently and caught this. We had a meeting with our project manager at the house to show him (because he was never on site). He told us he would have it all replaced. We walked through the home the next day to find that they had painted over the mold. We told our PM that it needed to be replaced. He had some of it replaced but not all of it because he nor us could remember every door that had it. You'd think he would have taken better notes or just replaced it all to make sure it was all removed.
The trim work is appalling. A trim carpenter came into the house after we close to fix some things and said the whole house looked as if a "third grader" installed the trim. Our yard has standing water when it hasn't rained for 2 weeks. Two section of the sidewalk are broken and it was noted a week before closing and yet 2 weeks after closing it still hasn't been fixed. The tile on our shower floor was installed even though it was chipped and broken. Did I mention the trim looks awful? Seriously, the finish work in this home is disgusting. The door frames are also crocked with bowed doors. So far, in just 2 weeks, we have found dozens of nails, screws, and razor blades (yes, razor blades) in our yard - we have a dog and 2 young kids to find/step on those.
Our heat did not work the first night. It was 59 degrees in our of our kid's rooms. We emailed our project manager and called our sales manager to which they said it wasn't their problem. It took nearly 24 hours to get the HVAC company to fix it. We just turned our AC on (after 2 weeks in the home) to find that it didn't work either. Luckily, it was a simple fix but that just goes to show you that they didn't even test it before they sold us the home.
We are working with Chris ** and David ** to fix the issues which is a less than pleasurable experience considering they are extremely condescending and arrogant. We have a revolving front door with all of the contractors come in to "fix" everything. The inconvenience of this is completely unacceptable. Almost all of the problems above were communicated to our PM weeks prior to closing but still have not been fixed. Ryan Homes is not going to anything to compensate us for our trouble and the horrible quality of home they sold us. It's a shame. Our first experience with Ryan Homes made us repeat customers. This second experience makes me want to sell my home tomorrow.

Ryan Homes will take your money and do not care one bit how your home is built. They employee cheap labor workers that speak no English and cannot even explain to you what is going on with your home. I can say they do have some staff members that do try to help you but I think their hands are completely tied. I closed on my home May 2014 and have been having the SAME issues with my Master Bedroom flooring throughout, Master Bath shower has been leaking forever, and shingles NEVER stay on the room and they keep telling me this issue is normal. I do not even believe my Master Bedroom floor on the second floor is going to hold up for the next 30 yrs. I am so afraid I am going to wake up falling through to the Family Room.
Most of the staff try to dismiss your issues by finding a way to say everything is no longer covered under warranty. How does second floor flooring only covered for ONE year?!? I would NEVER recommend anyone else to build with this company. Now if I want my flooring fix I have to come up with at least $20,000 to get my home how it should have been when I was purchasing it. They pester you when you are building and they are your best friend until the day you close. Ryan Homes you should be ashamed taking people's money and giving them these poorly built properties. ASHAMED!!!

I closed on my home in June of 2015. As I was walking though the home with the project manager two days prior to closing, I noted clear carpet issues in the basement. There were many pulls, ripples, gaps where it met the baseboard and obvious seams that were unraveling. They also forgot to carpet the closet under the stairs, which had to be patched together. This carpet was an upgraded berber carpet intended to be consistent with what is installed in the Hayworth model at the Mays Quarter Community.
The project manager thought that the carpet had a manufacturer defect and I was told that he ran it up the chain of command at Ryan Homes and with the carpet company. It was decided that the carpet was not defective and Ryan Homes had the carpet repaired. I expressed my concern to the project manager that I didn't fully trust the solution or how the decision was made. However, the project manager asked that I live on the carpet, see how it works, and if the issues continue Ryan Homes will "make it right." I believed that he would follow through on his promise, my mistake.
Fast forward six months to December 2015. The carpet continues to have issues. So, I put in a service request to have someone from Ryan Homes come and take a look. A Ryan Homes service representative comes and takes some pictures. I outline the situation and the discussion that was had with the project manager prior to closing on the home. Right away I am told that project managers make a lot of promises and I am asked if I have any documentation of the conversation. I was then told that this is normal for berber carpet and that I should have known that when I made the selection.
Naturally, this was very concerning on many levels, especially because I choose this carpet for its durability. I explained that if that is the case, then this carpet will just keep having problems even if it is replaced. I was very open and indicated that I am not looking for a short-term solution and if this is what I can expect from this carpet, then it has to go. I explained that I signed up for a product that I can trust to last ten years (as was the promise with the carpet) and simply asked that Ryan Homes help me to resolve the issue. The Ryan Homes representative indicated that you can't pay for a Pinto and get a Cadillac. I reminded him that this is upgraded carpet. I then indicated that I am happy to pay for any difference in cost, but just wanted Ryan Homes to stand by my side, "to make it right."
In February 2016 we heard back from Ryan Homes on the issue. Based on the photos provided, Shaw carpet found that the problem was a manufacturer defect in the carpet, and credited Advanced Flooring (the flooring installer) for the product. We also found out that this was the first time that the issue was raised with Shaw carpet, which means that Ryan Homes did not speak with Shaw when the issues with the carpet were first raised in June of 2015. Ryan Homes then informed me that new carpet had been ordered and that Advance Flooring would be in touch to schedule the installation. I said "No".
At this point I don't trust the product or the decision making process at Ryan Homes. I asked for some estimates on the installation of other flooring products. I requested that Advance Flooring simply apply the credit for the carpet to a different flooring product (with me making up the difference in the cost). Ryan Homes informed me that that was between me and Advanced Flooring. However, if I choose to go with a different type of flooring they did provide the following suggestions: 1) I should allow the roll of carpet be delivered to my home, so I could sell it to help offset the cost of the new flooring. 2) I should remove the existing carpet and tack strips to help mitigate the cost of installing new flooring.
Really? This is how Ryan Homes supports its customers? I bought a "luxury home" from Ryan Homes, not from Advance Flooring. I expect that the flooring in a "luxury home" would last for more than 6 months. If it doesn't, I fully expect Ryan Homes to stand by my side until the problem is resolved to my satisfaction. I feel like I have been deceived by a process that is not transparent and includes a lot of Ryan Homes employees passing the buck. It is a painful reminder that the "service" process for a Ryan Home is designed to protect the builder and not to help the customer.

So I moved in 19 months ago and there is so much wrong this house. Where do I begin? The microwave vent just makes really loud noise when it's windy. They said that can't be fixed. I've watched them throw straw down over rock and uneven dirt with no seed. There is still white paint all over driveway. You hear water running through entire house when someone uses bathroom. Furnace company has been here over 10 times for heat. Cheap bathtub, already cracked. Not to mention we 360 a year for absolutely nothing. They don't plow or salt. Pond is full of bugs and geese, and no water in it. Water PVC pipe in basement already bent to **. Probably gonna have to replace soon.
When is windy it feels like house is gonna fall over. Paint on tile floor in kitchen cause they were sloppy. All in all house is made poorly and very cheap. And I gotta pay 360.00 a year for 2 small common areas they mow once a month. You do the math. I have the phone number for Arbor Ridge saved in my phone as ARBOR RIPOFF!

Been in my home since 2013. I have had problems from day 1. Almost all of my faucets were connect properly just sitting on the base. So many unfinished holes that mice invaded the townhouse. Had to have someone walks and find all openings and have them sealed up. Stove and refrigerator has had many problem. When the water runs you hear it all throughout the home. Cracked walls and molding. Hot water heater leaking in the walls. Exposed pipe so they freeze in cold weather. This was my first home that I built. I feel so taken advantage of. Pay these people all this money expecting a quality product and they just don't care. I believe everyone in my neighborhood has had issues with the hot water heater. Is there any help for me? Or at least can we stop them from doing this to other people?

Had the Ravenna model built in 2014. After moving in, I noticed plenty of areas where the workers were sloppy (paint overruns, corners not aligned along floorboards, etc.). I immediately had to call them out because the toilets were clogging up 2-3x/week with normal usage. They sent a plumber out who told me all my neighbors were paying to replace toilets b/c of poor quality (in a BRAND NEW house!). Had a family member come up shortly after who easily turned up the water pressure knob at the bottom of all the toilets and haven't had a clog since. Did have leaking toilets and a different plumber they sent out said it was installed incorrectly (issue with 2 toilets). When the hot water runs in the kitchen there is a knocking sound heard through the family room wall (and for several mins after).
Asst. PM came out and said it was a pipe knocking against its bracket and it would settle. It's been a yr and half. There are more things but I'd run out of room. Bottom line: don't fall for the sales rep's line that the PM you're getting "is the one the executives use to build their houses." BS. Oh, and don't bother trying to reach that rep one day past your one year warranty. They will no longer respond.

This is our second major issue through the home purchase of a Ryan Homes; the previous issue, following a long, emotionally draining experience, we met half way with the division manager (who is now replaced). This last weekend, we were called by the sales representatives at May's Quarter; when we went to meet them in person, we were simply told that our lot we selectively chose was now too small to build our home on. We would have to choose a new lot from an inventory of sub-par lots which "they" deemed "similar". Keep in mind, NONE of these lots offered the wooded back for privacy, were located on a street that wouldn't see much traffic, and allowed for a walkout basement.
Now, they knew of this issue for a couple of weeks but chose to tell us a week before Christmas. We decided to try and meet with the new division manager, hoping he would apply friendly and sound business practice by fully admitting to Ryan Homes' mistake and offering a new lot that WE deemed commensurate with our chosen lot, with little to no additional cost. What we received was the opposite. First, over the course of an entire business day, I had received NO reply email or call to my email and two voicemails (one call I was directed to Voicemail upon the second ring), not even to tell me he had received my message and was working on it.
Upon no acknowledgment of our messages, we went to the offices ad upon entering the Ryan Homes' office, we were greeted with scorn and disrespect by the new division manager. We were talked down to in a snide and rude manner virtually the entire meeting and were once again told we were confined to the sub-par lots; we could choose a commensurate lot but would likely be looking at an additional $30K-$40K! I have NEVER come across a company that says, "Sorry, we screwed up twice, you please take the brunt of our mistake."
I can understand the "new" division manager being in a tough spot as the new guy, but at the very least, we could have been replied to or greeted with "business etiquette" and respect having been put through the ringer two times vice what we received. Now we're in a tough spot because the community seems great, and my family (particularly my 7-year-old daughter) is in love with the model home, however, I have a hard time to be on the receiving end of such disrespect as a customer.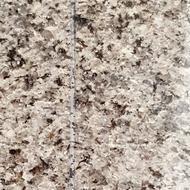 So this is what a double upgrade will get you at Ryan home.. A eyesore this seam is a foot away from my sink. It's horrible. Looks like they used a sharpie to match the black, and the base epoxy isn't even close to a match. We paid a 2-tier upgrade to get this granite and they give me a unprofessional seam. So frustrated...

So upset to find that the house I built 10 years ago that I am about to sell has radon issues! Heard from the radon company that they come out to Rolling Brooke all the time because although Ryan Homes knew there would be radon issues if they built here, they did nothing to protect the families that live here! I essentially built a money pit with all the issues we have encountered since building this house!
Ryan Homes Company Profile
Company Name:

Ryan Homes

Website:

http://www.ryanhomes.com/