Consumer Complaints and Reviews

We contracted with The Souza Group, associated with Re/Max Real Estate, to sell our home. They were very professional and provided assistance from start to finish. We would recommend them to anyone thinking about selling their home in the California Central Valley. They are quite knowledgeable of this region.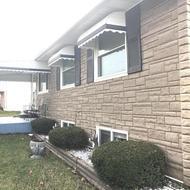 On January 1 we decided to look for a home. After finding a home online that we wanted to see in person called the realtor, Emily **. She was willing to give up her New Years holiday. This impressed us tremendously. That particular home didn't pan out but she showed us our keeper that very day. Throughout the whole process she treated us as if we were the only customer she had. If you need a home in the Columbus, OH area you really need to see her. I think you will be just as happy as we were.

I had the misfortune of needing a RE/MAX agent to get a rental in Flagstaff. Her name is April, very suspicious and lacks knowledge about the property, presumptuous, and she is not available in town. Just don't waste your time.

Following a horrific divorce, I found a house through a friends realtor and had to sign a lease with Remax as the property manager. When I went in I had some legitimate questions. I asked about the financials of the house and the owner. I was assured that the owner had no liens or interest in coming back to live in the house.
Three months later I was sent a certified letter about an intended walk through of the house by the new owner. When I called Remax, they told me it was sold. Upon further findings I learned that the actually been in a short sale for the last 8 months. I picked the house for many reasons and wasn't planning on moving in a year. The new owner asked me to move and then complained about the condition of the house. It was like that when I rented it and I had pictures. Remax should have not lied to me and I wouldn't have rented it.

Westminster RE/MAX - Robyn was the worst agent ever... We nearly pulled the contract out from her & her clients for their lack of business skills & courtesy. Our realtor was a dream come true to carry us thru this absolute mess. Do not use that Robyn ever. OVERRATED!
How do I know I can trust these reviews about RE/MAX?
789,262 reviews on ConsumerAffairs are verified.
We require contact information to ensure our reviewers are real.
We use intelligent software that helps us maintain the integrity of reviews.
Our moderators read all reviews to verify quality and helpfulness.
For more information about reviews on ConsumerAffairs.com please visit our FAQ.

Misrepresenting property, the broker intentionally misleading people. The appliances, the things and furniture do not belong to owner. Unauthorized pictures used, breaking tenant privacy. Broker advertising place as vacant, broke inside while tenant away. Sending people to intimidate and here's my family and my kids. Have a 2 year old and 5 months old. Just disgusted. Putting my kids in danger, using my things like I am a staging company for the property. Yep, so wrong and illegal. This is what happens in Blakeslee, PA. Disgusting. And the RE/MAX customer service don't even answer you. Yep this is RE/MAX for you. Be aware of the illegal practice and bullying. Be aware.

This should explain a lot. Basically the texts to our realtor. "I have yet to be rude to you. None of my texts are rude. They're straightforward. I am and will speak to the homeowner about how you texted Josh all them things and how the house isn't going to be ours anymore. I wanted a sign paper on the fence before signing. You stated you would speak to someone the other day and never got back to me on it until last night after I texted you. We contacted a fencing company yesterday for the fence."
"You stated you are off on Mondays which we did not know considering you were texting Josh yesterday and said to us, 'Call anytime you need'. I stated we won't sign until we get paper signed on the fence so you would have to wait till we met the homeowner to get something worked out or something. You are in this for the money, you haven't let the homeowner know everything that is being stated and what you are stating. You are rude and to say I cannot be involved in a house I am signing for blows my mind and I don't believe is right by any means. That is rude."
Carol ** is very rude. Hardly response and seems to be aggravated every time we have spoken. She has lied and tried to cover up her lies.

I banked on Ben and lost my shirt. I contacted a realtor BEN ** for a purchase of a house, unfortunately I didn't do my due diligence on him. Ben only does high end sales from 125K and up. Mostly affluent and well off neighborhoods. In addition Ben's communication was nil only when it was convenient for him. In addition Ben almost had me move into a house which may or may not have had stolen Appliances.
In addition I gave BEN ** the benefit of the doubt and continued as my window of opportunity was going to close and I needed to get a home inspection done. That is when I found out about faulty appliances as well. No serial numbers, no model numbers. I think if a realtor had any integrity, ethics or scruples in their soul they would opt to either work with the client and or refund the Home inspection fee, which was a hefty $400.00. In conclusion I got a home inspection done on a house that had faulty and or stolen appliances, as it is now I can not get a hold of Ben as he is always busy, or not available. Oh wow that's a shocker.

Had several properties turned over for this company to sell, not only did they not sell those properties but they embarrassed the buyers. This is the worst RE company I have ever done business with. Never again.

While listing I asked for 6 months. They asked for 12. We compromised per Charlotte **. They listed for $350,000... I was OK with that. Now they can not sell for that price and want to go down. I have over $500,000 in this home. For the last 3 months they have not had a sale go through this house. They can not sell it for that price. I can not sell it for less so I asked to get out of the contract. They want $250 dollars fee to cancel or I don't try to sell in the next 6 months. I feel like I'm being held hostage and can't sell this house unless I pay them, and they admit they can not sell this house. They did not give me a copy of the contract.

I called the Riverside Remax and spoke with Deborah **. I had a general question about approximately how much condo fees were. She didn't want to talk with me, so rude and unhelpful! Wow, it's OK if someone honestly can't answer. I understand. I DO NOT understand why anyone would pick up the phone and talk with people without a scrap of customer service. She created bad feelings with a potential client for absolutely no reason. Maybe she needs more rest or is on the wrong meds. It's called simple courtesy! I have purchased more than one home from Remax but I don't know if I'm ready for this kind of behavior for this next purchase. Oh well, there are lots of other agencies around.

Bought property for more than it was worth per agent. I asked Kris ** of Re-Max Realty in January of 2015 to choose, assist and direct me on buying a suitable property for a flip in Phoenix up to $150,000 and I told her we would share some of the profits as I am a 100% disabled Veteran and had lost money previously. The following email is an example of the math Miss ** used to convince me to buy property for another house she wanted me to buy. "If the house can be purchased for close to $270,000 then we can sell it for around $360,000". That would be a profit of approximating 100%, as a hard money loan of 80% of $270,00 is $216,000 leaving me to pay $54,000 and approximately $30,000 in Contractor costs which is $84,000 and selling for $80,000 profit. I reiterated that I was ok around $150,000 and would be very short on funds if I bought something this expensive.
On May 6, Kris ** emailed "I have seen over 160 homes in the last two weeks". Now I'm feeling guilty because of all the homes she claimed she has looked at on our behalf. Kris ** selected a house and on or around May 7-15 her emails stated; "2 offers on this". "We can beat them". During a contracted time prior to purchase I was inundated with emails, texts and calls and her repeated comments that "we would make at least a $100,000 in 90 days". I explained that I would have very little money left at that price left and "my financial future was in your hands". "Need to lighten this up and go soft modern, since it is wholesale they will make your $2500 earnest money non-refundable", is an example of her approach.
On May 18, Kris ** forwards an email to me that she received from seller's agent; "I believe and I'm sure you agree that your buyer is going to do really well on this property. We price our home knowing that they need some work - we are not making tons of money - we leave plenty of meat on the bone for our investors so they're happy. In the spirit of the transaction we will split that difference of $3000 with you." On May 19, I email her asking why we should be concerned with what the listing agent wants as listing agent is texting her about my intent, whether I'm an agent and whether I am playing games. Further on May 18 Kris ** texted me with the following, her broker allegedly states to her "may buy the property after I am done and if he does add $300,000","very lucky man Bruce" ,"I got your back".
Miss ** told me I would have to pay the sellers commission of $11,000 which I did and then told me I would have to pay a further $25,000 plus to another company that to this day I have not understood. I do not know if they shared that $25,000 plus with Miss ** as I have since been told there is something wrong with paying the sellers commission as the buyer and also a fee to another company that had nothing to do with Re-max Realty that I am aware of.
I was repeatedly told by other realtors that something was not right when I spoke with them a couple of months after buying that house, worth no more than $260,000 at the time of purchase, much less the "wholesale" price ostensibly of $400,000+ I paid, a whopping $150,000 more than it was worth according to the realtors I spoke with (August 2015 when I had finished the remodel). Some agents priced the property in the $300,000's. None came anywhere near Miss **'s statement to me that the house would sell for $575,000 after listing at $589,000-$599,000.
I have met and spoken with the former owner on many occasions and there "were no other offers," despite Miss **'s repeated statements to the contrary. In fact, the previous owner states he couldn't believe that the property was being sold at all much less for such a large amount as he was facing foreclosure. Miss ** statement, "Roof and AC less than two years." (In fact, AC units are 3 and 5 years old, not two.) After her inspection on the re-model where she remarked "turned out great", she refused to re-list the property and refrained from communicating with me. I finally sold house for $10,000 more than I paid for it after spending upwards of $150,000 over a year later. I entered into Chapter 7 bankruptcy and I am now living on Social Security and my VA benefits.

I own an apt in Margate Florida. I have rented it over the past 20 years with unusually bad results. Even though most paid on time all of the (4 different families) all took some of my possessions with them. The last family who "Wanted to buy it" ended up moving out to another apt in the same condo, 5 months before the end of our agreement and stole all of my furniture. The condo office (Oriole G&T II Assoc.) never ask me for a recommendation and never checked with me for my opinion.
When I decided to rent/sell my apt I got an agent from Re/Max University Blvd., Coral Springs, that I had used for the last tenant. His name is Larry **. (I call him: Slippery Larry.) I had met him and he "Appeared" to be a nice guy. As it turned out he give me nothing but excuses and stories: I had a problem with a leak left/cause by the last renter, (The **). He said he "Had it all under control". He told me the woman in the apt under mine would not let him and the repair man in to trace the leak (Which she had complained about on two occasions). I did not find out about this problem and he never went to the Oriole office as I had written to him on 4+ occasions. He went in, the first time in the last week of July and told me about the problem, the first time, in late October (About the 20th).
During all of the time between NOTHING was repaired...I never got an estimate of the necessary repairs. I was lucky that, after the end of October I wrote Larry ** and told him what I think, including: Are you stupid or crazy...Since I never got an answer from any of my mails. One time I told him I was, in fact, paying over $550 a month waiting for him to do the repairs, including the elec. He mailed me back: "If your elec. bill is $550 send it to me and I will look into it." I got really annoyed with this and then I got lucky...He got annoyed at me: Call the, "Attack Defense". (I had made the mistake of signing an agreement for one year, by mistake. I though the agreement was from Aug to Dec 2016, I didn't see it was to 2017.) He quit me...The best thing to happen. Then I found another agent who told me how competent she was, Shena **, Plantation. She went in with a repair man.
She took photos and made a list of "Everything to repair" even though I didn't need nor ask her for the work. I only wanted to fix the leak and 1-2 other things if it would help rent/sell the apt. i.e. Seal a few cracks in the ceiling and lay down another flooring in one room. She also told me how, "Good I am at getting what I want with people." She asked me for an advance of $200. My wife went to the bank and found out that it would cost $50 to send $200, with conversion and fees, since I live in Europe. Since I had always (For over 20 years) paid everything (Condo Fees/Taxes/Assessments/Repairs) with a check from a USA bank, which kepted it all listed properly) I sent her a US check for, $500, thinking that would make her happy. At this time I was thankful to have her after 4 months with Mr. **. She wanted the money transferred to her account at, Bank of America, or PayPal.
I look up her address in Google and sent the check to her address. When I told her about the check she got very angry and said, "I am doing all of the work and..." What she was doing was driving to my apt and meeting with a repairman and what "Work" the repairman was to do all the work. The fact that she was not near my apt and had to drive from Plantation was a problem for her, but she didn't say anything, since she wanted my apt to sell and make about $850 or sell it and make about $4,000. She even asked me: "Where did you get my address" as if I did something sneaky. I told her it was from her site in Plantation, FL. No answer. That is the main problem in every case with over 6 different agents, they never write anything in advance to say that they will be away or have a "Personal Problem".
Another smaller problem with a woman named Mariann ** (Not sure exactly, but something like that.) She contact me on a Thursday, said she was out of town and if she could go to my apt on Monday. Late Monday I got a mail: I looked at my agenda and I cannot work on your apt...End. Nice huh: So, please NEVER sign any agreement with an agent for over 90 days. I think that there is so much competition and stress and they usually don't get the full commissions because they often have to split them with 1-2 others.
So, be careful and if you meet with them, always bring a witness and tell them to listen carefully to whatever they say and write everything clearly by email. That is not the end of it. If you think the condo offices and/or the managers and Presidents are there to help you you have another thing coming. They are there for themselves and have a long list of what they "Don't do", but they can always manage to interfere and talk about things you don't ask them to do. Good luck.

I have listed my home with Remax and have had nothing but a horrible experience. The first agent quit and the 2nd agent never responds to emails or phone calls from me. She has been the most arrogant agent I've ever had to deal with. Her responses to any of my questions are derogatory. I have had such a hard time communicating with her. She speaks over me and interrupts me constantly. I've complained to the manager and he is not interested in hearing any of it. He backs her up. I am keeping her because I really need to sell my house as I have another home waiting for me. I will never list with Remax again. I hope I can stick it out with her and that I get my asking price.

We leased our property through RE/MAX Bracken Ridge QLD, agent Jody ** (last one handling it after being passed around from agent to agent, not sure if they couldn't keep staff or just didn't care who was looking after what). The property was significantly damaged whilst in their care by the tenants or their guests. When the tenants decided to move out on a Tuesday I specifically requested we were given till the Friday to inspect the property prior to bond return.T.
He property was inspected by Jody who promptly signed the return of bond paperwork before quickly going on leave on the Thursday. I inspected the property on Friday to be crushed at the state of doors that had been removed and now missing, holes in walls and other doors, frames ripped off mirror sliding wardrobe doors, mould/mildew growing in build in robes that required carpets to be pulled up and replaced, chunks taken out of corners of walls. These are the main points I can think of right now.
I email RE/MAX stating "do not return bond and please send a copy of the exit report". I was replied to by Amanda and Mark ** stating "Jody was on leave now and the bond has already been returned, as we couldn't find the entry inspection report on file we had nothing to compare to". Not sure what we were paying them for if they can't keep the correct records and then basically tell us "tough luck" when the damage was so blatantly obvious.

This agent took in a family from Borger, Texas informing me that they had to credentials to purchase. I went on her advice and guess what the family never came through with the purchase. In fact, they started to abandon the property and she did not tell me until the last minute. I received a threatening letter from this client's attorney informing me that I owed them money, when it was not the case. The couple that abandoned the home owed me close to $500. The situation was just a bad, she placed a family in my home who had serious civil and criminal judgement against them. She claimed to run the proper screening on them, but failed to do so. These people were dishonest and lived in the home for months as "hoarders." We took them to court and got a judgement against them for non-payment of rent and security deposit.
In Maryland it is very difficult to get a tenant out even though they do not have the proper credentials. What was worse of all, I went on Connie's verbal advice and now I have serious problems with these tenants in trying to get them out of my home. A good real estate agent works for their clients to protect them from all
of these things from happening. Guess what. I wish I could say this for Connie, but it was my worse experience with a real estate agent in Southern Maryland. I urge all who secure her services to be on guard and be extremely cautious.

We recently purchased a house in Arizona. Our experience with the Agent Patricia ** who likes to be called Pete was the best experience we have ever had with a realtor. She was recommended to us by a friend of the family. We called her about a month before we were to fly down from Washington state. I explained to her what we were looking for and our price range. Immediately she signed us into her listing and began sending me homes to look at. We eventually flew to Arizona and we met the next day to go over my really long list. From there we went on an eight day journey from town to town looking at eight to ten homes a day. She stayed with us every step of the way and was very patient with my indecisiveness, as I couldn't make my mind up.
Finally on the eighth day I found what I wanted. She walked us through everything we needed to do. From the offer, inspection and closing. Throughout these many days she was either right there when I called, or if I had to leave a message, she made sure to always return my calls. She was very professional and just a very nice person to talk with. If we ever need a realtor, after moving to Arizona, in the future it will be Patricia ** that we will contact. Re/Max has found a true gem in this one and I will recommend the Re/Max Agency as well as Patricia to anyone seriously thinking about buying a new home. I only wish she could come to Washington state for when we are willing to sell our home out here.
I do not write very many reviews but I have had such awful experiences with realtors in the past that it was refreshing to finally find someone who honestly cared about putting their client's needs up front and making them feel as special as Pete did for us. Now I can hardly wait to get back down to Arizona so that I can start the process of decorating our new home. :)

Terrible experience with Re/Max. I visited a house listed by Stephanie and Jeff ** in California. I saw a lot of problems with the home like scratches on bedroom doors, light bulbs that are inefficient and mismatched, improperly grounded electrical outlets (that did not match one another and were out of code), and dirty floors. Stephanie took it upon herself to negate everything I said and put me down. She began attacking me so badly I had to use mace to get to her to back off so I could leave!

We have been tenants of RE/MAX Infinity since February 2015, processed by Ben **. 21 consecutive months our rent was paid on time. This current month we experienced financial difficulties, which I notified ** on October 31. I assured him that rent and penalties would be paid in full November 16. What I have received since that time are penalty threats and threats of litigation, not once being contacted directly. I explained to ** in my note that my wife had to change jobs. I am a senior citizen on a fixed income. It may well be true that ** is within his rights to take these actions representing Remax, regardless of the Business Ethics, or lack of. He has now charged me 277.00 in charges above and beyond the late fee. RE/MAX will get their Cashier's Check on November 16, as I keep my commitment. With that said I will never deal with RE/MAX again and will warn others to beware of their practices. Guess the personable Ben is only on display at signing time.

We rented a house in Ocala through this agency and the experience was the worst in my renting history ever. Through my years of renting, was never denied by deposit back but this time was the first. The house I rented was previously vandalized prior to us moving in. and they lost a lot of money on the house fixing certain things. We took pictures of our move in walk through because they were to have everything done and ready for use to move in. The conditioned we moved into was horrible. They sent a person to clean just to clean the kitchen top cabinets and the bathrooms. We were left with filthy garage, pool, screens and windows. Since we did a far move to Kissimmee to Ocala we had no choice but to keep the place we rented. We worked in the house cleaning up and keeping up the house in good condition.
We did have issues with the electric bill being really high due to the air condition being outdated and having a hole in the venting which was never replaced and updated. Nicole with the agency is very rude and dishonest. Lied about the walk through and problems. They will not do the walk through with you. They refuse and send the letter in mail to you letting you know. They want to upcharge so they have a reason to keep the deposit. Example the yard work was done by us, the mowing of the lawn and edging, and they want to charge and 340.00 for stating the bushes and trees weren't edged. So that was a lie and besides nothing in the contract states that we have to do anything professionally with the yard. There was a small crack in a plate switch on the wall outlet and they want to charge 90.00. for a 1.00 cover plate. The bottom line is the experience is horrible and they are not to be trusted.

I found the house that I lived in as a child on realtor.com. I clicked on "request a private showing." A realtor replied by text and asked how he could help me. I requested to walk through that particular house. He asked if I was thinking about buying a house or just wanted to look. I told him I wanted to look because I used to live there. He suggested that I keep an eye out for an open house. I thought everyone that looked was a potential buyer. I thought his comment was rude but didn't say anything. A little over a week later, I notice that there is an open house. I go with my husband, daughter, and grandchildren. We are the first ones there. The realtor overhears a comment I make about the house and she asked if I used to live there and I said yes. She asked if I talked to Luke (the first realtor that texted me) and I said yes.
She welcomed me in to take a trip down memory lane. The six of us (my family and me) walked through the house and most of the time we weren't even in the same area at the same time. A few other people eventually came to look at the house also. We are there about 45 minutes and then left. About 15 minutes later the realtor posts on Facebook that she needs to vent (even though she realizes that venting on social media isn't always a good idea). She says when attending an open house, she appreciates that I once lived there, and want to take a trip down memory lane, BUT when there are 8 people in your party and she has actual buyers trying to see the house, politely step aside so they can walk past me.
Well, I WAS an actual buyer. I was seriously thinking about buying the house. She even asked me if I wanted to buy the house and I told her yes. Yet a few minutes later on Facebook she is venting about how people that are not actual buyers need to step out of the way. We were not in anyone's way. We did not even walk through as a party of 6 (or 8 as she says). We split up and walked through the house. She later says on Facebook: "I love talking to the people about how the house and neighborhood has changed. Today's people were just not considerate of the other people trying to see the house."
The six of us were in no way inconsiderate to anyone in the house. I am just shocked that she is saying that on Facebook. I'm shocked that she even thinks we were in anyone's way. She didn't follow us around, so she doesn't know. And the posting was done during the open house. She didn't even wait until the open house was over before getting on Facebook and posting her comments. I will not do business with her or RE/MAX.

RE/MAX MILLENIUM (Huntingdon Valley, Pa.) For Sale sign is on property next door to mine - a twin home. The front and back lawns had grass overgrown to about two feet. Vines were growing up the front of the house - it looked liked an abandoned property. I telephoned Jennifer **, Agent's name on the sign. Holly, the secretary, said she's out of town and it's not their responsibility to mow the lawn. She stated the property is "under contract". Was rude and sarcastic - suggested I complain to the City of Phila. if I'm unhappy about it.
Today, my son, at our expense, mowed the lawn, using our gasoline and his time and energy in 95 degree heat. I called the office again and asked we be compensated, stating to Holly the least she could have done yesterday was offered to call the owner and see to it this got taken care of. I would NEVER USE RE/MAX services in a thousand years, since while it was up for sale, the landscaper came regularly. Since they now smell their money's on the way, to hell with the condition/appearance of the property!!!

Was going to sell farm in Sweden, this farm I owned together with another person. He did not want to use estate company so I bought him out to this I used the Swedish company. They charged me 15000 kr se for having the meeting and do all the paperwork. And they also promised me to sell the farm within a year. What happened was that they made a mistake in the contract. They forgot two of the properties, this farm is 3 properties. The owner which I thought I bought out did not want to sign the contract, he decided he wanted more money than agreement. But the reason why choose a estate company is to avoid things like this to happen. I have given them now 2 years to clear up the situation. What can I do?

We had our property listed with Remax in Cotacachi Ecuador! 4 weeks ago we received notice that we had an offer. It took her 3 days to finally submit the so called Intend to buy! I have never seen before such a plain sheet to purchase a condo. Anyway we were skeptical then we received after numerous e-mails asking a copy of a $5000 deposit into the so-called trust account (there is no trust accounts in Ecuador).
So short on time we had to move the closing day to August 17. We booked the tickets and went, before I wrote her an email asking if everything was ok. Yes we are ready. On Monday the 15th we had scheduled a meeting expecting a bunch of papers... Well she announced we wouldn't close on the 17th maybe on the 19th the day of our return to Canada. Why apparently a setback at the Municipal office also we had to pay a capital gain tax which we had looked into and normally would not be applicable because the transaction was supposed to go outside the country. She couldn't even tell me how much this tax would be.
We told her that on the 19th by 10 am the funds needed to be there and we would sign the papers over. On Thursday the 18th we received an e-mail stating that we should pay $ 3884.00 at 8 am then sign the papers over and the buyer would then make arrangements to transfer the funds. What first of all how can you pay for a transaction which hasn't even taken place? Also in the contract she made with the buyer, it stated Buyer pays all lawyer and closing cost. We informed her that the buyer has to pay this well needless to say we received another e-mail the buyer would not pay and would revoke the offer.
We looked further into the matter Finding out that the buyer changed the purchase amount that where the tax came from that the Realtor is not licensed hiding and operating under the Remax banner. We were told under normal circumstances that the Realtor would have to pay the amount. Since the contract she made was only in English it really has no legal binding in Ecuador. They have no knowledge whatsoever all they see is the Commission. Buyer/Seller be aware. The transaction was supposed to be happening in Cotacachi Ecuador.

My realtor **, who was working with RE/MAX Performance Realty Inc at 1140 Burnhamthorpe Rd. West. The real estate agent representing the buyer was **. This family put a firm offer (non-conditional) for the amount of 1,160,500 on the home. Since their offer was non conditional, I had expected my agent to confirm their identification, information, and able to confirm whether or not they had their finances for purchasing the home figured out.
On the day of the sale, I confirmed with my real agent and the buyer's agent to confirm that the buyer has been pre-approved for a mortgage and that everything has checked cleared with a real estate lawyer. ** notified me that she has seen the paperwork and gave me the word that the family would be able to purchase the house unconditionally. I passed on other offers and agreed to sell the home to this family, following the advice of my agent, **.
They left a $30,000 deposit with the agency, and since that time I have spent substantial funds for renovations, cleaning, moving, and everything of the sort. I was looking to purchase a house myself at that time, and ** had informed me originally that she could get that $30,000 deposit and pass it onto me so that I may use it as a deposit to purchase a new house.
At that time I signed an agreement, ** gave me guarantees at the time that the transaction would be smooth easy and trouble-free, as she checked everything out and knew the family. She asked for 5% commission on the sale. As you can tell I trusted her help, she informed me she had been an agent for the past 15 years. However shortly after signing all the papers, I found out she had actually just joined real estate, and that I could not access the deposit that had been placed. Shortly after the sale, she virtually disappeared... not attempting to help me find a new property whatsoever.
Over a month before the closing date, our family had attempted to get a hold of the buyer's agent to confirm that there hasn't been any issues, and to confirm that the finances were all fine. Every day we had to call him and his office, and he finally responded back after some time and confirmed with us that the buyer's family was all ready to move in on the 16th of August, the closing date. Last Thursday on the 11th of August, my lawyer called the buyer's lawyer to make sure everything was in order, and their lawyer informed us that he hasn't heard anything from the buyers and apparently they never had a pre-approved mortgage to begin with.
Our closing date is the 16th of August, and keep in mind that we had essentially already moved out at this time. My agent notified me only a few days before the closing date that now the family would need an appraisal because she made a mistake, and they never actually had a pre-approved mortgage. ** not only handled this situation unprofessionally, but she blatantly lied to my face multiple times in order to make a quick sale. She fed me false information multiple times and took on a very hostile attitude once I began to question her. She also repeatedly gave the wrong times and dates for the appraisal visit on my behalf and my lawyer's behalf. I'm not sure what her motive was there, but at this point it seemed everything was just taking a turn for the worse and my agent was only trying to make my life harder.

I am giving my honest opinion on my experience with Ralph **. We were selling our exquisite condo in Marco Island, Fl. He was our real estate agent for a year and a half. The condo took forever to sell. We had very few showings. It finally sold and the closing was July 26, 2016. I was requested by the Citizen Title Company, which is owned by Joanne ** wife to Ralph **, to finalize the closing from my end which I agreed to do. The closing documents were approved by my Estate Attorney as they were presented to me a week before. The numbers were approved and that was my understanding.
At the closing I had the most horrible experience. Unbeknownst to me, the Citizens Title Company added another $300.00 to the closing cost. Even Cheryl **, who oversaw the closing papers with me, did not know what the $300.00 was for. After reaching Joanne ** by phone she said there was more work due to my "Trial". I argued the point. Very unhappy I signed the papers and asked to speak to Ralph ** to discuss my disappointment. He did not address the issue by side stepping it referring to his commission amount which was agreed on in February 2014.
I still complained very lady like. I was then mortified by his behavior. This grown man acted out in front of me and Cheryl **. He stomped out of the room, waving a piece of paper, and I quote "Ok Musette, I am sorry we ever sold your condo for you". Horrible business, frightening presentation and truly an awful experience. To add insult to injury, we find out it was "sold" by a friend of ours who knew how spectacular our condo was not by Ralph's presence. I believe I have made my point. Not a happy ending.

Hi guys never rent a house from remax extreme. I am renting a property from them and their property manager are very rude and disrespectful, treat like we are criminals and always saying that we will give bad reference when we gonna buy or lease new property. However, that was my last mistake and will never take property through them.

As a first time seller and hopefully the last, beware of any ReMax agent calling to show your home. Some of the most arrogant and obnoxious people working in the real estate industry. And if your family still lives in the home as mine did, even worse for the seller. When ReMax calls, they expect everything to come to a hault for them, and your life and families life is now meaningless. They expect you to stop what you are doing, even a meal, because as one told me, 'I have a ready buyer who has other commitments, and if you want to toss a buyer out, that is on you.' I hardly saw $100.00 bills hanging out of pockets and a pen in hand ready to make an offer.
Yes I did park off in the distance so I could observe this tribe when it arrived. Four kids with mommy and daddy, why would you even look at a 3 bedroom home, unless you plan on stacking your darlings in one room like storage boxes?? And lit cigarette butts tossed on parched dry ground because the clan arrived well ahead of the agent, who was not observant at all, and spent a good deal of time playing with the almighty cell phone.
The biggest problem I see with most agents in general but more so with Remax agents they think with their checking accounts, see nothing but dollar signs and truly could care less about anything else along the way. I would think that taking control of your client when on someone else's property would be a top priority, but not for them. I even came home once after a ReMax agent had shown my home to find my bathroom had been used!!! And don't bother calling the agent or agency for an explanation or an apology.
A tight little club, that covers each other backs and sticks together like a merry band of thieves. I banned one ReMax agency from ever setting foot on my property again even if the buyer did have cash hanging out of all pockets. They thought by whining to my agent that they could work around me, but they found out that I STILL OWN THE HOME and have certain rights as well. And what Remax needs to learn is yes home owners do eat dinner between 4:30 and 6:00 p.m. and we will not vacate on 30 minutes notice. Get control of your client, and not the client you as seems to be the case. Because they have a pending preapproval for a mortgage, doesn't mean you pile into a car and run from county to county looking at houses and annoying owners all times of the day and night.
Find out how many rooms are needed, how many young kids, and educate yourself on what you are showing and the surrounding area, not just hand them a print out of the listing sheet, and turn them loose on someone's property, as you are standing there texting or babbling on your cell phone. And sellers lives are just as important as buyers. A buyer has no priority over a seller as far as being busy, on a schedule other commitments etc. Seems that with this company it is always "Me, Me, Me, Now, Now, Now". Never got involved with ReMax and never ever will. Absolutely by far the worst and most arrogant people in the U.S.

I sold my home under the contingency that the buyers could move in once I was able to move into my new home. So I thought, The agent was also my friend. It's my fault now that I didn't read the contract. Escrow closed on my house sold but not new house. I was in the middle of packing as it was too close any day but the new owners showed up and wanted me out in five hours. My realtor knew this was going to happen and she did nothing to stop it. She could have asked for more time something. She just stood there. The new owners went outside and my realtor was walking around my house doing nothing so I told her to leave and not come back.
Why did she fill out an extension or something. She knew this was going to happen. What other reason why she was at my house? Just to watch them threw me out. If she would have told me I would have been out. Since I told her to get out of my house she uses that as an excuse not to communicate with me. I had to get crappy movers who ripped me off on such short notice, get a storage unit and move into a hotel with my dog and cat.
Why would she tell me this was going to happen. I have asked her a thousand times why she didn't tell me this was going to happen and she won't answer me. Why won't she tell me. It was the worst week of my entire life and I thought she was my friend. She had gotten paid and didn't care what happened to me after that. Her name is Cynthia ** from the Diamond Bar, Ca office.

Do not make business with these people, they take advance of you taking unexpected increase of rent! They are devils.
Company Name:

RE/MAX

Website:

http://www.remax.com/