Written by
Swim spas let users swim in place and enjoy the benefits of swimming without installing an in-ground lap pool. Read our guide to find the best swim spa for your needs. We look at multiple considerations, including cost, portability and installation location.
Why trust ConsumerAffairs?
Our recommendations are based on what reviewers say.
4,307,388 reviews on ConsumerAffairs are verified.
We require contact information to ensure our reviewers are real.
We use intelligent software that helps us maintain the integrity of reviews.
Our moderators read all reviews to verify quality and helpfulness.
Compare Top Swim Spa Brand Reviews

Read 21 Reviews

Manufactures luxury hot tubs. Features control panels, accent jets and therapy pillows. Offers some nonchlorine sanitation systems. Includes a five-year warranty on equipment, plumbing and cabinet. Prices start around $4,000.

Chat with a ConsumerAffairs decision guide

Live agent

Read 28 Reviews

Sells hot tub-style spas with steady water currents that let you swim continuously and in place. Spas take up less space than most pools. Ergonomic therapy seats offer massage and relaxation.

Get a Quote

Read 55 Reviews

Endless Pools has been in business for 25 years, and the company has sold more than 20,000 pools. The company produces custom 16-inch propeller pools, which allows people to install a pool and get exercise even in a small space.

Chat with a ConsumerAffairs decision guide

Live agent
Read 56 Reviews

The Michael Phelps Swim Spas are ideal for different types of training, swimming, therapy and even family fun. With a variety of designs at hand, Michael Phelps Swim Spas guarantees only quality products.

Chat with a ConsumerAffairs decision guide

Live agent
Read Author Review

Arctic Spas, owned by Bluefalls Manufacturing, is a Canadian company that manufactures hot tubs, swim spas, grillhouses and accessories. It offers swim spas with a single body of water either with or without resistance.

Chat with a ConsumerAffairs decision guide

Live agent
Read Author Review

Atera manufactures over 50 models of hot tubs, swim spas and spa pools at their headquarters in Phoenix. The company has patented technology to allow users to heat or cool the water in their spas.

Chat with a ConsumerAffairs decision guide

Live agent
Read Author Review

Catalina Spa manufactures a wide variety of one piece hot tubs and swim spas including both portable, above ground units and permanent, partially in-ground units. Most jetted swim spas feature seats for relaxing.

Chat with a ConsumerAffairs decision guide

Live agent
Read Author Review

H2X swim spas are made by Master Spa and manufactured in the United States. H2X offers several models that use jets to create water resistance. The company offers swim spas with one or two volumes of water.

Chat with a ConsumerAffairs decision guide

Live agent
Read Author Review

Hydropool, a Canadian-based company, offers swim spas and hot tubs to consumers around the world. The company's jetted swim spas come in a variety of sizes with many configuration options, including saltwater filtration.

Chat with a ConsumerAffairs decision guide

Live agent
Read Author Review

SwimEx manufactures fiberglass swim spas for swimming and exercise that use paddlewheels to create an even current for resistance. The company offers many customizable products to suit most consumers' needs and preferences.

Chat with a ConsumerAffairs decision guide

Live agent
Common swim spa questions
What is a swim spa?

A swim spa is a machine that allows people to swim in place against a current. Swim spas can be used for anything from training and intense exercise to relaxation and low-impact exercise.

Swimming: A lot of homeowners enjoy swimming laps but do not have access to a pool or the space to install one. If this sounds like you, then look for a dedicated swim spa. Strong swimmers and those who are training for competitions should consider models with a current created by propellers or a paddlewheel.
Exercise: Individuals who want to swim leisurely or get other low-impact aerobic exercise will probably find a jetted swim spa acceptable.
Relaxation: Homeowners who are interested in some physical activity but who also want their swim spa as a  dedicated area for relaxation should consider models with seats and jets similar to those found in hot tubs. If you'are equally interested in exercise and relaxation, look at models with separate volumes of water for the hot tub area and the swim lane.

How much is a swim spa?

Swim spas cost varies depending on how customized the spa is and what materials are used, with prices ranging anywhere from $12,000 to $100,000. After purchasing a swim spa, the cost of running it will be affected by the spa's insulation, cover and motor.

Insulation: The better insulated a swim spa is, the less often the heater will need to run, making the whole unit more efficient. The specifications for each model should include details about how the unit is insulated.
Cover: A great deal of energy is lost through the cover when the swim spa is not in use, but well-insulated covers help prevent heat loss. Nearly all units come with an insulated cover, but some companies sell upgraded covers for additional efficiency. Look for a company that includes their most insulated cover in the purchase price of the swim spa.
Motor: The motor runs a swim spa's filtration system and jets. Its horsepower (hp) will impact the unit's energy use; however, a higher horsepower motor will not necessarily lead to a stronger current. To find the most energy-efficient option, look for a company that details its motor's energy efficiency features, and consider all the unit's specifications to get a complete picture of the unit's efficiency.

How does a swim spa work?

Swim spas work by using one of three methods to propel water and create a current for resistance: jets, propellers or paddlewheels. The type of technology used to create the current is one of the most significant factors affecting the cost of a swim spa.

Jets: Jetted swim spas use jets similar to those in hot tubs to force air and water into the swim lane. Companies that manufacture hot tubs are most likely to offer jetted swim spas. Some users dislike the air in the current created by jets because it obscures their vision, even when they wear goggles. These models are the most affordable options, with some starting around $10,000.
Propellers: Swim spas designed for intermediate and advanced swimmers are more likely to have propellers in a unit housed in front of the swimmer. The propellers push the water back, creating a current to swim into. The current tends to be deeper in a propeller swim spa than in a jetted swim spa, meaning the portion of the water moving is deeper. However, these models are also more expensive than jetted units, starting around $25,000.
Paddlewheel: Some swim spa companies use a paddlewheel located at the rear of the unit to create a current. The paddlewheel draws water backward and cycles it under the pool and then pushes it out in front of the swimmer, creating a smooth current across the entire width of the pool. These units start around $35,000.

How big are swim spas?

Swim spas come in a wide variety of sizes, and nearly everyone will be able to find a model that meets their needs. To swim in place, you need a swim spa that is wide and deep enough for you to comfortably complete your stroke. For non-swimming aerobic exercise, you should be able to walk several steps forward, backward and to the side.

Depth: Swim spas are available in depths between 3 and 5 feet. Taller users will need deeper spas. Some models, especially modular swim spas, have sections that are up to 2 feet deeper, which is ideal for swimmers who also want to tread water in their swim spas.
Length: You can select swim spas in lengths ranging between 10 and 21 feet. Those considering a swim spa with separate areas for swimming and sitting should make sure the swim lane is long enough to swim in without kicking the wall separating the lane from the hot tub. Most swimmers will be comfortable with a model around 15 feet long.

What is needed to install a swim spa?

Although installing a swim spa requires significantly less work than a traditional in-ground pool, the site will need to be properly prepared. Many companies offer detailed installation guides on their website, and some companies can recommend local contractors to help customers prepare their sites.

Foundation: The area where the swim spa will sit will need to be leveled. If the unit will be installed in-ground or partially in-ground, the owner will likely need to have the area excavated.
Weight: If you're considering putting your swim spa on an outdoor deck, check to be sure the deck can support the unit's weight. Most companies list all their models' weights, both empty and filled, on their websites.
Electrical outlets: Swim spas require electrical outlets for the heater and pumps. These units typically require a 220 volt outlet; these provide more voltage than standard household outlets and are sometimes needed for large appliances. Homeowners will need to acquire any necessary permits to install a new outlet and may need to hire a licensed electrician to perform the work.

Where can you install a swim spa?

Many consumers choose swim spas instead of pools because they don't have the space for a larger pool. Swim spas are versatile, and you should be able to find a model that can be installed in your desired location.

Site access: Aside from the area where the swim spa will actually sit, consumers must consider whether the unit will fit through any gates or doors between the street and their desired installation sites. Modular units will be able to fit through tighter spaces than portable units.
Inside: If you want to use your swim spa year round, you might consider installing your unit inside. Popular options include garages and newly constructed buildings. If you want your swim spa in a basement or an existing room, you will likely need to choose a modular swim spa so it can be brought into your house in pieces and assembled inside.
Outside: Those who plan to heat their swim spa and those who live in warm climates may want their units outside. Many people have the area around their swim spa landscaped to create an inviting space near their units.
Above ground: Most companies offer models that can be installed above ground. These can usually be moved after they are installed, which makes them ideal for people who do not own their home.
In-ground: Some companies offer models that can be installed in-ground or partially in-ground. These units become a permanent part of the installation sites and may add some value to the properties where they're installed.
Types of swim spas
Multiple water volumes
Swim spas designated for both relaxation and exercise sometimes have two separate volumes of water: a hot tub and a swim lane. These areas can often be set to different temperatures.
Single water volume
Most swim spas have a single volume of water. This may be devoted to swimming, or it may have both a swim lane and seats with spa-like jets for relaxing.
With current
All swim spas designed for users to swim in place have a system to create a current for the swimmer to swim against. The current may be created by a paddlewheel, propellers or hot tub-like jets.
Without current
Sometimes referred to as spa pools or water wells, units that do not have a current are designed for low-impact aerobic exercise. These swim spas are especially good for non-swimmers recovering from an injury.
Dedicated swim spas
Swim spas without any seats for relaxing are often considered dedicated swim spas. These are ideal for those who are not interested in any hot tub features or who have a separate hot tub.
Portable
Portable, or self-contained, swim spas are delivered in one piece and can be moved from one location to another.
Modular
Modular swim spas are delivered in multiple pieces and assembled on site. These can be installed in places that portable units will not fit; however, they are often permanent installations.
Thanks for subscribing.
You have successfully subscribed to our newsletter! Enjoy reading our tips and recommendations.
Swim spa reviews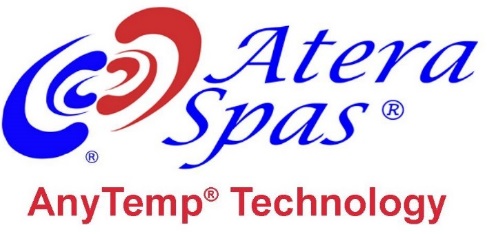 Atera, established in 1996 and headquartered in Phoenix, makes a wide variety of swim spas, hot tubs and spa pools. The company's manufacturing facility is in Arizona, and it prides itself on using American-made components. Atera's swim spas use jets to provide resistance, and some models can be both heated and cooled to suit the user's preference.
AnyTemp® and True Zone™: Atera's swim spas can both cool and heat the water and offer a temperature range from 62 to 104 degrees. Those who want both a hot tub and an exercise pool will appreciate Atera's True Zone™ technology. The swim spas have two separate volumes of water, one for the swimming lane and one for the hot tub, that can be set to different temperatures.
Energy efficient design: The undersides of Atera's swim spas are sealed, which reduces the amount of hot and cold air that circulates under the tub portion of the spas and makes them more energy efficient. The swim spas also include special venting to prevent heat produced by the pumps from building up in the base and heating water or damaging components.
Online pricing: Interested consumers can visit Atera's website to see a list of prices for the company's various models. They can also request a quote online for customizations. Atera is one of the few companies to list prices on their website.
Size: Atera's swim spas are 4 feet 2 inches tall and 191 inches long. Some models have a wall to separate the hot tub from the swim area, which makes the swim lane somewhat shorter.
Water current: The current in the swim lane in Atera's swim spas is provided by three or four jets, depending on the model selected. The company also makes spa pools without any jets, which are designed for relaxation and basic, impact-free aerobic exercise.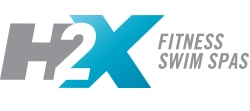 Master Spa makes H2X swim spas in addition to their hot tubs and the Michael Phelps branded swim spas. The H2X models are manufactured at Master Spa's location in Fort Wayne, Indiana. Interested consumers can find a local dealer by filling out a short form on the company's website.
Size: Master Spa offers eight models of swim spas. They range in depth from 4 feet 3 inches to 5 feet and in length from 132 to 231 inches. Two models have a barrier that separates the swim lane from the spa area, making the swim lane shorter.
SoftTread™ by SwimDek®: Customers can choose to upgrade the H2X Swim Spa to include SoftTread™ by SwimDek® on the swim spa floor. This non-slip flooring provides added traction for getting in and out of the swim spa and doing aerobic exercises in the swim lane.
Water current: The water current in the H2X swim spa is created by three or four jets, depending on the model selected. These jets mix air with the water to increase the negative pressure around the jets and provide additional resistance.
Energy efficiency: Master Spa uses Icynene foam to insulate the H2X swim spas. This insulation loses less volume over time than urethane-based foam, which means the swim spa will maintain its energy efficiency longer than some competitors' models.
H2Xercise System: All H2X swim spas come with the H2Xercise System, which includes a rowing kit, H2Xercise Bells, resistance bands, H2Xercise Fins and the H2Xercise Aquatic Workout book. This system will be especially appealing to those who want to use their pool for aerobic exercise in addition to swimming.

SwimEx makes residential and professional fiberglass swim spas that use a large paddlewheel to create a wider and deeper current than many competitors. The models are highly customizable and suitable for swimming or other aquatic exercise. These swim spas do not incorporate hot tub features. Many models come in modular pieces for installation in tight places.
Water current: The current in SwimEx's S and T series of swim spas is created by a paddlewheel located at the rear of the pool. These swim spas have 99 water resistance levels to accommodate swimmers of all skill levels. The Triton model uses a propellor to move the water.
Size: SwimEx manufactures six residential swim spa models as well as others for professional use and water wells. The depth varies by model, but most models can include a deeper section for treading water. Many can also have a custom length.
Installation options: SwimEx's swim spa designs make them suitable for in-ground, above-ground or partially in-ground installation. SwimEx designers can help any interested consumer determine which option is best for their chosen installation site.
Additional options: SwimEx offers a wide variety of extra features consumers can add for an additional fee. Options include an integrated treadmill, a deep well for extra depth, customized colors, a HD video camera system for monitoring swim strokes and more.
Design tool: Interested consumers can visit the SwimEx website to use their interactive design tool. It allows consumers to select the colors for the spa's interior, tiles and cover. They can also call a company representative for additional options.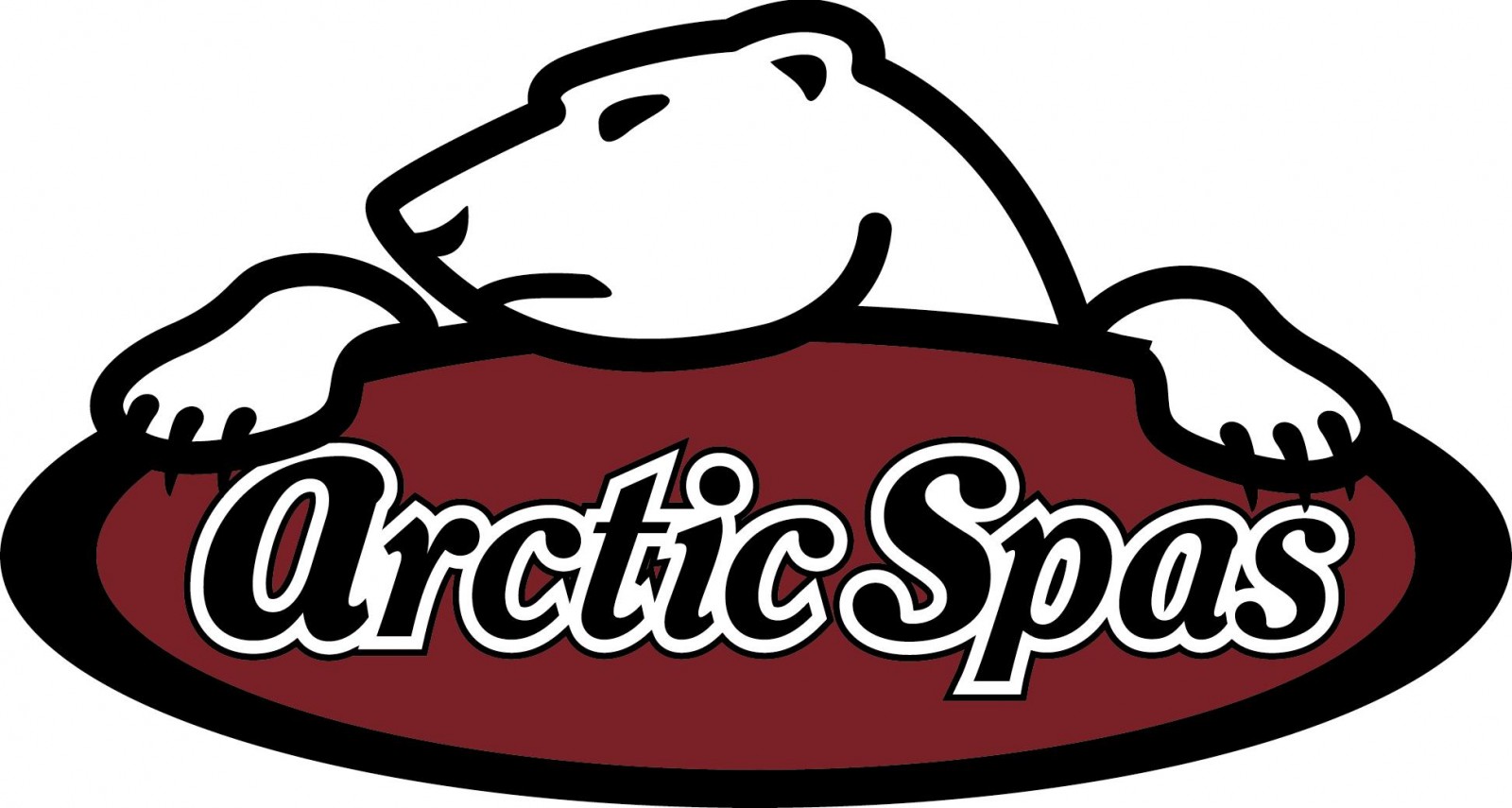 Arctic Spas is a Canadian company that offers gazebos, grillhouses, hot tubs, spa pools and swim spas to consumers in Canada and the United States. The company prides itself on offering highly weather-resistant products that stand up to harsh climates. Consumers can find the nearest dealer by visiting the company's website.
Water resistance: The current in Arctic Spas swim spas is created by high volume jets positioned at the front of the swim lane. The number of jets varies by model. Consumers can also add a passive resistance feature that straps around the swimmer, pulling them towards the rear of the swim spa if they do not swim forward.
Size: Arctic Spas offers eight swim spa models. Each model has a different configuration of jets, especially in the spa designed for relaxation and hydrotherapy. All of Arctic Spas' swim spa models are 14 feet 3 inches long and 4 feet 3 inches deep.
Resistance-free models: Those interested in a swim spa for non-swimming aerobic exercise will appreciate the two Arctic Spa models that do not include any jets for swim currents or hydrotherapy. These swim spas offer the most space for walking and low-impact exercise.
Saltwater options: Arctic Spas' Onzen™ Salt Water System uses salt from the Dead Sea to clean and sanitize the water in the company's hot tubs and swim spas. This sanitizer is gentler on skin than other cleaning methods.
onSpa: Customers can use the onSpa app to turn their swim spa's pumps on and off, adjust the temperature, turn lights on and off and stream music to the spa's sound system. The app can help make the swim spa more energy-efficient because owners have better control over when the pumps and heaters run.

Catalina Spas, headquartered in Perris, California, began manufacturing hot tubs in the late 1970s and later acquired Curtis Swim Spas, which made its first swim spa in 1985. Today, the company offers a wide variety of hot tubs and swim spas with one and two volumes of water.
Size: Catalina offers several swim spa models. They range in length from 12 to 21 feet and come in one of four depths: 42, 51, 54 or 62 inches, depending on the model. Sizes are not customizable, but the company offers enough models that most consumers will be able to find a size they like with the options they want.
Water resistance: Catalina swim spas use jets located at the front of the swim area. The number of jets varies by model and options selected. Consumers can also choose to purchase a passive resistance device that attaches to the unit behind the swimmer. It pulls the user backwards, so they must swim forward against the pulling resistance.
Installation options: Most Catalina models can be installed either partially in-ground or above-ground. The partially in-ground models may be easier to get in and out of, but the above-ground options are portable in case the consumer moves from one home to another.
Appearance: Consumers can design the spa to match their home or landscaping. Customizable options are available for the tub portion of the spa, the cabinet, the cover and the accent tiles. They can also add LED light features to change the look of the spa when the lights are on.
Stereo options: Consumers can choose from several stereo options to make it easy to listen to their favorite music while exercising or relaxing in their swim spa. Some models have subwoofers for improved sound quality and Bluetooth technology to stream music from another device to their unit.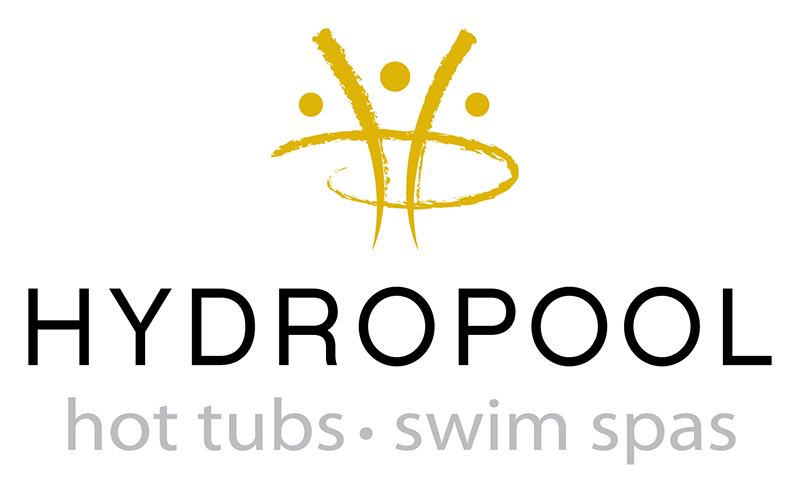 Hydropool started as a swimming pool company and later branched out to the hot tub industry. Today, the company manufactures hot tubs and swim spas in Canada and the United States. Its jetted swim spas have a portable design; some models have two volumes of water with separate temperature controls.
Size: Hydropool has three lines of swim spas with 12 total models. Lengths range from 12 to 19 feet, and all units are approximately 4 feet deep.
Water current: Hydropool swim spas use spa-like jets to create the currents in its swim spas. The jets are located in front of the swimmer, and users can adjust the strength of the current. Interested consumers can visit the website to see a video detailing the unique features of the jets in the AquaTrainer line.
I Command: All Hydropool models are compatible with I Command, the company's smartphone app. It allows users to remotely check and change temperature, filtration and water care settings.
Fitness kit: Interested consumers can purchase fitness kits for an additional fee. The Aqua Fitness kit contains resistance bands as well as a harness for passive resistance while swimming. Consumers can also purchase rowing machines for other in-spa exercise options.
Saltwater options: Consumers who want to avoid chemicals will appreciate the eZ Ultra Pure Salt System. It does not require any chlorine or bromine, a common alternative to chlorine. Saltwater is gentler on skin and swimwear than chemical sanitizing systems.
Disclaimer
Information in this guide is general in nature and is intended for informational purposes only; it is not legal, health, investment or tax advice. ConsumerAffairs.com makes no representation as to the accuracy of the information provided and assumes no liability for any damages or loss arising from its use.
Comparing
×
You're signed up
We'll start sending you the news you need delivered straight to you. We value your privacy. Unsubscribe easily.