Consumer Reviews and Complaints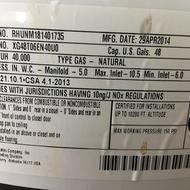 I purchased a Rheem water heater in June 2014 from Home Depot. The tank failed several days ago. I tried warranty service over the last several days and I got a message it wasn't in service, try later... Or wrong serial number. Today I called the 800 621 5622 and got a customer service rep. He tells me to bring it back to Home Depot for adjustment. Home Depot doesn't deal with Rheem anymore. Can't even special order. Parts can only be obtained from their "authorized" plumber and any regular plumber won't touch or recommend Rheem for obvious reasons. Essentially Rheem warranty program is a sham. My recommendation: Don't buy anything from Rheem. Model # XG48TOGEN40UO S # RHUNM181401735 manufactured 29/4/14.

Purchased water heater with 6 year warranty. Paid licensed plumber to install. Less than 3 years after installation water heater starting leaking from manufacturer's hole in bottom of heater (photos were provided to Rheem Warranty Division). On July 4th room was flooded and I was able to get a plumber to come that holiday, remove water heater and replace with a new one. Plumber was only able to purchase from Home Depot and bought a $480 Rheem replacement water heater. Contacted Rheem and they said, "You need to return the old heater to us." This made no sense to hire someone to pack and then ship back to Rheem in order to possibly get some type of pro-rated refund.
I had just paid another $500 with tax for another one of their substandard water heaters. I also researched online and they do not have a good reputation for warranty returns nor are they rated well in the country for product reliability. Do your research before you purchase and if you do purchase a Rheem forget any type of customer service or warranty honor.

Extremely unhappy with Rheem, I purchased an electric water heater at a home center that does not work. Instead of replacing the defective product, I have to wait for parts. So now I am going on my third day without hot water and my new water heater does not work.

Installed 50 gallons Richmond hot water heater. Electrical power supply did not work from start. Waited 2 days for new power supply cord which should have been replaced by service technician since it was clearly a faulty part. Power supply lasted about 10 days before it went out again. Now waiting for a service tech to replace the same power supply I did a few weeks ago. The bigger question is why is the power supply going out in the first place? Never again will I get any Richmond or Rheem product.

Purchased Rheem XG50T12DU6U0 Water Heater in March 2017. Just 2 months in it shut down. Called reputable plumber and they reset the unit but warned me that if it needed repair they could not provide the parts. Only Rheem can. Later that day it shut down again after failing to heat water. Called Rheem directly and a 1 minute trouble shooting session determined I needed a new burner assembly and I would have to wait 3 days to receive it. No explanation of who would install it or pay for it. No option pay for an expedite. Rheem will not allow local plumbers to stock their replacement parts because they want to control the replacement market. Consumers suffer. I will never buy a Rheem product again under any circumstances. Done with them forever.
How do I know I can trust these reviews about Rheem Water Heaters?
883,201 reviews on ConsumerAffairs are verified.
We require contact information to ensure our reviewers are real.
We use intelligent software that helps us maintain the integrity of reviews.
Our moderators read all reviews to verify quality and helpfulness.
For more information about reviews on ConsumerAffairs.com please visit our FAQ.

Wish I had not bought the Rheem Water Heater from Home Depot! Top heating element failed within 3 weeks. I am still in warranty on all parts and labor, but have had to wait 4 days to receive the part. Customer service at Rheem promised me they would order the labor. The day I called so the part could be installed as soon as it arrived. That did not happen. So now, day 4 - I finally have the part but now have to wait another day before a technician can come out and fix it. It will be 5 Days with no hot water! On a brand new heater. I did my research too late, apparently this is a common problem with Rheem Heaters. I would not recommend purchasing it, especially from Home Depot. I hope this review saves someone else from going through what I'm dealing with!

I bought a Rheem Water Heater from Home Depot and had it installed on 2/9/17. Once it was done, I found leak. After talking to Rheem's customer technical support rep, she admitted it's a leak from the tank and asked me to return it to Home Depot to get a replacement. I had to spend more time and labor cost to uninstall the 1st one and then reinstall the 2nd one. After that, I have asked for a compensation.
Rheem's customer service team in April asked me to "send proof of payment for services such as a copy of your cancelled check FRONT/BACK or a credit card statement. If paid by cash, please be sure to provide the phone number for technician/company so we can confirm payment with them", which I did through both regular mail and email. But so far I have not heard from them anything. When I called Rheem's customer service #, they said they won't handle it. I have to contact their billing department. But they won't provide the contact phone #. I had to BBB to help me, but no result. Can't believe how bad their service is. So next time when you buy a water heater, be very careful!

I purchased a Rheem Hot Water Heater from my local Home Depot in April 2016. The system had a bad pilot light assembly and bad control module. I had to hire a plumber to come and make the repairs since Rheem has no Consumer technical support in the Dallas/Ft Worth area. The system never worked after 10 days of back and forth with Rheem so I removed it and returned it to Home Depot on my own. I am 68 years old. This caused major medical problems for me. Poor quality.

I had a professional install a new water heater. The old one had finally quit working. He installed a Rheem. When he turned the water on and it had time to heat water the first time the pressure valve wouldn't stop leaking. So I called Rheem and after a fight they agreed to send a new pressure valve to me that I installed. That stopped the leaking for a couple years. Still under warranty 4 years later it starts to leak again... I call them back and they won't send another pressure valve out but tell me I have to install a thermal tank? I have the lowest pressure of all my neighbors and none of them have a thermal tank why should I, now, need one? They say if I install a thermal tank and it doesn't fix the problem that it is probably the water tank. What a piss poor company... Never again will I buy or allow a Rheem on my place!!!

I have had good luck with Rheem gas hot water tank. I bought it 23 years ago, installed it myself and it is still going. Since that time I have added a garage to my house and want to put it in the garage. I am going to buy a new one because I am on borrowed time with it now and my next one will be a Rheem unless someone knows another one can outlast mine?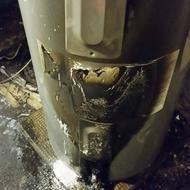 We came pretty close to losing our home. When we got home from work, we could smell a horrible smoky, electrical smell throughout the whole house. We investigated of course, and found that our almost brand new (purchased Nov 2016) water heater had exploded. We immediately went back to the Home Depot in Brockville where we had purchased it. The manager, who is very familiar to us due to all of our renovations, took the situation very seriously yet due to the "manufacturer's warranty", we had to contact Rheem. The HD mgr tried for us but it was after hours. Hubby contacted Rheem the next day but had to supply them with the unit's serial # which he did not have with him.
When we got home we called Rheem again, to let them know that due the unit HAVING CAUGHT ON FIRE, the serial # was illegible/charred. We emailed them photos of the unit and the receipt from our purchase. We were given a case # and have fully expected Rheem to contact us to arrange a new tank... An apology... An anything. Well as of 4 pm today, hubby had to call them back because, yes, WE WOULD LIKE HOT WATER. After getting the runaround from customer service, what it boils down to is because we cannot provide a serial #, they assume we are trying to pull a fast one on them and will not replace the unit. With absolutely no concern that our house could have burned down. Rheem, you suck.

Installed water heater and it will not ignite. Called tech support and he said it sounds like the igniter panel isn't working. How can it not be working if it's brand new? Now waiting for parts to come to hopefully fix. 3 days no hot water, not fun.

Two months after purchasing three Rheem hot water heater on July 6, 2015, the water started smelling like rotten eggs in two of them. Contacted Home Depot where I purchased them. They told me the heaters were still under manufacturer's warranty. I contacted Rheem numerous times via email on Rheem's website and did not get a reply. Home Depot then gave me their number. Spoke with a representative who told me it was not their problem it was my water. I explained about the other heater that did not smell. She said I would have to purchase a chlorinator for each heater about $250 ea. and sent me an email with information where to buy them. I said it was the anode rods and they said that was not covered under the warranty.
After that, a friend would flush the heaters with hydrogen peroxide and that would help until I went out of town. I was tired of asking him to do this so contacted Home Depot again on Jan. 8, 2017. This time they told me to call Asurion, the extended warranty I bought. That was a huge waste of time and money as they gave me the runaround too! After reporting Home Depot to the BBB, I was contacted and they contacted Rheem. Rheem called a plumber, told them to call me to call them to open a claim with them. I called Rheem and they told me the same thing they told me a year and a half ago. So I'm back to square one.

I purchased Rheem water heater two years ago. I called today to get the product fix or replace because is still under warranty. After 2 hours of being transfer and on hold, they tell me that they weren't able to help. Since the unit was no longer installed the warranty is voided. I explain to Amanda about the reason of not being installed and still no joy. If able try to used another brand or call this company before attempting to fix it yourself. This company is ripping off customers.

Model # 22VR40FN - Water heater needed repair after just a few years of service. Had to pay $235.00 for a tech to repair. Rheem makes you jump through hoops just to try to get a $45.00 parts reimbursement covered by their warranty. Almost 40 minutes on phone, repair invoice from plumber marked paid with our check number on it sent previously but I guess, not enough (insulting), image of both sides of our cancelled check needed as additional proof of repair. So that means more time wasted - special trip to bank to get cancelled check copy. Will never buy a Rheem product again. Never a problem other than age with the other water heaters I've owned in my lifetime. Generally speaking, they've all lasted 12-15 years without repair or failure.

We had a Rheem two-stage R-410A Heat Pump (4 ton) (2 speed) outdoor unit with matching 4 ton air handler (variable speed) installed in September 2014 by Home Depot's contractor ARS with county permit. We know it was professionally installed correctly. We signed up for the service program with twice yearly inspections for maintenance. Everything checked out until our March 2017 service call when it was discovered that the static pressure was too high. When the air handler panel was removed you could see that 2/3rds of the "A" coils was covered with frost, a result of internal restriction. Also, on close examination, you could see rust all around the tubes where they came out and went back (U shape).
My contractor did a replacement installation of the coil unit. The unit itself was covered by Rheem's 10 year warranty but not the labor, so I was out $997. This for a coil unit that was not 3 years old, the date of manufacture was July 2014, installed September 2014. Very poor quality. What is most interesting is that the replacement coil unit is all aluminum. The contractor/installer said all the new Rheem units similar to mine now come with the all aluminum coil units. This tells me that Rheem knew it had junk and switched out to the all aluminum, which will not have a rust issue and hopefully not an internal issue with restrictions.

We replace a water heater April 2015 with a Rheem electric tank in our vacation rental. Sept 2016 our tenant called us to say there was no hot water. Couldn't believe it. We had a plumber attend the condo to find out that the wires on top of the water heater were fried. We needed a new hot water heater of course. This happened on a Saturday and Rheem's office was closed.
I called Rheem on Monday for them to tell me I had to go through who I purchased the hot water tank through which was Home Depot. A representative at Rheem told me they would reimburse the labour to install the new tank. I'm still waiting as of today being February 13, 2017. Rheem has the worst customer service I have ever had. They tell me someone will call me back in a day or so. They tell me it takes 6 to 8 weeks for an answer. Wow it's now been 6 months and still no answer. I am so done with them. NEVER PURCHASE A RHEEM PRODUCT!!!

I bought my home in Feb. 2016 and started remodeling right away. I am a licensed building contractor, so I wanted to do the things I had told other people to do, so I put in 2 Rheem RETE-13 Tankless electric point of use water heaters. After just 3 months the first heater went out so I had to buy another 1 and send the bad 1 back to get a refund, then in Nov. 2016 both heaters went out. This time I can't get Rheem to return my calls for 2 1/2 months. After 12 E-mails to them and 1 or 2 phone calls a week they finally tell me I can't send back the heaters because they refuse to give me my money back or to fix them. So now on Feb. 8 I went down to the Dearborn County Courthouse and filed a small claims lawsuit against Rheem.

I purchased a Rheem hot water heater a year ago and it stop working. I called for assistance, and got a girl who talked to me like I was a child she was very rude. Rheem customer service experience was one of the worst I have ever experienced! If you want to waste money, time and get insulted purchase a Rheem!

The adjustment dial and power switch located at the bottom of the gas water heater has no way to prevent a toddler or incidental contact from adjusting the dial. This is a huge red flag for me where it can easily be turned to the max temperature and can lead to burns. I called Rheem to see if they have a cover or anything that can limit access to the controls and was told that this is not a safety concern or a manufacturer defect and there is nothing that they will do to resolve the concern. I assume it is my 18 month old daughter that is playing with the dial, turning it to the maximum temperature setting, but it could as easily be changed by something inadvertently rubbing on the dial. My home was built in the 70's and the water heater is located in the laundry room, not in a dedicated closet, so it does have more open access than newer homes with dedicated utility closets. Regardless, this is currently a significant safety concern for me and my wife.

Ok out of all the reviews I've read here's one that you should all read if you're going to buy a Rheem. I replaced a GE for the Rheem and in less than a year I had 6 instances where I had no hot water and each time was when it rained. Now I had my handyman install it (who wouldn't right). Wrong... Had Rheem plumbing contractor come out who told me unit was flooded because the housing unit was not secured right allowing water into the housing unit which collected in the water heater... My warranty that expired on 2028 was now null and void one year into ownership. I strong urge everyone to not buy Rheem. The fine print is where they get you where it hurts. I had to pay $250 to get it working again but if it goes out again I'm screwed with no warranty. BUYER BEWARE OF THIS COMPANY... I will be filing a complaint with Rheem and Better Business and Consumer Affairs. WILL NEVER PURCHASE ANYTHING FROM THIS COMPANY AGAIN EVER!!!

On 8-12-16 my Rheem hot water heater which is (2) yrs old went to vacation mode and I only had warm water. Plumber spoke with Rheem and they recommend replacement of gas valve. Rheem sent part and it was replaced 5 days later. After a few days it went back to vacation mode. Plumber called Rheem and was told they would send another gas valve for replacement. After 2nd replacement of valve, a few days later it went back to vacation mode. Plumber called Rheem and they recommend replacement of vapor sensor.
Vapor sensor was installed and again went to vacation mode. Plumber called Rheem and they recommend replacement of wire harness. After this replacement I had NO warm water. Plumber replaced complete unit on 9-24-16. Rheem covered the water heater but would not cover labor. Because of all their replacement recommendations my labor charges came to 1767.00. After reading the other reviews, why isn't this heater recalled?

Purchased a 40 gallon Rheem gas water heater June 2013, and as of Sept./Oct. 2016, it has already developed a bottom leak. The room is dry climate and in all the 40 years that I have had water heaters in this room, never once did I have a unit that developed a bottom leak. Rheem is apparently garbage these days. Not recommended.

I purchased a high end water Rheem water heater less than a year ago. This morning I had no hot water. I checked the circuit breaker and the reset button on the unit itself. NOTHING. I called Rheem and they said they'd send a replacement part on Monday--today is Saturday. This is not the 19th century. The fact that this unit failed in less than a year and the fact that I have to wait three days for a part is ludicrous. I should have heeded the poor reviews on this product.

Bought a new electric water heater. The 40 gallon professional series from Home Depot. I am a maintenance man for a living and have installed several water heaters with no problem. Got this one home. Put in new breaker. Installed heater. Never did get hot. Called the number on tank and went thru a checklist. The tech talked me thru and decided the thermostat needed to be replaced. They sent me a new one installed. It same thing doesn't work. Called Home Depot and they delivered another new water heater. Took a $100 dollars off the price. Installed the second one and it doesn't work either. So now I'm taking it back to Home Depot and going to purchase different brand. Second time this summer I have bought a major appliance from Home Depot and encountered problems.

It worked for one day then I had to call for repair, they shipped a part but they wouldn't pay for labor nor had a field service staff to help with. I had to pay for a plumber. 3 days later broke again and Rheem washed their hands off. Basically a brand new water heater that doesn't work. It is not on their radar for customer service. I will never purchase from them again nor I suggest anybody does.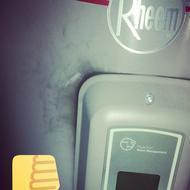 We had a few issues within the first year of operation with our water heater, tripping our breaker and electrician thought he figured out the problem with the unit, despite it being properly installed anyway. Last night upon returning from dinner we walked into our home full of an electrical burning smell. Through elimination the results were that our water heater had blown out its wiring on the front electrical panel, as we could see black smoke all around it and coming from the unit. The breaker had fortunately already tripped from the over load, but we turned it off and cut off the water supply as a precaution.
We immediately contacted one of our electricians that is used for our company. He arrived today (following day). I contacted Rheem and the moment they heard the model number, he said, "Take it back to Home Depot immediately and they will replace it for you". After further investigation I discovered a recent total recall was issued for more than 54,000 units sold exclusively at Home Depot from 2014 to 2016 all for the same problem. Almost 300 reports have been made and one involving more than $5500 in damage.

I bought the Performance Platinum 50 Gal. Tall 12 Year 36,000 BTU ENERGY STAR Ultra Low NOx Natural Gas Water Heater from Home Depot. Use rush professional service installed 2AM in the morning hoping it will work and provide hot water for us, then it doesn't starts. Called back to the number provided. Diagnose with the technician on the phone for 30 minutes and then told me that the igniter is bad and need be to replaced. THIS IS A BRAND NEW WATER HEATER BOUGHT FROM Home Depot. Then technician told me that she requested a FedEx next day delivery to deliver the parts to me and should come next.
It is a day after and I called back to ask for FedEx tracking number. I was told that the parts has NOT shipped and then just requested now. Apparently somebody there did NOT do his/her job. If I did not call today, it probably will not be sent out still and I have to wait two more days to find out the fact. Really really bad product and bad service. I don't know what I can say. In a hot summer, our whole family cannot take showers before go work and school. How can I trust their product and their service.

Can't I get no stars? My water heater broke (leaking) after 5.8 years. It is still under Rheem warranty, so I called Rheem and they said I had to take the water heater back to where it was purchased to get credit or a replacement. I can't remember where it was purchase and I cannot even lift the water heater. My plumber is not willing to take the heater to where it was purchased without charging me the time which is substantial. So Rheem won't honor the warranty unless I bring the whole water heater, this makes no sense. In essence they are saying if I can't carry the water heater into the place it was purchased I can get reimbursed. What is that but a sham! I will never purchase a Rheem product again!

Talked to Rheem. Warranty starts when it is made, not when it's installed. Woman tried to get an extension but man at GE that made the water heater said "No go, you cannot extend it." So, since it's 2 days past the date, I have to pay $300 for a new gas valve to be installed.

ConsumerAffairs Research Team
The ConsumerAffairs Research Team believes everyone deserves to make smart decisions. We aim to provide readers with the most up-to-date information available about today's consumer products and services.
Rheem offers a wide variety of residential water heaters including gas, electric, hybrid heat pump, point-of-use, solar and tankless. Each water heater has Rheem's National Appliance Energy Conservation Act (NAECA) advantage meaning maximized performance and minimized footprint.
Types: Rheem offers gas, electric, hybrid heat pump, point-of-use, solar and tankless water heaters with capacities ranging from 20-gallons to 120-gallons.
Point-of-use: Point-of-use water heaters are designed to fit under sinks or detached structures and can deliver hot water almost immediately. Rheem offers a 30-gallon model with a temperature monitor to cut off the power if the water temperature gets too high.
Tankless systems: For consumers looking for a tankless water heater, Rheem offers a variety of different capacity systems. Rheem designed its tankless water heaters to provide hot water to operate three appliances at the same time for an extended period. Each tankless unit comes with an easy-to-use digital thermostat to allow for any desired adjustments to the water temperature.
Commercial tankless units: Rheem has four models of tankless water heaters for commercial use. Each unit comes with a high temperature chip option that increases the output water temperature by 45-degrees. All four models are said to be 84-94 percent efficient.
Warranties: Each Rheem water heater comes with a limited warranty. Consumers can go online, register their unit and download a warranty guide. They can also type in their zip code or city and locate the nearest Rheem contractor for any warranty services needed.
Best for Consumers looking for a wide selection of residential, energy-efficient water heaters.
Rheem Water Heaters Company Profile
Company Name:

Rheem Water Heaters

Website:

http://www.rheem.com/products/water_heating/