Consumer Complaints and Reviews

I bought a stainless steel fridge in January 2015. It started to rust right in the middle of the doors, right in your face. Called up customer service since I had bought a 4 years golden warranty that does not cover aesthetic. Of course! I threaten them to go to court and all they could come up with is selling me another fridge at a much lower price. But the problem is that it's 2017 and the collection has entirely changed its looks so I had to buy the entire collection at a lower price but still... remember that my fridge was a 2015.
I received a fridge with bumps and without all the accessories that goes into the freezer. I also received the stove with bumps, scratch, the main handle was crooked about an two inches and on the top of it all my range had multiple color and finishes. The stainless was not the same on the door and on the drawer and not matching the fridge and the dishwasher. So many hours spent over the phone and days of work lost to wait for delivery that never comes on time. I did love KitchenAid but the quality is not there anymore. I forgot about my cordless blender paid 400$ that also started to rust. Customer service started to blame the humidity level in my house. Lol! My sink and my shower is made of stainless steel and never rusted.

KitchenAid Double Gas Range - We bought this new in 2012. I noticed right off the bat that the oven was not working right. My husband called them. They told him some things to try. He did everything they told him even to replacing a motherboard that cost over $300. Still not working right. Since we paid a lot of money we were trying to figure how to be able to use this. Nothing we did worked. The last straw was this Mother's Day when I tried to make 2 cakes and both were ruined. I wouldn't now recommend this range to anyone. It will be trashed because I wouldn't sell or give this to anyone because I know it is crap.

I purchased all new top-of-the-line Kitchen Aid SS appliances for a new kitchen, please don't make the same mistake. They are not the quality of the old Kitchen Aid. I have been building custom homes for 35 years and have purchased lots & lots of appliances. These were not inexpensive appliances, cost before tax was approx. $6500.00. There have been issues with the double range, 4 door fridge and dishwasher, the garbage compactor is made so cheaply we stopped using it as it flexed so much in the compact mode. Don't be fooled by how pretty they look on the showroom floor or be charmed by the Kitchen Aid logo. I will never purchase a Kitchen Aid product again.

In 2010 we spent $13,000 on the new all KitchenAid appliances for our kitchen. They were all PROVEN defective. I feel we were seriously let down by KitchenAid. I went through hell with the sales office, KitchenAid and the contractor. The remodel cost our entire life savings of $230,000. When I asked the contractor for help with my dysfunctional appliances, he said "You are on your own. I don't help with the appliances." But he kept on asking for the periodical checks. I have never been able to get my cooktop to simmer. It doesn't simmer corned beef, puddings or rice. I will NEVER buy anything Kitchenaid again. I am so disappointed and sad.

Our double wall ovens are 3 1/2 years old and have been nothing but problematic and poor functioning since we purchased them. Multiple "under warranty" visits could not fix problems of very uneven heating; taking 60- 90 minutes of preheating sometimes (yes, 60-90 minutes! To preheat to 400!). I would never, ever recommend this appliance!
How do I know I can trust these reviews about KitchenAid?
851,205 reviews on ConsumerAffairs are verified.
We require contact information to ensure our reviewers are real.
We use intelligent software that helps us maintain the integrity of reviews.
Our moderators read all reviews to verify quality and helpfulness.
For more information about reviews on ConsumerAffairs.com please visit our FAQ.

I purchased in May 2013 an induction cooktop from Reno appliance and loved it until July 2013. Had to call for service a month later. They got a part and fixed it the following year again, and the following year again and now since May 9, 2016 this stove have not been used. They have changed the only two parts that you can change. They have been in back order now. Finally after six months I received the only other part we have not changed and guess what it's not working. The service person can't even figure it out there is nothing else to change. Called Kitchenaid. Spoke to a manager and she said it will go in review and I might have to pay (because I used it) so $$ to received a new induction cooktop. I would like my money back!!! Model#KICU500XSS-00 Serial#XP30804119.

First grill purchased was dented and had a box of screws and parts in it like someone had dropped all the assembly parts and tools and packed the box for shipping. Replacement grill came in with a broken grill grate. Tried to call customer service number in the owner's manual and was connected to automated phone system that offers no option to talk to customer service. When you hit # for more assistance (last option) it returns you to the original message. I have tried all the numbers in their websites which have the same or similar massage, again no customer service connection.
It is obvious to me their products are of poor quality and they make it impossible to contact so they do not have to help you. I will never buy such a poor quality product because of the product and the lack of service you will get if you ever find a way to contact them outside of going to the physical address which they probably would not let you through the gate.

My KitchenAid Architect II gas glass cooktop exploded! We had it for just over a year. It was ok, though many things weren't quite right. Then a burner went out (right front). The repairman came. He got the burner working. I came over to the stove to write him a check. He gave one last go-around turning each burner on and off to test it. When he got to the right rear, BLAM! Cooktop pieces everywhere! Amazing neither of us had more than a few scratches from flying black glass. How about a class action lawsuit against these S.O.Bs.

Purchased KitchenAid induction cooktop kicu509 30", ($1500) 3 years ago. 2 weeks ago while boiling water I heard a pop (like fuse blowing). Both burners on right side stopped functioning with indicator light flashing F47. Contacted KitchenAid. Spoke to several people and was finally told that the best they could offer was a $300 service contract. When I asked what problem F47 indicated I was told could be anything from a fuse $57, to a wire $17 or control board $357. With their contract agreement they had to contact appliance service co. The service company didn't show up. I called them and they unapologetically said they were too busy that day to keep appointment. Reluctantly, I rebooked.
Technician showed up late (scheduled between 10a-1p) at 130p, Looked at F47 reading, said it was $357 control board, which his company would order then left. Didn't bother to remove top to see if it could possibly be the $57 fuse or $17 wire. Called his company after he left, cancelled service and then called KitchenAid to cancel their contract. KitchenAid USED to have a wonderful reputation for reliability and consumer satisfaction. It is very frustrating to feel one has little recourse other than venting here in getting any form of monetary retribution for this rather expensive $1500 appliance that's basically a 3 year throwaway.

We redid our entire kitchen last year and got all new appliances. We bought a KitchenAid induction cooktop for $1500+ and it has been awful!! It turns off for no reason and then beeps nonstop until you actually go to fuse box (in basement, for us) and reset the power. A pot will work fine one day and the next day it won't work. Have had numerous meals ruined by the cooktop just shutting down again and again. Would NEVER get this brand again.

I replaced my existing 18 yr old Whirlpool cooktop during a kitchen remodel. I am still kicking myself. This is a piece of junk. I thought KitchenAid was an upgrade and boy am I wrong. I can't get it clean at all. Just with smudges and water spots. No burnt on or over boils, etc. No matter what I try it won't come clean. Looks like crap. No one notices my nice new 8k countertops but they notice the stained piece of crap in the center island. If anyone knows how to get it clean, fill me in please.

I was excited that my recently purchased home had been remodeled and a new 5-burner kitchen aid gas cooktop was installed. This is not made for cooks. Called service twice and was told it was working as designed. One burner simmers. I cannot cook on this as I need to be able to boil on all burners and simmer on all burners. Who designed this? Customer service cannot help. This is rifle oculus. Very expensive piece appliance that has to be replaced and not satisfaction from warranty service. Ridiculous.

I have a KitchenAid Cooktop in my 4 year old house that went up in flames last year. Fire shooting out of the knob and everywhere else. I called KitchenAid, was connected to the "safety" department for urgent issues. They were closed for the weekend. They never called back but I called again. They said they'd schedule someone to come out. They scheduled 3 weeks out. The vendor, an audio visual company, never showed. They scheduled again 2 weeks out. The vendor showed at a different time and said the cooktop needed to be replaced. KitchenAid confirmed they would replace it for free. Then they changed their minds and said maybe they could order parts.
I have been waiting for months and months. They call periodically to try to sell me another product, and tell me my parts are on back order and they don't know when they'll be in because the subcontractor is unreliable. I have asked to speak with a manager each time and they say I can't. I have dealt with 2 supervisors named Nicole and Kimyata. (The subcontractor has answered the phone every time I've called and seems to be very responsive.) They obviously have no intention of replacing my cooktop and now say it's over the 5 year warranty period - IT WASN'T WHEN I STARTED THE PROCESS 6 MONTHS AGO!

Brand new induction cooktop. We bought pots and pans that were advertised as induction ready. All passed the magnet test but only 50% would work. The cooktop will indicate no pan. Manufacture will not replace if one pan works on all burners.

I purchased my KitchenAid cooktop, Model KGCT366BBLO in 2000. Granted I have had it for 15 years but did not expect to have it completely explode while cooking. The top completely shattered and blew out as hole on the top big enough to set a glass in. It also shattered enough glass that it cut my arm. I called KitchenAid and all they seemed concerned about was whether I was hurt enough to "sue" them. As soon as that was established, they just said they could do nothing because it was so old. Funny how things are made these days. You buy things because they are supposed to last a reasonable amount of time. My mother-in-law purchased her stove in 1959 and she is still cooking on it today. Does that tell us something about quality, ethics and a company standing behind its product???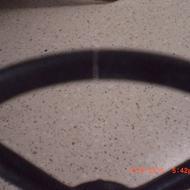 I purchased this cooktop (Architect Series II 30 in. Gas-on-Glass Gas Cooktop in Black) Feb. 20, 2015, today is May 15, 2015, so in 3 months the grates CRACKED. The highest burner (front left) grate turns red in 3 minutes. When I noticed the crack, I called KitchenAid and they refused to cover it under warranty as they considered the crack a cosmetic issue saying "You might have spilled food on it causing the crack". This is not a chip, it is a crack, a vertical crack. So, customer service and warranty are really poor as their product.

I've owned this Kitchenaid 36" electric downdraft cooktop for 3 years. Never have I had such a poor quality appliance. The paint coating covering the downdraft grill came off in huge chunks. The downdraft compartment is rusting everywhere. And now 1 burner isn't working. It just doesn't stand up to the standards a consumer expects from a Kitchenaid product.

I bought this glass top induction cooktop. Less than one year glass surface has cracked with very little heat. I called the Kitchen Aid to ask them if it is covered by warranty. They said that cosmetic changes won't be covered by warranty. This is a large crack. It will cost me 500 dollar to change it. You would think that they make the glass surface more durable. Since they did not make it durable they should stand back with this product and cover the cracks.

This has been a lemon - within a few months problems started with all burners clicking at the same time and a loud sound under it. Apparently one of the burner wires got burnt. After I got this issue fixed within a couple of months the same happened and one burner is completely out! I carried on with the rem four and now a new problem - the igniter does not start.

Within two weeks of installation, we started to get small scratches and could not get any response from KitchenAid. Basically, this cooktop requires endless maintenance and a very thorough cleaning after each use. The range top we replaced was a 25+ year old Jenn-Air and it did not have one scratch and was simple to maintain. For the cost of the KitchenAid, we expected quality but it is way too fragile for pans, cooking, etc. It is only good for looks, no use!

I have purchased a cooktop from Kitchenaid that is their high end downdraft. Unfortunately, I could not put gas in this house I recently bought. If you don't use it it is fine. But if you are a cook of any sort you will hate it. It has to be cleaned every time you cook anything on it. I have had one burner already go out and the fan has a mind of its own. Sometimes it works, sometimes it does not. My warranty had expired by one month when I had major problems. I called Kitchenaid and they wanted to charge me $374 dollars to give me a 1 year warranty. I declined and found a person who works on them retired who fortunately saved me 300 dollars and repaired it. I absolutely Hate this cooktop and would never ever buy another kitchenaid product.

After 5 service calls to correct a malfunction in my counter depth refrigerator freezer now I find a problem with my electric cooktop. We regularly cook large amounts of pasta sauce and did so a few weeks ago. The largest cooking area, after cooking on #2 power for several hours, has raised, rough areas that will not come off. We purchased several recommended cleaning items and the problem cannot be fixed. I called the service department and was told that a service person could be sent out to look at it but they felt that we caused the problem, we would have to pay for the service call. Now I find that the left burner has a pit mark like the other one. I feel that someone should check the item and that it should be replaced. We purchased 4 large kitchen appliances from your company and feel that we should be given some consideration. Please let me hear from someone who can make a decision. I got nowhere with the service department.

We have had this glass top for about a year and in spite of getting all the recommended cleaning agents we cannot keep it looking clean. My wife is very frustrated. Is this a problem with the design or color or is there some magic way to get it cleaned?

Bought a 36" downdraft electric cooktop and installed it. Within a month one of the burners stopped working. It was the switch, but the ignorant service people bought the wrong part. Had to re-schedule the repair. Only one service tech showed up, needed two to remove the unit. Had to re-schedule. Finally got it repaired. I corrected the re-install so it looked decent. This AM another burner went out!! What a POS!! The negative reviews about Kitchenaid are true. I wish I would have listened.

We reported to Kitchenaid that zone 2 of our new induction cook top model KICU509XBL00 stopped working almost immediately after first use on July 22 2014. Parts have been ordered twice by Appliance Dr, their contract repair service provider, and zone 2 of our cook top is still not repaired. Kitchenaid nor the service company can tell me what is wrong or when it will be fixed. Almost one month without a a working cooktop is unacceptable to me. I have been very disappointed with this feeble effort to repair a brand new unit. Their representatives don't know anything, the repair people don't know anything. I will never purchase another product period.

We purchased this cook top (K1CU569XBL) through Goeman's Appliances. It was recommended by the salesperson as 'one of the best'. Day 1 - we had it installed by a 'professional', turned on the breaker and the top would not work! It had a 'funny' smell. The touchpad beeped constantly - buzzed - just about drove us crazy! I called the store - waited 1 week for a 'service' tech from Whirlpool. He said he agreed it needed to be replaced? The next day I called Whirlpool. They said it could be 'fixed'. I said it was 'brand new' and needed to be replaced. They put me on hold. Then the rep said: "send us the paperwork you have, we will review it then decide." In other words it would be at least another two weeks until I have a cook top! The rep said: "I'm a consumer too. I understand you are frustrated, but we have a process." The process is: stall - until the customer finally gives up and eats out? I would NEVER recommend purchasing any Whirlpool product to anyone!
Unfortunately, we spend a little less than $13, 000 on Kitchen Aid appliances - I will never make that mistake again. If I receive a 'replacement' unit it will be at least 2- 3 more weeks. Whirlpool Canada does not stand behind their products. I highly recommend purchasing from another manufacturer! I could understand 'fixing' this unit if I had even used it ONCE; however, it has NEVER been used! (Go on the Whirlpool site and see how many other brands they make. Do not buy the high-end as there is no guarantee you are going to get a product which works!) The store nor the company will support us - we have had to register with the Ministry and go through their process just to get a 'stove' that works! After doing additional research - and I did some prior to purchase - dig deeply before buying an induction top, especially a Whirlpool brand!

Product purchased 14 months ago. None of the stove top elements work. Meanwhile the Clock/Timer and dual ovens both work. Under 'trouble shooting' in the manual it suggests ensuring 'Lock Out' is unlocked; however this seems to be more for the oven than stove top. Retailer of no help whatsoever and referred me to a third party for warranty work. They are out of town for a month.

April 14, 2013 30 days after I bought my KitchenAid induction cooktop the stove stop working. Stove had a loud buzzing noise. Called KitchenAid a repair person came out and thought the nose was louder than normal. It seems to have a hard time heating-up the food. May 21, 2013, June 2013, July 2013, after three complaints nothing would be done. I notice that the stove was taking longer than normal to heat and cook the food as time goes in August 2013, call KitchenAid, repair person came out and found that the stove was not working as it should. Parts was ordered and repairs made, those parts did not fix the issue. After all the repairs the stove is now shutting down while cooking and would not start back-up or only one or two burners would start.
Now I would have to go to the fuse box and reset the stove. The technician tested the power and found that was not the issue and the stove had power after shutting down. I called KitchenAid and explain that the stove is not working after the parts have been installed. September 2013 stove is still not working, KitchenAid sent out three more technician and parts was replaced. The technician replaced the same parts and stove did not work. Six months later, stove is still not working. I asked KitchenAid to replace the stove. I was denied, I found out that the part that was needed for my stove was the circuit board which KitchenAid would not replace. October, November, December 2013, I have no working stove and KitchenAid has not accommodated me. My stove is still not working after 10 months asking for help from KitchenAid and I have contacted KitchenAid over 30 times and asked for a replacement and have been denied. The warranty is in place until 2015. I found out that KitchenAid warranty do not replace appliance that is a lemon. I made a note to KitchenAid that I have a recording of all issues with stove on video thru out the issues of my complaints. They refused to view the video to get to the issue resolved.

I bought an expensive cooktop only 3 yrs ago thru Sears and it has been nothing but trouble. Only one element is currently working and we have been repairing this piece of JUNK ever since the first few months. The knobs fall off and despite several repairs it still breaks down. Sears admitted it is junk but nothing they can do. NEVER BUY KITCHENAID!

We paid $1,200 for a fairly high-end KitchenAid touch-activated electronic induction cooktop. From the start, the stove acted up, often heating up and turning itself off. Then two burners started flashing an F (internal) error. I tried turning the power off to the unit and turning it back on but that did not fix it. I called KitchenAid for an answer and outside of turning off the power, they did not have any solutions. Our only option was to book a service repairman and we would be charged for all labor. Not impressed. I decided to wait on booking the appointment as the lady told me there was availability starting the following Monday.
When I called back the next day, I found out that they had already booked an appointment and it was for two and half weeks out. That was the first slot available. When I asked if they could come sooner, they said they could give me the phone number of another company in my area. Also, the appointment was in an 8-hour window so someone would have to take a day off work to meet the repairman. I told the customer service rep I was very disappointed with the product and with the service level KitchenAid provided and how I could file a complaint. She said they don't track complaints but she would write down what I had told her in the file. Then she informed me she had done everything she could and unless I needed something else, there was nothing she could do.
Clearly, KitchenAid is unconcerned with their product quality and customer service once they have made the sale. We own several other properties and will certainly not be using KitchenAid Appliance in them.
KitchenAid Cooktops Company Profile
Company Name:

KitchenAid

Address:

P.O. Box 218

City:

St. Joseph

State/Province:

MI

Postal Code:

49085

Country:

United States

Website:

http://www.kitchenaid.com/