Home Depot Windows & Siding
Consumer Complaints and Reviews

No Home Depot window work -- 9/28/2016 we signed a window replacement agreement with sales Paul **. 11/7/2016 we received a call from Texas office to schedule the installation on 12/7/2016. 12/7/2016 the installer showed up but said they couldn't find the windows for my house then left. 12/9/2016 the sales manager, Andrew **, called and said that the windows are in their warehouse, but no permit from the city yet, and need to apply that before the installation. (It supposedly should be ready by THD before 12/7.) 1/17/2017 the city approved the permit, and rescheduled 1/23/2017 do the installation. 1/22/2017 the installer confirmed that they will show up between 9 AM to 10 AM. 1/23/2017 no one showed up, I called the installer and the installation manager, Rick **, they just told me they are not prepared for the installation, and they couldn't find the windows.
1/23/2017 I sent e-mail to sales manager addressed that THD failed twice, and I want to cancel the agreement. 1/31/2017 the San Leandro store manager, Angela **, called that she will sorted this mess out and called me later on. 1/31/2017 the installation manager called that there still has 4 windows missing and need to reorder, it will take another 10 days before schedule the installation. 1/31/2017 I sent e-mail to Angela addressed that I don't want waste my time on THD and want to cancel my agreement (as attached). 2/8/2017 sent text message to Angela for updating the status of agreement issues. Since 2/1/2017 I haven't received any responses from THD in that regard. Attached are the text message exchanged between sales manager Andrew and store manager Angela ** for your reference.

Home Depot has made me a Loyal Lowe's Customer. We bought windows from Home Depot last Fall. The Kitchen window broke nearly immediately and a piece of glass fell out. We called our installer. He couldn't get the window out and promised to return. He never did. We have called every Customer Care number we can find. Each department we talk to promises a return phone call, and then never calls back. When we call them *again* they say they have discovered that the problem is being handled by a different department. Then that Department passes the ball again. In the meantime, I have wind blowing through a quilt hanging over my kitchen window. We've been told twice that the window is done, but in the wrong warehouse. 4 months of nagging -- no results. So I'm hoping to save you the same hassle. Don't buy a Home Depot Window! Regardless of brand -- you won't get help if your installation goes bad.

We have bought 32 windows for our new construction and had problems with them since last February. The company representative blamed it on our contractor and did nothing for us. Home Depot does not care either. The window is 8'X8' and came in two sections. The window leaks from the joint between the upper window and lower window. We have replaced the flashing and the problem is not resolved. We had to vacate the house for safety and mold condition. The company promised us to send someone by next Monday! We see who they are going to blame this time.

Paid $4500 for windows with crank handles. No complaints about install but incorrect crank handle covers. My contact is Richard **, who sold me the job. They told me I would receive a call within 2 weeks for the replacement. So far, I have eight calls and as many complaints. Each time they lie and say we will be contact within two weeks but I never hear back from them. I really thought that this Mr. ** would do something for me but he too lies about it, I guess hoping I will forget about the problem. I paid a lot of money for these windows and feel I am entitled to the correct parts. I was just about to order a kitchen from them so I guess I am lucky to have this problem. Two more of seven people I spoke to who are in charge of expediting these problems were Doreen ** and Doris ** plus the Store mgr. of H.D. Marlboro.

I used to love shopping at Home Depot. But now I hate this store. The reason for it is installation of the windows. Chad who works there came to my home in August 2016. We signed an agreement to install expensive Home Depot brand windows with a lifetime warranty. In a month 2 Ukrainian guys came in to install the windows. I paid the whole sum outright. In September with Seattle rainy and stormy weather windows started leaking. There was a lot of water on the carpet, drapes and the TV. My husband and I started calling Home Depot to come and fix it just about everyday. A month later a guy finally came to our place after a million phone calls and stated that pa protective part of the window was not installed on any of the 3 windows. He gave me a report to sign and said that somebody will contact me shortly.
We waited about 2 weeks - no calls. Since October 20, 2016 my husband and I have been on the phone with many many people at Home Depot trying to arrange the repairs. They kept transferring our call from one person to another. Everybody would say that they will call us back or say that they will set an appointment within the week. Now it is December 13th and they are still pushing us around. The rooms are wet and cold and there is mold forming on the inside of the wall. We decided to file a court order. Damage, inconvenience, hours we have spent trying to resolve it, being treated with no respect and wasting money on a bad product and service and not getting what we paid for on top of being angry and depressed about it all... Please, please, people, never deal with Home Depot installation or repairs. THEY WILL SCREW YOU OVER. And I will see them in court.
How do I know I can trust these reviews about Home Depot?
694,519 reviews on ConsumerAffairs are verified.
We require contact information to ensure our reviewers are real.
We use intelligent software that helps us maintain the integrity of reviews.
Our moderators read all reviews to verify quality and helpfulness.
For more information about reviews on ConsumerAffairs.com please visit our FAQ.

In the beginning... Stopped by Home Depot in Laguna Niguel, and selected a window manufacturer for replacing windows at our residence. Order was placed July 30th, with installation to occur mid September. It is now December 10th. The windows have been measured now 4 times, and the last visit windows were brought out for an install, and they were not the correct size. Major, major screw up!!! We ordered these windows for several reasons -
1. For getting double pane windows in the upper volume area of our house in mid september before winter temperatures drain heat from the house in the single pane windows. Pretty much have missed that opportunity!
2. One window, a transom above the double front entry door, was to be a slider so as open up one panel to get the great breezes that our front facing entry porch receives. This being a goal for the Fall so that we could get fresh air from a side of our house that we have not been able to get at night... unless the front doors are wide open... and leaving front doors open all night is not an option.
3. Piggy back on top of # 2 with menopause. That window not going in is painful in multiple ways. I will not go into details as one can only imagine.
4. These windows were to be a test, prior to ordering an additional 25 windows to be replaced. This test has proven itself out as a failure with Home Depot.
Order windows in July, still sitting on the order in December with multiple botched attempts to correct. The last one was perfect; I was called the day after Thanksgiving, and advised that on Dec 3rd, the window installer would be there and we would get beyond the 3 month delay. Well, as it turns out, the installer showed up and the windows were not fabricated to the correct size for the installation. The installer was there 10 minutes and left... and we are still wondering what hurricane dropped in on us related to this order as one cannot get emotional or frustrated anymore about this one order. It is sick to be stringing someone out so long. It is simply a major screw up with no one accountable... even after the ball is fumbled 3 times. Give it up for Home Depot. If customer service reads this, then locate my phone number under my name above and email in the file. This is real bust of a story... and true up to the minute.

We ordered a bay window from Home Depot Exteriors, which we were later told by Home Depot employees never to use because they are notorious for mess-ups. In our case, we were promised it within four to six weeks. After six weeks we called and were told that they never submitted the order. We were told that they would submit the order then, but after another week called again and were again told that the order was never submitted.
We were then turned over to their regional manager, who promised to have it rush ordered and installed within two weeks. After four weeks, including a week when the manager didn't return my calls for emails, we were told that the window was in Vermont but could not be found. Later that day we were called and told that they built the wrong window, and tried to blame us for it, even though we had a signed contract with the correct information on it. This is outrageous, and we are not going with them anymore. Be warned!

I was so scared reading these reviews on the Simonton Windows installed by Home Depot, after I signed the deal, but I am pleased to say my experience with the installation and the quality of the windows was top notch! The installers took great care in my small home, making sure that nothing was broken and that it was clean when they left. They thoroughly insulated around the windows, I can feel the difference already. Two guys installed 6 double-hungs in 4 hours, and they were super nice. The windows seem great too... But sadly, I no longer have any excuse to not clean my windows, since they work so easily. Sorry for those of you who do not live in the great state of Maine... You would have received the service and quality expected from Home Depot.

Absolutely worst experience with customer service. I started this wonderful endeavour on 09/19/2016 when I signed up on their website to receive a quote and consultation for blinds. I received a phone call later that day to schedule my appointment through their third party company. I scheduled my appointment for October 11th for 5pm-6pm. When the day finally came and no one arrived I gave them a call to see what the hold up was. When I first spoke with the absolutely pleasant woman on the other line she told me "we called you for a follow up, and you no longer wanted our service". Seeing as how I had absolutely no calls from anyone on this day I found that pretty amusing and told the woman that. She of course immediately had to put me on a brief hold.
She came back to tell me the scheduler she needed to speak with was on the other line and I needed to continue to hold. Anxious to know by this time Of course I continued to hold since at that point I've already wasted 15 minutes of my time. When the Woman came back the next time she told me "there was an issue with the DC and your appointment". At this time of course I was already flustered being told that someone called me which was a lie, and now there was an issue with the DC which no one informed me of. I asked to speak to a supervisor since I was now receiving two different stories both of which were out of my control and made no sense. After another 5 minute "Brief" hold I was on the phone with the scheduling manager. He informed me that the woman I had spoke to on September 19th was the wrong scheduler and scheduled me with the wrong department, of course apologizing and stating we should have followed up earlier.
At this point my blood had already boiled over and I asked him what follow up seeing as how now after missing the appointment I had to follow up with them. Still trying to gather the information and process if I would still consider their service I asked for their next available. I was told the following thursday between 2pm-5pm. I told him I would need 5pm-6pm which I already had in order to make it work. He said "the next available for that time frame would be the 7th of November". At that point I was baffled that not only they could fail with Customer service, but they could also care absolutely less about pleasing the customer. Instead of even trying to do something to resurrect poor communication and bad customer affairs they decide to and make me wait even longer. I would never recommend this company and frankly will never shop from them either because of this. If I could rate less than one star I would.

On September 22, 2016 the installers came to install the windows that was charged to my account on the 8th of Sept. over $3500.00. The installers said the window area was not measured properly, therefore, the windows would not fit as they were supposed to. They jammed them in and used a lot of caulk to cover up the discrepancies. The windows look different from outside and just look wrong. I have tried to have The so called supervisors come and look and have them done properly but no one calls back or comes to date. Tried calling the store #3504 and corporate and got a runaround. No one wants to stand behind their products at Home Depot and I am very disappointed in their lack of care to their customers.

I purchased windows from Home Depot in May 2016. The windows were installed at the end of June 2016. However, they ordered the wrong window for my family room and I was left with a white window while the rest of my windows were beige. I was advised my window would be in a few weeks. The window was finally installed at the end of August. After installing the window, they used the wrong color caulk. I had to make many calls for someone to come out and use the right caulk. The guy came out and basically wiped some new caulk over the old.
Additionally, the window does not close properly and there is caulk left on the siding of the house. I have called the manager of the local store and he just handed me off to someone in the Kansas City Office (who has never once returned a phone call). So now I am left with caulk on my siding, a half ass caulk job and a window that doesn't close properly and HOME DEPOT DOES NOT CARE! I have always used Lowes and I will never use Home Depot again. Absolute worst customer service experience ever! After spending over 7k, you would think they would want to ensure their customers had a positive experience.

I wanted Andersen windows. I had Home Depot come to my home and the salesman said that Andersen made vinyl windows and they are wonderful (Simonton). I said, "No, I really want the original Andersen windows." He begged me to let him show me the sample. OK... They sounded and looked fine... No staining, etc., to be done. The first three windows (a year ago) were installed and so far they're good. (Double hung, single windows.) In July I ordered two more sets but this time double hung on either side of stationary windows... for two rooms. When the order was first delivered, the installer said the squares were wrong and didn't even take them out of the truck. They had to be returned. Next delivery... no good, again. Third delivery trim was no good and one of them, on the bottom, isn't there.
Installer also said that the weather stripping on one would have to be replaced because it wasn't put in right at the factory. (They're all supposed to be inspected!!) One evening, watching TV, it became windy and suddenly howling began in one of the double hungs. Just like a pack of wolves! Rep. came after we called and he said they'd have to be re-wrapped. That was 3 weeks ago. Still waiting. BUT... and this is the kicker... at 4 AM this morning, (9/13/2016) I was awakened by HOWLING in my bedroom which isn't the one that has the howling I called Home Depot about originally. I couldn't believe it. Now there's no point in doing anything with the first window because it's obvious that this is a Simonton Window problem and not just a fluke! I lost hours of sleep. I'm still trembling from anger and disappointment.
We're talking about several thousand dollars here. Not just a can of paint for $20. I gave a down payment and the balance is being held until this is taken care of. I'm at a loss as to what to do. I'm extremely sorry that I didn't go to a local business instead of a monolith like Home Depot. The only receipt I have is for the down payment.

During the sales process, the Home Depot rep with not provide me with a written proposal which made it very difficult to compare the windows they were installing and the work they would perform. I wish I had seen this site prior to deciding to go with HD based on my years of good experience of shopping in their stores. In fact, we spent upwards of $50,000 at our local store last year alone while refurbishing our new condo. HD's price was about 25% more expensive, but we opted for that since we trusted them... BIG MISTAKE!
One area that I wanted to make sure that I was getting what others showed in writing was the fact the windows would be Energy Star certified. The salesman promised on the phone twice that the manufacturer would ship windows for our job that were Energy Star certified. I should have gotten that in writing as I did not learn until AFTER the windows were installed that they are not. The windows are energy star certified for states south of where we live in Pennsylvania. I have tried calling Home Depot and they just keep referring me back to the sales rep that is now saying that he only stated that the windows were energy efficient. The local store will not help me as they say that it is a different division. Thanks HD for ripping us OFF!

DO NOT BUY WINDOWS FROM HOME DEPOT!!! I purchased windows for my home in Brooklyn NY from Home Depot in August 2015. Their installer arrived with the custom windows within the time they promised. However, the windows did not fit. Additionally the windows were blue, as ordered, but the trim they wanted to install was white! Not as agreed to. 2nd time. Once again there was a problem with windows - again this time one of the windows did not fit. I live in the NE and it was cold out. Not a good time to replace windows but what can you do. Forward to 3rd time. They show up with the window, late for the appointment WITHOUT THE TRIM AND WOOD NECESSARY TO INSTALL THE WINDOW. I am refusing to pay them and will continue to fight the charge on my credit card.

Wasted a day having Home Depot come out and quote replacing windows. Retail price on the windows (Andersen) was approx $500/window. They wanted $1500/window in removal and re-installation. Figure a window replacement is no more than 4 hrs/window at 2 people per window you are talking 8 hrs labor per window for $1500. That is nearly $200/hr. Tried to get them to explain this highway robbery and all they could say is, "that is the pricing we get." Really, who pays $200/hour for a home construction contractor?

Home Depot is very convenient for me - the local outlet is just a few blocks away and has been my source for hardware, gardening and building materials. This issue involves the purchase of replacement windows and their response to the quality of those windows. The windows were white vinyl sliders purchased about 10 years ago. I purchased them on account so there is records. This spring when I went to clean them I found the seal in all six panes of glass had leaked. All of them! I went to the store and spoke briefly to the person at the Window/Door dept - her reply, "It is what it is." I made an online submission to Home Depot. The reply dealt solely with the comment by the employee and not the product. I followed up with a second message - directly to the asst mgr. No response.
It is sad to say that Home Depot is too big to be accountable and care about customer service. I will be dealing more with the local lumberyard/hardware outlets. I dread that thought of what I have in store for me with the five patio door I purchased from Home Depot - I guess that will be another review. I wish I had known that the Home Depot motto is "It is what it is." Please pay a little more and suffer a little inconvenience to spare yourself my experience.
I do considerable renovations for myself and others. You can guess who I will not recommend. I don't know what I would do if I saw someone looking at purchasing a HD window product - I will be tempted to share my experience like I wish someone had done with me. By the way, thanks Home Depot for the 15% off windows deal. I put that towards the new replacement of replacement windows.

Home Depot constantly does their business at 1 AM to 7 AM and all day long. 1 AM to 7 AM is a noise code violation. I am awakened every night to the sound of backing up of trucks with beeping noises and the dropping of pallets. Sometimes it sounds as if a bomb went off. I called the police to no avail. This morning I was awakened at 1:17 AM. I notified the police and the store. The noise stopped for a while and began at 6:17 AM again. This began again last February. I have been told in the past, that when people complain they simply move the activity to another store. They are breaking the law and they also have a fence that is broken and does nothing for noise violation. It's a security and health issue because there are rats back there and children go back there through the holes.

Bought $25000 (approximately) triple pane windows in 2013. Each year they get more distorted. All of the windows suffer from this problem but the living room one is the worse. When the sun is on them you can barely see through it. Finally I went to Home Depot to complain about them. Guess what, lifetime warranty doesn't cover them.
They sent someone from Jeld Wen to check them out. I was told that the problem was the triple pane. Then he said it was moisture. Problem with that is the window is dry as a bone. Then he decided they would replace just the living room as it was scratched but that I would have to pay $500 + for installation as the installation warranty had also expired. Doesn't matter that it wasn't an installation problem. They were suppose to come out 3 times to install and as yet still no replacement. They changed the date without informing me, the installers couldn't lift it the 2nd time so they had to book two crews, the 3rd time the installer was sick. I am very unhappy about these windows and I recommend no one buys them, especially from Home Depot.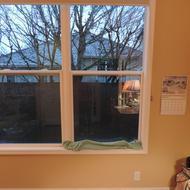 In the fall of 2015 I accepted Home Depots offer to have their contractor replace three Milgard windows. I asked about rescheduling if it was raining and was told the contractor would decide this at the time of the appointment. On Nov 17, it was raining heavily with high winds, and he said they install in wind and rain routinely. He was late, couldn't find the windows, showed up at 11:30 and finished after 6 pm. By Dec rains, one of the windows was leaking badly, even spraying inside on my wood floor, which had been installed the previous year. Today I am still packing the window and floor with towels, which rapidly become sopping wet.
A week or so ago, the Home Depot rep came out and put some caulking at the top of my leaking window, told me that my siding is old and that's the problem. So now I must replace the siding. I regret acting on my desire to have windows that open and close with ease. It's strange that the old siding has caused leakage around the replaced window but none of the remaining Milgard windows leak.

We had all new windows installed in our house approximately 2 yrs. ago and the fascia board was faulty. This is the third time we had to call the Depot for repairs. On May 15, 2015 my first phone call was made. Needless to say, I spoke with numerous people being transferred from one person to another constantly. Many phone calls made to the store, talked with field managers, installers, etc. Then on Dec.10, 2015 the fascia was installed.
This piece of material is approximately 20 ft.long. Seven months for something this minor. Very dissatisfied with this company that the new roof we just had installed was installed by others simply because dealing with the Depot was a joke and quite appalling to be honest. The managerial employees have really learned quite efficiently how to ignore the customer. Hopefully we will never have to deal with them again on this particular repair and we will certainly not hire them again for an install.

I had my windows installed April 2013. 5/10 windows I had installed were foggy due to poor seals. I had them replaced October 2013 and during this process the installation contractor ripped chunks of wood out of my living room window frame. In July 2015 two more windows had to be replaced due to fogginess between the window panes, poor seals. Those windows were replaced after 3 months of bantering back and forth with the Installation Manager. The Home Depot escalation Dept offered me a $500 gift certificate to cover the expense of replacing my window frame then lied and said I didn't want it. The Installation Manager in the meantime had sent me an email offering me $250 gift certificate. I told him the main office offered me $500. He said he would have to go to his supervisor to authorize the $500 gift certificate. I was confused.
To date I still have not received the gift certificate even though I've have email contacts with the Installation Manager who said he would get the information for me right away from his boss and failed to follow through. I am disappointed on many levels first of all based on the integrity, Home Depot seems to lack, professionalism seems to no longer be of value either. I went all the way to the regional manager. She was the regional manager for Alaska Washington and Oregon and she never returned my call. I would say the fish rots from the head down.
The other disappointment is the lack of quality in the product - windows. I live in an area where the weather gets very cold and rainy. Surprise (not) my living room window fogged over about a week ago, it's December of 2015. The installation contractor wants to see it even though I sent him a picture. I told him it's no longer there. He said let him know the next time it happens he'll run up and look (lol). In my opinion think Home Depot puts its value in profit instead of the customer, a great disappointment. By the way have you ever measured the 2x6 planks of wood at Home Depot, they are 2x5.5 not 2x6. Hmmm what's that about.

We had a plate glass window crack in February 2015. In searching for a repair we have some odd shaped windows, so getting someone to respond was difficult. Or people would come and we'd never hear from them. Finally we liked the Home Depot sales person who gave us a good price. We signed on the dotted line 4/26/15. We added another pair of windows to the job on 5/15/15. They told us they would probably do the installation in July. I called in early July to find out the status of our job. Nobody called me back.
In August we got a call from the installer. There were some problems with the shapes and they needed to come back and re-measure the windows. That happened right away. They would probably be installing them in October. It is now 11/20 and we still are having trouble reaching anyone willing to take responsibility for the job. I want my windows but now I'm afraid if this is the response for a $13,000 order for 8 windows what will happen when there is a problem with those windows? Home Depot sucks!

I ordered a replacement window for an old picture window in a home I was refurbishing. The installers were supposed to arrive between 10 am and noon. No one showed, so I called the customer support center. The person put me on hold and contacted the installers. The installers said they would be there "soon". 3:00 pm and still no installers. Again I called customer support. I'm put on hold again while they call to check status. The customer support person was unable to reach the installers. At 7:00 pm I get a call from customer support to see how my installation went. I told them no one ever came. They advised me that an installation manager would be contacting me within 30 minutes. Surprise! no one ever returned my call.
It's now the following day at 11:00 am and still no one has returned my calls. Finally through customer service I get hold of the installation crew. They tell me they came, but no one answered the door and they tried calling. I checked the call log on my phone to find out when they called. It was 5:15 pm when they had arrived - well after dark. How were they supposed to work after dark in the November cold? I still can't get hold of a Home Depot installation manager, so I guess I'm out the $179 deposit I put down. I've spent thousands at Home Depot over the years, but no more. I'll be going to Lowe's instead.

Home-depot offers a double warranty. It covers installation and any thing else that might occur (lifetime). So my wife and I decided to go with them. Well like other reviews. We like the windows but we were not happy with the installation. One screen was bent so bad it had a 3/4" gap at the bottom, and the picture window has a 1/2" gap covered up with a vinyl strip. I called Home-Depot (they supply you with three phone numbers) three months ago. Finally they returned my call and set up a date to come out to correct the issues, guess what, they didn't show up. No phone call nothing just another day of work missed without pay. Im still waiting for these issues to get resolved. The warranty is worthless. Run away before you sign anything.

I had all the windows in my house replaced with Andersen through Home Depot. The salesman was easy to work with, the installation contractor and crew were fine during the installation, but, a year and one half later, I still cannot get anyone to replace a defective lock on my bedroom window! It doesn't matter who I call, no one will help! Lifetime warranty is a joke!

I called number on "Hardware Guide" that has instructions to installing a casement window crank and get no help!! Guy does not know product and cannot tell me and has to get "more clarification", and I have given him the part number and mfg. code and have a simple question as to what the part looks like underneath and what the "clip" looks like on the part. He REFUSES to help me and answer a simple question but instead needs to "make a file", get the window number on and on. It goes over a half hour and all he has to do is look at the exact part and tell me what the underneath looks like. But he is very hostile and puts me on hold a number of times with NO help and refuses to help and finally hangs up. Home Depot has the WORST customer service!

We ordered windows in Oct 2014. They were supposed to be installed by mid-November. Didn't hear anything by November and contacted rep. Lots of excuses and apologies. Windows came in January. They were the wrong size... 6 of them. Only 1 was okay. Had to reorder. Very poor communications. Finally went to local store. Project Manager - He was EXCELLENT. He "tried" to get ball rolling. Heard from rep and we're to get windows within 3 weeks. Windows came in in March... again... THE WRONG SIZE! It took FIVE TRIES TO GET THEM RIGHT. Windows completed in June. One window still doesn't fit right. We'll see how it keeps cold out in winter. The lip that you grab is on top of window. It's ridiculous! We have to pull down from bottom of window because we can't reach the top once they are up. WOULD NOT RECOMMEND Home Depot OR SIMONTON WINDOWS.

Finally I got some traction on this issue. It took many calls and much frustration with store level management that I had to finally give up with them and take it to the next level. So I wrote emails and shot gunned them off to the executive team at Home Depot Corporate and low and behold the next morning I get a call from Customer Care escalations saying they want to make this right. They did. I returned the windows for a full refund. Then later that day, I get a call from the district manager wanting to speak with me about my experience and ask if there is any way that he can win my business back. "We shall see." Why Home Depot #622 did it take me going over your head for you to get right? Why was it so hard for you to do the right thing from the get-go? What were you going to lose, except for a customer whom apparently has a loud enough voice that I can be heard in Atlanta? Shame on you and your customer service skills Store #622.
Original Review
So we went and sat down with one of their Window Experts, let's call him Joshua. I told Joshua that I had seen these retrofit windows by Milgard online. They are called Bar something windows and are specifically made for doing replacements on a stucco sided house with aluminum existing windows without having to bust out all the stucco. He told us he knew exactly what we needed and we proceeded to get down to the particulars. Dimensions, style, color, glass type, screens, etc. He showed us pictures of the moulding styles and we choose one. Brick Mould I think they called it.
During this process Joshua and I discussed the installation process and the fact that when I had seen the video online I was quite positive that I could do the install myself since it looked so easy. (I have some skills) So when we were done Joshua had us look over the dimensions and sign that these were proper and copasetic. We were told that it would take 4 to 6 weeks and they would be delivered to our home.
Fast forward almost 8 weeks later they finally are delivered and my wife sends me a picture saying the windows are here and I see nailing fins on them! I ask her to take more pictures close up since these look nothing like the Z-Bar windows from the videos and she does and my worst fears are confirmed - these are not the correct windows. I have her call the store to speak with someone about them and a MOD, let's call him Matt, says that all she has to do is cut the nailing fins off and they will install like the retrofit windows. REALLY?? My wife and I go to Home Depot when I get off work and speak with Matt directly and he tells me the same thing. I ask him to provide manufacturer's suggested methods of installation that clearly depict this process.
He tries, but is unable to get the files. Assures me he can do it tomorrow after speaking with the manufacturer directly. And at the same time says, "Well you signed the order so I don't think there is much we can do about it." You have got to be kidding me. How am I to know that your window expert input the wrong SKU code for the window(s) that I requested? I am contacted by another MOD, let's call him Ceaser, who tells me to go to the Milgard website and download the AAMA 2400-10 Standard Practice for Installation of Windows with a mounting Flange in Open Stud Frame construction. I of course had already been researching the net, speaking with the manufacturer and so on and knew this was not going to show the proper procedure. I asked Ceaser to speak with his store manager about getting us the proper windows like we had come into the store to buy. He says he will pass that information along.
I get a call back from the manufacturer and the rep tells me that the windows we were given are the wrong type for our application and that we should get Home Depot to make it right by exchanging them for the right windows. I then get a call from the store manager whom is out of town at the time, we will call him Johnny. He wants to hear the story since his corporate office has emailed him about my complaint. He listens and then asks if the manufacturer said they were going to give me new windows. I said "No, they did not say that." They said they would speak with the dealer, Home Depot, about making this right since the windows I was sold were incorrect for our application. Johnny goes on to say that most likely the manufacturer will not be able to follow thru with their promise of making it right. And repeats to a certain extent what MOD Matt said. We signed the order. AGAIN???
Let's be real. I trust in the professionalism and expertise of your designated representative to fill out the order correctly. Myself being the customer and not familiar with your SKU numbers and proper terminology would not be able to recognize that he did not give us the Z-Bar retrofit windows like we had requested. But in fact ordered us new construction type windows. Now the manager Johnny is only willing to exchange the windows as long as we agree to pay a restocking fee!! WTF Home Depot. It is quite apparent that you do not want me to shop at your stores anymore.

I chose Home Depot for vinyl window and door installation because I assumed it would require little effort from me. A salesman came out with his spiel about why it was worth paying double for standard windows, because the installers had insurance and they'd replace the screens if they broke. $5800 for two windows and two doors. That's over $3000 for installation of 2 windows and 2 doors. I was promised the next step would be that I would be contacted to arrange measurement. Two weeks went by, and no contact. I called, and was promised a "substantial discount" if I didn't cancel the order because of their mistake. I reluctantly agreed, and someone came out to measure the windows. I was promised installation on August 23rd. Nobody showed up. I called to ask for a refund. No follow up from Home Depot a week later. What a waste of time. I could have had the windows installed 5 weeks ago for half the price. Adios Home Depot.

I signed a new window install contract on July 22, 2015 and was told 7 days later the price was going to increase by $500. I signed a written contract and agreed to the terms and then was told the price for 1 Simonton window would be $500 more. Never heard of signing a contract and having the terms change. Nowhere in the contract does it say, "after the final window measure" that the price is subject to change. Very disappointed in this Breach of Contract...Home Depot, Tucson, AZ. Oracle and River Location. Window manager and Associate were friendly but would not agree they made an error and would adjust the price for their mistake.

Joseph TruiniHome Improvement Contributing Editor
Joseph Truini is a home improvement expert who writes extensively about do-it-yourself home remodeling and repair, woodworking projects and tools and techniques. His work has appeared in several national magazines, including This Old House, Popular Mechanics, Country Living, Woman's Day, and Today's Homeowner. More about Joseph→

With more than 2,000 locations, Home Depot  an established do-it-yourself home-improvement store  with a vast inventory.
Assurance of quality: Users will have the peace of mind that comes from doing business with a nationally-recognized brand known for its high-quality products. Home Depot sells vinyl, aluminum and wood windows from several manufacturers, including Andersen, Jeld Wen, American Craftsman and Tafco. They also carry an extensive line of doors, including exterior entry doors, interior room doors, sliding patio doors, storm doors, screen doors and French doors.
Unusual selection: Users who need an unusually-shaped door/window or a product made from a non-standard material can often find it at Home Depot.
In-store appointments: Consumers can meet with representatives at their local Home Depot to review product selection, discuss their needs, ask about pricing and financing and find the right products.
How-to articles: Owners can browse articles on this company's website to learn how to install doors and windows themselves.
Alarms available: Owners can purchase alarms and security systems as well as doors and windows.
Best for Home Depot is best for homeowners, do-it-yourselfers, condo owners, landlords and business owners.
Home Depot Windows Company Profile
Company Name:

Home Depot

Year Founded:

1978

City:

Atlanta

State/Province:

GA

Country:

United States

Website:

http://www.homedepot.com/