Consumer Complaints and Reviews

I had placed custom door order on October 23, and was told will be in the store in 2-3 weeks. I called after few days and was told coming on November 17, 2016 Thursday. I called back in the morning on November 17, 2016 Thursday and was told, "It is coming today. Call back in the evening." When I called back in the evening I was told it will be another 3 weeks and coming on December 1. I had talked to door/window associate named Sam. He was extremely rude rather than being cooperative. I talked to manager Fu-Sheng, he called me back and said due to holiday on Thursday November 24 it is getting delayed for 2 weeks, which is ridiculous and beyond any normal reasoning.

Ordered and paid for a special order entry door and installation for my house in May 2016. Installers set a Sunday date to install. About an hour into installation I noticed the door was not made correctly as it swung in the wrong direction. I brought this to the installer's attention, who seemed baffled by it, and told them to remove and reinstall the original door. I went to Home Depot and recounted the issue. I was told that they would have to reenter the order the next day but that the assistant manager would follow up. After no follow up I began calling. I was told that the order would be entered and expedited. I was never allowed to speak with anyone further up in management than the special order manager. I was assured that the order would be expedited. I found later that the order would take 5 weeks. I called customer service and was told they would see that the order was expedited.
Home Depot finally admitted they entered the order incorrectly with the manufacturer. The next installer set a date to install and after taking a day off work to meet them I found that the door was the wrong size and couldn't be installed. I called and emailed Home Depot several time and could not get a satisfactory response. After countless inquiries I was told by store employees as well as customer service that Home Depot would certainly refund some of my money to account for the errors on their part.
4 months after I paid for this door, which was standard size and selected from the manufacturer's catalog, I took yet another day off to meet installers. The door was installed and I found that the top of the door was left unfinished. (I paid for a painted door.) I again sent email to Home Depot customer service to let them know the door was in and even though it was not finished correctly, I would keep it. Home Depot never contacted me again. I tried sending a week later and received silence. I contacted the Better Business Bureau and filed a case. The case was sent to Home Depot and they were to respond within 30 days. They did not. They were given another 10 days to respond and they did not. I have received no contact from Home Depot.
From the time I paid until the time I had a front door was 4 months. There was never an issue with payment as I paid in full the first day I placed the order. Unfortunately once Home Depot has your money they have little to no motivation to deliver promised goods or services. Their customer service from day one asked, "how much do you want to make you happy?" I said "I want my door first." They then said, "ok, let's get you the door and then we can determine how much you should be compensated." Let the buyer beware when it comes to purchasing anything special order from Home Depot. The store employees can only do so much to help and they do not seem to want to let you have access to an actual manager. Customer service could not care any less whether they keep your business or not.

I purchased a door on 10/5/16, kept in contact through the building process, as I need delivery by 11/4/16. On 10/28/16 I was told the door would be delivered to the delivery company on 11/1/16 and they would contact me for delivery. I was contacted later that same day by the delivery company and told my door would be delivered 11/4/16 and I would need to be there to sign. Today is 11/4/16 and at 1:30 I still had not heard from the delivery company. I called Clopay and was told they had me scheduled for delivery and gave me a phone number to call. They said nobody had answered when they tried but to give it an hour and keep trying them, to get a delivery time. I said that was unacceptable and told them to look into my delivery, get the requested information and call me back.
I received a phone call 1.5 hours later from a manager telling me my door would not be delivered, as it was damaged in transit to the delivery company days ago. Excuse me, your rep just told me it was out for delivery. The Clopay rep then went on to blame everything on the third-party delivery company which I could not believe. Clopay damaged the door in transit and Clopay neglected to inform their customer, not the delivery company. I am now informed the replacement parts will hopefully arrive in two weeks, the door will then be repaired and then delivered. Because Clopay neglected to call me and explain the issue, I will now have to take a different day off work to accept delivery and am out $322. My $557 door has now cost me $879.
I posted to the Home Depot Facebook page and was asked to send them all of my information, so they could look into the matter. I posted to the Clopay facebook page and was told they would review the recorded phone calls. I replied back, saying that'd be great and to make sure the reviewed the calls from October 28 as well. Neither company has since responded back.

Home Depot customer service contacted me and offered another contractor to come to my home. I feel that this issue is being resolved promptly and professionally.
Original Review
The contractors that Home Depot in Spring Hill, TN use is JD Doors. They are not professional and won't show up to measure your doors to begin the purchase and installation process. JD Doors will schedule a "convenient" time for you and then call at the last possible minute to tell you how inconvenient it is for them to come to your house for the measure. I refuse to shop at Home Depot now because of JD Doors. I will be spending my hard earned money someplace else. Thanks for NOTHING!

I wanted 2 new patio doors for my home. The Home Depot installer came to my home to take measurements and, after he submitted the measurements to the store, I went back to the local (North Kansas City) Home Depot to get professional help for the purchase. A doors specialist used Home Depot (HD) software to design the doors, with the measurements that had been provided by the installer. I picked the colors I wanted and paid for the doors. Installation was scheduled for 3 weeks after the purchase. One week after the purchase, another Home Depot doors professional called the to let me know that the Home Depot doors professional who had used the HD software to design my doors, had made a mistake and sold me doors that would not fit in my house; if I wanted the right doors, I would have to pay an additional $1100 (on top of what I had already paid)...
When I went to the store to talk to a very condescending manager about the issue, I was treated like dirt: She wanted to charge me a 15% restocking fee because she claimed I was the one who decided not to purchase the doors (I still wanted the doors but I was not willing to pay an additional $1100 for a mistake that the store made); She refused to do anything to fix the situation and treated me like the whole thing had been my wrong doing; When I told the manager that her lack of care was going to cost the store a customer, she simply replied with a "Oh, well." I still do not have my patio doors and I do not plan on returning to Home Depot for any of my purchases until the store compensates me for THEIR mistake.
How do I know I can trust these reviews about Home Depot?
633,951 reviews on ConsumerAffairs are verified.
We require contact information to ensure our reviewers are real.
We use intelligent software that helps us maintain the integrity of reviews.
Our moderators read all reviews to verify quality and helpfulness.
For more information about reviews on ConsumerAffairs.com please visit our FAQ.

We bought a door from HD, Peak Installations came in to install it. We have had frost on the inside for 3 years in a row. The have come each time and replaced the weatherstripping and the problem continues. We are currently litigating in court. When you read satisfaction guaranteed at Home Depot that means litigation. What a horrible company to deal with and their contractor Peak Installations are even worse. They did not even have a lawyer in court, the guy came in wearing jeans. Unbelievable. BEWARE, DO NOT BUY FROM HOME DEPOT.

I had my 3 entry ways measured for 3 doors. This task was completed by the installer. Therefore I went in to Home Depot to complete the purchase order 6/4/16. The whole process took about 3 hours to go over exactly what I needed, 1 Storm door for front along with a new door, 1 storm door for the back along with a new door, French doors for the walk out basement. The 3 hour conversation revolved around the sets of doors as explained and nowhere in that discussion was anything else. The process to purchase to install took about 2 months.
The day of install came and the first thing the installer mentioned was the French doors were smaller than the measured rough opening and he would have to build it out. This was never discussed with me during ordering phase and the install was fine but having a doors smaller than the measured opening looks like garbage. The install of the back door went fine. The front door... Where is the front door? I had explicitly stated what I wanted and did not get and was never ordered. When talking to the store manager the during the time frame of ordered the purchaser spoke to the person that wrote the order. It was noted in the system that "the customer did not want the front door." This is not the case AND no call was made to me pertaining to this discrepancy. So I went back into the store to discuss the matter with the MOD.
The only thing possible was to order a door that should have been ordered to begin with. My first inclination is to yank all the doors out and credit my account with 0 charges to me (further explanation down) and start over with a different vendor. The MOD kept on asking how he could keep my business. First off Management 101 doesn't ask the customer what can he provide, the manager provides a solution and the best options to the matter. The reason why I am so livid about the matter is because within the 2 month time period June/July I had scheduled twice to have Home Depot come out and replace my Furnace/AC and no one had shown up. Specifically this store gets 0 stars for incompetence but I have to enter at least 1 in order to submit the form.

I'd would give no stars if it was possible. This door purchase and installation process was a terrible experience with terrible customer service from start to finish, and I would not recommend it to my worst enemy. I started the process with Home Depot on April 25 and the door was just installed yesterday, July 6...almost 2.5 months to have a simple storm door installed! I could barely get in touch with the installation department to schedule measurements or the installation, because they never answer their phone or respond to messages or just simply call at all.
When the door was ordered and shipped to the store, I never received a call to notify me it was there, so I could schedule a time to finally install it. I had to be the one to call to see what the hold up was after several weeks. It turned out the door had been delivered to the Home Depot store days ago, but no one had bothered to inform me. Their ordering and installation process is stupid and convoluted, but it could have taken just a few weeks... instead it took over 2 months.
The final straw was yesterday when the contractor finally came to install the door. When the installation was finished, he left the gate to the fence wide open. My dog is a flight risk (the very reason for having a fence and installing a storm door that will swing close), so when I let her outside and she saw the gate was open, she took off down the road. I was able to get her back in the fence after about 5-10 minutes, but it was a miracle she didn't get hurt or killed by a car...drivers fly down my road. I cannot understand why you would not close a fence's gate when you know a dog lives in that home? He apologized, but by that point, I was very angry and fed up with the entire process. So to make a long story short, do not bother with buying a door and especially having it installed by the Home Depot and their installation department. It is absolutely not worth the hassle!

The project was ordered on April 16th, 2015. It is almost 4 months since. The door was measured wrong or the data was "entered" wrong. Anyhow, the door that showed up a month later was the wrong size. The installers who came in measured and said it could not be installed. I received no status updates from HD regarding what was supposed to happen next.
I had to call several times, visit the store and repeatedly ask for the store manager. He seemed concerned but told me a couple of things. One that it is ok to have installed the incorrectly sized door and two the person who made the sale was not the best person and that I should talk to the "dispatcher". I had to ask who it was and how I could talk to them.
Eventually I got a name. Called her and it seemed like the response was genuine and she was all over how it will be fixed. However, the communication was still bad and I had to be the one repeatedly calling to find out what was going to happen and when we could eventually finish the project. I was promised that the door would be arriving on the 28th of July. And since then I have not been able to get a hold of HD. Well, I did get to talk to someone and she (not the original "dispatcher" this time) just said that the installers should be calling and it is not a HD problem at this point.
I feel that spending the time and money with HD to get this done has been a nightmare and the worst part is that HD does not seem to care that this is a bad experience rather just business as usual. I would appreciate some acknowledgement of the issue and some sign from HD that it does not take this as business as usual. I have a few other projects coming up and I would definitely not consider HD to be a vendor of choice for the projects - building materials or service at this time. Kitchen remodel, doors, windows, window treatments, floors and appliances are all due to be changed.
Even mentioning this does not seem to elicit any interest in the store personnel. They are only concerned about their "department" and who cares if the store does not get new business. While store sales and staff behave this way, I find it amusing that there are marketing folks on the store floor who keep wanting to engage me for many of the projects mentioned above. Overall it looks like HD needs to get its various groups together and focus on delivering value for the customer instead of making promises on the marketing and sales fronts and failing badly on the execution front. Does not make for a very happy experience.
Finally the correct door came in and was installed by a completely different crew (2 guys). They just stuffed whatever had been delivered. A few pieces that were delivered were left over unopened and the guys said they did not what do with them. One that caught my interest was a roll of weatherproofing tape about 4 inches wide. I guess I will find out what it is needed for a few years down the line.
The whole process was really about how terrible the communication was and how little HD seemed to want to handle any calls around this. Had to tweet and got an immediate response. That part seems to work. Any issues with HD - tweet, post on FB or other very public, highly visible social forums. They worry more about being known as bad than being bad.
In the end the store manager wanted to settle the complaint and asked what I wanted. I said a better experience and some way for HD to show that it cares. He again asked "How much?" I wanted my installation refunded as it was the part that took the longest time. Ended up getting a portion of it back. Win - I suppose. Too much hassle to deal with HD on the service. Products may be, but definitely not service. I stick to local owned service providers who can be reached easily now for all my projects.

We bought a mirrored closet door for our bedroom. About a month after installing, mirrored glass separated from the door and narrowly missed my baby's bassinet! The mirror was held to the door with only glue. No screws whatsoever! Even the casing around the mirror is held on only with glue. After attempting to review the product many times over several months and multiple telephone calls to customer service and editing of my review, they still keep refusing to post my review. They obviously want to sweep this under the carpet so they can continue selling this product without question!

I have ordered my 5th door now. They have broken 3 of them and keep telling me how fragile they are. If they were so fragile they would break on your house all the time. Still waiting for the refund from the last one and paid for the next one. They fooled around enough that I think I will miss the window of time to get it installed for free again. So going to cost me $500 if they get the door here. Only one man showed up to deliver the broken door. These doors are heavy and they should be lifted with 2 people. They keep breaking them because of the stress of one person trying to lift one. Instead they keep using the same delivery business that just keeps breaking them.
When I went looking for my undelivered door, 4 hours later the truck was here with the broken door. The delivery guy said he was told to deliver it right away even if it was already broken. I took a single half glass door over 1200 miles in the back of my caddy and didn't break it. How fragile is that?? I should be getting a door for free but nope keep paying for broken ones. Why they can't ship it to the local store and deliver it from there I don't know?? I don't have a cell phone this month because I used all my minutes looking for my broken door. Yes Home Depot gave me the number and told me to find it myself. Told once in awhile they break a door?

Apparently you can only schedule from 9-12 or 12-5. When I asked to have someone come after 3 they said they couldn't do that and they don't work Saturdays or "anything like that". Well, I'm not taking a vacation day so you can measure my doors... And I would still have to go back to Home Depot to get the quote. If think if you are going to be in sales you should flexible enough to work with the customer.

I'm happy now that I got what I wanted, a full refund!
Original Review
I purchased my entry door at Home Depot Coquitlam BC in June 2014. I paid $6,500 for it. I have had nothing but problems right from the start. Home Depot contracts their installations to Peak Installations. This company is horrible. Poor customer service, poor workmanship. If you are considering purchasing a large item that requires installation, my advice to you is NOT to go through Home Depot! Buyer beware! My entry door has been replaced 3 times in less than a year and not once has Home Depot stepped in to help or take responsibility. Basically when I call Home Depot to voice my concerns they immediately pass me on to Peak Installations. I am so frustrated and disappointed with the way I have been treated and the end result of my very expensive front door. Currently I am taking my concerns to the next level.

I had a terrible experience with a recent (attempted) Home Depot purchase. Here's the background: I purchased a Chamberlain HD210 Chain Drive Horse Power Motor + 8 extension kit = installation online at http://hddcstore.clopay.com/shell.html. I made the purchase on Sunday, November 8, 2015. I paid $295.00. By Friday, November 14, no one had contacted me so I called 1-877-526-2050. The person I spoke to told me that the installation company, Arrow, was closed for the day and I was promised a call from Arrow on Monday, November 16.
By Tuesday, November 17, no one had called me. I called 1-877-526-2050 again and the person I spoke with told that the installation company, Arrow, had my paperwork and that I would receive a call to schedule the installation once the garage door opener was picked up from the distribution center. After another day or two went by and no one contacted me. I called 1-877-526-2050 for the third time. The person I spoke to told me that the model I ordered was discontinued. She said there was no estimate date for the stock to be replenished and my best bet was to visit my local Home Depot retail store to return my purchase, buy a garage door opener in-store and schedule the installation.
I went to gather my email receipt for my store visit, when I realized the receipt I received did not contain an order number, purchase dollar amount or purchase product detail. This receipt was sent from HomeDepotDoor@clopay.com. I went to homedepot.com and was unable to see this purchase in my online order history. However, I did see the $295 charge to my credit card. I went to the store. I visited my local home depot on Miller Road in Wilmington, Delaware on Sunday, November 22.
I went to the customer service desk where the attendant had me call the customer service number since I didn't have an itemized receipt. I called 1-877-526-2050 but the service center was closed. Eventually, the agent was able to find my order in the Home Depot system. While she was able to find my order, she could not complete the return. I was told to check back with her before I left the store.
From there, I went to the installation services desk. I found the Chamberlain opener that I wanted to purchase, but there were no extension kits in stock for a chain-drive opener. I was told not to worry; I could probably purchase the extension kit from the installer directly. Unfortunately, the salesperson could not figure out how to complete the purchase with installation. After almost an hour, I left empty handed.
On my way out, I stopped by the customer service desk where I was told that my return still hasn't been processed. I was told to call on Monday because the manager(?) was required to complete the return process. When I got home, I realized that I received another welcome email from the Home Depot. As usual, there were no order details in the order and I could not find any evidence of my order online. At this point, I was worried that I was charged twice.
I called my local Home Depot store on Tuesday, November 24. I spoke with ** who assured me that he had processed the return. I checked my credit card on Wednesday, and I was able to see that my purchase was refunded in full. I ended up purchasing a unit at my local Sears. The installation company called me on the next business day and I was able to schedule my installation a day after.
Home Depot really needs to fix these issues: 1. Home Depot shouldn't be selling items that are on backorder if they can't fulfill them. 2. If the item I purchased was backordered, Home Depot shouldn't have charged my credit card until the item was actually processed. 3. Someone should have called me within the quoted time period (3 days), especially since there was a problem with my order.
4. It should not have taken me three separate phone calls to figure out that there was an issue with my order. 5. Home Depot should have sent me an itemized receipt. 6. Home Depot shouldn't have sent me a welcome email for my unsuccessful in-store order. 7. Home Depot should provide online access to order history for purchases made through installation partners (http://hddcstore.clopay.com/shell.html).
8. I should have been able to request a refund over the phone, rather than losing an hour of my Sunday in the retail store. 9. Home Depot should stock stores with the corresponding extension kits for the garage openers that they (attempt to) sell. 10. Home Depot should make training and technology improvements to enable successful in-store purchases of openers + installation services. 11. Home Depot is still offering the same model opener online as of today, December 5. Will this terrible experience repeat for anyone who makes the bad decision to purchase a garage opener through Home Depot?

DO NOT let Home Depot contractors install your door. I purchased a security door from Home Depot in Oak Lawn IL. Days after the installation, I was locked in my house. I called several times before I was given an appointment to have him return. He did not show up for the schedule appointment! I went to the Oak Lawn Store, a very young Store Manager was not professional and acted as if I was bugging him. He threw the problem off on Mary Kay (Contractor's Window & Door Manager). Finally the contractor reached me and blamed the store. He stated I was not schedule under his appointments.
Long story short. I still have my notes and emails to the store. To date, I can no longer lock my Security Door (1 year Warranty). I support Evergreen Window and Doors - they installed my Rear Door and Rear Security Door- 5 years ago and both doors are still working properly. Don't waste your money on Home Depot nice looking doors, if you want SECURITY. You get what you pay for!

I purchased an interior door for my bedroom. It is a beautiful door but when I had to cut 1/4" off the hinge side, I discovered there was only another 1/4" of wood left to screw the hinges into. I had already installed the new door knob, door stop and started to cut out for the hinge when I discovered that the wood separated from the outside skins and pushed inside, so I put a screw in one of the existing holes and pulled it back out even with the edge of the outside skins. 1/4 inch isn't strong enough to screw the hinge too.
I looked at the bottom of the door and sure enough you can see the inside and outside skins and the bottom filler board. Because it is an inside door, the inside is hollow. Now my inside doors aren't going to match. It's a Cheyenne Door HC PREB SLAB, $43.20.

I found a door for sale on the Home Depot website on October 19th for the price of $126.00. It was an online item only and was sold out so I put my email in the site's email response area to get an email when it is back in stock. I contacted the Home Depot and the customer service rep verified the price on the item. It was a jeld-wen ext door sku# 202576299. The door retails for $1,200.00 so either this was a misprint or like the cust service rep said they buy bulk and this was the correct price for this item.
I received the email the next week saying the item was in but for the price of $1,250.00. I called Home Depot and was told they have no record of it and I need to show them proof by photo. I took photos of the item the day I found it online but the price is missing on it. If it sold out online that means someone bought this item for the price I saw and I requested via email to investigate this in the fashion I recommended. And once again was told to show proof. Please help someone.

Thanks entirely to Regina, a Home Depot resolution specialist, I was compensated sufficiently to complete this project to my satisfaction.
Original Review
Don't buy a door here. Door took forever to get. Their installer was terrible. Door was not hung plumb and swings shut. He forced the deadbolt lock in crooked, scarring the door, and it did not work. I took it off and fixed it in minutes. He told the store parts were missing. Claimed the warranty wouldn't be valid unless he put a board on the outside bottom sticking way out past the threshold, not flush. Custom door manager was given pictures of the botched job and promised to take care of it. Has not responded to further emails from me.

I would not even put one star if I was able. They have only one man (a contractor). The whole experience was terrible, the door even looked as if it was a discounted door, not the door I picked out (that I had to go do just to make an appointment for him to come to the house to pick door out and measure that I had already done). The frame had cuts, scraps, etc. He was about 2 hrs late, didn't even have the courtesy to call. I had to make that call. If I didn't already pay for this, I would have told him to forget it and I will NEVER do business with Home Depot on Bobby Jones again.

Home Depot was to install a slider door and a patio door. First appointment cancelled. Next time showed up at 11:00 to start an 8 hour job. Black storm door had scratch in it. Slider door screen was too bent to use. Showed workers what outlets to use. Plugged into my kitchen instead, still have no power to my kitchen. Cut cedar shingles too short around my slider. Trim does not even make a perfect square. Gaps everywhere, no caulking installed in gaps. Had to go today to pick up my own screen. Get tossed manager to manager and nothing gets done. They want the same guy who made the mess to come fix it. No. Will dispute on my credit card. Shoddy work.

The customer service in the Centre Street, Quincy MA store is beyond horrible. I ordered a custom sliding door on July 26, paid close to $2000, and was told on September 19th that my order couldn't be completed. What makes it worse, was the response from 4 managers who were adamant that I couldn't get a refund because it was a custom order. If they had taken the time to listen to the situation, they would have realized that the mistake was made by Home Depot. Custom doors were never made and as a result, I didn't receive my doors.
After 2 trips to the store, I finally got my money back. Pathetic as it may sound, I had to make a 2nd trip to the store to get the balance of my return because the first customer service manager didn't know how to process the full return. Oddly enough, one of the credit receipts showed a cash refund of $18, but I was never given cash. The return was placed on my credit card. When I questioned this line item, I was told by 2 staff members that they couldn't explain the cash transaction either. The only consistency with my entire store experience is that service and basic levels of intelligence do not exist in this store.

Home Depot dispute. Purchased French doors with screens from Home Depot on May 24, 2015 total price $7584. Put down $1900. Purchase included installation. The doors ordered were PALR. On July 6, 2015 the French doors were installed however the screens were not with the doors and the wrong doors were installed. We received PARL instead of PALR. Project manager Ron ** offered us a $500 discount and a $100 gift card if we were willing to accept the incorrect doors. We agreed to this and scheduled the installation of the screens for a later date.
On July 27, 2015 Home Depot again returned to install the screens however this time the hardware was not included with the installation package and the insulation had to be scheduled for yet another later time. On August 8 Home Depot again returned to finish the installation however this time the installer cut one of the screens during the installation leaving the installation still incomplete. Reluctantly we agreed to make the final payment with the promised $500 discount and Ron ** insisted that this would be handled as a service repair order. He said it would take about a week to order the new screen and to have it installed.
On August 15 having not heard from anyone at Home Depot I called Ron ** and asked him what was going on since we have heard nothing. He said he would look into it and call us back on Monday on the 17th. We never heard from him again or has anybody from Home Depot contacted us. In conclusion the project was not finished and the promises made by Ron ** have not been honored specifically the $100 gift card. After disputing the credit card charge of $5000+ we were contacted to finish the job. The job did get completed finally by the original installer.
Please note that the installer on all visits first requires him to sit on our toilet and empty his bowels and fowling our toilet. Don't you think he would go at home before he comes. Job is done and no sign of a gift card. Chase agreed to eat the 100 dollar gift and reduced the total by $100. Lesson learned: go to Lowe's. I will never do business with Home Depot again. Finally calls to corporate Home Depot were a waste of time. They just shrugged their shoulders and said "we don't know what to do." I really believe that. Go to Lowes.

Very unimpressed with Home Depot's Jeld-Wen doors in house and special orders. Cabinets as well. 2015 summer will be remembered for all the damaged items from Home Depot and all the wasted time. I'm done with them. They put a lot of companies out of business for readily available materials and now they deliver crap, lol. I'll use the sawmill a little out of the way, Baird Brothers in Ohio so everyone knows. At least I know if it gets damaged it will be my fault. This is a special order door that had 2 18 gauge nails in the top and scratched the fiberglass. Geez. I like doing perfect work, customers like it too. It's how we survive and stay busy. So quality products are expected from manufacturers who are rushing products out the door and not hiring people who care. I've had cabinet door frames split and a whole bunch of other things as well. I'm putting this out there because Home Depot hurt more than help. Eye for an eye.

On the most recent trip to the North Greenbush, NY location I was seeking information on full glass screen doors. I give the help credit on one point, I was greeted at the door and asked if there was something I needed help finding. Since I knew right where the doors were located I answered "No, I know where I am going." But from that point on... nothing. First, what employees are around is 90% male and they were all doing their own thing. Yes, they would say "Hi", but nothing like, "Are you finding what you need?" Nothing. Secondly, there never is enough employees... very limited and hard to locate. Back at the dept. for screen doors I waited with my elderly mother for over 10 minutes and no one was even IN the dept. One employee walked through with a pallet of water, greeted us, but that is it. They all wear those walkie talkies. He could have asked if we needed help and radioed someone to come back. Nope.
I ended up walking back up to the customer service desk and asking that person to send someone. We walked back to wait another 5-10 minutes. In the meantime two male customers were now looking at doors. When a male employee finally came up the center between the male customers and my mother and I, he looked to his right at us then to his left where the males were waiting and proceeded to wait on them FIRST!!!! When we finally had the employees attention I "called him out" on how he ignored us and went right to waiting on the men. The employee stated, "I didn't see you standing there." Obviously a lie, but I let it go at the time, asked my questions, said, "Thank you" and drove right over to Glenmont, NY and bought my door at Lowe's.

Purchased fiberglass entry door & full view storm door. Both were installed by Home Depot crew. There was never any mention that the full view storm door would create so much heat on entry door that caulking seeped from oval door window followed by warping and cracking of entire molding trim around window. Have brought to the attention to sales people at several different Home Depot stores. They act like they have never heard of problem and offer nothing in the way of solutions. Turns out that this problem is common on south facing doors that receive a lot of direct sun!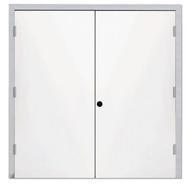 The description given for this door is a bit misleading. Usually, when you hear the term "Steel Pre-Hung Door", it is perceived that both the doors and door jamb encasement are 100% steel. This is not the case with these doors, they are basically wood doors with a thin sheet of galvanized steel veneer molded around the front and rear face of the doors. The sides of the door are exposed wood. The internal construction, based upon their description is polystyrene filling. If you are looking for a solid steel door, then you will be disappointed because this door is not! Truly, it is a plain decorated wood door that will not stand up to the same abuse, weather-wise or vandalism that a true 100% steel door has to offer.
What you actually get is: a) Two wooden framed polystyrene filled doors, individually veneered with primed galvanized sheet metal on each face of the doors. The side edges of the door are exposed wood. b) A door frame made out of wood, not steel. That being said, the door is very nice and was fairly easy to install. The hardest part installing it was making sure it stayed plumb as I cinched it down but was not. Overall I feel I got ripped off because I wanted, and expected a true steel door but it will have to do because I am not going to return it due its size. It will not fit in my Volkswagen.

My husband and I ordered an exterior door from Home Depot which total around $3000. For the door accessories and insulation we were told that it would take about six weeks before the door could be delivered - not a problem. Two months later we get a phone call saying that the door was in. We set up an appointment to have the door installed. To make a long story short there were three cancellations for unknown reasons, we get a phone call on the last installation day telling us that all the parts were not there, they forgot to put the brick molding in with the door and they also informed us if we wanted the brick molding we would have to stain it ourselves. We had already paid for all of this to be done.
We went out to look at the door and the color that we chose for the stain was the wrong color. All together we made a choice to get our money back. Very bad experience with Home Depot in Miamisburg Ohio. No one at Home Depot seem to care about customer satisfaction. We got our money back. We spent a lot of money with Home Depot in Miamisburg. We will not be returning to that store. No one in that store seems to care about customer satisfaction. My husband and I had spent over $40,000 in that store and to be treated like this total disrespect to the customer.

I went to Home Depot expecting a professional transaction along with professional installation. I went to the store and picked out doors that I needed to be installed, paid the $30.00 deposit for professional measurement then waited for the installation. Keep in mind that this all began April 7, 2015. During the first door install attempt the measurements were wrong so the door was taken back to the store. The door was scuffed very badly too but the store sent the contractor back to try and make the install anyways. I refused so the door was returned. The store blamed the contractor and the contractor decided to match the price difference of a larger size door that would cost a little more since they don't carry that size door in stock.
Two weeks went by and I happened to walk by the store and the clerk said "I'm glad you came by. The reason I asked you to come in was to make sure which door you wanted??" No one ever called me to come in and this happened twice. Then I called the store and they said I needed to pay my end of the price difference. I thought that they would tack in the bill so I paid over the phone. Then the clerk called me two days later and said that they needed money for the prices difference. I told him I already paid and sent a copy of my e-receipt. I was told they had problems with the system. I contacted Home Depot in Atlanta who assured me that they would be monitoring the issue.
When the door did arrive 3 weeks later they delivered a swing out door with a threshold that didn't match my setup. Ugghhhh. During this entire time I had a large tarp covering the back door to keep rain out because on the initial install they had to remove the back door and reinstall so I had a thin gap around the door. Keep in mind I'm trying to sell the house. A new door had to be ordered but it won't be installed till July 23, 2015. The only assistance I received from Corporate Customer Service in Atlanta was to inform me when the next install would take place which I was already informed. No offer to expedite the order was ever provided. The total time for install from start to finish will be 106 days so long as the doors that arrives is a correct fit. I did contact BBB just to have a record on file because I have no hope in Home Depot to do anything above and beyond.

Need to replace storm doors on front of house. Decided on Anderson storm doors and had a Home Depot pre-installation visit for measuring and assessment of size. I discussed with Home Depot representative how they would install and materials they would use and process to build frame for fit of 34" double storm doors. He promised they would use hardwood and paint frame to ensure no rotting of exterior surfaces. We went over the details three times and the Home Depot assessor wrote all information down on his form. My wife was getting me the doors and installation as Father's Day gift so she went to store to pay and get contract.
All the materials and process information which was discussed in pre-install visit did not appear in contract. When the third party subcontractor showed up to install, the framing material was pressed particle board with a wood exterior grained profile which does not match the hardwood frame of the door, and nor was what was promised during pre-install. Essentially he was going to install a frame made of particle board and leave it unpainted on the cut edge where he would mount the storm door hinges saying I could paint it later. Anyone who has done framing mill work knows that untreated/painted wood or particle board will rot when exposed to moisture. The fix to this install would be me removing door and painting framing under hinges to prevent rot which defeats the purpose of having it installed in the first.
I made it clear during the pre-install of the hardwood desired and painting and told them to include cost in contract. I am and was willing to pay for it to be done right; not half butt. I will never do business with HOME DEPOT reference installation of anything because they are dishonest and have very low standards of quality! Shame on me for trusting what I was told and not going to store with my wife to see how it all changed in contract..... BEWARE of this bait and switch. Do no trust what they say!

I bought a Steves & Sons exterior door from Home Depot online. Do not buy a door from this company. They had a one year warranty on the door. Within year of installation the glass fogs up and the stain peeled.. Now it's been installed for two and it is out of warranty. There is a quarter inch gap on the bottom panel of the door that if the wind blows when it rains, water flows into the house. They told me I should have applied poly every six months to avoid that problem, and won't do anything. I didn't even expect a refund being over the one year warranty but asked for a replacement at cost or something, but they won't. They offered to send me stain and a piece of glass. A 600 dollar door should last more than two years. Home Depot was very helpful getting me contact information and who to contact.
Home Depot Doors Company Profile
Company Name:

Home Depot

Year Founded:

1978

City:

Atlanta

State/Province:

GA

Country:

United States

Website:

http://www.homedepot.com/