Cost to replace a kitchen sink
With so many styles and materials, costs can vary greatly



Written by

Edited by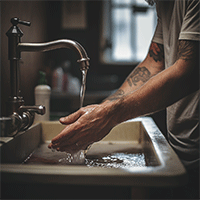 The sink may be one of the most used areas in your kitchen. Aside from its functionality, it can also serve as a focal point and add to the overall look of the room. In other words, sinks today can be both aesthetically pleasing and practical for daily use.
Kitchen sink prices range widely thanks to such a variety of materials and styles available. Prices range from around $45 to $3,000 — and you'll need to include installation costs in your budget, which can add another $300 or so.
---
Key insights
New kitchen sinks can cost anywhere from $45 to over $3,000.
Installation costs range between $300 and $800.
Certain sink materials, like stainless steel and copper, are recommended by plumbers for their durability and longevity.
Cost of a new kitchen sink
There are several styles of kitchen sinks to choose from, so you'll first want to think about the overall design of the space. Once you do, you should be able to find one that meets just about any budget. Here are some of the costs you can expect from just the sink itself.
| Type | Average cost |
| --- | --- |
| Bar/prep | $45-$950 |
| Corner | $250-$1,000 |
| Double basin | $70-$2,700 |
| Drainboard | $250-$2,200 |
| Drop-in/top-mount | $60-$2,500 |
| Farmhouse/apron | $150-$2,700 |
| Undermount | $90-$3,000 |
Bar or prep sink
A bar or prep sink is generally used as a secondary sink in the kitchen because of its small size (usually no more than 18 inches wide). It may be placed in a wet bar or a coffee bar area for hand-washing or quick water measurements. Bar sinks are available in oval, square or round shapes.
Corner sink
A corner sink is a space-saving option for tight kitchens. It's mounted in a corner of the kitchen that may not be otherwise utilized, perhaps in front of a window. Most corner sinks are L-shaped, although they can also come in other shapes to best fit in the counter space.
Double basin sink
A double basin, or double bowl, sink has two basins separated by a divider in the middle. Before dishwashers, homeowners would use one basin for washing dishes with soapy water while the other basin was used for rinsing.
Double basin sinks aren't quite as popular today as they were in years past. However, home improvement stores still offer this type of sink in a variety of styles and materials.
Drainboard sink
Drainboard sinks are more widely used in commercial kitchens, but an avid home chef may appreciate the design. It has a single or double-basin sink with a small platform attached to the side. The drainboard is mainly used for air-drying dishes or washed fruit. Newer sink styles may include drainboard attachments that can slide over the sink basin and be removed when not in use.
Drop-in or top-mount sink
A drop-in sink is lowered and secured into a predetermined space on the countertop. It's essentially installed from above and dropped into the counter area. Drop-in or top-mount sinks are the most popular because they are easier to install than other sink types.
Farmhouse or apron sink
Farmhouse sinks are trending in new home builds and kitchen renovation projects. They feature a deep sink bowl with extra capacity for oversize pots and pans. Most farmhouse sinks are single-basin, though there are double-basin options available.
Undermount sink
An undermount sink is installed from below the kitchen countertop as opposed to above, like a drop-in sink. It creates a seamless look and promotes visual flow with the countertops. On average, undermount sinks can be more expensive than other sink types.
» GET FINANCING: How to get a personal loan
Cost of kitchen sinks by material
Before choosing a sink material solely based on looks or design, consider how it will be used each day and the maintenance required over time. Rich Mullins, owner of Indiana-based H2O Plumbing in Corydon, Indiana, told us: "Stainless steel also offers a timeless aesthetic that complements most kitchen designs. If you're looking for the best value for your money, stainless steel is a solid choice due to its longevity and ease of maintenance."
On the other hand, it may be best to steer clear of acrylic, at least when it comes to kitchen sinks. Mullins added: "I tend to advise against acrylic [sinks]. They may initially come off as budget-friendly, but they can scratch easily, are less resistant to heat, and are more prone to staining over time."
Mullins also reminds us to consider the potential future costs. "In the long run, you might end up spending more on repairs or replacements. It's best to invest in a sink material that will stand the test of time and daily kitchen use," he said.
| Sink material | Average cost | Pros | Cons |
| --- | --- | --- | --- |
| Acrylic | $400-$800 | Budget-friendly; lightweight and easier to install; antibacterial and antimicrobial | Stains and scratches easily; not as durable; few options available |
| Cast iron | $400-$2,000 | Stain-resistant; enameled coating available in a wide range of colors; easy to wipe clean | Heavy and more difficult to install; could rust if not maintained properly |
| Copper | $130-$2,500 | Durable and long-lasting; unique look and design; rust-resistant | Expensive; finish and color change over time; sensitive to acid and harsh cleaning products |
| Fireclay | $170-$2,000 | Low-maintenance and easy to clean; can increase home value | Tend to be larger and heavier sinks; more expensive to install |
| Granite | $170-$2,200 | Many different patterns and color combinations to choose from; resistant to heat and scratches | Needs resealing every 2 years; heavy and may require additional countertop support |
| Porcelain | $220-$500 | Easily customizable in various styles, shapes and sizes; has a shiny and high-gloss finish; low upfront cost | Could chip or crack; may stain, especially on white finishes |
| Quartz | $190-$990 | Stain-, scratch- and heat-resistant; smooth, nonporous surface makes it simple to maintain | Can break dishes on impact because of its solid exterior; limited choices in finishes and styles |
| Stainless steel | $50-$3,000 | Affordable; resistant to corrosion; easy to clean | Susceptible to scratches; no color variety |
Additional kitchen sink replacement costs
After choosing a replacement kitchen sink, you'll need to pick out a faucet — so don't forget to factor it into the overall cost. Any additional plumbing required or renovations to the kitchen will bring up the cost. Lastly, labor will set you back a few hundred dollars, depending on the extent of the work.
Faucet
There are many different types of faucets available to choose from, including pull-out, pull-down and touchless faucets. You can also choose a single-handle or double-handle faucet. Think about how you use your kitchen sink on a daily basis to determine which features may be most helpful.
The faucet is sold separately and can be a focal point of the kitchen, so choose one that complements the room both in terms of style and color.
Kitchen faucets also come in various finishes to fit any style, like brass, brushed nickel, bronze and matte black. Prices range from $75 for a builder-grade faucet to over $2,800 for faucets with deluxe finishes and additional features.
Plumbing
Moving or updating your current plumbing can get expensive, so be prepared to gather multiple quotes from plumbers beforehand. Mullins, the owner of H2O Plumbing, said: "If you're changing the sink's location or configuration significantly, expect more substantial expenses. This could involve rerouting water lines, moving drain pipes, or even installing additional fixtures like a garbage disposal."
Mullins also added that costs for plumbing modifications or updates can vary significantly, "often ranging from $1,000 to $3,000 or more, depending on the complexity of the work." If you're working with a tight budget, discuss those concerns beforehand with your plumber. You may need to forgo some changes to cut costs.
Additional renovations
You may have other renovations you want to make in your kitchen besides replacing the sink. New cabinets may be one of the more expensive updates, with costs ranging from $2,000 to $28,000 or more. Replacing kitchen countertops can range from $400 to $8,500, depending on the size of the kitchen. A simple, less expensive update is adding a garbage disposal, which can range from $150 to $950.
» PLAN RENOVATIONS: Home remodeling ROI: costs vs. value
Labor
Plumbing companies typically charge by the hour, with rates ranging from $50 to $200 per hour. The job could take between four to eight hours to complete. Mullins, from H2O Plumbing, said, "On average, you can expect to pay anywhere from $300 to $800 in labor costs for a straightforward sink replacement."
Permits
A permit isn't required to install a new kitchen sink unless you plan to change the room's layout or move the plumbing. A general contractor or licensed plumber can help you request a permit if needed. Most plumbing permits cost between $50 and $500.
FAQ
How much does it cost to install a new kitchen sink?

Hiring a licensed plumber to install your new kitchen sink will likely cost between $300 and $800, according to Mullins. Plumbers usually charge rates that can range between $50 and $200 an hour.

If plumbing has to be moved or changed to install your new sink, expect to pay more for labor and materials.
Can I install a kitchen sink myself?

You can install an uncomplicated kitchen sink (drop-in sinks tend to be easiest to install). Be sure to follow the manufacturer's step-by-step directions to avoid any damage to the sink or the plumbing. You'll also need the right tools and equipment to do the job, like a pipe wrench, tape measure and plumber's putty, to name a few.

Farmhouse sinks are more difficult to install because of their heavy weight and larger sizes. It may be best to leave those installations to the professionals.

» HIRE A PRO: Best home improvement and repair contractors
How long does it take to install a kitchen sink?

Be prepared to allot at least a day for the plumber to install your new kitchen sink. Rich Mullins from H2O Plumbing said that an experienced plumber "can usually complete a standard sink replacement in about half a day to a full day. This includes removing the old sink, installing the new one and making necessary plumbing connections."

More complicated installs that require plumbing modifications could take longer, so make sure you request quotes ahead of time from reputable plumbers. This can help you plan and budget for the additional installation costs.
Can you replace a kitchen sink without replacing the counter?

You can easily replace a sink without buying a new countertop as long as it fits into the current configuration. However, it may also depend on the type of sink you're replacing. For example, you can install undermount and drop-in sinks into existing counter spaces if the replacement sink is similar. On the other hand, replacing an undermount sink with a farmhouse sink will likely require a new countertop configuration.
Do home warranties cover plumbing systems?

Yes, home warranties cover repairs to plumbing systems, which include water pipes, valves and faucets. However, keep in mind that kitchen sinks are typically excluded as part of the plumbing system, but check your home warranty plan for more details. When it comes to replacing the sink, you'll have to pay for a replacement out of pocket.

» COMPARE: Best home warranty for plumbing
Bottom line
Kitchen sinks are available in a variety of sizes, materials and prices to fit your individual budget. Stainless steel is still one of the top-selling sink materials today — and for good reason. It's affordable and easy to maintain. Other materials that are durable and long-lasting, similar to stainless steel, are copper, cast iron and granite. As you research sink costs, don't forget to include additional expenses, like faucets and plumber fees, in your budget.
---
Article sources

ConsumerAffairs writers primarily rely on government data, industry experts and original research from other reputable publications to inform their work. Specific sources for this article include:
Did you find this article helpful?
|
You're signed up
We'll start sending you the news you need delivered straight to you. We value your privacy. Unsubscribe easily.